How To Create the Perfect Fall Travel Capsule Wardrobe
This site uses affiliate links and I may earn a small commission when you use my links and make a purchase, at no extra cost to you. 
Are you counting down the days until it is officially fall? Is everyone? Personally, I have already started thinking about all of the fall travel plans I have this year. Fall is one of my favorite times to travel, and I have a few trips planned for September, October, and November. I can't wait to share these with you! I'm already starting to think about the clothes I'm going to pack on each of these trips. To help me think about packing, I started putting together a fall travel capsule wardrobe. It's got a handful of pieces that are versatile enough to create fall travel outfits that will take me from city weekend escapes to soaking up the last few warm days in the mountains.
My travel capsule wardrobe for autumn getaways includes a handful of pants, tops, dresses, shoes and accessories that I can mix and match to create a ton of different looks. With a few key pieces from my capsule wardrobe as part of my travel essentials for women, it's so much easier to pack! And I can also help if you're looking for eco friendly travel clothes or need to know what to wear on long haul flights.
In this post, I'll walk you through exactly how to put together the perfect fall travel capsule wardrobe, one piece at a time. Once you have your fall packing list all set, you'll be ready for an amazing autumn getaway!
What is a Capsule Wardrobe?
What's a capsule wardrobe, you ask? It's a small collection of clothing pieces that complement one another, and can be mixed and matched in multiple ways to create a ton of different outfits.
I love a good capsule wardrobe, and in the past, I've written posts about a capsule wardrobe for travel in Europe, and also a women's professional capsule wardrobe.
Why are Capsule Wardrobes Great for Travel?
Capsule wardrobes are perfect for travel! Having a small, well-curated collection of travel clothes allows you to pack efficiently, but still have the clothes, shoes, and accessories that you need for all of the activities you have planned during your trip.
Tips For Creating a Fall Travel Capsule Wardrobe
Let's start with a few tips for creating your fall travel capsule wardrobe.
Start with a Single Color Palette
First, start with a single color palette, and try to group your pants, shoes, and jackets around this color palette. In this post, I've used black and gray as my palette, but navy and camel could be a great option, too.
When you work with a single color palette, it's so much easier to create outfits that can be mixed and matched.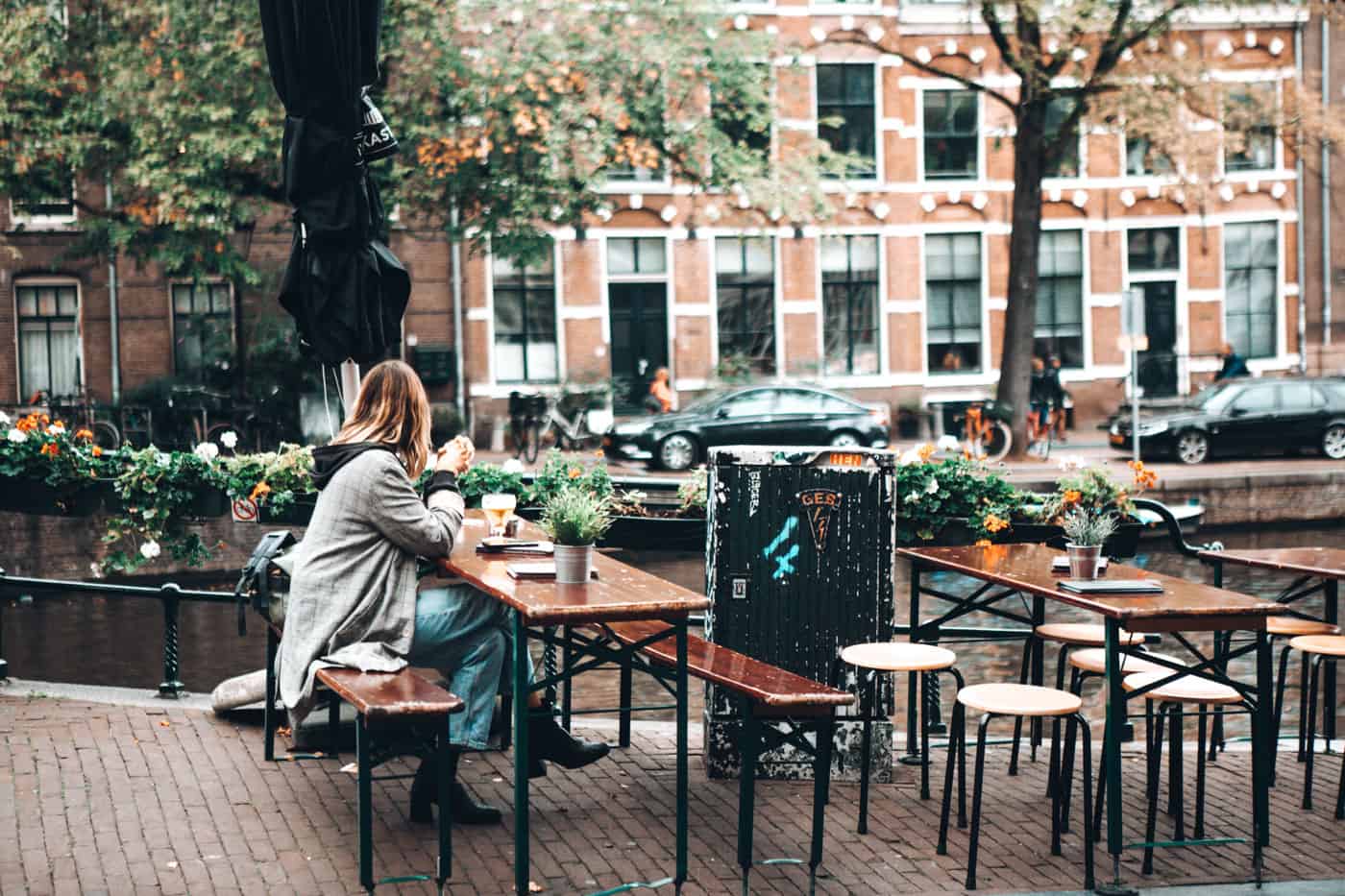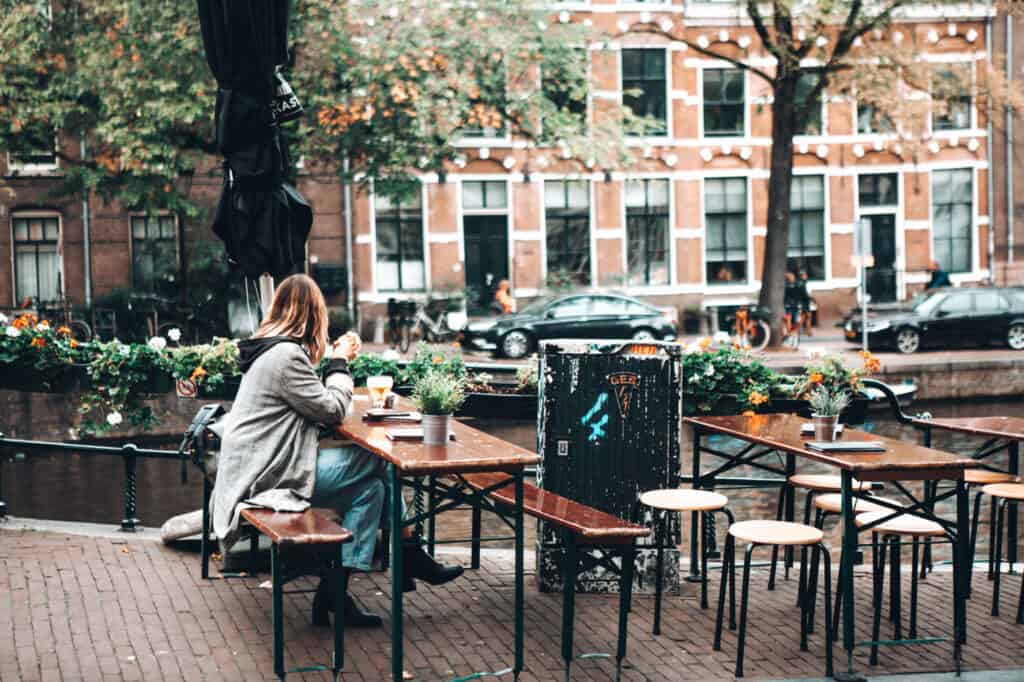 Pack Pieces You can Layer
Second, although fall is a great time to travel, the weather can often be unpredictable. You never know if you'll end up with an early snowfall, or with one of the last warm days of the year.
Assembling a capsule wardrobe that has versatile pieces you can layer will help you be prepared for changes in weather, but make sure to check the weather forecast before you think about packing, and then again just before you leave.
If it's going to be cold where you're heading, check out my winter travel capsule wardrobe for more inspiration!
And if it'll be warmer where you're heading, use my spring travel capsule wardrobe instead.
Pack Reversible Clothes
Finally, if you really want to maximize your capsule wardrobe, try including some reversible clothing for travel options! Getting two looks from one piece of clothing will add yet another dimension to your capsule wardrobe.
Plan Your Outfits Ahead of Time
My best advice for assembling a capsule wardrobe is to plan ahead! Planning is always the best place to start. Think about the activities you'll be doing on your trip, and what you want to wear for each one.
To help with this, I created a free printable travel outfit planner. It will help you figure out exactly what to bring for each day of your trip!
Download a Free Travel Outfit Planner!
Download, edit and print this travel outfit planner to organize your travel wardrobe in minutes!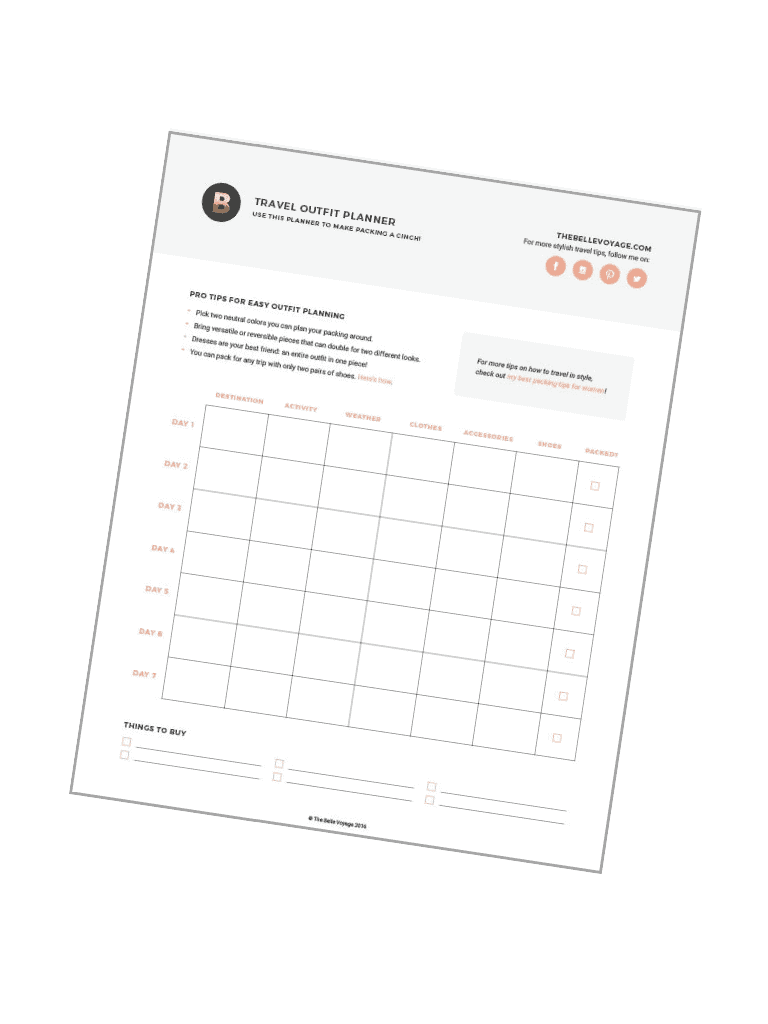 Now, let's start putting everything together!
To Put Together Your Travel Capsule Wardrobe for Fall, Start With Pants
I always start my packing lists by deciding what pants or bottoms I plan to bring. That way, I can plan the rest of my outfits around these anchor pieces.
Usually, I wear one of the bottom pieces in transit as part of my travel outfit: whether that's on a plane or in the car. And for the second pair of bottoms, I add in another piece that will complement the first piece in terms of style and color palette.
For this 2022 fall travel capsule wardrobe, I recommend bringing one pair of black or gray jeans, and one pair of lighter wash jeans. Wear the dark pair of jeans while you're in transit. Why? If something spills on you, you'll be glad that any stains will be less visible!
Right now, I'm loving straight-leg black jeans. A great complement to these are lighter, wider-leg jeans, because they allow you to create very different looks.
When you're traveling, you can dress up the darker pair of jeans for evenings, and the lighter ones are perfect for daytime exploring or casual evenings. Both of these pants will also go with the shoes I recommend below.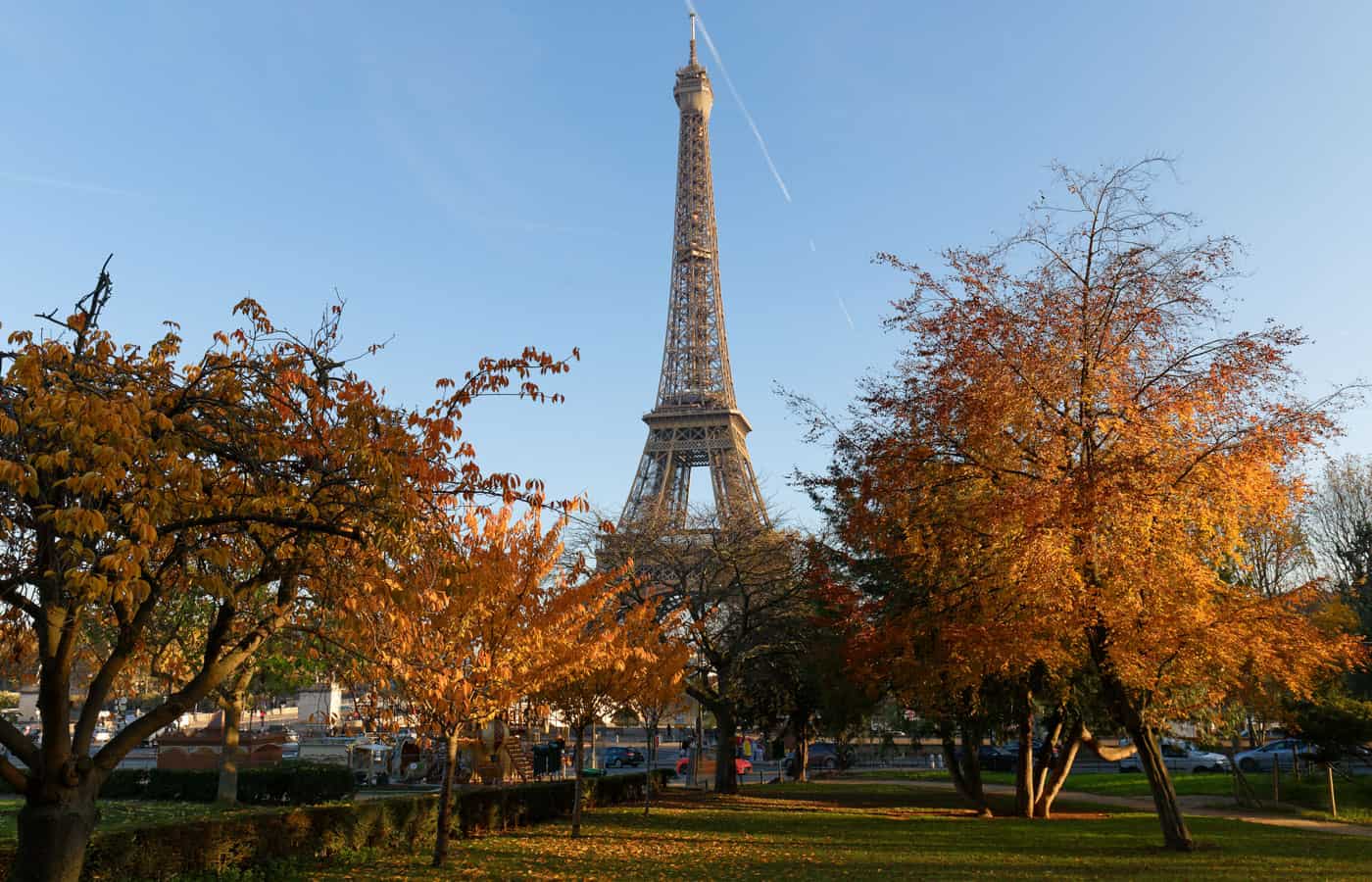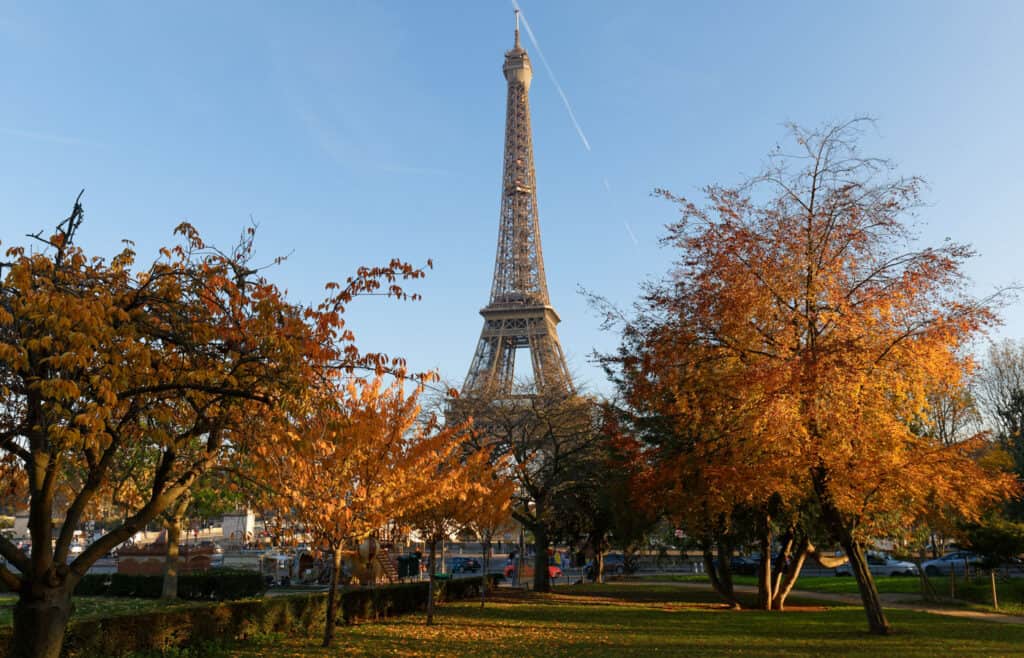 Next, Add Four Tops
Next, pick out four tops. When it comes to the best tops to pack for fall, try to bring a mix pieces that are unique, so that you can create lots of different looks and outfits with just a few pieces. He re's my recommendations:
On the plane or while you're in transit, a cozy oversize sweater will look great with the black jeans. And as a bonus: by wearing one of your bulkier items while you travel, you'll save space in your suitcase.
Next, pack a versatile t-shirt. I love a simple, oversize white t-shirt with black stripes, because it can be very casual for daytime, but also dressed up and layered with a jacket for dinner. It's also a good idea to bring at least one t-shirt for travel in the fall, since you never know when you might luck out with some early fall warm weather.
Next, pack a printed blouse. It can be either short sleeved or long sleeved, depending on what the weather will be like where you're heading. You can wear the blouse with jeans during the evenings by itself, or if it's cooler, under a jacket with a scarf and ankle boots.
I like bringing a printed blouse because it will add some visual interest when you pair it with some of the other basic pieces in your capsule wardrobe.
Finally, pack a long-sleeve button-down shirt. Ideally, find a button-down blouse that can be either dressed up or down. I love a classic white button-down shirt, which will look great with either of the pairs of jeans, and can also be worn over a dress.
Add a Fall Travel Dress For More Options
Next, add a dress (or two!) to your fall packing list.
If you've read this blog for a while, you already know that dresses are by far my FAVORITE items of clothing to pack for travel. Why? One piece = one entire outfit!
Dresses are the ultimate space-saving packing hack. In addition, so many dresses can work for day or night, which adds even more versatility to your travel outfit choices.
Choose your fall travel dress based on the weather where you're going. If it'll be on the warmer side, opt for a sleeveless dress that you can throw a sweater or jacket over. If it'll be cooler outside, find a long-sleeve dress that you can layer up and add a scarf.
Pair the dress with boots and you've got a perfect, stylish fall travel outfit!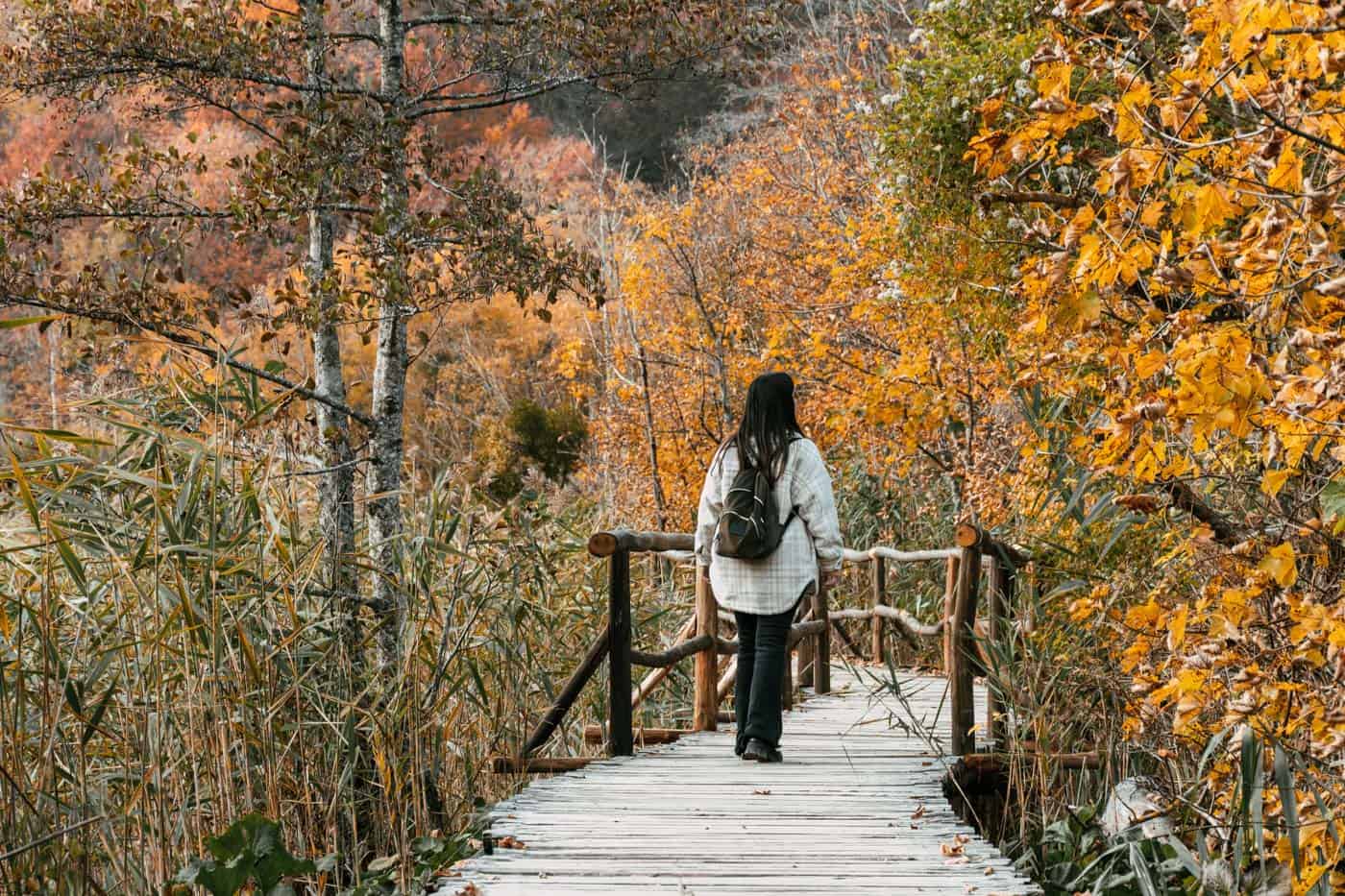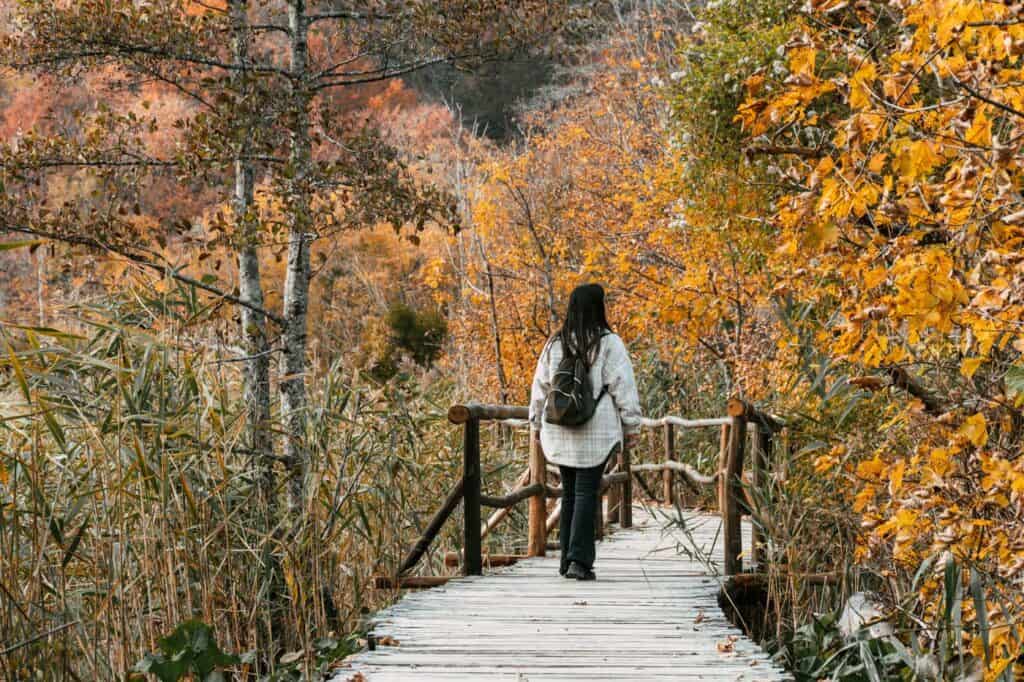 The Perfect Jacket for an Autumn Getaway
Now, let's add a jacket to your fall travel capsule wardrobe.
Choose a jacket that's warm but versatile, and plan to wear it as part of your travel outfit (on the plane or in the car).
For fall travel, I aways end up bringing my black Moto jacket. It goes with literally everything. I've worn mine over a sheath dress for business meetings, over a dress with boots for daytime, or paired with any jeans or skirt that I own.
If you don't have a black Moto jacket yet, I promise it's a great investment! You can wear it with a dress or with jeans, and it always adds the perfect finishing touch to any outfit. Here's a few ideas at various price points:
If you're not into the Moto jacket look, try either a blazer, or a shacket. What's a shacket?
Shirt + jacket = shacket. A shacket is a button-down shirt made from fabric that is warmer than a typical shirt. I love this one in cozy corduroy – it comes in a ton of different colors, too – so it will complement your fall travel wardrobe no matter what else is in it!
The Best Shoes for Fall Travel
Last, finish off your fall packing list with shoes!
I always recommend bringing only two pairs of shoes on any trip. Wear one on the plane, and pack the second pair in your suitcase.
If you want to pack carry-on only, it's important to travel with just two pairs of shoes because shoes can take up a ton of space! Wearing one pair of shoes and packing the second will help you pack efficiently.
For this fall travel capsule wardrobe, find one pair of ankle boots that can be worn during the daytime or at night. Wear the boots in transit because they're the biggest!
For your second pair of shoes, pack a cute pair of sneakers that you can cruise around in all day. Personally, I love my Stan Smith sneakers because I can wear them with a casual dress, or with jeans. And they're super-duper comfy.
For this capsule wardrobe, though, I've picked a few black sneaker options. They can be worn with any of the pieces above, they're incredible comfortable, and since they're black, if you get them dirty, it won't show. Ta da!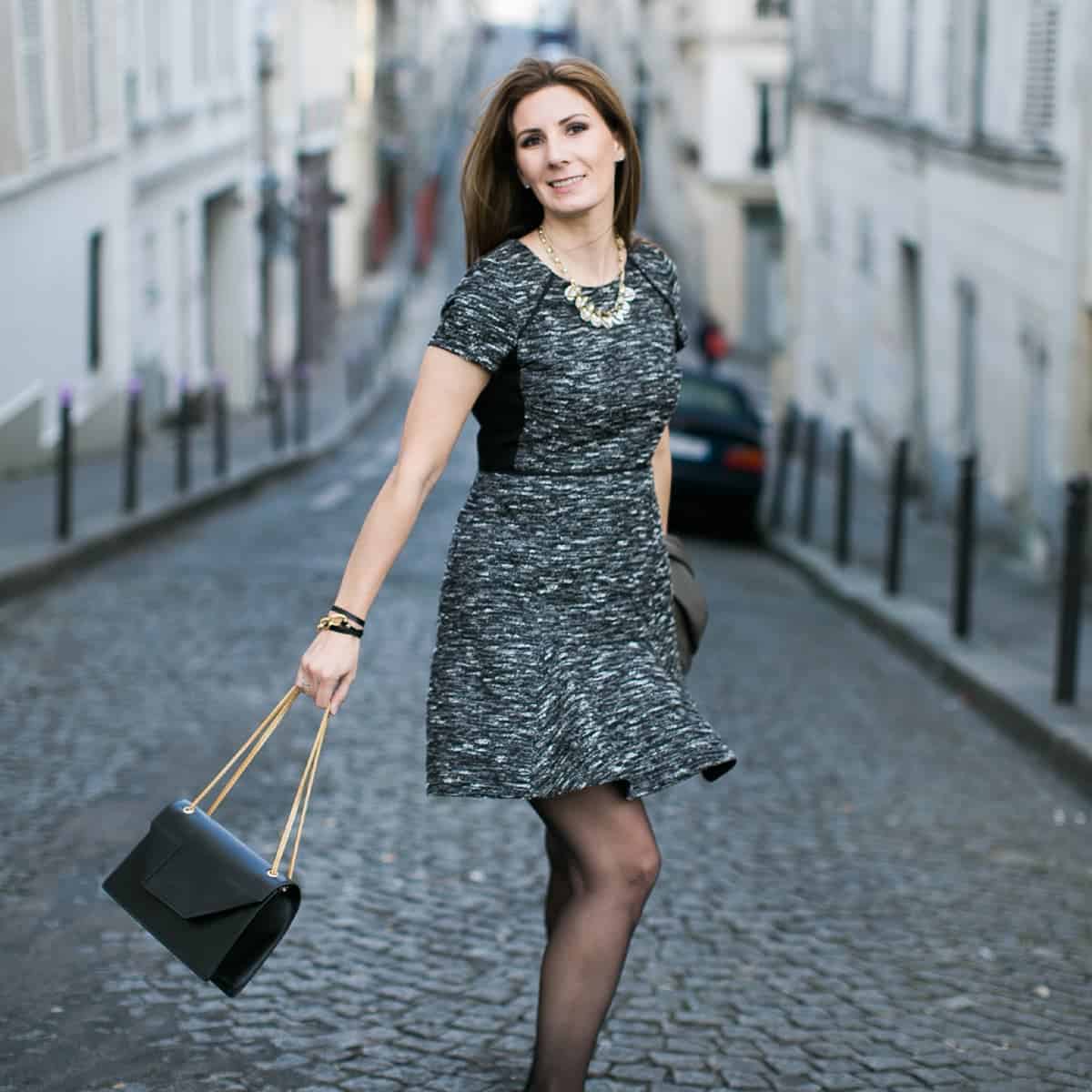 shop my favorite
TRAVEL ESSENTIALS
Ready to jet-set with ease? Discover my favorite travel products for your ultimate passport to stress-free adventures!
Add the Finishing Touches to Your Fall Travel Wardrobe
For finishing touches on your capsule wardrobe, I recommend adding a cozy scarf, a cute tote bag, and some simple jewelry.
If you're heading somewhere warm this fall, build your travel wardrobe with my favorite affordable resort wear for 2023, or check out my summer travel capsule wardrobe.