How To Create the Perfect Fall Travel Capsule Wardrobe
Are you counting down the days until it is officially fall? Is everyone? Personally, I have already started thinking about all of the fall travel plans I have this year. Fall is one of my favorite times to travel, and I have a few trips planned for September, October, and November. I can't wait to share these with you! I'm already starting to think about the clothes I'm going to pack on each of these trips. To help me think about packing, I started putting together a 15 piece fall travel capsule wardrobe. It's got a handful of pieces that are versatile enough to create fall travel outfits that will take me from city weekend escapes to soaking up the last few warm days in the mountains.
The Perfect Fall Travel Capsule Wardrobe for 2023
My travel capsule wardrobe for autumn getaways includes a handful of pants, tops, dresses, shoes and accessories that I can mix and match to create a ton of different looks. This year I'm excited to feature a new brand…..I can't wait to tell you more!
With a few key pieces from my capsule wardrobe as part of my travel essentials for women, it's so much easier to pack! And I can also help if you're looking for eco friendly travel clothes or need to know what to wear on long haul flights.
In this post, I'll walk you through exactly how to put together the perfect fall travel capsule wardrobe, so that you can build the perfect travel outfit, one piece at a time. Once you have your fall packing list all set, you'll be ready for an amazing autumn getaway!
In a hurry? Jump straight to the capsule here.
What is a Capsule Wardrobe?
What's a capsule wardrobe, you ask? It's a small collection of clothing pieces that complement one another, and can be mixed and matched in multiple ways to create a ton of different outfits.
I love a good capsule wardrobe, and in the past, I've written posts about a capsule wardrobe for travel in Europe, and also a women's professional capsule wardrobe.
Why are Capsule Wardrobes Great for Travel?
Capsule wardrobes are perfect for travel! Having a small, well-curated collection of travel clothes allows you to pack efficiently, but still have the clothes, shoes, and accessories that you need for all of the activities you have planned during your trip.
Tips For Creating a Fall Travel Capsule Wardrobe
Let's start with a few tips for creating your fall travel capsule wardrobe.
Start with a Single Color Palette
First, start with a single color palette, and try to group your pants, shoes, and jackets around this color palette. In this post, I've used black, camel and olive green as my palette, but there are plenty of color palette options that will work.
When you work with a single color palette, it's so much easier to create outfits that can be mixed and matched.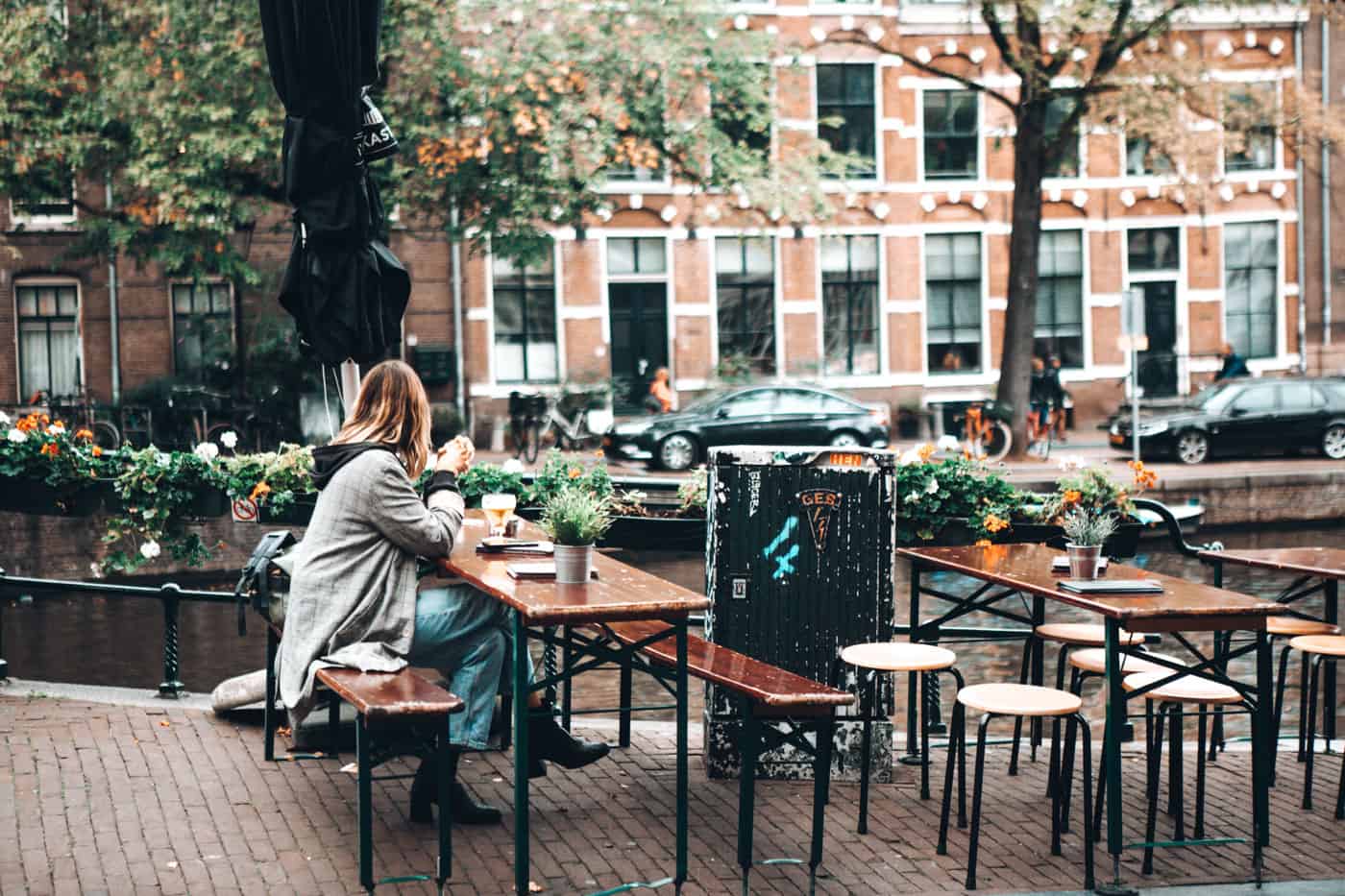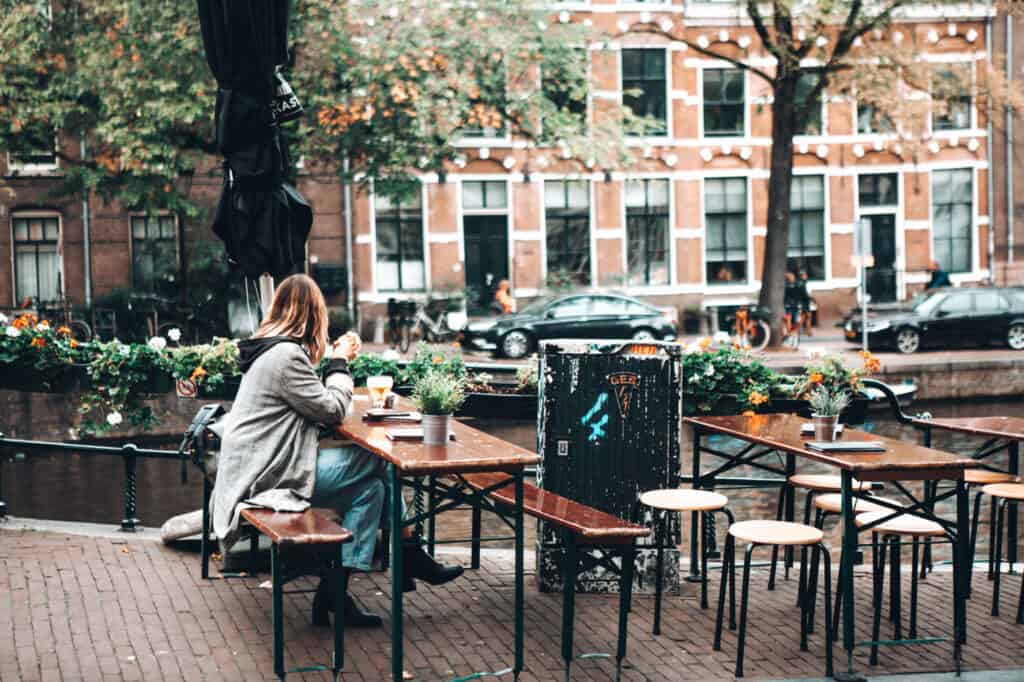 Pack Pieces You can Layer
Second, although fall is a great time to travel, the weather can often be unpredictable. You never know if you'll end up with an early snowfall, or with one of the last warm days of the year.
Assembling a capsule wardrobe that has versatile pieces you can layer will help you be prepared for changes in weather, but make sure to check the weather forecast before you think about packing, and then again just before you leave.
If it's going to be cold where you're heading, check out my winter travel capsule wardrobe for more inspiration!
And if it'll be warmer where you're heading, use my spring travel capsule wardrobe instead.
Pack Reversible Clothes
Finally, if you really want to maximize your capsule wardrobe, try including some reversible clothing for travel options! Getting two looks from one piece of clothing will add yet another dimension to your capsule wardrobe.
Plan Your Outfits Ahead of Time
My best advice for assembling a capsule wardrobe is to plan ahead! Planning is always the best place to start. Think about the activities you'll be doing on your trip, and what you want to wear for each one.
To help with this, I created a free printable travel outfit planner. It will help you figure out exactly what to bring for each day of your trip!
Now, let's start putting everything together!
15 Piece Fall Travel Capsule Wardrobe for 2023
I am so excited to share this year's fall travel capsule wardrobe with you! And we've got some reeeeeeally good stuff this season.
I can't wait to tell you more about it and show you how I'm styling these 15 pieces into TONS of different outfit combos that are perfect for your fall getaway. But first….here ya go:
Tops: scoop neck tee | cropped tank | cashmere sweater tee | smocked blouse
Sweaters: cashmere v-neck | cashmere black fisherman sweater | black tank dress | washable silk dress
Pants: black straight-leg | green wide-leg | washable silk skirt | cargo pants
Outer layers: leather blazer | oversize cashmere cardigan | plaid shacket
All About the Fall Capsule Wardrobe
Guess what? All 15 of these fall capsule pieces are from a single brand. Yep, I've found a new go-to for travel clothes shopping and I am sooooo excited to share it with you.
I recently discovered Quince and IMMEDIATELY fell in love with all of their pieces. Quince makes high-quality wardrobe essentials that are a fraction of the price of similar pieces.
As in $50 for an ultra-soft and cozy Mongolian cashmere sweater. I kid you not. All of the fabrics are extremely packable, and what's more – they won't fall apart after one trip.
It is so easy to build an entire capsule using Quince's pieces because they're so easy to mix and match. The outfits practically create themselves. Don't believe me? I decided to try it and show you how!
In case you need more reasons to get excited about Quince, their pieces are made using sustainable, ethical practices and you have 365 days to make any returns. Again, you read that correctly: a whole year!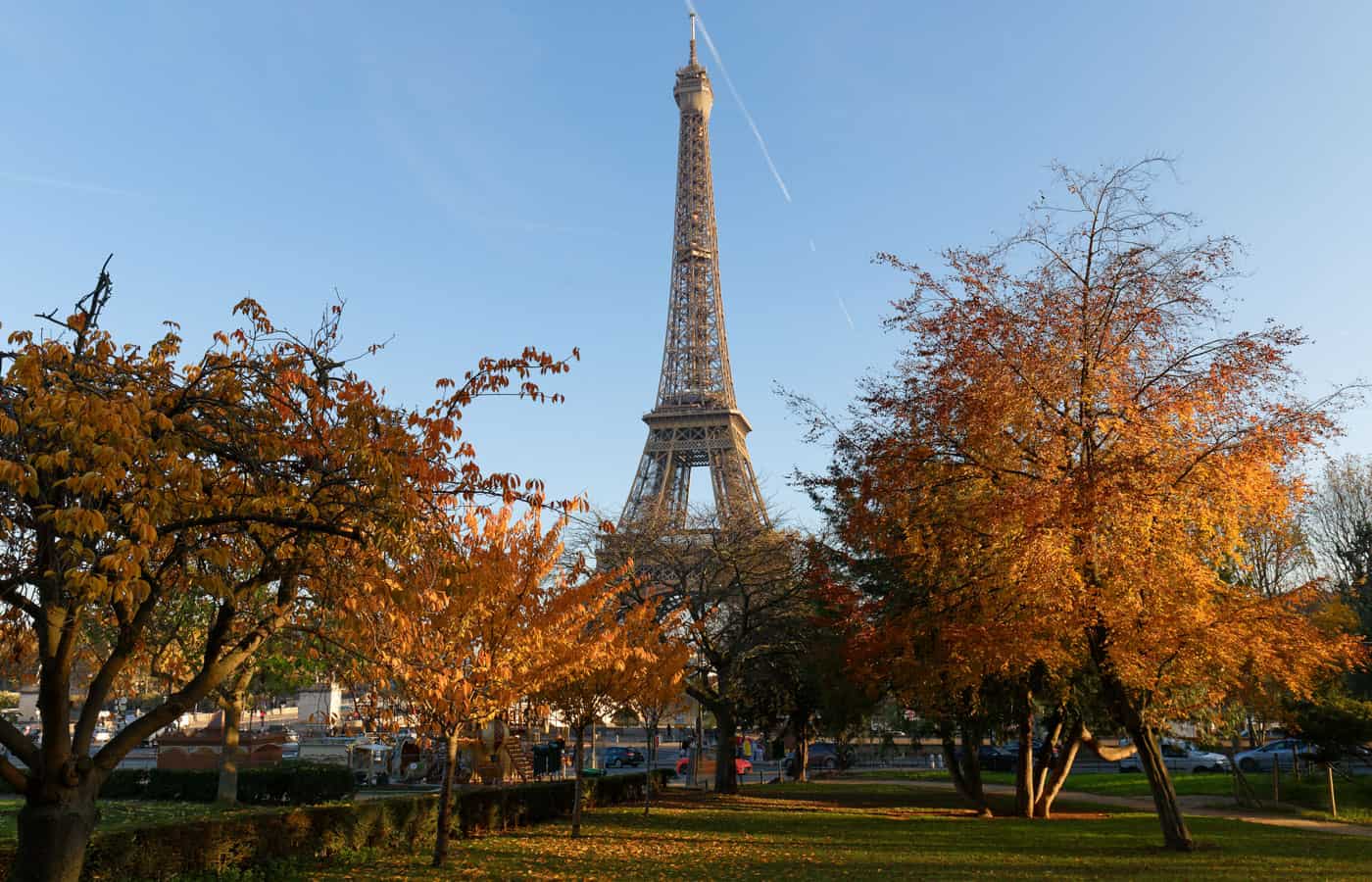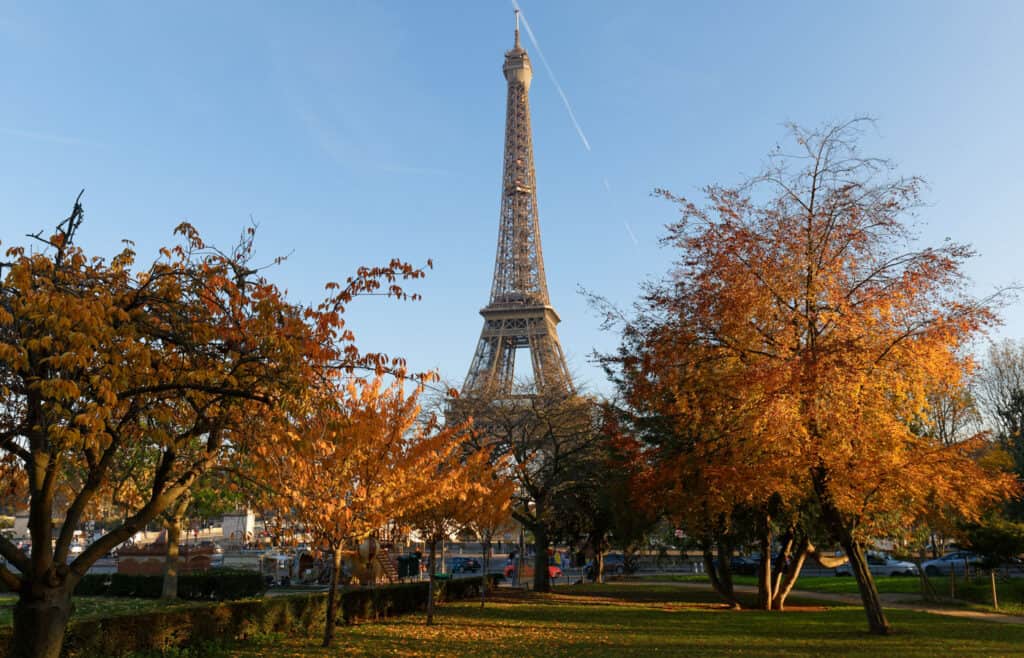 The 15 Must-Have Pieces for Fall Travel
Let's take a deeper dive into each piece in the capsule. I'll explain why I included each piece in the capsule, and give you ides for how to style each one.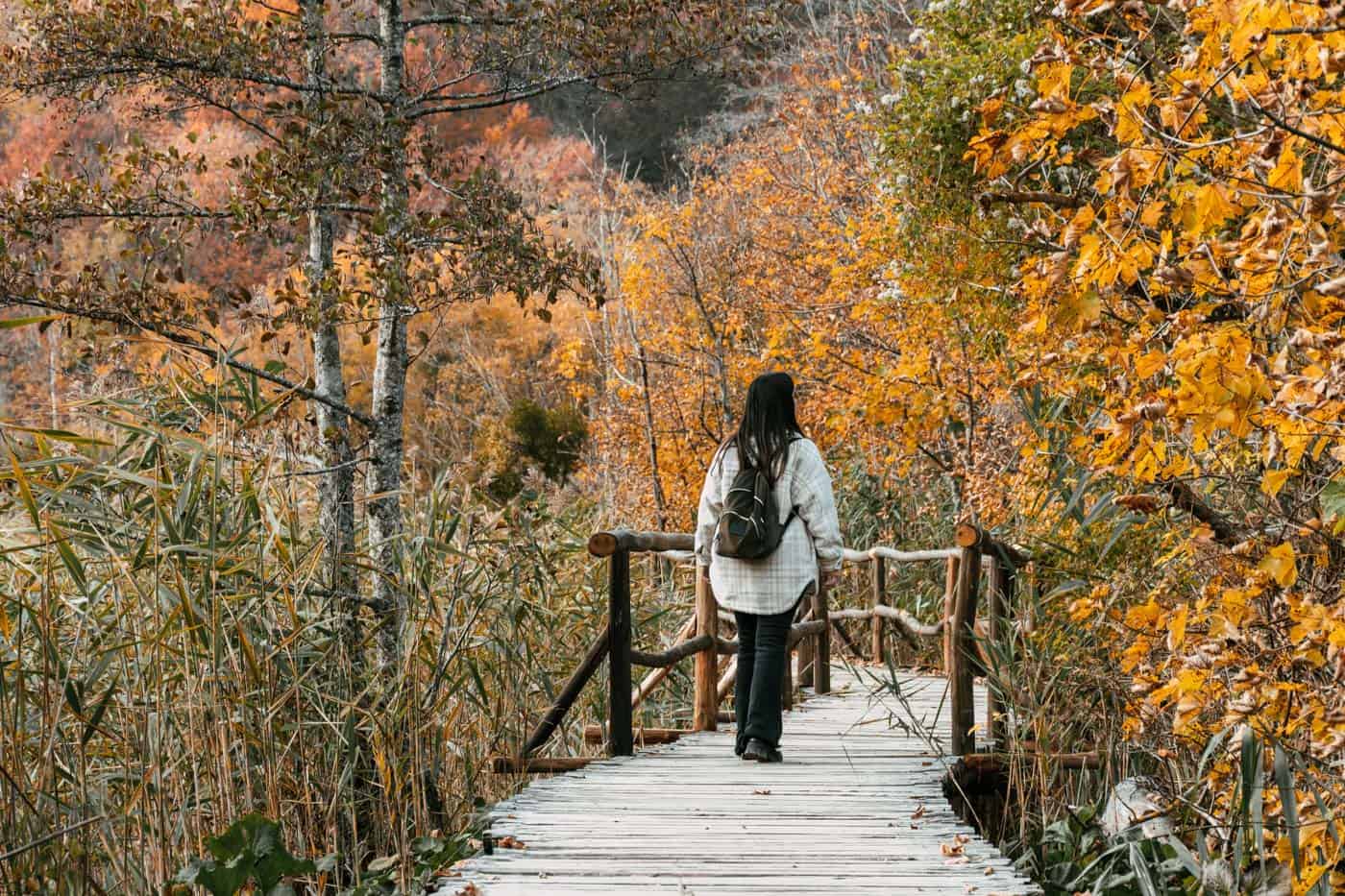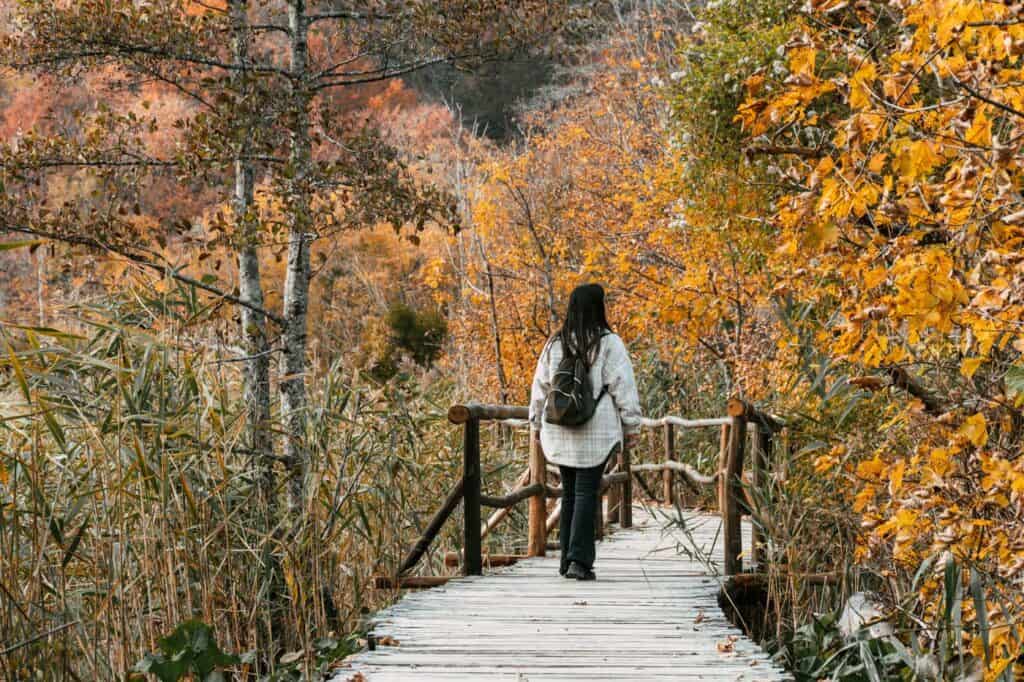 Fall Travel Shoes and Accessories
Last, finish off your fall packing list with shoes!
I always recommend bringing only two pairs of shoes on any trip. Wear one on the plane, and pack the second pair in your suitcase.
If you want to pack carry-on only, it's important to travel with just two pairs of shoes because shoes can take up a ton of space! Wearing one pair of shoes and packing the second will help you pack efficiently.
I styled this fall travel capsule wardrobe with some comfy kitten-heel ankle boots and versatile sneakers. Pro tip: wear the boots on the days you're in transit because they're the biggest!
Tote Bags and Purses
Every wardrobe needs the perfect handbag! A simple black tote bag and a smaller convertible crossbody bag will pair perfectly with this capsule, and you can style them a million different ways as I've shown in the examples above.
Add the Finishing Touches to Your Fall Travel Wardrobe
For finishing touches on your capsule wardrobe, I recommend adding a cozy scarf and some simple jewelry.
If you're heading somewhere warm this fall, build your travel wardrobe with my favorite affordable resort wear for 2023, or check out my summer travel capsule wardrobe.
How to Pack Your Autumn Capsule Wardrobe
Now that you've got your capsule wardrobe all set, it's time to pack! To show you how much space you can save by using a capsule wardrobe, I packed up all 15 pieces in one of Quince's chic carry-on suitcases.
First, roll all of your clothes up and place them on the side of the suitcase that has the compression panel.
Then, layer the compression panel over your clothes, and use the straps to tighten the panel. This capsule wardrobe fits so easily in the suitcase that I didn't even have to do much compressing.
Then, use the other side of the suitcase for your shoes, bags, and toiletries. Basically, anything that won't compress.
Zip up that side of the suitcase using the mesh panel, add a tote bag and their chic leather blazer, and you're ready for airport style!
I hope this post has helped inspire you to create your own fall travel capsule wardrobe using elevated basics from Quince. Have a favorite fall piece? Let me know in the comments below!
Disclosure: thank you to Quince for providing these fall travel capsule wardrobe pieces. All opinions are my own.