How to Pack a Suitcase to Maximize Space
This site uses affiliate links and I may earn a small commission when you use my links and make a purchase, at no extra cost to you. 
We've all been guilty of overpacking at one time or another. And even worse, there it's so easy to run out of space in your suitcase before you could pack everything you need to. As a pro traveler, I've learned a thing or two about how to pack a suitcase to maximize space. If you're in need of a few tips for how to maximize your suitcase space, I've got you covered! In this guide, I'm sharing the best way to pack a suitcase, and all of my best packing tips for how to save space in your luggage (so you can pack even more)!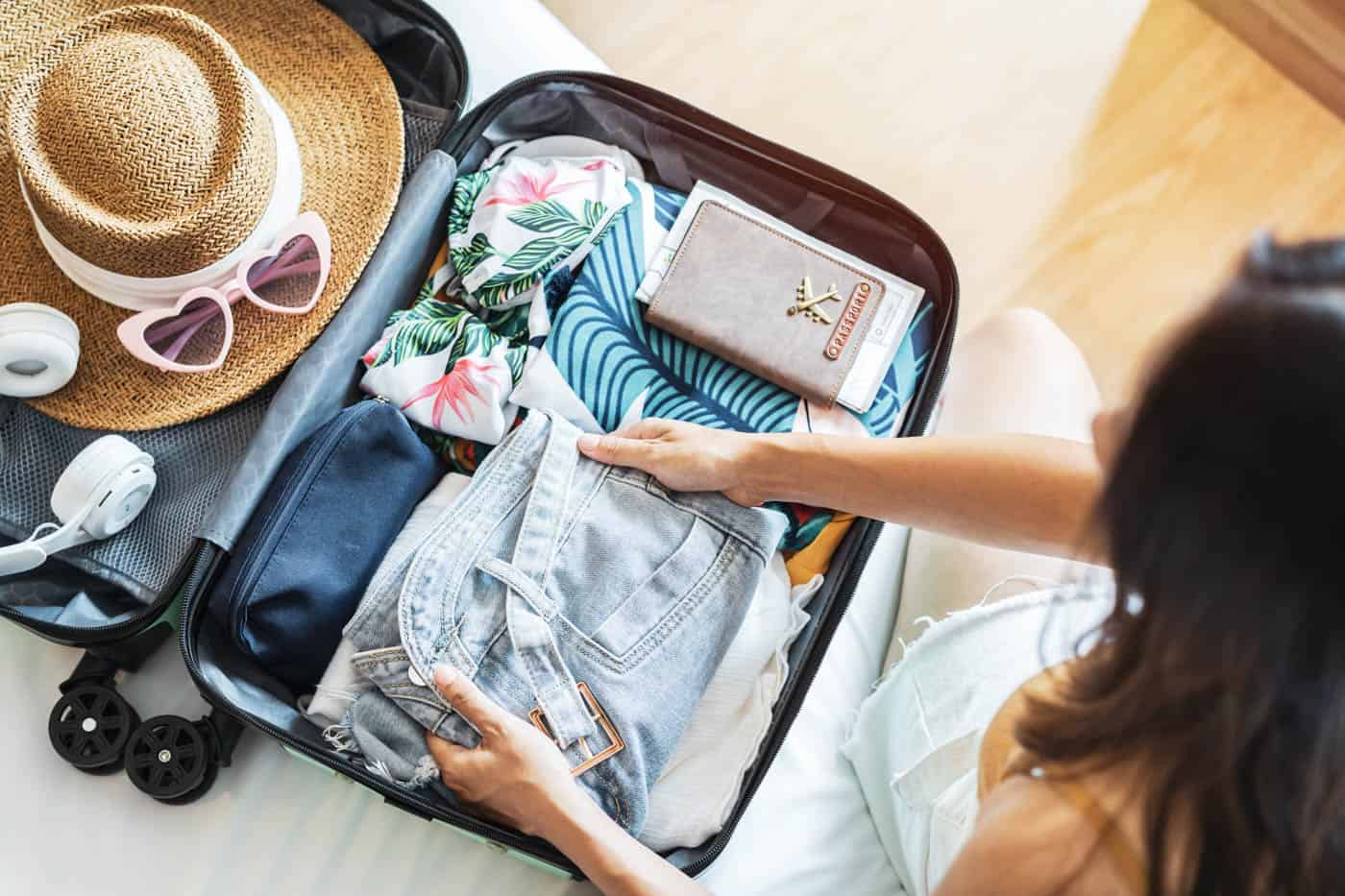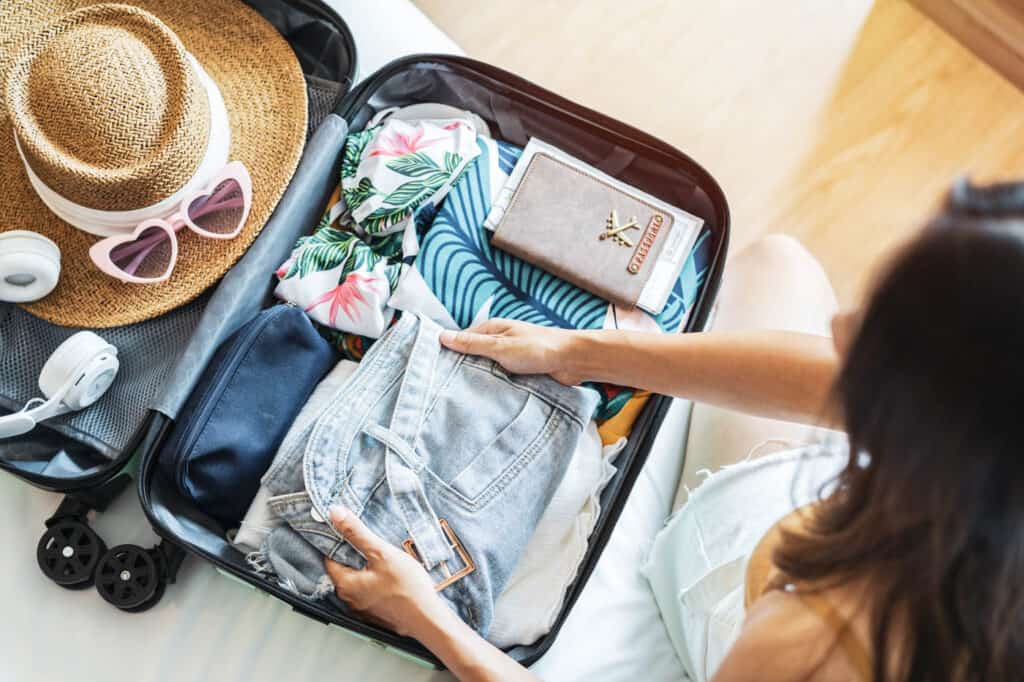 Best Way to Pack a Suitcase
When planning a trip, it's easy to struggle with packing. Especially if you love clothes like I do!
The problem is, if you try to pack everything, you'll quickly run out of space in your suitcase! This can lead to overweight luggage, resulting in paying extra fees. Let's avoid those with some tips for planning how to pack a suitcase in a way that saves the most space.
It generally comes down to, knowing your destination, accommodation facilities, and weather, and then you can plan your packing accordingly.
How to Pack a Suitcase to Maximize Space
Focus more on multipurpose and lightweight items, use every possible space in your suitcase, and pack only those items you need during your vacation. You don't need to pack extra clothes, shoes, or accessories!
There are many ways to make packing hassle-free and easy and maximize the space of suitcases. Here are a few tips that will help you if you want to know how to pack a suitcase to maximize space.
Step 1: Choose the Right Luggage
The first step in maximizing space in your luggage is to choose the right luggage. With the right suitcase, it's much easier to fit everything. Check out my list of the best travel essentials for women as a great starting point!
I recommend hard-sided suitcases because they tend to be lighter in terms of weight, which makes traveling with them much easier.
After trying many different pieces (yes, including those trendy ones), here's the carry on suitcase that I recommend if you want to maximize your space.
Top Pick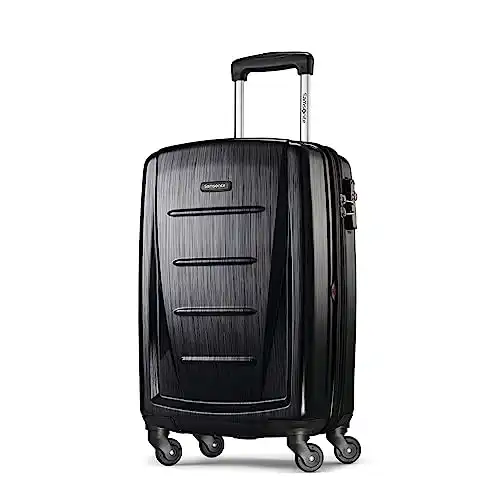 Maximize Your Carry-on Suitcase Dimensions
When you're choosing your luggage, it's also important to be able to utilize every corner, and make the most of the luggage capacity that you're allowed on your airline.
Here's a guide to carry on luggage requirements by airline. Also make sure to check with your airline directly for the most up to date information.
When you're choosing a suitcase for your trip, pick one that is the largest possible, but still within your airline's guidelines. The suitcase I've linked to above is the perfect fit for most U.S. based airlines!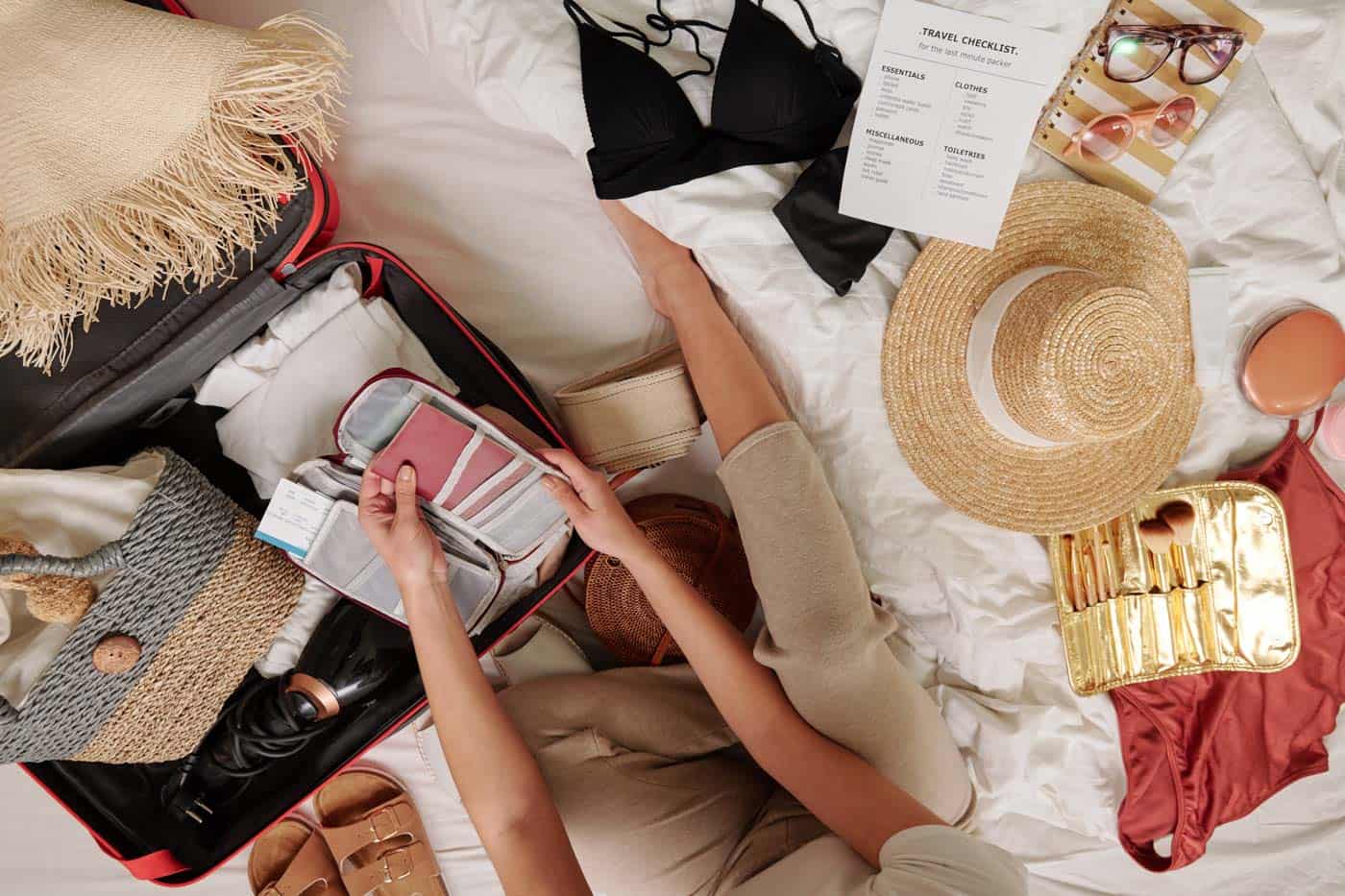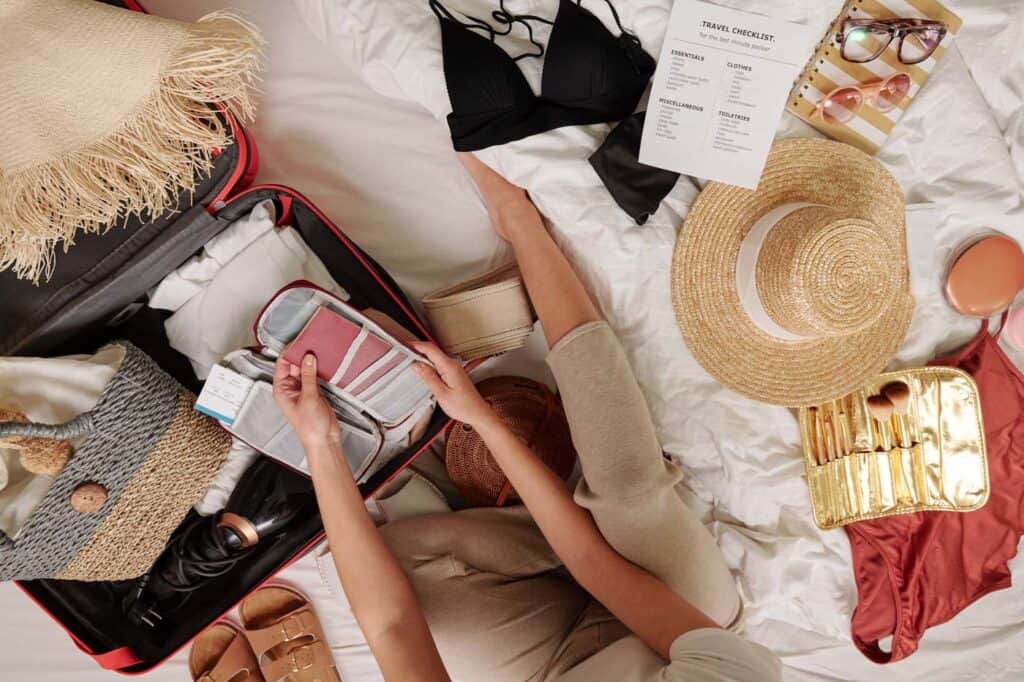 Step 2: Pack only Essential Clothes
Now that you've got the right suitcase in hand, make sure you've got the right packing list!
A great place to start is with my printable packing list. It's got everything you need to bring on a one week trip, and nothing extra!
Another great tip is to consider putting together a capsule wardrobe. Check out my examples of a fall travel capsule wardrobe, a Europe travel capsule wardrobe, and a work capsule wardrobe that's perfect for business travel.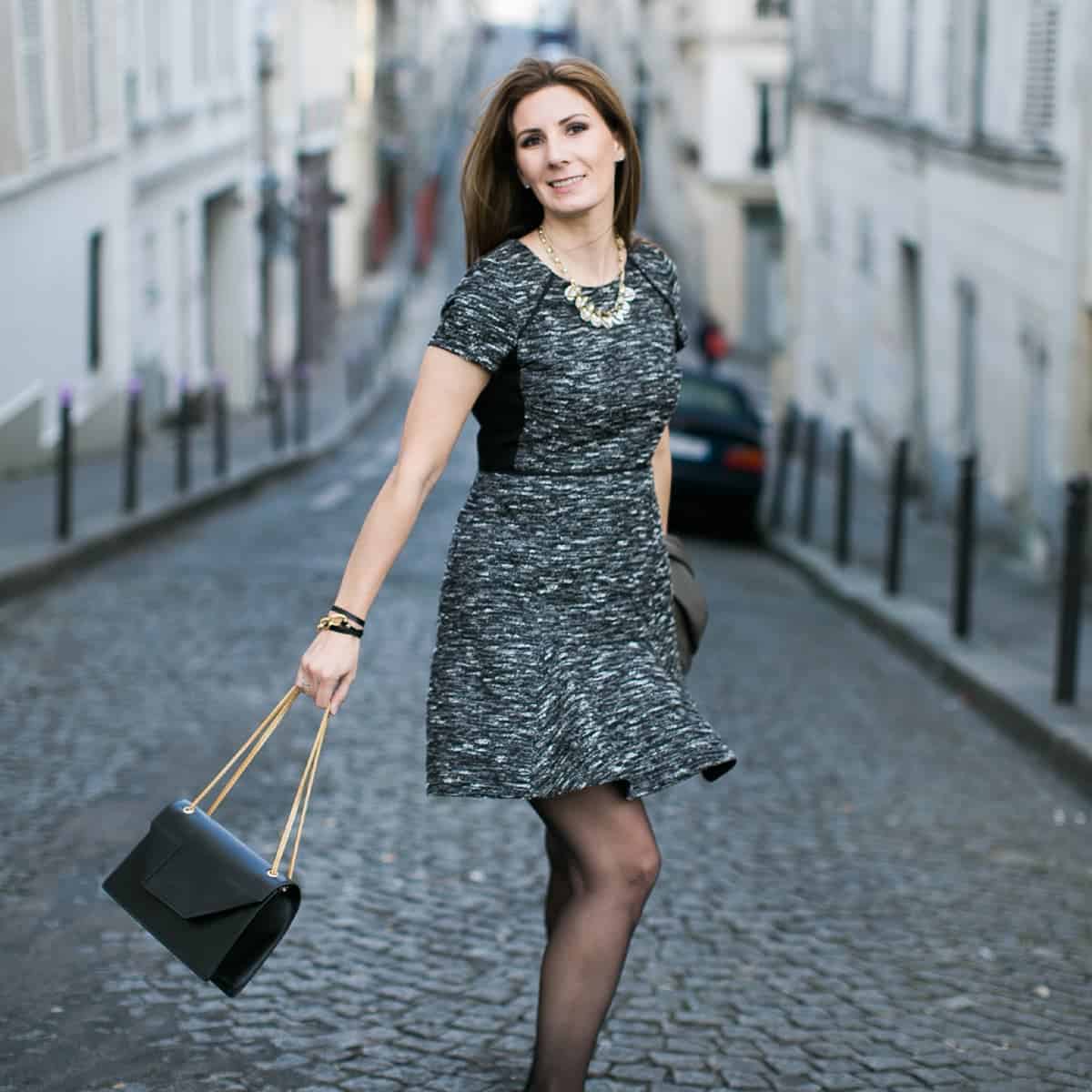 shop my favorite
TRAVEL ESSENTIALS
Ready to jet-set with ease? Discover my favorite travel products for your ultimate passport to stress-free adventures!
Pare Down Your Toiletries
If you want to maximize space in your luggage, try paring down your toiletries to the absolute must-haves. My list of toiletry packing list is a great place to start!
In terms of saving space with your hair and makeup products, check out these posts on the best travel size hair products, as well as travel makeup essentials.
Once you've got your travel toiletries list ready to go, check out my post on how to pack makeup for a flight.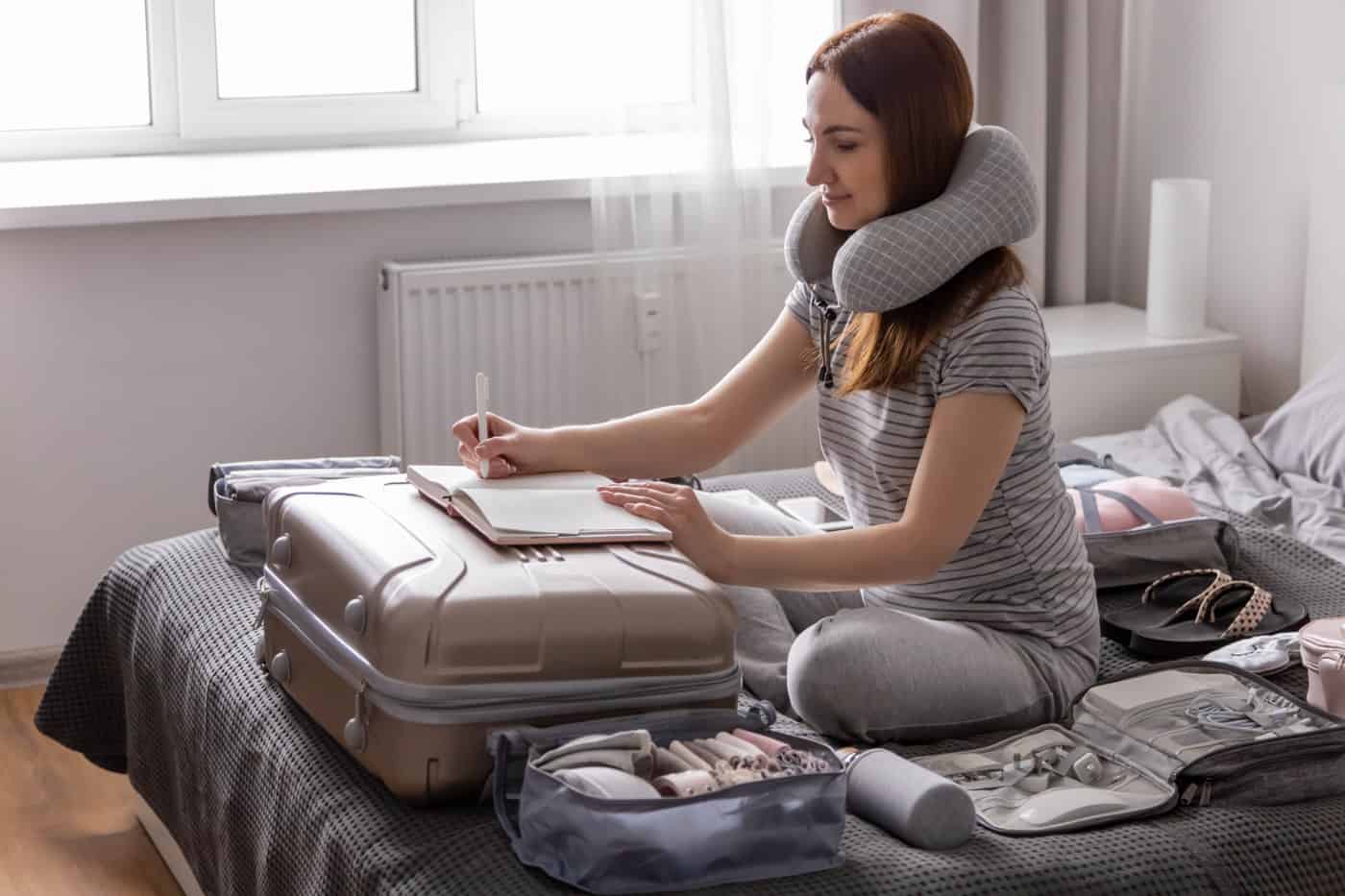 Step 3: What to Pack Where
When you're packing for a trip, there are three different kinds of luggage you can bring. These include a personal item, a carry on suitcase or bag, and checked luggage.
It's important to know what to pack where. Check out this guide I put together on what to pack in carry on vs checked luggage. It'll help you figure out exactly what to bring on the plane, and what can go in your checked luggage.
Step 4: Use Packing Cubes
Packing cubes are one of the best ways to maximize space in your luggage! Once you start using them, you will quickly see how much they help to organize everything.
My favorite set of packing cubes is a set of 8 cubes and bags – linked below! I love this set because it includes 8 different individual cubes and bags.
The set also includes a shoe bag, a toiletry bag, a sock bag, an underwear bag, and even a drawstring bag where you can pack your dirty clothes once you've worn them. Makes laundry a cinch once you're back home!
Top Pick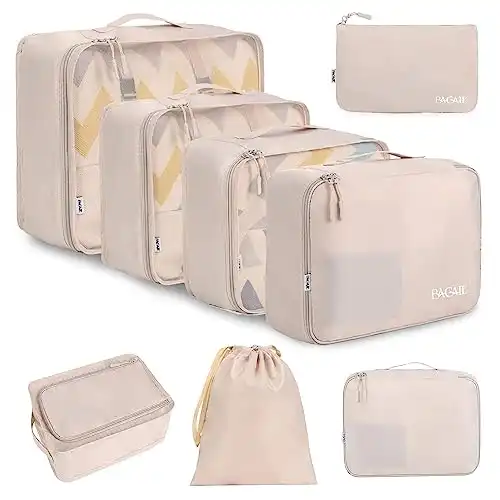 Set of 8 Packing Cubes
I love this set of packing cubes because there's a place for everything. The set includes a shoe bag, a toiletry bag, sock bag, an underwear bag, and even a drawstring bag for your dirty clothes. It comes in 13 different color options, too!
Shop Now
Pack your bulkier items (jeans, dresses and pants) in the larger cubes. Pack tops in the medium cubes. Finally, put smaller clothing items like tank tops, shorts, or swimsuits in the smaller cubes.
The other items on your packing list can go in their dedicated bags (hello, sock bag!).
Another benefit of packing cubes is they will keep clothes wrinkle-free. You can roll your clothes tightly without rinks while keeping them in your packing cube.
Since your clothes are packed snugly in the cubes, they will have no room to unfold, crinkle, and get wrinkles. Say goodbye to ironing upon arrival!
Step 5: Roll Your Clothes
If you really want to know how to maximize space in your suitcase, you've got to roll up your clothes when you pack them!
Rolling your clothes is the best way to save space and keep your clothes organized and wrinkle-free in your luggage.
Exactly how I roll my clothes for travel: For a detailed step-by-step guide to how I roll my clothes when I pack, check out this post on how to pack white jeans for travel. It's got photos for every step in the process.
Step 6. Stuff Shoes with Underwear and Socks
Have you ever thought of using your shoes as a packing bag? Yes, you can do this. Shoes take the most space in your suitcase. That's why it's important to travel with only two pairs of shoes for every trip!
Once you've got your shoes in your bag, stuff them with the smaller items you need to pack, like underwear, socks, or a swimsuit. It'll maximize the available space you've got!
One last tip when it comes to packing shoes: always wear your heaviest shoes as part of your travel outfit. Boots, I'm looking at you! This will save you even more space in your bag.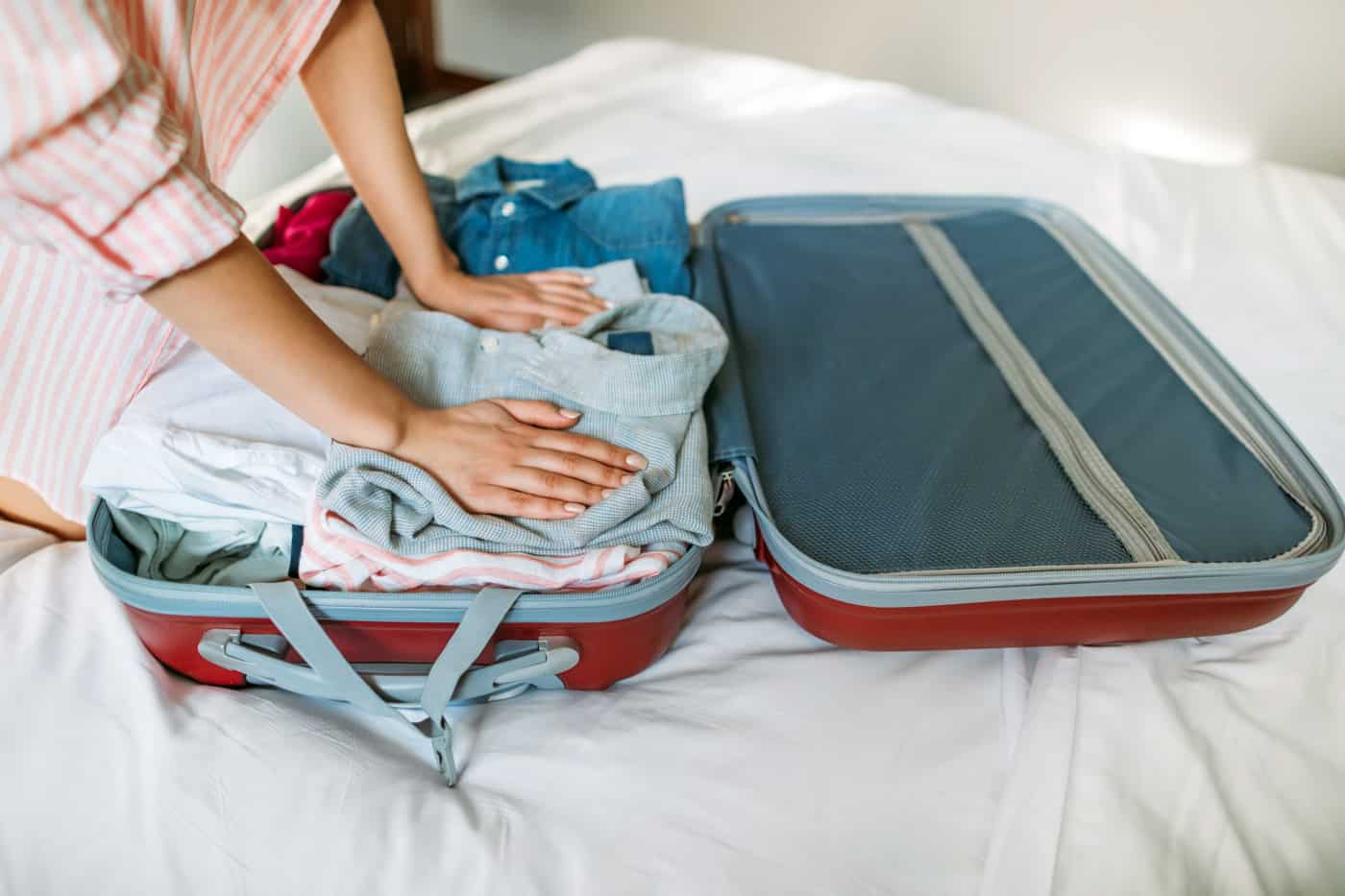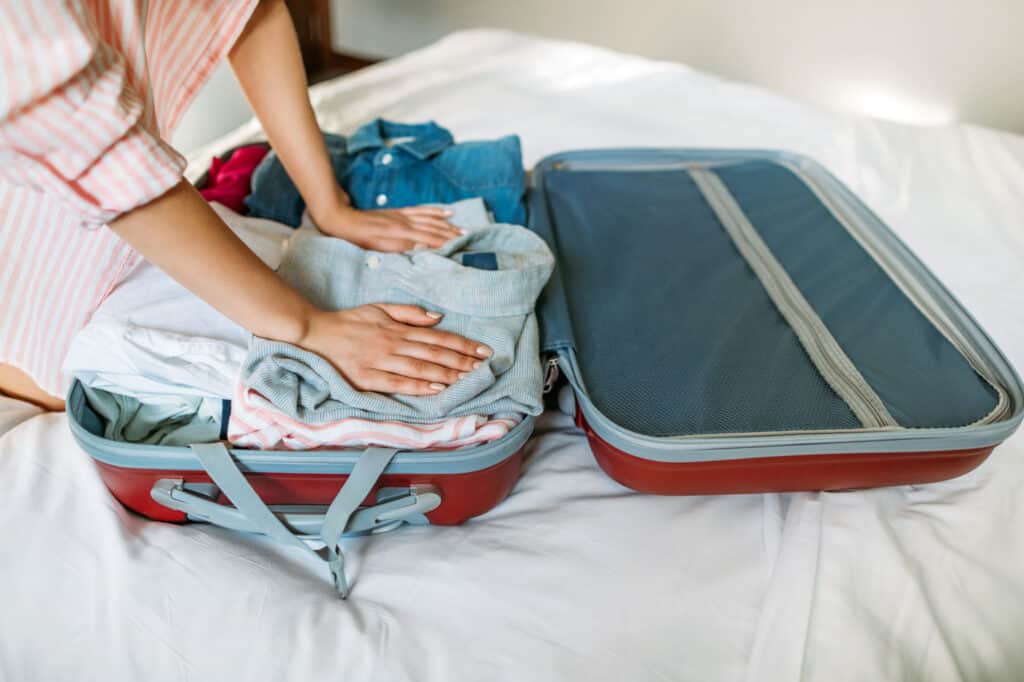 Step 7: Wear Your Bulkiest Items on the Plane
When it comes to planning your travel outfits, you'll save space in your suitcase by wearing your bulkiest items on the plane, or as part of your travel outfit. You will look great and save a lot of space in your bag or suitcase!
In terms of bulky items, think things like jeans, sweaters, jackets, a scarf, and larger shoes like sneakers or boots.
All of these things take up a ton of space in your suitcase. So if you can strategize by including them as part of your travel outfit, you'll have lots more space left over in your suitcase for packing other things.
Now You Know How to Pack a Suitcase to Maximize Space!
Packing is the most challenging part of a vacation. However, you can make it easy by planning ahead of time. Research your destination and weather conditions, invest in versatile products, choose the right luggage, and pack only essentials.