The Ultimate Zion Packing List: What to Pack for Zion National Park
This site uses affiliate links and I may earn a small commission when you use my links and make a purchase, at no extra cost to you. 
Zion is Utah's first National Park, and undoubtedly home to some of the country's most incredible scenery. From rocky cliffs, to bubbling freshwater streams, to majestic sunsets, Zion is stunning everywhere you look! If you're planning a trip to Zion National Park, you're probably giving a lot of thought to what you should pack. And rightfully so. Weather conditions change frequently in Zion, and it's always challenging to pack for a trip with lots of outdoor activities. I've got you covered with this guide to the ultimate Zion packing list!
Whether you're looking for what to wear in Zion, what hiking gear you need to pack, or what additional items to bring, it's all here. So if you're wondering what to pack for Zion National Park, look no further….and read on for all of the details of EXACTLY what to throw in your suitcase! It'll be one of the most important things you do when planning a trip to Zion.
Important note: this Zion packing list assumes you're staying in a hotel or AirBnb, so it does NOT include camping gear. If you need advice on Zion accommodations, here's the best places to stay in Zion National Park.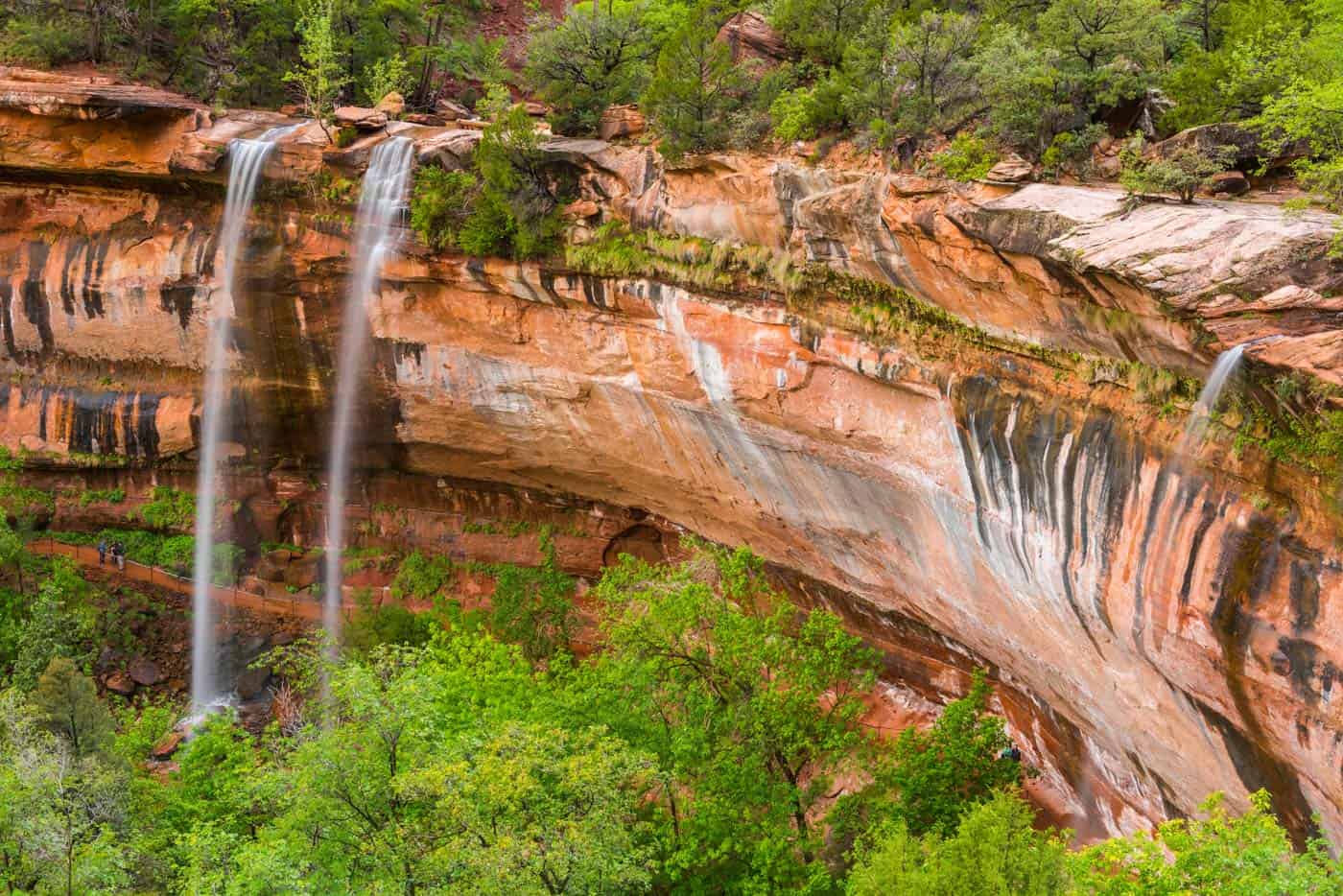 What to Wear in Zion National Park
When I was packing for Zion, I remember thinking: what should I wear while I'm visiting Zion? I knew that I needed clothing that was versatile and comfortable, but I wasn't sure where to start. So I brought a little bit of everything – and turns out most of it was unnecessary!
So if you're wondering what to wear in Zion National Park, I've got you covered! Don't make the same mistake I did and pack too much. Here's the only Zion National Park clothing you'll need for your trip:
The Best Clothes to Pack for Zion
Tops: depending on the forecast at Zion, plan on bringing a variety of fitted tank tops, quick-drying t-shirts, and long sleeve shirts. The key here is to create versatility through layering, so that you'll be comfortable throughout the changing temperatures during the day at Zion.
Packable jacket: It can get downright COLD in Zion Canyon in the morning, so make sure to bring a warm jacket with you. Look for one that has lightweight material that still provides warmth. Try to find a jacket that is "packable" and can easily be stuffed into a backpack. I like this packable jacket because it's inexpensive, comes in a TON of colors, and it's easy to stuff in your bag. I guarantee you'll be taking it off at some point!
Quick-drying shorts and pants: I recommend bringing both shorts and pants, so that you can layer or choose depending on the weather. I like these quick-drying shorts, and I'm also a fan of these leggings which are super comfortable for hiking.
Wool socks: Wool is the best choice of fabric for hiking socks. Here's a great pair that are 100% wool, but aren't too pricey.
Bras and underwear: don't forget to pack sports bras if you're planning to do some hiking!
Hat or baseball cap
Need help fitting everything in your bag? Here's how to pack a suitcase along with the perfect weekend trip packing list.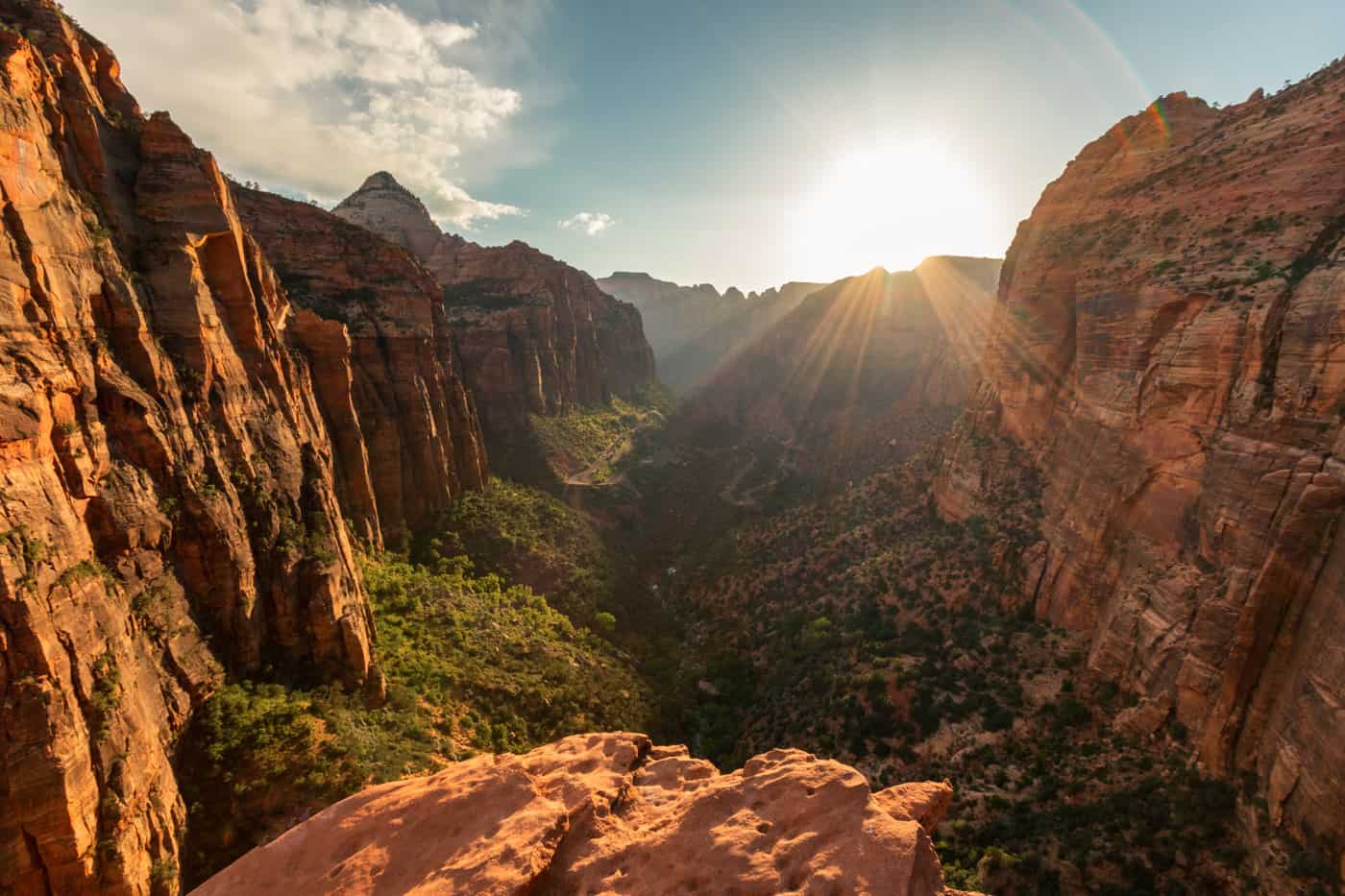 Pro Travel Tip: These days, travel can be more uncertain than ever. Check for any COVID-related restrictions at your destination, and never travel without travel insurance! I recommend SafetyWing, because they have flexible + affordable insurance plans, and also cover COVID-related impacts on your trip (not all companies do)!
Zion National Park Hiking Gear
If you're visiting Zion, you're probably planning on doing some hiking while you're there. After all, the hikes in Zion offer some of the country's most beautiful natural scenery!
It's important to pack the right hiking gear for Zion, so that you are prepared, can stay comfortable and avoid any risk of injuries. Here's a list of the essential hiking equipment you'll need for hikes at Zion.
Hiking Equipment for Zion
Hiking boots: Look for some that are sturdy but lightweight (like these!), so that they're easy to pack.
Hydration daypack: You'll need to drink plenty of water while you're visiting Zion, and having a hydration backpack makes it easy to hydrate but keep your hands free for photos. I like this hydration backpack because it's inexpensive and also has extra pockets for snacks and other hiking must-haves.
Water bottle: If you prefer not to bring a hydration backpack, a water bottle is a must!
Hiking poles: To help give you support and balance for the uneven terrain on hiking trails
LED headlamp or flashlight: Seeing the sun set while hiking in Zion is EPIC. But you'll need to bring a light with you to hike back! Check out this 2 pack of LED headlamps, or a powerful, but travel-friendly flashlight.
Sunscreen
Sunglasses
Lip balm
Snacks
Featured Product: Hydration Daypack
This lightweight hydration daypack has a bladder that carries 2L of water, which is perfect for day hikes in Zion. I love that it'll keep your hands free while hiking!
It also has smaller pockets that are perfect for stashing things like your phone, car keys, and sunscreen.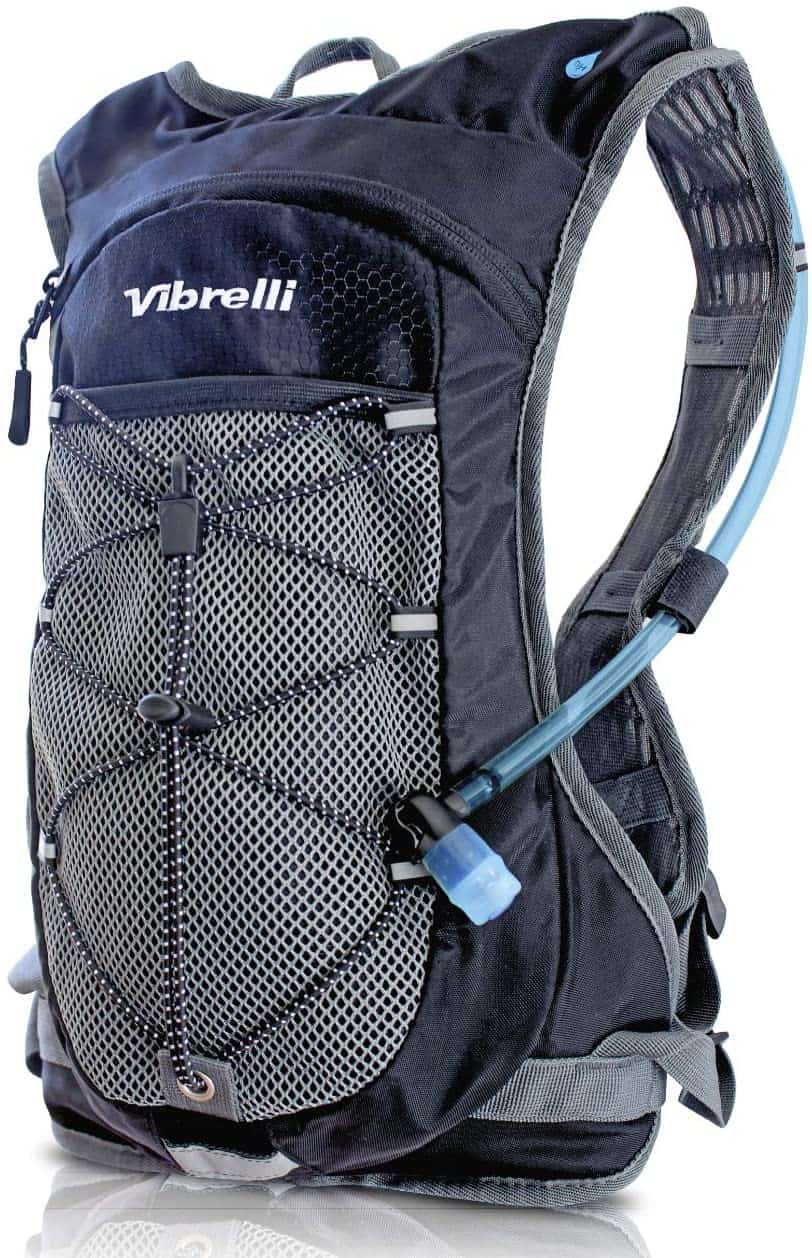 Additional Items to Pack for Zion
In addition to clothing and hiking gear, there are a few extra items you should plan on packing for your trip to Zion to make your trip more memorable and smooth.
Other Items to Pack for a Trip to Zion
Guidebook: Most areas in Zion Canyon don't get cell phone reception. That's why it's so important to bring a guidebook with you when you pack for Zion! I like this guidebook because of its extra sections on Bryce Canyon National Park, as well as the other Utah National Parks.
Camera
Waterproof lanyard for your phone: A waterproof lanyard for your phone will especially come in handy if you're hiking the Narrows and want to keep your phone safe but have easy access to take pictures.
Binoculars
National Parks pass: At $80, an America The Beautiful Pass is the way to go! It buys you 12 months of access to all National Parks in the US.
Bug repellent: I like these bug repellent lotion packets because you can toss them in your bag one day at a time. I'm all about keeping things as lightweight as possible!
Portable cell phone charger: Don't be surprised if you run out of phone battery while you're snapping photos of the jaw-dropping scenery in Zion. Bring an external power source because there aren't many places to charge your phone in Zion. I like this one because it has the connector cable built-in (one less thing to carry!)
Hand sanitizer
First aid kit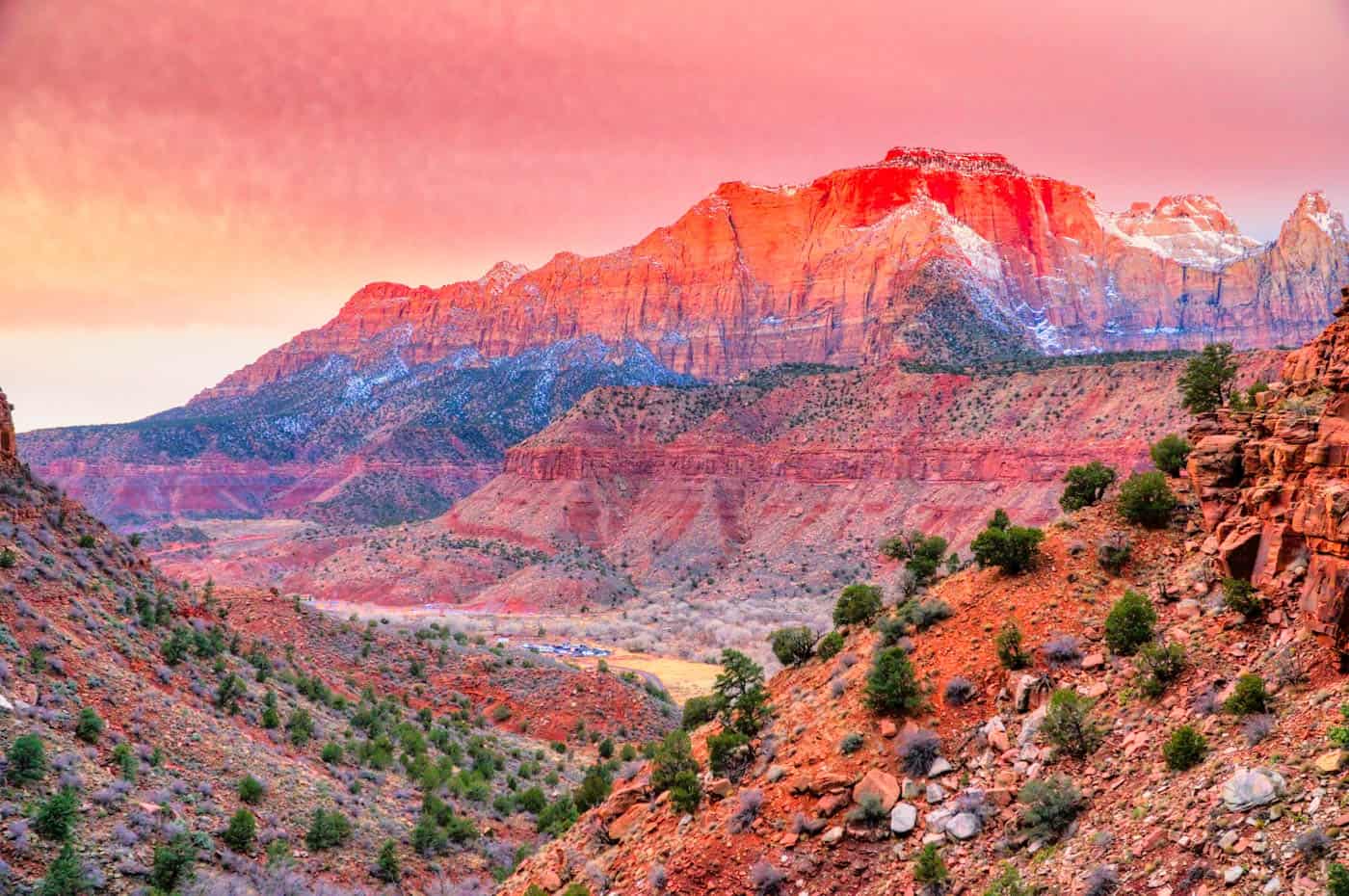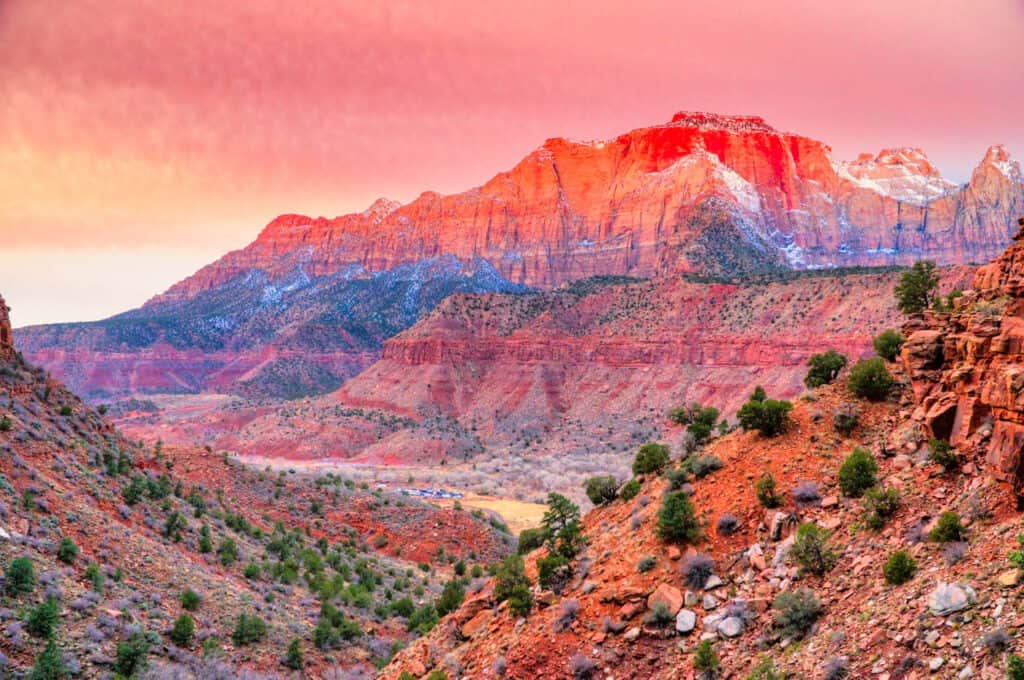 Toiletries to Bring to Zion National Park
Last but not least, what toiletries do you need to pack for Zion?
Depending on where you're staying in Zion, your accommodations may already include some basic toiletries like soap and shampoo.
But regardless of where you're staying in Zion, it makes sense to be prepared! While there are a handful of stores in Springdale (the town just outside Zion National Park), you may not be able to buy exactly what you need.
So just in case, here's a list of toiletries and personal items to pack for Zion.
Shampoo and conditioner
Moisturizer and lotion
Soap or shower gel
Toothbrush and toothpaste
Deodorant
Feminine products
Prescription medicine
For a full, comprehensive list, check out this post on the ultimate toiletry packing list. It's got everything you'll need, for any trip you go on!
Want a Printable Zion Packing List?
---
Tips on Packing for Zion National Park
In addition to the complete packing list for Zion above, here are a few general tips on packing for Zion National Park that will help you think about what to bring on your trip.
Packing for Zion Can Vary by Season
First, the weather in Zion can vary dramatically throughout the day, particularly in the spring months. It's not uncommon to experience three seasons within a day while you're visiting Zion! That means you'll need to pack clothing and gear that you can layer and remove throughout the day as the temperature changes.
Second, think carefully about how you're planning to spend your time while you're in Zion, and pack accordingly. If you're going to do longer hikes such as Angel's Landing or the Narrows, you may need additional equipment – see below for my suggestions on the Narrows!
On the other hand, if you'll be primarily doing easy hikes in Zion, you can be more relaxed with your packing, and leave the heavy hiking boots at home.
For ideas on things to do in Zion, check out how to spend one day in Zion National Park to see all of the park's highlights in one day!
What to Pack for Zion by Season
The Zion packing list in this post should be suitable for most seasons in Zion. Depending on what time of year you're visiting Zion, though, the conditions can very considerably. So when you're trying to decide what to bring on your trip to Zion, make sure to think about the weather conditions at Zion, and check them ahead of time!
Below are a few ideas on specific things to pack for Zion depending on what season you'll be traveling.
What to Pack for Zion in Spring (March, April, May)
The spring months of March, April, and May are a fantastic time to visit Zion. The park tends to be less crowded than it is in the summer and fall. In addition, daytime highs in the spring in Zion can hit the 70's and low 80's, so plan for warmer afternoons.
The spring in Zion is when temperatures change quickly throughout the day! The early morning Canyon lows can be in the low 50's, but climb to the low 80's by the afternoon.
Packing for a spring trip to Zion may even feel like you're packing for two different trips! Make sure to bring pieces that are suitable for hot afternoons, but also pack additional layers to keep you warm during chilly mornings before the sun hits the narrow canyon floor.
What to Pack for Zion in Summer (June, July, August)
During the summer months at Zion, expect to feel the heat! It's not unusual for summer highs in Zion to hit the 90's and 100's, with lows in the low 70's.
If you're packing for Zion in the summer, you can plan on leaving your warmer layers at home. Instead, make sure to bring plenty of sunscreen, a hat, and even a swimsuit for cooling off in the Virgin River.
What to Pack for Zion in Fall (September, October, November)
What to pack for Zion in the fall can vary considerably depending on whether you're going in September vs. November. In September, the park still has lingering warm weather, so the list below should be suitable. By November, though, the lows can get down to the high 30's!
The packing list below should be suitable for September and October, but if you're going to Zion in November, consider bringing extra warm layers.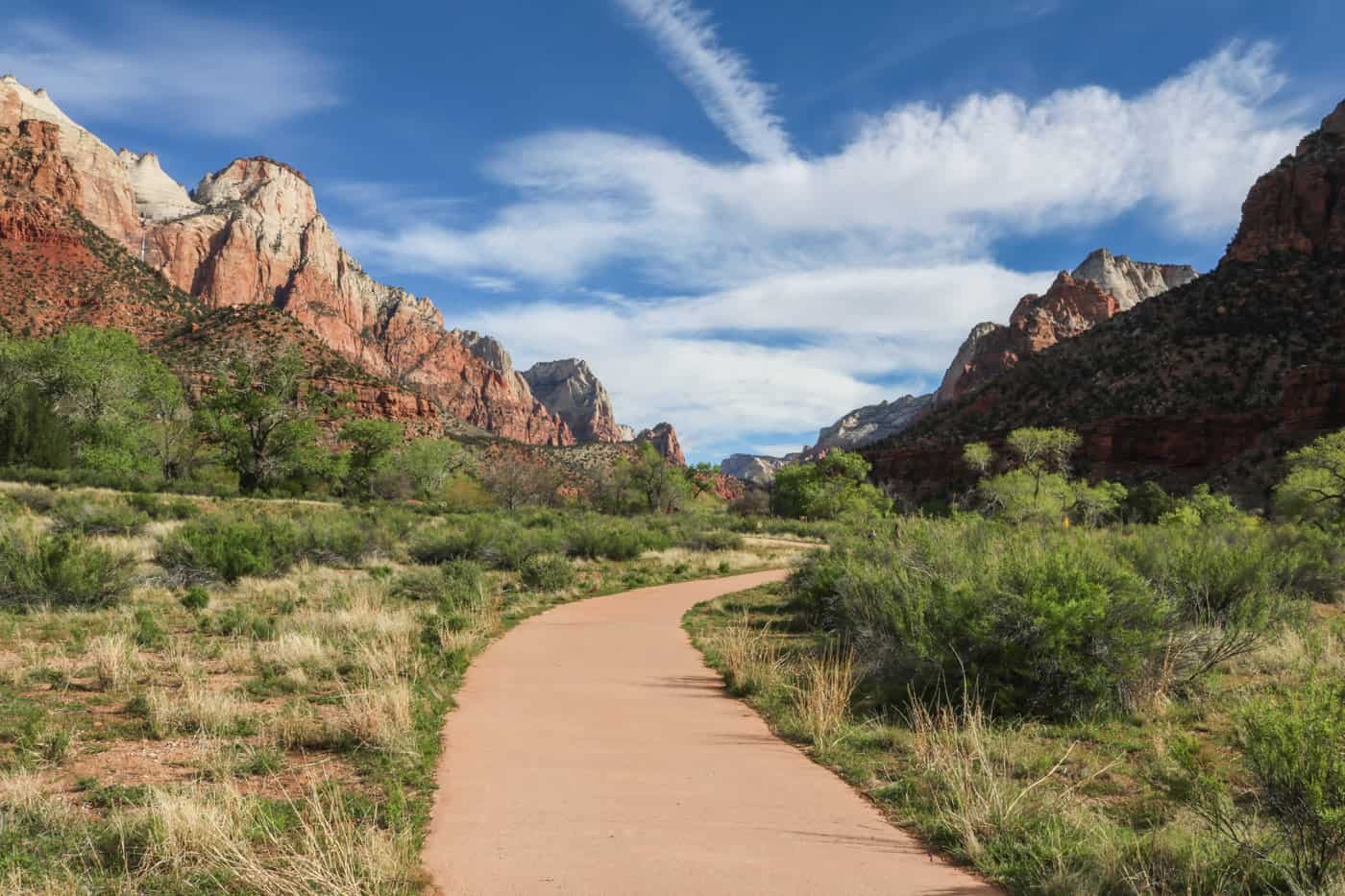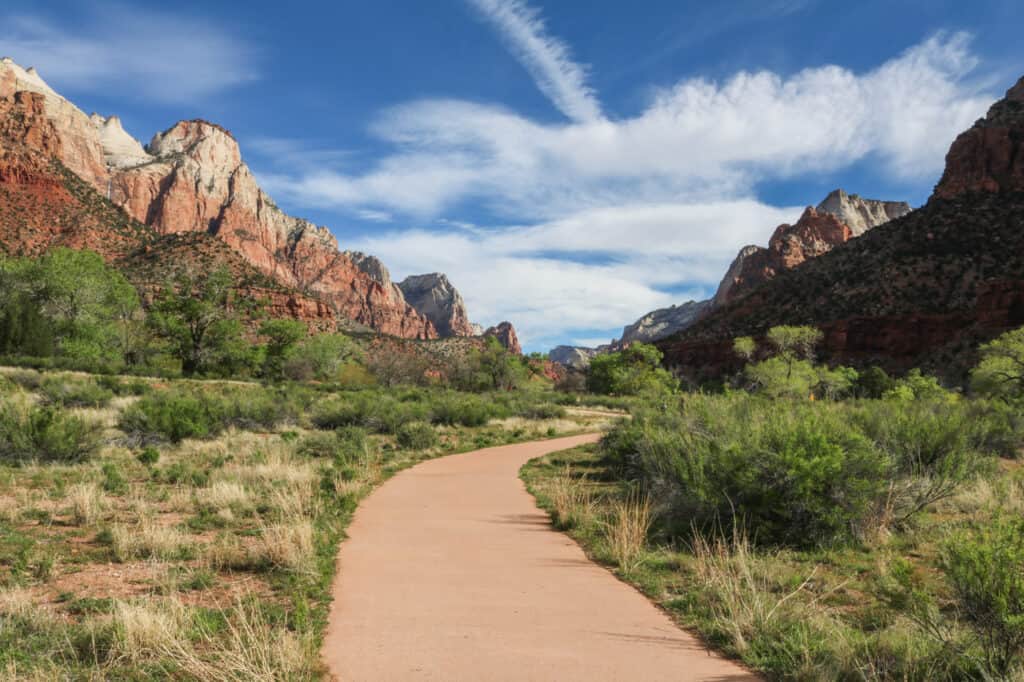 What to Pack for Zion in Winter (December, January, February)
Winter is a quiet time to visit Zion, when the park can be enjoyed with fewer crowds. That said, if you're packing for a winter trip to Zion, make sure to bring plenty of warm clothes! The daily high temperatures will only reach the mid-50's and the lows can hit freezing temperature, so make sure to pack accordingly.
In addition to the packing list below, you should also pack a hat and gloves, and extra warm layers for exploring in the morning and evening.
Finally, January and February are the rainiest months in Zion. Check the forecast before your trip and pack a rain jacket and umbrella if needed, and make sure your other essentials are water-resistant.
Packing List for the Narrows Hike
If you're planning to hike the Narrows during your trip to Zion, you'll need a few additional pieces of equipment. I recommend reading the entire post I've written on tips on hiking the Narrows for beginners.
That post includes everything I wish I'd known before hiking the Narrows! I cover all of the things to pack for hiking the Narrows, including recommendations for specific gear.
Printable Packing List for Zion National Park
Want a printable packing list for Zion that you can download? Subscribe below and I'll send it to you by email!
Pin for Later!