20 Zion National Park Tips for Planning the Perfect Trip
This site uses affiliate links and I may earn a small commission when you use my links and make a purchase, at no extra cost to you. 
Are you planning a trip to Zion National Park?  These Zion National Park tips will help you plan the perfect trip! Zion is one of the most scenic National Parks in the United States.  If it's your first visit to Zion National Park, there's a lot of information you should know ahead of time to make planning your trip to Zion a cinch. In this guide, I'm outlining everything you need to know about planning a trip to Zion, how to get around Zion, tips for hiking in Zion, and what to bring for your trip to Zion. 
If you're trying to figure out how to prepare for Zion, this is ALL of my most important advice, and I've put together this list of 20 Zion National Park tips so that you can plan your trip to Zion like a pro! Read on for all of my Zion tips and tricks. And if you need advice on accommodations, here's the best places to stay in Zion National Park.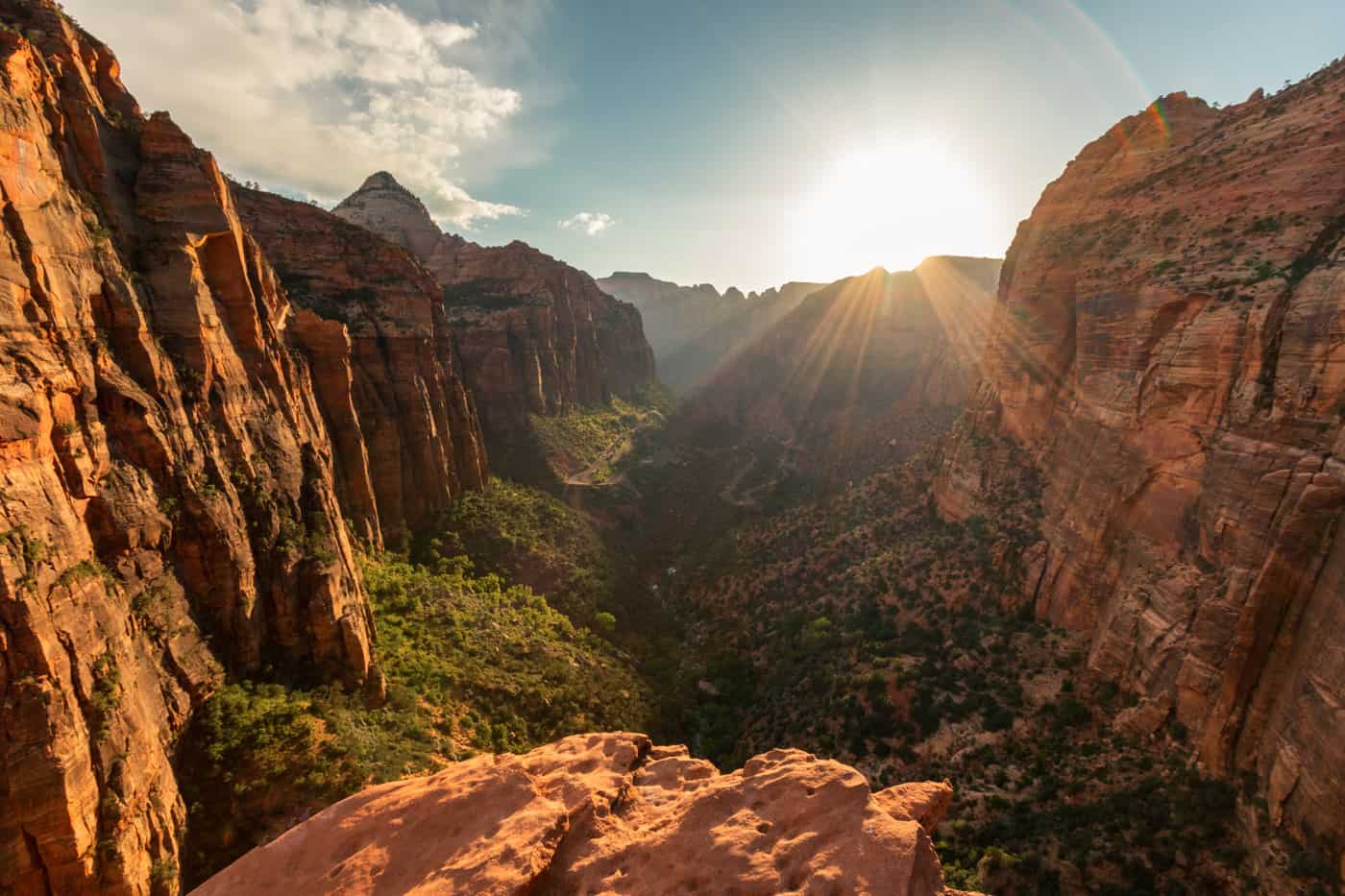 I recently visited Zion National Park and learned a TON about tips for planning a trip to Zion. In other words, I did everything WRONG the first time. So if it's your first time visiting Zion, keep reading for all of my best Zion tips and tricks!
How to Prepare for a Trip to Zion National Park
Planning a trip to Zion can be overwhelming. In this guide, I'll go through some important Zion travel planning tips, tips for getting around Zion, a few Zion shuttle tips, some tips for hiking in Zion, and tips on what to bring to Zion. So if you need help preparing for your trip to Zion, all of these Zion tips and tricks will help you get the most out of Zion National Park.
Need help packing for Zion? Check out my Zion packing list! And if you're only visiting Zion National Park for a short time, you can still see so many of the park's highlights with just one day in Zion National Park.
If you have enough time while you're in Utah, I also recommend spending one day in Bryce Canyon. The incredible scenery is absolutely worth it, and you'll have an amazing day.
Pro Travel Tip: These days, travel can be more uncertain than ever. Check for any COVID-related restrictions at your destination, and never travel without travel insurance! I recommend SafetyWing, because they have flexible + affordable insurance plans, and also cover COVID-related impacts on your trip (not all companies do)!
Travel Planning Tips for Visiting Zion National Park
Below is a list of my best advice and tips for Zion National Park when it comes to actually planning your trip. Keeping the Zion tips and tricks below in mind while you plan your visit to Zion will help ensure that you have a smooth trip. These are all of the things I wish I'd known before visiting Zion!
Choose the Right Season for Traveling to Zion
One of the most important things to know before visiting Zion is that it's important to choose what season you want to visit well ahead of time. I recommend visiting Zion in the late spring or early fall.
During these times of year, the park will be less crowded than it is in the summer, and the temperatures won't hit the same highs that they do in July and August.
How to Choose When to Visit Zion if You Want to Hike the Narrows
If you have your heart set on hiking the Narrows, the best time of year to visit Zion is September or October. This is because the water levels in the Virgin River tend to be much lower in these months, so the hike will be a bit easier to do. If you're planning to do this hike, make sure to check out the post I wrote on hiking the Narrows for beginners.
On the other hand, the water levels in the spring can be quite high, so springtime is when the Narrows hike often closes due to dangerous conditions and potential for flash flooding. So depending on what you want to do while you visit Zion, choose your season carefully.
Flying to Zion National Park
If you're flying to Zion, the closest airport is Las Vegas McCarren International airport, followed by Salt Lake City International Airport.
In general, there are more direct flights to Las Vegas, and I have found that renting a car in Las Vegas is generally cheaper than it is in Salt Lake City. So if you can, plan to fly in to Las Vegas.
From either airport, you'll need to rent a car to drive to Zion. Zion is a 3 hour drive from Las Vegas and a 5 hour drive from Salt Lake City.
Driving to Zion
Zion is easily accessible by car from most areas in Southern California, Arizona, Nevada, and Utah. The scenery of the drive will be stunning! Approximate drive times are as follows:
Phoenix to Zion: 6 hours
Los Angeles to Zion: 7 hours
San Diego to Zion: 8 hours (Zion is absolutely one of the best road trips from San Diego!)
Las Vegas to Zion: 3 hours
Book Your Zion Accommodation Early
Another one of the important things to know before visiting Zion is that you should book your accommodation as far in advance as possible. This is especially true if you're visiting Zion during the peak summer months, or over a holiday weekend.
The most convenient accommodations for visiting Zion are located in Springdale, which is a small town just outside the entrance to the park.  Springdale is SMALL – that means that availability for places to stay around Zion can be limited.  So for the best choices, try to book your accommodations as soon as possible.
Check the Official Zion Park Website in Advance for Current Conditions or Restrictions
Another important tip for visiting Zion is to ensure that you check the official park website in advance for any current closures or restrictions. Checking the park website will also allow you to see whether any reservations or permits are required for the activities you want to do.
Currently, Zion doesn't require a reservation to visit the park, although there are some specific hikes do require a permit (more on that below)! Conditions change frequently, so make sure you are informed by visiting the park's website.
Buy a National Parks Annual Pass
All visitors to Zion must pay a fee to enter the park. But one of my best tips for visiting Zion National Park is to buy an America The Beautiful Pass before your trip.
At $80, this pass buys you entrance to all US national parks for one year. It'll easily pay for itself if you plan to visit more than one park during a consecutive 12-month period.
You Can do a Day Trip from Zion to Bryce Canyon
Speaking of visiting more than one national park, it's also important to know that you can easily to a day trip from Zion to Bryce Canyon National Park.
Bryce is about a 2 hour drive from Zion, so a day trip will include plenty of driving, but it can be easily done if you get an early start. This is a good thing to know before you visit Zion, in case you want to visit both parks but keep the same accommodations for your entire trip.
It's definitely possible to see most of the highlights at Bryce Canyon in a day, including one of the most popular hikes (and my favorite!), the Queen's Garden Trail.
Tips and Tricks for Getting Around Zion
Now that you've got your trip to Zion planned, here's a few more tips and tricks for getting around Zion, including some Zion National Park shuttle tips that are important to know before you go.
There are Two Shuttle Systems that Service Zion and Nearby Springdale
There are two shuttle systems that serve Zion National Park: the Zion Canyon Shuttle, and the Springdale Shuttle. The Zion Canyon Shuttle runs INSIDE the park, while The Springdale shuttle runs OUTSIDE of the park along the main street of the town of Springdale, where it provides access to shops, restaurants, hotels, and parking lots.
The last stop on the Springdale shuttle is the entrance to Zion, and it's where you can catch the Zion shuttle.
The Springdale shuttle is free, but you will need to pay the park entrance fee to ride the Zion Canyon shuttle. Neither shuttle system requires a reservation.
If Possible, Plan on Staying in Springdale
One of my best tips for visiting Zion is to stay in Springdale. That's because staying in Springdale makes getting around Zion so much easier!
If you stay in Springdale, you already have a place to park, so you won't have to worry about getting to the park early enough to grab a free parking spot, or paying to park somewhere in Springdale if the parking lot at Zion is already full.
Instead, you can leave your car at your accommodations and just use the Springdale shuttle to take you to the entrance to Zion, and walk into the park.
My two best recommendations for places to stay in Springdale are the Cable Mountain Lodge and the Cliffrose. They're both adorable and located immediately outside the park entrance. If you stay at either location, you won't even need to ride the Springdale shuttle to the park entrance. You'll be footsteps away!
Tips on Parking in Zion National Park
There are two options for where to park your car when you're visiting Zion: inside the park, or in Springdale. Here's some advice on what to do.
If you can get to the park early, drive in to the park and park in the free parking lot at the Visitor Center. This is your best option!
If you're staying IN Springdale, you don't need to worry about parking! Leave your car at your hotel and take the Springdale shuttle to the park entrance. Then just walk into the park, and pay the entrance fee at the gate.
If you're NOT staying in Springdale, follow tip #1 above. If the Visitor Center parking lot is full, you'll need to park in Springdale. Try to avoid parking in Springdale if you can, since there isn't really any free parking. I had to pay $40 for the day, which was in addition to the park entrance fee. So, learn from my mistake!
Plan to Arrive at Zion as Early in the Morning as Possible
If I could only give one piece of advice for visiting Zion, it would be to get there early. Like really early. Especially if you're visiting during peak summer season or during a holiday weekend.
If you're driving into the park, you will want to arrive before the free parking lot at the Visitor Center fills up. I recommend arriving at 7:00am if possible. If the lot inside the park is full, you'll have to pay to park in Springdale (unless you're staying in Springdale and your car is already parked at your accommodations).
An additional bonus for this Zion park tip is that arriving early means that you'll get a headstart and beat the crowds!
Zion National Park Shuttle Tips: Use the Canyon Shuttle to Get Around
If you're visiting Zion between April and October, it's important to know ahead of time that cars are not allowed to drive into Zion Canyon. So to see most of the park's highlights, you have to use the Zion Canyon shuttle.
In terms of Zion shuttle tips, here's an important one: make sure to check the shuttle schedule ahead of time, and factor this into your plans for getting around the park.
Go to the Furthest Shuttle Stop First, Then Work Your Way Back
Ah ha! Another one of my secret Zion tips and tricks. The Zion Canyon shuttle starts at the Visitor Center and runs up and down Zion Canyon.
Most visitors to Zion hit the Visitor Center first, jump on the shuttle, and then go to the next stop (stop #2 or #3). So the park (and the shuttle) starts getting crowded at the earlier shuttle stops first.
Here's a Zion tip and trick to avoid the crowds. Whatever your plans are for the day, go to the furthest shuttle stop FIRST, and then work your way back. For example, start by taking the shuttle all the way to stop #9 (Temple of Sinawava) to check out the Riverwalk Hike, and then work backwards towards the Visitor Center.
An Important Zion National Park Tip: Make Sure to See a Sunset!
An important tip to know before you go to Zion is that the sunsets at Zion are absolutely amazing!
The sunset colors light up the entire canyon, and highlight the red canyon cliffs in a magical way. Make sure to see at least one sunset while you're visiting Zion. One of the best spots for sunset-watching at Zion is the Canyon Overlook trail, and it's an easy hike to get there.
Don't Miss the Last Shuttle out of Zion Canyon
If you do take in a sunset while you're visiting Zion, a key tip to know in advance is to make sure you don't miss the last shuttle out of the park!
In fact, don't even plan on taking the last shuttle – because if that one is full, you'll be out of luck. Plan to head back at least 30-45 minutes BEFORE the last shuttle, to make sure you'll have a ride.
Check in advance for the current shuttle schedule. Once the last shuttle has departed (or if it is full), the only other option out of Zion Canyon is on foot. And that could be a rough ending to a great day.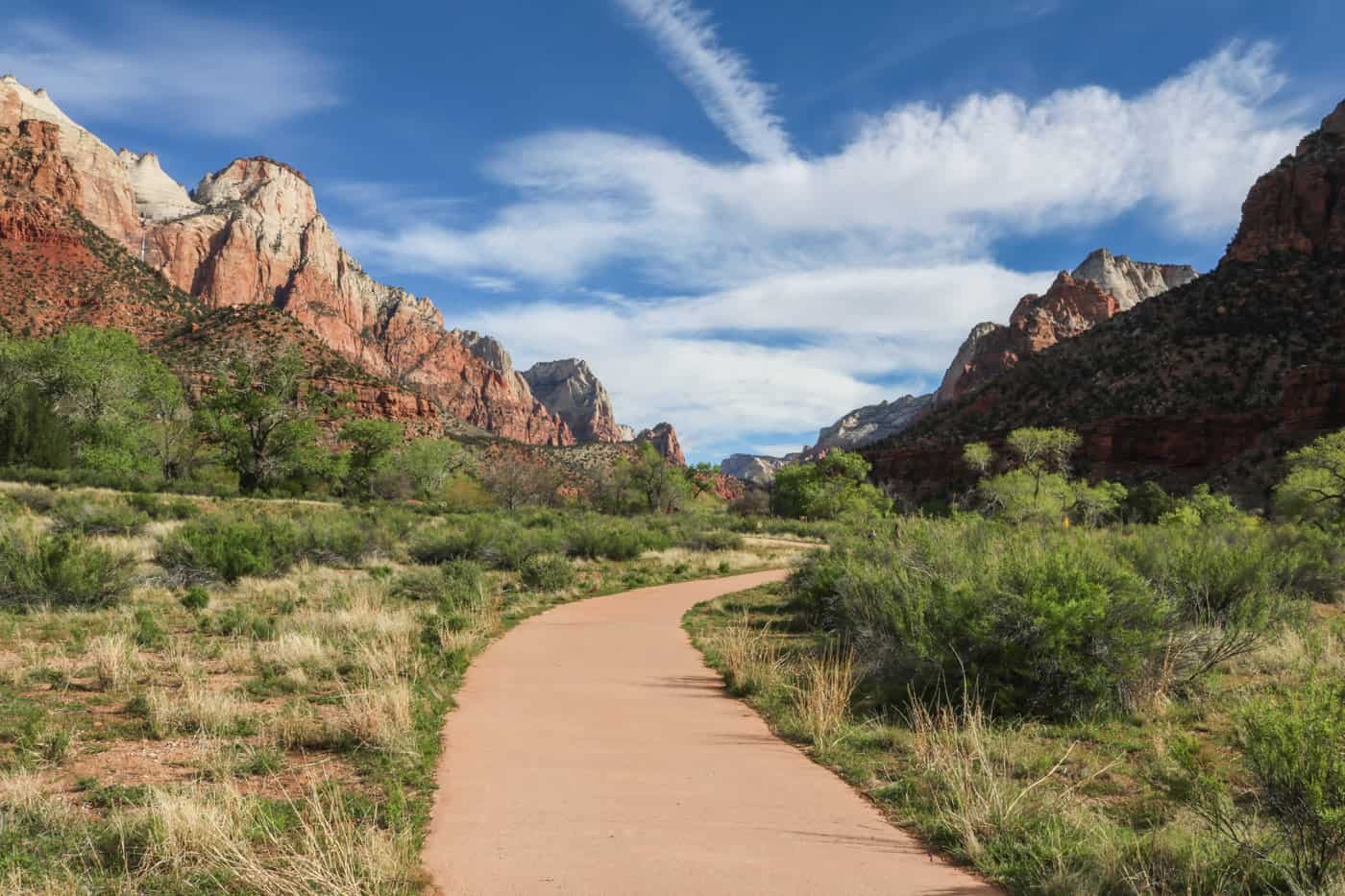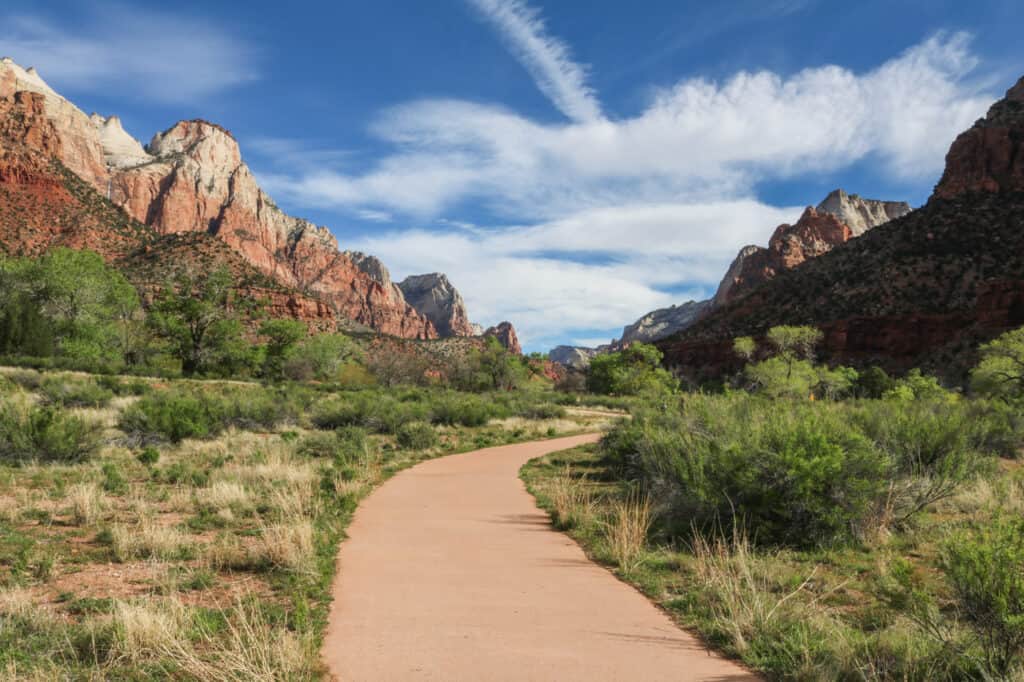 Zion Hiking Tips
If you're planning a trip to Zion, you're most likely planning to do some hiking while you're there. Here are a few important tips for hiking in Zion.
Know Your Limits and Choose Your Zion Hikes Accordingly
There are a ton of hikes available for visitors to Zion, and they range from easy to strenuous, and from 30 minutes to overnight. When it comes to choosing what to do during your trip to Zion, it's important to be realistic in terms of your physical capabilities and any limitations you may have.
The last thing you want is for an injury (or an emergency) to ruin your trip. There are plenty of easy hikes in Zion that are accessible for anyone, so you can still have an amazing experience at Zion without taking on, for example, Angel's Landing or The Narrows.
Check Which Zion Hiking Trails are Open
Before you visit Zion, make sure to also visit the official park website to see if any trails are currently closed. This is an important tip as you plan your Zion itinerary!
From time to time, trails at Zion close due to conditions, rockfalls, or for restoration or construction projects. For that reason, it's important to understand what trails will or won't be open during your visit to Zion.
Apply for Any Necessary Zion Hiking Permits Ahead of Time
While most of the popular easy hikes in Zion don't require a permit, there are some that do! For example, in order to hike the Angel's Landing trail, you will need a permit in advance. In addition, all overnight hiking or camping trips in Zion require a permit.
Check out the permit process at Zion to learn more about whether or not you'll need a permit, and if so, how to get one.
If You're Hiking the Narrows, Plan to Do it Your First Day
One of the most unique hikes in Zion is The Narrows, where hikers wade upstream in the Virgin River through a narrow slot canyon. It's an incredible experience, and I highly recommend it, if you are an adult without any physical limitations (I wouldn't recommend it for kids).
If you DO plan to hike the Narrows, one of my best Zion tips and tricks is to hike the Narrows on your first day. Why?
Conditions are always changing at Zion, and sometimes the Narrows is closed to hikers as a result. If the trail is closed on your first day, you can try again the next day, and the next after that. On the other hand, if you save the Narrows hike for your last day, you might be out of luck if the conditions aren't favorable that particular day.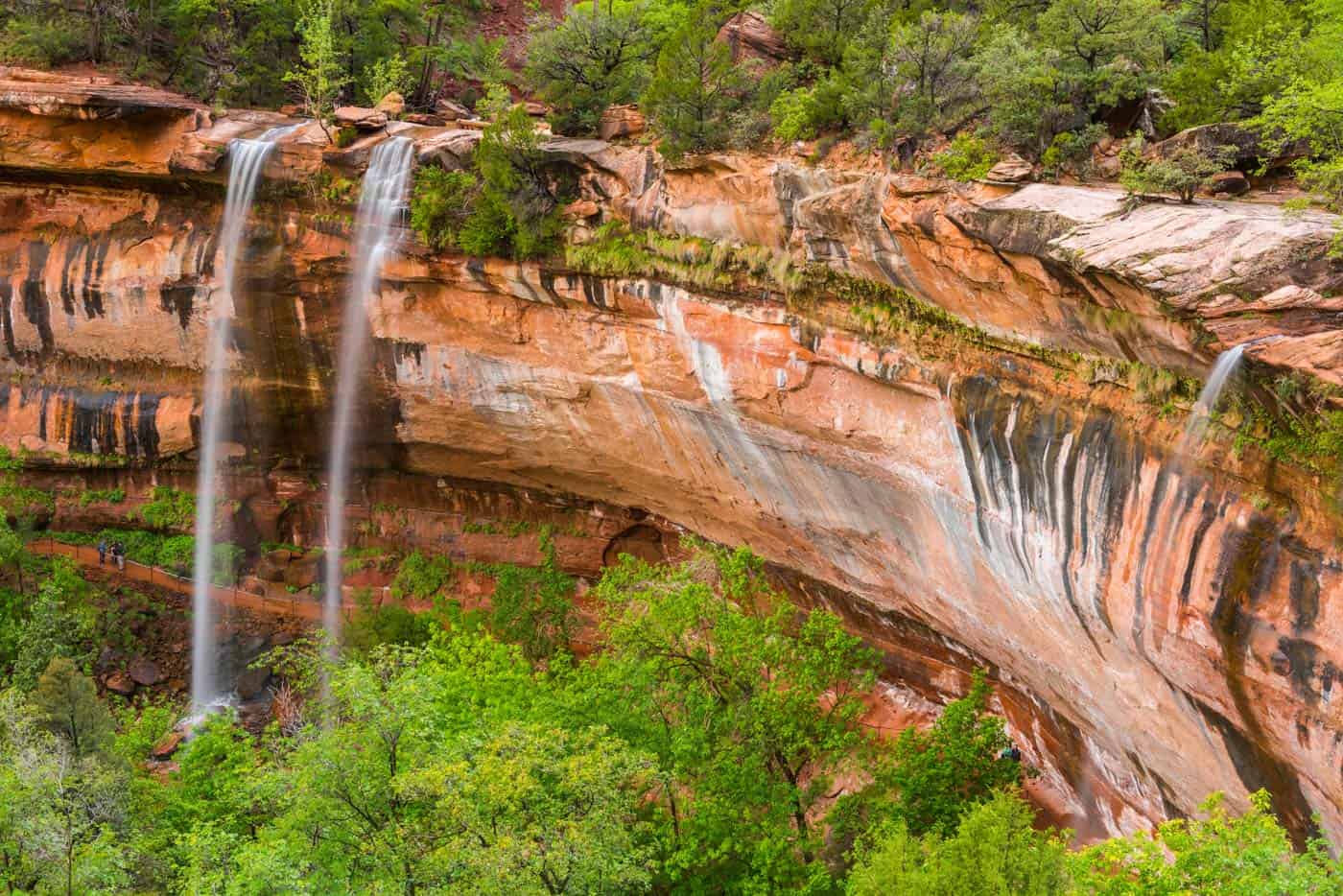 Tips on What To Bring to Zion National Park
If you're planning a trip to Zion National Park, you should know that packing for Zion requires a bit of advanced planning.
In addition to bringing comfortable shoes and clothes you can layer, I have a few important tips on packing for Zion. I'm willing to bet there's a few things you might be forgetting!
Why You Should Bring a Guidebook to Zion
One important packing tip for Zion is to bring a guidebook with you! Most of the park doesn't get cell phone service, which means that you won't be able to look up anything on your phone while you're exploring.
So I highly, HIGHLY recommend bringing a guidebook with you when you travel to Zion. I love this guidebook because it also includes extra sections on the other national parks in Utah, including a section on Bryce Canyon.
Why You Need a Zion Guidebook
Prepare ahead of time by bringing a guidebook with you to Zion! I love this one because it has extra sections on Bryce Canyon, as well as other National Parks in Utah.
Pack the Right Equipment for Zion
One tip for visiting Zion is that it requires a bit of special packing considerations. I'm working on putting together a full packing list for Zion, but until that's done, there's a few things that I recommend bringing:
Sturdy hiking boots – this pair is cute & comfy, and comes in a ton of colors
A packable jacket – you're likely to have chilly mornings and hot afternoons in Zion Canyon, so pack a warm jacket that easily folds up when you take it off
A waterproof phone case (essential if you're hiking the Narrows)
Snacks (see my last tip below!)
Featured Product: Hydration Daypack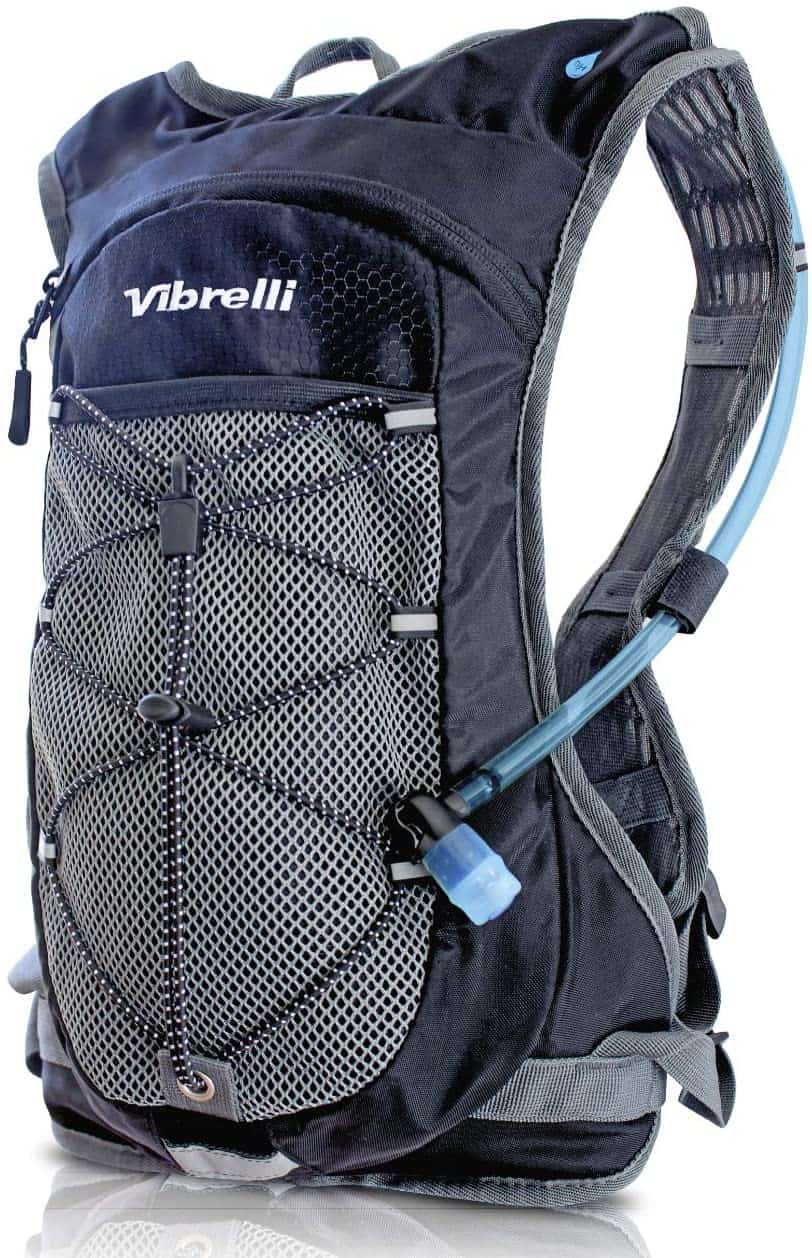 Bring Enough Water
This Zion park tip probably goes without saying, but I'll say it anyways. Bring enough water with you into the park! If you're hiking and exploring Zion, you need to stay hydrated, and there are limited places to fill up during the day.
I highly recommend getting a hydration daypack, so that your hands can stay free while you hike – I promise you're going to be taking tons of photos. I love this hydration backpack because it also has a few other small compartments for things like snacks, a phone, keys, etc. – but it's not to large that it'll weigh you down.
Bring Snacks and Food Into the Park – There are Limited Options for Eating inside Zion!
Consider yourself warned: there are only two places to eat once you're inside Zion National Park: the two restaurants at Zion Lodge. I mean it – food options are limited to just that! And depending on where you are in the park, the Lodge may not be so close.
So if you're planning to spend the day exploring the park, I highly recommend fueling up in the morning over a big breakfast, and also bringing snacks or a picnic lunch with you to much on throughout the day.
There You Have it – My Best Zion National Park Tips!
I hope that this guide has helped you with planning a trip to Zion National Park!