The Best Amazon Prime Day Deals For Travel in 2022
This site uses affiliate links and I may earn a small commission when you use my links and make a purchase, at no extra cost to you. 
Calling all shoppers! Amazon has announced a second Prime Day in 2022! This year's Prime Early Access Day is a members-only event taking place on October 11th and October 12, 2022. There are hundreds of thousands of deals across all departments. It's a great opportunity for Amazon Prime members to get a head start on holiday shopping. I'm helping you shop by sharing the best Amazon Prime Day travel deals for travel lovers and gift shoppers.
All of the best deals sell out quickly, so when you see something you want, make sure to add it to your cart quickly so that you don't miss out. Keep scrolling to see what you should buy now!
Don't forget, only Amazon Prime members are eligible for the sale. If you're not a member yet, sign up here for a free 30 day trial membership.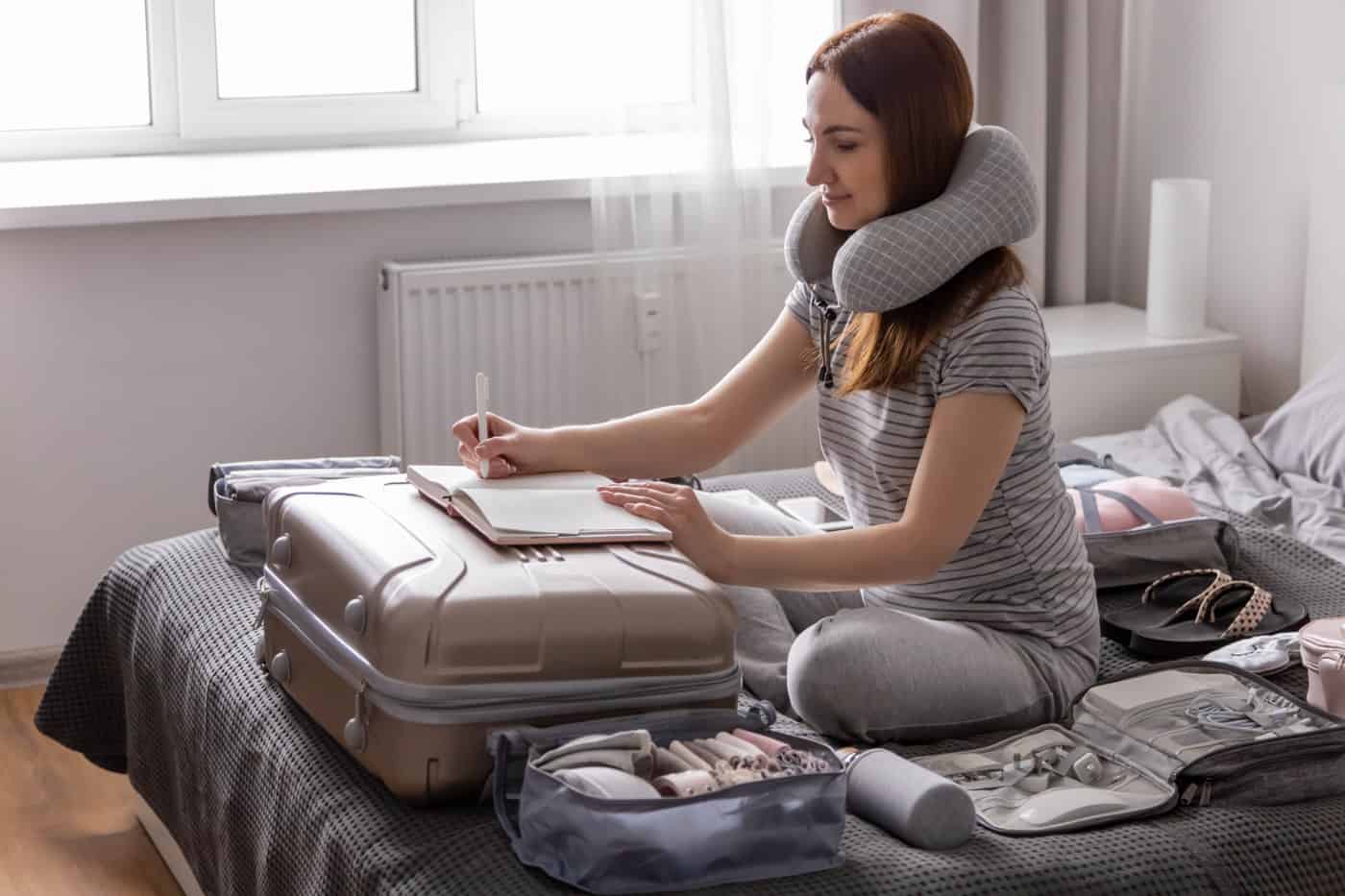 What is Amazon Prime Day?
Amazon Prime Day is a members-only event on Amazon. In the past, Prime Day has happened once each year. Typically, the prices on Prime Day are the lowest you'll see all year long.
Prime Early Access Day
In 2022, Amazon announced a SECOND Prime Day, the Prime Early Access Day. It's taking place October 11th and 12th and there are TONS of deals to be had all across departments at Amazon. The sale only lasts for two days, though, and the best deals sell out quickly!
Top Selling Amazon Prime Day Deals Overall
Here's the most popular items so far Prime Day from The Belle Voyage readers! (Updated in real time).
Pretty much everyone bought this genius cup holder that allows you to carry a cup of coffee on top of your suitcase. Smart!
Lots of you also bought this 3 piece luggage set. Makes sense – it's 47% off (and very cute). I hope that means you're traveling soon! 🙂
You guys also loved this cute travel duffel bag that comes with its own USB port. It comes in a ton of colors but you can never go wrong with basic black.
Everyone LOVED this shacket – so many of you bought one! I get it – it's the perfect fall layer and definitely on-trend this year.
New to me is the LANIEGE lip sleeping mask. It was so popular I'm adding it to my deals list (and to my shopping cart – I need to see what all the buzz is about)!
Not at all a surprise, the Prime Day deals on AirPods and the Kindle Paperwhite are so good (both under $100), that lots of you picked those up, too.
The Best Amazon Prime Day Deals for Travel in 2002
I've rounded up all of the best Prime Early Access day deals for travel-lovers in 2022! I'll be updating this post throughout the day, so make sure to check back frequently for all of the best deals on luggage, suitcases, travel accessories, and travel electronics!
I'm even going to include deals on fashion and beauty items that I would love to toss in my suitcase for my next trip. Happy Shopping!
Luggage and Suitcases
From luggage sets, to carry on suitcases, to tote bags, here are the best Prime Day deals for luggage and suitcases!
3 piece Luggage set
COOLLIFE 3 Piece Luggage Set: $159.99 (orig. $299.99)
4 piece luggage set
Travelers Club Midtown Hardside 4-Piece Luggage Travel Set: $129.99 (orig. $140)
travel duffel bag (With USB Charger!)
Etronik Travel Duffel Bag with USB Charging Port: $35.99 (orig. $49.99)
Soft sided carry on suitcase
Travelpro Maxlite 5 Softside Expandable Luggage: $144.49 (orig. $169.99)
hardsideD Carry on suitcase
Amazon Basics 21-Inch Hardside Spinner: $75.89 (orig. $81.20)
Laptop backpack
Matein Anti-theft Travel Laptop Backpack: $23.99 (orig. $45.99)
Under seat carry on bag
Samsonite Under Seat Carry on with USB port: $115 (orig. $145)
Luggage Cup Holder (Holds Two Coffee Cups onYour Suitcase!)
Riemot Luggage Travel Cup Holder, $12.79 (orig. $14.99)
Packing Cubes
Veken Set of 6 Packing Cubes, $20.99 (orig. $26.29)
Travel Electronics
These deals on travel electronics are the lowest prices I've seen all year long. Now's the time to stock up on entertainment for your next long flight!
Apple AirPods Pro
Apple AirPods Pro (2nd generation): $234.99 with Prime (orig. $249)
Beats Airbuds
Beats Airbuds with Noise Cancellation: $99.95 with Prime (orig. $149.95)
iPAD PRO
2021 Apple 11-Inch iPad Pro, Wi-Fi 512 GB, $849 (orig. $1,099)
Amazon Kindle
Kindle Paperwhite (8 GB), $99.99 (orig. $139.99)
Over-The-Ear headphones
Bose QuietComfort 45 Bluetooth Wireless Noise Cancelling Headphones, $229 (orig. $329)
Language translator Device
Pocketalk Model S Real Time Two-Way 82 Language Voice Translator, $199.20 (orig. $299)
Mirrorless camera
Panasonic LUMIX GX85 4K Digital Camera, $597.99 (orig. $799.99)
Universal adapter
Universal All in One Worldwide Travel Adapter, $14.99 (orig. $19.99)
Travel bluetooth speaker
JBL Clip 4 Portable Mini Bluetooth Speaker, $49.95 (orig. $79.95)
iPhone Tripod
Sensyne 62″ Phone Tripod, $15.99 (orig. $29.99)
Portable Charger
Anker Portable Charger, USB-C, $31.99 (orig. $39.99)
Travel Accessories
From toiletry bags, to Dopp kits and other travel accessories, check out these Prime Deals to add to your travel kit.
Travel umbrella
Compact Travel Umbrella, $15.99 (orig. $19.99)
Cozy wrap for long flights
Extra Large Thick Soft Shawl Wraps for Women, $33.99 (orig. $39.99)
Hanging toiletry bag
BAGSMART Toiletry Bag, $22.99 (orig. $29.47)
Water bottle
Hydro Flask Wide Mouth Bottle with Flex Cap, $31.47 (orig. $44.95)
HYDRATION PACKETS
PureBoost Clean Energy Drink Mix, $23.09 (orig. $32.99) – I love these for beating jet lag and staying hydrated while I'm traveling, and they're packed with antioxidants and micronutrients, too.
Travel wallet and document organizer
Zoppen Mulit-purpose Rfid Blocking Passport Holder Travel Wallet, $11.19 (orig. $16.99)
Fashion and Beauty
These fashion and beauty finds are all on sale! And I would love to toss them all in my suitcase for my next trip. Add any of these pieces to your fall travel capsule wardrobe – and they will make for a very stylish travel outfit!
Women's high-waisted 7/8 yoga pants
Colorfulkoala Women's Buttery Soft High Waisted Yoga Pants 7/8, $15.74 (orig. $22.49)
Ray Ban Sunglasses
Ray Ban Aviator Sunglasses: $76 (orig. $152.00)
Plaid Shacket
Uaneo Womens Plaid Shacket Button Down, $35.99 (orig. $45.99)
Jeggings
Amazon Essentials Women's Stretch Pull-On Jegging, $20.20 (orig. $28.90)
Folding Travel Makeup Mirror
deweisn Folding Travel Mirror Lighted Makeup Mirror, $29.24 (orig. 59.99)
Act fast – this mirror is a lightning deal!
Travel Hair Dryer (Smaller Than a Phone!
LURA Mini Portable Travel Hair Dryer, $28.79 (orig. $35.99)
Wireless bra
4 Pack Neck Wireless Bras, $18.39 (orig. $23.99)
Hiking boots
Columbia Women's Newton Ridge Plus Waterproof Hiking Shoe, $62.70 (orig. $89.95)
Chelsea boots
DREAM PAIRS Women's Chelsea Ankle Booties, $33.59 (orig. $41.99)
Faux leather leggings
Retro Gong Womens Faux Leather Leggings, $53.59 (orig. $79.99)
Oversize sweater
ZESICA Women's Oversized Chunky Knitted Pullover Sweater, $32.99 (orig. $51.99)
Sweater dress
Prinbara Turtleneck Oversized Sweater Dress, $32.79 (orig. $39.99)
Packable jacket
Amazon Essentials Women's Water-Resistant Puffer Jacket, $29.30 (orig. $41.90)
Is Everyone Eligible for Prime Day?
Only Amazon Prime members can shop on Prime Day and Prime Early Access Day. So if you're not a Prime member, you won't be eligible to shop all of these deals.
How to Get Ready for Amazon Prime Day
Since these events happen so quickly, and only happen one or two times per year, it's important to prepare ahead of time so that you're ready to shop!
To get ready for Prime Day, make sure that you're an Amazon Prime member. If you're not a member of Amazon Prime yet, you can sign up here for a free 30-day trial membership. That way you'll be able to get the best Amazon Prime Day travel deals!
Why Amazon Prime Is Great for Frequent Travelers
Personally, I couldn't live without my Amazon Prime membership. I love that membership comes with free streaming of thousands of TV shows, movies, and even music. Making sure I'm prepared with plenty of entertainment is definitely one of my long flight essentials.
If forget something right before a trip, and I'm busy running other errands, I order it on Amazon. It'll be on my doorstep the next day (sometimes even the same day!) right after I order it – for FREE.
The day before I come home from a trip, I order groceries using Amazon Fresh, and have them delivered an hour after I plan to be home. I know I'll be too tired to hit the grocery store, and by getting groceries delivered, I can have a home-cooked meal after being on the road.