The Best Amazon Prime Day Deals For Travel in 2023
This site uses affiliate links and I may earn a small commission when you use my links and make a purchase, at no extra cost to you. 
Calling all shoppers! Amazon's 2023 Prime Day is July 11th-12th, 2023. There are hundreds of thousands of deals across all departments. It's a great opportunity for Amazon Prime members to get a fabulous deals on travel gear, accessories and even clothes that are perfect for your summer vacation. Today I'm helping you shop by sharing the best Amazon Prime Day travel deals for travel lovers and gift shoppers!
All of the best deals sell out quickly, so when you see something you want, make sure to add it to your cart quickly so that you don't miss out. Keep scrolling to see what you should buy now!
Don't forget, only Amazon Prime members are eligible for the sale. If you're not a member yet, sign up here for a free 30 day trial membership.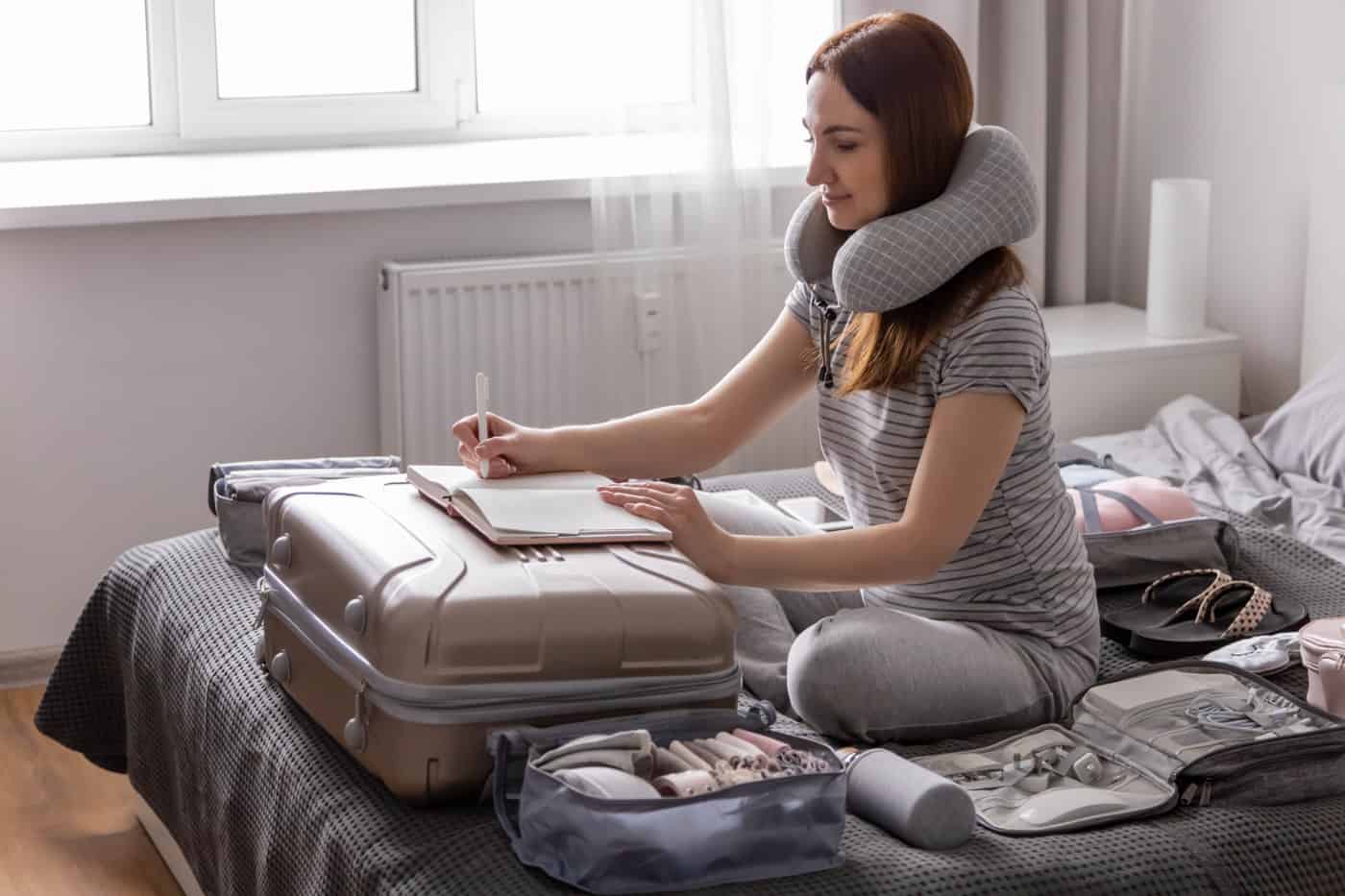 What is Amazon Prime Day?
Amazon Prime Day is a members-only event on Amazon. In the past, Prime Day has happened once each year. Typically, the prices on Prime Day are the lowest you'll see all year long.
The Best Amazon Prime Day Deals for Travel in 2023
I've rounded up all of the best Prime Early Access day deals for travel-lovers in 2023! I'll be updating this post throughout the day, so make sure to check back frequently for all of the best deals on luggage, suitcases, travel accessories, and travel electronics!
I'm even going to include deals on fashion and beauty items that I would love to toss in my suitcase for my next trip. Happy Shopping!
My Faves: Top Deals + Stuff You Don't Already Have!
Luggage and Suitcases
From luggage sets, to carry on suitcases, to tote bags, here are the best Prime Day deals for luggage and suitcases!
3 piece Luggage set
COOLLIFE 3 Piece Luggage Set: $159.99 (orig. $189.99)
4 piece luggage set
Travelers Club Midtown Hardside 4-Piece Luggage Travel Set: $119.99 (orig. $140)
travel duffel bag (With USB Charger!)
Etronik Travel Duffel Bag with USB Charging Port: $28.99 (orig. $49.99)
Laptop backpack
Matein Anti-theft Travel Laptop Backpack: $23.99 (orig. $39.96)
Luggage Cup Holder (Holds Two Coffee Cups onYour Suitcase!)
Riemot Luggage Travel Cup Holder, $10.99 (orig. $15.99)
Packing Cubes
Veken Set of 6 Packing Cubes, $16.99 (orig. $29.99)
Travel Electronics
These deals on travel electronics are the lowest prices I've seen all year long. Now's the time to stock up on entertainment for your next long flight!
Apple AirPods Pro
Apple Air Pods (3rd Gen): $139.99 (orig. $169)
Beats Airbuds
Beats Airbuds with Noise Cancellation: $89.99 with Prime (orig. $149.95)
iPAD
10th Gen Apple iPad, $379 (orig. $449)
Apple Watch
Apple Watch Series 8, $279.99 (orig. $399.99)
Amazon Kindle
Kindle Paperwhite (8 GB), $89.99 (orig. $139.99)
Tablet
Amazon Fire HD Tablet: $89.99 (orig $189.99)
Over-The-Ear headphones
Bose QuietComfort 45 Bluetooth Wireless Noise Cancelling Headphones, $229 (orig. $329)
Mirrorless camera
Panasonic LUMIX GX85 4K Digital Camera, $597.99 (orig. $799.99)
Universal adapter
Universal All in One Worldwide Travel Adapter, $11.89 (orig. $19.99)
Travel bluetooth speaker
Bose Portable Speaker, $105 (orig. $149)
iPhone Tripod
Sensyne 62″ Phone Tripod, $15.98 (orig. $29.99)
Portable Charger
Anker Portable Charger, USB-C, $23.99 (orig. $29.99)
Travel Accessories
From toiletry bags, to Dopp kits and other travel accessories, check out these Prime Deals to add to your travel kit.
Travel Makeup Brush Holder
Silicon travel makeup brush pouch, $11.19 (orig. 19.99). I really wish I'd had this on my last trip instead of constantly rummaging around in my larger cosmetics bag for my brushes!
Travel Pillow
Trtl Travel Neck Pillow, $45 (orig. 59.99)
Travel Toiletry Bottles
Mrsdry Travel Toiletry Bottles, $9.59 (orig. $11.99)
Clear Makeup Bags
These clear makeup bags ($11.19, orig. $15.99) are a great dupe for a much more expensive brand!
Travel umbrella
Compact Travel Umbrella, $15.99 (orig. $19.99)
Travel cable organizer
FYY Travel cable organizer, $9.85 (orig. $15.99)
Hydration Packets
I swear by these hydration packets ($24.49, orig. $34.99) to combat jet lag and keep me extra-hydrated when I'm traveling!
Hanging toiletry bag
BAGSMART Toiletry Bag, $18.39 (orig. $29.47)
Fashion and Beauty
These fashion and beauty finds are all on sale! And I would love to toss them all in my suitcase for my next trip.
Women's high-waisted 7/8 yoga pants
Colorfulkoala Women's Buttery Soft High Waisted Yoga Pants 7/8, $15.74 (orig. $22.49)
Ray Ban Sunglasses
Ray Ban Aviator Sunglasses: $60.80 (orig. $152.00)
Plaid Shacket
Uaneo Womens Plaid Shacket Button Down, $23.99 (orig. $45.99)
Travel Makeup Mirror
Kintion Folding Pocket Mirror w/ LED Lights, $8.39 (orig. $14.99)
Travel Hair Dryer (Smaller Than a Phone!)
LURA Mini Portable Travel Hair Dryer, $28.79 (orig. $35.99)
Hiking boots
Columbia Women's Newton Ridge Plus Waterproof Hiking Shoe, $54.15 (orig. $100.00)
Sweater dress
Prinbara Turtleneck Oversized Sweater Dress, $26.99 (orig. $61.99)
Packable jacket
Amazon Essentials Packable Jacket, $37.43 (orig. $47.50)
Is Everyone Eligible for Prime Day?
Only Amazon Prime members can shop on Prime Day and Prime Early Access Day. So if you're not a Prime member, you won't be eligible to shop all of these deals.
How to Get Ready for Amazon Prime Day
Since these events happen so quickly, and only happen one or two times per year, it's important to prepare ahead of time so that you're ready to shop!
To get ready for Prime Day, make sure that you're an Amazon Prime member. If you're not a member of Amazon Prime yet, you can sign up here for a free 30-day trial membership. That way you'll be able to get the best Amazon Prime Day travel deals!
Why Amazon Prime Is Great for Frequent Travelers
Personally, I couldn't live without my Amazon Prime membership. I love that membership comes with free streaming of thousands of TV shows, movies, and even music. Making sure I'm prepared with plenty of entertainment is definitely one of my long flight essentials.
If forget something right before a trip, and I'm busy running other errands, I order it on Amazon. It'll be on my doorstep the next day (sometimes even the same day!) right after I order it – for FREE.
The day before I come home from a trip, I order groceries using Amazon Fresh, and have them delivered an hour after I plan to be home. I know I'll be too tired to hit the grocery store, and by getting groceries delivered, I can have a home-cooked meal after being on the road.