How to Look Good After a Long Flight: 15 Airplane Beauty Tips
This site uses affiliate links and I may earn a small commission when you use my links and make a purchase, at no extra cost to you. 
I am not above admitting that I have a post-red eye flight beauty routine. Living on the west coast, I find myself on overnight flights pretty frequently, since there's not really a more efficient way to make it to the east coast without spending an entire day traveling. After years and years of flying, I've finally figured out how to look good after a long flight. Read on for all of my airplane beauty tips, to help you arrive at your destination feeling more like yourself!
It's a pretty safe bet that I will look a hot mess by the time I get off of a plane, especially an overnight or long haul flight.
The combination of airplane air, airplane hair (static, everywhere), zero sleep and wrinkled clothes is usually enough to make for one ragged-looking passenger on arrival: ME.
Unfortunately, airports are often where I'm either meeting people for the first time, or seeing someone I haven't seen in a long time. Since there's nothing like a first impression, I have perfected the art of TRYING to make myself look good after a red eye flight with 5 minutes in an airport bathroom. Read on for all of my favorite airplane beauty tips! And if you want more, you can read all about my travel skincare routine – it's a great way to practice self care while traveling!
Pro Travel Tip: These days, travel can be more uncertain than ever. Check for any COVID-related restrictions at your destination, and never travel without travel insurance! I recommend SafetyWing, because they have flexible + affordable insurance plans, and also cover COVID-related impacts on your trip (not all companies do)!
Airplane Beauty Tips: What to Do Before You Board a Long Haul Flight
I try to set the stage for a post-red eye beauty refresh before I even board the plane by packing the right essentials, putting my hair in a loose bun or braid, and putting on only minimal makeup.
1. Pack the Right Carry On Essentials
Before you even head to the airport, make sure you're bringing all of the travel essentials you'll need for your flight! My list of the best travel essentials for women has all of the best travel products for women for any trip.
And my list of my carry on long flight essentials should help you, too.
2. Put Your Hair in A Bun or Loose Braid
Before you fly, put your hair in a bun or loose braid to keep it in check while you're in flight. You'll avoid extra tangles and flyaways that are bound to happen while you sleep.
Twist Me Pretty and The Small Things Blog are two of my favorite places for hair inspiration, and I love these hair ties because they don't leave a dent.
3. Put on Only Minimal Makeup
If you're flying long haul or on a red eye, now's not the time for that smoky eye or winged liner. If you go heavy on makeup while flying long haul, it is definitely going to run or smear by the time you land. Yes, I learned this the hard way.
Now I know better, and use only my favorite travel makeup essentials when I fly long haul.
And speaking of minimal makeup, my picks for the best travel makeup brushes will help you save space when it comes to packing!
4. Look for Longwear or Waterproof Makeup Products
Speaking of the best makeup for long flights, another tip is to use "longwear" makeup products, which are formulated to be long-lasting. They're less likely to smudge or wipe off your face. Some brands are so good that you might not even have to reapply them once you land!
In terms of mascara, I also recommend using waterproof mascara for long haul and international flights. Check out my other travel beauty product favorites here.
Beauty Tips for Flying: What to Do During The Flight
Once you're in the air, there are a few things that you can do during a red eye flight to make sure that you look your best once you land. There's a general theme here which is: stay hydrated! It's half the battle.
5. Avoid Alcohol When Flying Long Haul
I know it's tempting to have that glass of red wine before you drift off to sleep on your long flight. But since flying will dehydrate you to begin with, it's important to avoid any foods or drinks that will lead to further dehydration: like alcohol.
Instead of wine, try sipping on some hot caffeine-free tea as an alternative.
6. Avoid Caffeine The Day of Your Flight
Just like alcohol, caffeine will also dehydrate your body. If possible, try to avoid caffeine the day of your long haul flight to help you stay hydrated.
As an added bonus, by avoiding caffeine, you'll be much more likely to get some sleep on your flight!
7. Avoid Salty Foods In-Flight
It's unfortunate, but most airplane food is totally packed with sodium. Combining a salty meal with dehydration from flying is a recipe for puffy eyes when you land.
Rather than eat one of the airplane meals, bring your own snacks instead. Protein bars, nuts, dried fruit, cheese, or hard-boiled eggs are great in-flight snacks that won't leave you feeling and looking puffy.
8. Use a Face Mask
Give your face an extra dose of in-flight hydration by using a travel-friendly face mask sheet before you go to sleep. Face mask sheets are single sheets that come in individual packets. I love these face mask sheets because they smell amazing and will leave your face feeling super moisturized.
For an extra step, you can also use a face misting spray. I prefer a face mask, though, since they don't take up space in your liquids bag!
9. Apply an Eye Mask
Just like the skin on your face, hydrating the skin under your eyes during your long flight will payoff big time once you land. Throw a few of these in your carry on bag to add to your in-flight facial. I love that they come in rose gold!
10. Slather on Hand Lotion
Keep your hands and nails hydrated by slathering on some lotion while you're flying. My hands always get dry and gross when I fly – and lotion always does the trick for me!
11. Put on Some Lip Balm (then Put on Some More)
If you only bring one beauty product on a long flight, it should be lip balm! Your lips will be the first thing to feel dehydration by getting chapped and flaky.
Prevent this by using a moisturizing lip balm before, during, and after your long haul flight.
12. Get Some Sleep
I know this sounds so simple, but getting some sleep on your long haul flight is one of the best airplane beauty tips out there. To help you sleep, bring a few key accessories with you in your carry on, like an eye mask, ear plugs, and a neck pillow.
Beauty Tips for After Your Long Flight
Once that long haul flight lands, you're in the home stretch! Finish your routine with a few more steps.
13. Hit Up the Duty Free Store
Once you land, make a beeline for the duty free store. It's one of the best kinds of airport shopping and one of my best tips for how to look good after a long haul flight.
Yep, in addition to selling 42 different kinds of imported alcohol, and silk ties that not even your dad would wear, duty free is a great place to scoop up a spritz of perfume and slather on some more hand lotion.
I don't know about you, but the last thing I want to take away from the plane is that unique airplane smell….and sometimes smelling good is half the battle.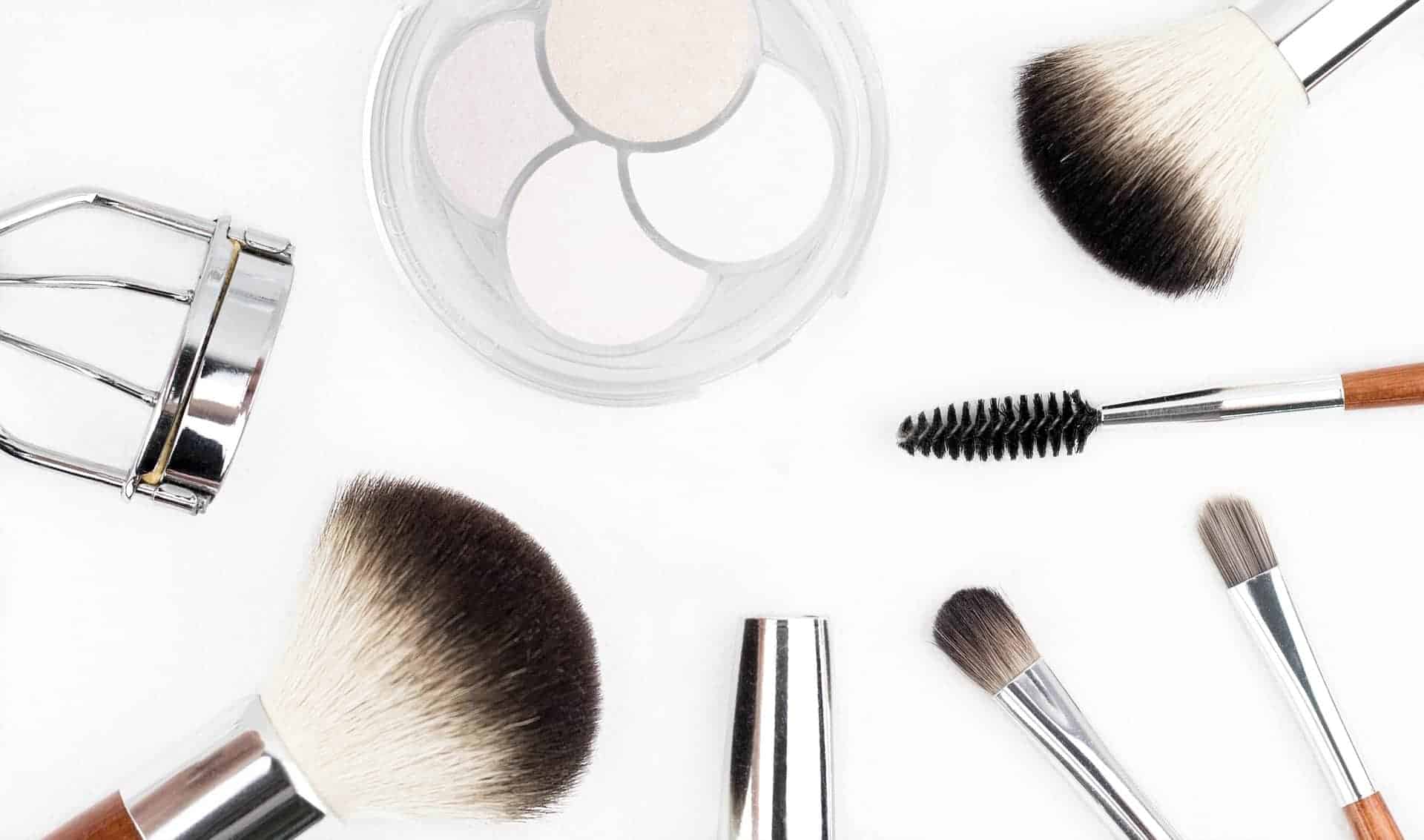 12. Know The Truth About Airport Bathroom Lighting
After duty free, it's time to hit the nearest ladies room.
Before you even start to freshen up after your flight, make sure to keep in mind that airport bathrooms are notorious for having terrible lighting. So don't panic….and don't over-do it on the touch-ups!
13. Blot Extra Shine
Start by blotting any extra shine that has surfaced from oil on your face during the flight. The dry air on a plane can send your oil glands into overdrive, so it's not uncommon to walk off a plane with some extra shine.
Pro airplane beauty tip: If you forgot to pack blotting papers, pull off a small piece of a clean toilet seat cover before you use it. They're made from the same material as many blotting papers!
14. Use a Travel-Friendly Toothbrush
Next, give your teeth a quick brushing and you'll feel a million times more human.
Personally, I love to pack a single Colgate wisp in my carry on bag for exactly this purpose. These are great for flying, since you don't even need water to use them, and you won't have to unpack your entire toiletry bag to find your toothbrush and paste.
15. You Can Look Good After a Long Flight by Just Touching Up Lips and Cheeks
Finally, you can use a single product to add some color to your lips and cheeks.
Adding some color will go the furthest in making you look the most refreshed in the least amount of time. I love this this gel blush since it's a solid (and gives a really natural tint for only $3), but I am also a huge fan of Benetint (in travel size!!) if you have room in your toiletry bag.
Need some help with packing toiletries for your trip? Check out my ultimate toiletry packing list!
And….Voila! All of My Best Airplane Beauty Tips to Keep You Looking Good While Flying!
Done! In less than five minutes, you're on your way to ground transportation looking a bit more like your fabulous self.