4 Travel Ballet Flats to Pack for Your Next Trip
This site uses affiliate links and I may earn a small commission when you use my links and make a purchase, at no extra cost to you. 
If you're thinking about packing for your next trip, you're probably wondering what kind of shoes to bring with you. Packing shoes for travel takes a lot of strategizing! Shoes can take up a ton of space in your suitcase, and they're a necessity with every outfit (except for those beach trips, woohoo!). Needless to say, the stakes are high when it comes to choosing the right shoes to bring on a trip. I get a lot of questions about the best shoes for travel, and I always recommend a travel ballet flat. What are travel ballet flats? They're a comfortable, flat shoe with a rounded toe, made in a durable fabric.
Ballet shoes came into style back in the early 2000's and have been a mainstay in women's footwear ever since then! It's understandable – they're chic, comfortable, and go with pretty much everything. That's why they're also perfect for travel!
Now that this style is everywhere, I'm sharing five of my favorite travel ballet shoes for women! Read on for my recommendations, and check out even more options in my post about stylish walking shoes for Europe!
The Best Travel Ballet Flats for Women
1. All-Purpose Black Travel Ballet Flat
These simple black travel ballet flats are a great choice if you're looking for something with universal appeal. These shoes will go with everything and are at a reasonable price point.
They're also available in SO MANY different colors, in case you're looking for something besides black.
If you're looking for a travel shoe that has more features than a universal basic flat – check out these options! I've included a ton of additional picks. Short on space? Check out the foldable flats. If you love luxury shoes, you'll adore my high-end ballet shoe choice. And if you're looking for a flat that you can walk in alllllll day long, you'll love my comfiest choice.
2. Foldable Travel Ballet Flats
If you're super, duper tight on space, check out these foldable travel ballet flats.
They fold in half, and come with their own pouch! They're perfect to stash as an "emergency shoe" in your purse for those evenings when you want to wear, ahem, a slightly *less comfortable* shoe. And then change your mind.
And yes, this has definitely happened to me 🙂
Looking for More Travel Essentials?
I've rounded up all of my recommendations in this super extensive post on the best travel essentials for women!
3. Luxury Travel Ballet Flats
Meet my luxurious travel shoe favorites: Tieks!
Tieks are ballet flats that are made specifically for women who do a ton of walking – so they're perfect for travel!
I love that they come in so many colors….I mean this rose gold color is amazing, but check out the others (including camo!!!).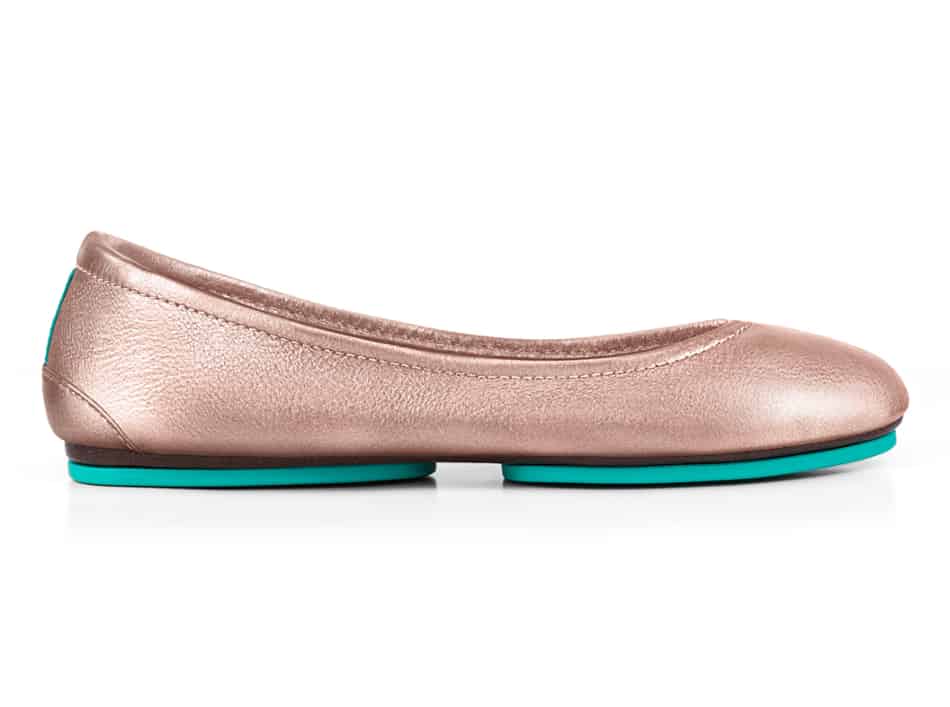 4. Best for Walking Miles (and Miles)
If you're looking for a travel shoe that is ultra-comfortable and that you can wear ALL DAY LONG, check out these flats by Clarks.
Clarks is known for its comfortable but cute shoe styles, made with durable materials. These shoes have a thicker rubber sole, so they're great for travel days where you'll be doing a ton of walking.
I hope these recommendations help you choose your pair of ballet flats for your next trip! If you need more help packing, check out my best packing tips for women!