Eco Friendly Travel Clothing: 5 Sustainable & Ethical Brands
This site uses affiliate links and I may earn a small commission when you use my links and make a purchase, at no extra cost to you. 
Let's talk about clothes for traveling. You know – those favorite pieces that you want to toss in your suitcase, time and time again. I will be the first to raise my hand and admit that environmental awareness isn't always top-of-mind when it comes to shopping for travel clothes. But it absolutely should be! I get caught up in fashion trends and high-end brands…but the reality is that loving travel and exploring this planet of ours goes hand in hand with having an obligation to protect it. For that reason, today I'm sharing some of my favorite eco friendly travel clothing brands.
Shopping for eco friendly travel clothes for your travel outfits can have a big impact! By supporting environmentally-friendly travel clothing brands that are focused on sustainability and ethical practices, travelers can use their dollars to support companies that are committed to supporting the environment.
To be clear – there are no style sacrifices here! I'm not talking about stuff you don't wanna wear. That's the beauty of these brands. They each have incredibly cute pieces that you'll want to put in your closet, pronto. If you're looking for suggestions, I've also included links to my favorite pieces, including shirts, pants, shoes, and dresses. Happy shopping and thank you for supporting these companies – and also the Earth!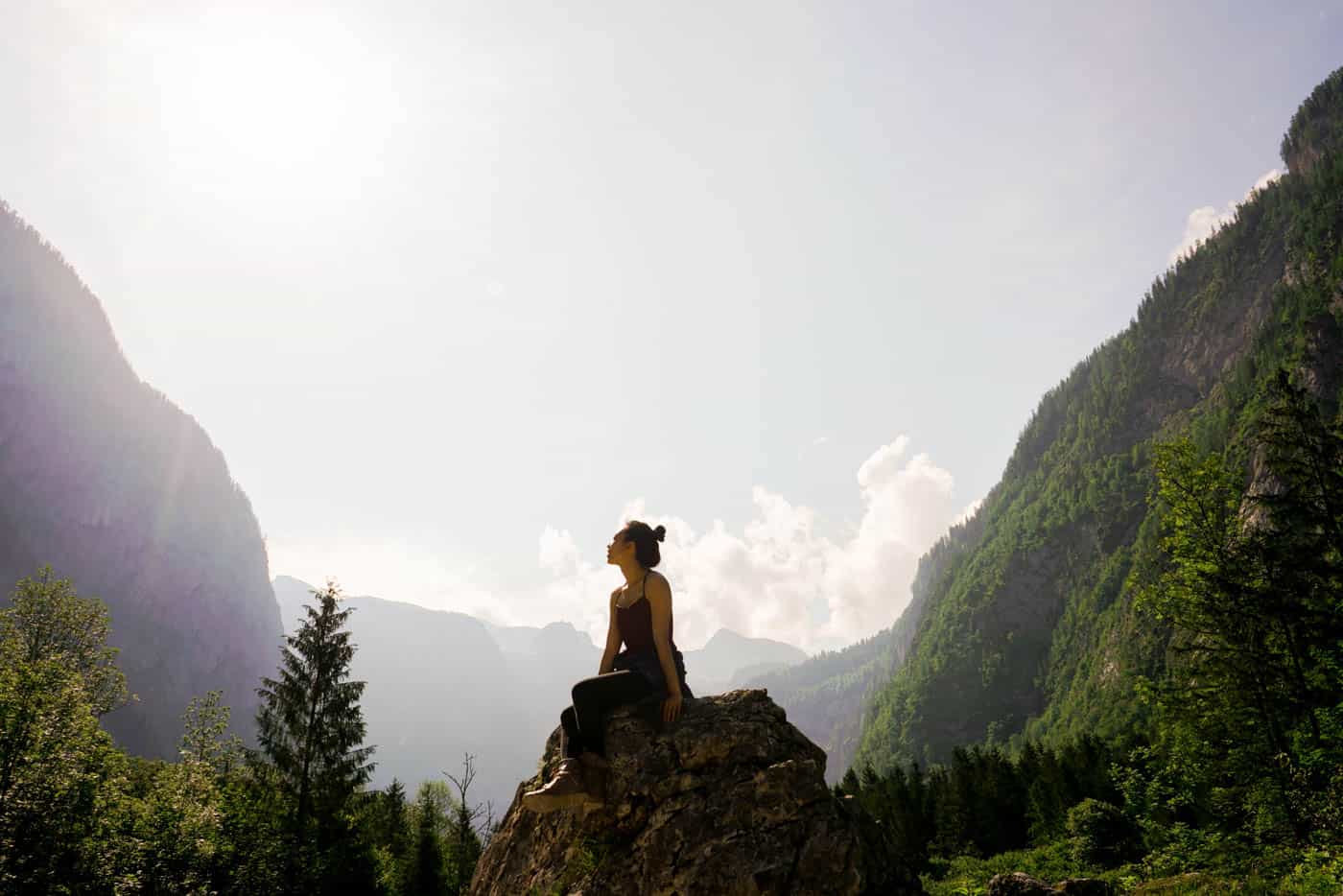 Table of Contents
Why Are Eco Friendly Travel Clothes Important?
When we think about fashion, we think about the customer-facing parts of the industry, and not what's behind the picture-perfect advertising messages we see every day. I don't always equate the apparel industry with things that cause environmental harm – but I know now that this is ignorant.
The Environmental Impact of Fashion
Synthetic textiles that are used so frequently in fast fashion rely on petrochemical products that come from the same oil and gas companies that drive greenhouse emissions. Yup. In fact, fashion accounts for about 10% of global carbon dioxide output. That's more than all international flights and maritime shipping combined.
In addition, the fashion industry contributes to a massive amount of waste generated each year. Did you know that the main source of textiles in municipal solid waste is discarded clothing? And that in 2018, landfills received 11.3 million tons of textiles in solid waste? Before I wrote this post, I sure didn't. Yikes.
What Can We do About it?
Loving travel goes hand in hand with respecting the planet. Awareness is the first step, and even small changes can make a big impact!
In this guide, I'm sharing some of my favorite eco friendly travel clothing brands. Check out what they're doing to create positive change in the environment – all while making awesome clothes that are perfect for travel!
All of these brands feature pieces that are long-lasting, versatile, and easy to pack. And what's even better: they are all doing so in an environmentally responsible way.
And now I have a serious case of wanting to shop.
Encircled
Encircled is one of my all-time favorite brands when it comes to travel clothing. What first attracted me to the brand was their unique and ingenious clothing designs that allow one piece of clothing to be worn multiple ways.
A cardigan you can wear as a scarf, a dress, AND a wrap? Yes, please!
How Encircled is Environmentally Friendly
The more I learn about Encircled, the more I love to support them! In addition to their clever clothing designs, Encircled is also committed to a sustainable clothing cycle. In everything from its designs down to how it operates, Encircled is focused on sustainability.
By focusing the Encircled brand on clothing pieces that are classic, high-quality and versatile, Encircled supports a "slow fashion" mindset: you can have fewer clothing pieces that are timeless, as opposed a string of trendy and fast-fashion pieces.
As a certified B corporation, Encircled adheres to legal standards that govern how it operates, from its supply chain to how it interacts with its customers. In addition, their pieces are Oeko-Tex Standard 100 Certified, which is a stringent requirement that proves their materials don't contain unsafe substances and aren't harmful to human health.
So for you fashionistas that love to pack carry on only and enjoy traveling in style, check out Encircled for sustainable travel clothes you'll wear for years to come.
Recommended Women's Travel Clothing at Encircled
I've been a fan of Encircled for a long time and have even done a few posts on some of my favorite pieces. If you want to see how I've styled them, check out my posts on this awesome travel dress, and a multiway wrap top that can be worn a ton of different ways.
Here's a few of my favorite Encircled designs:
The Everyday Twist Top
5 looks in just 1 top - so genius. The secret snaps in this top allow you to style it in 5 different ways.
Check out my review for more details!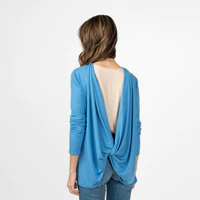 Top Pick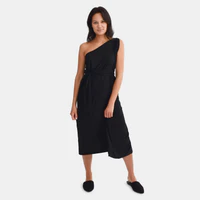 NxTSTOP
NxTSTOP is clothing brand that I recently came across, and couldn't wait to tell you all about it. As soon as I saw their website, I immediately fell in love with their modern and versatile travel clothing pieces for men and women.
If you've read this blog for a while, you're probably not surprised that their tagline "Pack Less, Do More" really resonates with me! In addition to being focused on sustainability, NxtSTOP's clothes are also tailor-made for traveling. They're all lightweight, extremely packable, and super versatile in their styles.
Truly – what more could you want when it comes to travel clothing?
Why NxTSTOP is an Eco Friendly Clothing Brand
NxtSTOP is committed to sustainability in their clothing pieces through their use of eco-friendly raw materials, their ethical and efficient production practices, and their use of compostable packaging for their products.
The company's near term goal is to incorporate sustainable operating practices into 100% of their supply chain and product offering. They provide transparency into this journey by publishing annual sustainability reports on their website, so that customers can see exactly how they are progressing.
They don't stop with their clothing pieces though – I love that their shipping materials are environmentally conscious, too! They're part of Noissues Eco-Packaging Alliance. Every time they buy new mailing materials, a new tree is planted. So green, so cool.
Recommended Travel Clothing at NxTSTOP
Here are a few of my favorite environmentally conscious travel clothing pieces at NxTSTOP:
Top Pick
Women's Travel Essentials Bundle
This 3-piece bundle comes with everything you need for your carry on bag!
It's got all the basics you need: comfy pants, a bamboo t-shirt, and a cropped sweatshirt.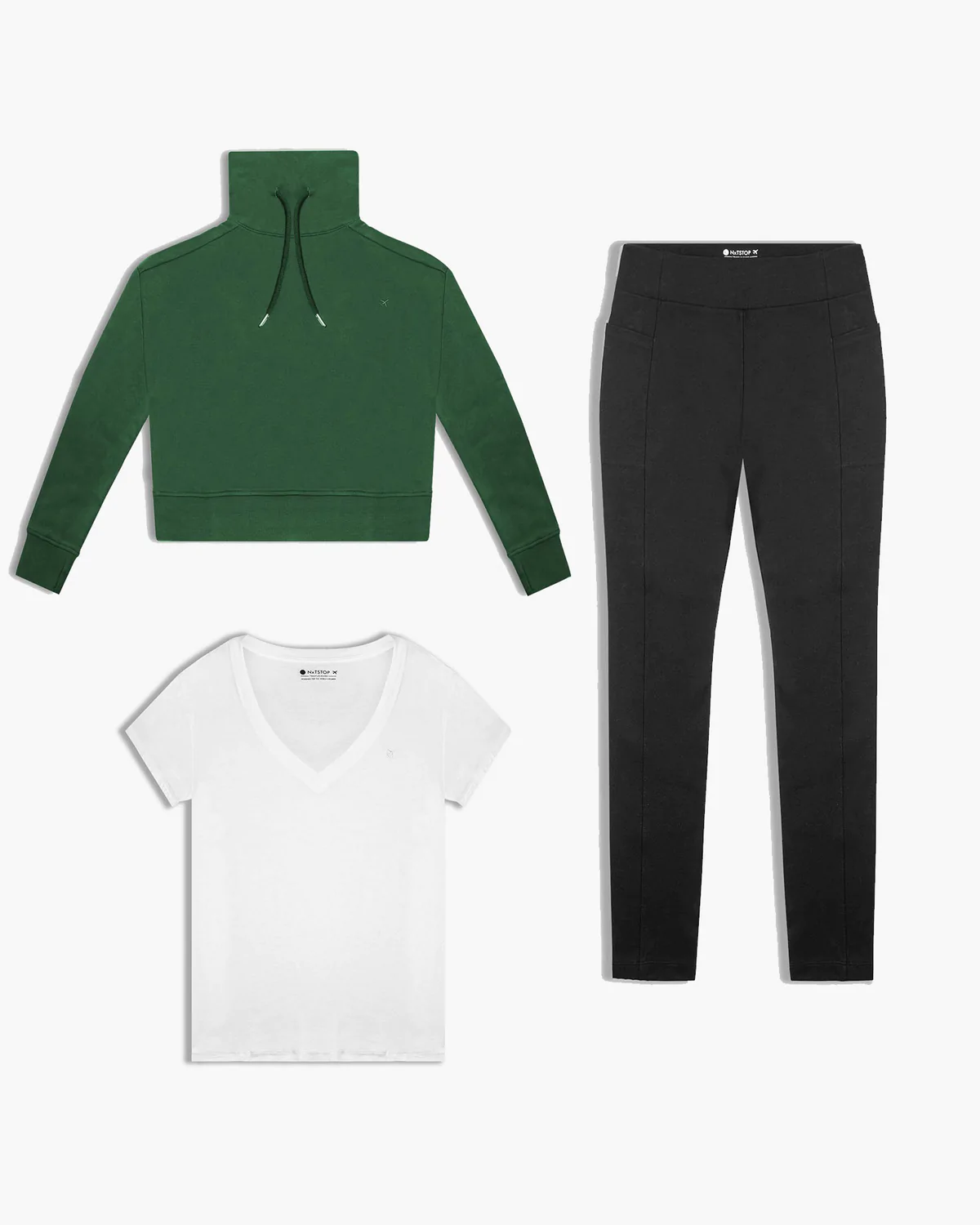 Bamboo Long Sleeve Shirt
A super-soft and lightweight layer that's perfect for flying, or once you arrive at your destination.
It's got thumbholes, too!
Toad&Co
Toad&Co is another brand I recently came across, that is committed to social and environmental progress. Founded in the early 1990's in Colorado, Toad&Co is committed to minimizing their environmental impact and driving positive change in the apparel industry.
How Toad&Co's Travel Clothes are Eco Friendly
Get this: Toad&Co gives 1% of all sales back to environmental non-profits. WOW. It's not often you hear about a business that contributes to the environment straight from their top line. Not that I needed one……but it's one more reason to click "Add to Cart"!
Their clothing pieces are made from 100% eco friendly and sustainable fibers, and I love that they purchase Renewable Energy Certificates for each of their brick-and-mortar locations. These certificates offset the energy use by supporting the development of emission-free renewable energy and carbon reduction processes.
In addition to their efforts to conserve the environment, Toad&Co is also committed to social progress. They believe all individuals should have the opportunity to try something life-changing, and one example of this commitment is their partnership with Search, Inc. to co-found Search for Adventure, a travel program that facilitates vacations for adults with disabilities.
Recommended Travel Clothes at Toad&Co
Here are a few of my top picks for eco friendly travel clothes at Toad&Co:
Top Pick
Women's Primo Tiered Midi Dress
I absolutely LOVE the color and style of this dress!
Not to mention you could wear it literally anywhere: daytime, dinner, or as a beach cover-up.
Colorful Standard
As a brand, Colorful Standard believes in a responsible way of shopping, where buying less is actually more. It's absolutely true: you can only wear so much.
Top Pick
Colorful Standard
Sustainable and ethical clothes for travel, all manufactured in Portugal.
Their simple yet elegant pieces make the perfect versatile travel wardrobe staples!
As a result, their clothing pieces are perfect for travel because they are classic styles that are versatile and easy to pack. Quality over quantity! When your entire business model is built around less consumption, that means they make for perfect pieces in a capsule wardrobe.
Colorful Standard's Commitment to Sustainability and the Planet
Colorful Standard's clothes are made from 100% organic cotton and 100% recycled merino wool, two of the most sustainable fibers available in the apparel industry. The dyes used in their pieces are all Oeko-Tex Certified, meaning that they're free of any harmful chemicals.
All of Colorful Standard's products are produced at their manufacturing facility in Portugal. This means that they can control every step of the manufacturing process, and ensure firsthand that all standards are being met, and productuction waste is minimized.
I love that they actually invite customers to visit their manufacturing facility, at any time!
Also very cool: Colorful Standard is committed to ethical practices with their employees. They go above and beyond fair labor laws with their employees, by doing things like providing shared cars for employees who aren't able to commute using public transportation.
Colorful Standard's shipping materials are all Forest Stewardship Council certified, meaning that they weren't created at the expense of any person, animal or forest. YES! This is considered to be the "gold standard" in certification due to its meaningful impacts on the environment.
Recommended Travel Clothing at Colorful Standard
Here's a few awesome pieces I love at Colorful Standard:
Women's Organic Twill Shorts
Lightweight and quick-drying, these shorts are perfect for travel to warm weather destinations, or hiking trips.
They come in a TON of different colors, too!
Top Pick
Organic Oversized Hoodie
I love the oversize fit of this hoodie! It would be a perfect layer for a travel outfit, or for fall / winter trips.
It comes in so may different colors, but this mauvish pink is by far my favorite.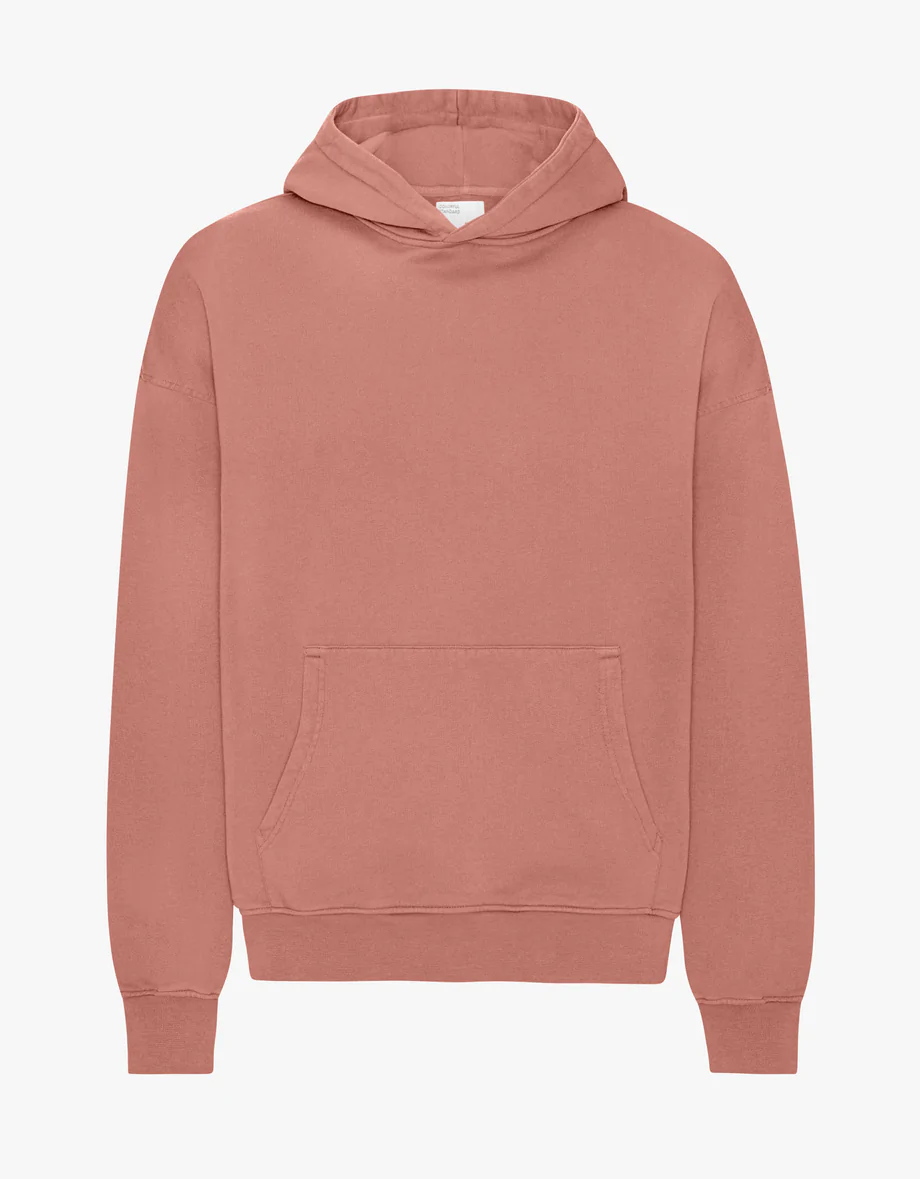 PrAna
PrAna is a brand that's near and dear to my heart because it's based in San Diego. In addition to being a great source for eco friendly travel clothing, I love to be able to support local companies.
I used to think of PrAna as focused on yoga and workout gear. That's true, but so many of their pieces are perfect for travel. And what's even better is that they're committed to operating their business with sustainability as a core principal.
Why PrAna Is a Sustainable Travel Clothing Brand
PrAna's mantra is "Clothing for Positive Change". I love that every element of their business model fits together to support their commitment to the environment. In addition, they're focused on and creating sustainable changes in the clothing industry.
PrAna drives sustainable clothing practices every step of the way. This includes their animal welfare practices, how they are taking action on climate change, and using recycled materials as often as possible.
PrAna is a founding member of the OIA Climate Action Corps. This means that they have committed to reducing their manufacturing emissions by 30% before 2030. Today, 100% of all their products are shipped using plastic-free packaging. That's amazing!
Recommended Pieces for Travel
Here are a few of my favorite travel clothing pieces at PrAnA:
Top Pick
Foundation Wrap Dress
This wear-anywhere dress is incredibly buttery soft!
I love that it has the look of a wrap without the worry of it coming undone!
Thanks for Supporting Eco Friendly Travel Clothing Brands!
I hope that this guide has helped shed some light on the importance of considering the impact to the environment when you're shopping for travel clothing. Now that I've introduced you to a few new eco friendly travel clothing brands you might not have been aware of, you can get to shopping for some cute sustainable travel clothing!
If you're looking for clothes for a beach getaway, I'm working on a post on sustainable swimwear. In the meantime, get inspired by some of my favorite beach resort clothing.