How to Create the Perfect Travel Capsule Wardrobe
This site uses affiliate links and I may earn a small commission when you use my links and make a purchase, at no extra cost to you. 
Building a travel capsule wardrobe is one of the best ways to pack light for any trip. By choosing the right pieces to build a capsule wardrobe, you can create endless different outfits for your trip, with only a small number of items. I promise: with just 15 pieces of clothing, you can pack for any trip, create a stylish airplane outfit, put together stylish travel outfits, and look your best, no matter what you're doing or where you're going! Read the full guide for my tips on how to create a travel capsule wardrobe (and my recommendations for exactly what to include)!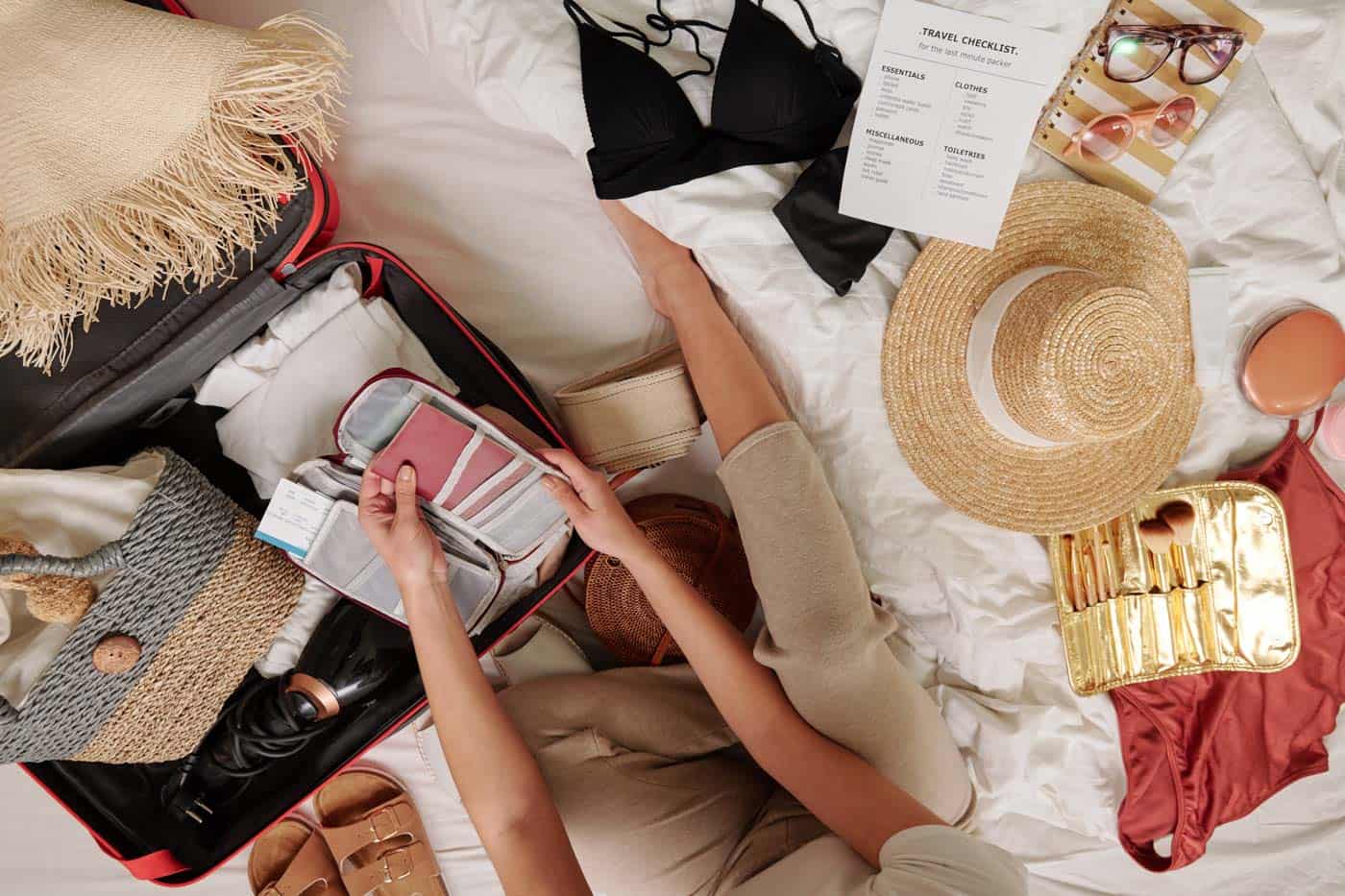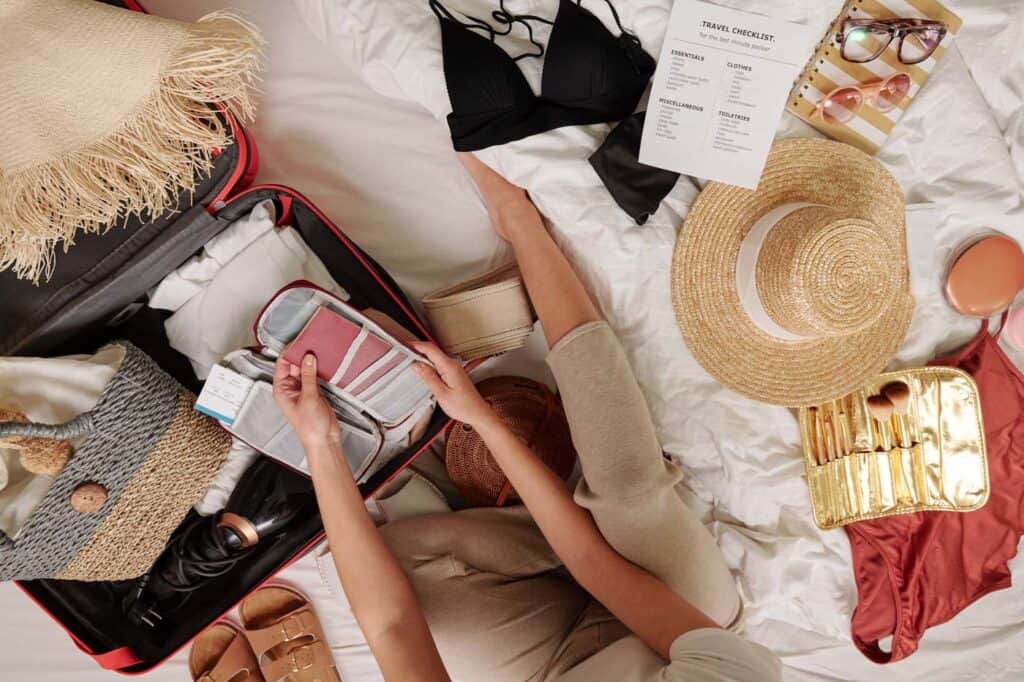 My travel capsule wardrobe posts are some of the most popular posts on my site!
I usually put together a capsule wardrobe for travel by season (spring and summer are coming soon!), but I got lots of requests for a deep-dive post on how to create a 15 piece travel capsule wardrobe that works for ANY trip. Challenge accepted! So by special request, here you have it!
In a hurry? Jump directly to the travel capsule wardrobe here!
What is a Capsule Wardrobe for Travel?
You've probably seen the term "capsule wardrobe" used before, but what does it mean, exactly?
A capsule wardrobe is a small collection of clothing pieces that can be mixed and matched to create lots of different outfits.
The fundamental idea behind a capsule wardrobe is that "everything goes with everything", so even though the capsule might only include a limited number of items, each item is versatile enough to be styled in many different ways.
A travel capsule wardrobe is a capsule wardrobe that is intended specifically for just that: travel! When traveling, it's important to know how many outfits to pack for a trip. You need to pack light, but also have enough clothing options that you will be prepared for whatever activities you've planned for your trip. A travel capsule wardrobe is the perfect solution to create travel outfits for any season.
Why Capsule Wardrobes are Important
Having a travel capsule wardrobe is important because it will save you time and money. You'll spend less time packing, and less money checking your luggage.
Capsule wardrobes are also a great exercise in creativity! I love seeing just how many different looks I can create from only a few items.
The Purpose of Having a Capsule
The purpose of having a capsule wardrobe is efficiency. When you have a collection of go-to clothing pieces that you can use for travel, it will be much easier to pack light and travel with just a carry on bag.
Traveling carry-on only saves you the cost of checking your luggage, which can be up to $50 per bag, depending on the airline. That unnecessary cost really adds up, especially on a round trip flight!
In the long run, buying fewer clothes will also save you some cash. Why not spend your clothing budget on pieces that can all be worn in combination? Creating a capsule wardrobe will help you do exactly that.
A capsule wardrobe will also save you time. You'll spend less time wondering what to bring, less time packing, and less time deciding what to wear each day – since all of the pieces go together!
All you need to create the perfect travel capsule wardrobe is just a little planning ahead.
What is Included in a Travel Capsule Wardrobe?
Your travel capsule wardrobe should include tops, bottoms, warm outer layers, and shoes. I also recommend including at least one dress, because dresses are so versatile.
Follow these tips for help deciding what to include in your travel capsule, and then check out my sample travel capsule wardrobe and styling ideas to see how to put it all together!
Tops
For tops, try to bring two base layers, each in a neutral color. Then add two more tops that are interesting enough to be worn by themselves, either during the daytime or in the evening. For the fifth top, bring a long sleeve shirt or sweater.
Bottoms
For bottoms, I recommend starting with a pair of basic jeans that you can wear with different shoe styles. Then, add a second pair of jeans: I recommend either black or white jeans, depending on the season or destination.
Next, add a skirt that you can dress up or down. Having a skirt in your capsule in addition to two pairs of jeans will give you another dimension of outfit combinations. Finally, add a pair of leggings (joggers work too!) for lounging, or to double as workout wear.
Outer Layers
Next, add three different outer layers or jackets, depending on what kind of trip you're taking. I always, always, always have my black leather jacket with me. It goes with everything! I can't recommend one enough.
Mix up the leather jacket with a denim jacket, and then add in a long cardigan.
Shoes
When it comes to shoes for your capsule wardrobe, versatility is the most important thing to keep in mind! Shoes take up the most space in your bag, so make sure that you can wear each pair of shoes with multiple outfits.
A good rule of thumb is to include two different kinds of shoes in your capsule. For example:
Beach vacation: sandals and sneakers
Winter trip: ankle boots and cold-weather boots
City exploring: ankle boots and comfortable flats
Wedding weekend: wedges and slip-on sneakers
Different types of shoes will allow you to create two very different styles by changing just one thing in your outfit.
If you'll be doing a lot of walking during your trip, check out these stylish walking shoes for Europe. They're good for travel anywhere!
Dress
Try to include at least one dress in your travel capsule wardrobe. Dresses are so versatile, and they'll also help you save space because one piece = one outfit! Find a dress in a neutral color that you can style casually or for evening.
Accessories
When it comes to accessories in your capsule, try to keep it simple. I've styled the pieces in this capsule with a single tote bag. The tote bag zips shut, so it's also a perfect piece to use as your personal item on the plane.
How to Build the Perfect Women's Travel Capsule Wardrobe
Next, let's cover exactly how to build the perfect women's travel capsule wardrobe. You can use pieces you already have in your closet, or supplement things you already have with my specific recommendations.
Tips for Creating a Vacation Capsule Wardrobe
Start by choosing a color palette. Select three colors to work with: two neutrals and one color.
Neutrals can include black, white, gray, navy, camel, or even olive green. And for the "color" of the colors, pick whatever you like!
In the example below, I'm using black, white, and green for my color palette.
Next, think carefully about what you plan to do during your trip. Are there specific events that you need a certain outfit for? What will the weather be like? How much walking will you be doing? Think carefully about your day-to-day activities and consider what outfits you want to wear for each one.
A great place to start is by downloading my free travel outfit planner!
It's a printable day-by-day planner that will help you organize all of your travel outfits for your vacation. With a little bit of planning ahead of time, you will be traveling in style!
Download a Free Travel Outfit Planner!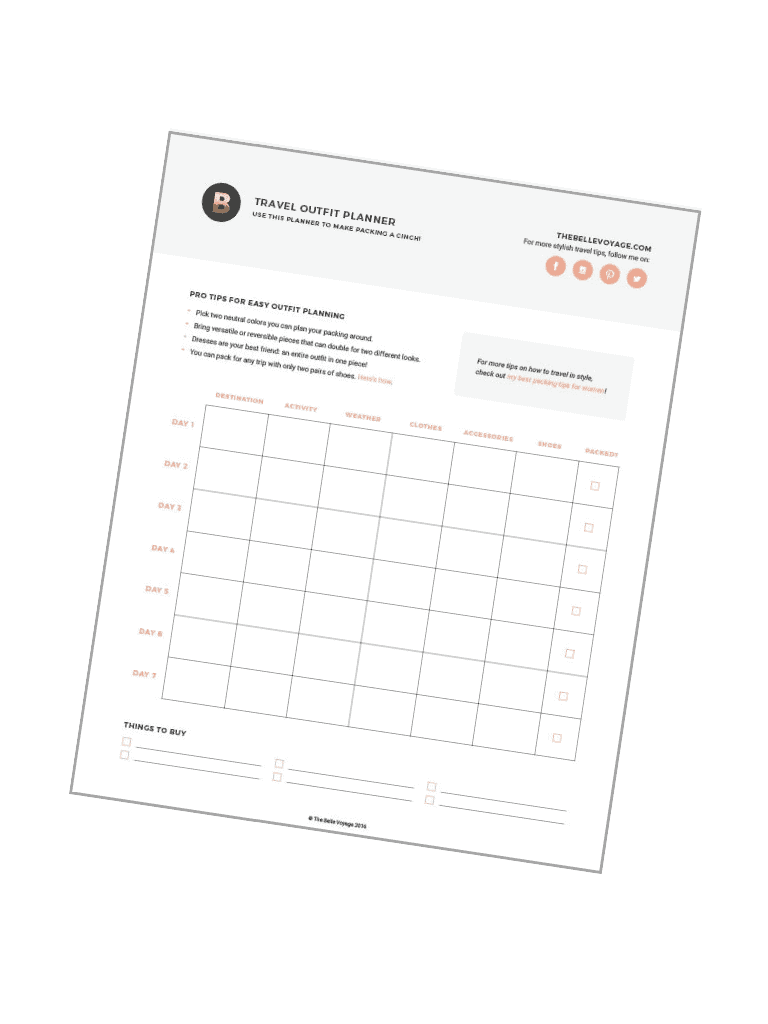 Finally, let your creative juices flow! Lay out all of the clothing pieces in your capsule and see what combinations you can make with the pieces you have.
Of course, your capsule will be different depending on the time of year you're traveling and the type of trip you're taking. For more specific recommendations, check out the other capsule wardrobe examples I've put together:
How Many Pieces Should Be in a Travel Capsule Wardrobe?
In terms of how many pieces should be in a travel capsule wardrobe, it will vary depending on the amount of travel you do, and the kinds of trips you take.
In general, a good starting place is to have 15 pieces in your travel capsule wardrobe. A 15-piece travel capsule wardrobe is the perfect foundation, and will work for most trips. If you travel frequently, or will be gone for a long period of time, add in a few extra pieces to give yourself even more versatility.
The 5-4-3-2-1 Packing Method
Which 15 pieces of clothing go in a travel capsule wardrobe? Use the 5-4-3-2-1 rule as a guide for how many pieces of each clothing type should go in your capsule. For the 5-4-3-2-1 rule, here's what to include:
5 tops
4 bottoms
3 outer layers
2 pairs of shoes
1 dress
Easy, right? The 5-4-3-2-1 packing method is a quick and easy way to remember how many of each item you need for clothes and shoes.
Once your clothes and shoes are packed, simply add a tote bag that goes with all of your outfit combinations. It also helps to know what to put in your carry on vs checked bag.
The Perfect 15 Piece Travel Capsule Wardrobe for Any Trip
Now that you have all of the basics down to create your own travel capsule, here's how it all comes together! This example of a 15-piece travel capsule wardrobe is easy to put together and will suit most trips.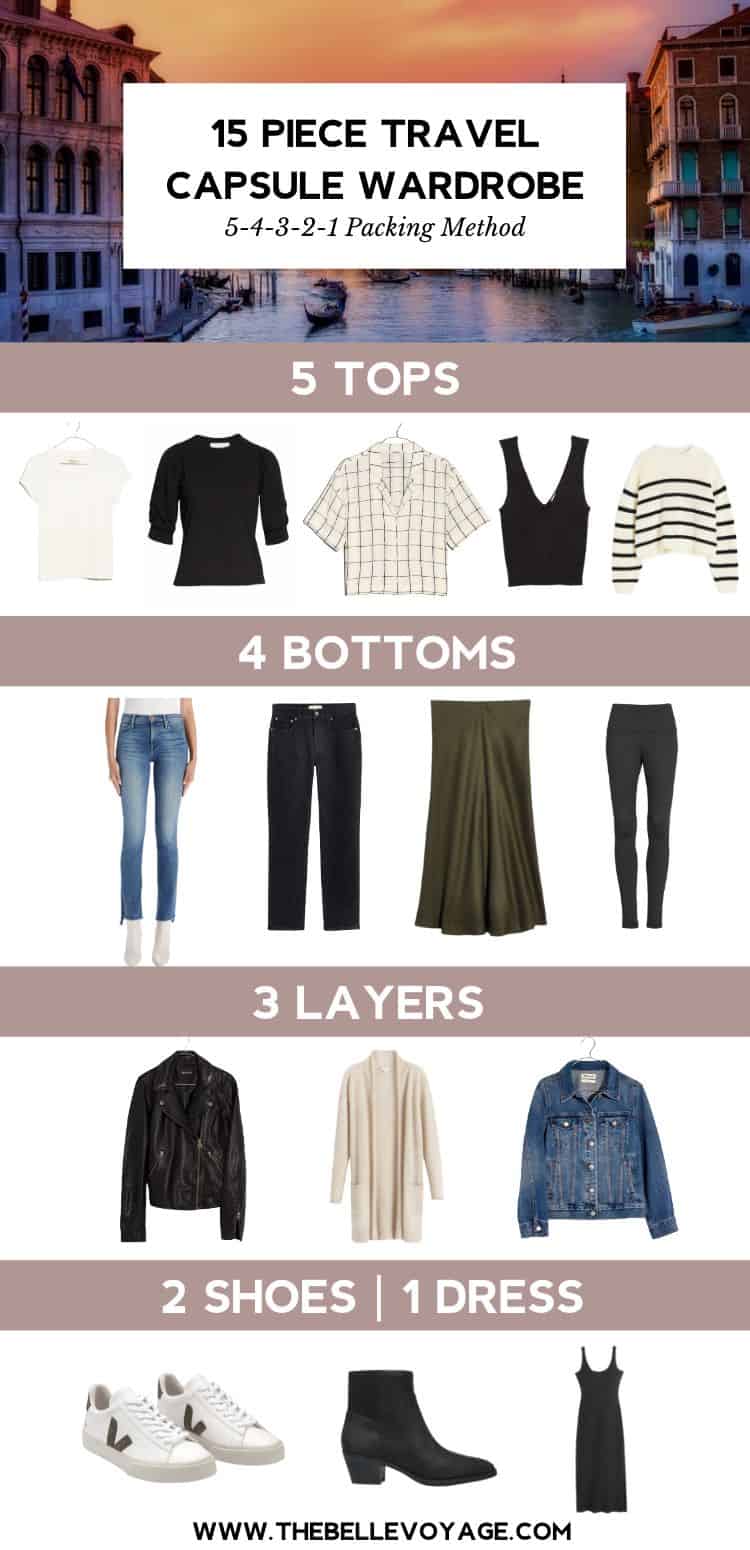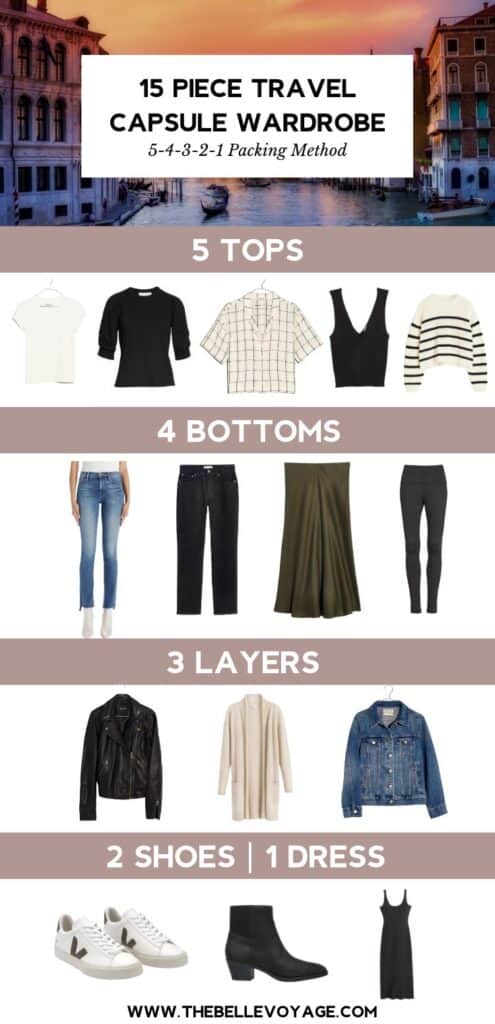 Tops: white t-shirt | black top | patterned button-down shirt (similar) | black v-neck tank | striped sweater (similar)
Bottoms: jeans | black jeans | green midi skirt (similar) | leggings
Outer layers: leather jacket | long cardigan | denim jacket
Shoes: sneakers | ankle boots
Dress: midi tank dress (similar)
How to Style a Travel Capsule
The 15 pieces in this capsule collection are designed to go together, so they can be mixed and matched countless different ways.
Daytime Outfits
Let's start by using the capsule wardrobe to create a few daytime travel outfits. These looks are perfect for sightseeing, exploring a museum, meeting up with friends, or having a casual brunch or lunch.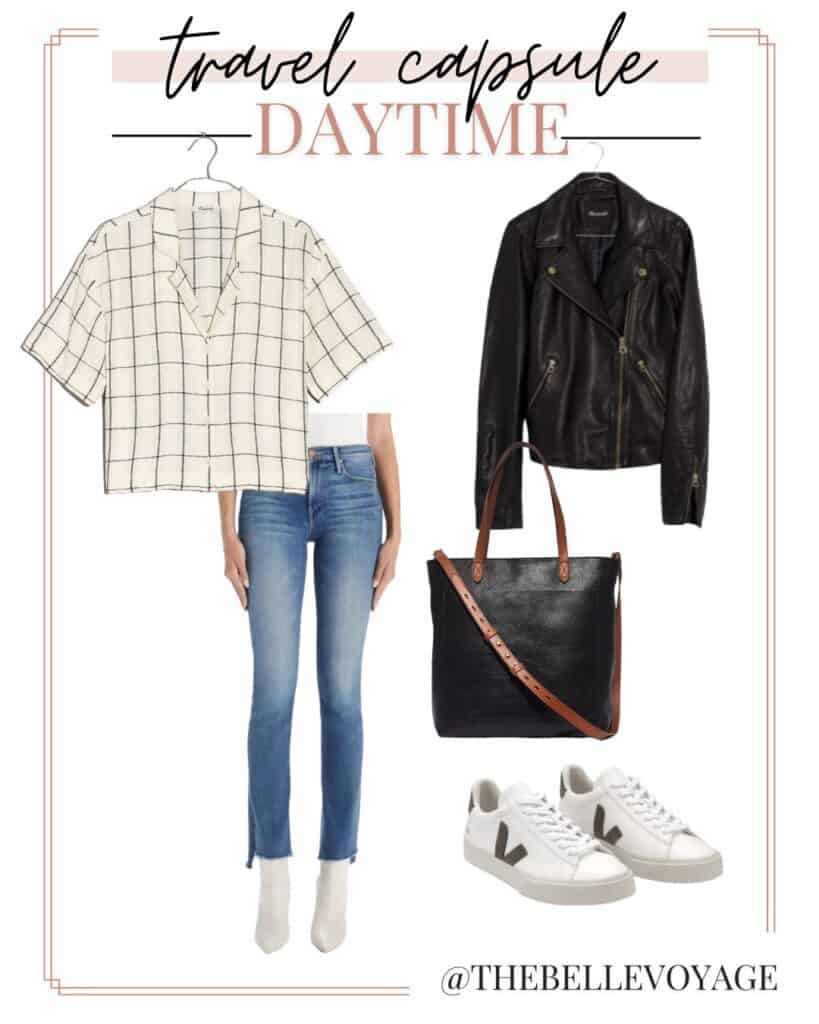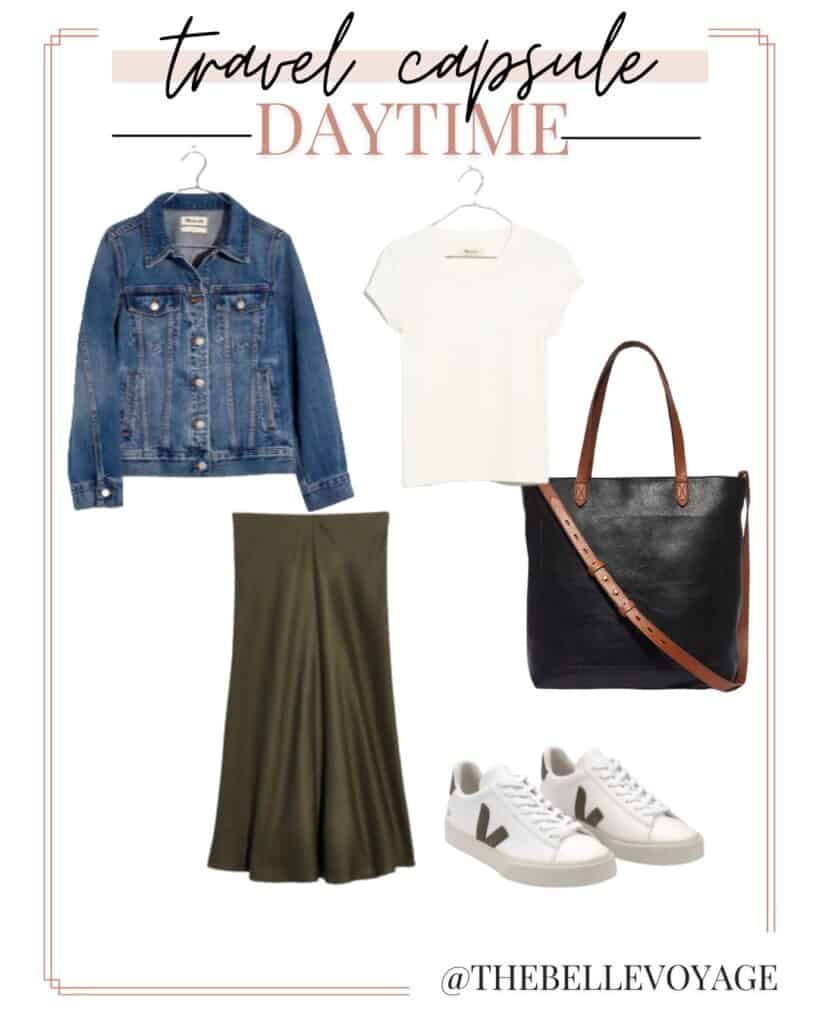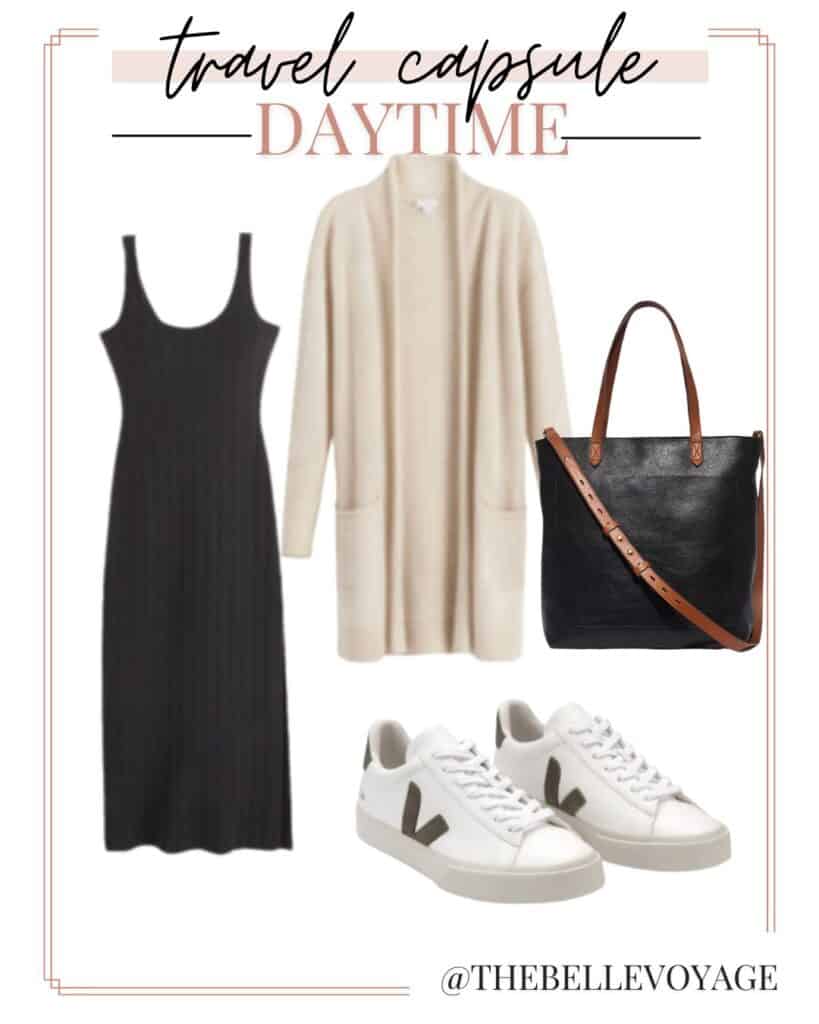 Evening Outfits
It's also easy to transition your travel capsule wardrobe so that it works for night. These next four styles are perfect for evenings during your trip.
Whether you're going out to dinner, seeing a show, or hitting up happy hour, any of these outfits are versatile enough to look great for whatever you plan to do at night.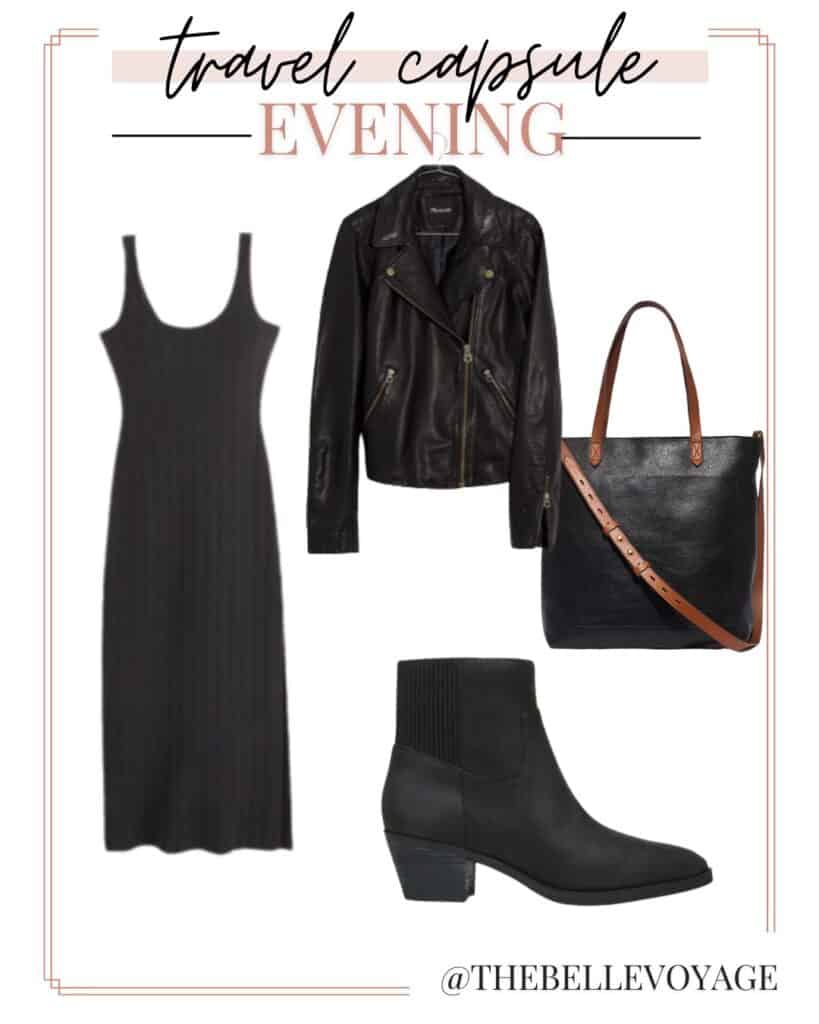 Shop My Capsule Wardrobe
Love the looks in this capsule wardrobe? I've made it super simple for you to shop the picks – they're all linked below!

And if you're heading to a warm weather or beach vacation destination, you'll love these options for 2023 resort wear.
How to Pack A Capsule Wardrobe for Travel
Now that your travel capsule wardrobe is complete, it's time to get packing! When it comes to packing your capsule wardrobe for travel, follow these steps.
Wear The Bulkiest Items
Always wear your largest items in your capsule wardrobe on your "travel days", so that you don't have to stuff them in your suitcase.
In this capsule wardrobe example, wear the black jeans, boots, striped sweater and denim jacket on the plane.
Pack Your Shoes At the Bottom of Your Suitcase
Next, pack the other pair of shoes at the bottom of your suitcase. Shoes should always go on the bottom of your suitcase because they're heavy. Packed at the bottom of your bag, the shoes won't crush other lighter items like blouses and dresses.
Pack Toiletries
Toiletries should also go on the bottom of your bag. To make sure you pack light, work from my toiletry packing list, and follow my advice for how to pack makeup in a carry on.
Roll Your Clothes
Roll up the rest of your clothing items and place them on top of your shoes and toiletries. The heaviest pieces of clothing, such as jeans, should go towards the bottom of your bag. Lighter items like tank tops and t-shirts should go on top.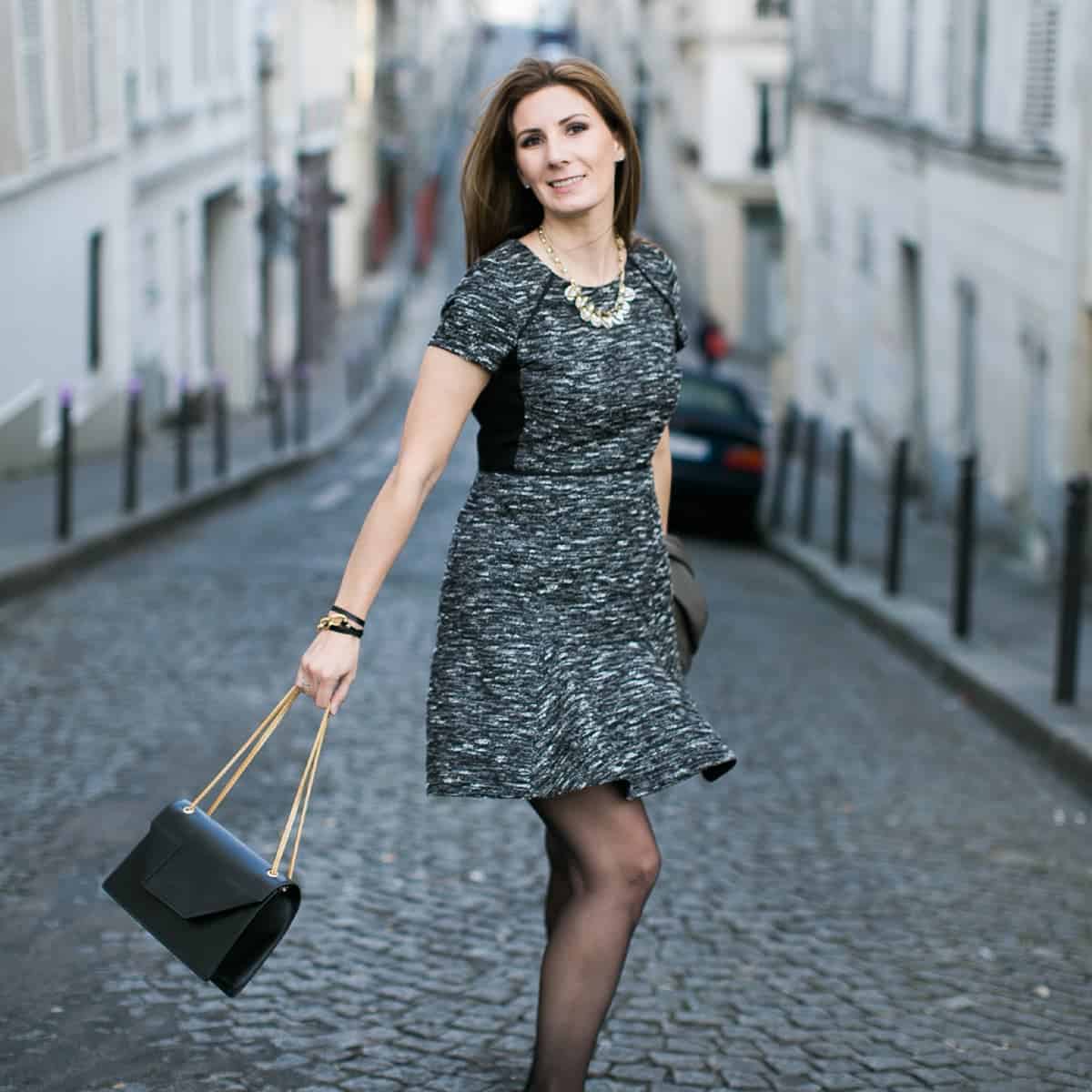 shop my favorite
TRAVEL ESSENTIALS
Ready to jet-set with ease? Discover my favorite travel products for your ultimate passport to stress-free adventures!
Capsule Wardrobe Packing List
Looking for a simple capsule packing list? Here's the perfect travel capsule wardrobe in packing list format:
1 t-shirt
1 tank top
1 button-down shirt
1 sweater
1 "nice" top for dinner
1 pair jeans
1 pair colored jeans (black, white, or gray would all be good options)
1 skirt
1 pair leggings
1 leather jacket
1 denim jacket
1 long cardigan
1 pair sneakers
1 pair ankle boots
Wear the items in bold above on the plane, and you'll be all set!
Frequently Asked Questions
How do you build a capsule wardrobe for a trip?
To build a capsule wardrobe for a trip, begin with a color palette of two neutrals and one accent color. Next, think about your trip one day at a time to get an idea of what kinds of outfits you need. Finally, pick 5 tops, 4 bottoms, 3 layers, 2 shoes and 1 dress (5-4-3-2-1) that can all be mixed and matched to create different looks. Solid color pieces will work best!
What is the ideal number of clothes for a capsule wardrobe?
A travel capsule wardrobe should ideally have 15 pieces. 5 tops, 4 bottoms, 3 outer layers, 2 shoes, and 1 dress. You can add to this list, or vary the number of items in each category depending on the nature of your trip. Since the purpose of a capsule wardrobe is to pack efficiently, try not to include more than 20 pieces.
What is the rule of thumb for a capsule wardrobe?
A good rule of thumb for a capsule wardrobe is the "5-4-3-2-1 Rule". 5 tops, 4 bottoms, 3 outer layers, 2 shoes and 1 dress. By using the right versatile pieces, you can mix and match these items to create endless different outfit combinations.