How Many Outfits to Pack For Your Trip (And Travel in Style)
This site uses affiliate links and I may earn a small commission when you use my links and make a purchase, at no extra cost to you. 
Trying to decide how many outfits to pack for your trip? Figuring out the right clothes to bring for travel is an important part of how to pack a suitcase, but it can be hard to figure out exactly what should be on your packing list. How many tops, bottoms and dresses do you actually need? And how do you avoid overpacking?
In this guide, I'm sharing exactly how many clothes to bring on your trip, depending on how many days the trip is.  Whether you're packing for a 5 day, 7 day, or 14 day trip, this guide will walk you through the right number of outfits and clothes you need to bring.  For more inspiration, check out this season's summer travel outfits!
And as an added bonus, I'm also sharing my secrets to creating a travel capsule wardrobe, along with some of the best clothing pieces that work for all kinds of travel and will make packing a cinch.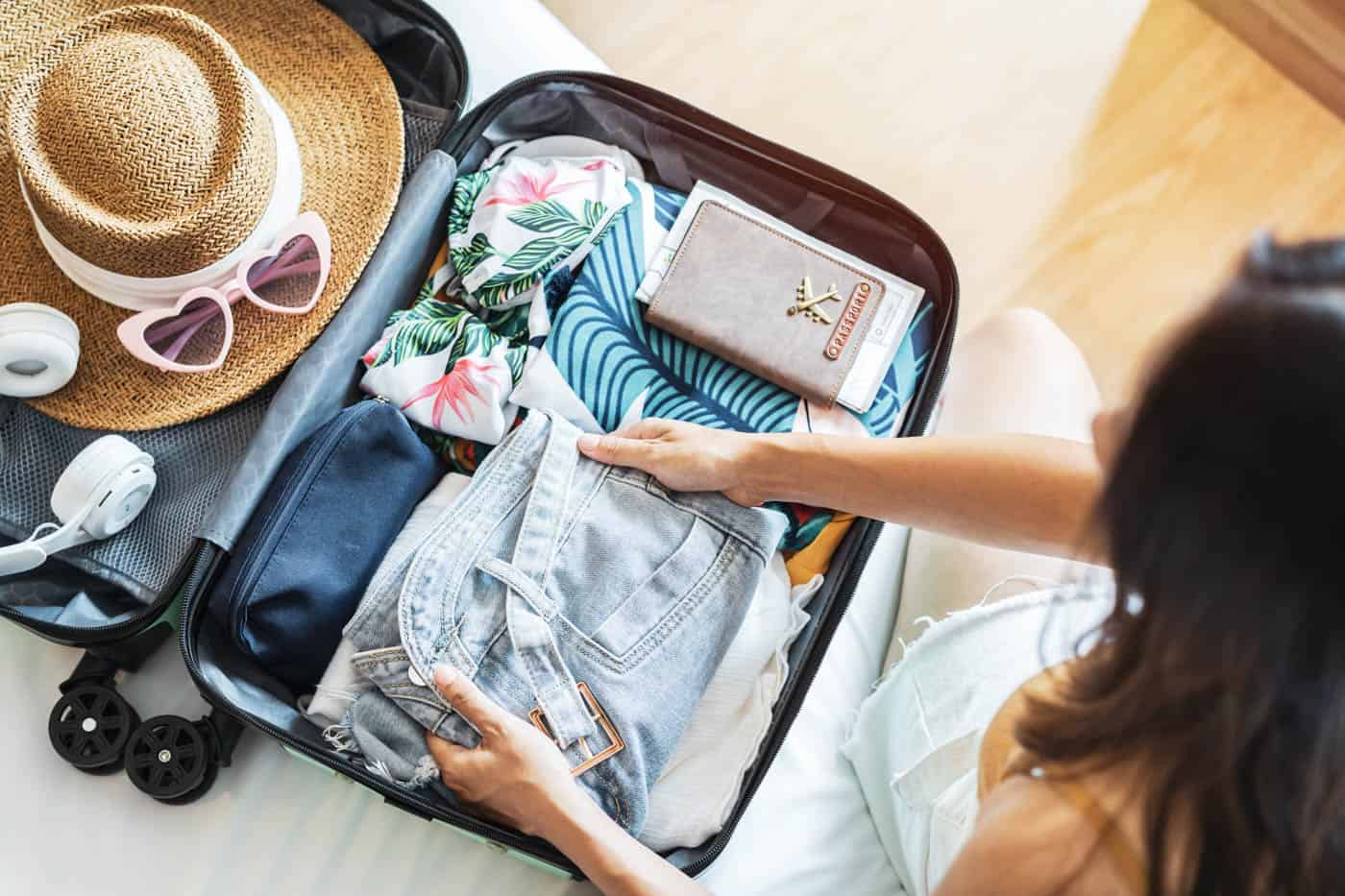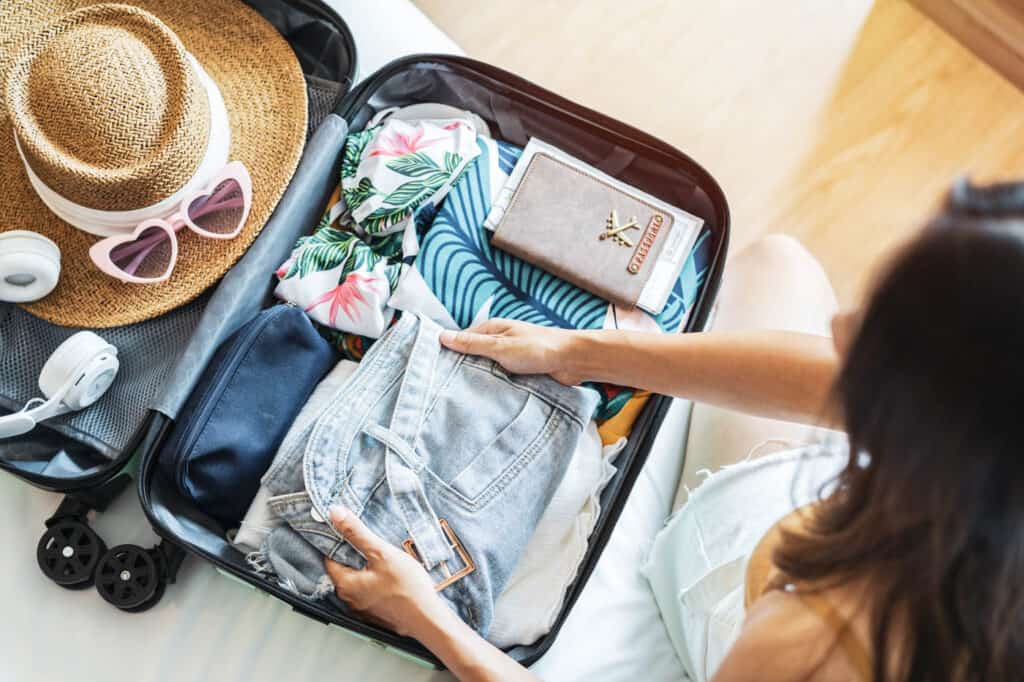 How Many Clothes to Pack for Travel
The amount of clothes you should pack for a trip will of course depend on how long your trip will be. Longer trips obviously require more clothes, and so do trips that include one or more special events.
Let's start with some sample packing lists for trips of different lengths. Whether you're packing for a 3 day, 5 day, 7 day, a 14 day, or a month-long trip, use the lists below as a guide for how many clothes you should bring, and to help you avoid overpacking:
3 Day Trip
Here's a women's packing list for trips that are 3 days or less:
1 bottom
2 tops
1 dress
1 outer layer (a jacket, coat or blazer)
2 pairs of shoes
Check out this weekend trip packing list for everything you should bring!
5 to 7 Day Trip
This women's packing list is perfect for trips between 5 and 7 days:
3 bottoms
4 tops
1 dress
1 outer layer (a jacket, coat or blazer)
2 pairs of shoes
14 Day Trip
Finally, if you have a longer trip, you can use this 14 day women's packing list:
4 bottoms
5 tops
2 dresses
2 outer layers (a jacket, coat or blazer)
2 pairs of shoes
If your trip is longer than 14 days, you can still use the list above. Just plan on doing your laundry once every two weeks. The best part is that each of these packing lists will fit in a carry on bag, so you'll save money by not checking your luggage. If you DO decide to check your bag, it's helpful to know what to pack in your carry on vs checked bag.
Now, I know what you're thinking. These lists might not sound like enough, especially if you love clothes like I do.
But if you pack the right pieces of clothing, I promise that you'll have enough clothing for your trip! It's easy to create lots of different travel outfit combinations with just a few staples.  They just have to be the right pieces!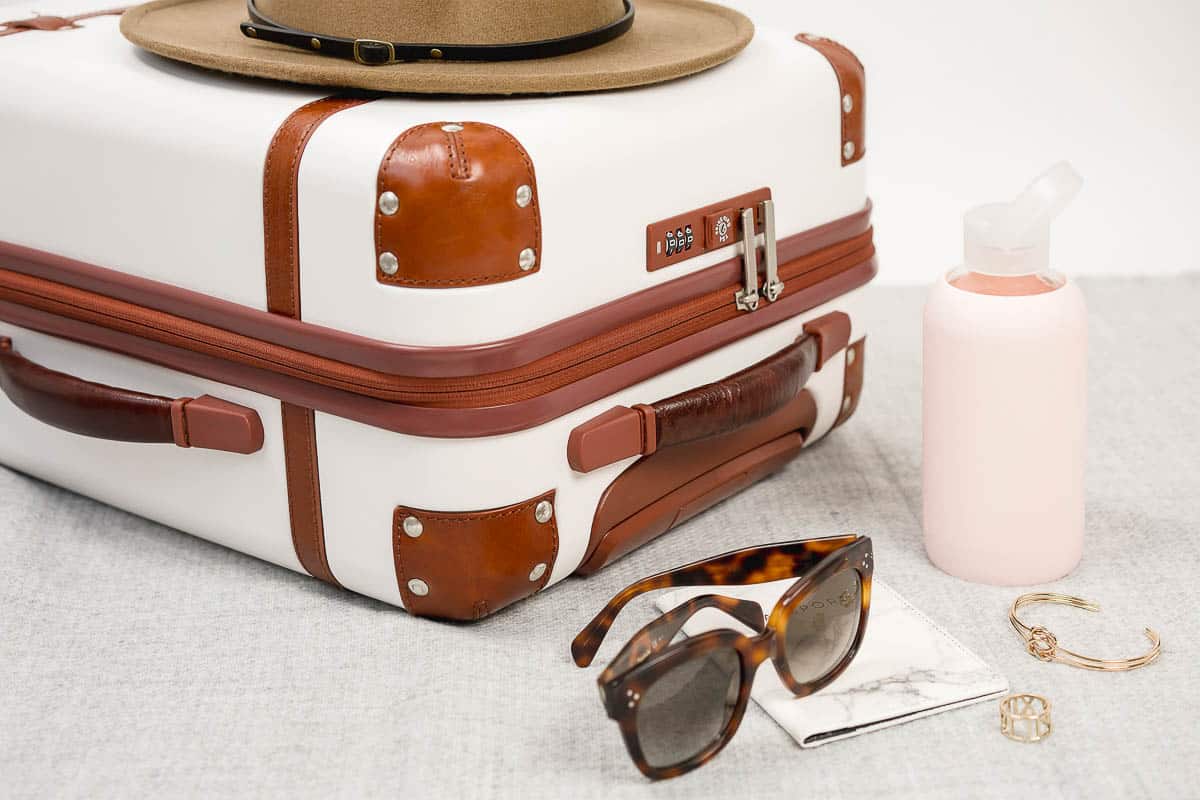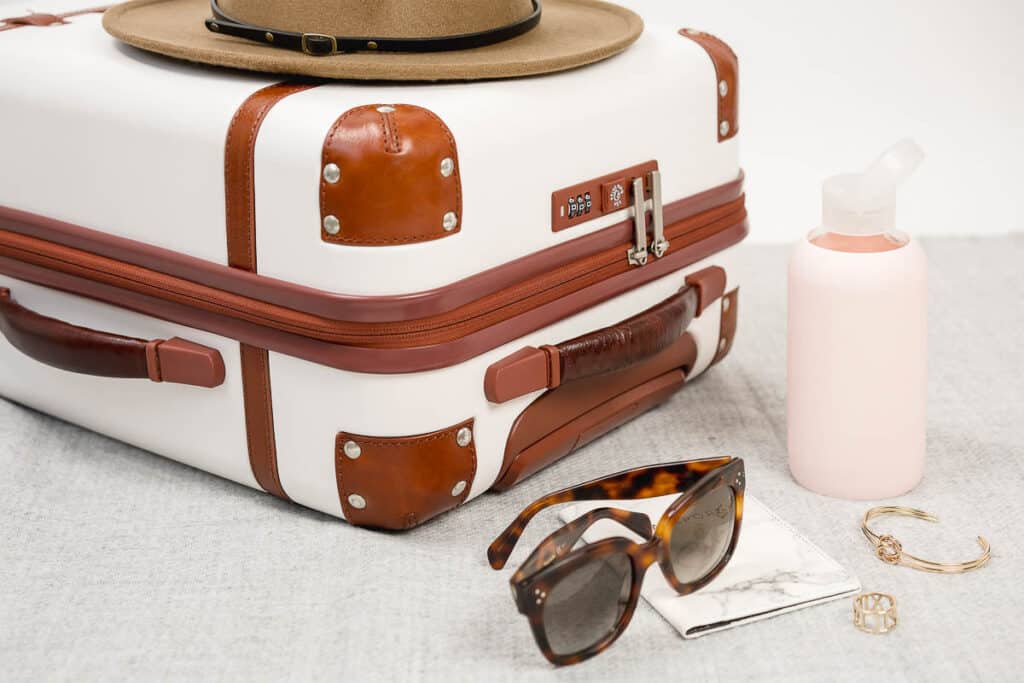 How Many Outfits To Pack for a Trip
The packing lists above will help you decide what to pack. But how many outfits do you actually need for your trip? And how many outfits can you create with what you're packing?
Here are a few guidelines you can use to determine how many outfits you will need for a trip, according to the length of the trip:
3, 5 or 7 Day Trips
For trips that are 3, 5 or 7 days, you will need one outfit per day. For example, if your trip is 5 days long, pack five outfits.
14 Day Trip (2 Week Vacation)
For trips that are two weeks long, you will need 10 outfits. Wear one outfit per day, and then repeat four of the outfits.
3 Weeks or Longer
If you will be traveling for 3 weeks or longer, you can use the same approach as for a 14 day trip. Just plan to do your laundry after the first 14 days.
Pro tip: If you pack pieces that you can mix and match in different ways, you can repeat pieces, but you won't have to repeat the exact same outfit. Keep reading below for my advice on how to create a mix-and-match travel wardrobe that is perfect for packing light!
Finally, if there are events during your trip that require a specific outfit (if you're attending a wedding, for example), add an extra outfit for each occasion. So for a 7 day trip with two special occasions, make sure you have enough clothes for 9 outfits.
Tips on How to Plan Outfits For a Trip
Planning your outfits for a trip can be overwhelming. Here's a few more tips on how to plan your travel outfits like a pro!
Plan Day by Day
The first step in planning your travel outfits is to think about your trip one day at a time.
What activities are you planning for each day? Are there any specific events that you need a certain outfit for? Can you wear the same outfit all day, or do you plan on changing your clothes for different parts of the day?
Even if you're not sure EXACTLY what your days will look like, you probably have a certain sense. For example, maybe you'll be doing a lot of walking around or sightseeing, maybe mostly lounging and relaxing, or maybe you'll be hitting the town for dinner and a show.
Use a Travel Outfit Planner
To make this process even easier, use a travel outfit planner! I created one that's free and easy to use, which you can download below.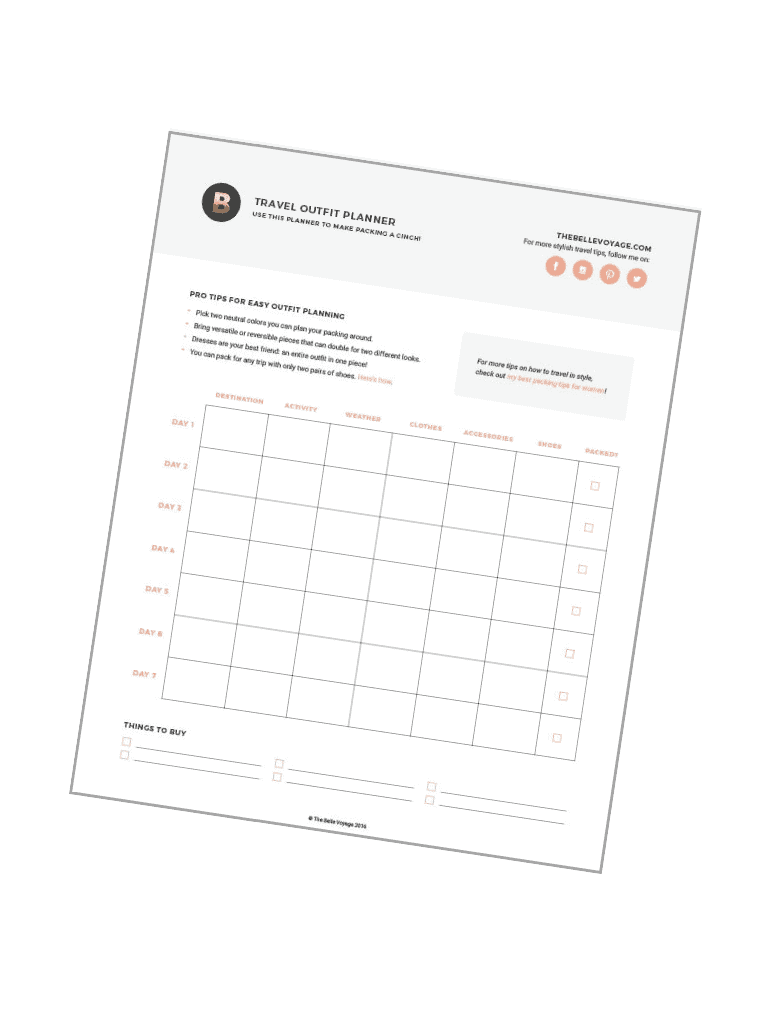 Use the grid to guide you through your outfit plan for each day, including the activities that are planned for that day, and also what the weather will be like.
Once you have the grid filled out, use the planner as a checklist to ensure that you've packed everything!
And if you love the outfit planner, you'll also love my other free printable travel planners to help you get organized for your trip!
Use Your Packing List to Create Different Outfit Combinations
The secret to packing light but still having enough outfits for your trip is that everything should go with everything. You should be able to use the packing lists above to create enough outfits for your trip by combining your clothes in different ways to create different looks.
If this sounds overwhelming, I'll show you exactly how with my guide to how to build a travel capsule wardrobe!
Here are a few tips for creating as many outfits as possible from the fewest number of pieces.
Stick to Basics
My best advice when it comes to packing is to stick with basics. For example, you can pair a simple black t-shirt with just about anything! But a striped, bright green shirt might only go with a couple of other things. The more basic, the more versatile something will be.
Neutral Colors are the Most Versatile
Try to pack clothes in neutral colors. Why? They all go together! You can pair black, white, cream, tan, navy, and gray together in almost any combination, and they will still create a cohesive look.
Pack Pieces that Pair With Two Other Items
A good rule of thumb for packing is to only pack pieces that you can wear with two other things you're packing. That goes for tops, bottoms, shoes, and dresses.
It's a great test of whether or not something is truly versatile. If you can't wear it with at least two other items in your suitcase, leave it at home.
Pack Versatile Shoes
Shoes take up the most space in your bag, so it's important to pack the right ones! Look for shoes that are versatile, so that you can wear them with at least half of the outfits you plan to pack.
My favorite combination of shoes to pack for a trip are sneakers and ankle boots. I can wear them both with jeans, dresses, and skirts. For warm weather trips, it's sneakers and sandals. Wear your largest pair of shoes on the plane, and pack the second pair.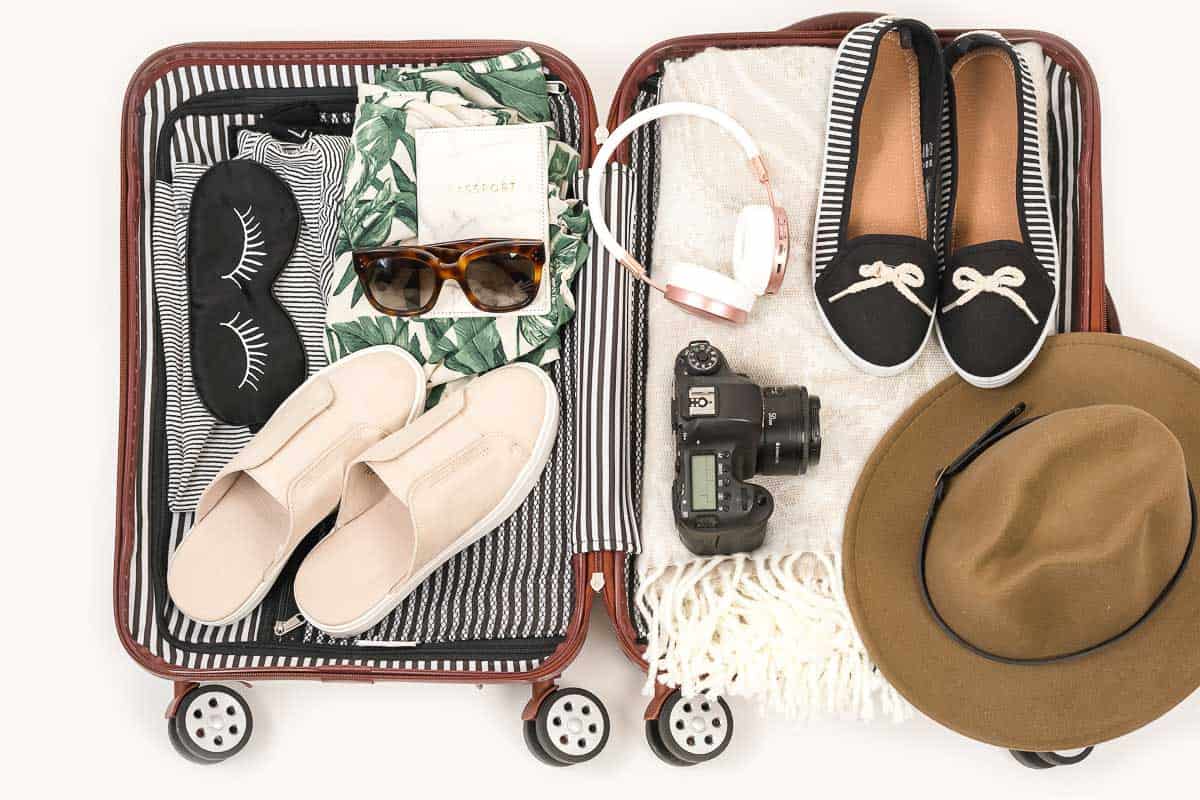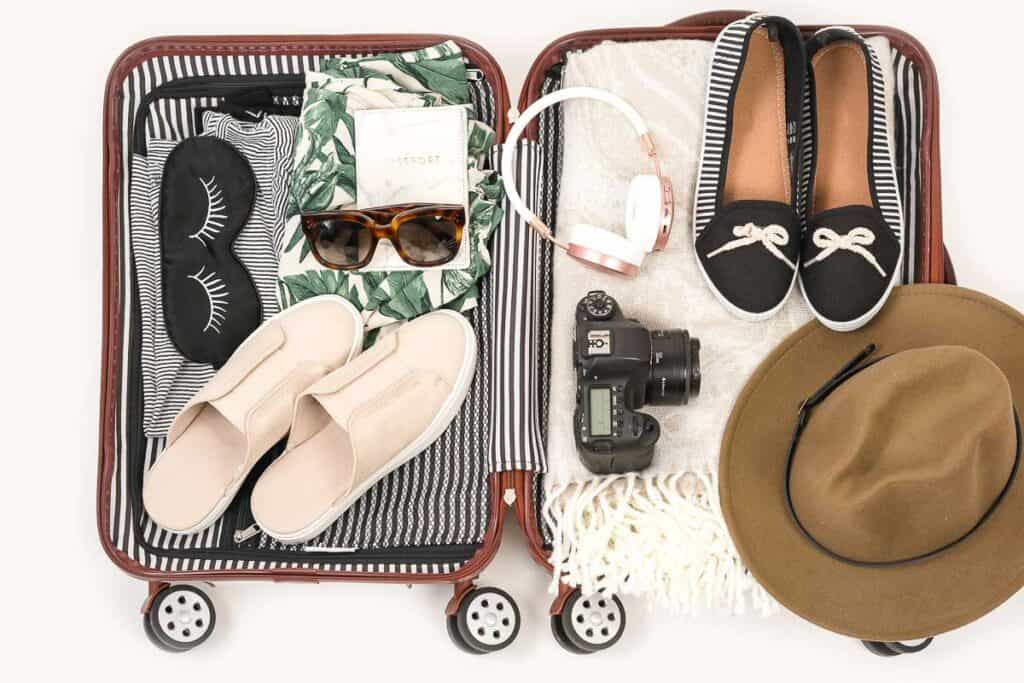 My Favorite Travel Wardrobe Staples
After so many years of traveling, I've learned what works (and what doesn't) when it comes to how many clothes I should pack. The secret is having a few go-to pieces that are super versatile.
For example, I almost always pack a simple black v-neck t-shirt. I can style it with jeans, ankle boots and a leather jacket for drinks or dinner, with a skirt and sneakers for brunch or sightseeing, and with leggings if I need a comfy travel outfit for a flight. And as a bonus: if (when) I spill on it, it's much easier to hide!
Here are a few of the "secret weapons" that I like to bring when I travel, because they work for lots of different occasions, and can be styled a million different ways. These clothing pieces are the essential parts of my travel wardrobe.
City Sightseeing Trips
Black jeans (I like these jeans because they're 1% spandex so they stretch!)
White, black or gray t-shirts
Tank dress
Blazer (this one is a current favorite)
White sneakers
Ankle boots
Adventure or Outdoor Travel
Leggings (these will always be my go-to leggings)
Simple crewneck t-shirts
Shacket (shirt + jacket = shacket!)
Denim button-down
Beach Vacations
Metallic sandals
Sundresses (you can't go wrong with this classic one)
Midi skirts
Trips to Visit Friends or Family
Dark stretchy skinny jeans
Long cardigan (I love, love, love this one)
Striped shirts or sweaters
Tank dress (this is my current favorite)
For ALL of my travel favorites, check out my shop!
Need More Help Packing?
If you need more help deciding how many clothes to bring for your trip, I've created lots of examples in my capsule wardrobe collections. Check out these posts for inspiration!