Dressy Sweatpants by Encircled
This site uses affiliate links and I may earn a small commission when you use my links and make a purchase, at no extra cost to you. 
For your next summer trip, I dare you to leave your jeans at home. I know, I know…they're a staple. And you probably just got those cool distressed ones. BUT…they're also bulky, heavy, hot, and truthfully, can get a little snug after brunch. Let's be honest: none of these things are good qualities in a summer travel staple!
I'm not crazy, or proposing that you travel pantsless…I just found something that I like even better than jeans – for travel and beyond. And I think you're gonna like 'em! Meet the Dressy Sweatpants by Encircled!
The Dressy Sweatpants by Encircled
Meet Encircled's Dressy Sweatpant. I'd let you try mine on, but I'm not planning on taking them off anytime soon.
These pants are the ultimate in versatility and comfort, all wrapped up in a stylish-ness that goes way, way beyond sweatpants. As soon as they arrived in the mail, I went GANGBUSTERS in my closet, just playing with everything they could be paired with, because the options were seemingly endless. Blazer? Check. Tank top? Yep. Heels? Sneakers? Yes and yes.
I struggled to find something that the Dressy Sweatpants DIDN'T go with, and I knew this would make them the perfect travel staple.
When's the last time you packed just one pair of pants for an entire trip?
As for me? Possibly never. I always end up wearing one pair of pants on the plane, and then cramming at least two other pairs of pants into my carry on bag. Jeans and yoga pants to be specific.
So yeah, normally it takes three pairs of pants for me to cover all my bases, and I consider myself to be a very efficient packer. The problem with three pairs? Pants are HEAVY, dude. So my bag, and hence, my back, pay the price.
Once I saw from my closet experiment that the Dressy Sweatpants went with everything under the sun, I knew they could take the place of my entire pant trifecta when it came to packing…and that I'd be leaving my jeans at home all summer long.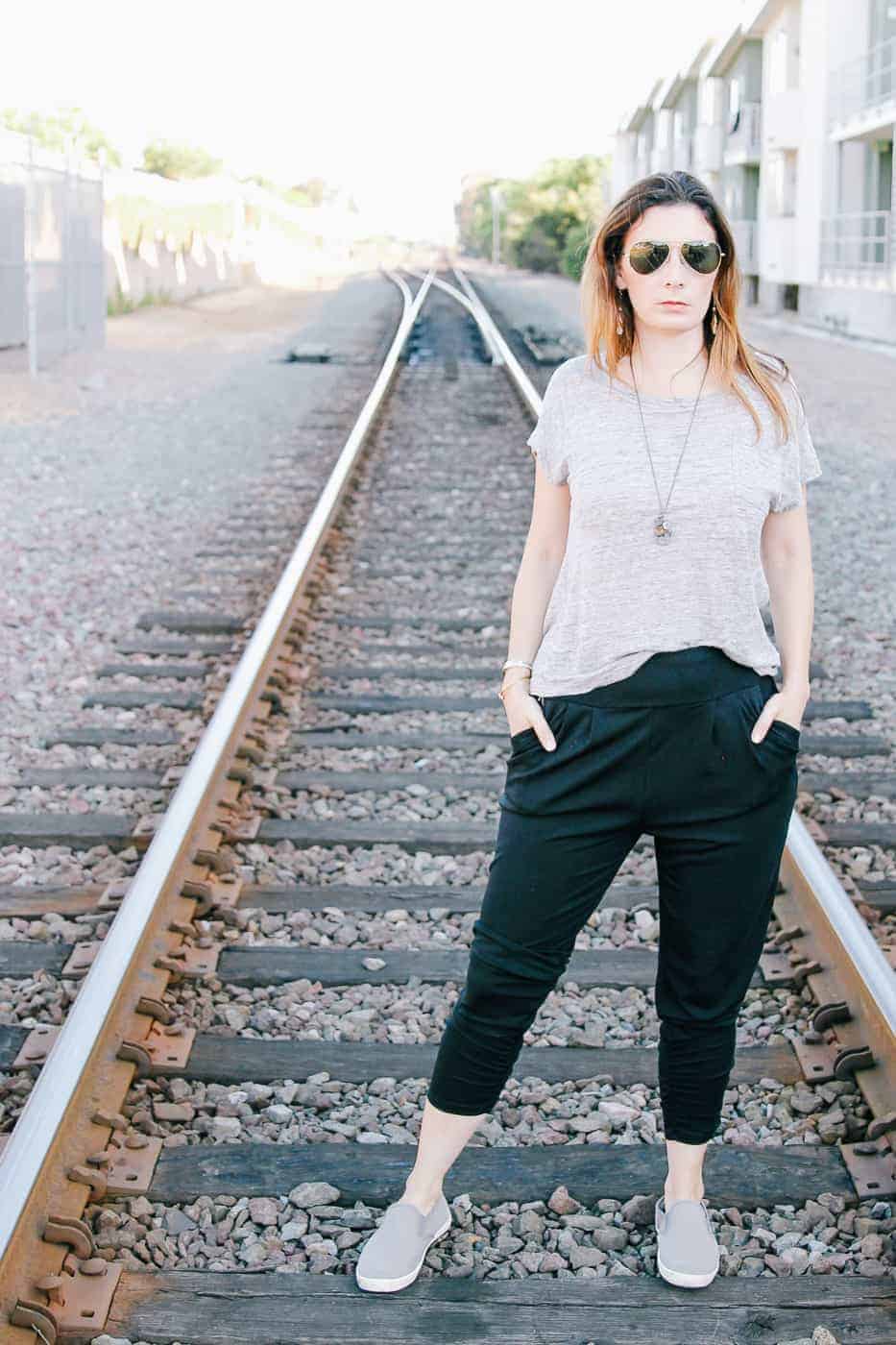 Let's talk fit.
Here's the background: anytime I order pants online, there is always a voice in the back of my head that says: there is no chance these will fit and be flattering. My body type is pear-shaped, so it can be REALLY hard to shop for pants online. Do any of my pear-shaped sisters FEEL me??? Do you also get anxiety when it comes to ordering anything that's not a straight-leg and dark wash with all kinds of stretch?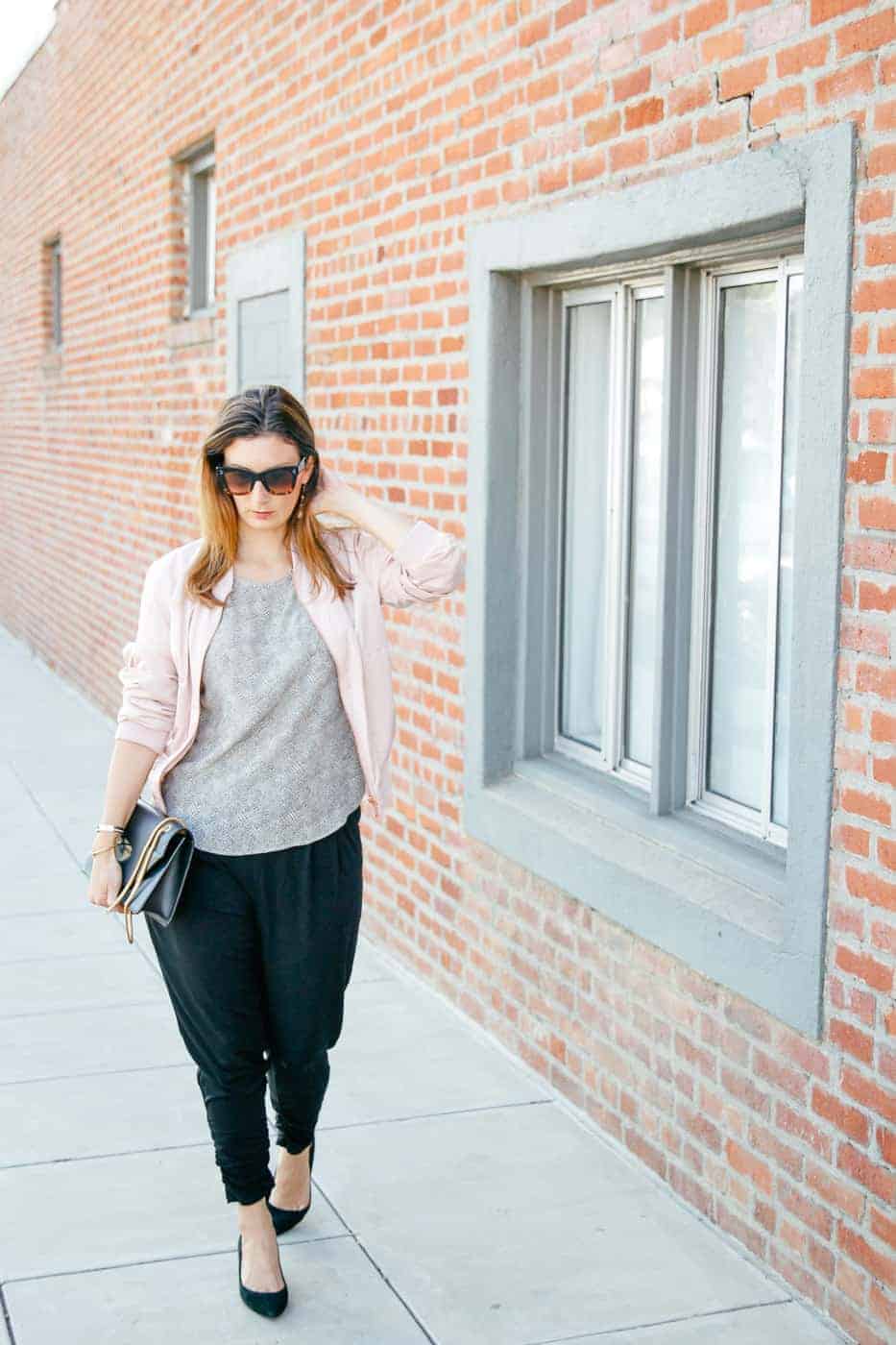 Welp, you can cast aside pant-buying-anxiety when it comes to the Dressy Sweatpants. I was admittedly a little skeptical about how they'd fit, entirely because of my own trouble with finding pants that weren't made for Kendall Jenner. BUT THE DRESSY SWEATS TOTALLY WORKED. I can't tell you how refreshing it is to find clothes that are on-trend, but also made for real women's figures.
As far as sizing, I'm 5'7, and usually wear a size 8 in pants. I'm wearing a size medium in the Dressy Sweatpants and they fit perfectly.
Thoughtful Details in Every Way
I consistently rave about the fabric that Encircled uses for its products, and The Dressy Sweats are no exception. Honestly…I could LIVE in these pants, mostly due to the fact that the Modal fabric is so sleek and luxurious, yet incredibly comfortable at the same time. And importantly – it doesn't wrinkle! At all. Ever.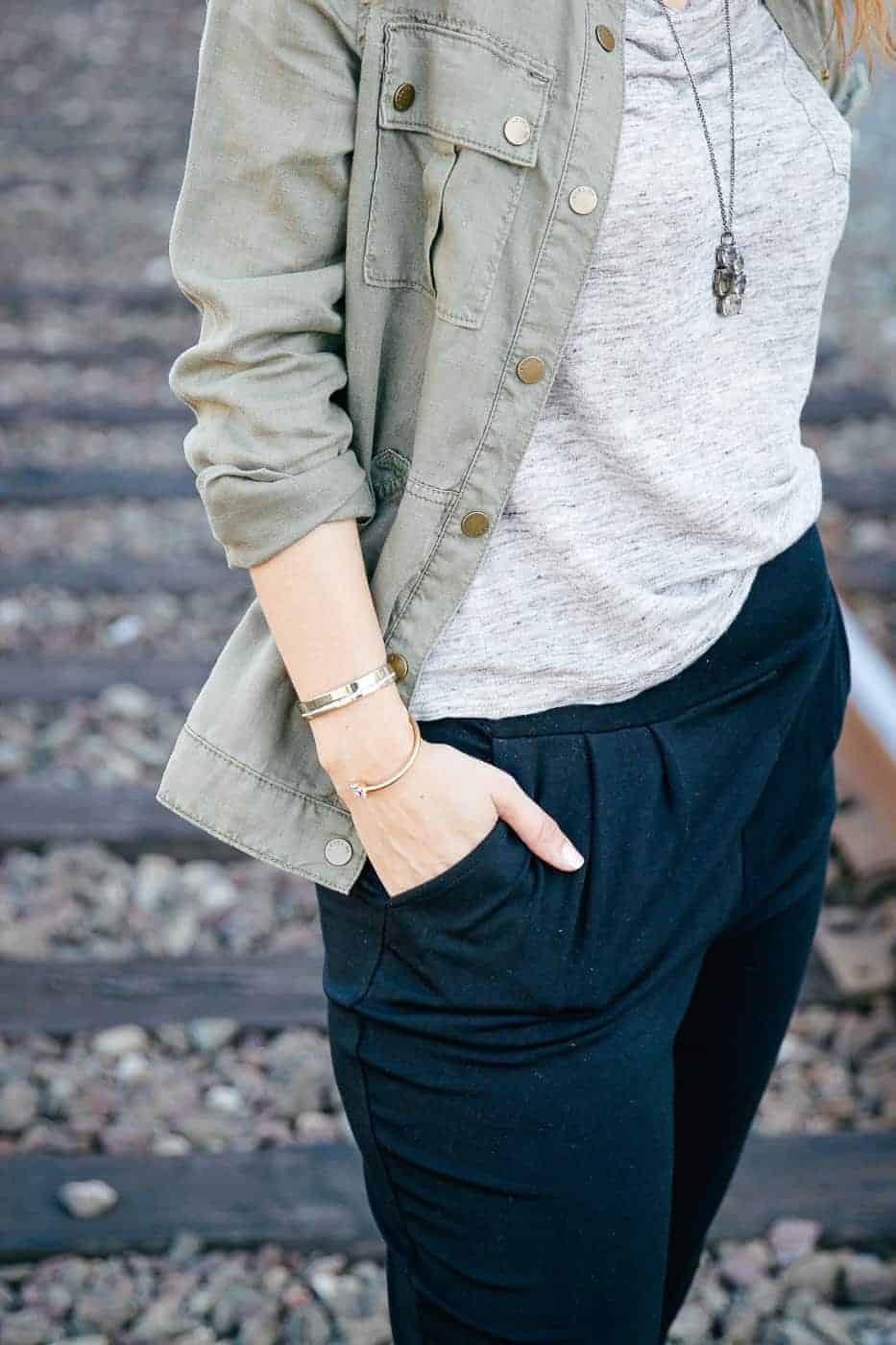 Encircled always weaves in special, thoughtful details to its designs, and it's these little "extras" that really elevate their pieces to the next level. In the dressy sweats, I love the ruching at the bottom of the legs, which allows the pants to be worn full-length, or pushed up for a more cropped look.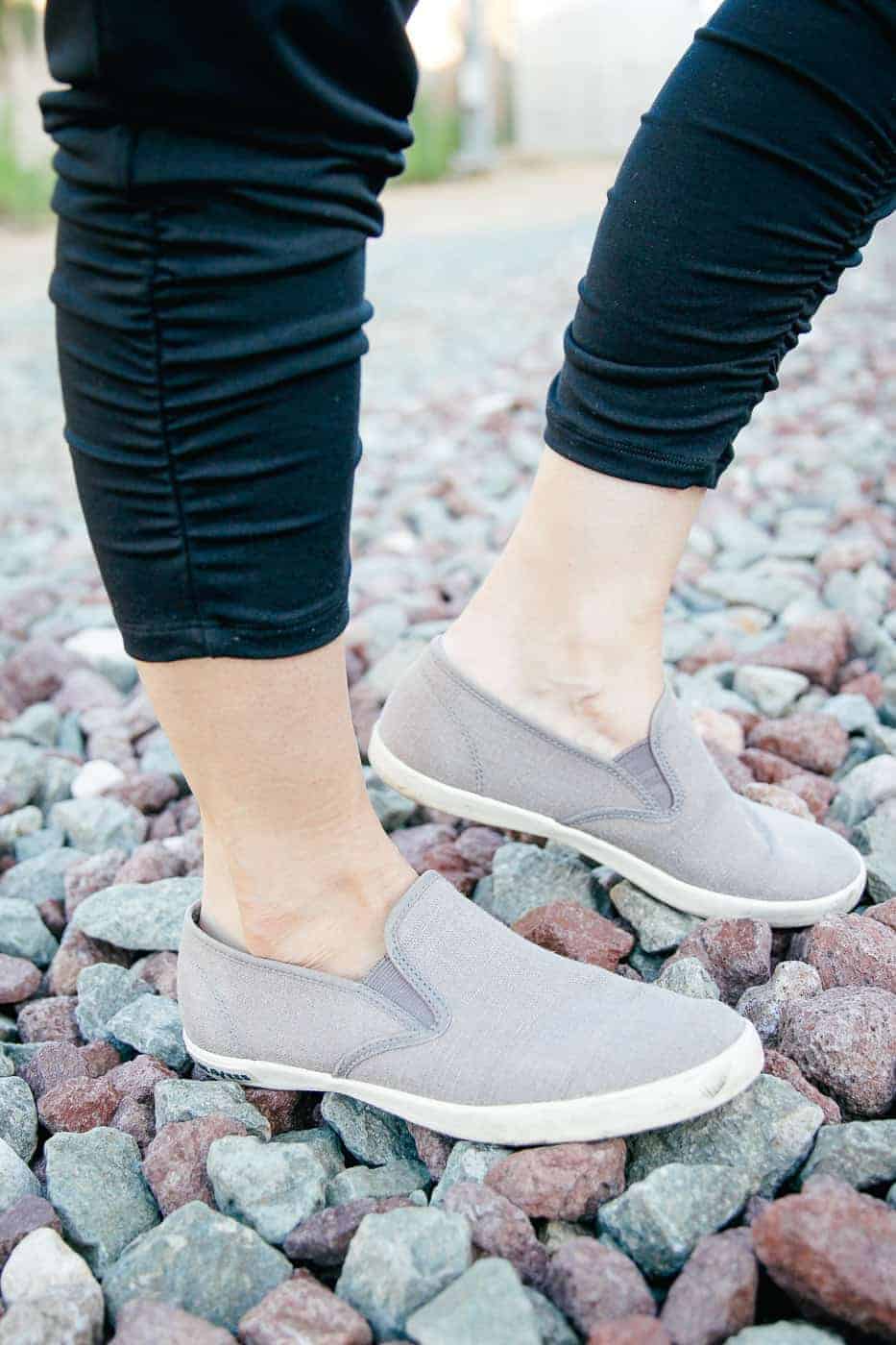 The Dressy Sweatpants also have a mini pocket in the waistband that's perfect for a few bucks, an ID, or anything else you want to keep handy.
Love this style?  Check out my other posts on encircled pieces, including a multiway top that you can wear five ways, as well as the perfect maxi dress for travel!
An Experiment in Versatility
I wanted to try a little experiment to test out the versatility of the Dressy Sweatpants, so I decided to wear them for a full 24 hours. Yep – sunrise to sunset, then back again. I wanted to see if they could work for anything that an entire day threw in my direction. Results? I think the pants might have handled my day even better than I did.
In the morning, I pulled on the Dressy Sweats to go to the office. My office is business casual, so I paired them with a blouse and a blazer. Have you heard of the term "corporate pajamas"?
Maybe I just made it up, but I think it might be my new thing. I felt so insanely comfortable in the pants that it FELT like I was in my pajamas, but I was dressed up enough to meet with clients.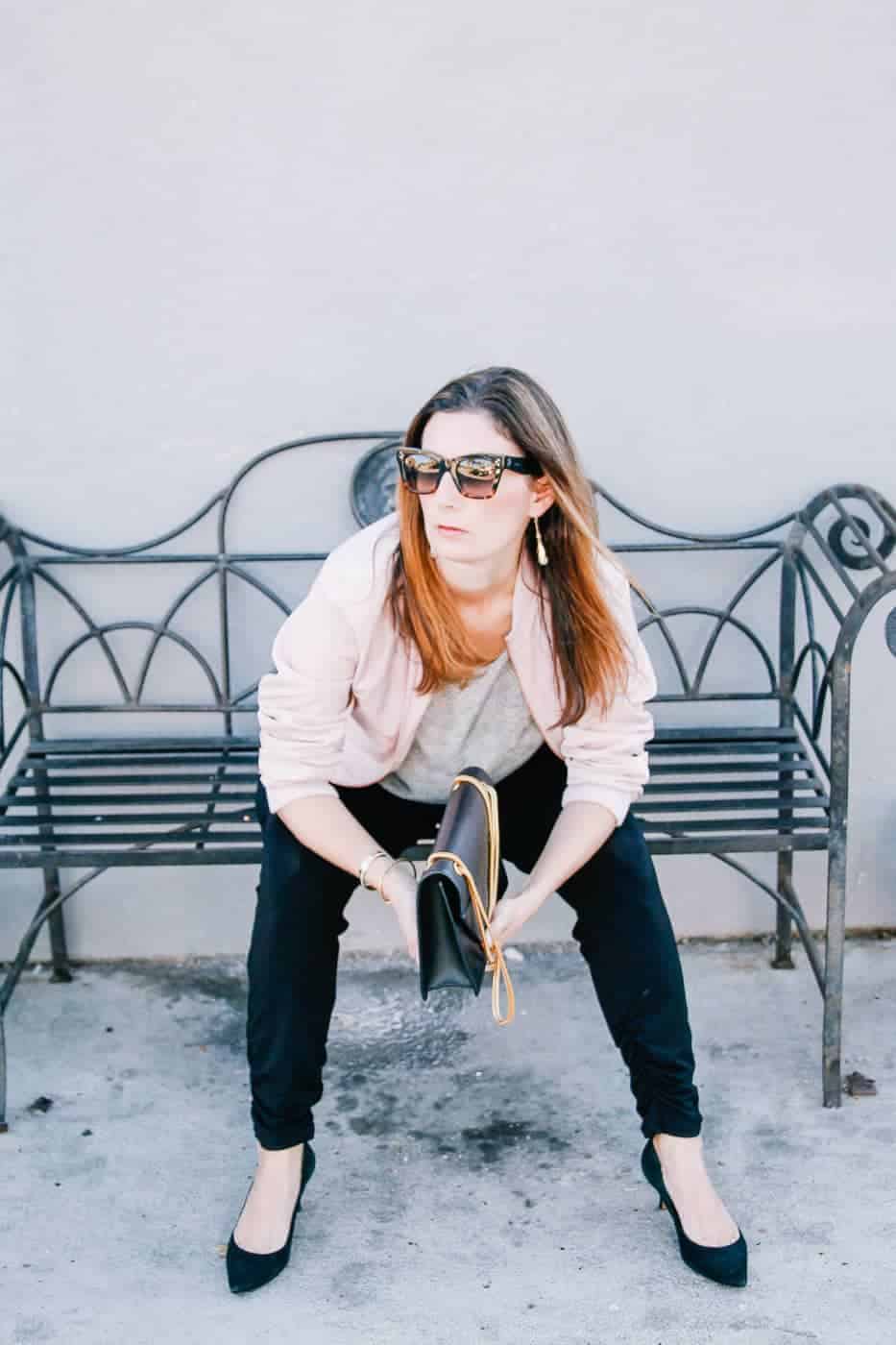 After work, I ditched my blazer for happy hour, and the Dressy Sweats still looked fabulous. Better yet, there was no nacho that they couldn't handle! Normally, my pants might start to feel the effects of happy hour fare, but with the Dressy Sweatpants, I was perfectly comfy. Once I got home, the Dressy Sweats were the perfect companion while I binge-watched House of Cards.
And then…I SLEPT IN THEM.
Yep. That's how comfortable the Dressy Sweatpants are! I literally cannot think of another standout piece in my wardrobe that I can wear to work, out to drinks, to lounge in at home, and then again to bed, all while looking impressively chic (that's what my husband said, anyway).
Call it a laundry shortcut, or call it versatility with no bounds…but these pants are just plain genius.
Clothes for Jetsetting and Every Day Adventures
If you haven't heard of Encircled yet, check out their pieces, pronto.  They are my hands-down, absolute favorite brand for versatile pieces that I can easily pack, but also find myself reaching for again and again when I'm home.  I love that they are an eco-conscious and ethically responsible brand, and also a fantastic success story and inspiration for female entrepreneurs.  Read more about Kristi's story here.
Thank you to Encircled for sponsoring this post. All opinions are my own.