The Most Instagrammable Restaurants in London (With Map!)
This site uses affiliate links and I may earn a small commission when you use my links and make a purchase, at no extra cost to you. 
If you're on the hunt for the most instagrammable restaurants in London, I've got the perfect roundup for you in this post.  I used to live in London, and have visited countless times since then, so I've got great intel on the best London instagram spots, including the most instagram worthy restaurants in London.  Get your camera and your Instagram account ready, because London is home to some of the most beautiful, unique and photogenic restaurants in the world, just waiting to be enjoyed!
The Most Instagrammable Restaurants in London
There's no doubt that London is a picturesque city, with stunning scenery every corner you turn.  Whenever I'm in London, I just can't seem to put down my camera.  
In addition to cute streets and quaint buildings, London is also home to some of the most amazing international cuisine and it's hard to keep up – it seems like a new restaurant opens almost daily, and so many of them have gorgeous and unique decor.
If you need some help with where to take Instagram photos in London, you're in luck because London's got some seriously Instagram worthy restaurants. Here's the top 15 most Instagrammable restaurants in London:
Pro Travel Tip: These days, travel can be more uncertain than ever. Check for any COVID-related restrictions at your destination, and never travel without travel insurance! I recommend SafetyWing, because they have flexible + affordable insurance plans, and also cover COVID-related impacts on your trip (not all companies do)!
Sketch London
It's hard to even begin describing Sketch London – honestly, you just need to go! This Instagram darling of a restaurant in London is also home to two bars, both equally as gorgeous as The Gallery, the restaurant's main dining room. It's on the top of my list of the most instagrammable restaurants in London.
Sketch is open for brunch, lunch and afternoon tea, but I recommend visiting during the evening. That way, you can enjoy dinner in the Gallery, but also savor a pre-dinner cocktail in The Glade bar.
Ever think you'd see a bar with an enchanted forest theme? Look no further.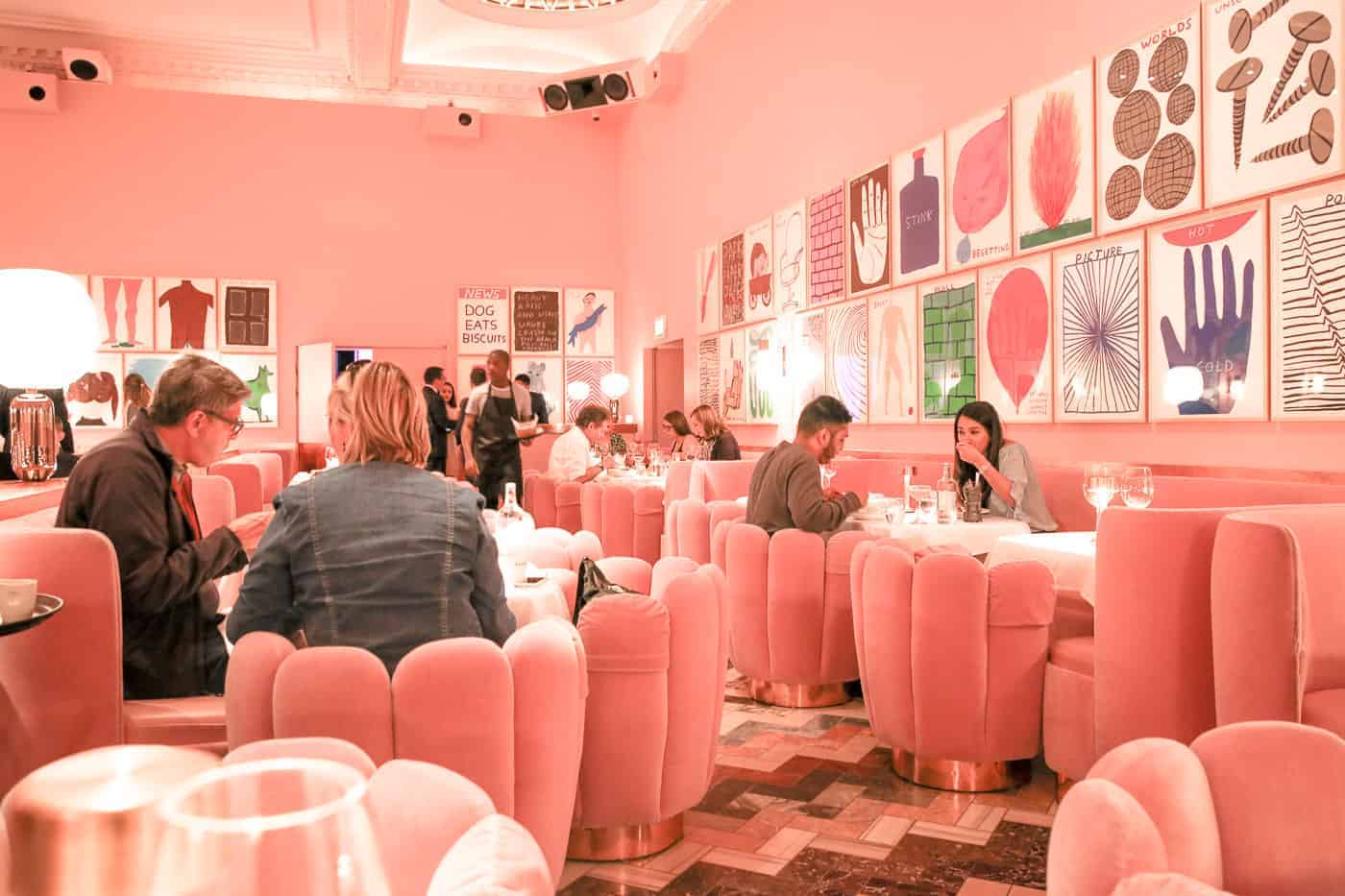 There's few must-do's when you visit Sketch. First, make sure to order a glass of champagne in the Gallery with dinner. And get that video camera ready for the pouring process.
And second, don't miss the bathrooms.  You might think you've wandered into an episode of Black Mirror.
Address: 9 Conduit Street, London W1S 2XG
Telephone: +44 (0) 20 7659 4500
Duck and Waffle Restaurant
If I had to pick one of London's most instagrammable restaurants, it would definitely be Duck and Waffle.
From the gorgeous tiled floors, to the boho-modern aesthetic, to the jaw-dropping views of the entire city, there's not much that Duck and Waffle is missing.
Oh you wanted delicious eats to go with your Instagramming? And somewhere that's open 24/7? Well, Duck and Waffle's got those covered, too.
It'll be the star of your Instagram feed, and possibly even the star of your entire trip to London. If you can't make it for a meal, it's worth making a stop at the bar, just to take in the views of the city.
If you only visit one instagram worthy restaurant in London, make it Duck and Waffle!
Address: 110 Bishopsgate, London EC2N 4AY
Telephone: +44  20 3640 7310
Chiltern Firehouse: Best for Celebrity-Spotting
Celebrity central. That's what I'd call the Chiltern Firehouse – and with good reason.
It's one of the most instagrammable restaurants in London not because of its celebrity clientele – although that doesn't hurt. Even more photo-worthy is the building itself, which is a renovated firehouse located in Marylebone.
image via flickr
During a warm evening, grab a pre-dinner cocktail in the hotel's outdoor garden, which is an enchanting way to spend an evening.
Address: 1 Chiltern St, Marylebone, London W1U 7PA
Telephone: +44  20 7073 7676
Sky Garden
The Sky Garden is a quintessential favorite, especially when it comes to instagrammable restaurants in London.
Perched above the city's financial district, The Sky Garden is an indoor botanical masterpiece.  It's a great spot for a meal or a coffee, and make sure to plan to spend extra time just soaking in the views as well as the architecture.
If you can't make it for a meal at Sky Garden, check out one of the morning yoga classes held in the atrium.
There's no better way to rise and shine in London (and get over your jet lag) than with a sunrise yoga session fueled by views of London's unique skyline.
You'll love Sky Garden – there's a reason it's one of my favorite things to do in London.
Address: 20 Fenchurch St, London EC3M 8AF
Telephone: +44  20 7737 2344
The Coppa Club
Glass igloos, fairy lights, cozy pillows and blankets, and a view of the Thames river are all key parts of the stunning atmosphere at The Coppa Club Thames Street. Yes, I said glass igloos.
Open-air enchantment will be the backdrop to your Instagram photos when you wine, dine and hang out at The Coppa Club. Part of an outdoor terrace, this dreamy venue is part lounge, part bar, and 100% Instagram fantasy.
The very first time I saw a photo of the igloos at The Coppa Club, I KNEW I had to visit. Sadly, the last few times I've visited London, it's been booked up, so I still haven't had the opportunity to visit in person.
So when you fall in love with the photos of The Coppa Club – and you WILL – go right ahead and book your spot before they fill up!
Address: 3 Three Quays Walk, Lower Thames St, London EC3R 6AH
Telephone: +44  20 8016 9227
Disrepute
Technically this is a post about instagrammable restaurants in London, but I have to throw a bar or two in the mix, just for good measure. And because there are so many Instagram worthy bars in London.
One of my favorite instagrammable cocktail bars in London is Disrepute. It's the perfect spot for a pre-dinner cocktail to kickoff an evening with friends.
From the street, you'd never know it was even there, but head downstairs and you'll fall in love with the deco-style decor and igloo-like enclaves. The cocktail menu is incredible, and each drink has a story behind it.
Disrepute is located right off of Carnaby Street, which is another photo-worthy place in London if I've ever seen one.  The quaint cobblestone street lined with boutiques will have you feeling like you've wandered into a secret alley.  It's one of my favorite Instagram spots in London.
Address: 4 Kingly St, Carnaby, London W1B 5PW
Telephone: +44  20 7494 2505
Bob Bob Ricard
If you're a fan of bubbly, Bob Bob Ricard is an absolute must when visiting London. The restaurant features primarily Russian cuisine, but is best known for the fancy button that sits aside each table.
That's right, your very own "Push for Champagne" button. One press and bubbles will be on their way to your glass. All you have to do – literally – is lift a finger.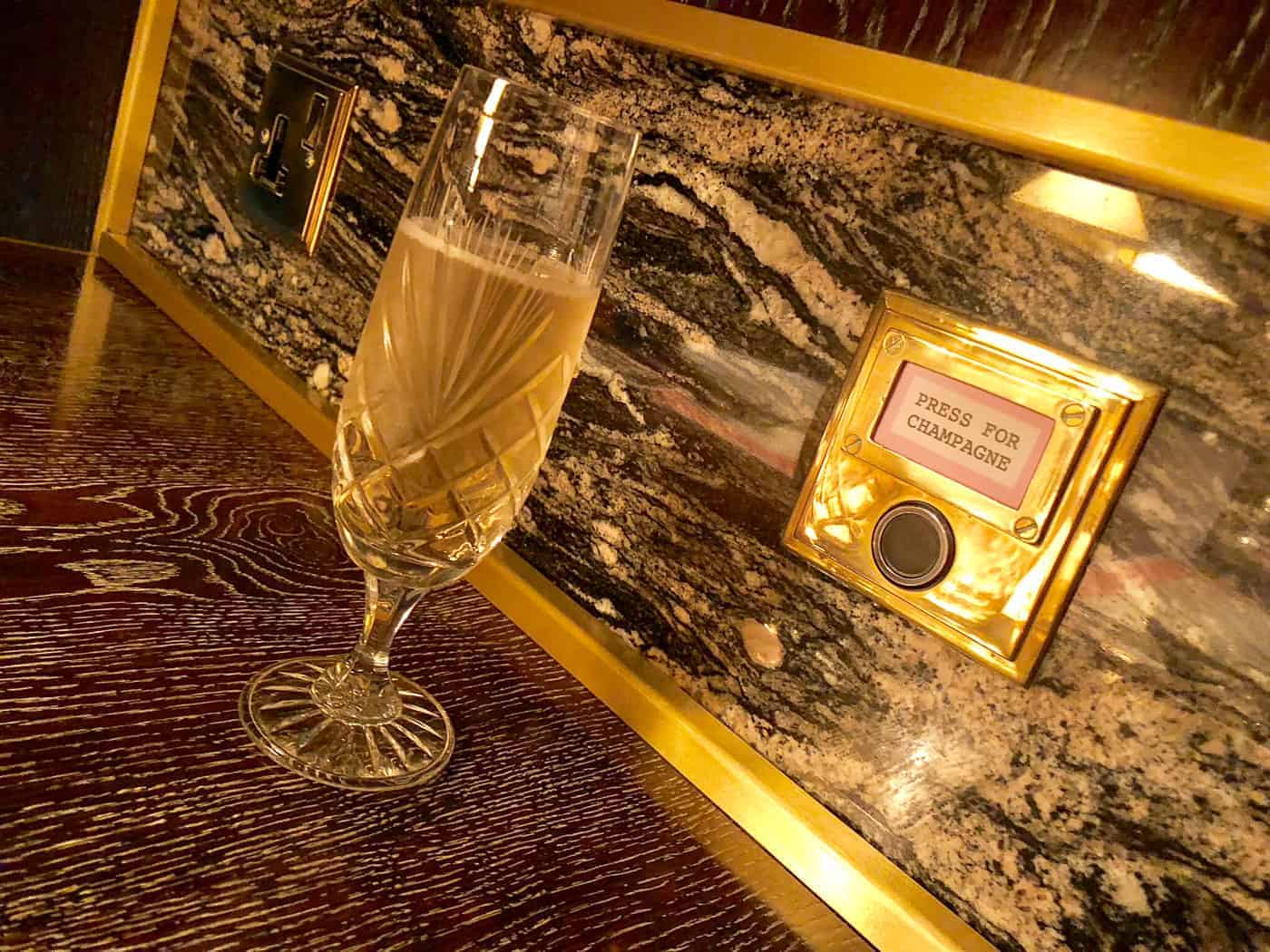 In addition to being champagne-chic (is that a thing?  Can I make it a thing?), Bob Bob Ricard also ranks on my list of the most instagrammable restaurants in London because of its Art Deco decor.  Step inside and you'll feel like you've arrived in another decade.
Address: 1 Upper James St, Soho, London W1F 9DF
Telephone: +44  20 3145 1000
26 Grains
Looking for an instagram-friendly breakfast restaurant?  Look no further than 26 Grains, especially if you've got a Goldilocks-like penchant for porridge.  Porridge is the specialty at 26 Grains, and they sure do it right.
Tiny 26 Grains is located smack in the middle of Neal's Yard, one of London's most instagrammable spots. The whimsical colored windows and flower boxes that line the tiny square are a treat to take in while you sample London's best porridge.
And after breakfast, wander the rest of the area, called Seven Dials, for boutique shopping and more cafes.
Address: 1 Neal's Yard, London WC2H 9DP
Aqua Shard
Having a good view of London's skyline is a theme when it comes to Instagram-worthy restaurants in London, and with good reason.
A mix of new and old, featuring quirky architecture, London's skyline is undoubtedly a hallmark of the changing faces of the city.
Views of the city's skyline don't come any better than those at Aqua Shard, located within the Shard building. Located on the 31st floor, Aqua Shard features contemporary British cuisine with a side of phenomenal views.
If you don't feel like visiting for dinner, it's worth stopping in for a drink at the bar, where the views are just as incredible.
Address: Level 31, The Shard, 31 St Thomas St, London SE1 9RY
Telephone: +44  (0) 20 3011 1256
Scarfes Bar
The Rosewood Hotel is easily my favorite place to stay in London.  From the simple yet elegant decor, to the rose gold accents, I feel like The Rosewood and I were meant to be together.  The icing on The Rosewood cake is the hotel's cocktail bar, Scarfes Bar.
With its unique decor and fabulous drink list, Scarfes bar is one of my favorite instagrammable bars in London.
At Scarfes bar, you'll feel like you've been transported into a posh, old-school study or library. More than a study, it's also an art gallery, featuring work by British artist and caricaturist Gerald Scarfes.
Grab a spot by the roaring fireplace.  It's the perfect place to sip a cocktail and escape a chilly rainy London evening.
Address: 252 High Holborn, London WC1V 7EN
Telephone: +44  (0) 20 3747 8670
Kensington Palace Pavilion
The only thing better than having afternoon tea while in London is having afternoon tea in an instagram-worthy setting. That's exactly what The Kensington Palace Pavilion delivers. In fact, it's the only place in London where you can have afternoon tea on the grounds of a royal palace. Sign me up!
Used during the 1700's as a venue for entertaining, you'll feel like a royal in a secret garden setting. The Orangery makes a fabulous backdrop for Instagram photos because of its unique atmosphere.
The Kensington Palace Pavilion is a greenhouse-like secret tucked into the gardens near Kensington Palace. That's right, it's pretty much right smack in the middle of Will and Kate's backyard.
The afternoon tea is incredible, and it's a much better value than comparable tea services at one of London's posh hotels.
Address: Kensington Palace, Kensington Gardens, London W8 4PX
Telephone: +44  (0) 20 3166 6113
Farm Girl in Notting Hill
If you've ever daydreamed about spending hours at an adorable cafe in Notting Hill (and who hasn't – especially after seeing the movie?), head directly to Farm Girl Cafe.
Farm Girl Cafe is one of London's most Instagrammable cafes, not just because of its curb appeal, but also due to its interior decor, which I would describe as way cooler than I am.
image via farm girl cafe
Enjoy the wifi over a latte and some delicious avocado toast.  Farm Girl cafe is a great spot to spend a few hours – whether lingering over coffee with a friend, or clocking a few hours on your laptop.
Address: 59 Portobello Rd, W11 3DB
Telephone: +44  20 7229 4678
Peggy Porschen
Ever think it'd be possible to be enchanted by a bakery? I've got one for you. No list of Instagrammable London restaurants would be complete without Peggy Porschen.
What's the most photographed cafe in London? It's Peggy Porschen! A London favorite, this adorable bakery often graces the Instagram feeds of travel bloggers and photographers because of its feminine, fairytale vibe.
image via flickr
It starts with the always seasonally-on point door decor, full of pastels and metallics, and continues inside with an abundance of English garden party dreams.
Peggy Porschen is located in Belgravia, which is a gorgeous part of the city. Belgravia's well-heeled homes make for prime turf when it comes to snapping Instagram photos for your feed.
Pop in to Peggy Porschen for a cupcake (or two) and leave with more photos than you'll be able to choose from.
Address: 116 Ebury St, Belgravia, London SW1W 9QQ, UK
Telephone: +44  20 7730 1316
Beach Blanket Babylon
Come for the modern European cuisine and stay for the elegant, boho-chic decor. Candlelight, fireplaces and rooms straight out of an Anthropologie catalog make the ambiance at Beach Blanket Babylon one that is completely enchanting.
The service can have mixed reviews, though, so a cocktail-based visit might be your best bet.
The restaurant actually has two locations: Notting Hill and Shoreditch. They both have very unique vibes but each makes for an equally amazing restaurant for photos in London.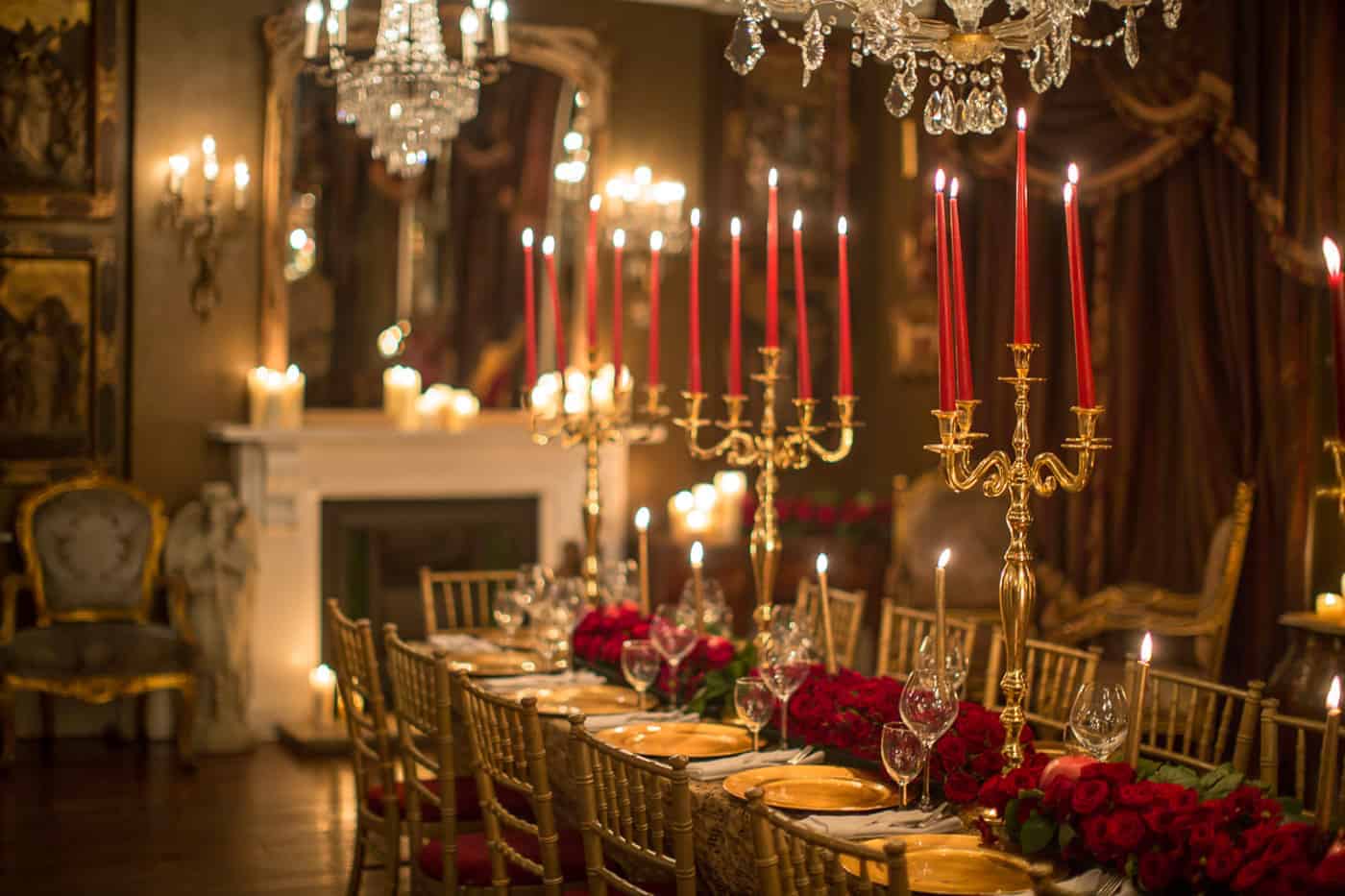 image via beach blanket babylon
Address:19-23 Bethnal Green Rd, Shoreditch, London E1 6LA
Telephone: +44  20 7249 3540
Map of the Most Instagrammed Restaurants in London
To help you navigate where to go, I've put together this list of instagram worthy restaurants in London into a single map:
There you have it – the most Instagrammable restaurants in London!
If you need more ideas for how to spend your time in London, I've put together the perfect 4 day London itinerary for you, along with a roundup of the best places to stay in London. And don't miss everything you need to do before your trip in my checklist for traveling to London.
If it's your first time visiting Europe, make sure to check out this post on the 10 most common tourist mistakes in Europe – so you know exactly what to avoid! I even put together a London version too, so you know exactly what NOT to do during your first time in London.