The Best London Instagram Spots (A Local's Guide)
This site uses affiliate links and I may earn a small commission when you use my links and make a purchase, at no extra cost to you. 
Looking for the best London instagram spots? London is one of the most photogenic cities in the world! Around every corner there's eye candy that makes you want to soak up every ounce of its charm, history, and culture – and then bottle it up and take it home with you. If you're looking for the best Instagram spots in London, I've got you covered! This list has the top ten Instagram worthy places in London – including a secret London Instagram spot that I bet you've never heard of before!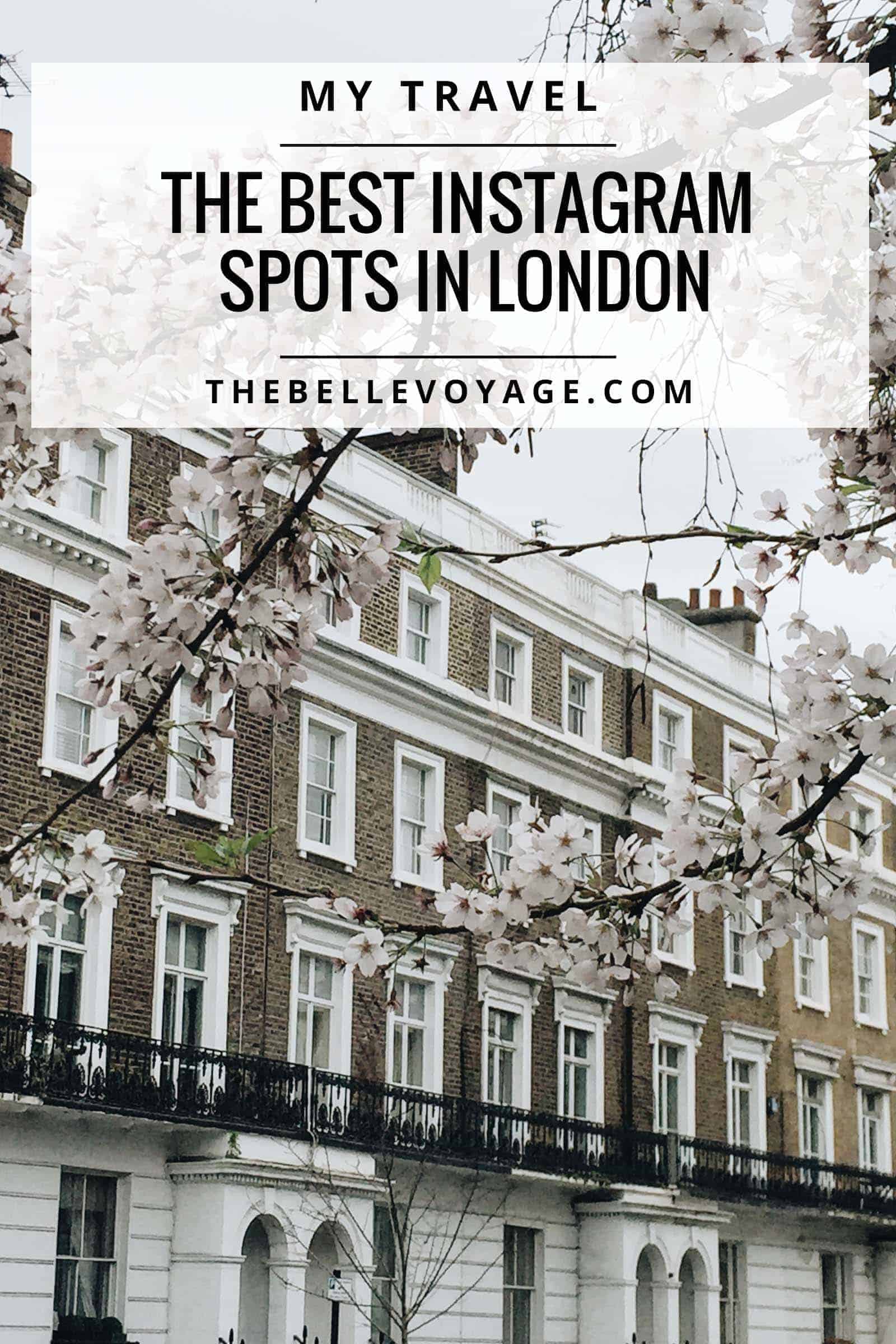 The Most Instagrammable Places in London
I used to live in London, so I am no stranger to finding unique places to photograph this beautiful city. London is a very photogenic place, so it's easy to find places to take photos all over the city. But where EXACTLY are the best instagram spots in London?
In this guide, I'm sharing my recommendations for the best London instagram spots. These are my top 10 places to take photos in the city.
And to help you find them, I'm also sharing a map of London's best instagram spots. Read on for the full guide!
READ MORE: The Top 10 Mistakes Tourists Make in London…And What to Do Instead!
Pro Travel Tip: These days, travel can be more uncertain than ever. Check for any COVID-related restrictions at your destination, and never travel without travel insurance! I recommend SafetyWing, because they have flexible + affordable insurance plans, and also cover COVID-related impacts on your trip (not all companies do)!
The Top 10 Best Instagram Spots in London
If you're in search of the best London instagram spots, here's a collection of London's most Instagram worthy places….including a few that I bet you've never seen before! If you're a foodie, you'll also love my list of the most Instagrammable restaurants in London.
And if you're visiting London for the first time, I've got all the info on the best areas to stay in London.
Columbia Road Flower Market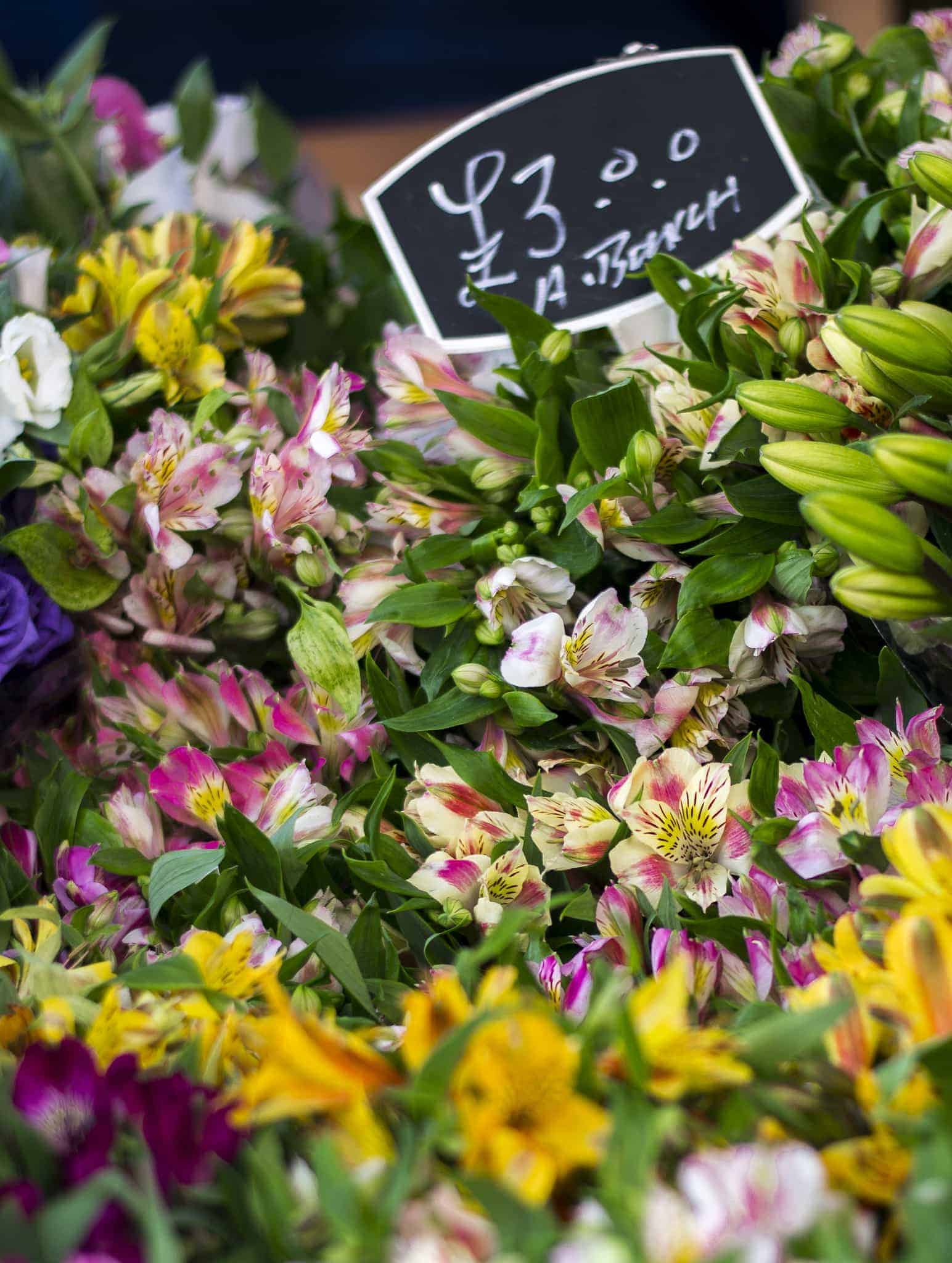 Address: Columbia Rd, London E2 7RG
Tube: Hoxton
A quick walk from Shoreditch is the Columbia Road Flower Market, which – you guessed it – has a veritable BUFFET of gorgeous blooms for sale, just begging to be photographed.
Check out the opening hours ahead of time to make sure that the market and surrounding shops will be open during your visit.
If you'll be in London for a few days, the flower market is a must-see, so make sure to visit!  It's one of my favorite non touristy things to do in London. Grab ideas for the rest of your time in the city with my perfect 4 day London itinerary.
Primrose Hill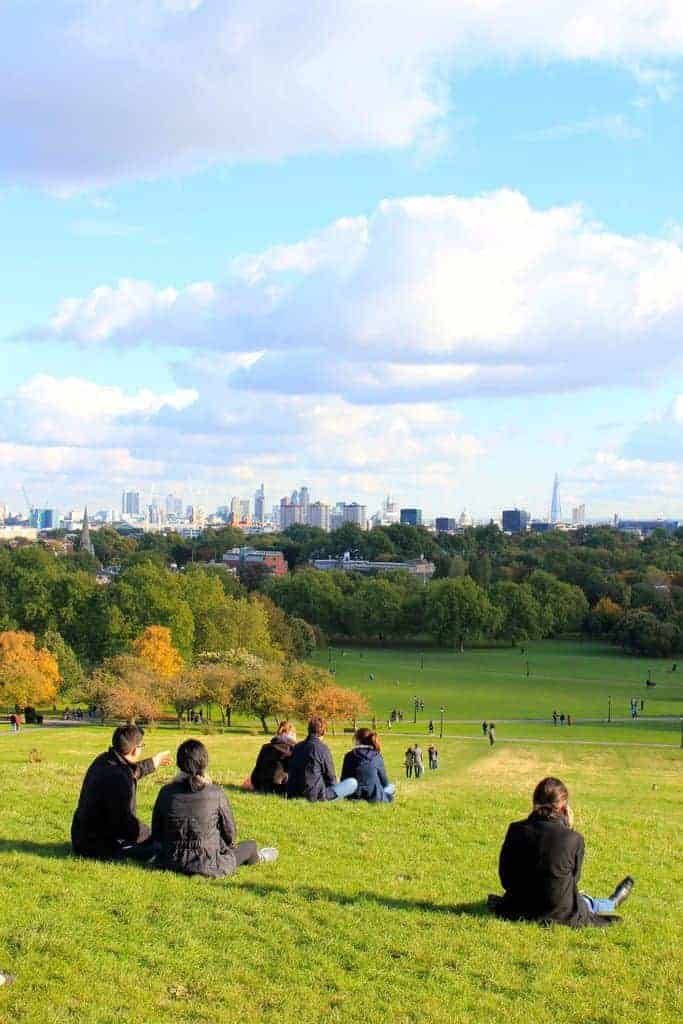 Address: Primrose Hill Rd, London NW1 4NR
Tube: Chalk Farm
London is known for its parks, but most visitors stick to Hyde Park, Regents Park, or St. James Park – since they're all in the center of the city and close to the aforementioned iconic sights.
It's a shame because they're missing what I think is the beauty of them all: Primrose Hill. Primrose Hill is one of the most instagrammable places in London because of its incredible view of London's skyline.
Bonus: visit Primrose Hill in the fall and the changing leaves of the park will make for amazing photo backdrops!
The Shard or Duck and Waffle
The Shard Address: 32 London Bridge St, London SE1 9SG
The Shard Tube: London Bridge
Duck and Waffle Address: 110 Bishopsgate, London EC2N 4AY
Duck and Waffle Tube: Liverpool Street
Speaking of views, nothing beats a city view from 40 floors up. Especially when you can EAT at the same time. YAAAASSSS.
So for a view that fits the bill – and has an amazing backdrop for London instagram photos – check out one of the restaurants at The Shard, or Duck and Waffle (which is open 24 hours a day). Not only are the views incredible, but the decor at Duck and Waffle makes it one of the most Instagram worthy places in London.
Either way, make reservations well in advance since both destinations are quite popular.
Sky Garden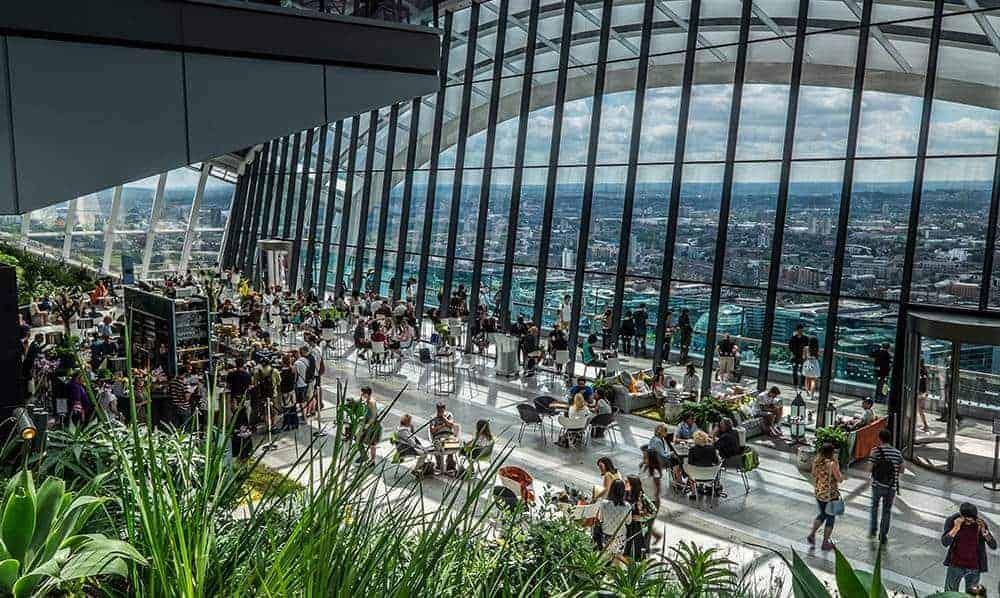 Address: 1, Sky Garden Walk, London EC3M 8AF
Tube: Tower Hill
Sky Garden, London's highest public garden, is another really unique spot in London that's great for taking photographs, especially if you prefer your views with a side of gorgeous landscaping.
If you want views for days, Sky Garden is absolutely one of the most instagrammable places in London!
This was something that I SO WANTED to do while in London but I couldn't justify buying a yoga mat just for one class (they don't have them there) – and let's be honest, getting up at 6am while in the throes of jet lag is a superhuman feat that goes beyond my own strength.
image via skygarden.london.
City Squares

Tucked away in central London neighborhoods are plenty of quaint squares and urban parks, and the buildings that surround them are such eye candy – they make for amazing instagram worthy places in London!
The best way to find these city squares is to simply wander off the main streets in the center of the city, but if you need somewhere to start, check out Eaton Square, which you can find using Google Maps.
The shot above is from The King's Road in Chelsea which, in addition to being perfect for photos, is a terrific shopping street.
London's Prettiest Streets
London is also home to some of the most photogenic, hidden little side streets that I've ever seen.
The best finds are the ones that you'll just stumble upon, but for a start, check out:
Carnaby Street (Mayfair)
South Audley Street (Mayfair)
Bywater Street (Chelsea)
Floral Street (Covent Garden)
I've marked these on the map below for easy navigation.
Shoreditch Street Art
For endless street art, take a stroll through the trendy neighborhood of Shoreditch. From the beautiful, to the gritty, to the bright and abstract, to the just plain WEIRD, the street art in Shoreditch can't be missed, and is one of my favorite Instagram worthy places in London.
It's ever-changing, too, so worth a visit every time you're in town. You're almost guaranteed to find a London instagram spot in Shoreditch!
Tube: Shoreditch High Street
The "Out of Order" Sculpture in Kingston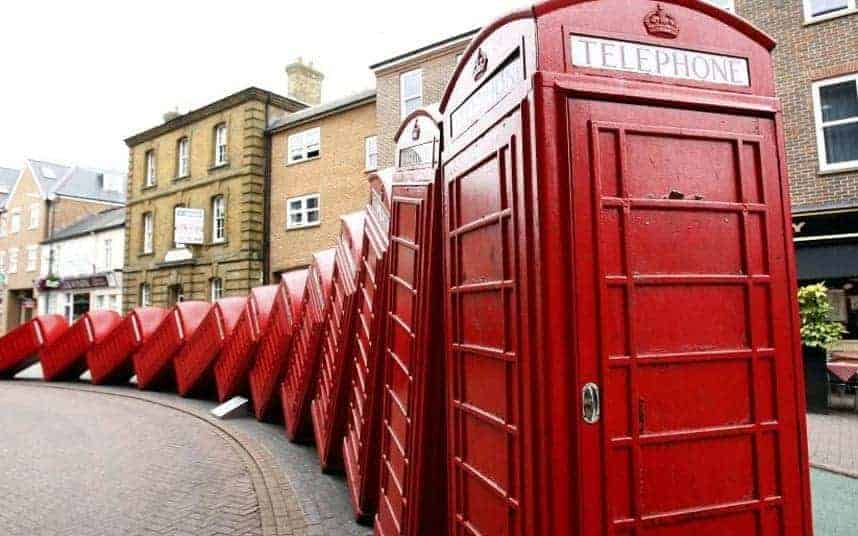 I know what you're thinking: red phone booths are one of those iconic London things that might not belong in a list of UNIQUE London photo spots.
BUT – when they're actually art, then the phone booths can become one of the most Instagram worthy places in London. The "Out of Order" sculpture by David Mach in Kingston is one of my favorite pieces of art in all of London. Head over to Richmond on the west side of London to find them!
Seeing the phone booth dominoes always puts a smile on my face. The last time I was there, I only had – gasp – a FILM CAMERA, so I'm sharing this pic from The Telegraph.
Address: 29a Old London Rd, Kingston upon Thames KT1 1QP
Station: Kingston Railway (National Rail Service)
SugarHouse Studios
Here you have it – my all-time favorite secret London instagram spot!
Even though nothing about this wall says "London", I think it might be my favorite London instagram spot of all time – and I get TONS of questions about where I took this photo!
Unfortunately….the building is no longer in its original location.
The building was part of Sugarhouse Studios, an event space and creative studio in east London. As of 2022, unfortunately the building is no longer there.
BUT – it is getting rebuilt at some point in the future, so check back for updates!
Notting Hill, Chelsea, and Belgravia

There's a few of London's neighborhoods that make for some of the most instagrammable places in London.
Notting Hill is probably the best-known for it's candy-colored homes and darling doorways – and it's for a reason! Portobello Road market, the quaint shops, and adorable homes are like something out of a movie.
Despite Notting Hill's, charm, my favorite neighborhoods to wander through are Belgravia and Chelsea – lesser known if only because there's not (yet) a Hugh Grant movie that shares the same name.
Map of The Best London Instagram Spots
Tips for Taking Instagram Photos in London
Let's start with a few tips for taking Instagram photos in London. Need some more advice? I've written an entire guide on how to take better travel photos.
Find Unique Photo Locations
No disrespect to black cabs, or "Mind the Gap" signs…but sometimes, travel photos beg for something just a little more unique. So if you're looking for the best instagram spots in London, places that are unique. This guide is the perfect companion!
Change Your Perspective
Try to change your perspective beyond eye level to get a photo that's more unique! Instead of holding your camera at eye level, shoot from up above or at the ground level for a unique angle.
Shoot During Golden Hour
For the best Instagram photos in London, shoot your pictures during "golden hour". Golden hour is the hour just before the sun sets in the evening, and it gives photos a dreamy, golden light, that's incredibly flattering.
There you Have it – the Most Instagrammable Places in London!
Looking for some amazing photo spots outside of London? Check out Rye Sussex, the most beautiful small town I've ever visited, and just an hour outside of London!
Pin it for Later!