12 Essential Travel Tips for First Time Visitors to Europe
This site uses affiliate links and I may earn a small commission when you use my links and make a purchase, at no extra cost to you. 
Traveling to Europe for the first time? Planning your first trip to Europe can be incredibly overwhelming, especially if you have never traveled abroad before. I've got you covered with all of my best travel tips and what to expect for first time visitors to Europe! Read on for the entire guide, and you'll be traveling around Europe like a pro in no time!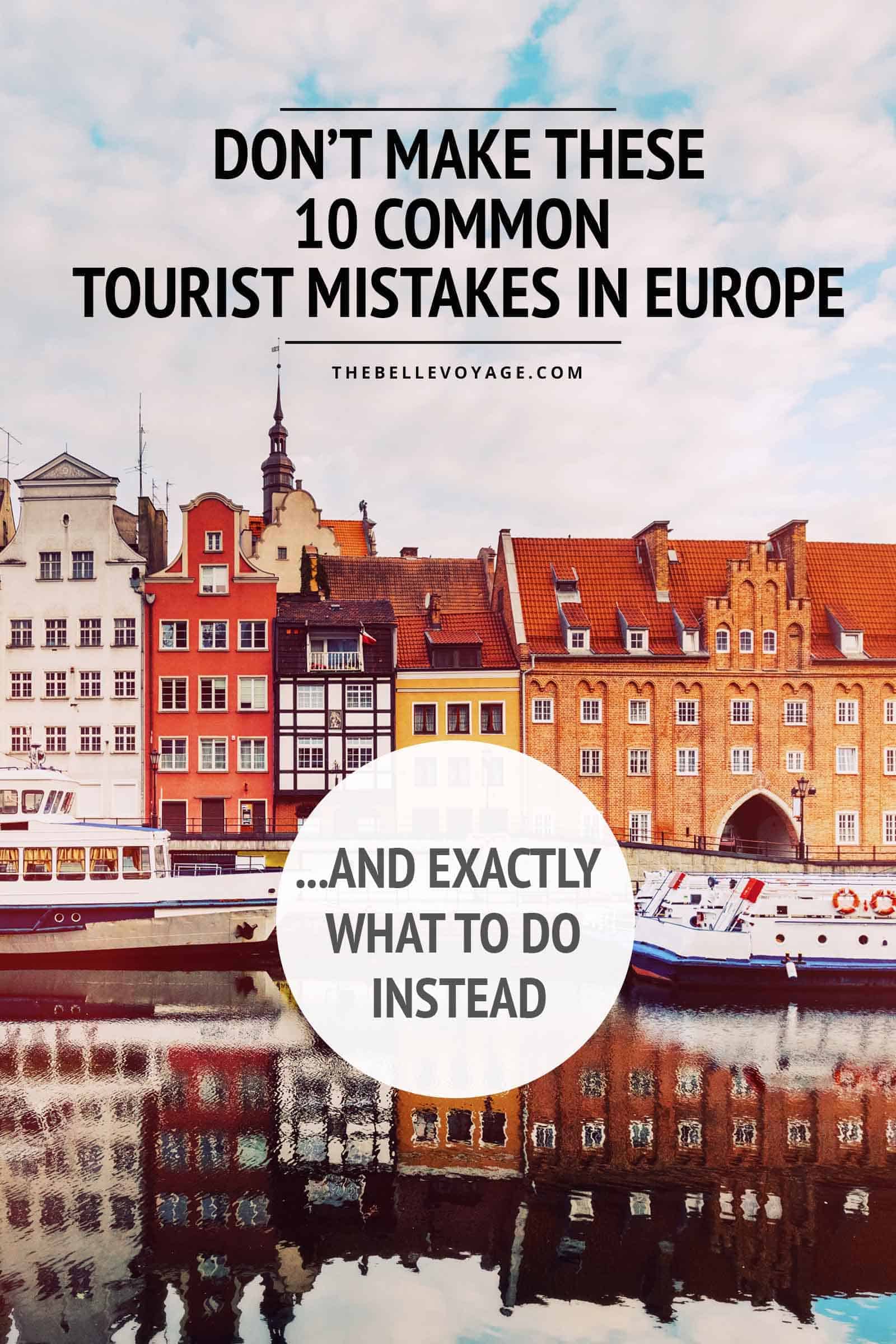 1. First Time in Europe? Don't Try to See Too Much!
Trying to see too much is probably the most common mistake that tourists make during their first trip to Europe. If it's your first time traveling to Europe, it's understandable to want to see it all.
But if you spend your time in Europe racing from one city to the next, or one country to the next, you'll spend a lot of time in transit, and you won't be able to relax, enjoy, and really get to know the places you're visiting.
Instead of trying to cram everything into one trip, try to just take your time and really explore where you are. Less is more!
If you're spending 10 days in Europe for your first trip, I'd recommend limiting your stops to no more than three places. This will give you enough time to recover from jet lag, and allow you to explore each city at a more leisurely pace.
For my best tips on stress-free flying, check out this post.
How to Plan the Perfect First Trip to Europe
Depending on where you're going, I've got ideas for how to plan your time! Check out the perfect itineraries I've put together for trips to London, a Barcelona 3 day itinerary, a perfect Copenhagen itinerary, a great Stockholm itinerary and an awesome 2 day Berlin itinerary!
And if you're heading to Italy, make sure to check out my tips for visiting Italy. I've also got a list of all my best Spain travel tips if you're visiting Spain for the first time.
Pro Travel Tip: These days, travel can be more uncertain than ever. Check for any COVID-related restrictions at your destination, and never travel without travel insurance! I recommend SafetyWing, because they have flexible + affordable insurance plans, and also cover COVID-related impacts on your trip (not all companies do)!
2. Don't Leave This at Home
If you're going to Europe for the first time, don't make the mistake of forgetting to bring a power adapter! Here's a set of four that I love and it's under $14 on Amazon.
If you'll be visiting more than one country on your trip, you may need a unique adapter for each one. The one I've linked to above will cover almost every country in Europe, but it's always a good idea to just double check.
3. Exactly What to Pack if You're Traveling to Europe for the First Time
Another common mistake for first time travelers to Europe? Packing a gigantic bag. I promise that your trip will go much more smoothly if you can lighten your load and limit your luggage to one carry on bag.
Pack Light for your First Trip to Europe
Why? Well, in Europe, you'll probably end up carrying your bag on and off of trains, or up and down stairs far more frequently that you would in the US.
When it comes time to lift your bag, you'll be glad that you don't have to wrangle a 50lb monstrosity. Need some help packing light? Check out my best packing tips for women, and don't forget to check out how to pack light and fashionable for Europe. You'll also love the European capsule wardrobe I've put together!
Not to mention, cars in Europe can be quite compact, so if you're renting a car, think carefully about how much space you'll have for luggage. More than likely you won't be able to fit a giant suitcase in your rental car!
4. Don't Make the Mistake of Packing Only Shorts
Speaking of packing, many first-time tourists in Europe make the mistake of packing only shorts for warm weather. Shorts are a staple in summer dressing in the US, but they're far less common in Europe.
In Europe, you're more likely to see a skirt or dress, or even Capri-length pants before you'll see shorts. So if you want to blend in with the locals, you might want to leave your shortest shorts at home.
5. Don't Forget to Pack Good Walking Shoes
Another tip when it comes to packing for your first trip to Europe: don't forget to bring comfortable shoes. Chances are good that you'll be taking public transportation while you're visiting Europe, so that means you'll be doing a lot of walking.
These ballet flats are by far my favorite shoe to pack when I know I'll be doing a lot on foot during a trip. They come in a ZILLION different colors (including rose gold….WHAT???) If you're on the hunt for more, I've rounded up all my other picks for stylish walking shoes for Europe.
6. Visit Europe During The Best Time of Year
If it's your first trip to Europe, think carefully about WHEN you decide to time your visit. The peak summer months of July and August can be incredibly crowded with tourists. In addition, prices for hotels and air travel can be sky-high.
August can be especially crowded and expensive because it's also the month when most Europeans take their summer vacations.
Not to mention that temperatures, particularly in Southern Europe, can be scorching! Add in the fact that many older buildings in Europe don't have air conditioning and you have a recipe for a painful vacation.
When to Visit Europe for the First Time
For first-time travelers to Europe, I always suggest visiting in the late spring or early fall. May and September are good bets in terms of weather, prices and crowds.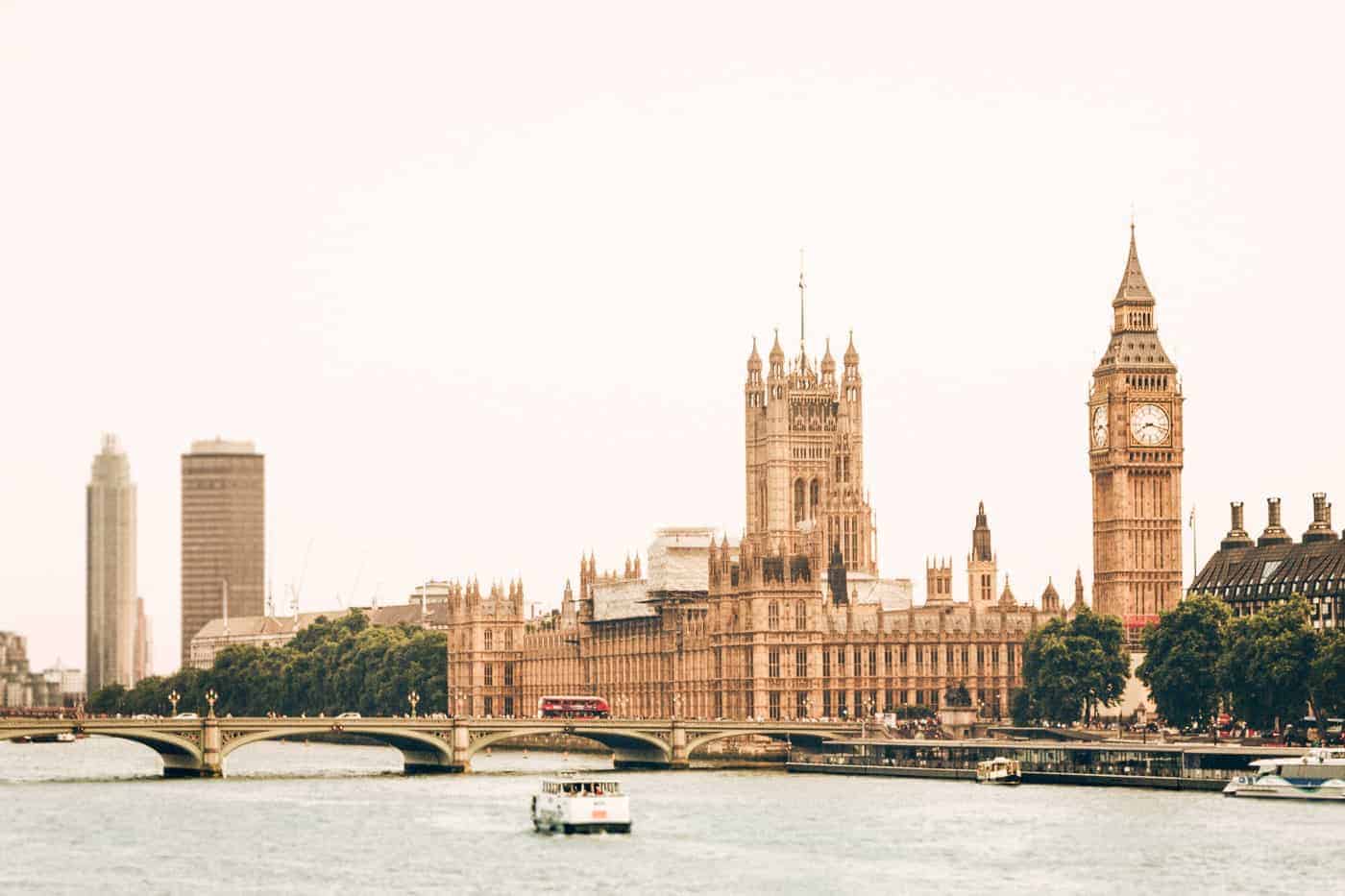 7. Be Prepared to Learn Public Transportation
Compared to the US, most European cities are well-serviced by public transportation. In addition, public transport is typically the fastest and cheapest way to navigate many European cities.
Even if you're a novice when it comes to riding the bus or taking the subway, don't be daunted by the prospect of public transportation in Europe! Most systems are pretty easy to use, and depending on where you are, it's not uncommon to see signs and ticket information in English.
Think of public transportation as part of the adventure! After all, it is the best way to experience a new city the way that a local would.
8. Don't Make the Mistake of Sticking Too Closely to a Guidebook
If you're visiting Europe for the first time, it's a common mistake to follow a guidebook every step of the way. Guidebooks are useful when it comes to planning your first trip to Europe, but try to rely on them to just get a general sense for your destination.
If you want to have a more authentic experience during your trip, try wandering off the beaten path for an afternoon. You'll be more likely to uncover "real" neighborhoods and local favorites, and you'll get a better sense for what life is really like in another country.
And best of all – you won't have to carry around a heavy guidebook!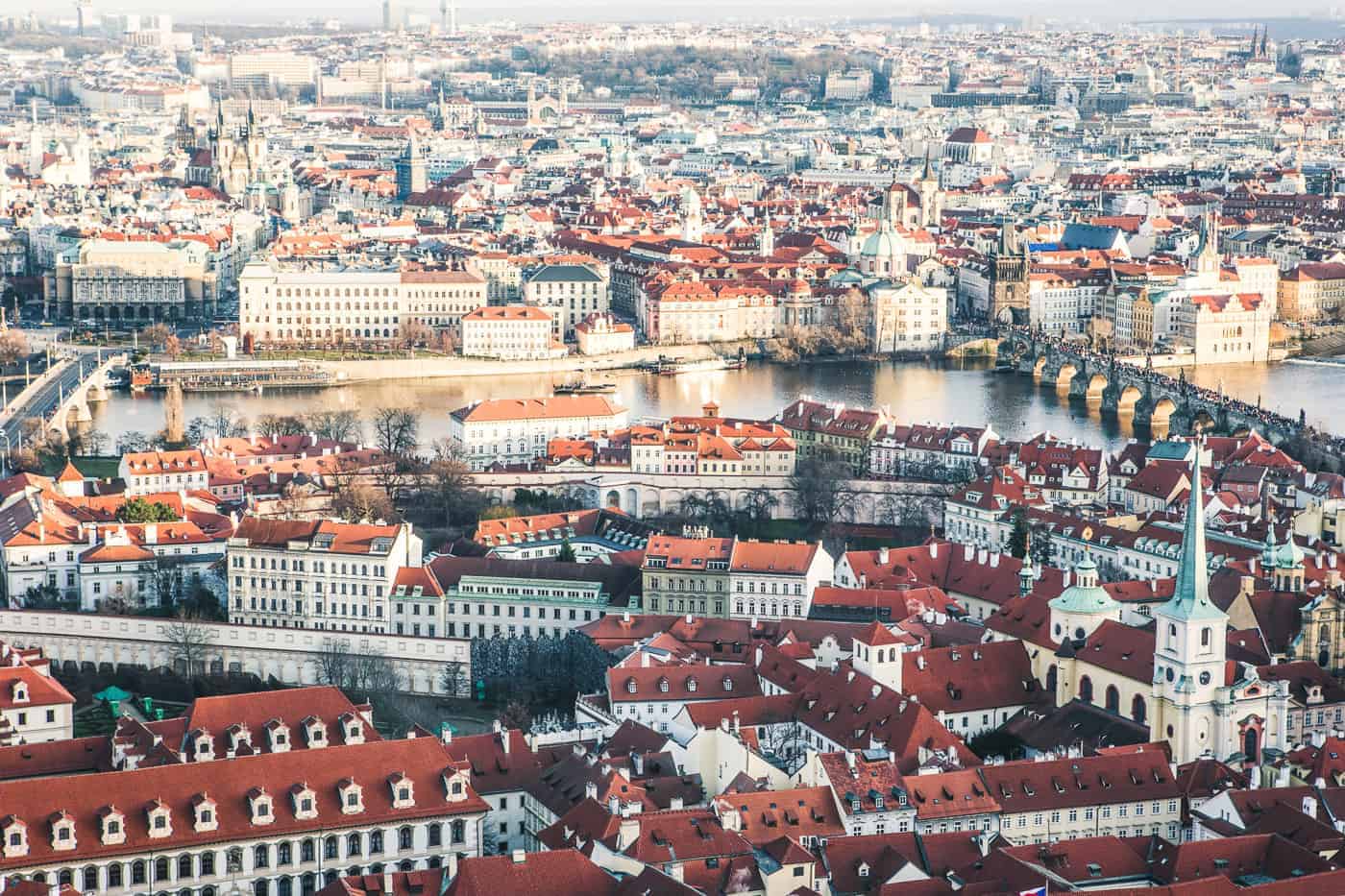 9. How to Avoid Crowds at Tourist Hotspots
The good news is that you're planning a trip to Europe. The bad news? So are a lot of other people!
There are some places in Europe where I am constantly amazed at just how crowded they can be with tourists. Places like Sagrada Familia in Spain, the Eiffel Tower in Paris , and the Cinque Terre in Italy can be absolutely crawling with tourists, especially during peak season.
How to Plan your Days in Europe
If you plan to visit any tourist hotspots during your first trip to Europe, plan to go very first thing in the morning. Chances are good anyways that you'll be jet-lagged, and you'll thank yourself for setting an early alarm once you see the crowds start to roll in.
One more benefit? Fewer crowds make for better travel photos!
Another tip if you're going to Europe for the first time: always, always check online to see if you can buy tickets to something ahead of time. Museums, churches, really anything! You'll save yourself from having to wait in a long line, and chances are good that you'll be able to buy a ticket for a discount.
10. Renting a Car in Europe: The Do's and Don'ts
If you're planning to rent a car during your first trip to Europe, keep in mind that many rental cars are stick shifts. Many tourists make this mistake during their first trip to Europe, and forget to specify that they need a car with an automatic transmission.
Consider automatic vs. manual transmissions
Cars with automatic transmissions are available to rent in Europe, but typically for an extra fee. If you're unable or prefer not to drive a car with a manual transmission while you're in Europe, pay careful attention when you book your car.
Many booking sites in Europe will default to rental cars with manual transmission unless you specifically indicate that you need an automatic transmission.
Take Out Additional Insurance When Driving Abroad
Speaking of renting a car during your first time in Europe, make sure that you're protected by car insurance.
Most insurance companies in the US don't provide coverage for renting a car abroad. Even if you're covered by a credit card, it's just a good idea to take out the extra insurance when you rent a car in Europe.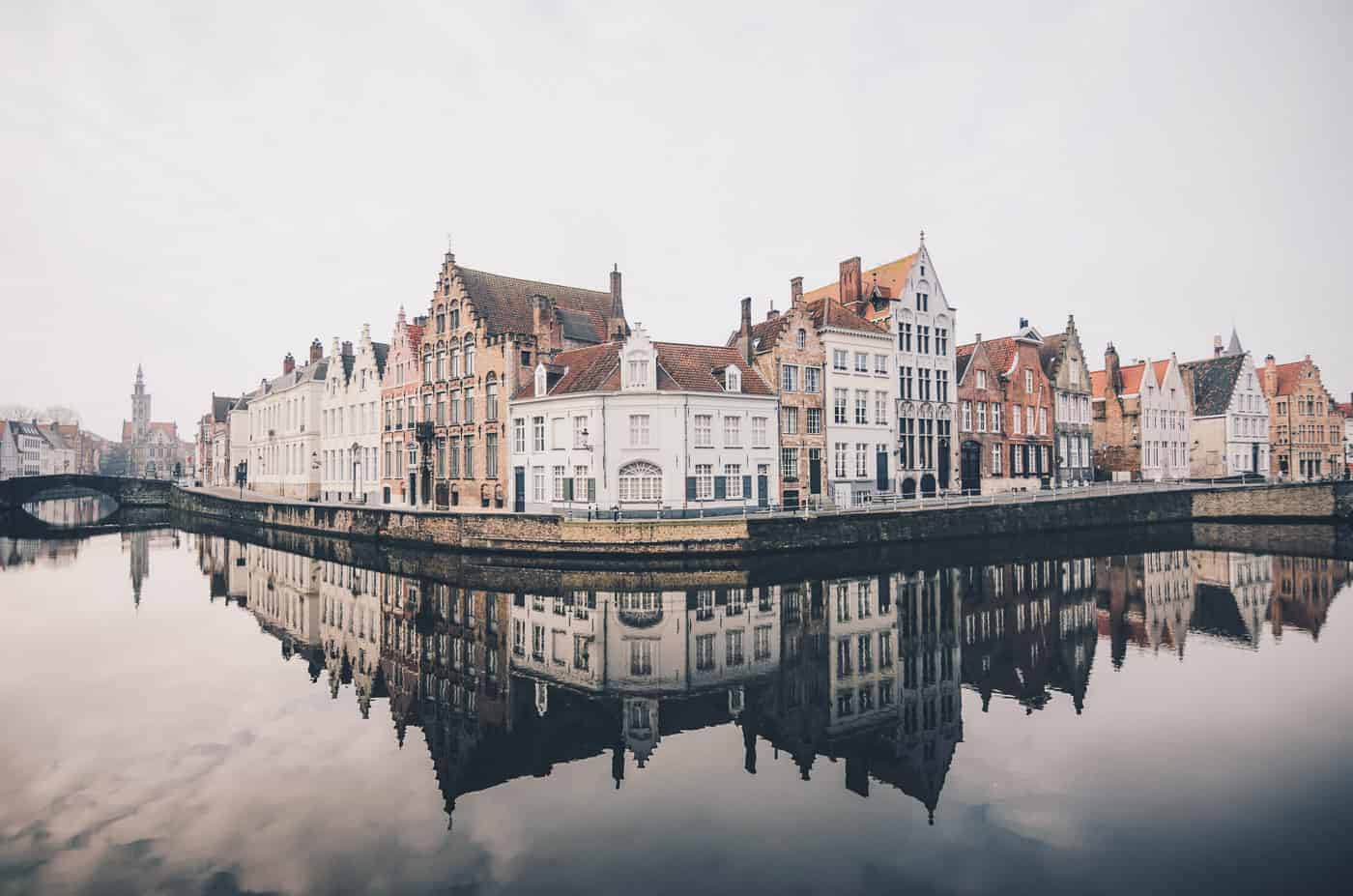 11. Always Learn a Few Phrases in the Local Language
If you're going to Europe for the first time, you probably have a million things on your to-do list. Don't hate me for adding one more!
It's always a good idea to learn just a few phrases in the local language when you travel, and Europe is no exception. Yes, many people speak English, and speak it quite well. That said, it's still polite to be able to greet someone and converse in basic terms in the local language.
By that, I mean things like Hello, Goodbye, Thank you, You're Welcome, etc. Nothing crazy, but a few words can go a long way in showing that you're making an effort.
12. Don't Make the Mistake of Paying Extra Credit Card Fees Your First Time Abroad
Another mistake that first timers in Europe make? Paying foreign transaction fees for using a credit card abroad. If you've never used your credit card outside of the country before, you might be surprised to see an extra fee tacked on to any charges made internationally.
Before you go to Europe, make sure that you have a credit card that doesn't charge for foreign transactions. These fees can add up, especially if you're planning to do a lot of shopping while you travel.
The Best Credit Card for First-Timers in Europe
Before you go to Europe, sign up for a credit card that doesn't charge an extra fee for foreign transactions, or just plan to use cash to pay for your purchases.
If you're looking for a credit card to use during your first trip to Europe, I highly, highly recommend this one. The welcome bonus is amazing! Even though the annual fee is high, it easily pays for itself with the statement credits you can earn at Marriott hotels.
And best of all – you won't incur any foreign transaction fees with this card!
There you Have it – What to Expect on Your First Trip to Europe, and The Common Mistakes to Avoid!
I hope that this list of common tourist mistakes in Europe helps you have a safe and smooth trip for your first time in Europe. Now that you know what to expect your first time in Europe, you can focus on just enjoying your trip!
Pin it for Later!