7 Cute and Comfy Airplane Outfit Ideas: What to Wear on a Plane
This site uses affiliate links and I may earn a small commission when you use my links and make a purchase, at no extra cost to you. 
Are you one of those travelers whose biggest fashion challenge is figuring out what to wear on a long flight? Whether it's an international getaway or just a short-haul hop across the US, creating the perfect travel outfit and dressing for comfort and style while aboard an airplane can be tricky. In this blog post, I'm sharing my favorite tips and tricks to look good and feel great during your travels, along with my recommendations for exactly what to wear on a plane. Keep reading for my top suggestions on how to create cute yet comfy airplane outfits with travel clothing that will have you jetting off in style!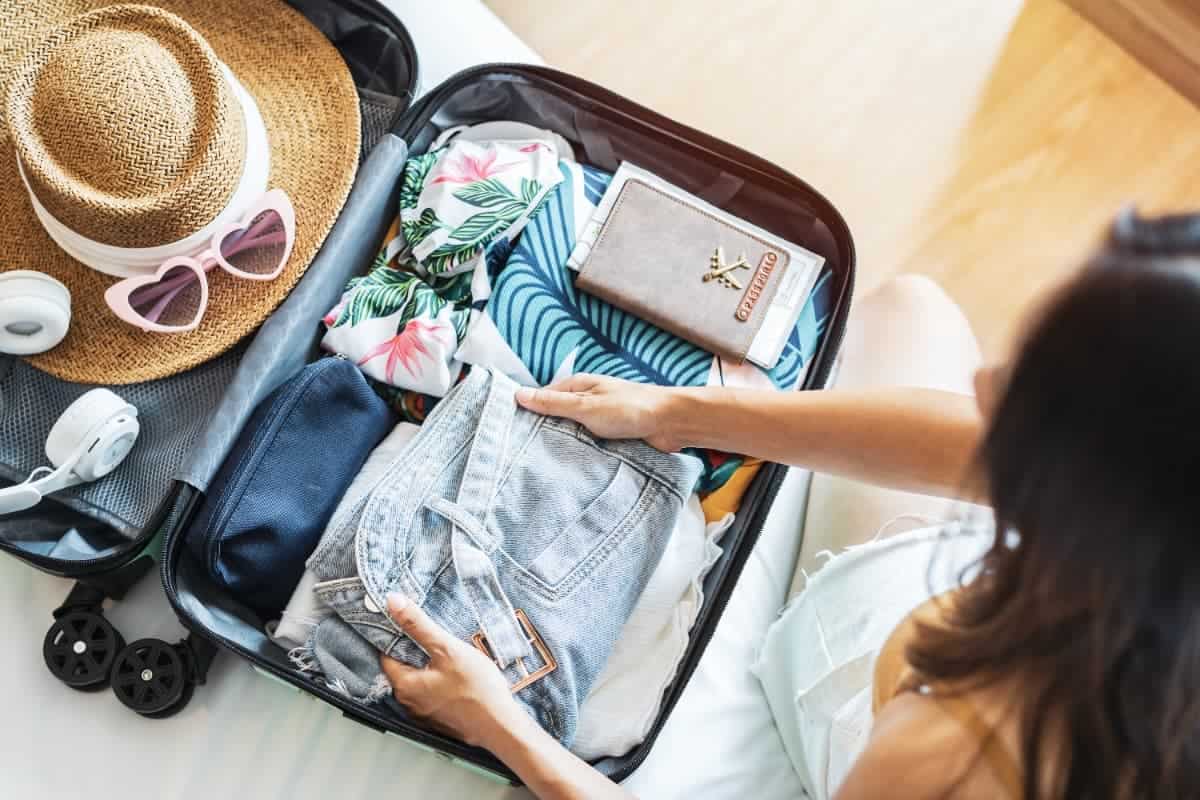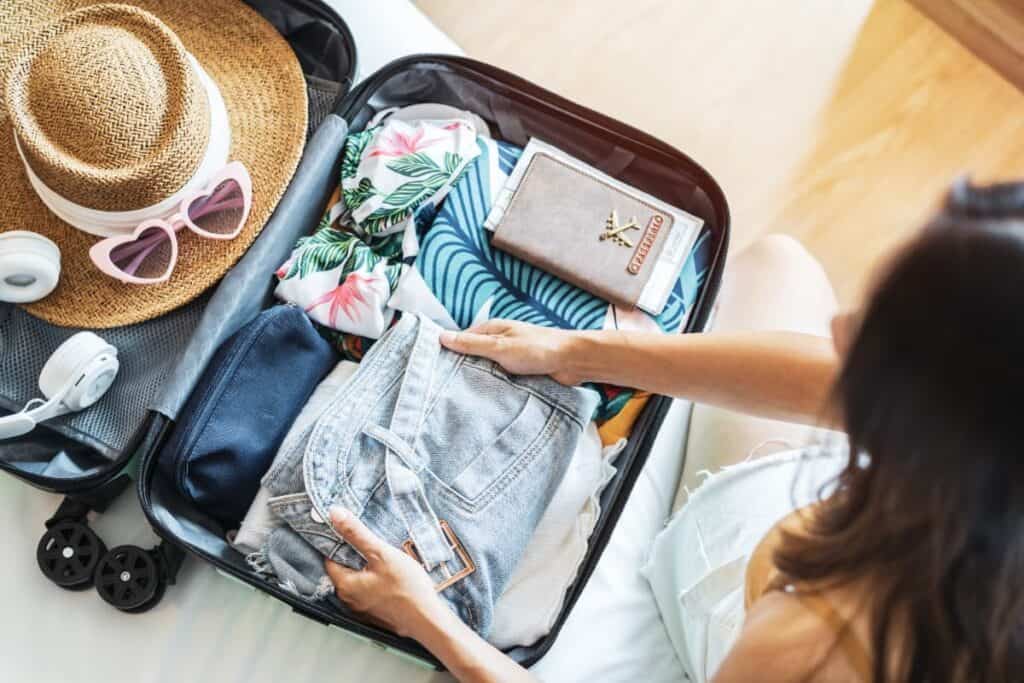 What is an Airplane Outfit?
Let's start with a quick definition, shall we? An "airplane outfit", also called an "airport outfit", is really just what it sounds like: an outfit that you wear while you're on a plane. These are the clothes you'll wear to and from the airport, and also while you're flying at 30,000 feet (sometimes for hours).
In other words, these are the clothes you actually travel in when you're traveling. Everything else gets packed in your suitcase (and here's how many outfits to pack).
Cute and Comfy Airplane Outfits: What to Consider
When it comes to putting together the perfect outfit for a flight, there are a lot of things to consider.
While flights can be the perfect opportunity to catch up on sleep, comfort is often key. Dressing comfortably can make your flight more bearable and help you arrive at your destination feeling refreshed. Here's a few things to keep in mind when thinking about what to wear on a plane.
Choose Loose-Fitting Clothes
When selecting clothes for a flight, it's important to think about what items will keep you comfortable while seated in one spot for hours at a time. Instead of wearing your tight jeans, plan to pack them.
The best way to stay comfortable is to opt for looser clothes that won't constrict your movements or impede circulation. Stick with items like relaxed denim jeans or leggings — all of which provide ample room and mobility.
The Importance of Breathable Materials
Breathable materials are also essential when it comes to staying comfortable on a long-haul flight. Natural materials like cotton and linen are ideal as they allow air to circulate freely and won't make you feel too hot or cold while in the air.
When dressing for a flight, avoid synthetic materials such as nylon and polyester, which tend to trap heat and cause discomfort over time.
Wear Layers and Stretchy Fabrics
Layering clothing is another great way to stay comfortable on an airplane journey. When you wear layers, not only does this provide more insulation against temperature fluctuations in the cabin, but it also allows you to easily adjust depending on how warm or cool you feel during the flight.
Choose light layers such as thin cardigans or pullover jumpers that can be removed quickly if needed without having to take off any shoes! As an alternative, you can also plan to carry on a warm blanket to keep the chills away.
Finally, look out for fabrics that have extra stretch built-in — these types of garments will move with your body rather than restrict it while traveling.
Recommended Airplane Outfit Ideas for 2023
Looking for the perfect travel outfit that's both stylish and comfy? Here are a few outfits I've put together to give you some ideas for what to wear on a plane in 2023.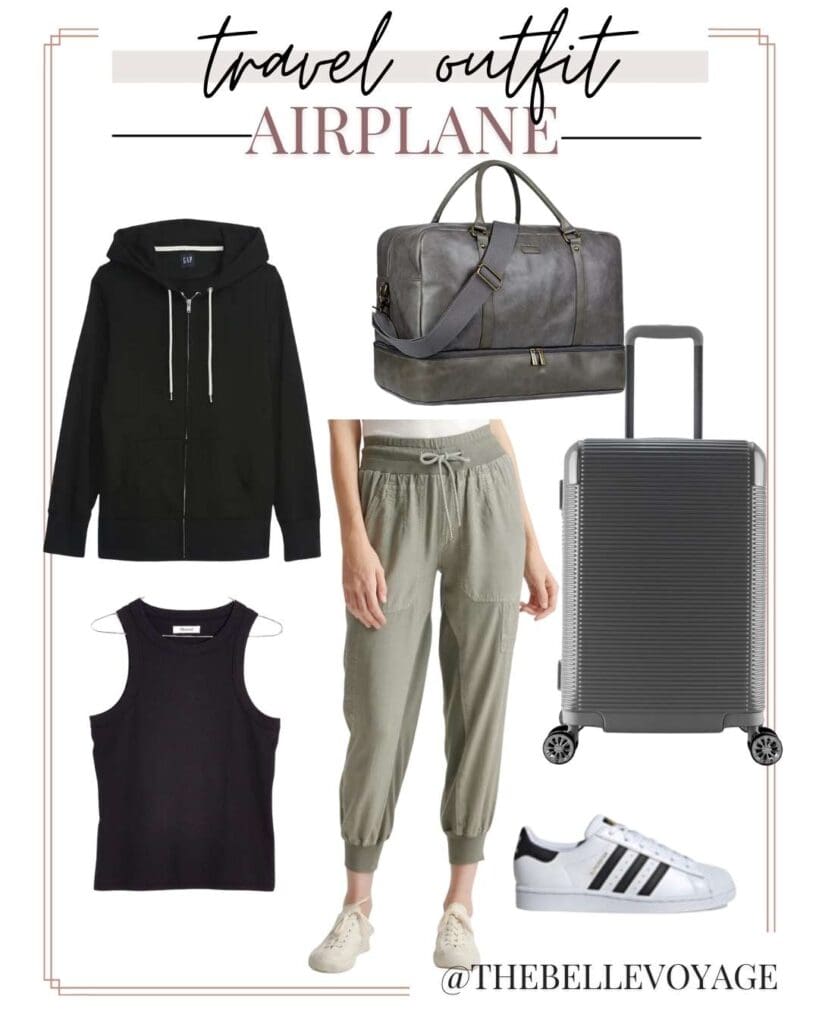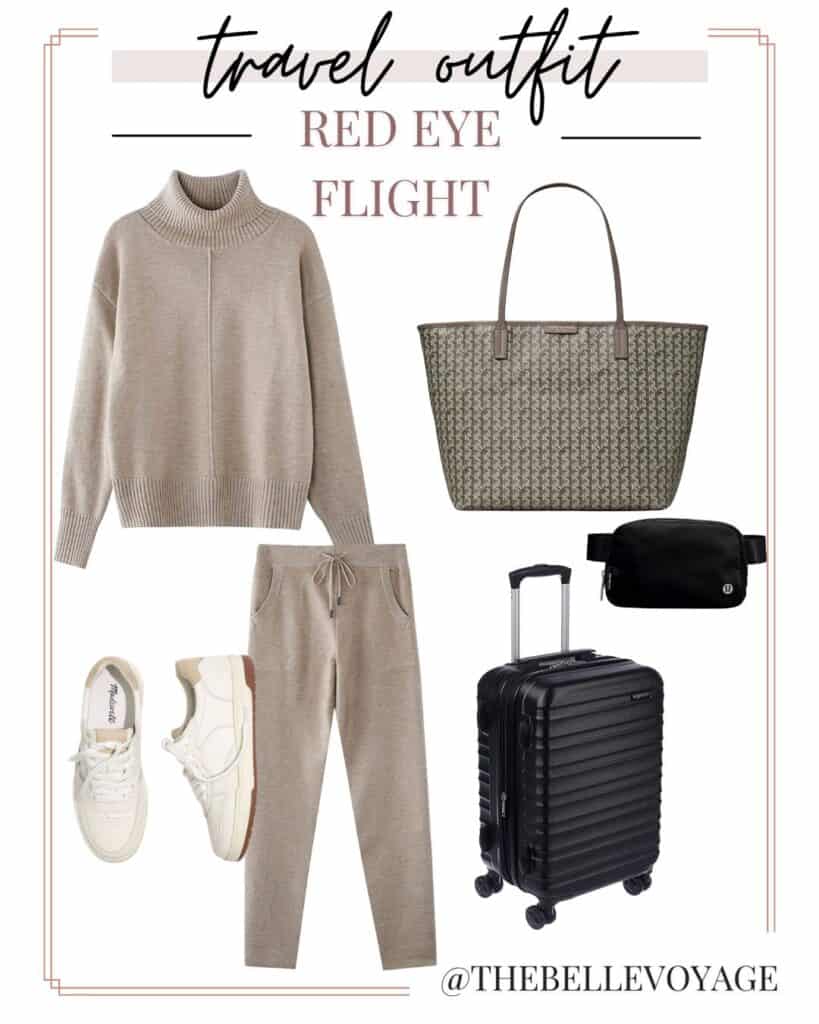 Airplane Outfit #2: International Flight
On an international flight, stay cozy and get some rest in this chic matching jogger set (which is from Amazon, woohoo!)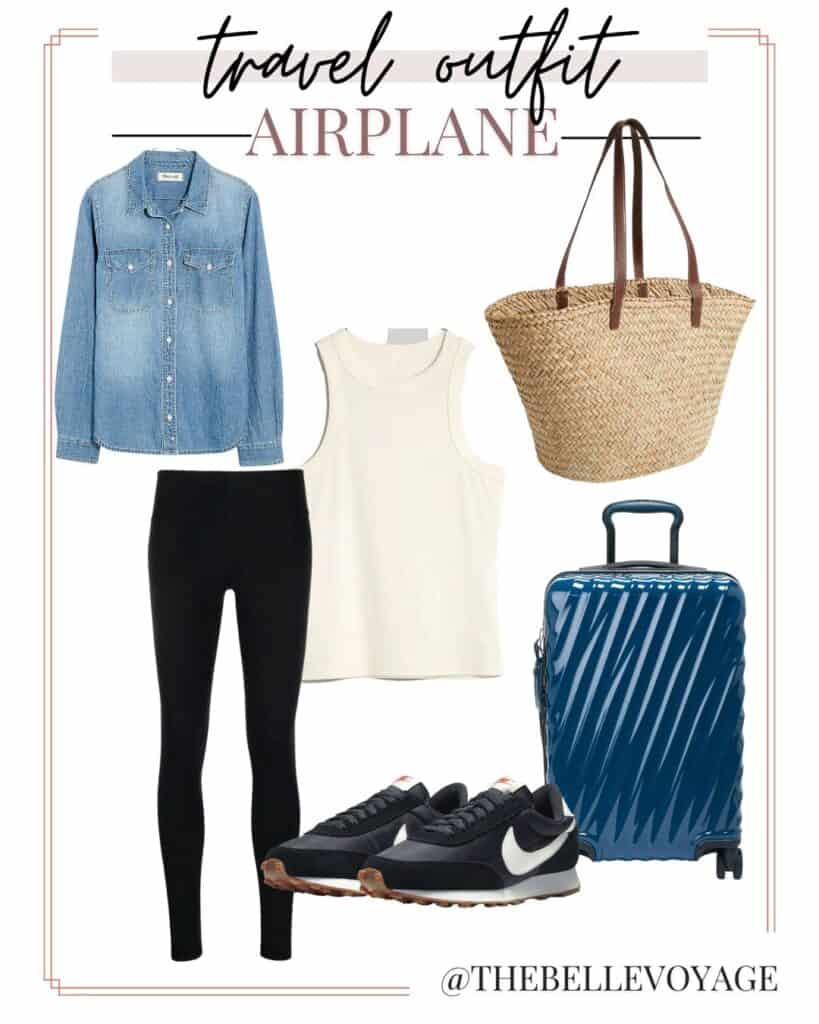 Airplane Outfit #3: Warm Weather Destination
This look includes pieces that you can wear if you're flying to a warm weather destination. You'll stay warm enough on the plane, but you can wear all of the pieces again during your trip. To fill your suitcase, check out my favorite affordable resort wear pieces.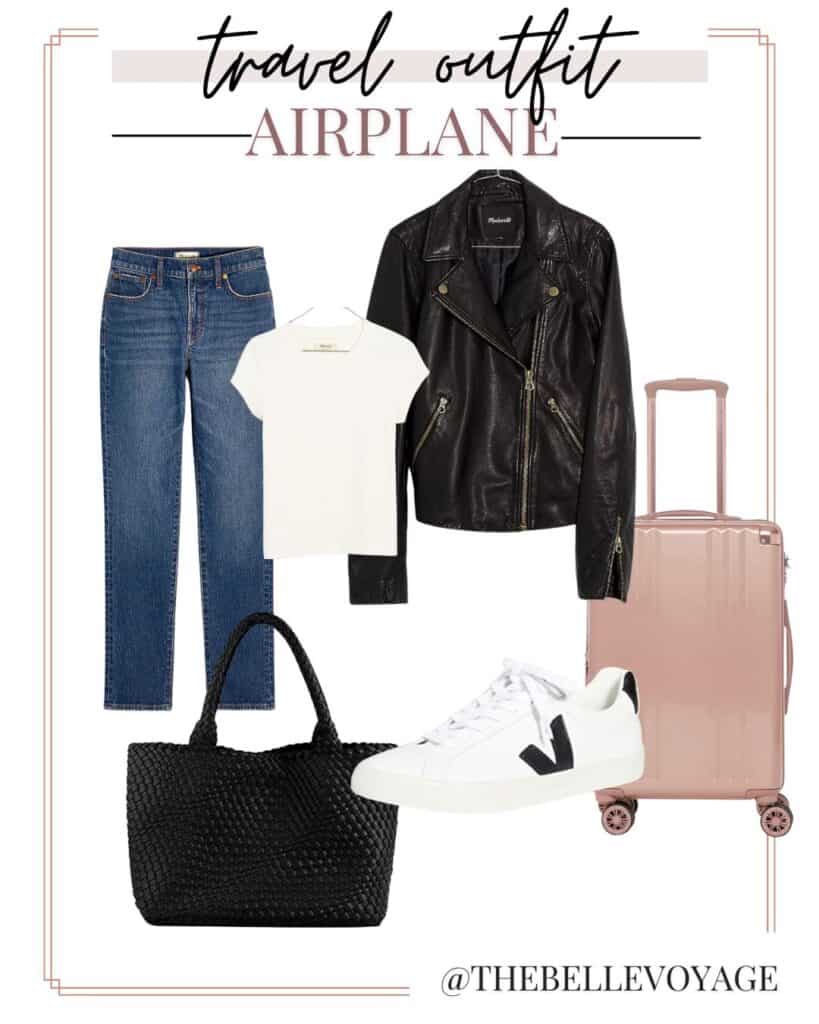 Airplane Outfit #4: Casual
The universal outfit to wear on a plane! Dress up some basics like a white t-shirt and jeans with a leather jacket, luxe woven tote bag and chic sneakers. Add some feminine polish with an adorable rose gold carry on suitcase!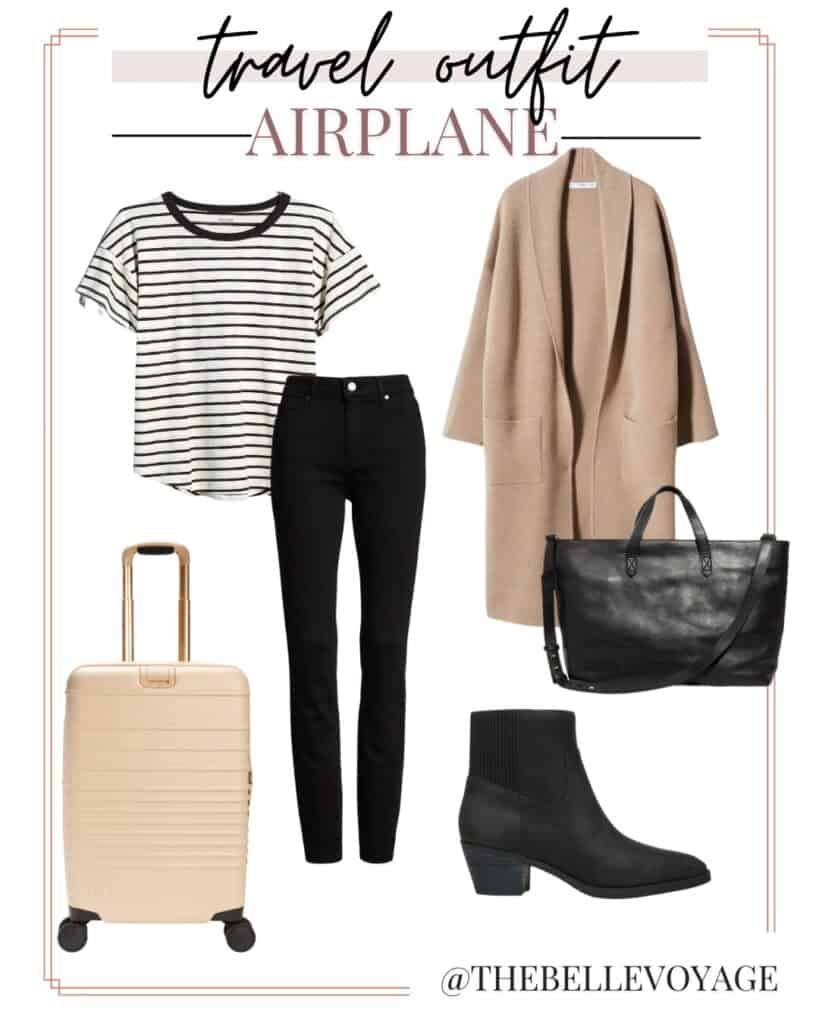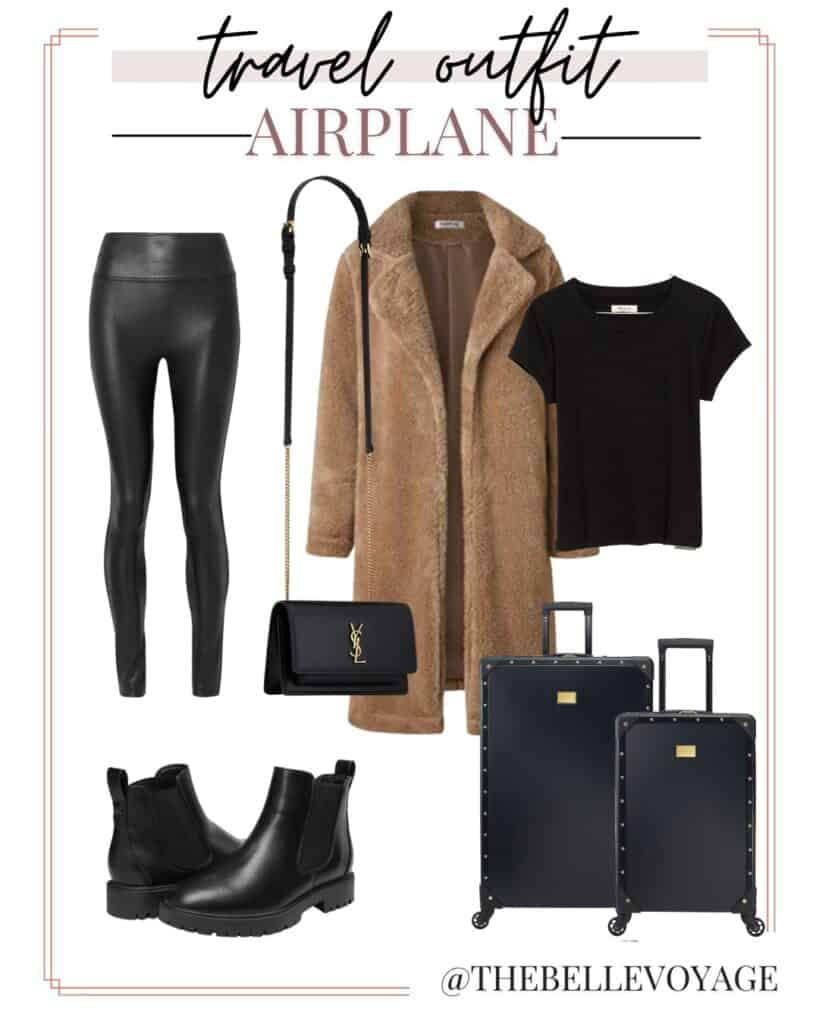 Airplane Outfit #6: Cold Weather Destination
I can't get enough of the faux leather leggings trend, so I built an entire travel outfit around them! They're perfect to elevate an airport look, but are comfy enough to wear on a long flight.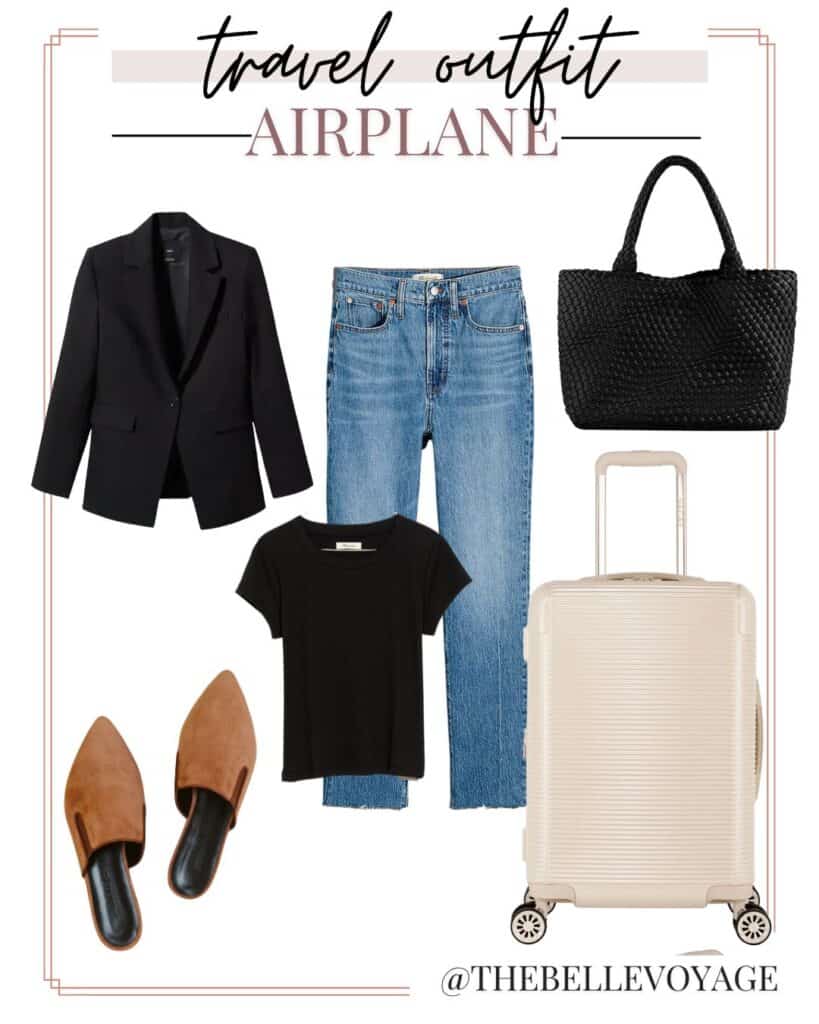 Airplane Outfit #7: City Sightseeing Trip
If you're planning to spend the weekend exploring a new city, this is the perfect outfit to wear on the plane. The black blazer goes with everything, and is loose enough to be comfortable during your flight.
Here are a few more outfits that are perfect for when you want to be ultra-cozy and comfy….but still cute.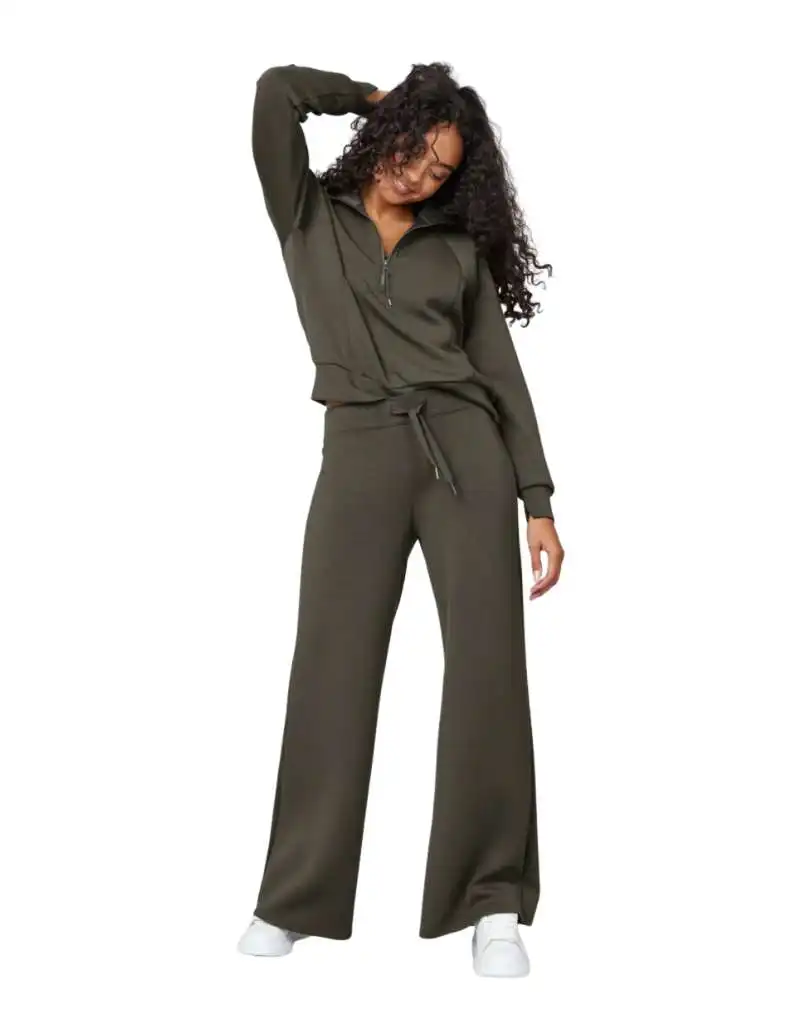 2-Piece Set
Spanx knows what it's doing when it comes to creating flattering clothing and this 2-piece set is no exception. It'll keep you toasty on long flights and double as loungewear during your trip.
Shop Now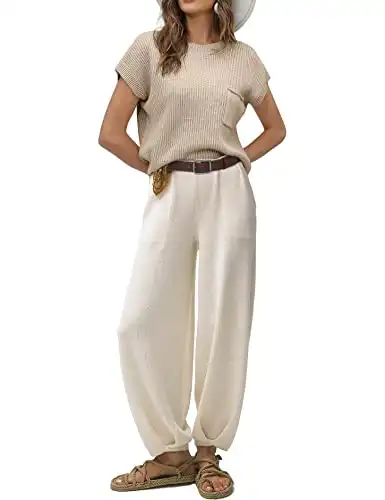 2 Piece Set for Summer Travel
If you're traveling during summer, you'll want a 2 piece set that's lightweight and breathable. This set blends two different textures for a unique look, and comes in a TON of different colors. Pair it with retro sneakers and a chambray button up shirt.
Shop Now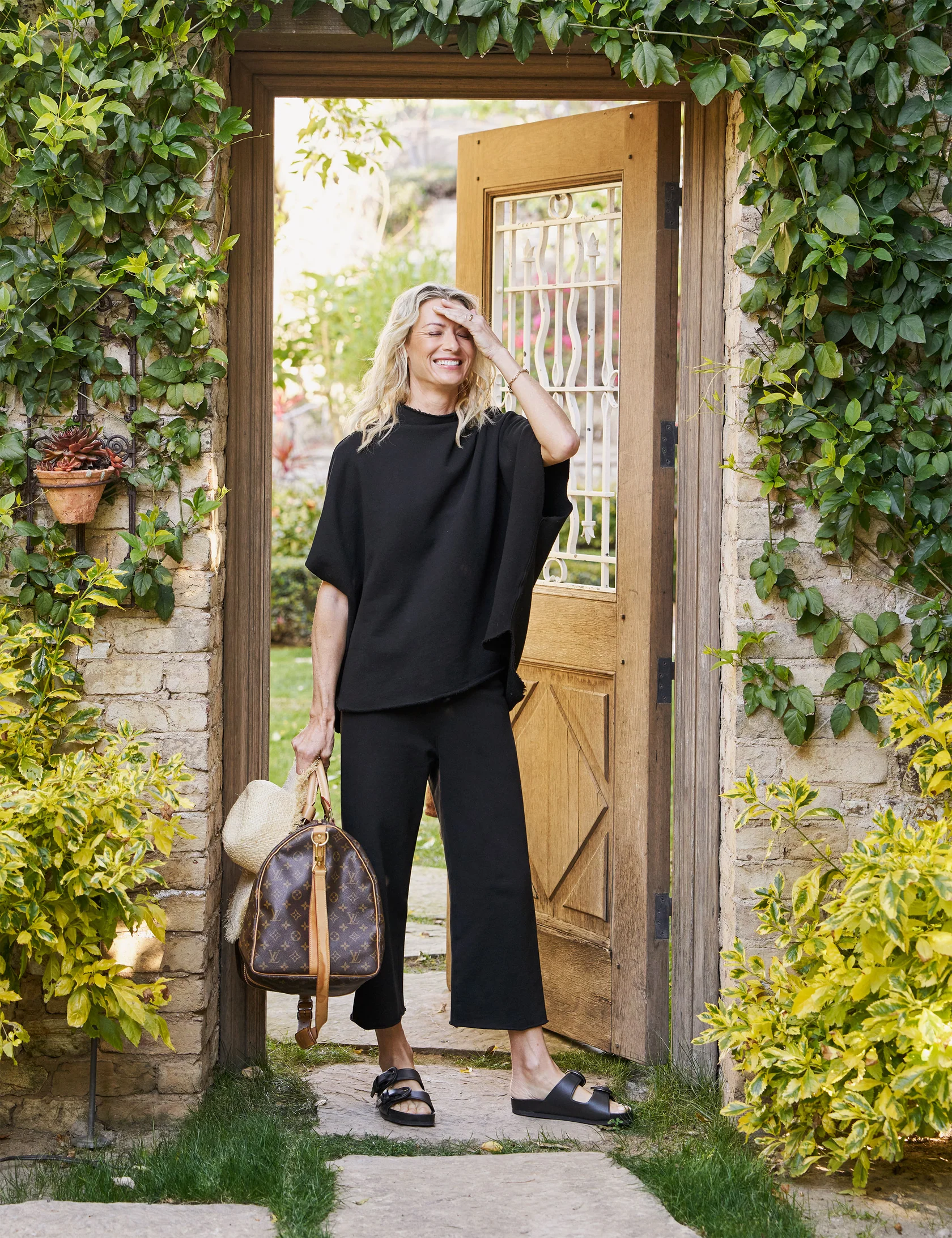 Short Sleeve 2 Piece Travel Set
For summer travel, I love this two piece set by Frank & Eileen (one of my favorite brands for elevated casual wear). This set is the perfect mix of comfort and polish, and it effortlessly nails that laid-back celeb-on-the-go look. Wear each of the cozy terry separates with other pieces in your wardrobe, too.
Shop Now
Stylish Clothing Options for a Flight
How to Style Comfortable Clothing for a Fashionable Look
I promise that it's possible to wear comfortable clothes for your airplane outfit that are still super stylish! In case I couldn't convince you with the outfit examples above, here's a few tips on how to marry style with comfort on an airplane.
Choose Versatile Pieces That Can Be Worn Again
When looking for clothing for a flight, it's important to choose pieces that are versatile enough to be worn again after the trip. Wearing versatile pieces is the best way to travel light!
A great option would be a pair of jeans or full-length trousers with a classic button-down shirt. This combination looks put together without being too over the top, plus you can wear them again once you reach your destination.
Add in a lightweight jacket or blazer for extra warmth and style points. A denim jacket or leather jacket is the perfect staple piece for any of your travel outfits!
If you're heading somewhere warm, a nice scarf or wrap is also a great way to add dimension to an otherwise basic outfit, and can also easily fit into a carry on bag when you want to pack it.
Can You Wear Yoga Pants on an Airplane?
The short answer is yes, you can wear yoga pants when you fly.
When you fly, the pants you decide to wear can make a big difference in how comfy you feel during your trip. That's why I always make sure to include stretchy pants as part of my travel outfits. But stretchy pants can include lots of other styles than just yoga pants.
Ideally, the best outfits for airplane travel are those than can be worn again during your trip, so if you aren't going to use your workout pants at any other point during your trip, opt for leggings or stretchy jeans instead.
Choosing the Right Shoes
The importance of comfortable shoes for a flight
As you put together your airplane outfit, make sure you think about wearing comfortable shoes. Instead of wearing your high heels on an airplane, pack them!
Opting for a cozy pair of travel-friendly footwear ensures that you navigate the airport with ease, whether it's running to catch a connecting flight or standing in those seemingly endless check-in and security lines.
Moreover, your feet are bound to swell during long-haul flights, so having shoes with a bit of wiggle room not only prevents discomfort but also promotes proper blood flow.
In addition, I recommend wearing closed toe shoes as part of your airport outfit. Having your feet exposed on a plane can get quite cold, so I recommend packing your flip flops and sandals instead of wearing them.
The benefits of wearing compression socks on a flight
Taking a flight can sometimes be a tiring experience, especially for our legs and feet. Fortunately, there's a simple solution that can bring great comfort and various health benefits – wearing compression socks!
These special, snug-fitting socks work wonders in improving blood circulation, reducing the risk of deep vein thrombosis, and alleviating swelling in the lower extremities.
Air travel can often lead to long hours of immobility and sitting in cramped positions, which can create discomfort and increase the likelihood of blood clots. However, with compression socks gently squeezing your legs, they help keep blood flowing smoothly, making those long flights much more enjoyable and worry-free.
Accessorizing for Comfort and Style
Choosing the right bag for your carry-on items
When it comes to choosing the right bag for carrying your carry-on items, there are a few key factors to consider. Opt for something with lots of pockets and compartments so that you can easily organize and access your essentials like snacks, hand sanitizer, headphones, and more.
Also, make sure it has a comfortable strap or handle so that it won't be too bulky or heavy when you're in transit.
Finally, it really helps to know what to put in your carry on vs checked bag.
Wear A Scarf Or Shawl To Stay Warm
The heavy air conditioning on planes means that it can get chilly during long flights, so wearing an oversized scarf or shawl is a great way to keep warm while looking put together. That extra layer can also double as a blanket if needed!
Look for lightweight fabrics that won't take up too much space in your bag but will still provide enough warmth. Try layering with a light jacket or long cardigan for extra coziness on those longer trips.
Tips for Choosing the Perfect Airplane Outfit
Consider the length of the flight and the destination
The longer your flight, the more thought you should put into building your airport outfit. For short trips, it's less critical to dress specifically for the plane, but for flights that are over 2 hours in length, it's so much more important to feel comfortable when you fly.
How to pack and dress for different climates
No matter where you're going, keep the destination in mind when picking out your airplane outfit. If you know what climate awaits you, then dress accordingly—for example, if it will be cold where you land then make sure to pack a jacket that can easily fit into your carry-on bag.
You can also save space in your suitcase by bringing clothing items that can transition between different climates—for example, tank tops can work both indoors and outdoors depending on what temperature it is outside.
If you can style the same outfit in several ways, you'll know it's perfect for travel. Creating a travel capsule wardrobe is the perfect way to have a go-to collection of clothes that you can travel with.
The importance of checking the airline's dress code policy
Last but not least, always remember to check with your airline regarding their dress code policy before flying out. It never hurts to double-check just in case there are any restrictions regarding clothing items—some airlines may ask passengers not to wear certain items such as flip-flops or shorts so the best practice is always to research first!
What to Avoid Wearing on a Flight
It's also important to know what to avoid wearing on an airplane. Learn from my mistakes!
Tight or restrictive clothing
When it comes to flying, you want to feel comfy, so tight clothing is not your friend. From the moment you board the plane until you deplane, you'll be stuck in the same position for hours at a time and tight clothes won't give your body any room to breathe.
Instead, opt for looser clothes such as leggings and an oversized sweater or t-shirt. These items will keep you comfortable without compromising your style!
Shoes that are difficult to remove
Airport security requires passengers to remove their shoes when passing through security checkpoints — which means that if you're wearing difficult-to-remove shoes, such as boots with laces or mules with multiple straps, the process may take longer than necessary and hold up other travelers in line behind you.
Avoid this inconvenience altogether by wearing slip-on shoes like sneakers or ballet flats that don't require much effort to remove while passing through security checks. Everyone that will be behind you in the airport security line says thanks in advance.
Clothing with lots of zippers or metal accents
The metal accents and zippers on some clothing items can cause additional delays when going through airport security screening because they can trigger metal detectors.
If possible, skip any items with lots of metal accents and zippers – this will help speed up the process of getting through airport security.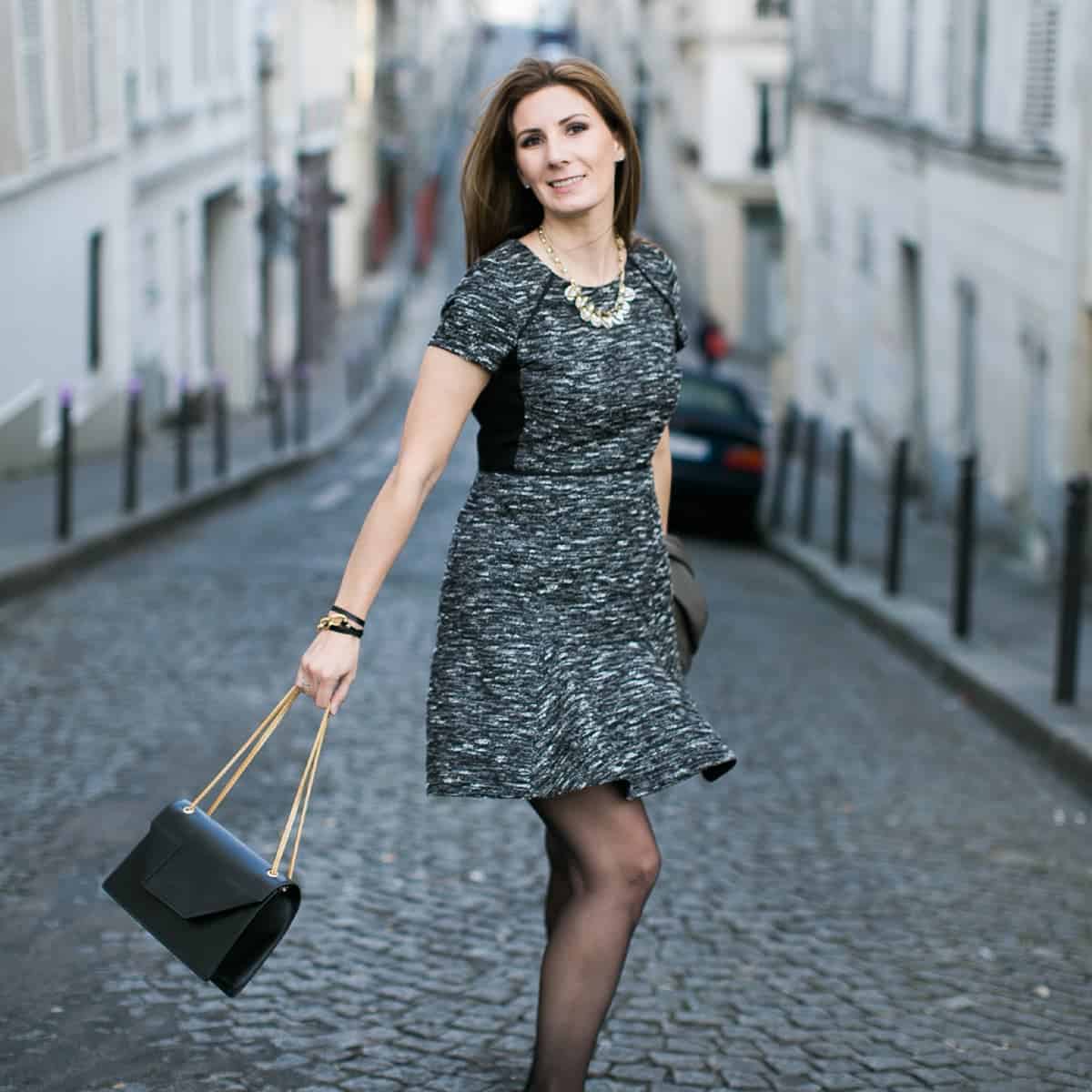 shop my favorite
TRAVEL ESSENTIALS
Ready to jet-set with ease? Discover my favorite travel products for your ultimate passport to stress-free adventures!
More Travel Outfit Ideas
Need more inspiration and travel outfits for your trip? Check out my travel capsule wardrobes. These are my most popular posts and have helped tens of thousands of women pack for travel in style:
Frequently Asked Questions about What to Wear on a Plane
What is the best way to dress for an airplane ride?
Dress in breathable layers that are loose-fitting, and an outfit that is casual with pieces you can wear again during your trip. Wear closed-toed and comfortable shoes.
What should I avoid wearing on an airplane?
Avoid wearing clothes that are tight or restricting, have lots of metal zippers or buckles, or especially revealing. I also recommend avoiding anything that's hard to undo in an airplane bathroom, such as a romper or jumpsuit.
What are some comfortable clothing options for flying?
Cute but comfy clothing options for a flight include leggings, a long cardigan or oversized sweater, joggers, sneakers, and a denim jacket.
What are some helpful tips for dressing for a flight?
Dress in loose, comfortable layers that you can take off or put on depending on the temperature inside the plane. Stay away from anything tight, restricting, or uncomfortable.
Conclusion
The right airplane outfit can make a big difference in comfort and style, especially during long flights. No matter what style you prefer for your travels, it's essential to choose pieces that are comfortable and layered so adjustments can be made easily. Don't be afraid to get creative with your look; a stylish travel wardrobe will only help you have an even better journey!