5 Cute Fall Travel Outfits For Your Next Trip
This site uses affiliate links and I may earn a small commission when you use my links and make a purchase, at no extra cost to you. 
I just came back from my first trip of the fall season. I went to New York City for a few days to visit friends and I was lucky enough to visit during "perfect" fall weather. You know those days where it's completely sunny, but there's a little bit of a chill in the air? Having been in the midst of a heat wave for all of August, the cooler temperatures were a welcome change – and I got to wear some fall travel outfits I've had ready for a while now. It got me excited to come up with some more fall travel outfit ideas! I bet you're ready for some fall vacation outfits too, so I put together this guide with my favorite styles: read on for my favorite fall travel outfits for women!
Fall travel is incredibly popular! So whether you're heading to check out fall foliage or just planning to enjoy the cooler temperatures abroad or in your own backyard, check out these fall travel styles for your next trip! I used my fall travel capsule wardrobe as inspiration, which you can check out for even more fall travel outfit ideas.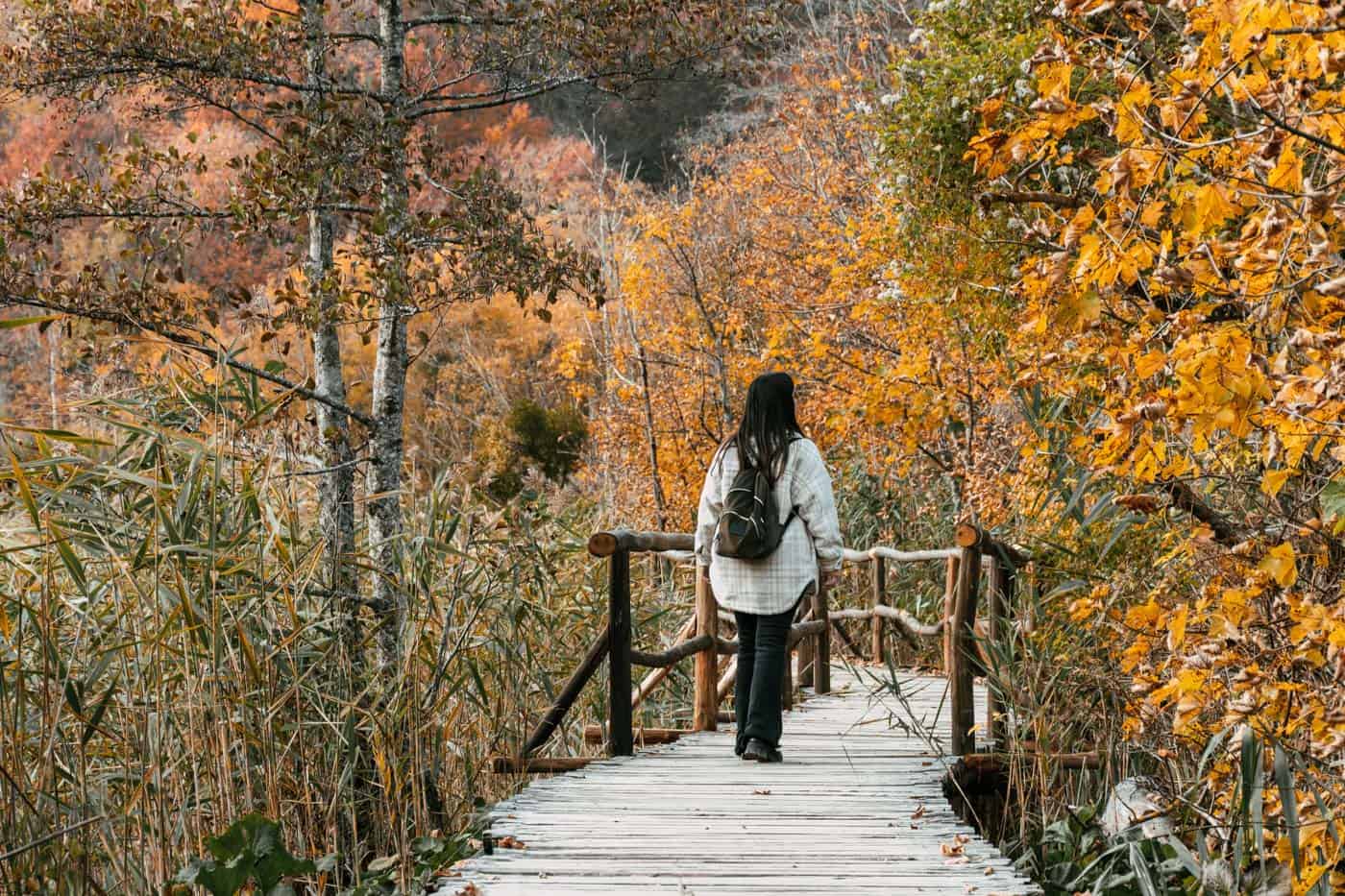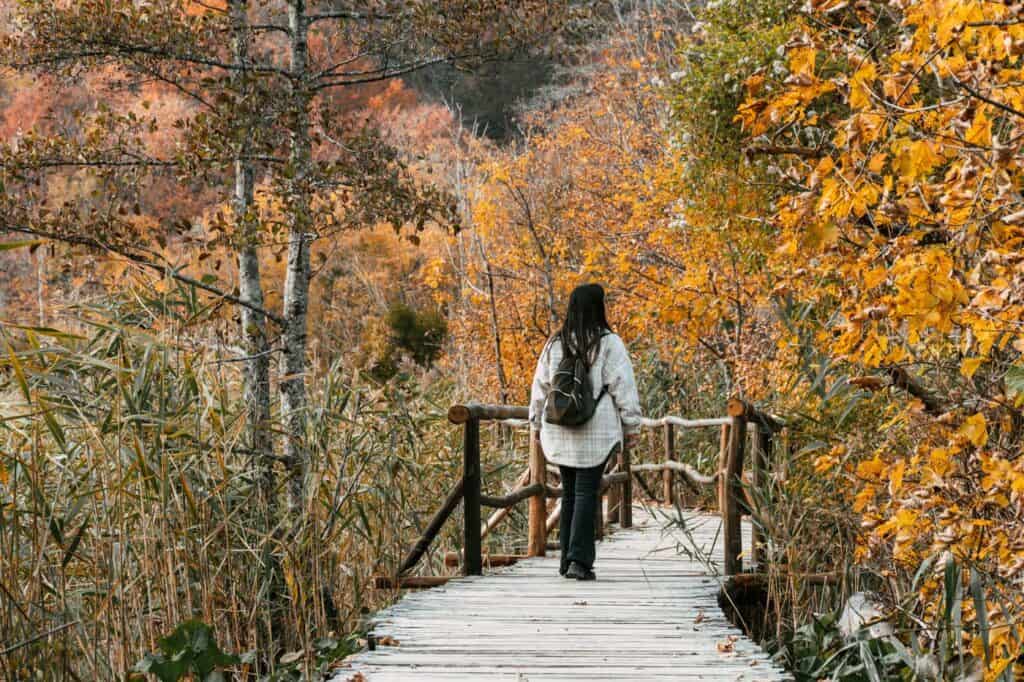 How to Put Together a Fall Travel Outfit
What makes for a great travel outfit for fall?
When you're putting together a travel outfit for fall, it's important to keep a few things in mind. Unlike summer, fall is the time of year when pieces that you pack start to get a little bit bulkier. Boots, sweaters, and jackets – I'm looking at you!
Packing bulky items means it's way too easy to run out of space in your suitcase. So for a piece to be part of a great fall travel outfit, it's important that it checks a few boxes.
1. Pack Versatile pieces
I know I say this all the time when I'm talking about packing. But when you're packing for fall travel, make sure you stick with versatile pieces. What do I mean by versatile? Two things:
First, versatile pieces should be part of AT LEAST two outfits that you plan to wear on your trip. Second, they should be able to be styled multiple ways, so you can use each piece for more than one activity.
Speaking of versatility, I styled all five of these cute travel outfits with just one necklace. If that's not versatility, I'm not sure what is. Do you love it, too? Here's the link to the necklace. For more help with jewelry, check out my post on how to pack jewelry for travel.
2. Fall weather can be unpredictable
Even though fall weather is expected to be warmer than usual this year, you never know what kind of temperatures you might experience during an autumn getaway. That's why it's important that you're prepared with the right clothes when you travel. The same goes when you're trying to create spring travel outfits!
When you're traveling this time of year, you might get lucky with a 70 degree day. Or, you could be shivering all day if you happen to encounter an early snowfall!
For that reason, I'm including a variety of outfits that can take you from warm 70 degree days, to cooler temperatures in the 40's. In this post, the warmer weather outfits are first, with the cooler weather outfits at the end of the list.
So check the weather before you start packing, and follow this guide according to just how cold it will be when you travel.
Fall Travel Outfit #1
I'm starting with a fall travel outfit that is best worn on warmer fall days. Think sunshine and temperatures in the upper 60's to low 70's. This is exactly the kind of weather I was lucky enough to experience on my trip in mid-September!
This centerpiece of this travel outfit is a sweater dress, which I can't seem to get enough of these days. I especially love the dark camel color of this dress.
Top the sweater dress with a "shacket". What's a shacket? It's a cross between a shirt and a jacket. (Not to be confused with a coatigan).
The shacket should be just warm enough for autumn days that are sunny and mild. And if it's still really warm, these summer travel outfit ideas are your best bet.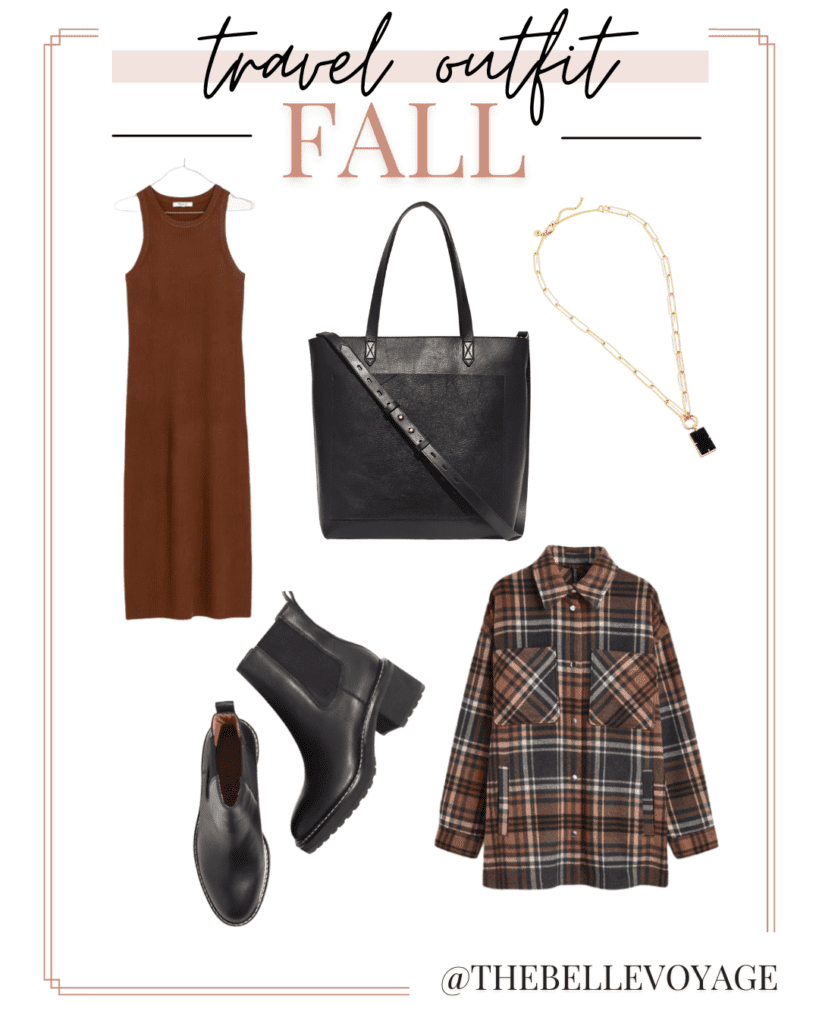 Shop The Look:

Why This Outfit Works for Fall Travel
This outfit is perfect for fall travel for a few reasons. First, anytime you can pack a dress – do it! If you're wondering how to pack a suitcase to maximize space, pack a dress. One piece = one outfit.
Second, the dress can be worn as a casual outfit, or as an elevated outfit for evenings out. I've styled it here to be versatile enough for both!
The shacket will keep you warm enough on a plane, and also looks great with jeans. And if the temperatures begin to drop, it will also look great layered over a solid long-sleeve shirt or sweater.
Finally, the Chelsea boots are comfortable enough that you can spend hours exploring, without dealing with blisters.
best Fall Travel Outfit #2
This next fall travel outfit is another style that is perfect if you're lucky enough to get one of those "endless summer" days that are common in the beginning of the fall season.
I'm talking about those days that are sunny and warm, with just a little taste of cooler weather to come. Usually at the end of September and in early October. These kinds of fall days are my personal favorite.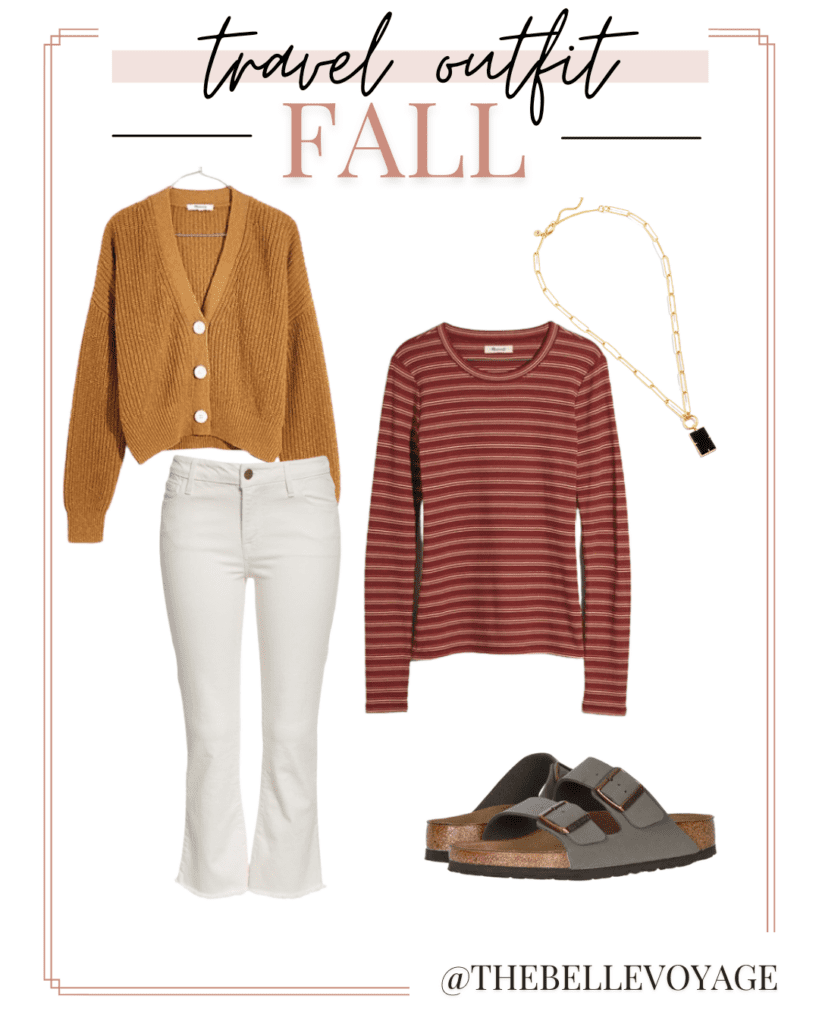 Shop the look:

Why It Works For Fall Vacations
This is a great fall vacation outfit for a few reasons.
First, I don't know about you, but I can't get enough of the off-white denim trend! The tone is so much warmer than a traditional white-white, so these jeans pair perfectly with fall shades like camel, burgundy, and dark brown. They're also a great piece if you're not willing to say goodbye to summer quite yet, and you can pair them with ankle boots when it starts to get cooler.
The sandals are also awesome shoes for travel! You'll be comfortable for hours on end, and they can be paired with casual dresses or skirts, too. Plus, they don't take up much space in your suitcase!
cute Fall Travel Outfit #3
When the temperatures start to drop a bit further, this outfit will keep you cozy! At the same time, it's super comfortable, so it's great for travel.
This look is a little more elevated, so it would be a great outfit if your fall travel plans include something like a nice dinner, a show, or an evening event. At the same time, you could dress it down with black Chelsea boots, and it would look amazing as well.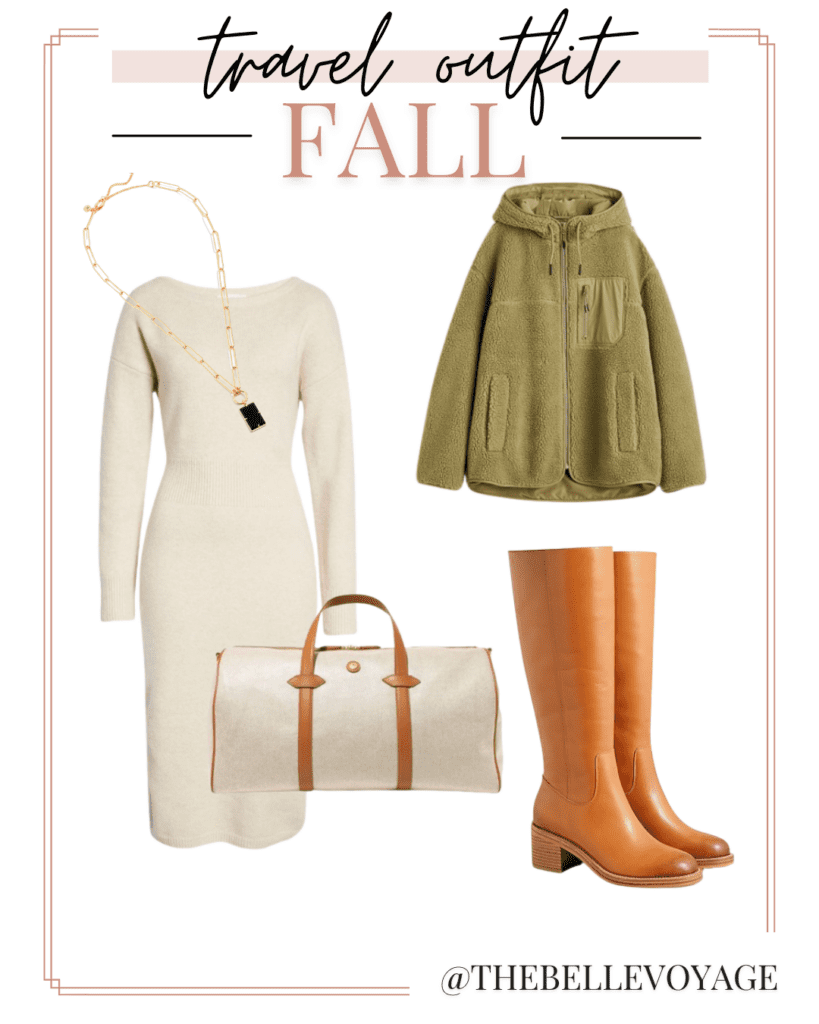 Shop THE Look:

Side note: I just bought a sweater dress that is similar and I'll be bringing it with me everywhere I go this fall!
why this outfit is great for autumn getaways
There's nothing like a dress to keep you comfortable when you're traveling. No zippers! No waistband! Both of these things are the perfect recipe for staying comfy while being seated for a long time – like when you're in a car or on a plane.
It's easy to think about dresses as something you would pack for a summer trip. But since this dress is made from sweater material and has long sleeves, it is perfect for cooler weather. If you're looking for a change of pace from the usual jeans-and-sneakers combo, this is a great option.
The camel boots and the cocoon coat can also be worn with jeans, so they're really versatile, too. And isn't that duffel bag adorable?
Fall Travel Outfit IDEA #4
When the temperatures drop in to the 50's, you will want a travel outfit that keeps you nice and toasty, so that you can explore in comfort!
For me, that means keeping my legs well-covered. This outfit packs on plenty of warm layers on the top and bottom, so there's no chance you will feel a chill.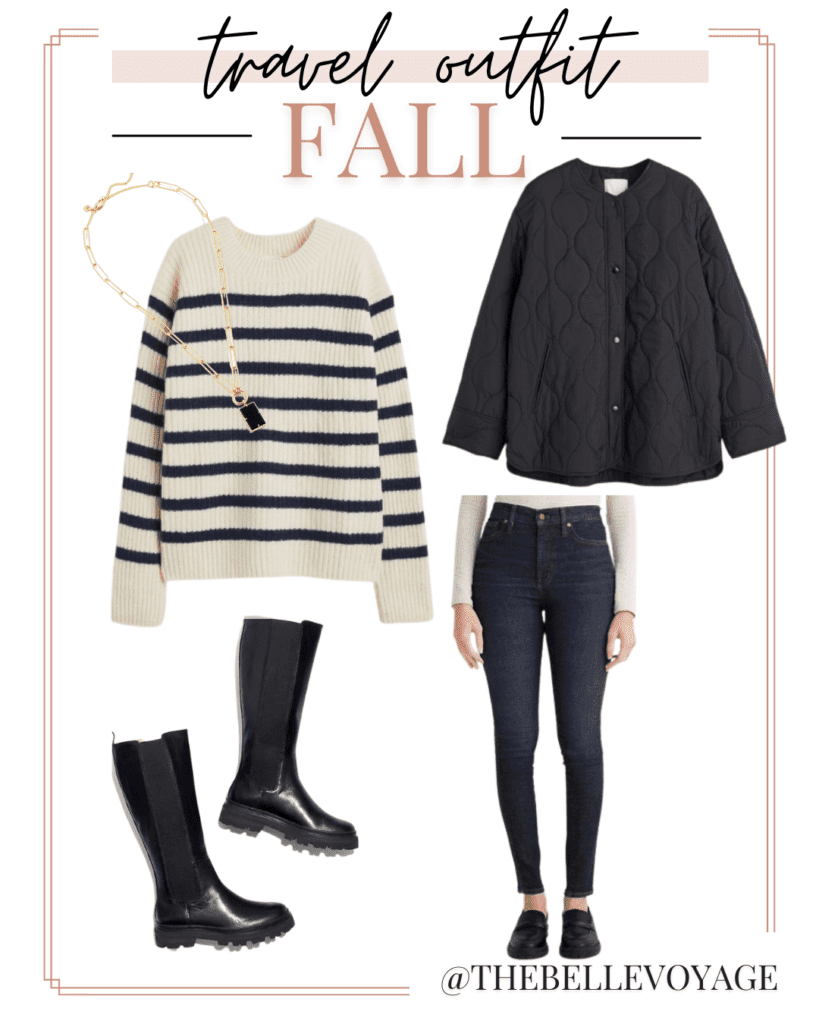 Shop The Look:

This is also a great outfit to wear during travel days, while you're on a plane or in the car.
Why It Works For Travel
I created this fall travel outfit mostly because it will look amazing in your pumpkin patch photos. But also because the boots and the coat are perfect for travel, so I built the outfit around those two pieces.
I love these boots because they combine the comfort of a Chelsea boot (which are usually short) with a taller boot. A knee-high boot will keep you warm and comfortable while you're walking around.
And the jacket! I love this jacket because it's a quilted, packable material which is absolutely perfect for travel. You can squish this up into a tiny ball, yet it still manages to be super warm while you're wearing it.
Finally, the skinny jeans are stretchy, so they're super comfortable, and can be dressed up or down. The striped sweater pulls it all together!
Fall Travel Outfit #5
Need more fall travel outfit ideas? This last fall travel outfit will be my uniform for all of my trips in September, October, and November!
I love this look for fall travel because it is about as simple as it gets. At the same time, you will still look polished and stylish! I am planning to wear a carbon copy of this ensemble on my upcoming trips to Chicago and London .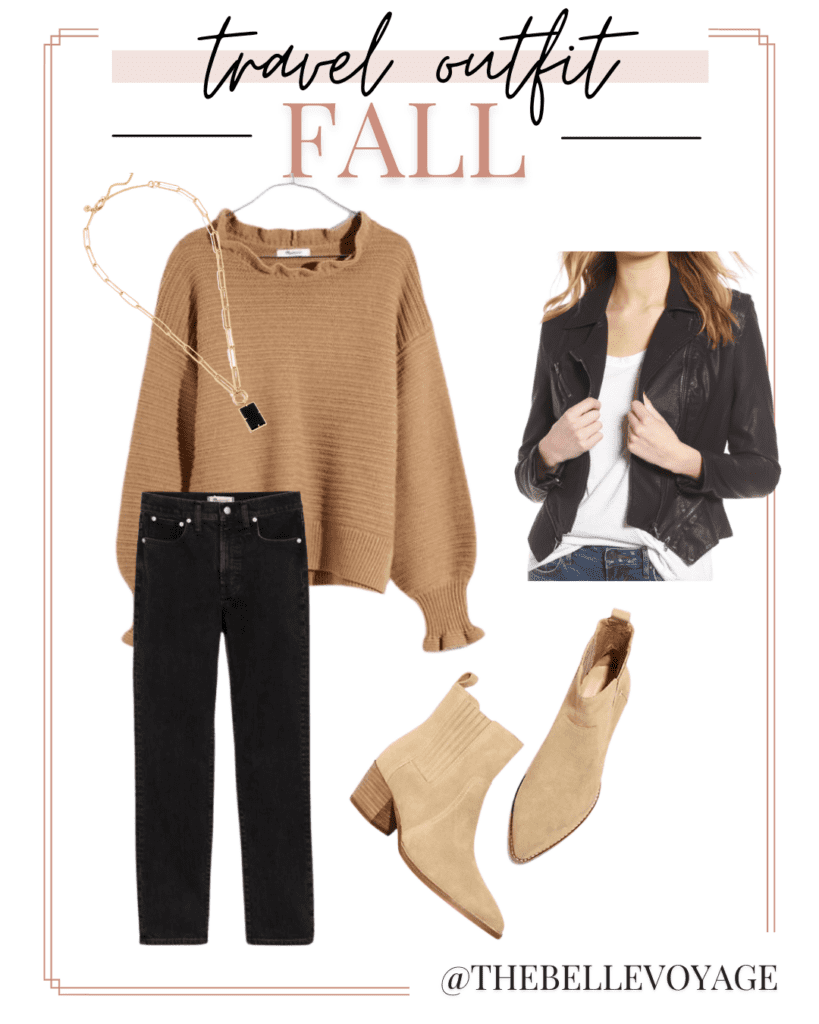 Shop The Look:

Why THIS OUTFIT Works for FALL Travel
This is a great look for fall days with cooler temperatures. All of these pieces will keep you warm, and if you need even more layers, add on a scarf and a hat, too.
If it's really getting chilly, you can also add a long sleeve shirt as an additional layer underneath the sweater. Look for a long sleeve shirt made of merino wool if possible.
Why merino wool? Merino wool is one of the warmest fabrics you can wear. It's lightweight, too, so it's easy to pack. And best of all? You can wear merino wool multiple times without washing it. True story!
There you have it: Five Perfect Fall Travel Outfits to Pack for Your Next Trip!
Now that you have some fall packing inspiration, it's time to pull together the rest of your packing list. Check out my ultimate list of women's travel essentials for everything else to add to your suitcase!