The Perfect Spring Travel Capsule Wardrobe: 15 Must-Have Pieces
This site uses affiliate links and I may earn a small commission when you use my links and make a purchase, at no extra cost to you. 
With my spring travel plans just around the corner, I've already started thinking about what to pack! That means it's time to share my spring travel capsule wardrobe with you. This 15-piece travel capsule wardrobe is filled with pieces I can wear on the trips I have planned to Mexico City, Sonoma, and Palm Springs in March and April. Check it out for all the inspiration you need to create cute spring travel outfits for wherever you're heading this spring!
In a hurry? Jump directly to the capsule wardrobe here.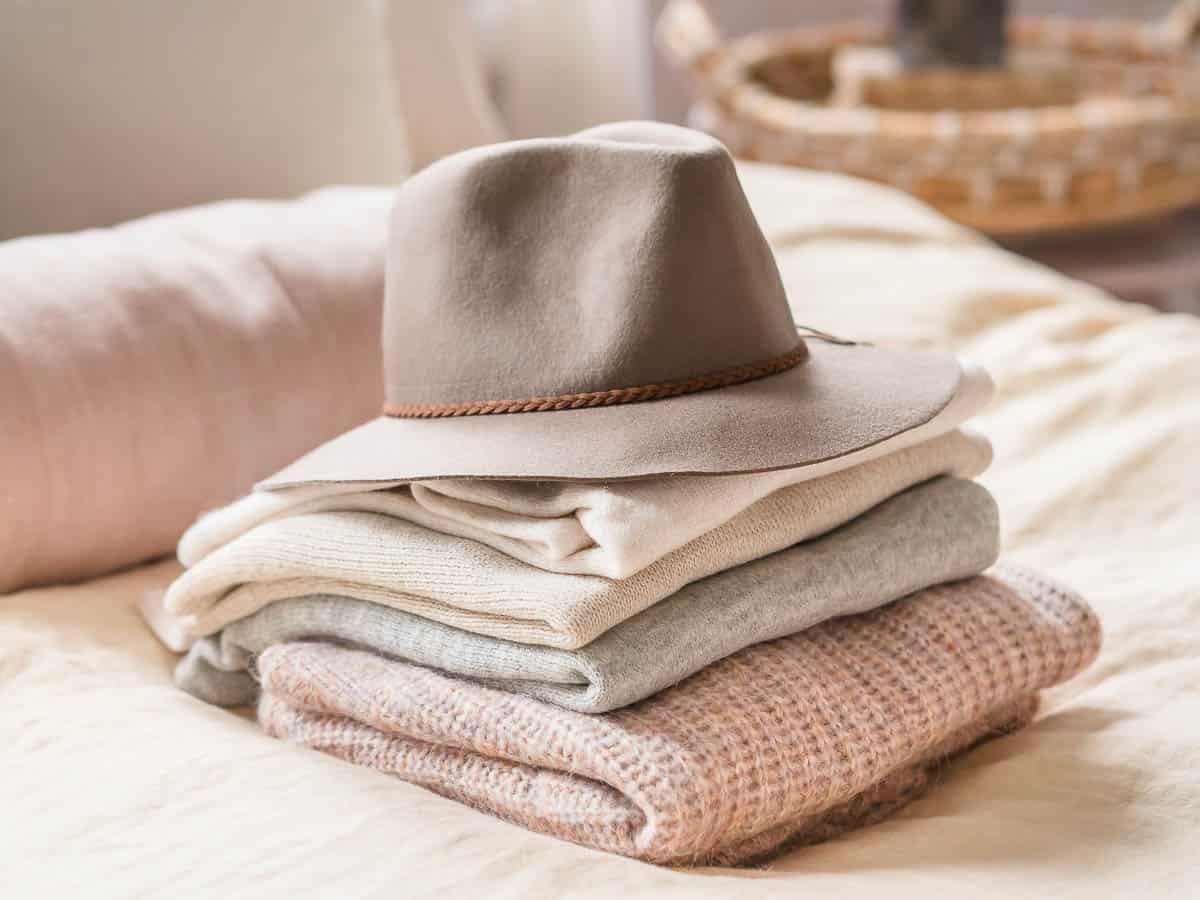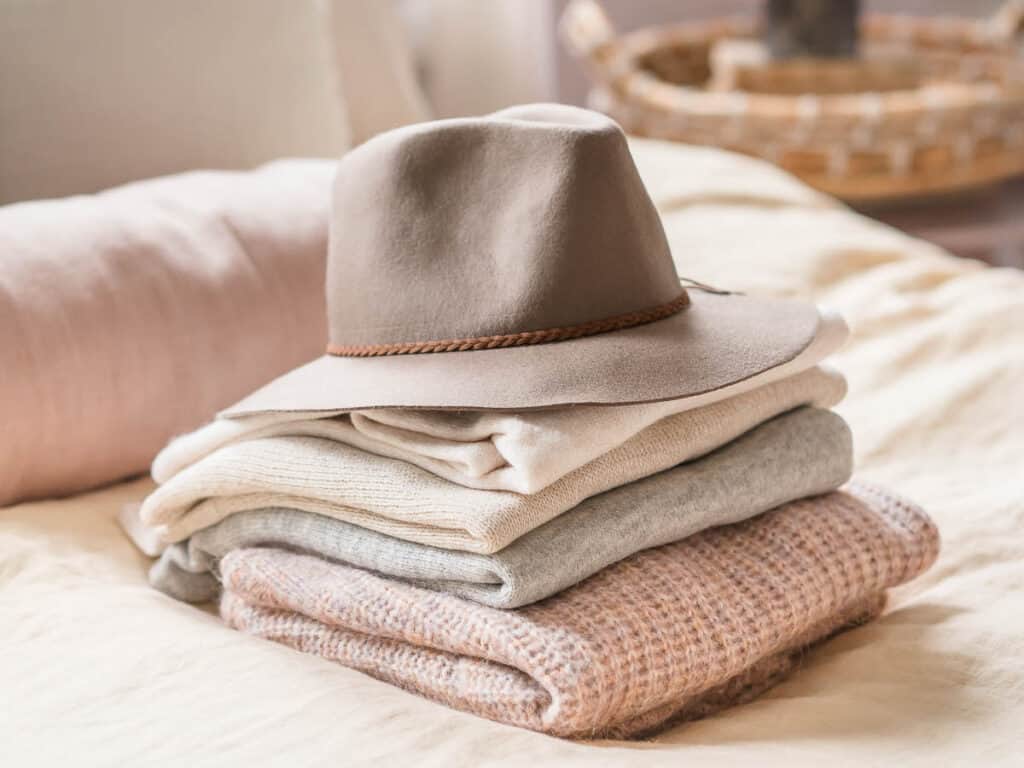 What is a Travel Capsule Wardrobe?
Let's start with the definition of a travel capsule wardrobe.
A capsule wardrobe is a small collection of clothing pieces that can be mixed and matched to create tons of different looks.
A travel capsule wardrobe is a capsule that is specifically meant for travel.  All of the pieces should be easy to pack, and versatile enough that they can be styled for all of the activities you have planned during a trip. 
The Purpose of a Travel Capsule Wardrobe
Why create a travel capsule in the first place? There are so many reasons why it makes sense to create a capsule wardrobe for your seasonal travel plans.
Having a go-to collection of clothes that all go together makes packing super-simple! If you're anything like me, you'll take every packing shortcut you can get.
So if you know that you can create endless travel outfits from just a few pieces, you can pack a bag without even thinking twice about what to bring.
In addition, using a capsule wardrobe to pack for travel means that you can fly carry on only. That means you'll get to skip those pesky bag-check fees. And you can use those savings for even more travel, or to order takeout when you come home from your trip to an empty refrigerator (me, always).
How Many Pieces Should be in a Spring Capsule Wardrobe?
There are no strict guidelines when it comes to the number of pieces to include in a capsule wardrobe. It's entirely up to you, and what your objectives are in creating your collection.
A good rule of thumb is to aim for less than 20 pieces in a capsule. After all, the purpose is to use a limited number of clothing pieces to create a lot of different looks.
Since this is a spring capsule wardrobe specifically for travel, fewer items is even better! Lately, I've been sticking to a limit of 15 pieces in my travel capsules.
The 5-4-3-2-1 Method
A good guideline to use for creating a capsule is the 5-4-3-2-1 rule. In other words, a capsule should include:
5 tops
4 bottoms
3 layering pieces (jackets, blazers or coats)
2 pairs of shoes
1 dress
5+4+3+2+1=15 pieces. Ta-da!
I use the 5-4-3-2-1 rule as a general guideline, but sometimes I switch up the numbers of each type of piece. In this example spring capsule wardrobe, I've included 5 tops, 3 bottoms, 3 layering pieces, 2 dresses and 2 pairs of shoes.
The number of pieces in your capsule wardrobe will depend on how much travel, and the kinds of trips you plan to take. So it's really up to you.
How To Create a Spring Travel Capsule Wardrobe
It's easy to create a spring travel wardrobe! Here's how to do it, in three easy steps.
Step 1: Plan
The first step in creating your capsule is to do a little bit of planning. Think about your travel plans, one trip at a time, and one day at a time. This will help you figure out the kinds of outfits you will need in general.
For example, maybe you'll be relaxing and lounging, or maybe you have more adventurous travel plans for spring. Whatever your travel itinerary might be, planning is the best place to start to create a capsule collection that works for you.
To make the planning process super simple, I created a travel outfit planner. It's a day-by-day guide that will help you through the process of planning what to add to your spring capsule, and what to pack for your spring travel plans.
Step 2: Download My Free Travel Outfit Planner!
Just add your email address below, and I'll send you the printable planner.
It doesn't get any easier than this!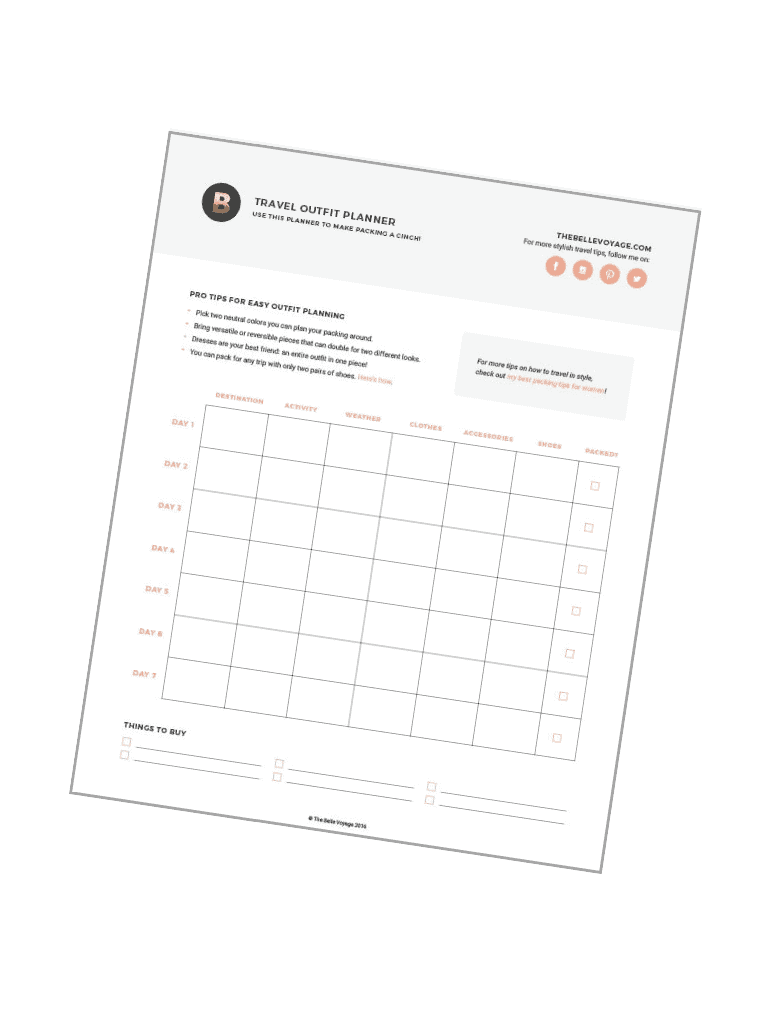 If you love the planner, you'll love all of my other free travel printables, too, including a carry-on packing list, a pre-travel checklist, and the 6 things you're definitely forgetting to pack.
Step 3: Pull Together the Pieces You Need
Next, let's start putting together the capsule. This is the fun part!
The spring capsule wardrobe that I'm featuring here includes a bunch of my favorite pieces that are out now, so they're ready for travel in 2023. Everything I've included is incredibly versatile and packable, so they're all perfect pieces to add to your suitcase for spring.
The capsule is perfect for sightseeing, exploring and visiting friends or family. If you're doing a beach vacation this spring, check out the beach vacation capsule wardrobe I put together, as well as my top picks for chic beach vacation outfits (they're all under $50)!
15 Piece Spring Travel Capsule Wardrobe for 2023
Here's my 15 piece spring travel capsule wardrobe for 2023: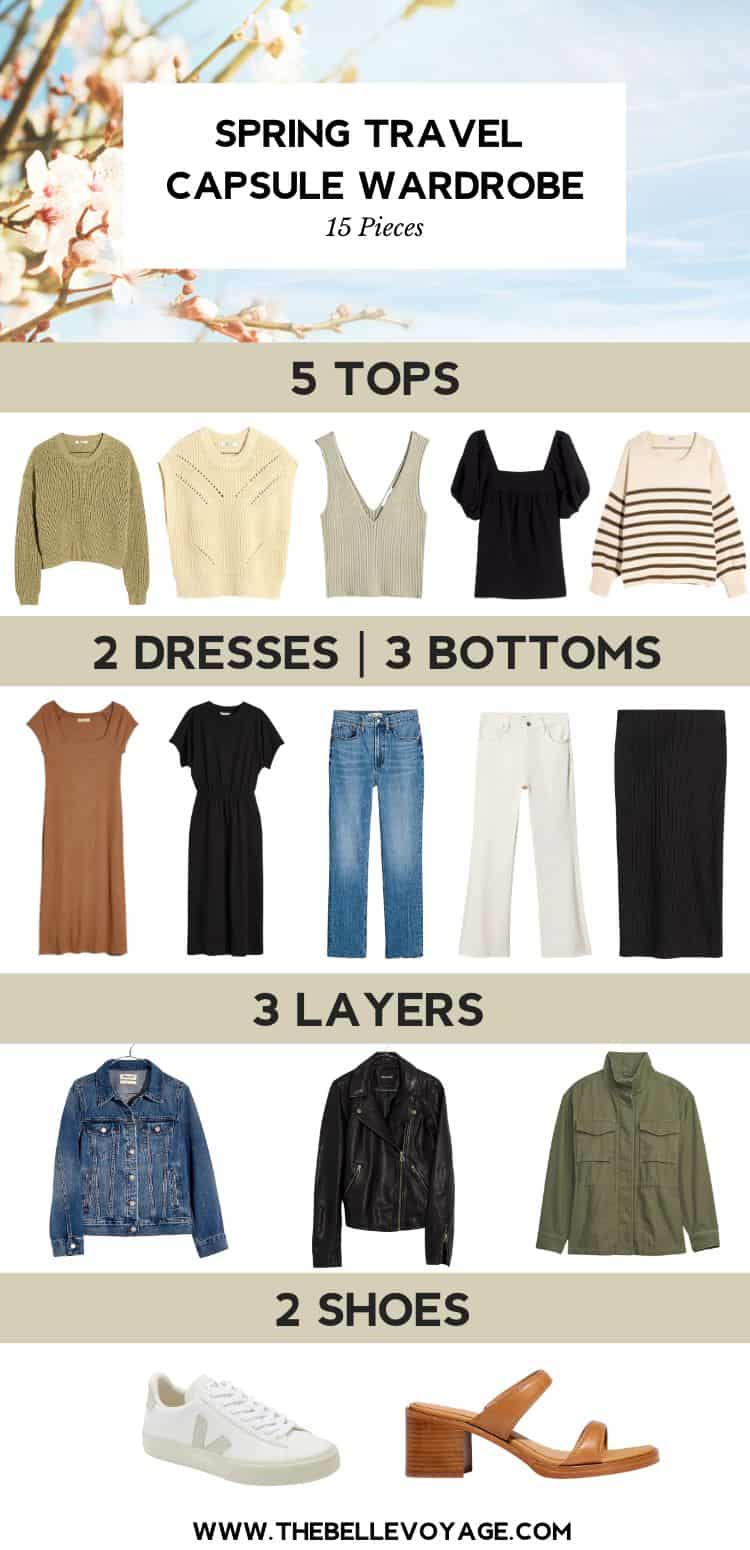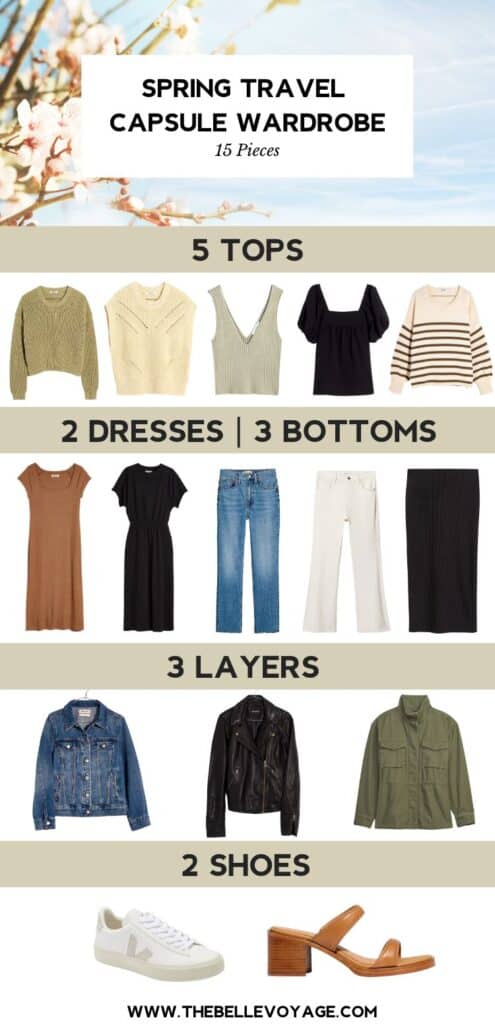 Tops: green sweater | cream sleeveless sweater | green tank | black top | striped sweater
Bottoms: jeans | white jeans | black midi skirt
Layering Pieces: denim jacket | leather jacket | utility jacket
Tote bag (pictured in outfits below): camel tote
What to Include in a Spring Capsule Wardrobe
I wanted this spring capsule wardrobe to reflect the light, refreshed look and feel that I associate with this time of year. For colors, I used a neutral color palette of cream, black, and green, and then used denim and camel as accent colors.
Here's what my capsule consists of, and also what you can include in a spring capsule wardrobe:
Tops
Because weather can vary in the spring, I included a mix of sleeveless, short-sleeved, and long-sleeved tops.
The tops I chose are perfect for travel because while they're basic, they all have some element of detail that keeps them visually interesting, whether it is texture, neckline, or pattern. This keeps your outfits simple, but not boring!
Bottoms
For jeans, I picked the "Perfect Vintage Jeans" from Madewell. I have these myself and I absolutely love the cut – it's so flattering! I love that this pair is cropped so that they look good with sneakers or heels.
I also included some white denim because it feels so refreshingly spring! This pair is a warm, creamy off-white color which pairs perfectly with the other color tones in the capsule.
I mixed it up a bit more with a ribbed black midi skirt which you can wear with just about anything.
Dresses
I chose simple dresses in tan and black. They're casual enough to wear with sneakers, or you can dress them up with heels. Wear them with or without one of the jackets, too!
Jackets
If I could only pick three jackets to live with for the rest of my life, I think it might be these three. They work for day or night, and you can pair them with any of the outfits you create from the capsule.
Shoes
Veja sneakers are always a good idea, and this creamy white style goes with everything in the entire capsule. For dressier events, you can elevate your look with a neutral sandal.
Heading to Europe this spring? Here's the best walking shoes for travel in Europe.
Accessories
I chose a beautiful camel tote bag to accessorize all of the outfits below. It's a versatile piece that goes with everything, but the woven texture of the material keeps it interesting.
The bag also has straps that allow you to carry it two different ways, so even though you might only pack one bag, you can mix up how it's styled when you wear it.
How to Create Spring Capsule Wardrobe Outfits
Now that the capsule is put together, let's create some different looks using pieces from the capsule collection. Putting together different outfit combinations will show you just how versatile this capsule wardrobe can be.
Warm Weather
If you get lucky with a warmer day while traveling in the spring, why not do your exploring in a dress or skirt? Both of these outfits are comfortable and cute, so they're perfect for outdoor sightseeing or walking around.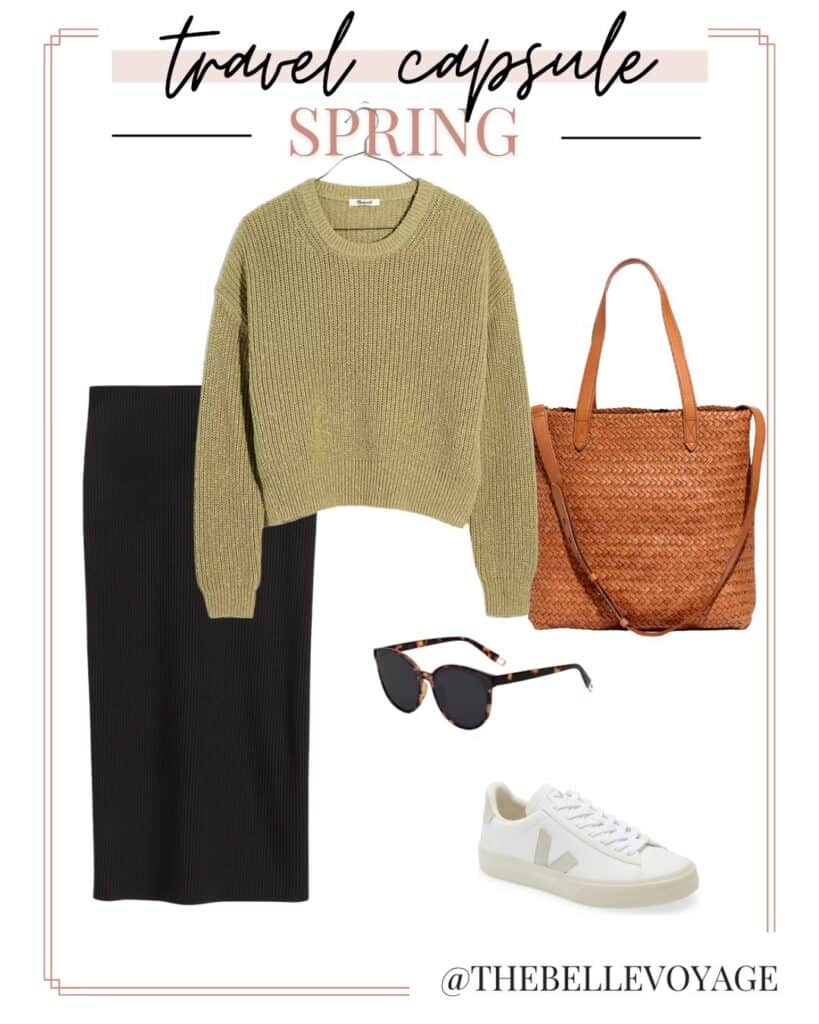 Cool Weather
If the weather will be cooler on your trip, wear one of the pairs of pants instead. You can pair just about any of the tops with either of the jeans in this capsule, and then throw on an extra layer to keep you warm.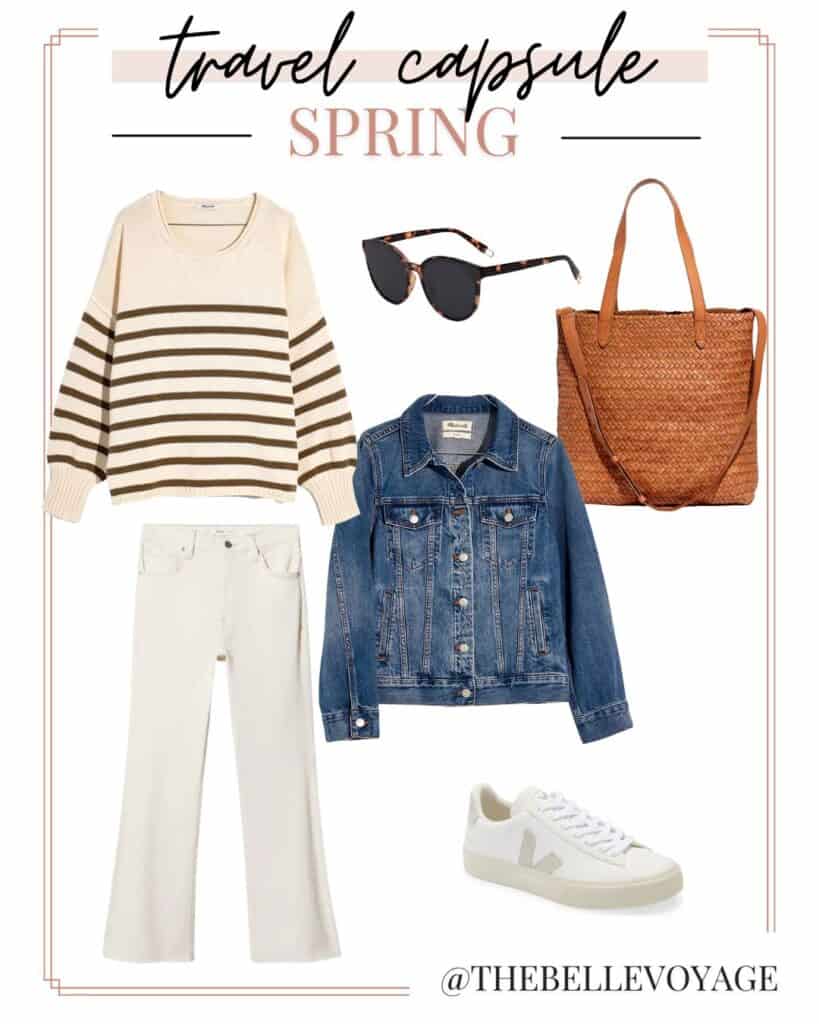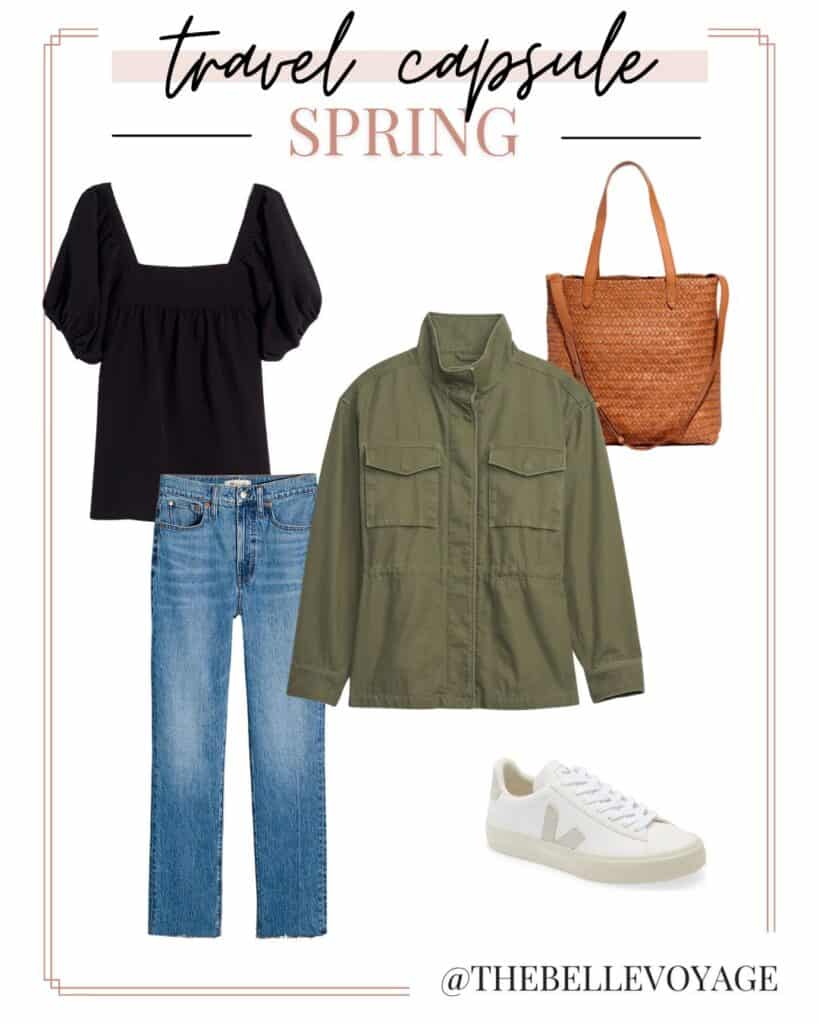 Brunch or Lunch
If you're planning a special lunch or brunch as part of your travel plans, use the capsule to create an outfit that's casual but a bit more elevated. Either of these looks would be perfect!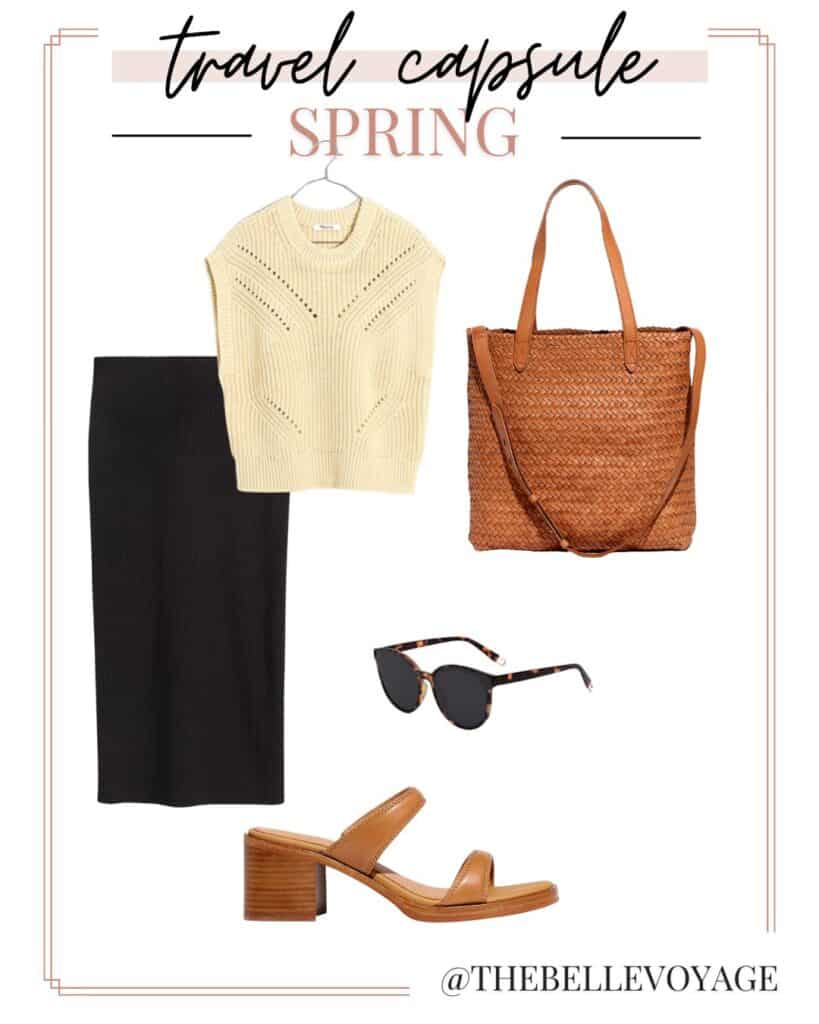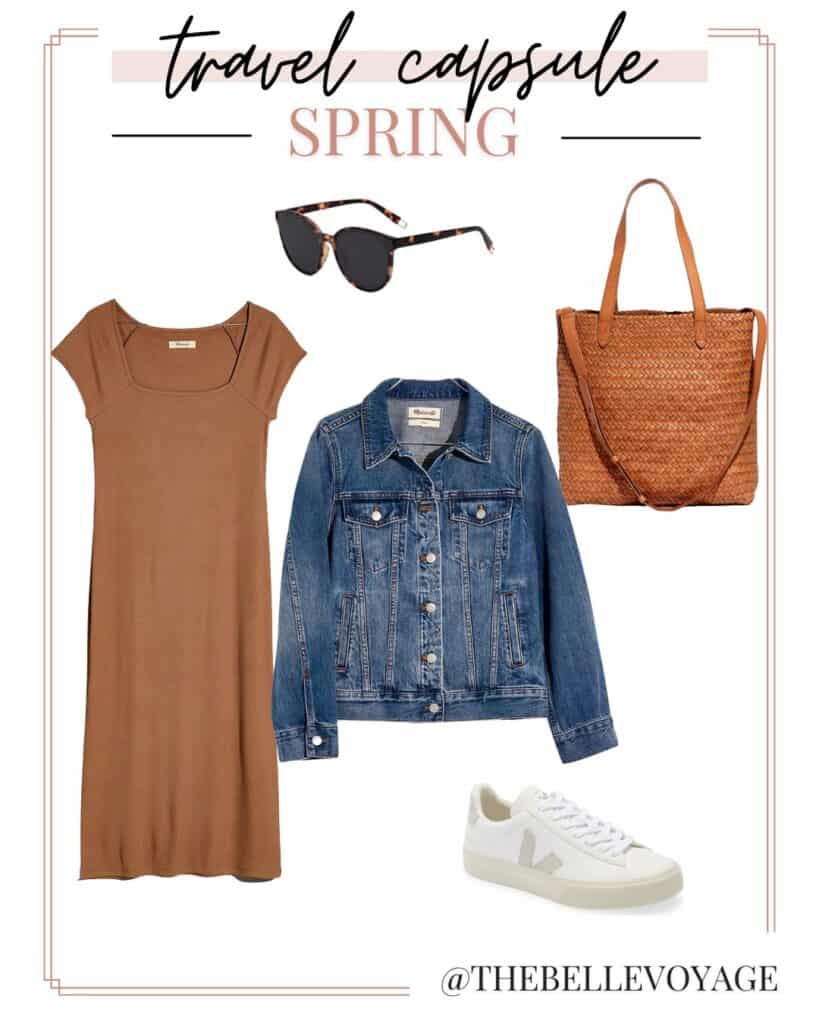 Drinks or Dinner
If you have fun evening plans during your trip, you can also use the capsule to create outfits like the ones below that will work for dressier dinners or evenings out. This is where the leather jacket might just become your best friend!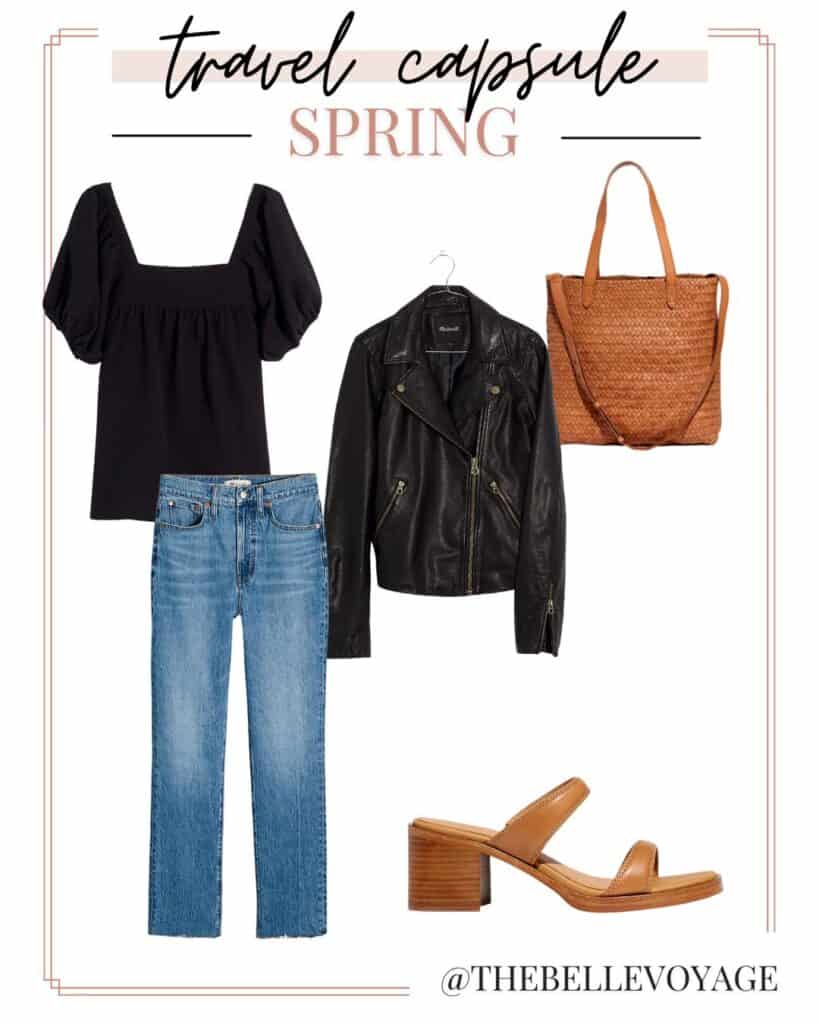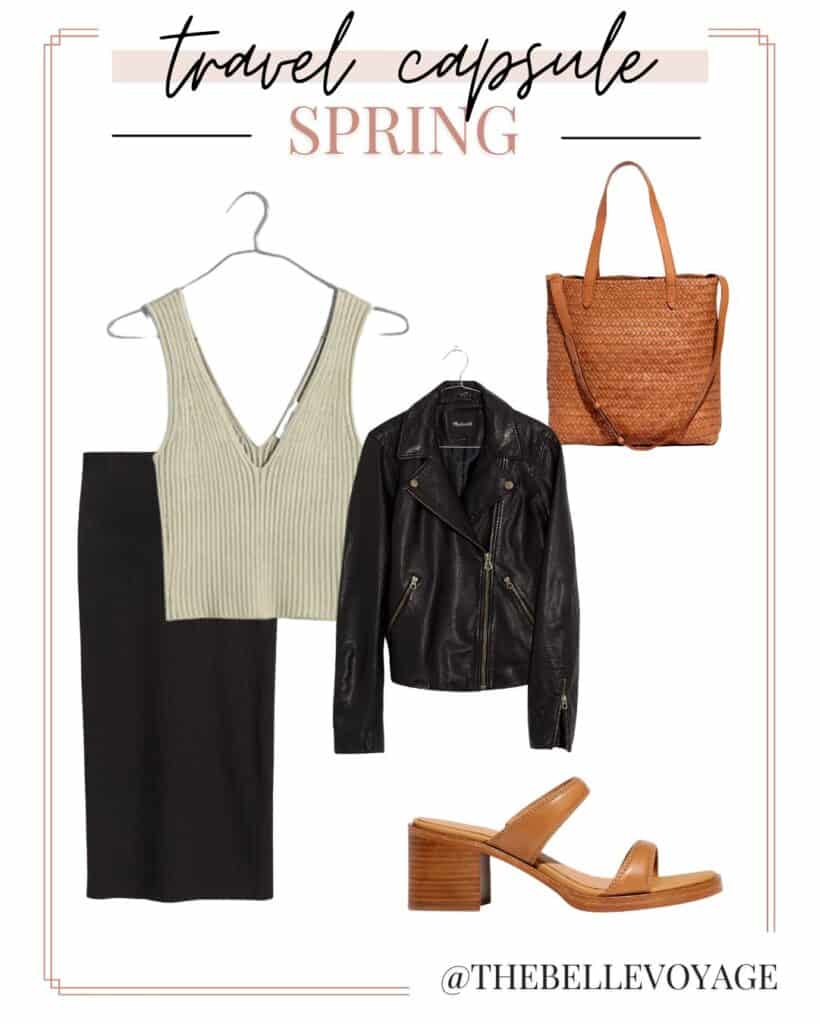 These 8 different outfit combinations are just a start! You can truly mix and match all of these items so many different ways, so there are many more creative ways that you can use the capsule wardrobe.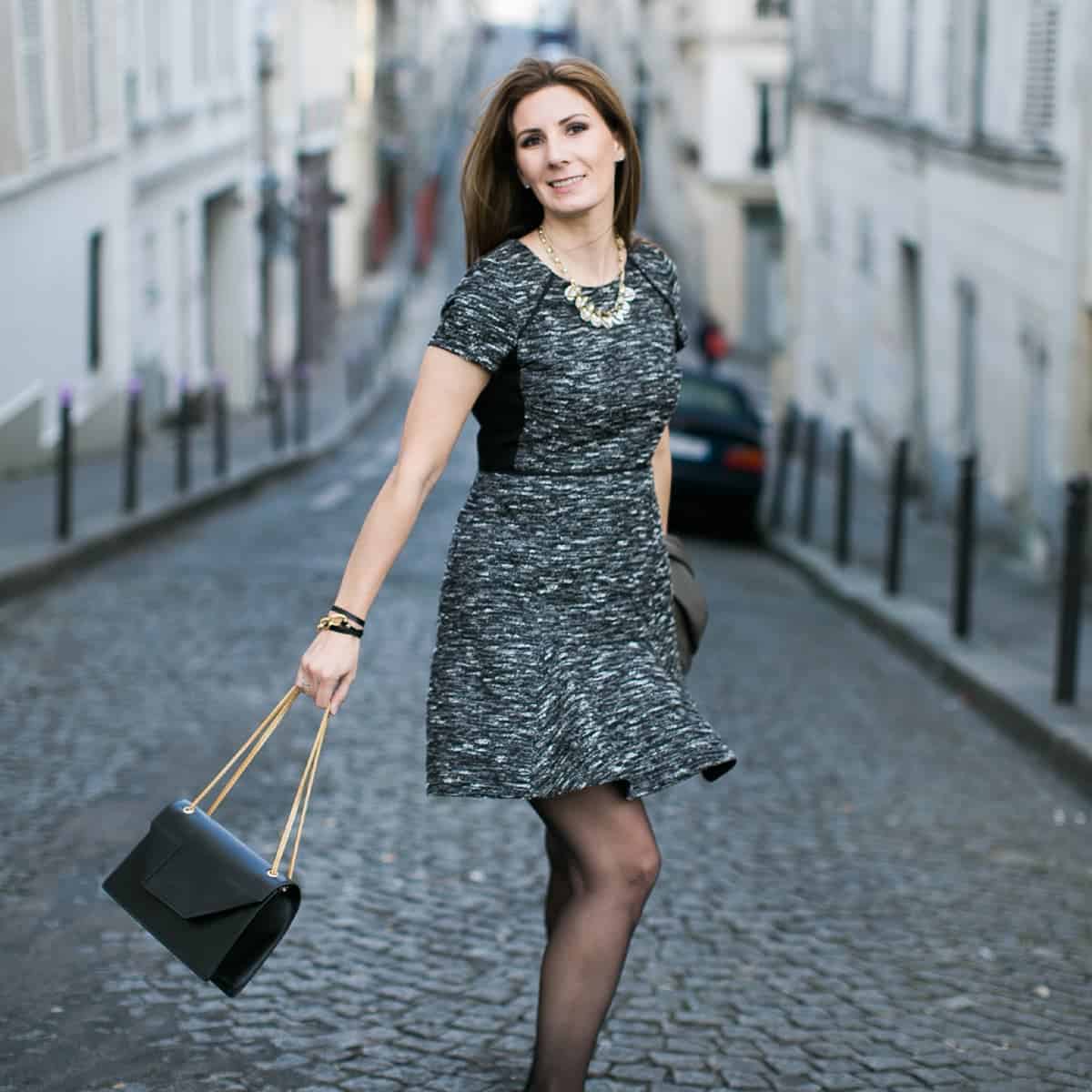 shop my favorite
TRAVEL ESSENTIALS
Ready to jet-set with ease? Discover my favorite travel products for your ultimate passport to stress-free adventures!
Tips for Building a Spring Capsule Wardrobe
Include Lots of Layers
When you're packing for a transition season like spring, it's important to pack lots of layers in your suitcase. During this time of year, you never know what you might get weather-wise, so you should be prepared for varying conditions.
The best way to pack for spring travel is with lots of layers, so the more layers that you can include in your spring capsule, the better prepared you will be to create outfits for your trip. I took a similar approach in creating my fall travel capsule wardrobe.
If the weather will be warm, use my summer travel capsule wardrobe as a guide. And if it's going to be REALLY cold? Use my winter travel capsule wardrobe instead!
Use Neutral Colors and Add Accent Colors
Building a capsule wardrobe is easier when you stick to neutral colors and limit patterns. When you use mostly neutral colors, everything goes with everything!
I like to start with a neutral palette of 2-3 colors to build around. In this capsule, I used cream, black and green. Then, add in 1-2 accent colors. In my example, I used denim and tan as accent colors.
Find Clothing Pieces With Interesting Details
For clothes to work well in a capsule, they need to be relatively basic. But that doesn't mean they have to be boring!
Try to look for pieces that are basic in terms of color, but that have interesting details like texture or neckline. The black top in this capsule is a great example! It's got a unique neckline and sleeves, but you can style it as you would style a plain black t-shirt!
More Travel Capsule Wardrobes
If you couldn't tell, I love to create travel capsule wardrobes! They feature the most versatile, packable pieces from what's on my current shopping wish list.
For more example capsule wardrobes, check out my Europe capsule wardrobe, as well as my business casual capsule wardrobe.