29 Unique Things to Do in San Jose Del Cabo
This site uses affiliate links and I may earn a small commission when you use my links and make a purchase, at no extra cost to you. 
San Jose del Cabo is a breathtakingly beautiful part of Mexico that beckons to those looking for a memorable holiday experience. From stunning beaches and nearby nature reserves to lively nightlife and local culture, there is an incredible array of things to do in San Jose del Cabo – here are some great ideas for your visit! And if you need some help getting ready for your trip, check out my Cabo travel tips for everything that tourists should know before visiting!
If you're considering whether to stay in Cabo San Lucas vs San Jose del Cabo, this guide will help you discover the best activities in San Jose, the less frequently-visited of the two towns in Los Cabos.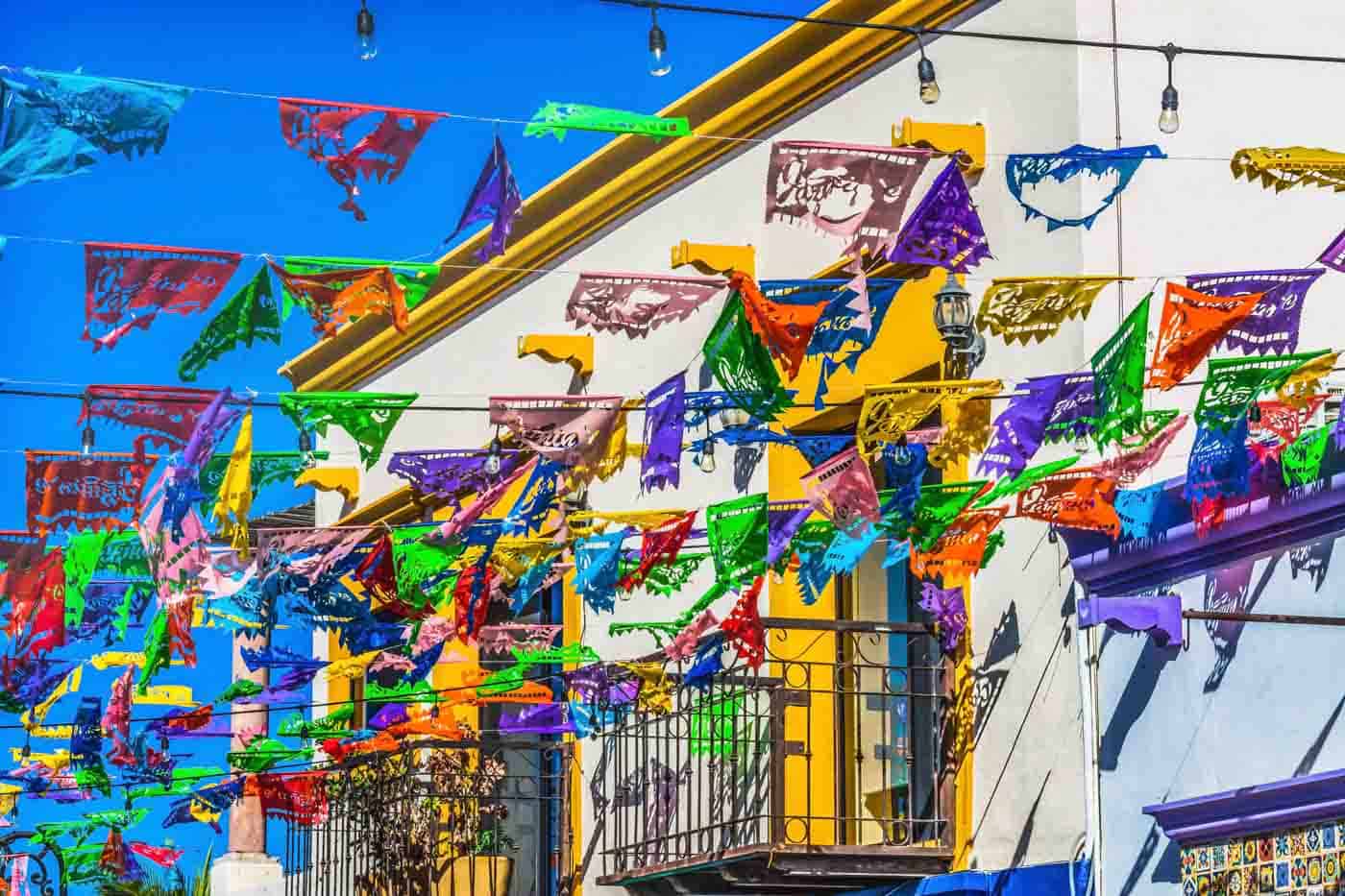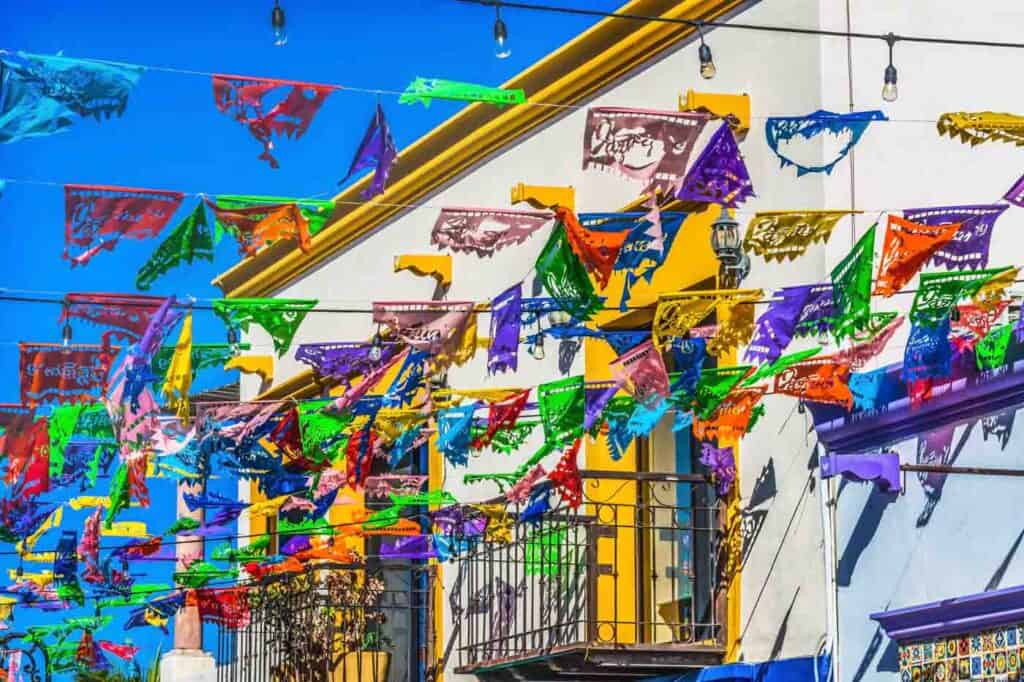 What to do in San Jose del Cabo
Short on time? Here are my top 10 recommended top 10 things to do in San Jose del Cabo!
San Jose Art Walk
Visit Flora Farms
Visit the Gallery District
Relax at the beach
Sunset dinner cruise
Enjoy authentic Mexican cuisine
Whale watching
Mezcal tasting
Sea turtle release
Deep sea fishing
Read on for all of the details on these San José del Cabo activities, along with my recommendations for exactly where to go, what to do, and which tours and day trips are the best deals. It'll make it easy to plan the perfect Cabo itinerary!
The Best Activities in San Jose del Cabo
Take a Sunset Cruise
In the spirit of relaxation, I recommend spending at least one night in San Jose del Cabo simply watching the sunset over the Pacific Ocean. It's simple, yet magical, and the sunsets in Los Cabos are gorgeous.
One one the best ways to watch the sunset in San Jose is by taking a sunset boat cruise. Hop aboard a shared or private boat, where you'll be treated to drinks and dinner and watch the sky light up with color as the sun sinks below the horizon.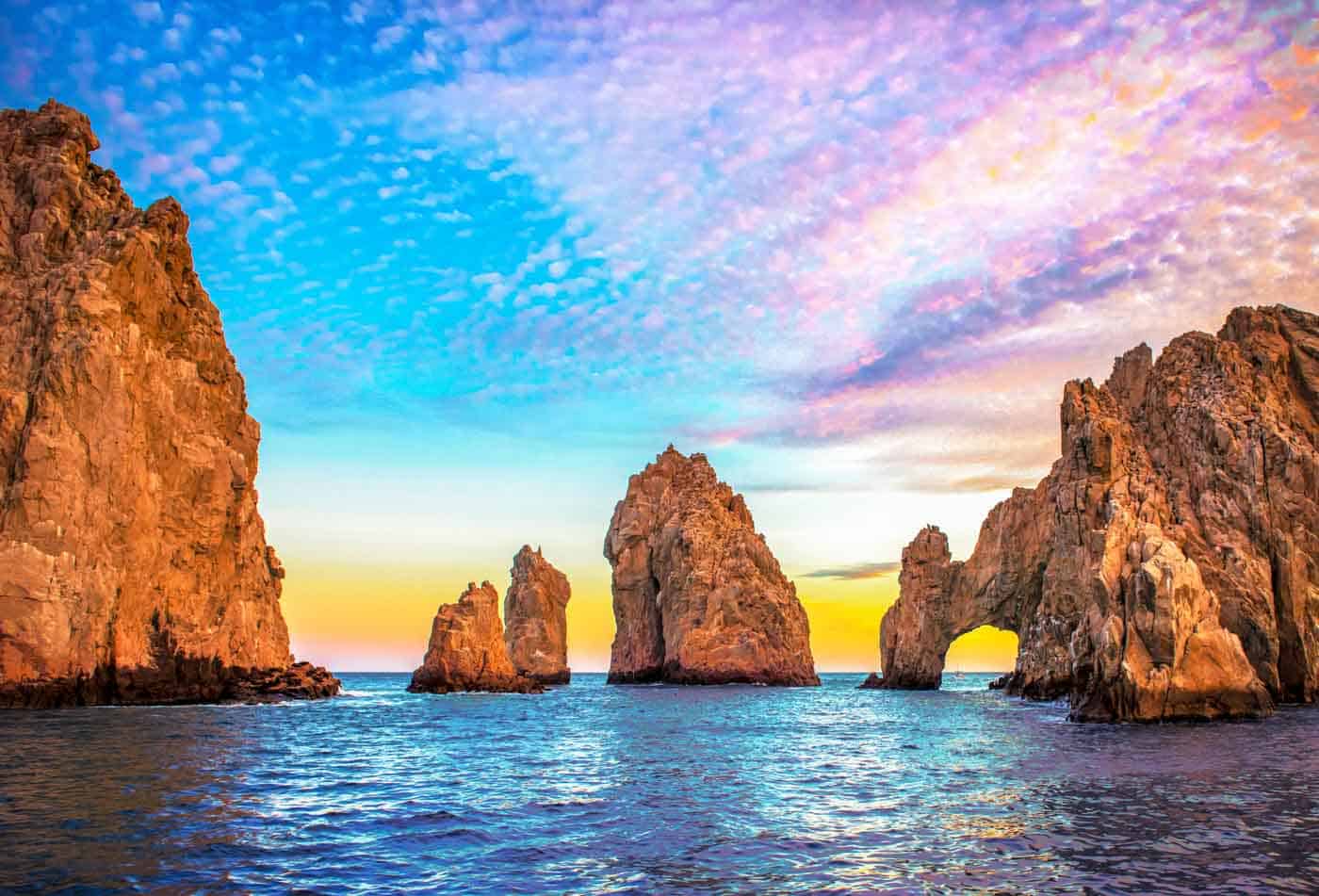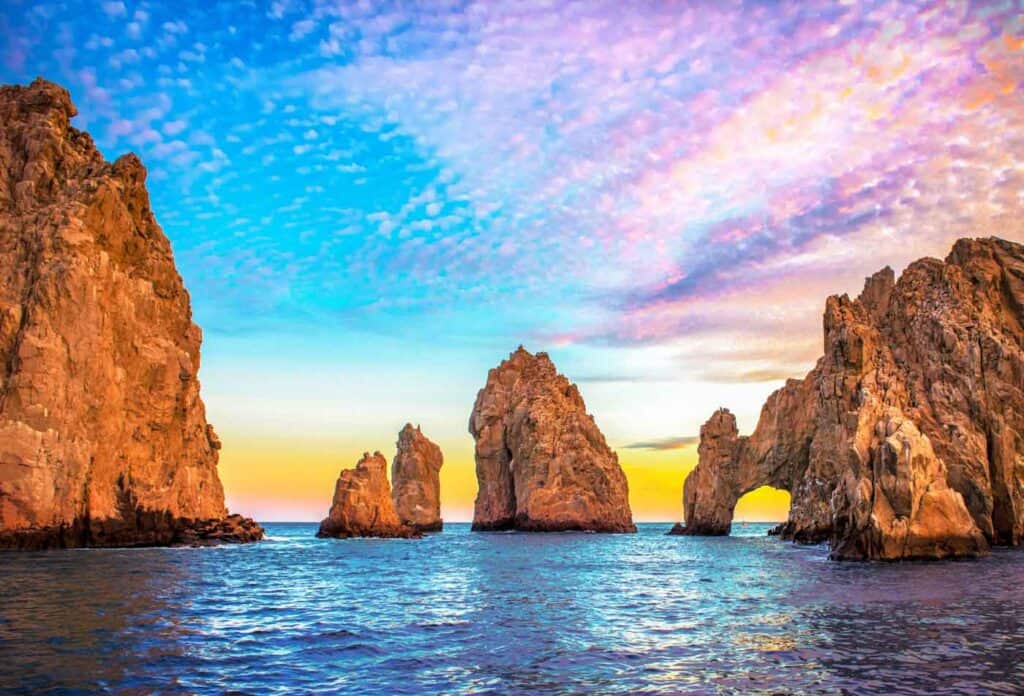 In addition to watching the sunset, there's no better view of the cape's rocky coastline than from the sea! What's more, you'll get a close up view of the Arch as you sip, eat and relax.
Here are a few of the best sunset dinner cruise options in San José del Cabo. Note: I recommend these tours because they depart from Puerto Los Cabos, which is the marina located in San José del Cabo. Many other sunset boat tours leave from Cabo San Lucas, which is about a 45-minute drive away.
Sunset Luxury Boat Tour: a 2-hour sunset cruise that will take you past Medano Beach for a stunning view of the Arch, and includes drinks and snacks.
Private Sunset Boat Tour: If you're looking for a private excursion, this sunset cruise is for you! Set your own agenda as you charter a private boat from San José del Cabo, complete with drinks and snacks.
Go Shopping in Downtown San Jose del Cabo
I've browsed boutiques all over Los Cabos and I can say that downtown San Jose del Cabo is the best place to go shopping in the area. So if you're in the mood to pick up some souvenirs (not the cheesy kind) or a new outfit, head downtown to browse the local boutiques.
Amidst San Jose's many art galleries, you'll find chic clothing stores, handmade crafts like glassware and home decor, as well as a few specialty concept stores.
My favorite is Shima Shima, with its bright colors and unique gifts. It's a tiny store, but not to be missed during a day of shopping! Everything in the store is made in Mexico, and I guarantee that you'll find something you want to take home with you.
Experience World-Famous Farm-to-Table Restaurants
One of the absolute best things to do in San Jose del Cabo is to experience one of the several farm-to-table restaurants that are in the area.
You'll get to dine on the freshest produce and organic meats, all raised on the farm itself, or locally.
These restaurants are some of the most popular places to dine in Cabo, and it's definitely possible that you might just spot a celebrity while you're there.
Flora Farms is a 25-acre organic working farm that is home to a restaurant, bar, shops, a spa, and even luxury homes. Visiting Flora Farms is like being transported to a magical little oasis in the desert. From the decor, to the unbelievable desserts, to the on-site shops and spa, you probably won't want to leave!
Acre is another organic working farm just outside of San Jose, boasts a menu of locally-sourced ingredients, grown in their own organic garden. The menu is designed to highlight the flavors of the region, with dishes such as octopus tacos, grilled fish, and beef empanadas. In case you don't want to leave, Acre also has a Treehouse Hotel!
Need some help deciding what to pack for San Jose del Cabo? This packing list for a Mexico resort has everything you need!
Visit San Jose del Cabo's Gallery District
San Jose del Cabo is truly a haven for creatives, and visiting the Gallery District in San Jose del Cabo is one of the best ways to experience this local flavor.
Spread across a handful of cobblestone streets, the Gallery District features the work of local and international artists.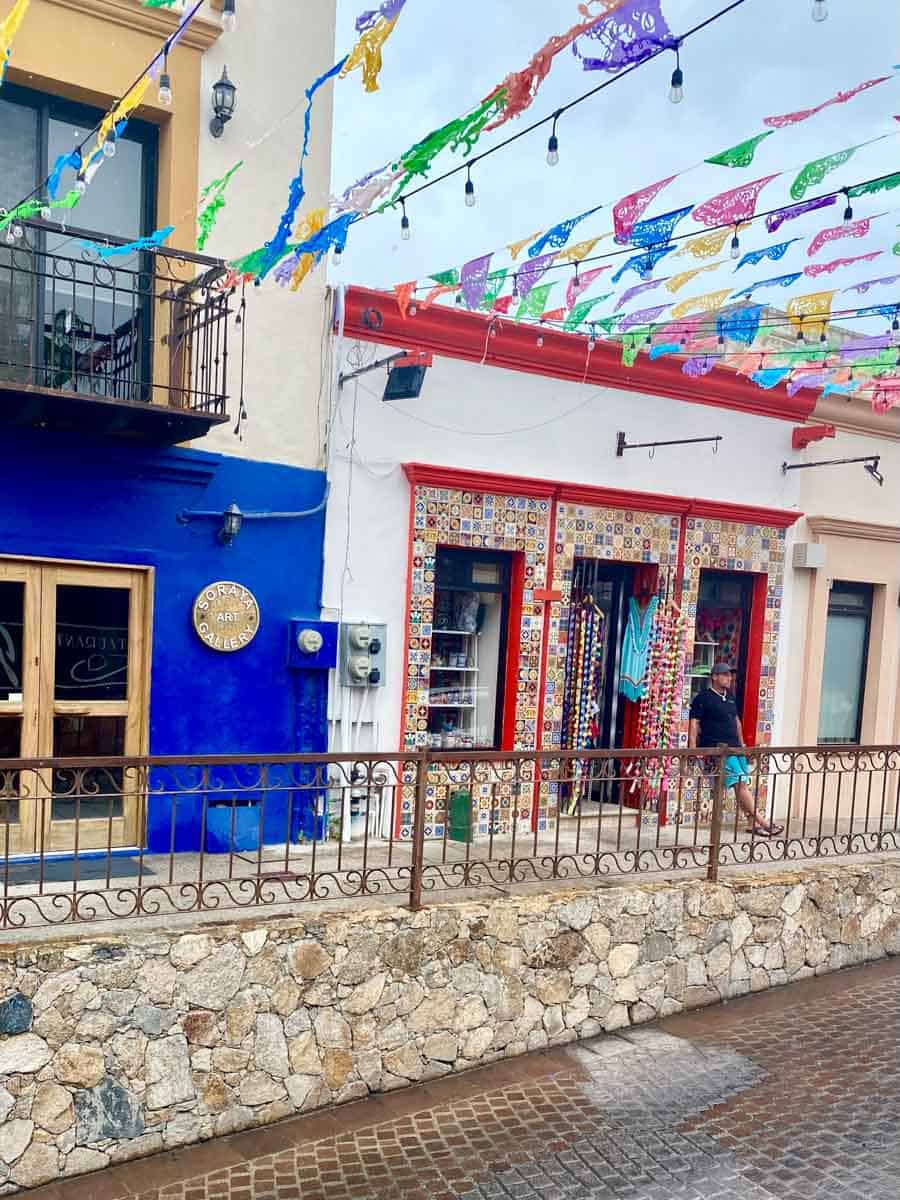 In addition, the area is known for its colorful murals, sculptures and paintings. Browsing through the galleries is a great way to spend an afternoon in Cabo. Check out some of these highlights:
Frank Arnold Gallery: showcases the work of Frank Arnold, an abstract and figurative painter and sculptor, and one of the most famous artists in San José del Cabo.
Old Town Gallery: showcases original artwork from local artists in Los Cabos, inspired by the natural beauty and essence of Baja.
Relax With a Spa Treatment
If you came to Los Cabos to unwind and relax, one of the best things to do in San Jose del Cabo is to indulge in a spa treatment.
Whether you're interested in an aromatherapy massage, a facial, sound healing or reflexology, it's easy to find a treatment that will help you de-stress and leave you feeling rejuvenated.
20 minutes down the road from San Jose del Cabo is the Currents Spa at The Cape, which is my personal favorite spa in Los Cabos.
The view of the Arch from The Cape is jaw-dropping, and there is nothing better than an oceanfront massage in one of the private cabanas. The rooftop at The Cape makes for a great post-treatment happy hour spot, too (just sayin').
Visit a Wildlife Sanctuary and Estuary
Wildlife lovers will adore visiting the San Jose del Cabo Estuary (Estero San Jose del Cabo). Located about a 7-minute drive from downtown San Jose, the Estuary is a quiet sanctuary on the coastline that is home to over 100 species of birds, fish, and marine animals.
During your visit, you can enjoy birdwatching, hiking, or kayaking among the protected waterways.
Participate in a Turtle Release
Speaking of wildlife, one of the most unique things to do in San Jose del Cabo is to participate in a turtle release.
As part of this wildlife conservation program, you can adopt a baby turtle and help release it into the ocean once it has hatched. You'll get to learn about the endangerment of sea turtles, and watch them as they start their new life in the ocean.
This four-hour program takes place in the evenings from July to September and includes round-trip transportation.
Fun & Unique San Jose del Cabo Activities and Tours
Take a Food Tour
One of the best ways to experience San Jose del Cabo's culture is through its fantastic restaurants and delicious food!
Taking a food tour is a great way to sample some of the area's best cuisine, without having to do all of the research and legwork yourself.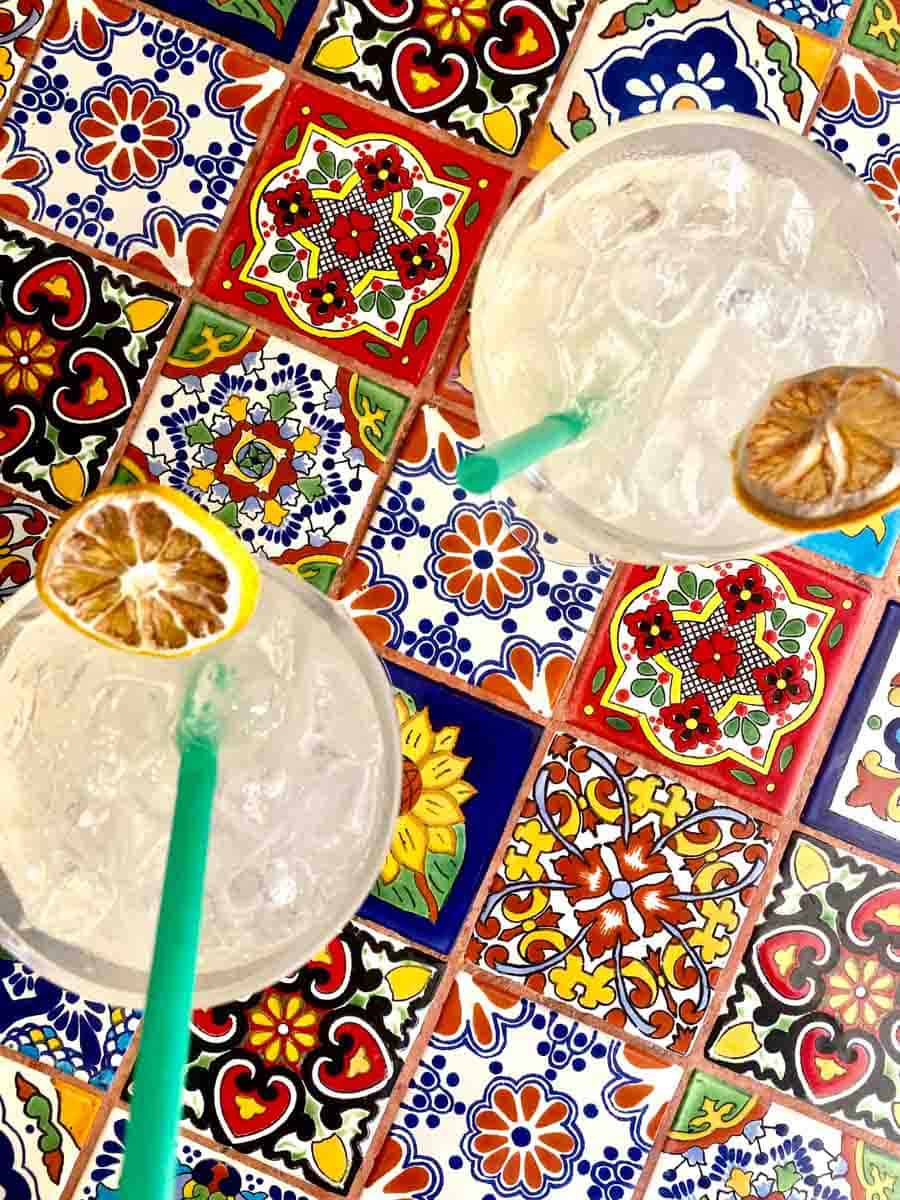 With a guide, you can experience hidden gems and local food that you might not be able to find on your own. A food tour is also a great way to meet new friends! Here's a tour that stops at several of the best spots in town for good grub:
Take a Cooking Class
If you love the food in San Jose del Cabo, why not learn to cook some yourself? It's the very best kind of souvenir you could bring back from your trip.
As part of a hands-on class, you can take advantage of being in Mexico and learn about cooking techniques such as cooking in cazuelas (Mexican clay pots) and how to make traditional dishes such as tacos, enchiladas, pozole, molé, and salsas.
Many cooking classes in San Jose also include a trip to the local markets, where you can learn about common ingredients in Mexican food, and how to pick out the best produce. At the end of class, you can enjoy a feast, and maybe some tequila tasting, too. Check out this class that includes all of the above!
San José del Cabo Cooking Experience: Limited to a small group size of 6, you'll visit a local market with a chef, and then master the art of creating Mexican dishes such as enchiladas, salsas and tacos. Feast on your creations and even enjoy a tequila tasting, too!
Try a Mezcal Tasting
Mezcal is a distilled alcoholic beverage that's made from agave. Unlike tequila which can only be made from blue agave, mezcal can be made from all 40 kinds of agave plants.
Authentic mezcal can only come from a designated region in Mexico, so while you're visiting Baja, sample the best of the region by doing a mezcal tasting! Here are a few recommended spots to try mezcal in San Jose del Cabo:
Mezcal Tasting Bar at Drift: sample from the extensive list of authentic mezcals at this boutique hotel. Or, enjoy a mezcal handcrafted cocktail. Whatever you decide to drink, it'll pair perfectly with something from their seafood-focused food menu.
La Lupita Taco and Mezcal: Try one (or maybe even more?) of the 30+ kinds of mezcal on their menu, and enjoy it alongside one of their classic or creative tacos.
Mezcal can have a higher alcohol content than tequila, so don't say I didn't warn ya!
Top Sights and Attractions in San Jose del Cabo
Iglesia San Jose
Iglesia San Jose is a Catholic church located in the historic city center of San Jose del Cabo. The church dates back to the late 1800s and is known for its beautiful architecture and ornate stained glass windows. The Iglesia San Jose is open to the public to visit, pray, and attend services.
Plaza Mijares
San Jose del Cabo's Historic Town Square and Plaza Mijares is one of the oldest squares in Mexico. The plaza is known for its vibrant nightlife, and is one of the most popular destinations for tourists in the area.
Admire the picturesque fountain and fountain gardens, explore the palm-shaded cobbled streets, or shop for local products and souvenirs at one of the traditional markets. Enjoy street performances by very talented mariachi musicians in the evening and discover local delicacies while exploring this vibrant part of town.
Outdoor and Adventure Activities
Go Deep Sea Fishing
Los Cabos is one of the world's premier destinations for deep sea fishing. So while you're visiting San Jose del Cabo, why not give it a try? The most common fish to catch in Cabo are marlin, but you're also likely to see dorado, swordfish, wahoo and yellowfin tuna, among others.
Pro tip: if you catch a fish, bring it to one of the local restaurants in Cabo, and they'll prepare and cook it for you!
Fishing charters are straightforward to arrange, and I've provided a recommended option below. Note that this fishing expeditions leaves from the marina in Cabo San Lucas, which is a 45 minute drive away.
Play a Round of Golf
Los Cabos is well-known for its golf courses, and many people visit the area just to play golf. Los Cabos is a great destination for golfers, offering world-class courses designed by some of the top names in the industry.
You can find a variety of championship courses that offer amazing views of the Sea of Cortez and stunning desert landscapes.
Check out Palmilla Golf Club or Puerto Los Cabos Golf Club for great courses with amazing views of the ocean!
Take an ATV Tour
Ready to do some off-roading? If so, an ATV tour in Cabo is an exciting way to experience the beauty of the region.
As part of a guided tour, you can ride an ATV through the desert and mountains, exploring hidden coves and beaches, and taking in stunning views of the Sea of Cortez.
Here's a recommended tour that includes hotel pickup from San José del Cabo:
Los Cabos ATV Tour: Get your thrills on a two-person ATV adventure from Los Cabos. After a convenient hotel pickup, travel to the Migriño Cabo region, where you'll get outfitted with a helmet, goggles and bandanna, and set off on an off-roading adventure with your bilingual guide and small group.
Horseback Riding
If you've ever wanted to try horseback riding, an adventure in San Jose del Cabo provides the perfect opportunity.
Horseback riding on local trails is one of the best ways to discover the area's beautiful landscapes and cultural sites.
Explore both desert and coastal landscapes, canyons and hills as friendly trail guides take you and your horse on an exploration of the area!
To ensure that your horses are well taken care of, book through a reputable tour operator:
Corridor Horseback Riding on the Beach: explore the coastline surrounding San José del Cabo on horseback as a guide takes you through a 90 minute riding experience that includes hotel pickup and drop-off.
Go Scuba Diving
If you want to experience the beauty of San Jose del Cabo below the surface of the water, try a day of scuba diving!
Los Cabos is known for its crystal clear waters, vibrant marine life, and beautiful coral reefs. You can expect to see a variety of colorful fish, sea turtles, stingrays, and more.
The visibility is usually very good, allowing you to explore the depths of the ocean and all its wonders. Make sure to book with a guided tour so that you don't miss out on all of Cabo's underwater treasures!
Discover Scuba for First-Time Divers: a half-day Scuba diving adventure that is perfect for beginners! You'll get specialized instruction from professional divers, and then take two open-water dives.
Try Surfing or Stand Up Paddleboarding
San Jose del Cabo is a perfect location to do water sports like surfing and stand up paddleboarding. There's no better way to experience Cabo than by being out on the sparkling blue water of the Pacific ocean.
Beginners can take lessons in places where ocean conditions are more gentle, while advanced surfers and stand up paddleboarders can find plenty of places to rent equipment.
If you're a beginner, take caution about where you choose to enjoy water sports. Many of the beaches in Cabo are dangerous due to a strong rip tide, and not safe for swimming. I recommend checking out one of these excursions which are located close to San José del Cabo, and will ensure you're enjoying the water in a safe area:
Surf Lesson at Cabo Azul: a 3-hour workshop with professional surfers at either Costa Azul (spring and summer) or Cerritos (fall and winter).
Stand Up Paddleboarding at the Arch: this guided tour will teach you how to stand up paddle board and provide you with all of the necessary equipment. You'll even get to see the Cabo Arch up close!
Take a Snorkeling Day Trip
Snorkeling in Los Cabos is an amazing experience! The waters off the coast of Los Cabos are crystal clear and full of life.
You can explore vibrant coral reefs, swim with colorful fish, and even spot sea turtles, dolphins, and rays.
Los Cabos is also a great spot for night snorkeling, and you may even be lucky enough to spot a few luminescent plankton.
One of the best places to go snorkeling near San Jose del Cabo is Cabo Pulmo, a tiny village and marine-protected area on the East Cape.
Located about 40 minutes from San Jose, Cabo Pulmo is home to the largest Pacific coral reef in the Sea of Cortez. The road to Cabo Pulmo is a bit rough, so I recommend booking with a guided tour to make transportation to and from the area much easier.
Here's a great option with a snorkel tour group that is based in San José del Cabo:
Go Whale Watching
If you're visiting San José del Cabo in mid-December through April, you might be lucky enough to see humpback and gray whales breaching in the sea off the coast. One of the best way to experience this sight is by getting a closer view from a whale watching boat. Going whale watching in Cabo is an unforgettable experience!
The boat tour guides are knowledgeable and experienced, and they'll provide you with an incredible experience with plenty of opportunities to observe and learn about the whales.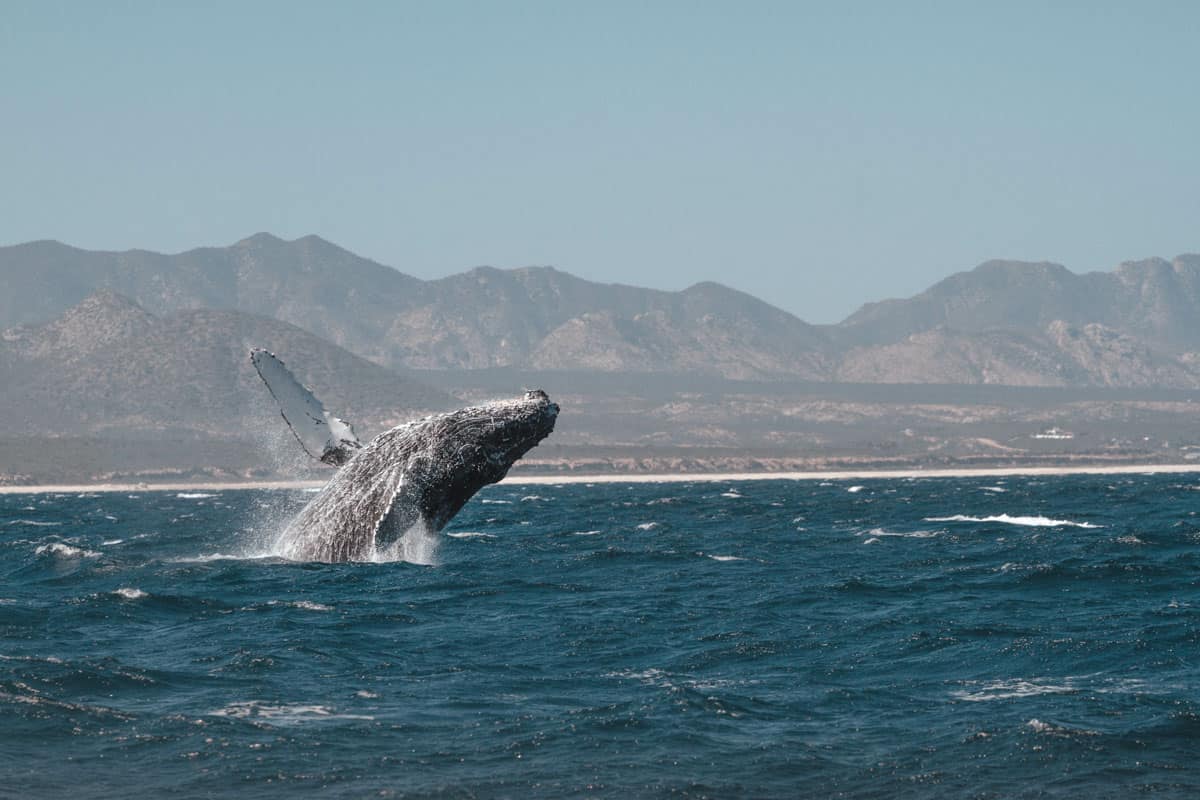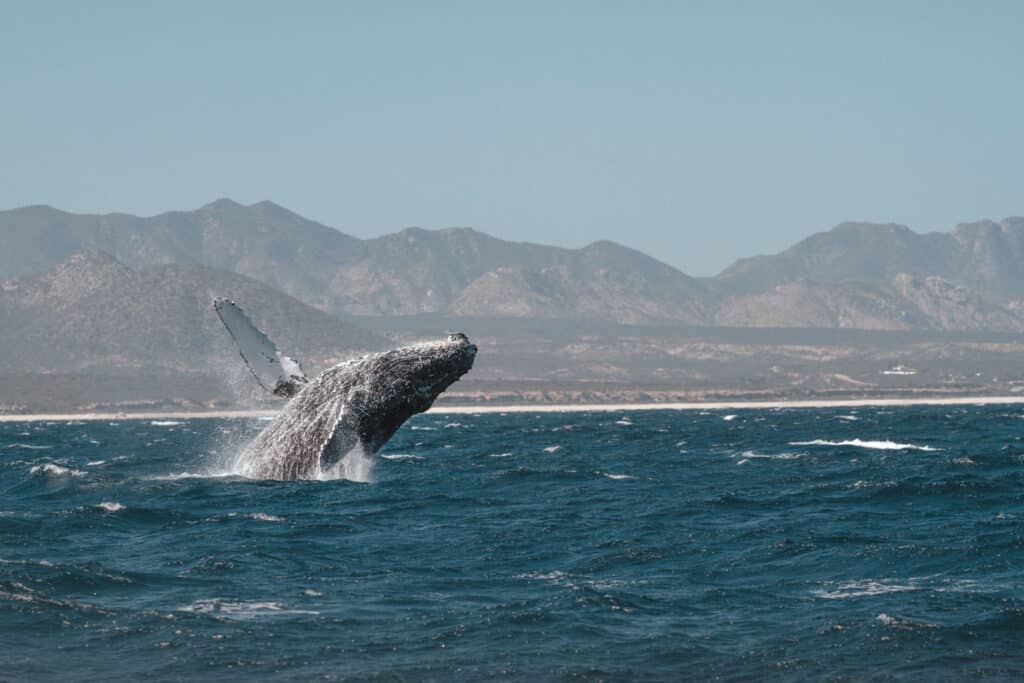 From the boat, you'll be able to take stunning photos and videos of the whales and their playful behavior. You might even spot a few dolphins or sea turtles along the way.
I like this tour option because it leaves from San José del Cabo (not Cabo San Lucas, a 45-minute drive away).
Go Ziplining
If you're in the mood for adventure, but would rather stay on dry land, check out ziplining! If you've always wanted to try ziplining, San Jose del Cabo is the perfect place to do it.
Soaring over the beautiful scenery with a warm breeze in the air is the kind of vacation memory that you'll keep forever.
Costa Azul Ziplines is the best place to go zip lining in San José del Cabo. Here's a tour that provides you with transportation, as well as entrance to the park. And if you're feeling thirsty, you can even do a tequila tasting at the end of your ziplining adventure!
Free Things to do in San Jose del Cabo
Stroll Through the San Jose Art Walk
San Jose del Cabo is known as an artist community, and there's no better way to experience this piece of local culture than by going to the weekly art walk.
Every Thursday between November and June, downtown San Jose del Cabo hosts the San Jose Art Walk. From 5pm – 9pm, art galleries in the area hold open houses, where visitors are invited to enjoy food and wine while taking in the gallery exhibits.
The Art Walk is a free event, so if you're traveling to San Jose during the peak season, I highly recommend checking it out! In addition to the art on display, there are also street vendors and live music throughout the gallery district and in Plaza Mijares.
Volunteer for a Day
There's no better way to show gratitude for the places you travel than by giving back to the local community.
Volunteering is the perfect opportunity to do something unique during your time in Cabo, and also meet other like-minded individuals. Here are a few volunteer opportunities that are perfect for visitors to Cabo because they don't require a long-term commitment.
The Los Cabos Humane Society always needs volunteers to walk the dogs that call the shelter home. Volunteers can show up Monday – Saturday 8:00am – 10:00am or 5:00pm – 6:00pm, and ring the doorbell. The dogs get excited when they hear the bell ring, since it means they'll get to spend time outdoors!
Other organizations such as Give a Day Global will let you search for one-day volunteer opportunities in destinations around the world, so if dog walking isn't for you, check out what else might be available.
Celebrate at one of San Jose del Cabo's Many Festivals
Los Cabos is well-known for its many festivals, many of which include world-famous deep sea fishing competitions, but also celebrate the food, wine and culture that is local to Cabo.
If you are visiting San Jose del Cabo during one of these special events, I highly recommend going! These are a few of the most popular festivals in the Los Cabos area:
Todos Santos Art Festival (January)
San Jose Jazz Weekend Festival (January)
Gastrovino Baja Food & Wine Festival (May)
Los Cabos Open of Surf (June)
Fiesta de la Música (June)
East Cape Dorado Shoot-Out (July)
Bisbee's East Cape Offshore Tournament (August)
Sammy Hagar's Cabo Wabo Birthday Bash (October)
Day of the Dead Festival (November)
Los Cabos International Film Festival (November)
Sabor a Cabo – Los Cabos Culinary Festival (December)
Many of these festivals are free to attend, but others require tickets. Make sure to check ahead of time before planning your trip.
Relax at one of San Jose del Cabo's Beautiful Beaches
One of the best things to do in Cabo is spend time relaxing at one of the area's many gorgeous beaches. Bring some chairs and a towel, as well as a picnic, and plan on spending the day soaking up the sunshine.
It's important to know that most beaches in Cabo aren't safe for swimming due to their strong riptide currents.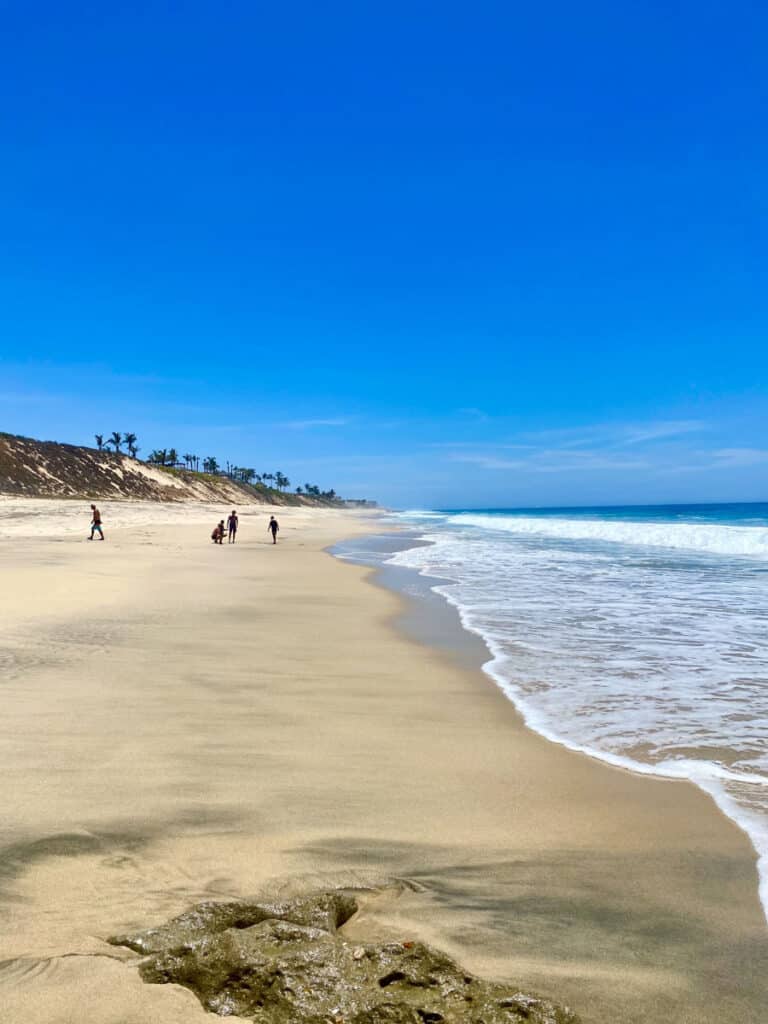 However, there are a few that are safe for swimming. Check out Playa Palmilla Beach, a picture-perfect beach located about 10 minutes outside of San Jose del Cabo. With pristine, white sand and crystal blue waters, the beach offers plenty of activities from kayaking to swimming, snorkeling and more.
Food & Drinks
Eat at an Authentic Mexican Restaurant
If you love Mexican food, then you will love eating your way through San José del Cabo's restaurants, where you can sample traditional Mexican dishes made with fresh ingredients.
Just thinking about guacamole, tacos al pastor, carne asada, enchiladas, burritos, tamales, makes my mouth water!
And of course, don't forget to wash it all down with a margarita (or a tequila shot if you're feeling it). Check out one of these favorite spots for casual dining with traditional Mexican fare.
Mi Cocina: If you're looking for traditional Mexican dishes with an upscale, modern European twist, you'll love Mi Cocina, located inside the adorable boutique hotel Casa Natalia. Be sure to make a reservation in advance.
Zippers: a casual, and family-friendly beachfront bar and restaurant that is a favorite for visitors to San José del Cabo!
Mi Casa: an extensive menu of traditional, delicious Mexican dishes, and located in the heart of San Jose del Cabo's Gallery District. You can't go wrong with a margarita here! There is a second Mi Casa location in Cabo San Lucas, so if you book in advance, make sure to confirm the correct restaurant location.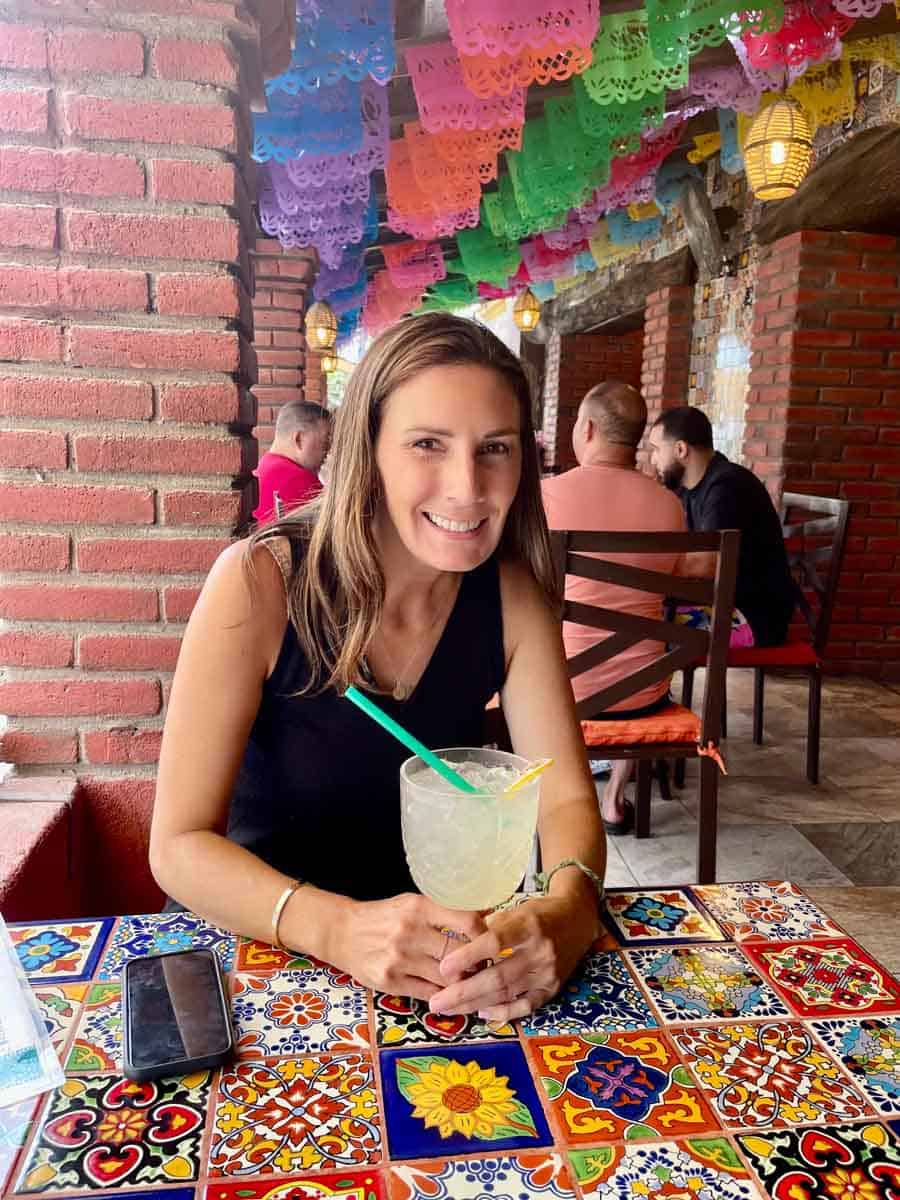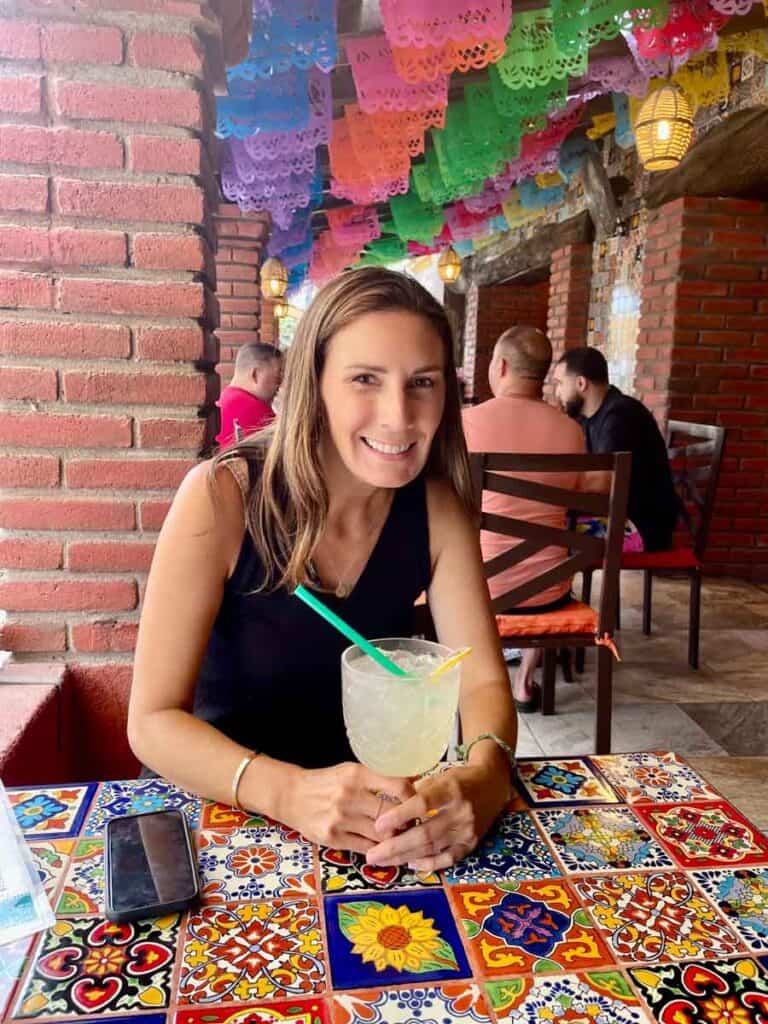 Explore Cocktail Bars in San Jose del Cabo
Most people think of San Jose del Cabo as a quiet town, but there's still plenty of things to do at night in San Jose del Cabo.
If you're in the mood to dance the night away, check out Mixology Fusion Bar in downtown San Jose del Cabo.
This speakeasy-style bar serves up unique craft cocktails, and is best known for its DJs and dance floor. If you're in the mood to dance the night away while sipping on some creative drinks, you'll love Mixology.
Day Trips from San Jose del Cabo
Todos Santos
Located just over an hour north on the Pacific Coast, Todos Santos is one of the best day trips from San Jose del Cabo. If you love the artistic charm of San Jose del Cabo, you'll find that there's even more to love in sleepy Todos Santos.
Known for its surfing and historic cobblestone streets, Todos Santos is a vibrant paradise filled with culture, art, and stunning beaches. From beachfront palapas dotted along miles of golden shore to festive festivals year-round, there's something for everyone in this picturesque destination.
In fact, Todos Santos is so charming, that in 2006, the Mexican government designated it a "Pueblo Mágico", one of about 100 small towns in Mexico with unparalleled natural beauty and historical significance.
While it's possible to drive yourself to Todos Santos, there are unmarked dirt roads along the way, which can make transportation a bit confusing.
That's why I recommend taking a guided tour – and also so that you can kick back and enjoy a margarita or two while you're there!
This tour leaves from San José del Cabo (not Cabo San Lucas which is 45 minutes away), and lasts for a little over a half-day.
Half-Day Tour of Todos Santos: Explore this magic town with a guided tour that includes transportation, as well as stops at the highlights of the area, and even lunch.
Cabo San Lucas
"Los Cabos" refers to the two towns in the area: San Jose del Cabo and Cabo San Lucas. If you're staying in San Jose del Cabo, there's plenty to keep you busy, but if you feel like taking a day trip to experience San Jose's livelier sister city, take the scenic drive to Cabo San Lucas.
The drive to Cabo San Lucas is about 45 minutes, so I recommend going at a time when you can spend most of the day there. Cabo San Lucas also really comes alive at night, so if you go, I recommend staying later to experience the nightlife that Cabo is so well-known for.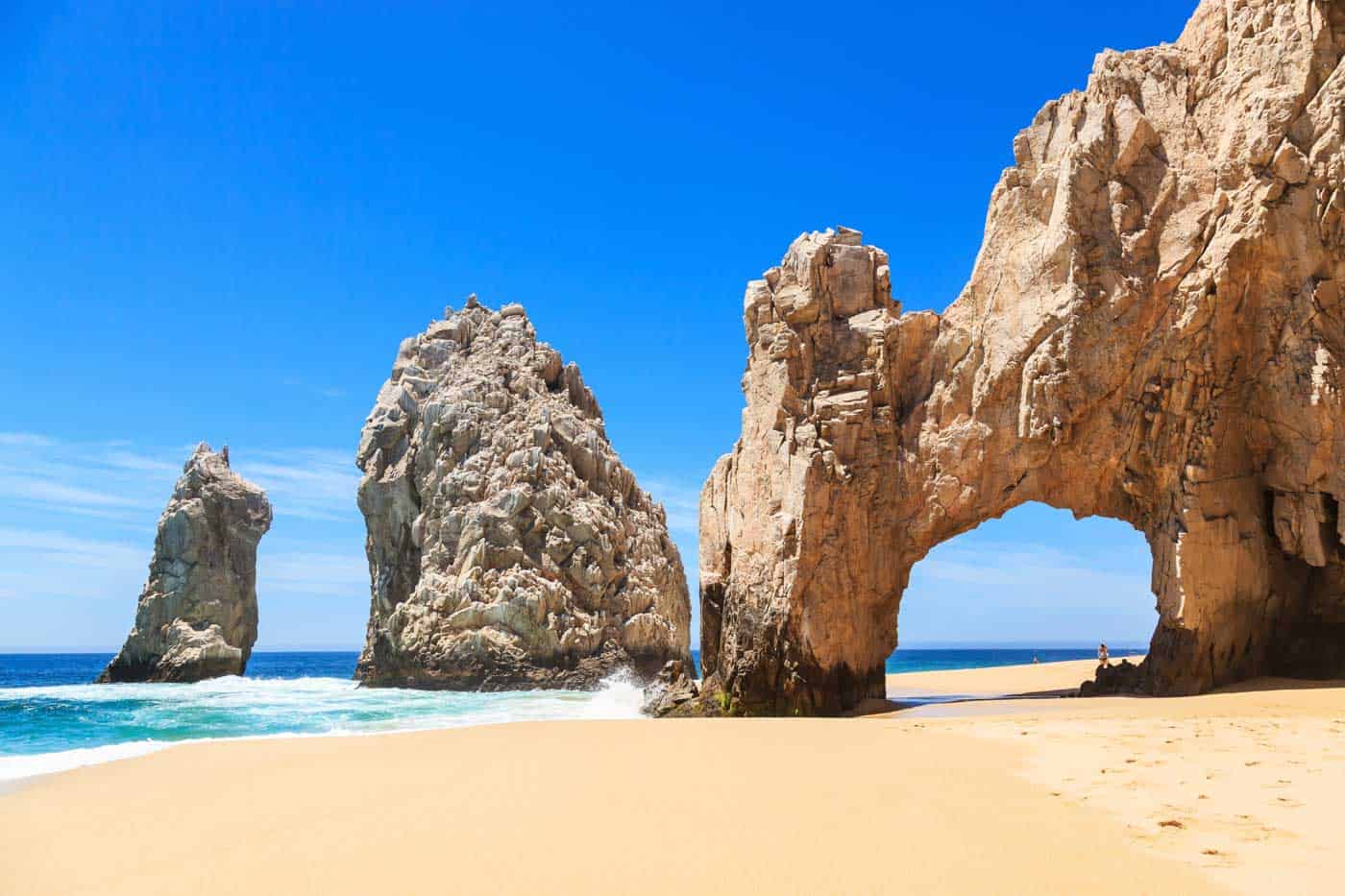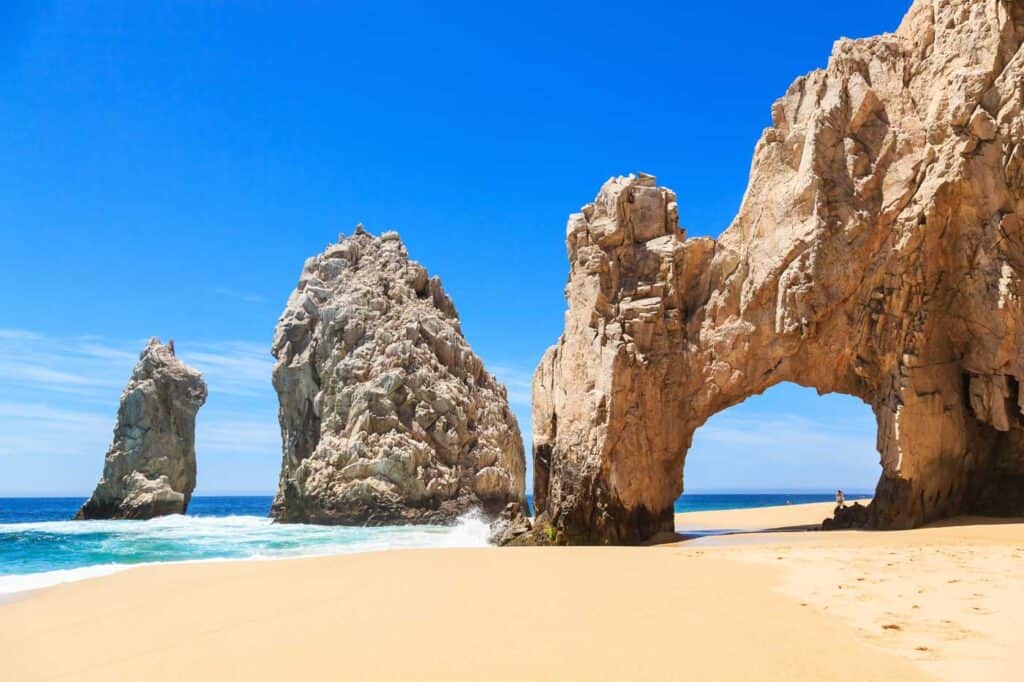 In Cabo San Lucas, you can take a stroll down Medano Beach, the main tourist beach in Cabo. Grab lunch or drinks at The Office, one of Cabo's best-known beach restaurants and a prime spot for margaritas. The view of the Arch is gorgeous!
Afterwards, walk through the Marina to gaze at the fishing charter boats (and maybe even a billionaire's yacht) that are docked, before wandering through the shops and markets.
For dinner, I recommend Edith's for its excellent traditional Mexican food and garden setting, or El Farallon for a romantic oceanside meal (don't miss their Champagne bar!).
If you feel like enjoying Cabo's nightlife after dinner, check out Sammy Hagar's Cabo Wabo Cantina for upbeat live music or a DJ, depending on the night.
Now that you know exactly what to do in San Jose del Cabo, it's time to go and enjoy your vacation!
Heading elsewhere in Mexico? These Mexico City travel tips will help you make the most of your trip.