The Ultimate Mexico Resort Packing List of Vacation Essentials
This site uses affiliate links and I may earn a small commission when you use my links and make a purchase, at no extra cost to you. 

Packing for a trip to Mexico can be overwhelming. There are so many things to remember, and you're probably running last-minute errands, too. Today I'm sharing the ultimate Mexico packing list to help make packing for your vacation a breeze. This Mexico resort packing list is perfect for beach trips or all-inclusive resorts in Mexico, and can be adapted to sightseeing trips in other parts of Mexico, too.
Read on for all the details and list of essential things to bring to Mexico. Whether you're traveling on an all-inclusive trip, taking your first trip to Mexico, or you just need some packing advice, here's exactly what to put in your suitcase!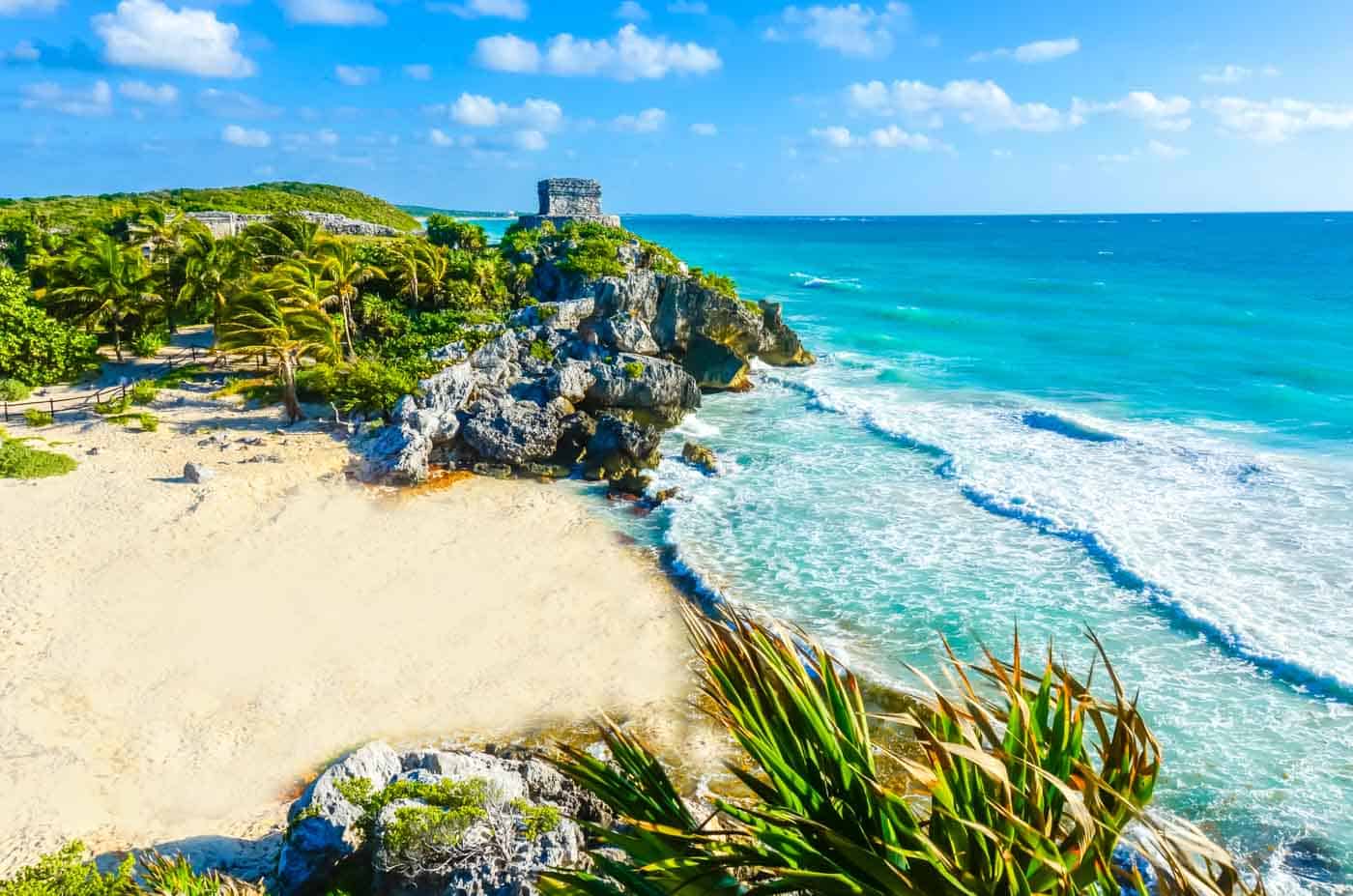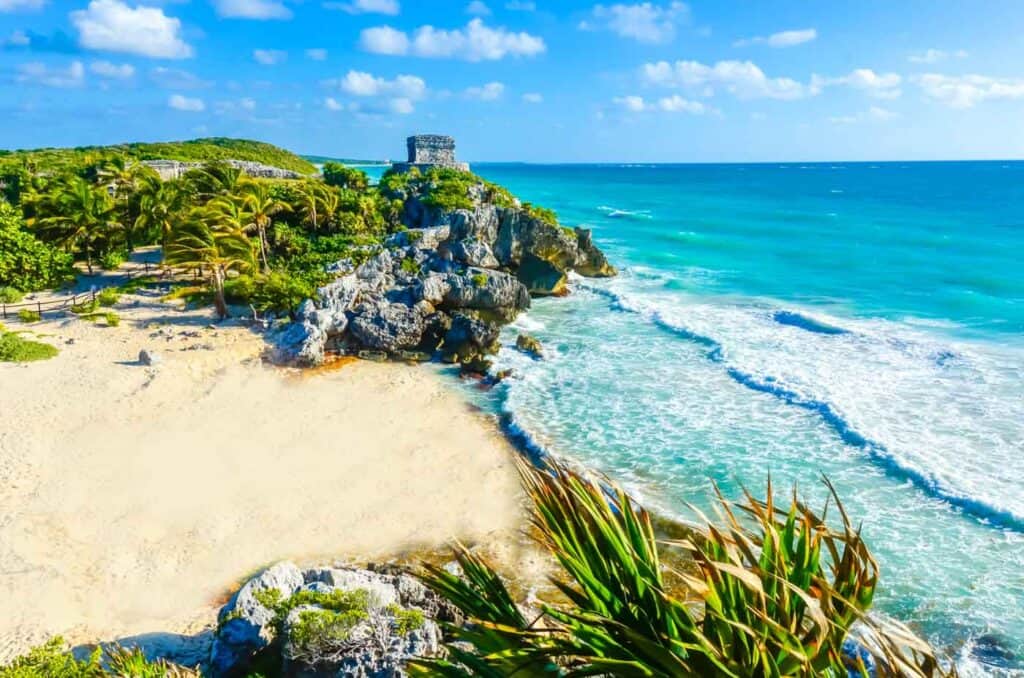 Travel Essentials for a Mexico Resort Vacation
These are the essential items and most important things you should plan on packing for your Mexico vacation. Whether you're taking a family vacation to Mexico, visiting as part of a guys or girls weekend, or just traveling solo, this Mexico packing list has everything you need to bring!
Credit Cards
Let's start with the basic travel essentials for Mexico. Make sure to pack a credit card as well as a debit card for your trip to Mexico. You won't get very far without them!
If possible, bring two credit cards so that you have a backup if something goes wrong with your primary card.
The Best Credit Card for Travel to Mexico
If you're traveling to Mexico (or anywhere outside the U.S.), make sure to bring a credit card that doesn't charge foreign transaction fees.
Foreign transaction fees are additional fees that some credit card companies will charge you for purchases made in another currency, such as Mexican pesos.
If you don't have a credit card that doesn't charge foreign transaction fees, it's a good idea to get one before traveling to Mexico. I love my Bonvoy Amex Card for exactly this reason! It's also great for frequent travelers, because of its reward structure.
Cash and Debit Card
It's always a good idea to travel with a little bit of cash so that you don't get stranded in case something goes awry. When traveling to Mexico, a good rule of thumb is to bring $100 worth of cash (in U.S. dollars) for each person in your group.
You should also pack your debit card because you are likely to need some cash during your trip. This goes for all-inclusive resorts, too. Even though your food and drink are included in your stay, it's still customary to tip porters and bartenders. You may also need cash for public transportation.
Cash in Mexico: U.S. Dollars and Mexican Pesos
Many popular tourist destinations in Mexico accept both U.S. dollars and Mexican pesos. That said, you are likely to need some cash in pesos during your trip.
The best way to get pesos is to withdraw cash from an ATM in Mexico. You'll get the most favorable exchange rate. Try to avoid currency exchanges at the airport, since they often charge unnecessary fees and have unfavorable rates.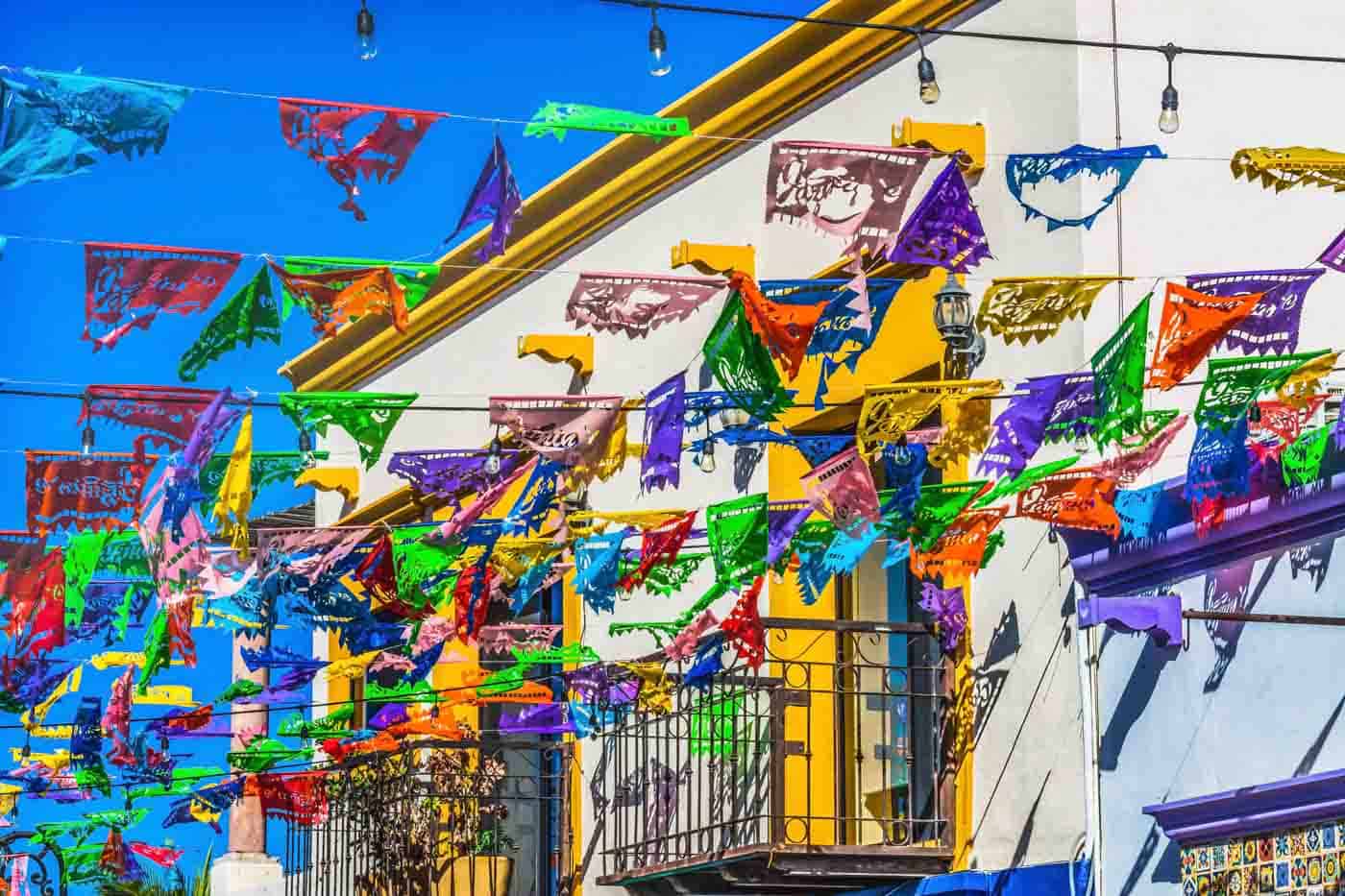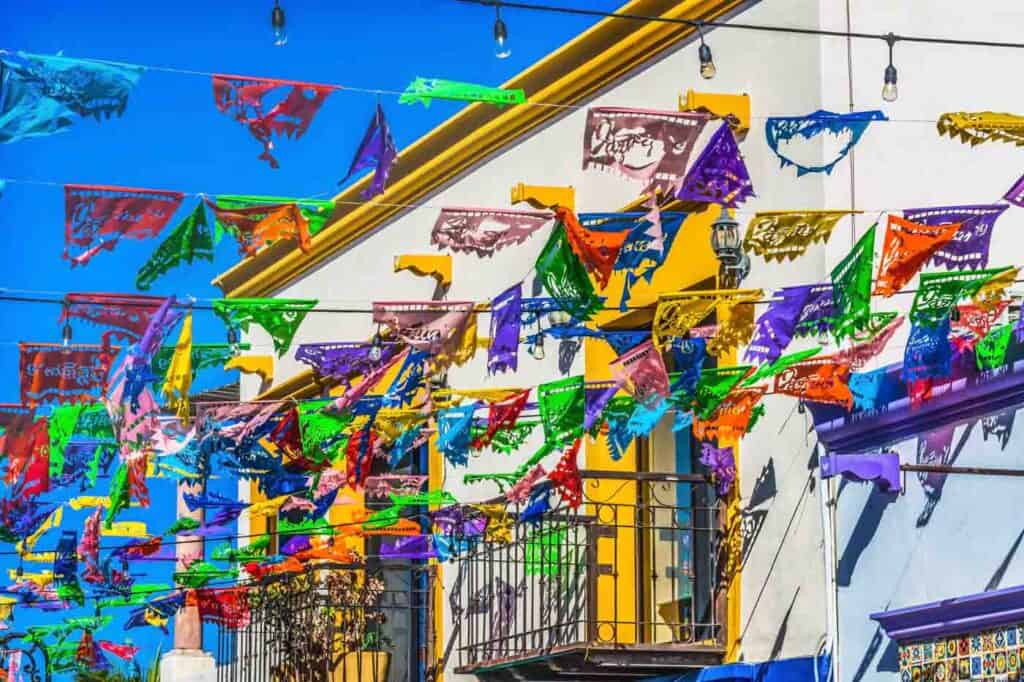 Passport
If you're traveling to Mexico from the U.S., you need to bring your passport. This is one of the most important (if not THE most important) things to bring to Mexico. So don't forget to pack this!
Entry Requirements for Tourists
Speaking of passports, make sure to check any other entry requirements into Mexico, depending on the length of your trip. U.S. citizens visiting Mexico do not require a visa unless their trip is longer than 180 days.
Upon entry into Mexico, you will fill out an Official Entry Immigration Form.
Driver's License
If you will be renting a car in Mexico, you will need your driver's license. Be sure to pack this in addition to your Passport!
Travel documents / important documents
Don't forget to pack any travel documents or other important documents such as itineraries, activity vouchers, hotel and transportation confirmations, and vaccine cards.
Flip flops
Pack flip flops or casual sandals to wear to the pool or beach.
Comfortable Shoes
In addition to sandals or flip flops, pack some comfortable shoes for Mexico. If you don't have much room in your suitcase, wear them on the plane.
You can wear these during day trips, hikes, or exploring in the city or town.
Water Bottle and Bottled Water in Mexico
Normally I advise travelers to bring a water bottle as one of their carry on essentials. The one exception to this is Mexico.
While the water at most resorts in Mexico is safe to drink, it is good practice to drink only bottled water while you're in Mexico. The last thing you want is to get sick during your vacation!
Beach Bag
Every ultimate packing list for Mexico should include a beach bag. You can use the bag to carry your beach or pool essentials to and from your hotel room and throughout the resort.
Without a beach bag, carrying an armful of towels, sunscreen, books, and sun hats can quickly get unwieldy.
I like to pack a collapsible beach bag in my suitcase. Then I can bring a backpack on the plane as my personal item, which gives me more options for travel bags during my trip.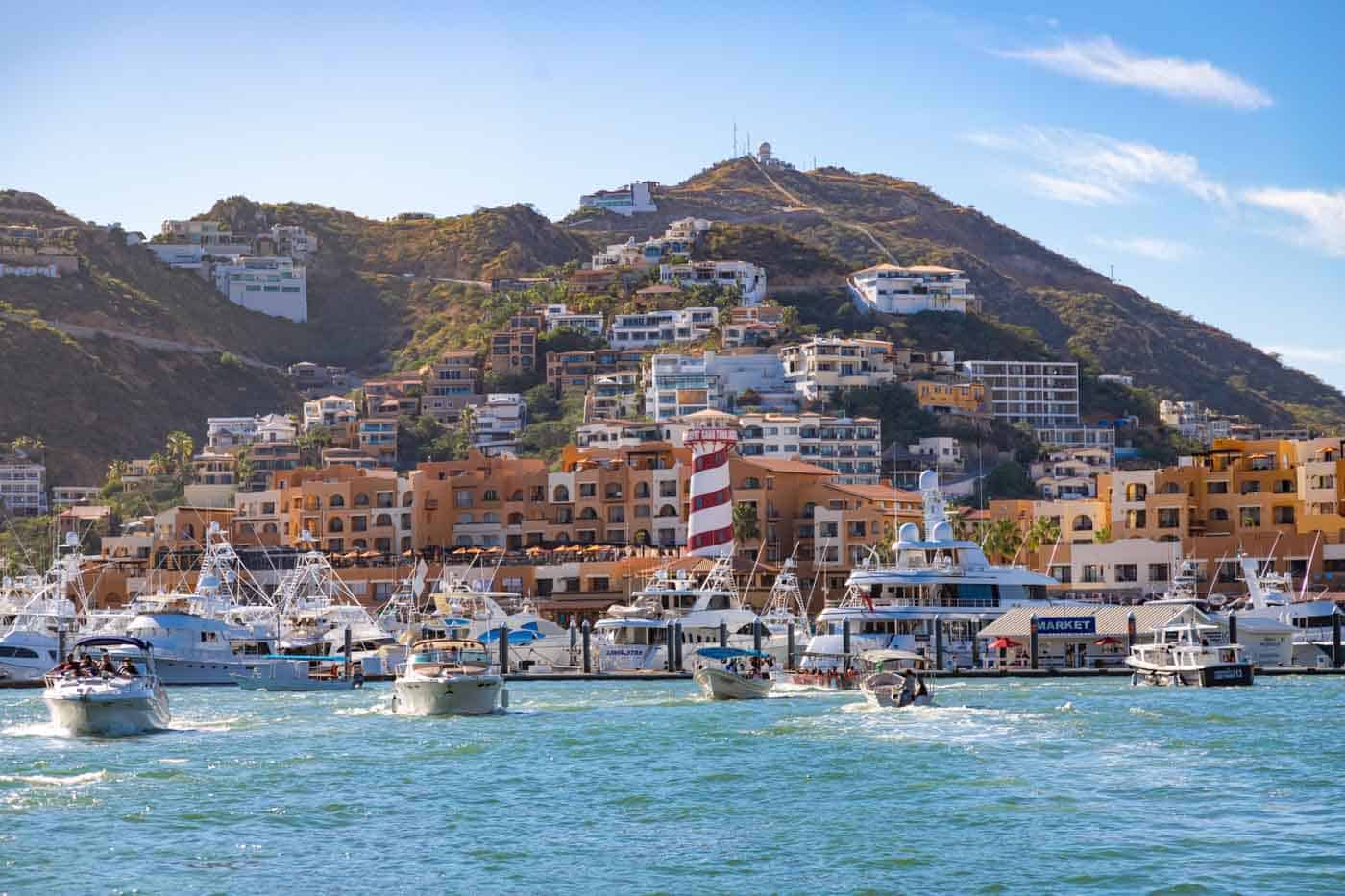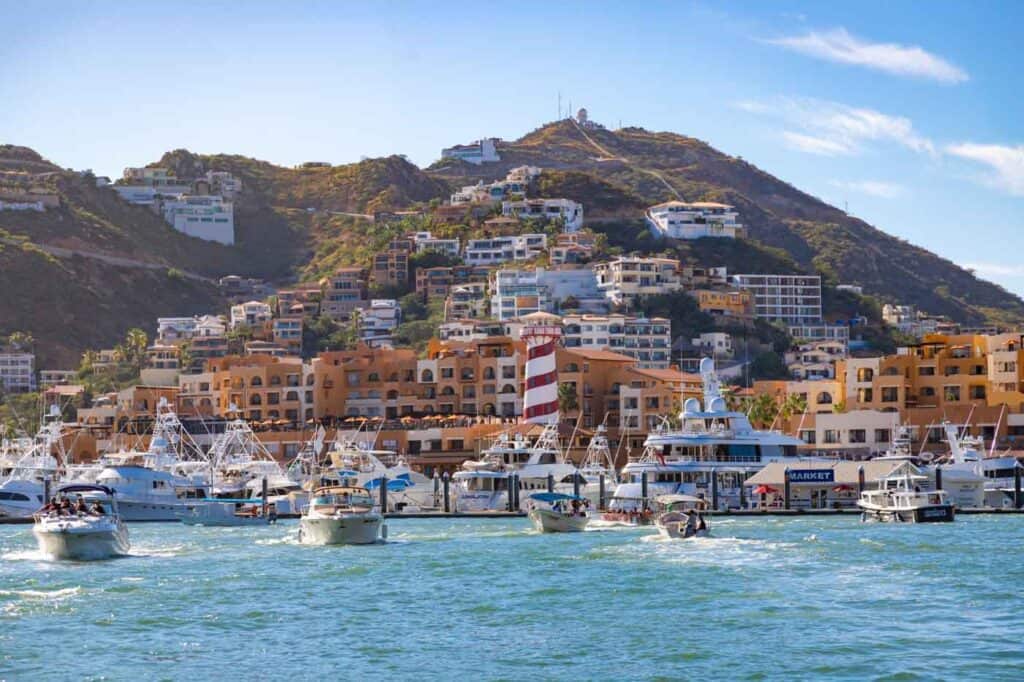 Reef-Safe Sunscreen
One of the best things you can bring to Mexico is reef-safe sunscreen. Reef-safe sunscreens are free of the chemicals in some sunscreens that can damage fragile marine environments, including marine life and coral reefs.
Help preserve the marine ecosystem for the next time you visit by wearing only reef-safe sunscreen while you're in Mexico.
Travel Backpack or Day Pack
Bring a travel backpack or day pack as your personal item on board your flight to Mexico. A travel backpack will give you easy access to your essential items while traveling, and it's perfect to bring on a day trip or activity.
Anti-Theft Travel Bag
Personally, I have never felt unsafe while traveling in Mexico, even as a solo female. That said, petty crime can happen anywhere.
Consider bringing an anti-theft travel bag as your personal item, especially if you plan on using public transportation in Mexico. It's one additional thing that will keep your belongings safe.
Bathing Suit
If you're visiting one of Mexico's beautiful beaches and planning to enjoy Mexico's warm weather, make sure to pack a bathing suit (or two, or three).
I like to bring more than one bathing suit on beach vacations so that there is always one available if the other one is still wet.
Beach Cover-Up
If there's one thing you will wear at a Mexican resort, it's a swim or beach cover-up! Wear it to and from the beach or pool.
Many beach cover ups can also double as a top or dress, giving you more options to save space when you're packing for Mexico.
Sun Hat or Baseball Cap
The rays from the Mexican sun are strong, so a great way to stay protected from sun exposure is to pack a sun hat or baseball cap.
Travel insurance
Technically you can't pack it, but I highly recommend purchasing travel insurance before your Mexico vacation. Having travel insurance will help you avoid unexpected expenses or extra costs in the event your trip is interrupted, canceled, or impacted by illness.
This is particularly important when traveling outside of the country, as many U.S. health insurance policies don't cover medical expenses if they occur abroad.
SafetyWing Travel Insurance for Mexico
For travel insurance, I always recommend SafetyWing to my readers. Their policies are reasonably priced, and also include coverage for impacts to your trip from COVID-19. Not all policies do that!
Travel Guide Book
Keep in mind that depending on your cell phone carrier and your international phone plan, you may not have cell phone service while in Mexico.
For that reason, it's a good idea to bring a travel guidebook with you. This will be a good source to keep on hand in case you need to refer to details about a location, attraction, or restaurant.
Here are a few great guidebook options for Mexico, including Los Cabos, Cancun, Mexico City and San Miguel de Allende.
Dry Bag or Wet Bag
If you're planning to do water activities in Mexico, it's a good idea to bring a dry bag with you. These are also known as wet bags. They are waterproof and also float, so they will keep your most important essentials safe and dry while you're jet-skiing, paddleboarding, or snorkeling.
If you will be on a boat at any point during your trip to Mexico, a dry bag is absolutely essential! I like these dry bags because they come in multiple different sizes.
Another good option is to pack a waterproof phone case. These lanyards will keep your phone safe and your hands free while you're on the water or the beach.
Water Shoes
Water shoes are a good idea to pack if you're doing water sports or other water activities while you're in Mexico. These will keep you from slipping and protect your feet from sharp coral.
Rash Guard
You should also pack a rash guard if you're planning to do outdoor activities or water sports in Mexico. Not only will they keep your skin from chafing, but rash guards also provide additional sun protection.
Lip Balm
One of the best things to bring with you on the plane is lip balm, to prevent your lips from getting chapped, especially if you are traveling on a long flight. Choose one with SPF for added sun protection while you're in Mexico.
Light Jacket
Wear a light jacket on your flight to Mexico. It's a good idea to have a jacket with you, especially if you're visiting Mexico during the rainy season.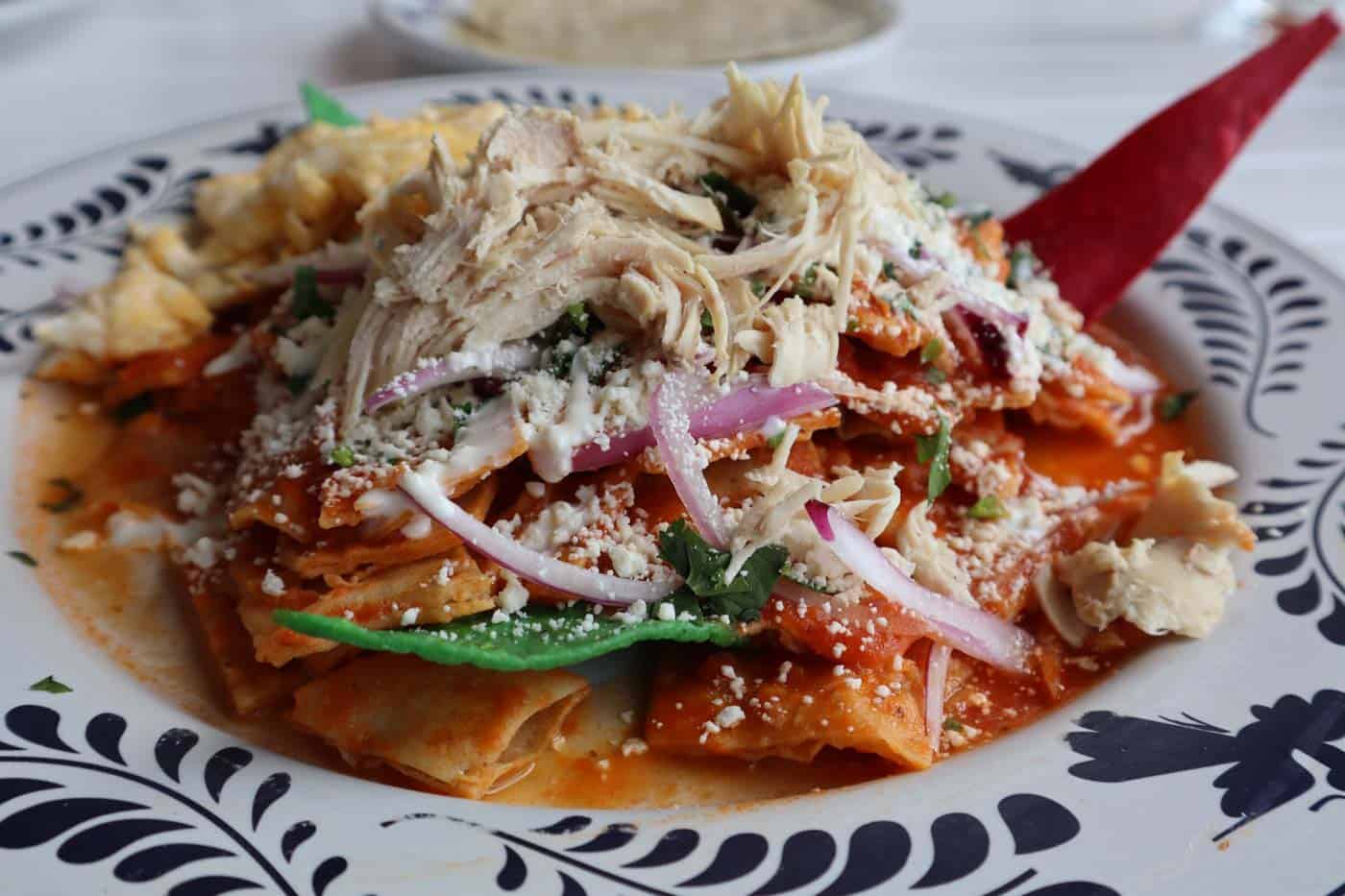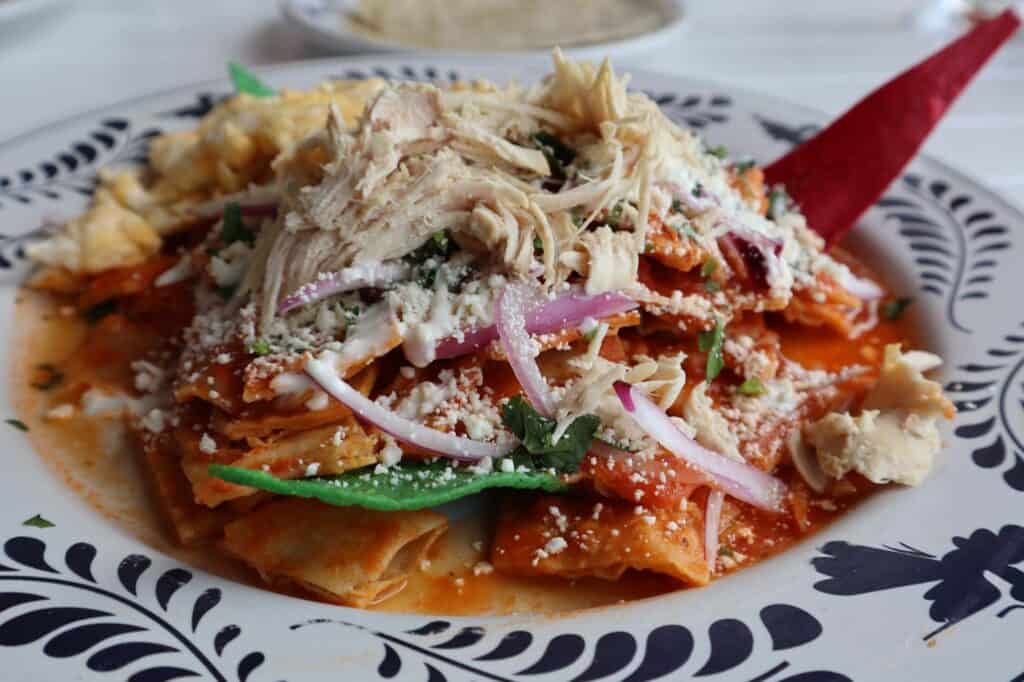 Hand Sanitizer
These days, more than ever, pack hand sanitizer. I buy travel size hand sanitizers in large packs. These are small items that I can toss one in all of my bags and suitcases, and they will always be ready to go.
Packing Cubes
Packing cubes are especially important if you don't have much room in your suitcase. They will help save you space in your suitcase, and also keep you organized. Think of them as a dresser for your suitcase!
Bug Spray or Insect Repellent
Mosquitoes are aplenty in Mexico. Pack some bug spray or insect repellent so that you don't get eaten alive.
Earplugs
You never know when you might get stuck with a hotel room next to an elevator, or have noisy neighbors (this is a great idea especially during spring break).
Pack some earplugs to make sure you get a good night's sleep and can enjoy your trip!
Towel Clips
Beach towels are notorious for sliding down from the top of your beach or lounge chair, or getting blown off in the wind. It's annoying to constantly have to get up and adjust it (#vacationproblems).
Towel clips are one of those oh-so-simple inventions that you didn't know you needed. They hold your towel to the top of your beach or lounge chair and keep it exactly where it's supposed to stay. Genius.
It can get pretty windy on the beaches in Mexico, so these are the perfect addition to your packing list!
Portable Charger
Pack a portable charger so that your devices stay charged while you're on the go. I like this one because the charging cable is built-in, so it's one less thing to pack.
Cell phone
Of course, don't forget your cell phone! I use mine to take photos when I travel, and also to stay in touch with people at home.
One of my best travel tips when it comes to going abroad is to check the details of your cell phone plan before you leave the country.
Some plans charge additional fees to use your mobile phone abroad, so it's a good idea to understand this ahead of your trip.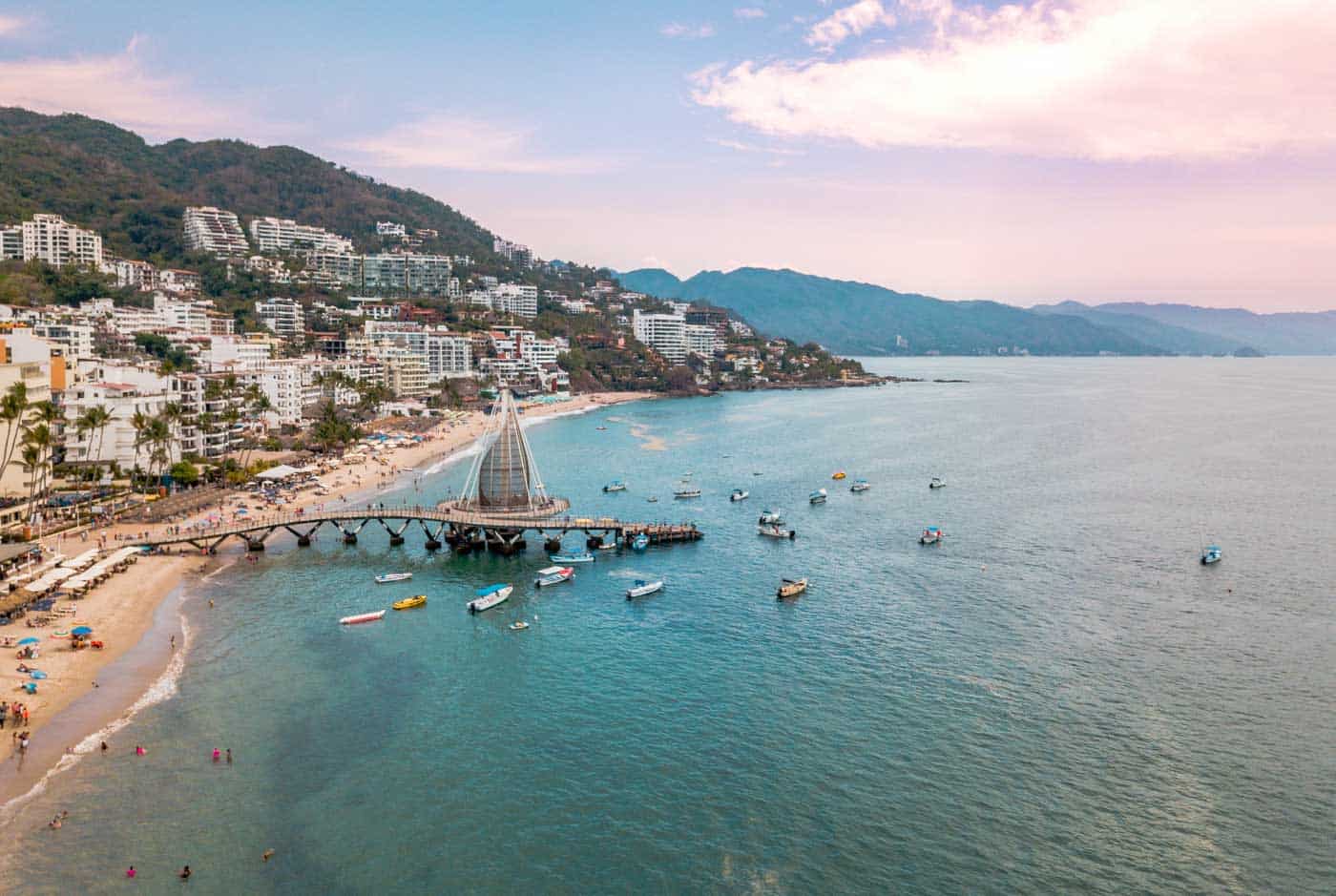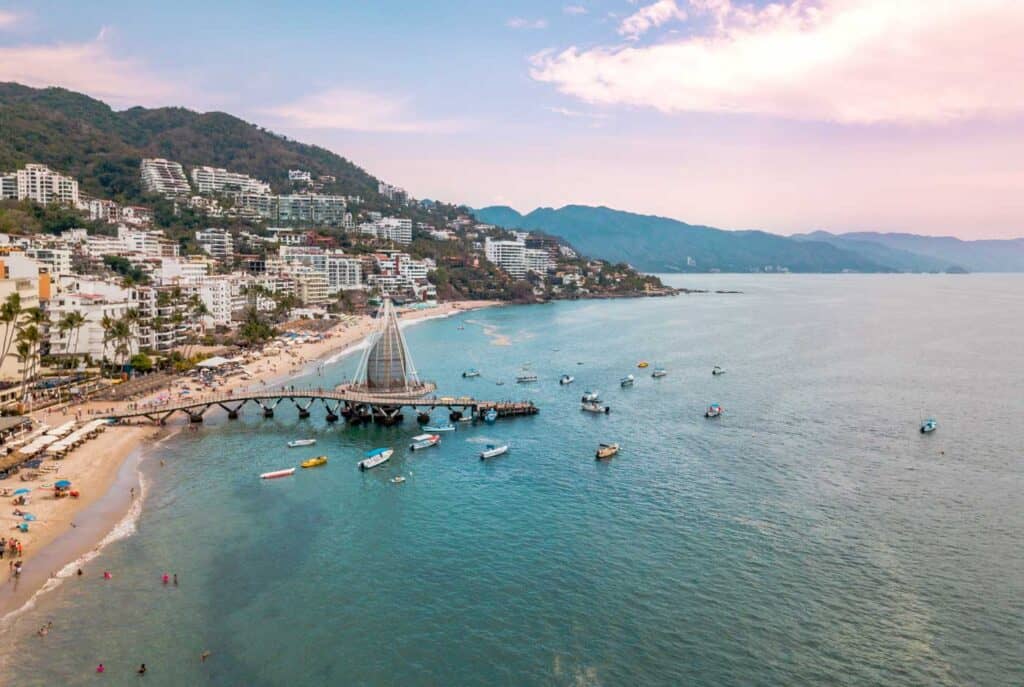 What to Pack for An All Inclusive Mexico Resort
Are you planning on staying at one of Mexico's many all-inclusive resorts? Taking an inclusive trip to Mexico is such a treat.
It's so nice to not worry about the expense of each meal, and whether or not to have that second margarita (you should).
That said, there are a few packing tips for all-inclusive resorts in Mexico that you should know, especially if it's your first time staying at one of these hotels. Here's a quick list of things to keep in mind when planning and packing for an inclusive resort vacation in Mexico.
Check the Dress Code at Your All-Inclusive Resort
If you're taking an all-inclusive vacation, I recommend checking to see what the dress code is for all of the restaurants at the resort.
Many all-inclusive resorts have three, four, or more restaurants to choose from, each with a different cuisine and ambiance. Typically, there is at least one restaurant at all-inclusive resorts in Mexico that is a bit dressier.
Since you'll be eating most, if not all, of your meals at the resort, you don't want to show up in casual beachwear, only to find that the "fancy" restaurant at your resort doesn't allow guests to wear beach or pool attire.
What Do You Wear to An All-Inclusive Resort in Mexico?
If it's your first time visiting an all-inclusive resort in Mexico, you might be wondering what the typical attire is for guests.
For the most part, all-inclusives are quite casual. Shorts, sandals, and a tank top or a bathing suit and beach cover-up should suit just about anything you do while you're there.
That said, guests often dress up a bit more for evening cocktails and dinner. For women, a sundress and sandals is a great option. And for guys, shorts, flip flops and a short sleeve button-down shirt would be perfect.
This guide to affordable resort wear has awesome ideas for stylish, but budget-friendly pieces.
Pack Comfortable Shoes
Even if you don't plan to leave the resort during your vacation, you should make sure that any shoes you bring are comfortable.
Travel tip: Many of Mexico's all-inclusive resorts are huge! That means you will probably be walking a long way from your room to the pool, beach, or restaurant. Be sure to pack good quality comfortable shoes so that you don't wear your feet out just by walking around the resort.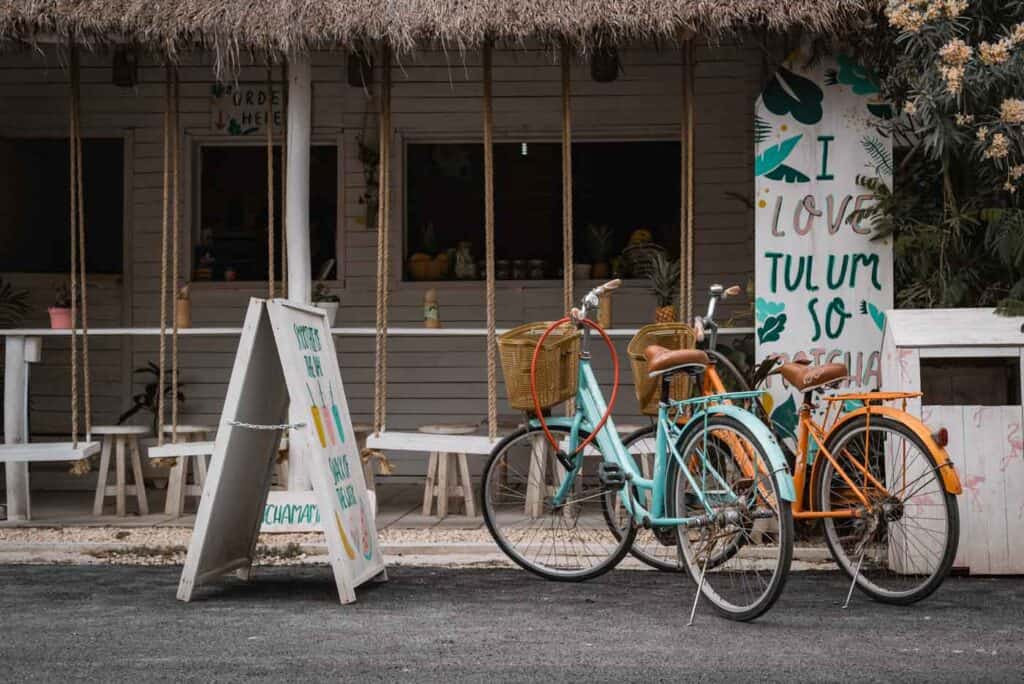 What to Pack for a Mexico Vacation by Destination
Many visitors to Mexico travel there to experience Mexico's beautiful beaches. There's a reason why – the beach destinations in Mexico are some of the best places to visit in the country.
Whether you're planning a Mexico beach vacation, or plan to visit another part of the country, here's a few good ideas in terms of what to pack based on where you're going:
What to Pack for Playa del Carmen, Cancun and Tulum
If you're planning to visit Playa del Carmen, Cancun, Tulum, or another beach destination on the Yucatan Peninsula, the packing list above is a great guide. This list of essentials is meant for coastal areas in Mexico, so it should suit your trip perfectly.
Make sure to also subscribe below and I'll send you a printable Mexico packing list!
Cancun Packing List
Unlike Playa del Carmen and Tulum which are more laid-back, Cancun has a healthy nightlife scene! So if you're traveling to Cancun, your Cancun packing list should include a few pieces that you can wear out at night.
While casual attire is accepted pretty much anywhere, you can also get a bit more dressed up in Cancun and fit right in.
Tulum Packing List
Let's talk about what to pack for Tulum in addition to the essentials above!
If you're visiting Tulum, you will likely be spending most of your time on one of Tulum's beaches. Many accommodations in Tulum are Airbnbs (rather than large resorts), so check in advance if beach towels are provided at your accommodations, or if you will need to pack beach or travel towels.
In terms of clothing, the vibe in Tulum is laid back, bohemian and beachy, so your Tulum packing list should include plenty of casual resort wear.
What to Wear in Tulum
In terms of what to wear in Tulum, think flowy dresses or cover-ups, shorts, tank tops, sandals and a straw beach bag. Don't forget a straw sun hat, too!
You can leave your nightlife attire at home, because you won't need it in Tulum.
Visiting Tulum's Cenotes
If visiting one of Tulum's cenotes is part of your Mexico itinerary, I recommend bringing a one-piece bathing suit, or a two piece that ties snugly!
One of the best things to do when visiting a cenote is take a big jump in, and the last thing you want is to be without a swimsuit when you come up for air!
Visiting Mayan Ruins
Visiting the Mayan Ruins of Chichen Itza and Tulum are both popular day trips for visitors to the Yucatan.
If you're planning to visit either place, my best advice is to dress for very HOT weather, and bring sun protection!
It's not uncommon for temperatures to be in the 90's at the Mayan Ruins, especially at Chichen Itza, since it's located away from the coastline in the middle of the jungle. In addition to the heat, the humidity is overwhelming.
It also takes a long time to get to Chichen Itza from the resort areas (it is absolutely worth it, though). So make sure to factor that into your outfit planning if you do a day trip to Chichen Itza. Comfort is key!
Make sure to pack loose, light clothing, and bring a hat, sunscreen, and bring lots of bottled water with you.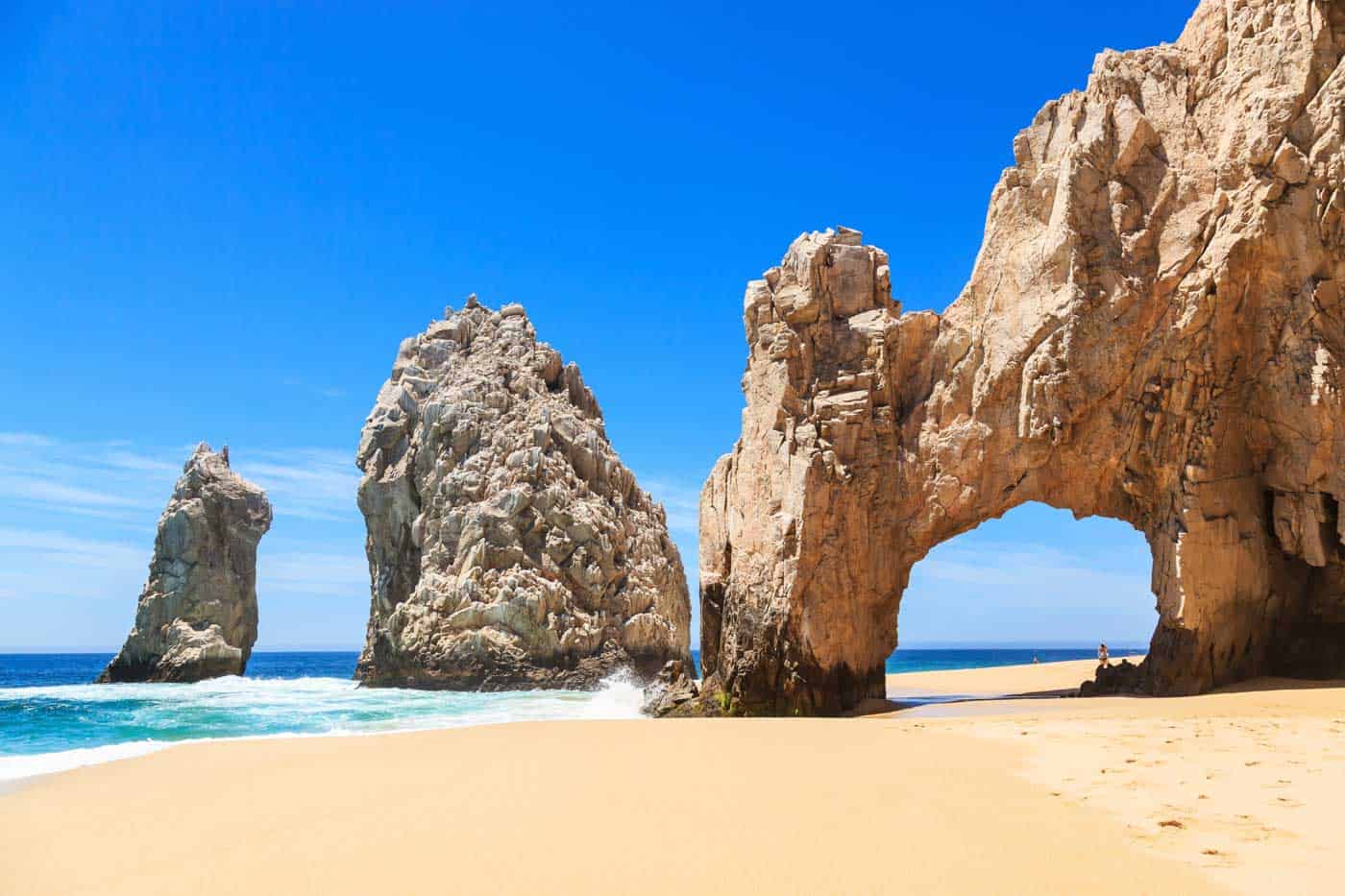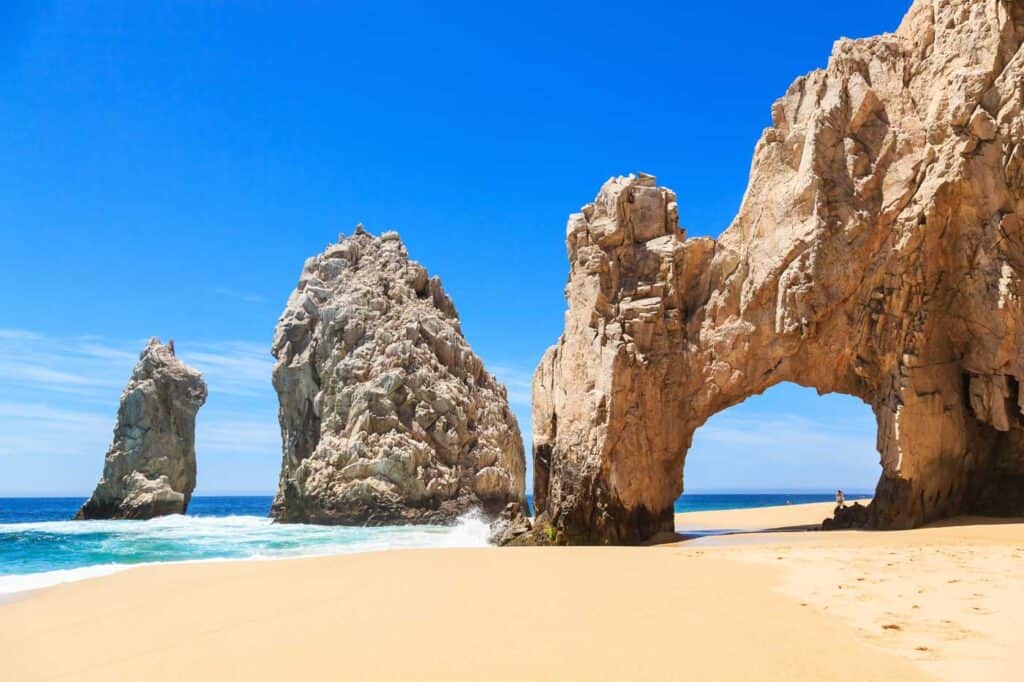 What to Pack for Cabo San Lucas
If you're packing for Cabo and plan on visiting one of Cabo's many fine dining options, by all means, get dressed up. You'll fit right in.
Los Cabos has the most elevated restaurant scene compared to other beach destinations in Mexico. If you're a foodie like me, that makes is one of the best places to visit in Mexico!
That said, "dressed up" is a relative term.  You don't need formal attire if you're going to a nice dinner in Cabo, but an elevated maxi dress, wedge sandals, and dressier accessories are spot on. Where's the best restaurant scene in Mexico? Find out in my comparison of Cabo San Lucas vs San Jose del Cabo.
If you're planning a trip to Cabo, check out these Cabo travel tips for a smooth vacation, as well as the best things to do in San Jose del Cabo.
What to Pack for Puerto Vallarta
Located on Mexico's Pacific coast, Puerto Vallarta is a popular destination in Mexico. In addition to the beautiful beaches in Puerto Vallarta, many people visit this part of Mexico to enjoy outdoor activities like parasailing, snorkeling, ziplining, or hiking.
Packing for Outdoor Activities
If you're planning to pursue adventure in Puerto Vallarta, make sure to pack appropriately. Comfortable, closed-toed shoes are a must.
And for water activities, make sure to pack a dry bag, a rash guard, and water shoes.
What to Pack for Central Mexico
If you're planning to visit Mexico City, San Miguel de Allende, or another destination in Central Mexico, leave your beachwear at home! Unless you're planning on swimming or visiting a hot spring, you won't need resort attire.
Pack Warm Layers For Central Mexico
While Central Mexico has warm weather throughout the year, the overnight lows can get chilly. Expect lows in the high 40's during the winter months, and in the mid 50's in the summer months.
This is a big difference from the coastal areas of Mexico where the low temperatures rarely dip into the 60's.
So if your travel plans include Central Mexico, make sure to pack additional warm layers that you can add or remove throughout the day.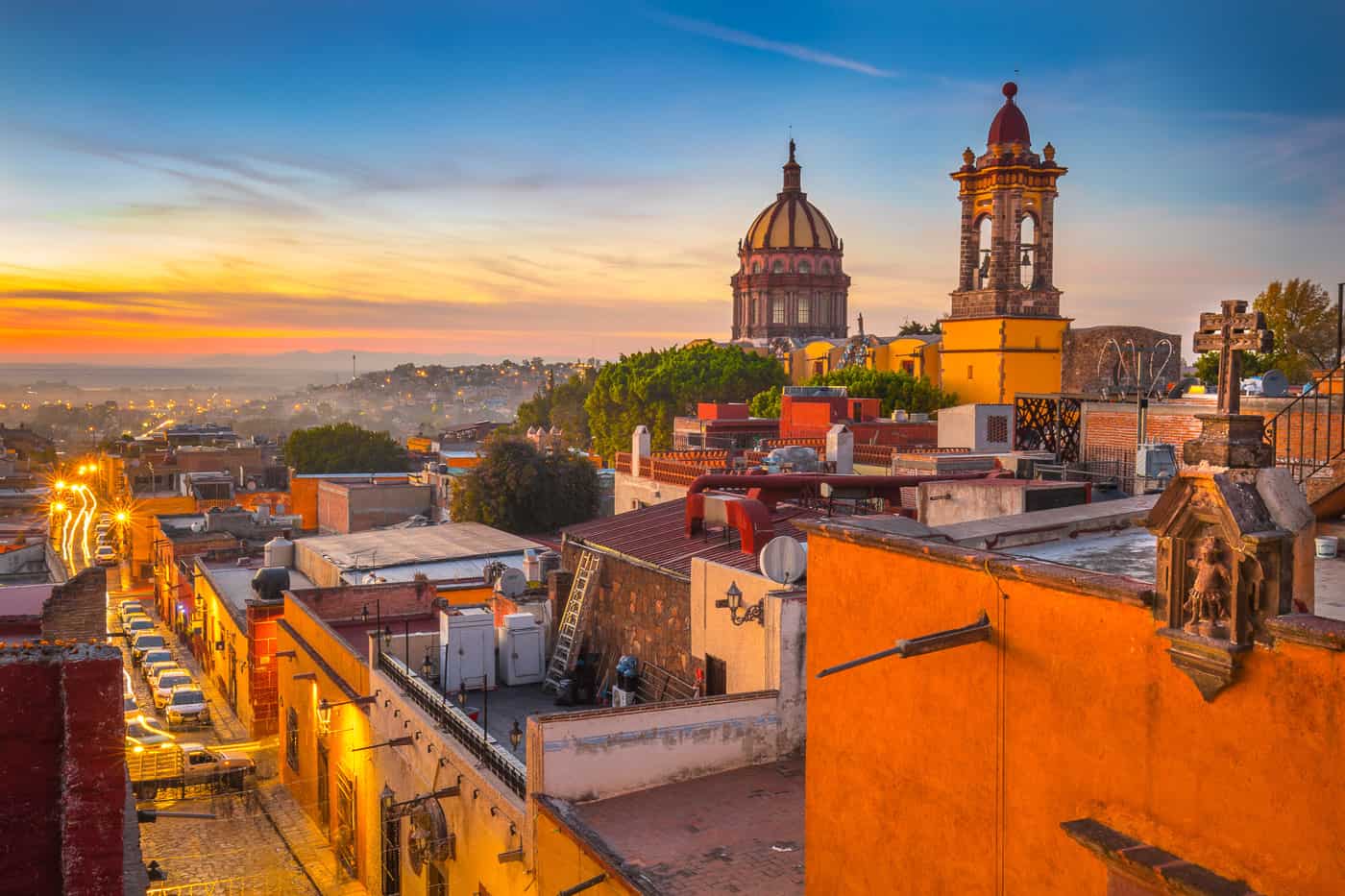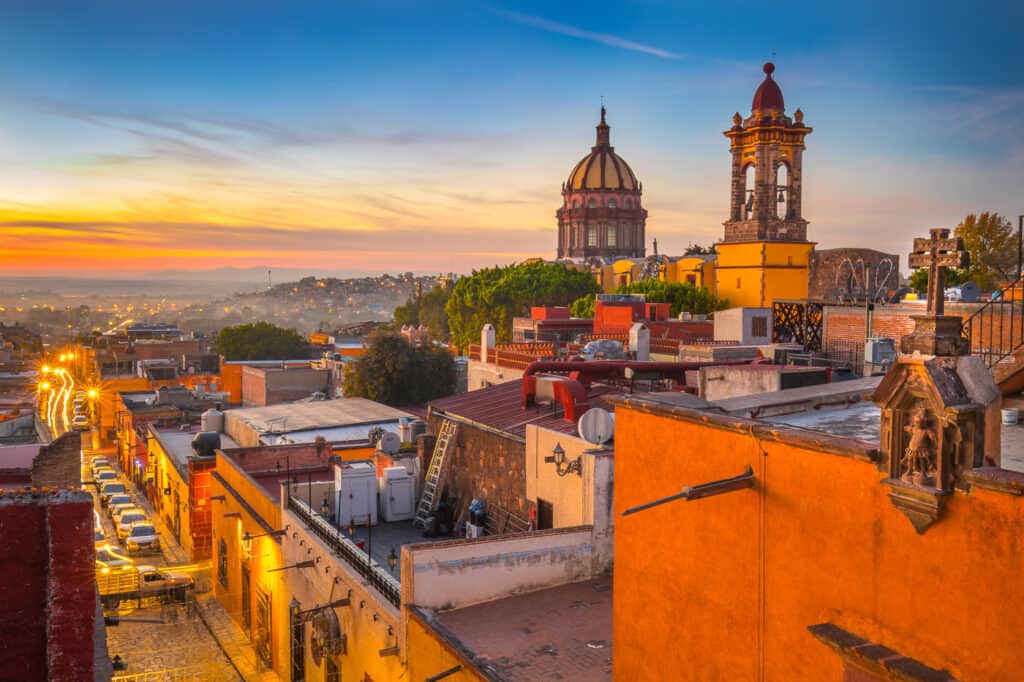 Packing List for Mexico by Time of Year
In general, Mexico has a tropical climate with a rainy and dry season, and very little fluctuation in temperatures throughout the year.
There are a few specific essential items to pack, though, depending on what time of year you're visiting. Here's what to pack for Mexico according to season.
Rainy Season
The rainy season in Mexico is from May through September. During this time of year, showers are common, but they typically happen in short bursts during the afternoon.
If you visit Mexico during the rainy season, make sure to bring a light jacket or rain poncho, as well as an umbrella.
Also be sure that any shoes or sandals you bring won't get damaged if it's raining.
Hurricane Season
Hurricane season in Mexico runs from June through November. Pack for this time of year as you would for the rainy season, just so you have some essentials on hand in case they're needed.
The most important thing to do is to keep an eye on the weather forecast before you leave.
Pro tip: Make sure to get travel insurance if you're traveling to Mexico during hurricane season!
Dry Season
Mexico's dry season takes place in the winter months, between December and April. If your Mexico vacation falls during those months, you can expect clear blue skies and lots of sunshine!
In addition to the list of essentials above, make sure you bring plenty of sunscreen. Leave any heavy clothing or warm layers at home – you won't need them!
What to Pack for Spring Break in Mexico
The months of March and April are very popular times to visit Mexico, due to the spring break holidays in the U.S.
Good news: if you're planning to visit Mexico during this time, there's nothing specific you need to pack in addition to the list above!
Be sure to subscribe below and I'll send you a printable version of the list!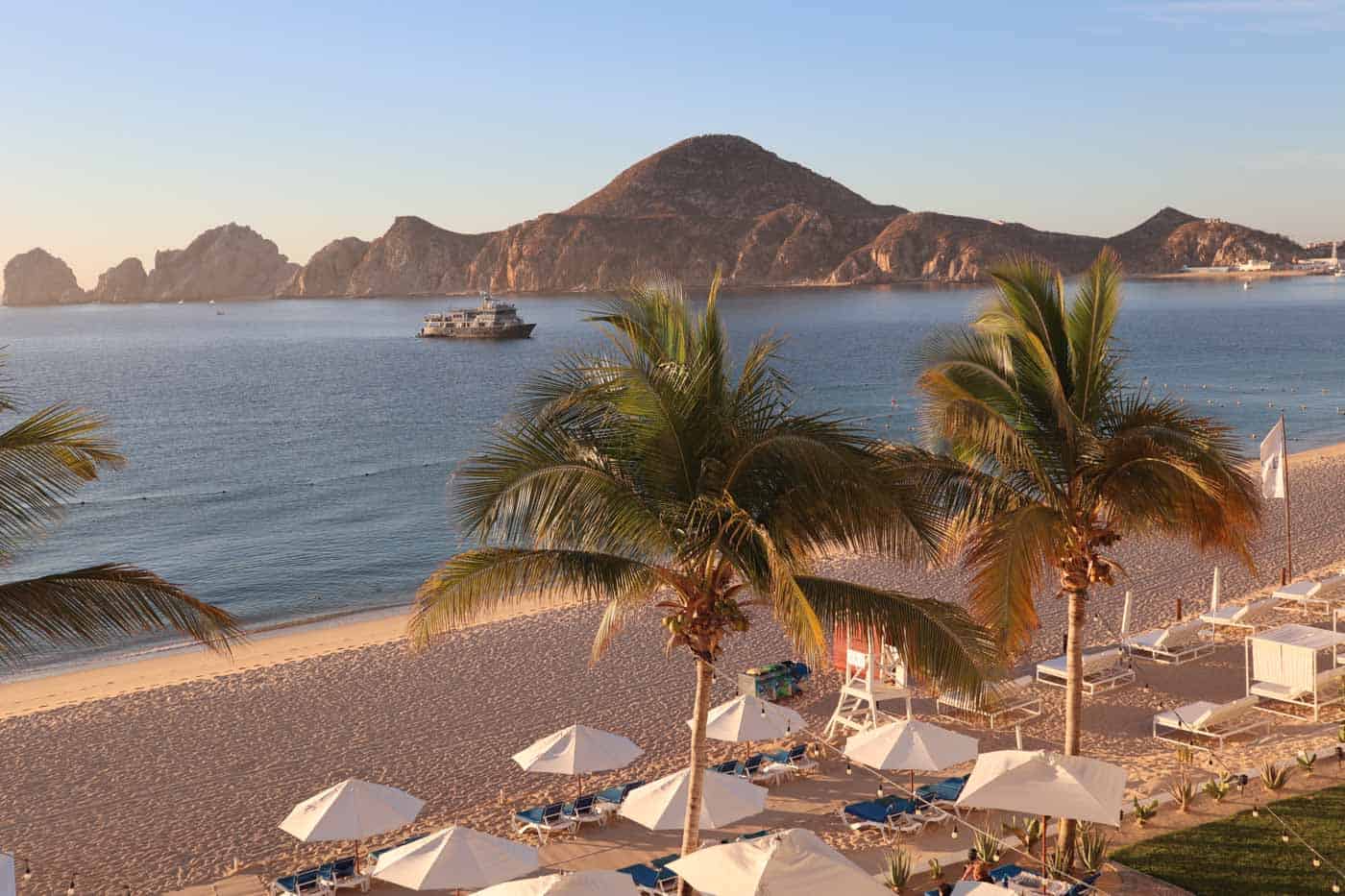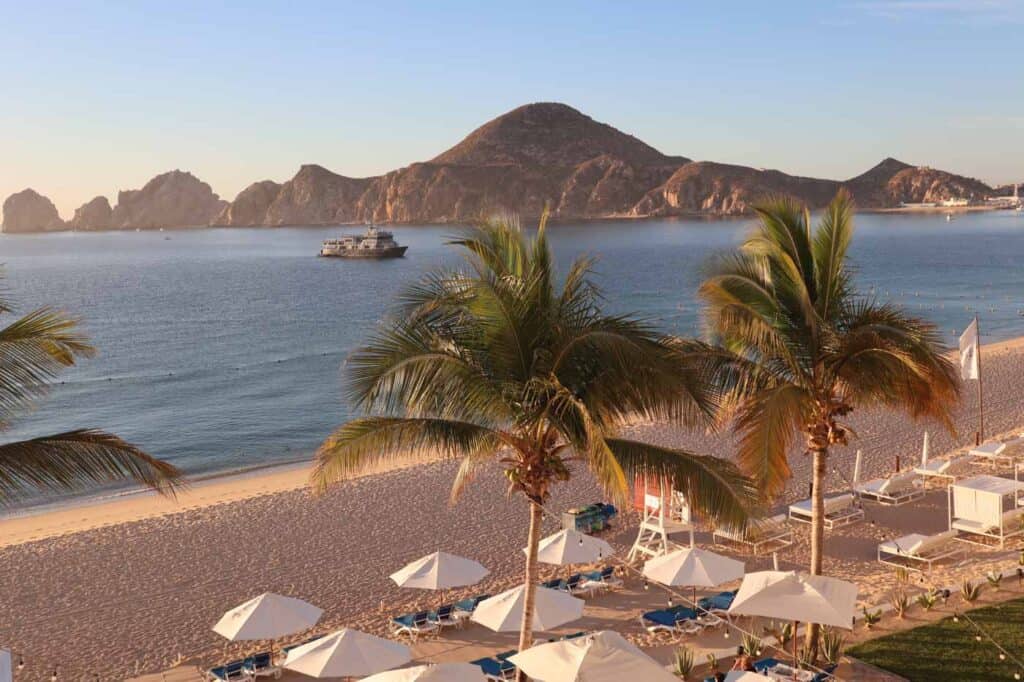 What NOT to Pack for Mexico
There's a few things that you should not bring with you to Mexico. Leave these things at home, because you won't need them on your vacation!
Should I Take Jeans to Mexico?
Since most of Mexico enjoys a warm (if not hot) climate all year round, you aren't likely to need jeans on your trip.
A better alternative for pants in Mexico if you're visiting a beach destination are light, loose palazzo pants or capri pants.
High Heels
You can leave your high heels at home when traveling to Mexico. Whether you're visiting a city or a beach destination in Mexico, odds are good that you will be walking a lot.
Many of the streets in historic parts of Mexico are cobblestone (I'm looking at you, San Miguel de Allende). So you won't need any high heels on your trip.
If you just can't live without heels, wedges are a great option for a dressier shoe.
Formal Attire
One of the best parts about visiting Mexico is that most people wear casual clothing. So unless you're visiting Mexico for a wedding or other special event, you don't need to pack any formal attire.
If you're planning to go to a nice dinner one night, you can certainly dress up a bit, but in general it's not required.
What Can You Not Take Into Mexico?
In addition to the things above that you won't need in Mexico, there are a few things that visitors are prohibited from taking into Mexico.
Most of these are just plain common sense. But if you're in doubt about something, leave it at home!
Prohibited Items
You cannot bring narcotic drugs, electronic cigarettes, marijuana or any kind of firearms or ammunition into Mexico. In addition, don't bring anything such as soil, plants, flowers or live animals into the country.
In terms of food, steer clear of things like meat, cheese and homemade goods. If you want to bring snacks to Mexico, stick to packaged dry foods like protein bars or cereal.
Printable Mexico Resort Packing List
There you have it – the most important things to bring to Mexico!
Looking for a printable list of what to pack for a Mexican vacation? Subscribe below and I'll send you my ultimate Mexico packing list! It's the best way to make sure that you don't forget a thing, and can focus on just having a great time in Mexico.
Need some help fitting everything in your bag? Here's the best way to pack a suitcase.