Mexico City Travel Tips: How to Make the Most of Your Visit
This site uses affiliate links and I may earn a small commission when you use my links and make a purchase, at no extra cost to you. 
Mexico City is a vibrant and bustling metropolis with a rich history and culture. In this post, I'm sharing my top Mexico City travel tips to help you make the most of your trip to this incredible city.
I just returned from Mexico City. It was my first trip there, and let's just say that I did pretty much everything wrong.  If it's your first visit to Mexico City, here's what to know before you go!  This post has all of my best Mexico City travel tips, including my advice on how to prepare for your trip, the best way to get around the city, how to eat, drink and sightsee, along with a few safety and cultural tips for tourists.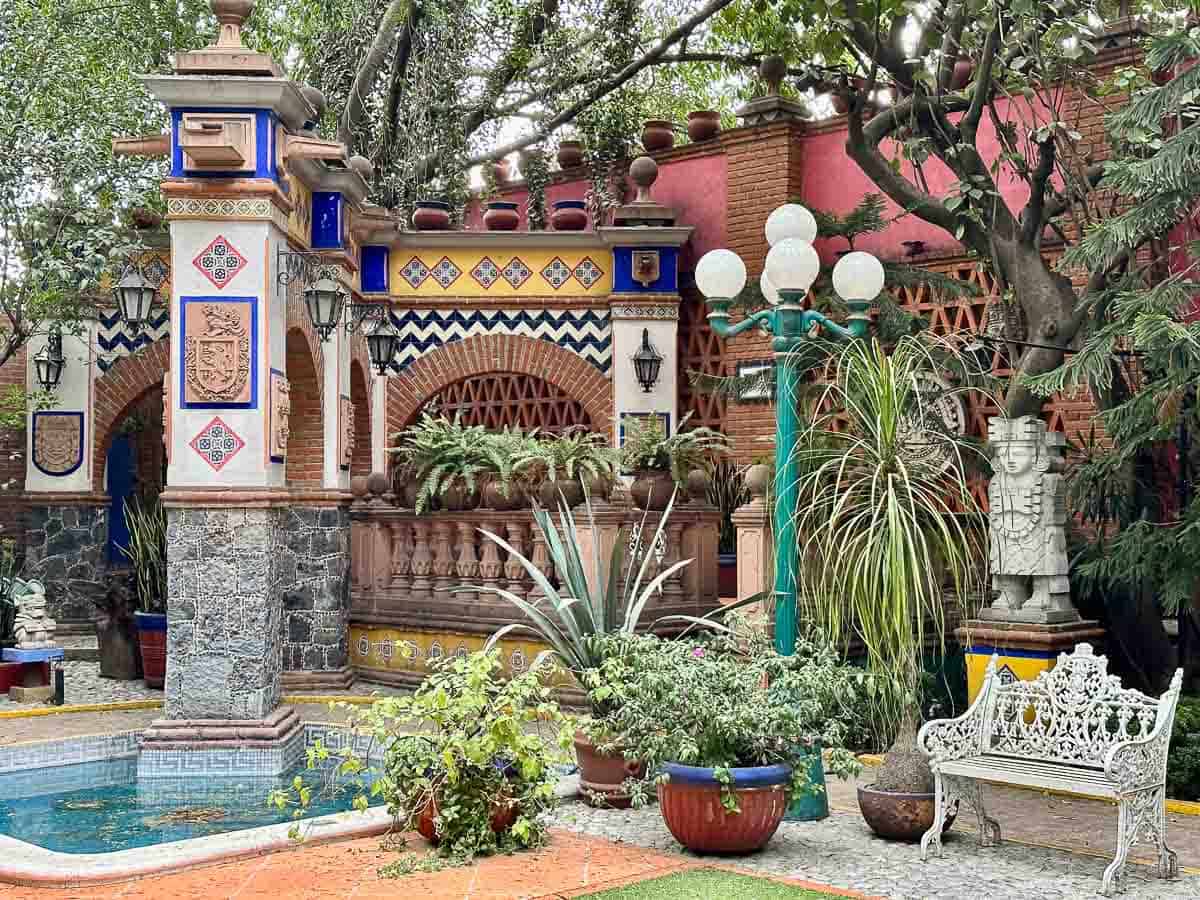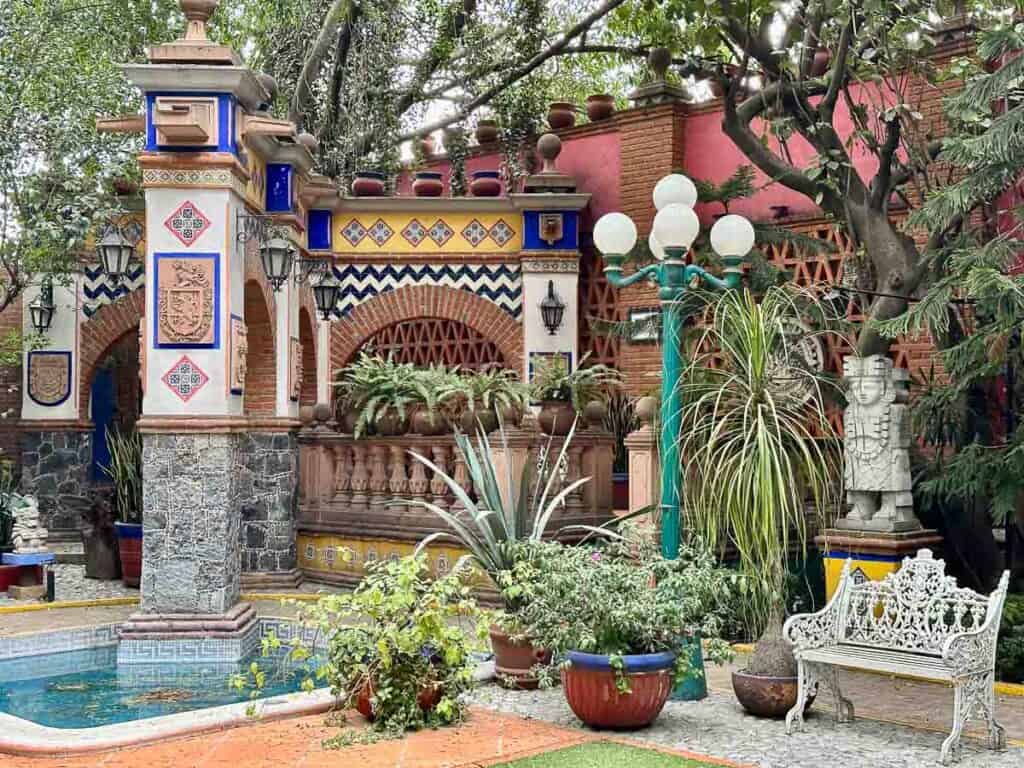 Introduction to Mexico City
With a population of over 20 million people, Mexico City is one of the largest cities in the world. The city is known for its unique blend of ancient and modern architecture and culture, and draws visitors from all around the world.
Mexico City is best known for its rich history and cultural heritage, including the stunning Aztec ruins of Templo Mayor, to beautiful Art Deco buildings and the imposing Palacio de Bellas Artes, a grand art nouveau-style palace that hosts some of Mexico's most important cultural events.
The city is also famous for its delicious street food, which ranges from classic tacos to more unusual offerings like chapulines (crispy grasshoppers). If you're planning a trip to Mexico City, there are a few things you should know to help you make the most of your visit.
In this post, I'll be sharing some essential travel tips and advice for Mexico City travel, including where to stay, what to eat, and how to stay safe while exploring this incredible city. So buckle up and get ready for an unforgettable adventure in Mexico City!
How To Prepare for a Trip to Mexico City
There are always so many things to do before traveling abroad. Whenever you're planning to visit a foreign country, it makes sense to plan as far in advance as possible. Here's a few Mexico travel tips for Mexico City:
Apply For or Renew Your Passport
Foreigners need a passport to enter Mexico, so a key part of preparing for a trip to Mexico City from abroad is to make sure you have a current passport that will be active for at least 6 months beyond your travel dates.
There are currently delays in processing passports in the US, so the further in advance you can do this, the better.
Avoid Foreign Transaction Fees
The currency in Mexico is the Mexican peso. While you can use a credit card in most places in Mexico City, you will be charged in Mexican pesos. Many US credit cards charge a foreign transaction fee, which is added on top of any purchase made in foreign currencies.
This fee can be up to 3% of the purchase!  Before you travel to Mexico City, make sure that you have at least one credit card that doesn't charge a foreign transaction fee.  This one is the card I always travel with.   
Pack Conservative Clothing
Most people in Mexico City dress conservatively. I had read this before my trip but shrugged it off, thinking – hey, it's 2023 – anything goes. Nope. Even on warmer days, most of the locals were wearing pants and long-sleeved shirts, rather than shorts and tank tops.
Even though the temperatures might be warm during your trip, your packing list for Mexico City should be a little different than what your would pack for an all-inclusive Mexico resort in Puerto Vallarta, Cabo, Playa del Carmen or any of the other beaches on the Yucatan Peninsula.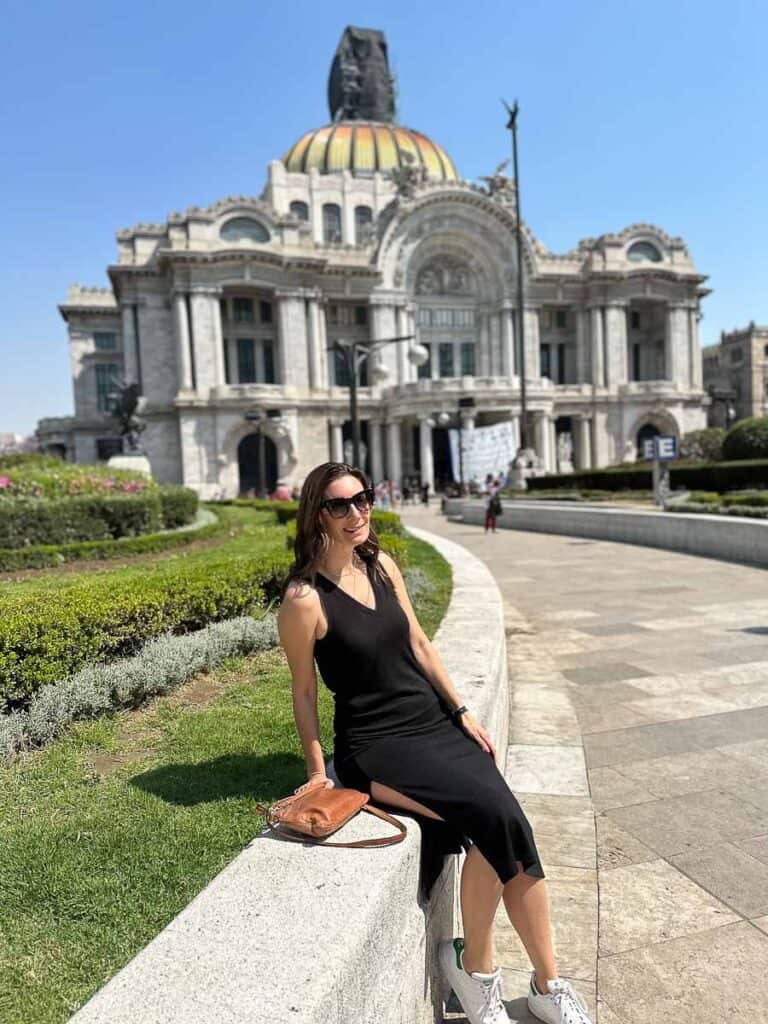 If you want to blend in with locals, skip packing shorts, and pack a skirt or dress instead. In addition, many of the streets in Mexico City are uneven, so it's not the best place for heels. Pack comfortable shoes instead!
Things to Know Before Going to Mexico City
Mexico City's Elevation is 7,200 ft
Before I visited, I didn't appreciate that Mexico City sits at a very high elevation.  7,200 feet to be exact!  Depending on where you're coming from, your body will probably feel the change in altitude once you arrive.  
When your body adjusts to such a high altitude, it is common to feel dehydrated and fatigued. Some travelers may even experience altitude sickness, so make sure you stay alert for any potential symptoms.
That's why one of my best Mexico City travel tips is rink lots of water, and go easy on alcohol until your body adjusts to the new environment. Personally, I felt very dehydrated during my first day in Mexico City, and also had a hard time sleeping my first night there. You may want to schedule your less-strenuous activities at the beginning of your trip.
Get Some Mexican Pesos
These days, many people travel without cash, and never encounter an issue.  But in Mexico City, make sure you travel with at least some cash.  This is because many of the city's street food vendors and local markets only accept cash, and don't accept credit cards.  Without cash in hand, you may miss out on enjoying some of the most authentic parts of the city.
To get the best exchange rates, withdraw cash from an ATM once you're already in Mexico. Skip the airport currency exchange kiosks, since these typically don't typically have a great exchange rate.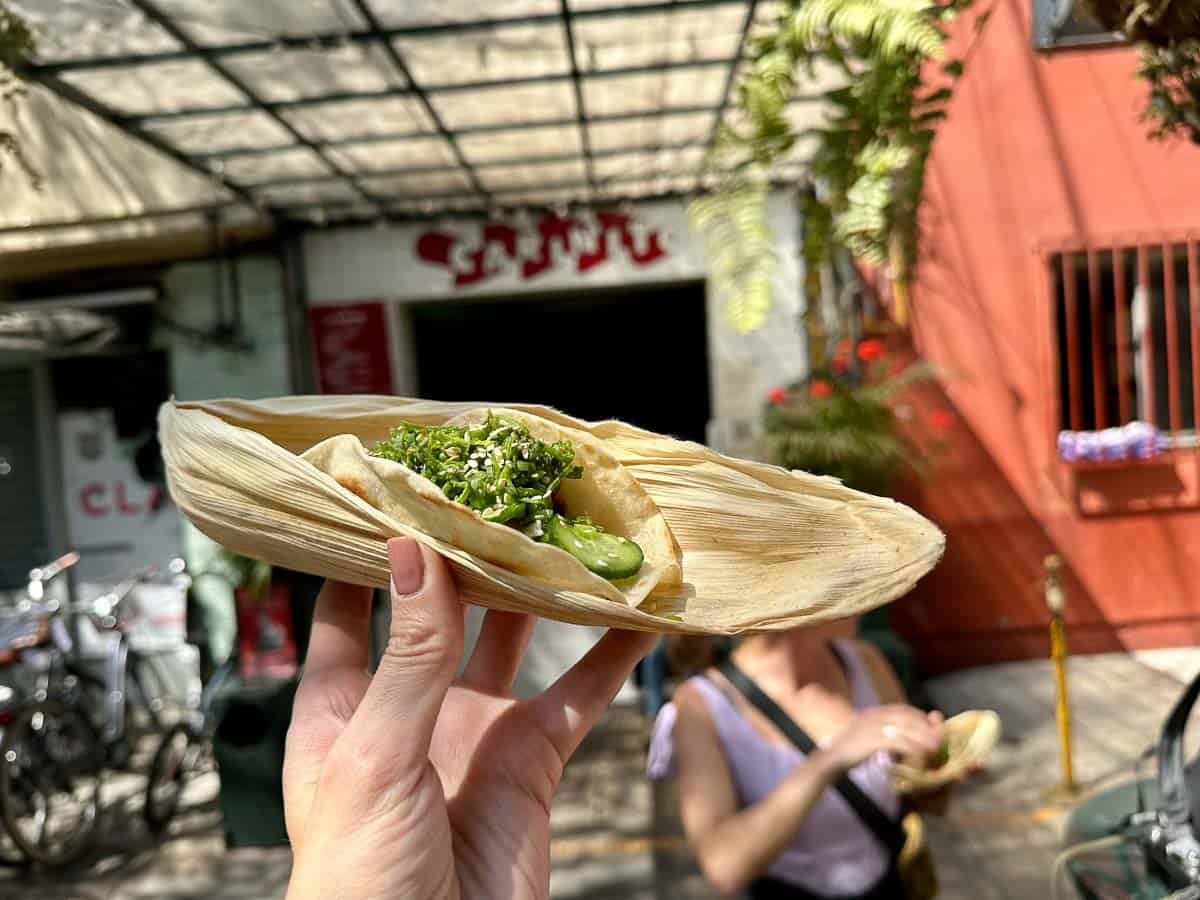 Mexico City Weather
The city's mountainous geography means that the temperature in the city varies widely throughout the day. Cool mornings can give way to incredibly hot afternoons, followed by another period of cooler temperatures once the sun sets.
So as far as Mexico City tips, make sure to plan and pack accordingly! Even if the daytime high will be 85 during your trip, you will still need warmer layers for mornings and evenings.
Air Quality
If it's your first trip to Mexico City, it's also important to be aware of the city's poor air quality.  Air pollution is a problem that has plagued the city for decades, caused primarily by rapid population growth and industrialization, coupled with the city's basin-like geography.  
While the air quality in Mexico City has improved meaningfully since the late 90's, it is still something that I noticed during my trip.
If you have regular allergies, you will likely notice the difference in air quality in Mexico City. I did! If I'd thought about this ahead of time, I would have brought extra allergy medicine. If you're sensitive to air quality, one of my travel tips is to pack some additional supplies.
Importantly, I don't think that air quality is a reason not to visit Mexico City. Rather, it's just helpful to know about it ahead of time, so that you can prepare accordingly.
Mexico City Travel Tips: Getting Around
Transportation Options
Mexico City might be the largest city in North America, but navigating the city's main sights and attractions is pretty straightforward.  Transportation options in Mexico City include the metro, bus, and Uber.  
If you're really trying to save money, you can use the city's public transportation system, but I recommend using Uber to get around Mexico City, as it is quite inexpensive (compared with Uber prices in the US). Even better, you don't run the risk of the pickpocketing that can be common on other forms of transportation.
Tips for Using Uber in Mexico City
In terms of using Uber in Mexico City, there's a few things that are helpful to know ahead of time.
First, make sure to factor in extra time when you're going somewhere.  There's always traffic, especially during rush hour, but Uber wait times also change dramatically once you're matched with a driver.  I commonly went from a wait time of 2 minutes to 15 minutes, and then back again to 7 minutes.  So give yourself extra time to get places.
Secondly, most Uber drivers in Mexico City don't speak English.  This isn't an issue of course, but it's just something to be aware of in case something goes sideways during your ride.  
We had one Uber driver who tried to sell us on taking a private tour of Teotihuacan with him rather than taking us to our destination (no thanks), and I was grateful that my limited Spanish at least allowed me to understand what he was saying.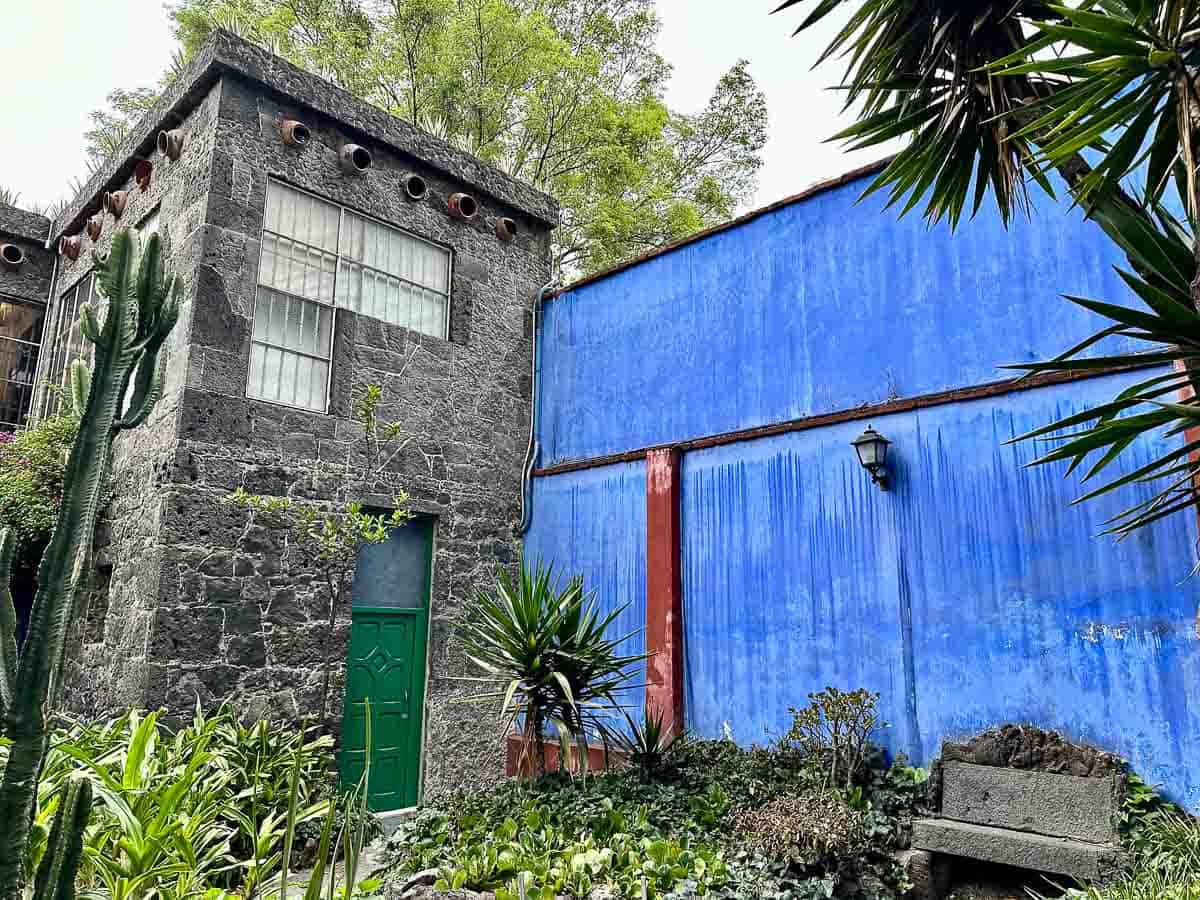 This is also one of my safety tips, but when you're riding in an Uber in Mexico City, be aware of your location when getting picked up or dropped off, and don't get out of the car if you are wary of your surroundings.
This happened to us one night when we were dropped off only a few blocks from where we'd been the night before. We looked around and got that gut feeling that tells you to get moving, and called another Uber to get picked up. There were no problems whatsoever, but I just wish we hadn't gotten out of the car in the first place!
Renting a Car
Yes, you can certainly rent a car in other countries, and it's easy to do so in Mexico City, but now that I've experienced the city's streets, I honestly don't recommend it.
There are kiosks for car rentals in the airport and throughout the city, so it's certainly possible to get a rental car, but the driving is a little hectic! Other methods of transportation are better for tourists.
Be Aware of the Street Closure on Sundays
One thing I didn't know before I went to Mexico City is that one of the city's main streets, Paseo de la Reforma, closes to cars every Sunday between 8:00am and 2:00pm.
During that time, the street is completely dedicated to joggers, cyclists, pedestrians and scooters. I love that this happens in CDMX, and it's a perfect time to rent a bike and cruise through the city, because you won't have to dodge any speeding vehicles.
That said, it is not a perfect time to try and get somewhere by Uber if you're in a hurry!  So if you will be in Mexico City on a Sunday, take note of where you're going, plan your route accordingly, and be prepared for it to take a bit longer if you have to take an Uber through the center of the city. 
Top Attractions and Sightseeing in Mexico City
From Palacio de Bellas Artes to the Templo Mayor, there are so many attractions to see in Mexico City. It can be overwhelming trying to figure out how to see them all. Here's a few tips for sightseeing in CDMX:
Navigating the City Center
Before your trip to Mexico City, spend some time planning your days. This is helpful on any trip, but even more so in Mexico City because of its size. Getting from one part of the city to another can take a while, so it makes sense to consolidate sights and activities together that are in close proximity to one another.
I used Google Maps to create a map of all the places we wanted to visit, and then figured out what made the most sense day-by-day.
Rent a Bike or Take A Bike Tour
Mexico City is incredibly spread out, so I found that walking wasn't necessarily the best way to see the city.  Try mixing it up with a bike instead! 
Mexico City is surprisingly bike-friendly, with dedicated bike lanes on many of the main thoroughfares.  You'll be able to see a lot more on wheels than you would on foot. 
Mexico City's Best Attractions
The absolute must-dos in Mexico City?  Whew, ok. If you're visiting Mexico City for the first time and need a 30-second overview, don't miss the Zócalo, the Templo Mayor, the Palacio de Bellas Artes, the National Museum of Anthropology, Chapultepec Park, the House of Tiles, and exploring the neighborhoods of Roma, Condesa, and Polanco.
Recommended Activities:
For culture: this guided tour of Xochimilco, Coyoacán and the Frida Kahlo Museum
For food: this food tour of the city center
At night: check out a Lucha libre match in this tour led by a former wrestler
Explore Outside the City
Some of Mexico City's best attractions are outside the city, and seeing them is worth the day trip. It's worth building an extra day onto your Mexico City itinerary for day trips to visit the ancient pyramids of Teotihuacan, Xochimilco, or the Grutas Tolantongo (hot springs).
I didn't have time to do any of these day trips during my visit, but I kept hearing from other travelers how amazing they all are, so tack on some more time to visit at least one if you can.
If you have more time to explore outside of Mexico City, I highly recommend visiting San Miguel de Allende. It's truly a magical place!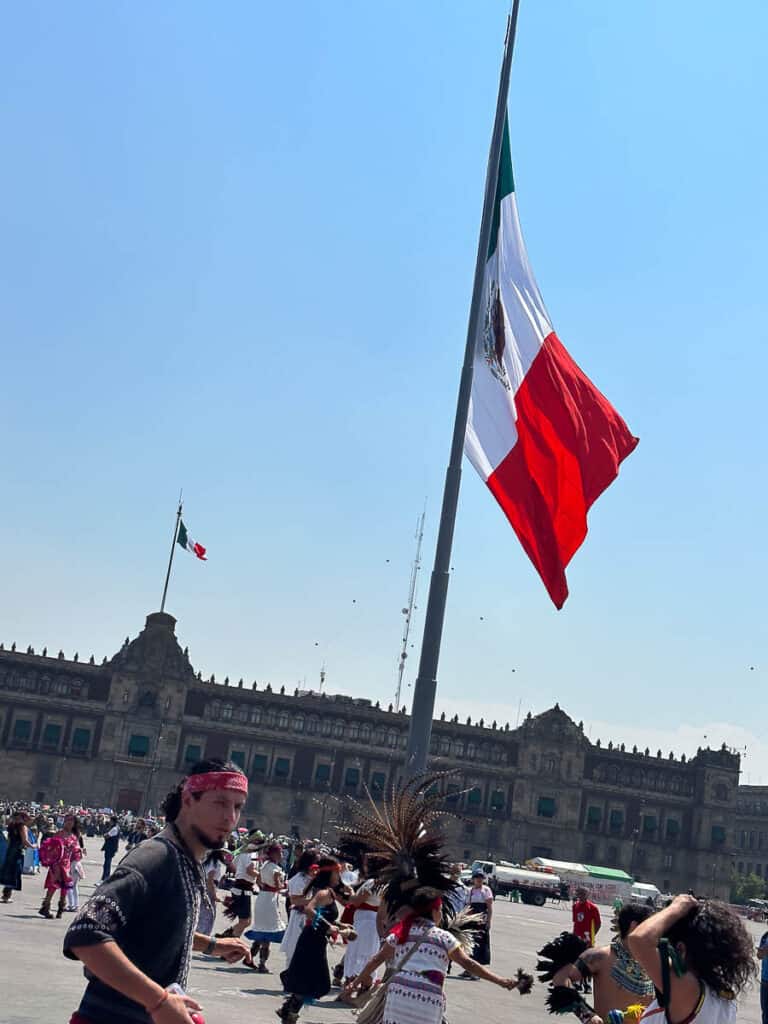 Visiting Mexico City: Food and Drink
From street vendors to Michelin star restaurants, the food and drinks in Mexico City are absolutely amazing. From traditional Mexican food to pretty much every other kind of cuisine you can think of, it exists here.
If you're a foodie like me, here are a few tips for the best way to enjoy Mexico City's incredible cuisine, and how to eat in Mexico City like a local.
Plan Ahead of Time
I'd go back to Mexico City just to continue to eat my way through the city! The only problem is that everyone else feels exactly the same way, so many of the city's best-known restaurants get booked up weeks ahead of time.
If your must-eat list includes fine dining restaurants like Pujol, Quintonil or Contramar, make sure to plan well in advance, and make reservations as soon as possible. 
The popular restaurants in Mexico City fill up quickly, so if you wait too long, you will be out of luck.
Street Food
Even if you don't plan far enough in advance, you won't go hungry in Mexico City. While there are many high-end, world-famous restaurants in Mexico City, some of the city's best real Mexican food is found at street food vendors.
It's true: the street food I had in Mexico City was as good as, if not better than, some of the city's top-end restaurants.
Don't miss out on traditional Mexican food like tacos al pastor, quesadillas, and tortas from street vendors. Your street food meal will be less than $5 and you'll be dreaming of your next one.
Dinner Might be Later and Lighter
Breakfast (desayuno) and lunch (comida) tend to be heartier and heavier in Mexico than in the US. Traditionally, the largest meal of the day in Mexico is comida, and is served in the early afternoon.
Consequently, dinner times in Mexico City tend to be later in the evening (7pm-9pm), and are often lighter.  If you're planning on a 5pm or 6pm dinner reservation, you might be dining solo!
On the other hand, if you're in the mood for street food, many vendors are open until the wee hours.
Eat Like a Local
Even though the restaurants in Mexico City are amazing, it also pays to experience the food culture in the city like a local.  If you want to experience what it's like to eat like a local in Mexico City, try visiting one of the markets such as the Mercado de San Juan or Mercado de la Merced.
Drinking Water
Another one of the most important Mexico City tips I can share with you is to only drink bottled water while you're there. Tap water in Mexico (including Mexico City) isn't considered safe for drinking. Save yourself from potentially getting sick by skipping the tap water while you're there.
The same goes for brushing your teeth. Use bottled water instead of tap water. As far as ice cubes? They're generally safe because most restaurants use filtered water to make ice.
Mexico City Safety Tips for Women
Is Mexico City Safe for Female Travelers?
So many people asked me whether or not I felt safe in Mexico City as a female traveler, so here's my two cents. I visited Mexico City with a friend from college who is also female, and most of the time we explored the city alone as two women.
As a female traveler in Mexico City, I felt very safe, and I don't think that safety concerns should deter other women from visiting the city, even as a solo traveler.
That said, I did find myself being more aware of my surroundings than usual, and I recommend that you take the same precautions in Mexico City that you would elsewhere as a female traveler, and in a big city.
If you decide to use public transportation, keep your belongings close to you and ride in the female-only cars. Use common sense, stay in the city center, and you should be just fine.
Cultural Tips
While Mexico City is a modern, international city, local norms and customs are still apparent, and it's important to respect them as a traveler. Here's a few recommendations for showing respect to the Mexican culture as a tourist. 
Enjoy a Slower Pace
The pace of the local culture is slower and more laid back in Mexico City than it is in other major cities. Don't expect things to happen in a New York minute! Instead, prepare yourself for a city that operates at a slower pace, and plan accordingly.
Your tour may not start on time, it may take a long time to get somewhere, and it will probably take a while just get the check at a restaurant.  Once you're aware of this and know what to expect, it will probably be a welcome adjustment to life in the fast lane.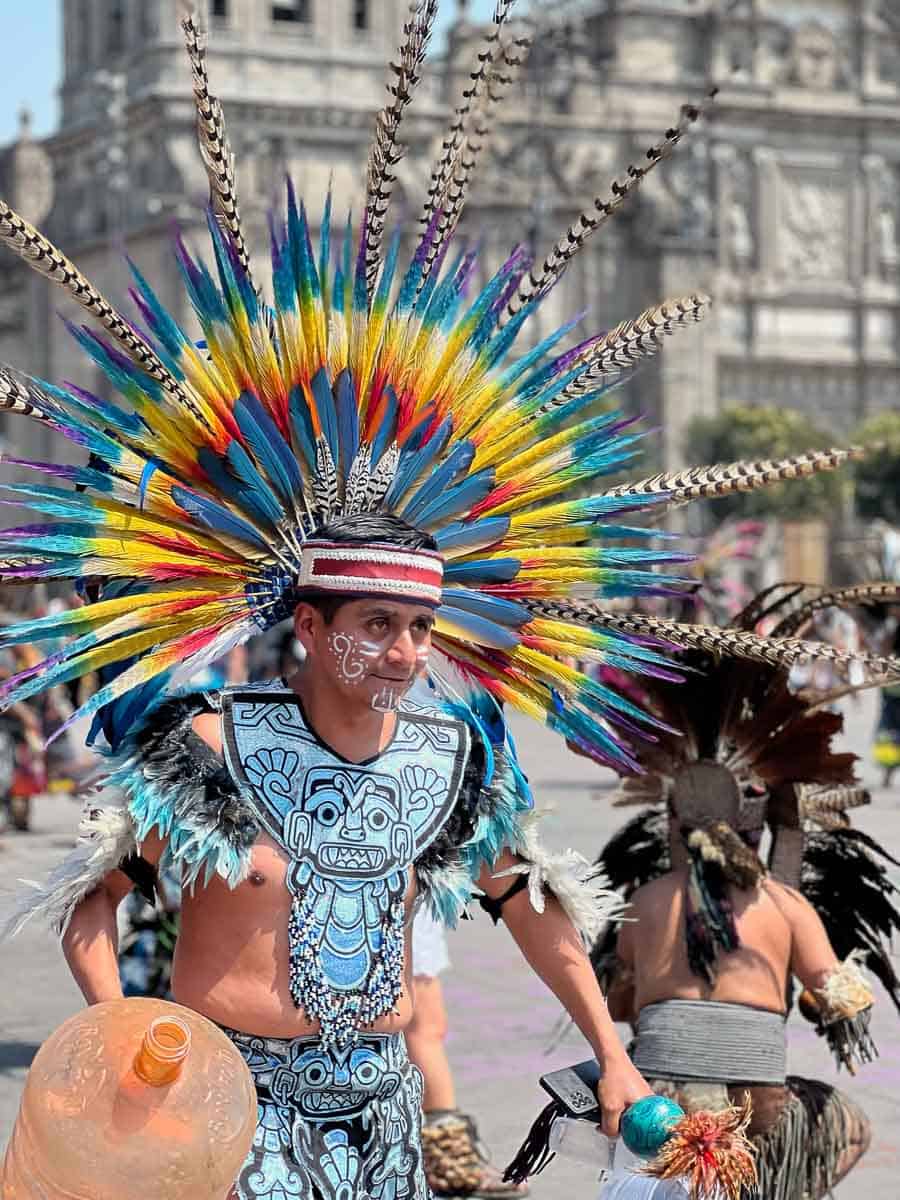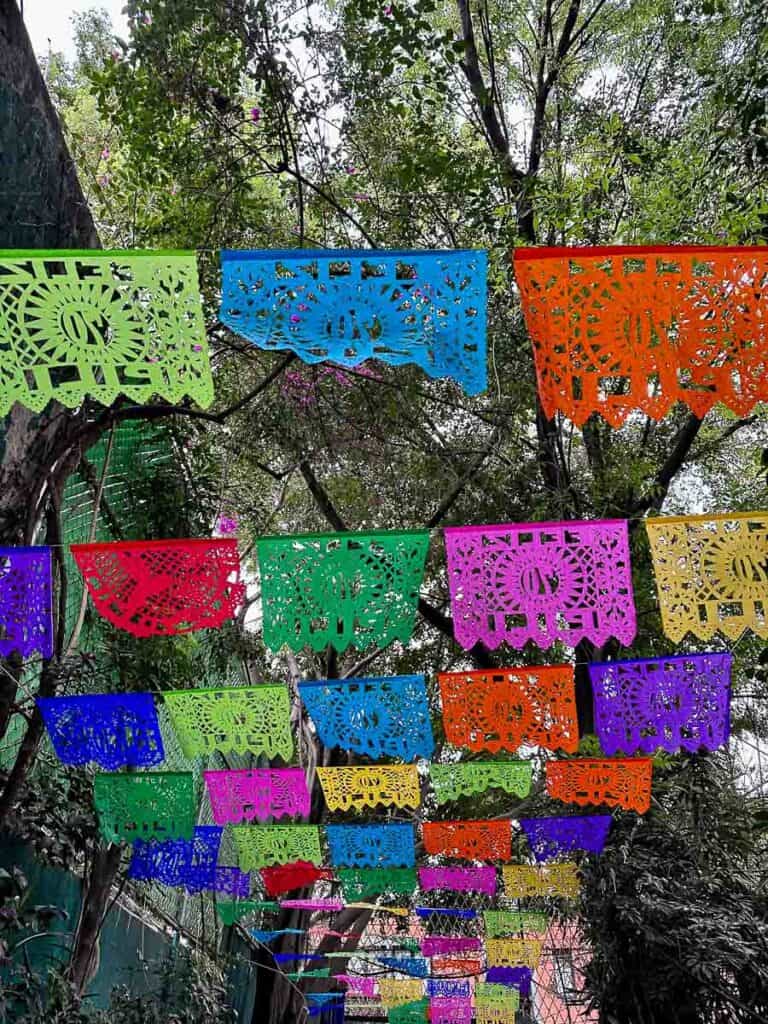 Learn Some Basic Spanish
Most people in Mexico City that you will interact with as a tourist will speak some English. In Mexico City's main tourist attractions, hotels and popular restaurants, a lot of people will communicate in English rather than Spanish. However, that's not always the case, especially with street food vendors or in local markets, where many people only speak Spanish.
No matter what you're planning to do in Mexico City, it pays to learn a few phrases in the Spanish language, both to help you communicate but also to show respect to the locals.
I am somewhat proficient in Spanish and found that I used it every day while I was in CDMX. Even if it wasn't perfect (it never was), trying to speak in Spanish always elicited smiles and conversation from the people I interacted with.
Frequently asked questions about Mexico City
Do you need travel insurance to Visit Mexico City?
Travel insurance isn't required to Visit Mexico City as a foreigner, but I always recommend getting travel insurance to cover you during your trip. I like SafetyWing for travel insurance because it provides coverage that includes COVID-19-related issues, which most policies don't.
How much should I tip in Mexico City?
I get this question often – and I think it's an important Mexico travel tip. Tipping isn't required, however it is customary to tip 10-15% of your bill for good service in nicer restaurants. If you're eating street food, you can skip leaving a tip. 
What's the best street food in Mexico City?
My favorite street food in Mexico City was the delicious tacos al pastor at El Huequito, located close to the Palace of Fine Arts.
Conclusion
I hope these Mexico City travel tips are helpful as you plan and prepare for your trip to this vibrant destination.  Use these tips to help you with getting around, enjoying the cuisine, sightseeing, and staying safe to make the most of your visit to this incredible city.
With these Mexico City travel tips, you can explore the city's rich history and culture, taste its delicious cuisine, and have a safe and enjoyable trip. Plan ahead, be respectful of the local culture, and don't forget to have fun!
Heading elsewhere in Mexico? Check out these key Cabo travel tips as well as some awesome things to do in San Jose del Cabo.