The Perfect Cabo Itinerary: Your Ultimate Guide to a Dream Vacation
This site uses affiliate links and I may earn a small commission when you use my links and make a purchase, at no extra cost to you. 
Planning a trip to Los Cabos? There's nothing more relaxing than a sun-soaked vacation filled with beautiful beaches, delicious food, and unforgettable adventures, and Cabo's got it all! To make the most of your time in Cabo it's essential to plan your itinerary carefully. Cabo is my favorite place to vacation in Mexico, and in this post, I'll guide you through the ultimate 5 day Cabo itinerary, filled with must-see attractions, delicious dining options, and thrilling activities. So sit back, grab a margarita, and get ready to discover all that Cabo has to offer!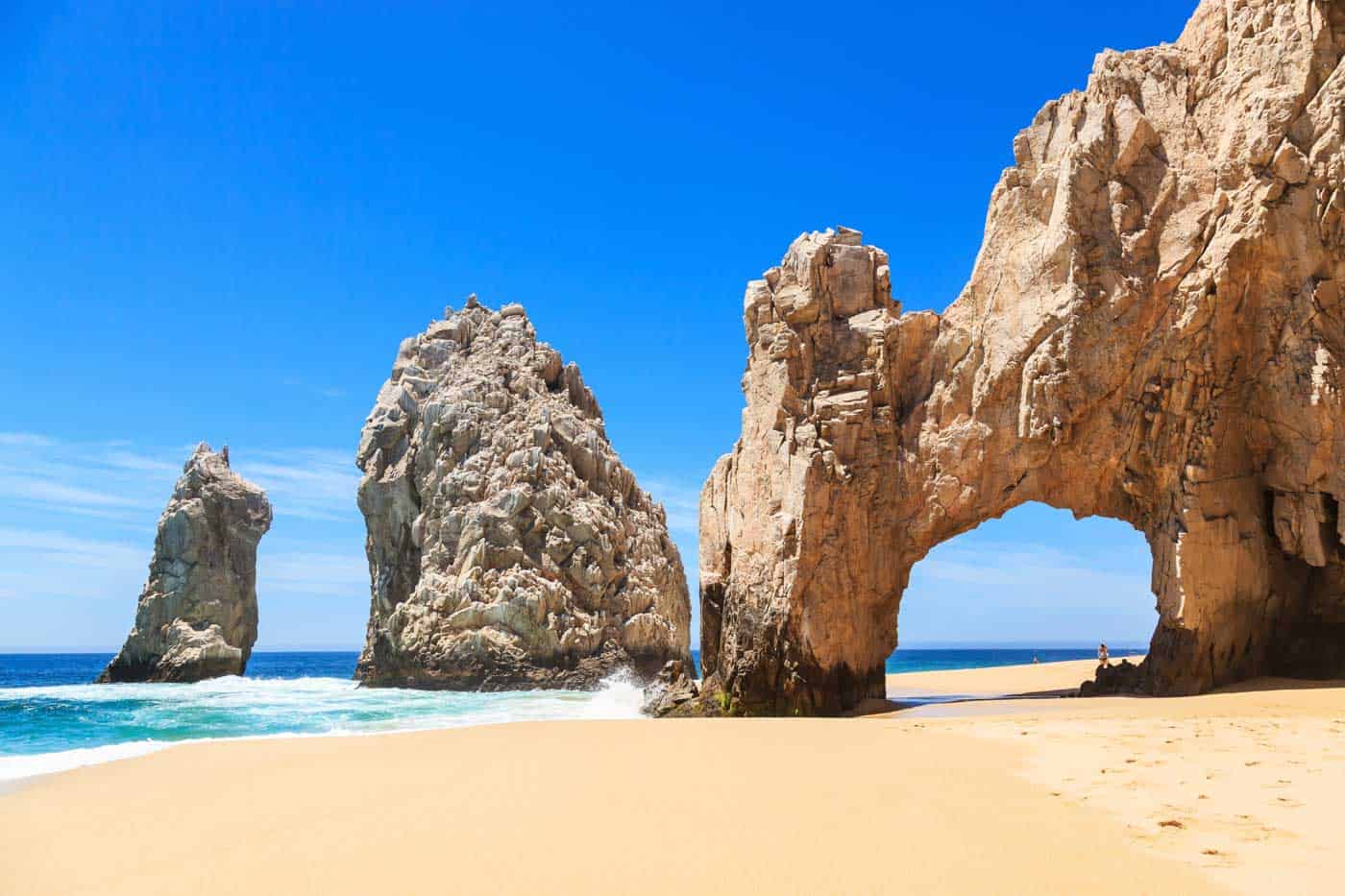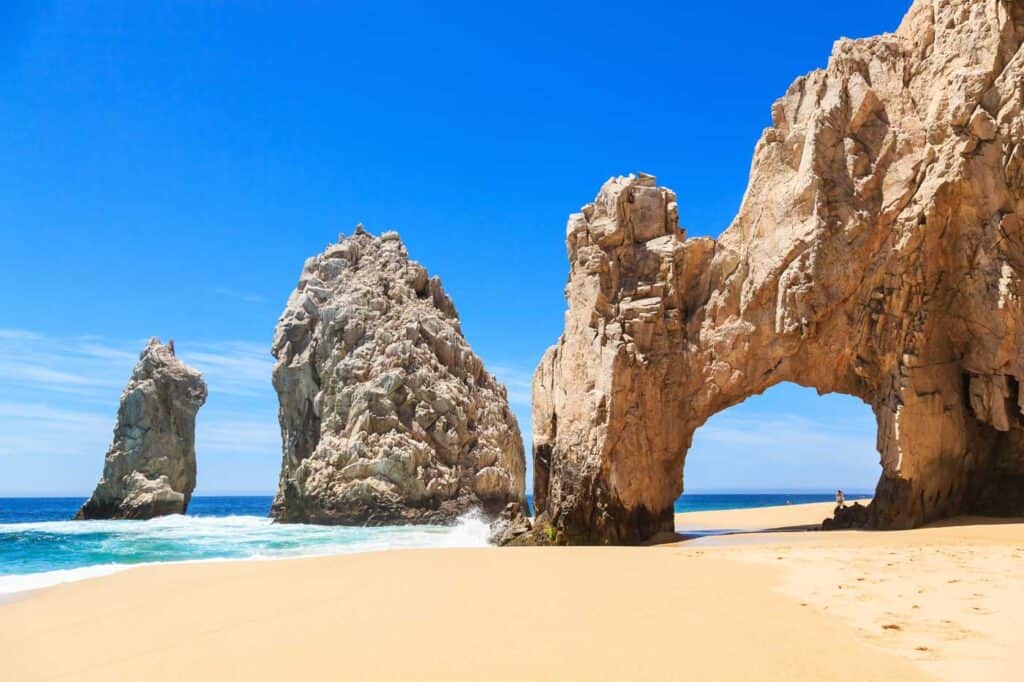 Overview of Los Cabos, Mexico
Located on the southern tip of the Baja California peninsula in Mexico, Cabo is a wonderful place to vacation, due to its beautiful beaches, warm weather, and lively nightlife.
Los Cabos is actually made up of two distinct towns: Cabo San Lucas and San Jose del Cabo, which are connected by a 20-mile corridor of resorts, golf courses, and beaches.
There's more to Cabo than just beach vacations, though! Los Cabos has a rich history dating back to prehistoric times when the area was inhabited by indigenous tribes.
In the 16th century, Spanish explorers arrived in the area, and Los Cabos became an important stop on the trade route between Mexico and Asia. The area was also popular with pirates, who would use the rugged coastline as a hiding place for their loot.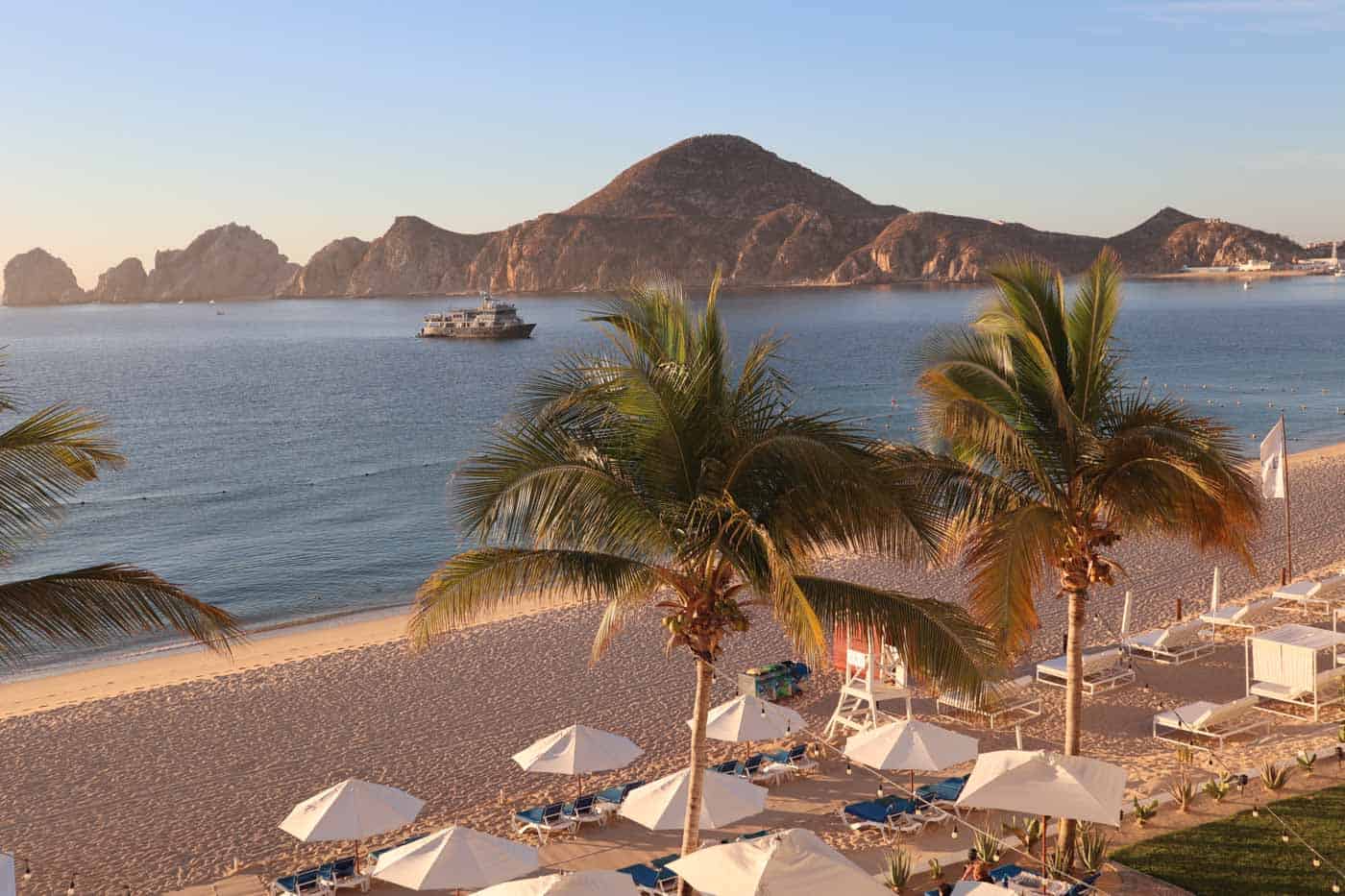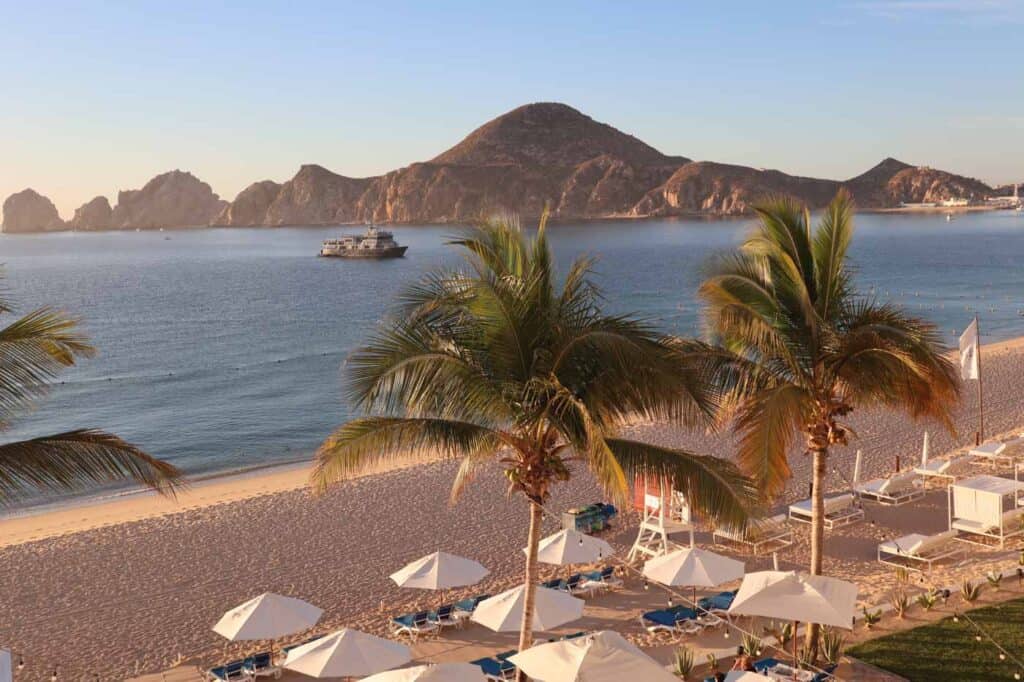 Since I live in San Diego, Cabo is just a hop, skip, and a jump down the Baja peninsula. That means it's my go-to spot whenever I want a beachy getaway. I've been to Cabo many times, and have made every mistake there is to make! So today I'm here to help you plan the perfect Cabo vacation.
In this guide, I'm sharing how to plan your Cabo trip to create the ultimate 5 day Cabo itinerary. This day-by-day Cabo trip planner will walk you through all of the best things to do, what to see, where to stay and where to eat in Cabo.
How to Spend 5 Days in Cabo
Let's dive in: how should you spend 5 days in Cabo?
This 5 day Cabo itinerary is the perfect mix of adventure and relaxation. You will have time to enjoy some of the activities that make Cabo unique, and you will also have plenty of time to relax and soak up the near-perfect climate that Cabo enjoys all year-round.
If your Cabo vacation is less than 5 days, simply tailor the itinerary below so that it fits your most important priorities. And if you're visiting Cabo for more than 5 days, add on one of the suggested day trips below, or just plan to do more of the many fun outdoor activities that are on offer in Cabo.
And let's not forget the food! OMG THE FOOD. This itinerary also includes my recommendations for all of the best places to eat in Cabo – from traditional Mexican food, to seafood, and of course, plenty of margaritas. Let's go!
Day 1: Arrive and Relax
Your first day in Los Cabos should be all about relaxation. After arriving at Los Cabos International Airport, take a taxi or shuttle to your hotel or resort. Check-in and take some time to settle in and explore the resort.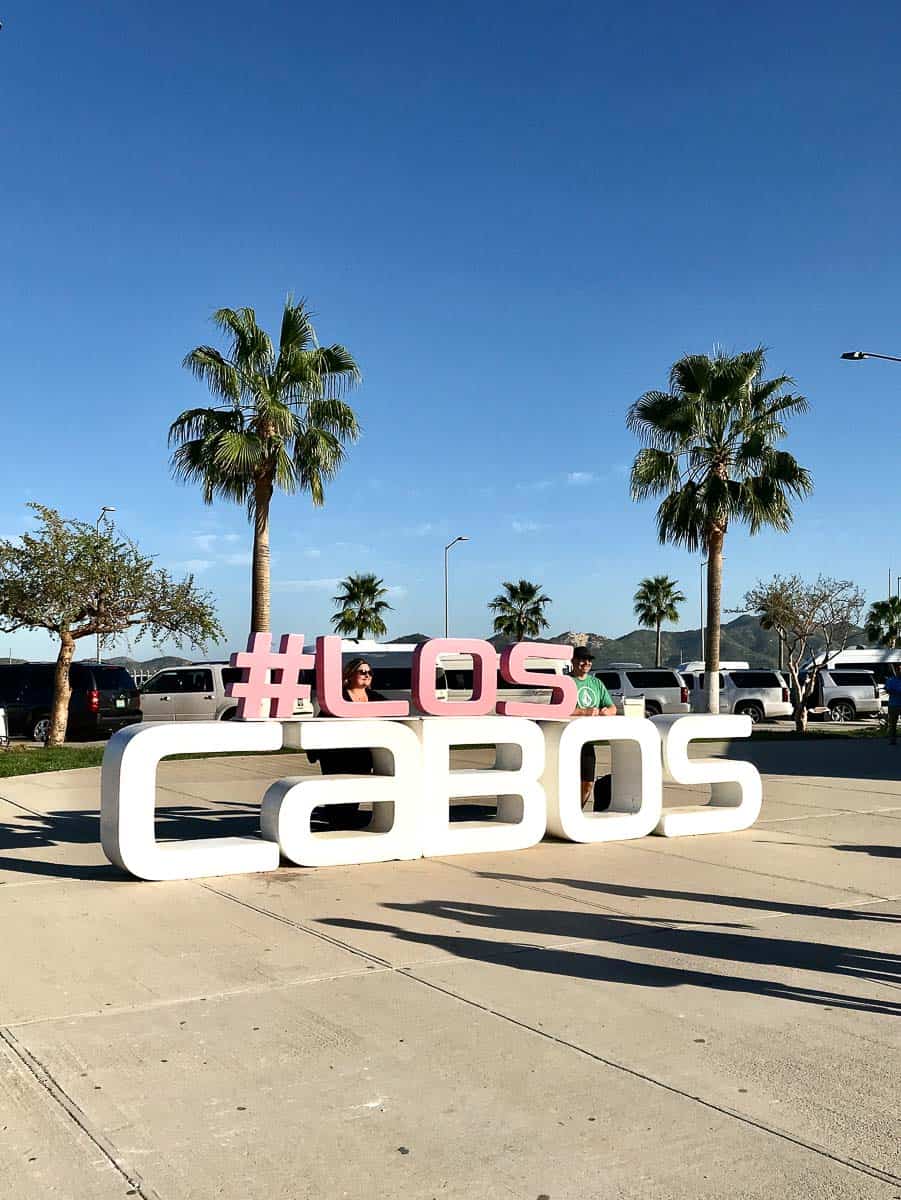 Make sure to book your airport transportation in advance, otherwise you'll be stuck overpaying for a taxi. My recommendations for ground transportation in Cabo are listed below.
Once you've settled in at your resort, take some time to explore and settle in. Many resorts have stunning pools and private beaches, perfect for relaxing after a long flight.
After a day of travel, you will probably want to dine at your resort. But if you feel like getting out, a few of my favorite restaurants in Cabo are listed below.
Day 2: Snorkeling and Sightseeing in Cabo San Lucas
Take your first full day in Cabo to get acquainted with a few of the most popular areas in Cabo San Lucas: Medano Beach, the Marina, downtown, and Land's End.
Must-See Attractions in Cabo San Lucas
The Arch of Cabo San Lucas: This iconic landmark is a natural arch formation that sits at the tip of the Baja California Peninsula and marks the meeting point of the Sea of Cortez and the Pacific Ocean. The best way to see it is by boat tour – more on that below!
Lover's Beach and Divorce Beach: Lover's Beach is a secluded cove with crystal-clear water and breathtaking views. Divorce Beach is known for its strong currents and rough waves, making it less suitable for swimming but a popular spot for taking in the views of Land's End and the Pacific Ocean. Both are accessible only by boat.
Land's End: Land's End is the southernmost point of the Baja California Peninsula and home to several rock formations and the famous El Arco.
Medano Beach: A popular spot for swimming, sunbathing, and water sports, Medano Beach is one of the most famous beaches in Cabo San Lucas.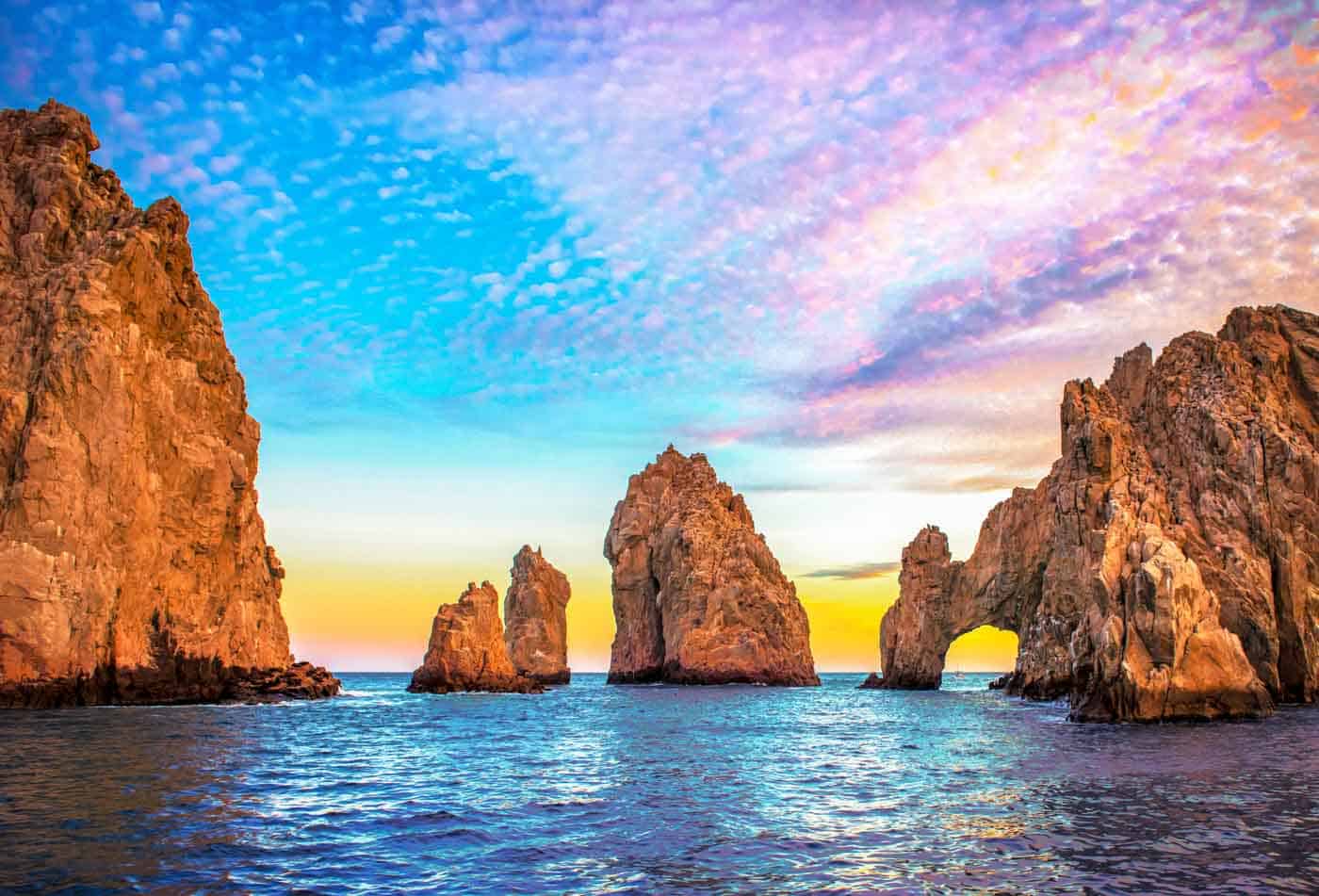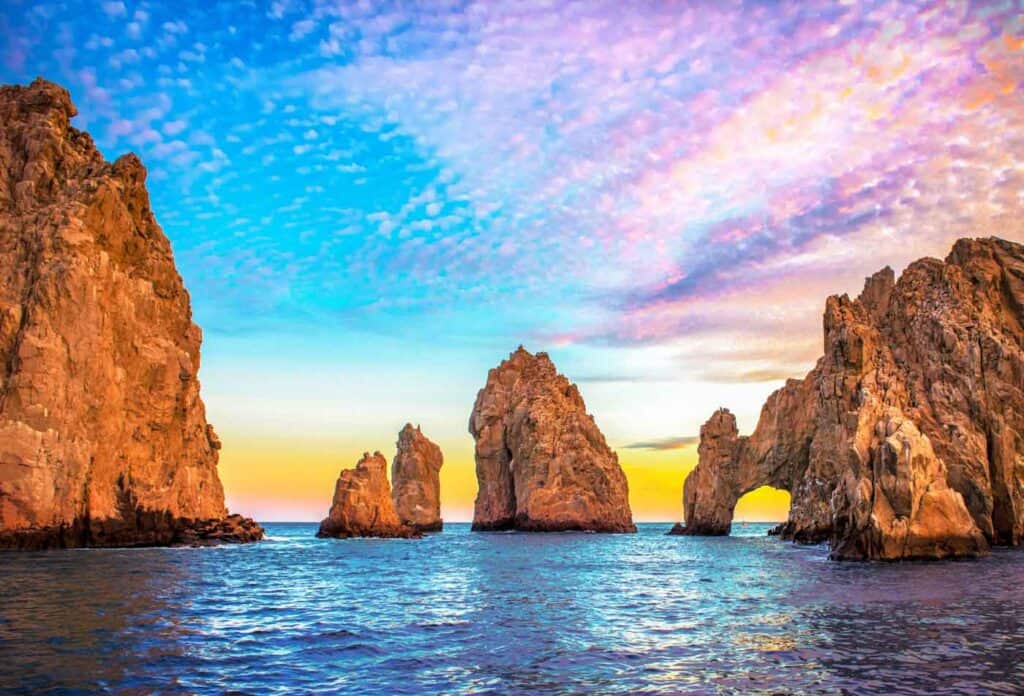 One of the best parts of vacationing in Cabo is spending time on the water! On day 1 of your Cabo itinerary, take a snorkeling or glass-bottomed boat cruise to explore Cabo's vibrant aquatic life.
While there are lots of options for tours, here are a few that I recommend because they'll take you to Playa del Amor (Lover's Beach) as well as Playa del Divorcio (Divorce Beach).
Both Lover's Beach with its calm waters and Divorce Beach with its rough tides are a must-visit when in Cabo, and offer plenty of opportunities for swimming, sunbathing, and taking photos.
Top tip: It's important to know before you go to Cabo that many of the beaches in the area are not swimmable. This is due to the wave conditions and strong current that is present along most of the coastline. Both Medano Beach and Lover's Beach are considered swimmable, but always check conditions before you go in the water.
Downtown Cabo and the Marina
After your tour, spend a few hours exploring downtown Cabo. There's no shortage of spring break culture, but you'll also find lots of shops and markets with handmade crafts and souvenirs.
It's also fun to stroll around the marina, where you'll likely see the deep sea fishing boats return from a day at sea, and can marvel at their giant catches.
End your day with dinner at The Office, which is located right on Medano Beach. The Office is one of Cabo's most popular restaurants and is known for its traditional Mexican food, as well as its beachy location.
With your toes in the sand, you can watch the sunset over el Arco (the arch) at the tip of Land's End.
If you're up for some nightlife after dinner, head to Cabo Wabo Cantina, Sammy Hagar's restaurant and bar, located just a few blocks away.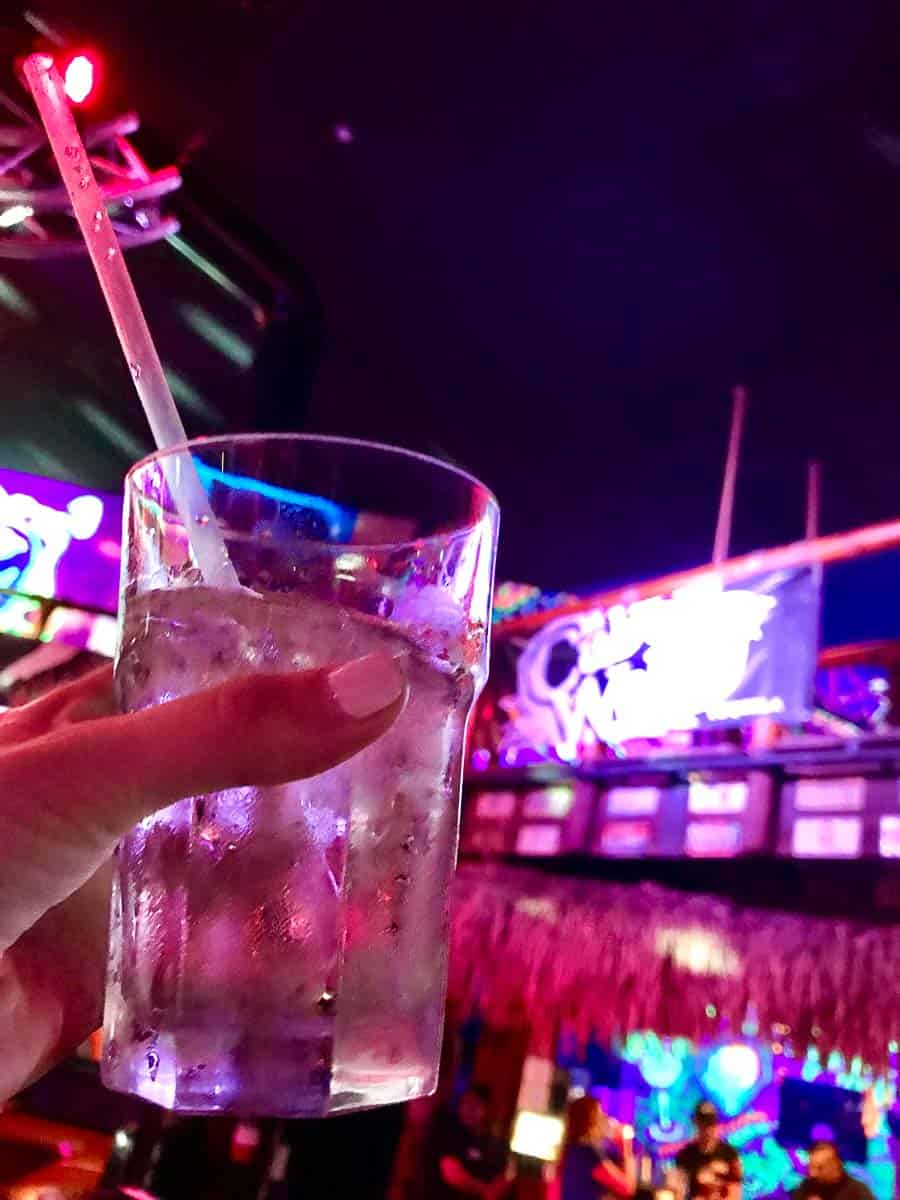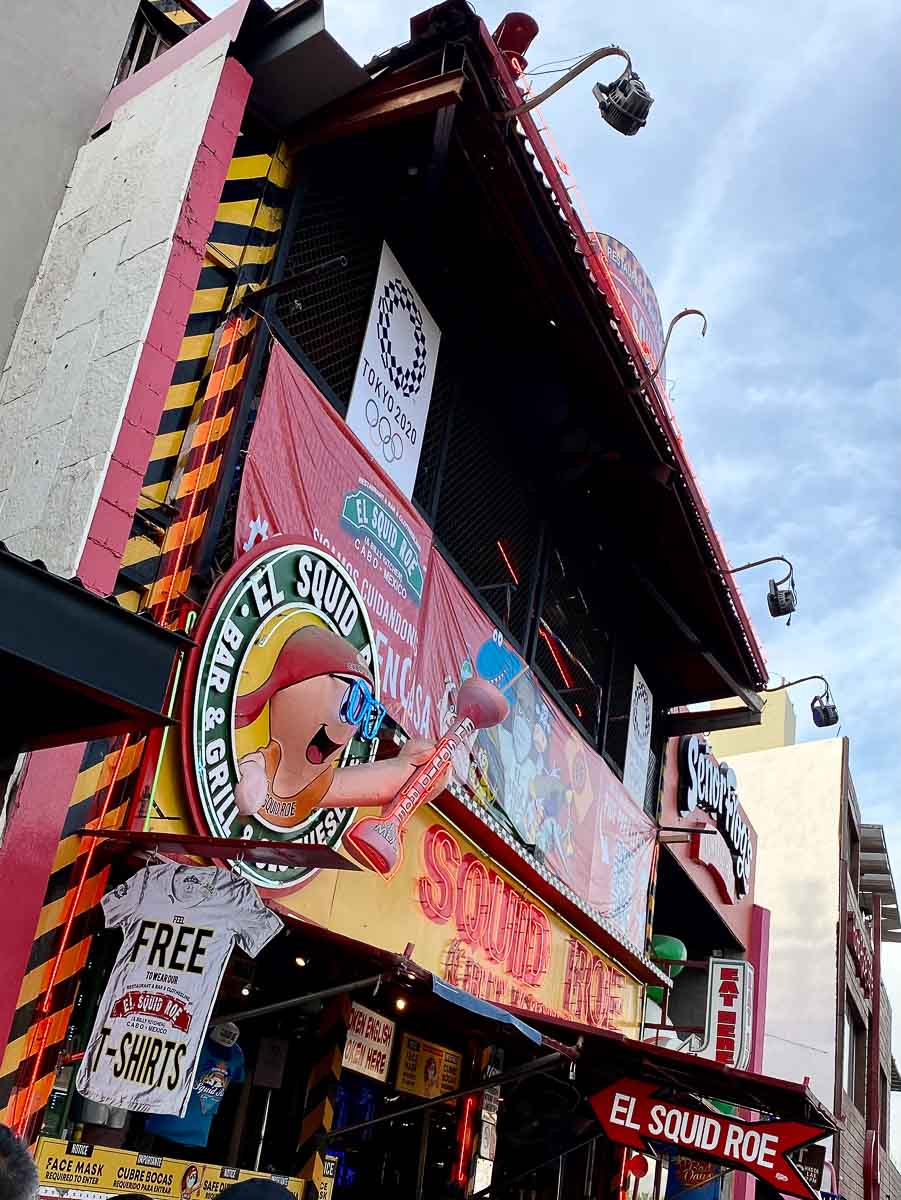 There's often live music at Cabo Wabo Cantina (check the schedule to see what's on), and if not, there's a DJ, so the dance floor is usually pretty packed.
Day 3: Explore San José del Cabo
On the third day of this Cabo itinerary, head to San Jose del Cabo to explore this quaint town that's brimming with art, history and culture.
There are so many things to do in San Jose del Cabo that it can be hard to choose!
Must-See Attractions in San José del Cabo
Gallery District: San Jose's art galleries are concentrated in a small part of the town that's easy to navigate on foot.
San Jose del Cabo Art Walk: Every Thursday evening from November to June, San Jose del Cabo's Art District hosts an Art Walk, where visitors can explore galleries and exhibitions, and enjoy live music and street performances.
Flora Farms: A 25-acre organic farm that features a farm-to-table restaurant, a market, and a variety of workshops and events in a stunning outdoor setting.
Estero San Jose: Located a short walk from downtown, this natural estuary is home to a diverse array of bird species.
Start your day in San Jose del Cabo by grabbing some tacos at Mi Casa. They're known for their delicious traditional Mexican dishes, and also their margaritas. If you prefer to eat by the water, Zippers is another popular spot that's right on the beach.
After lunch, take a few hours to explore the cobblestone streets and colonial architecture in San Jose's gallery district, where you can gallery-hop to take in artwork from local artists.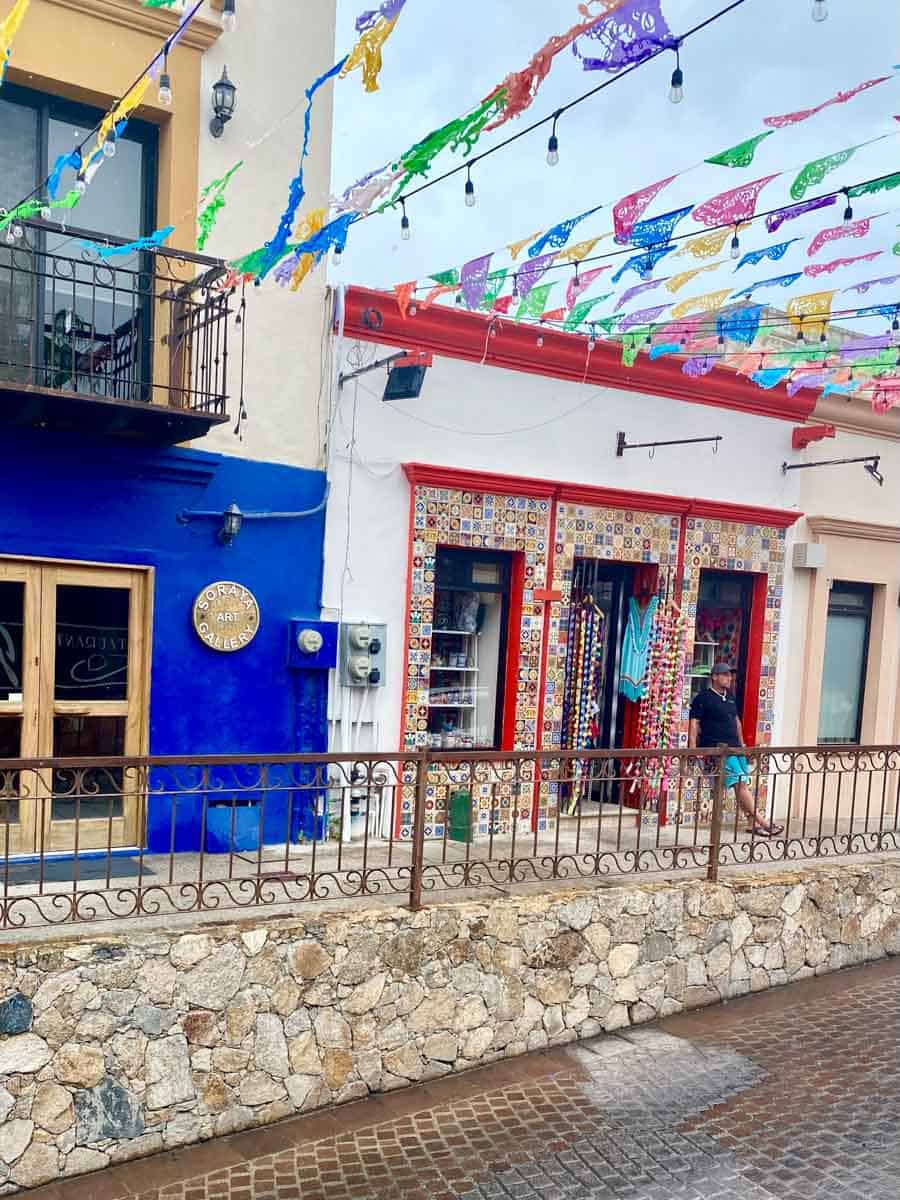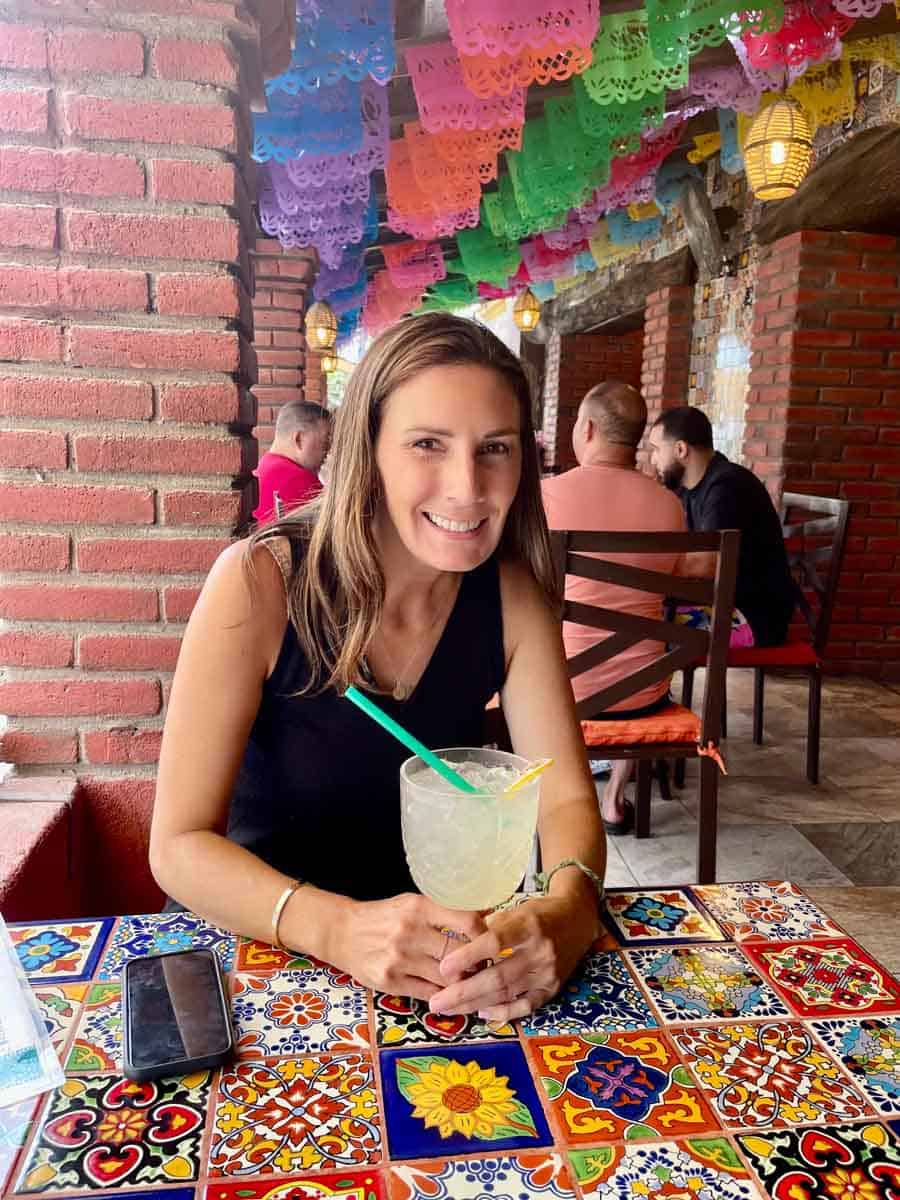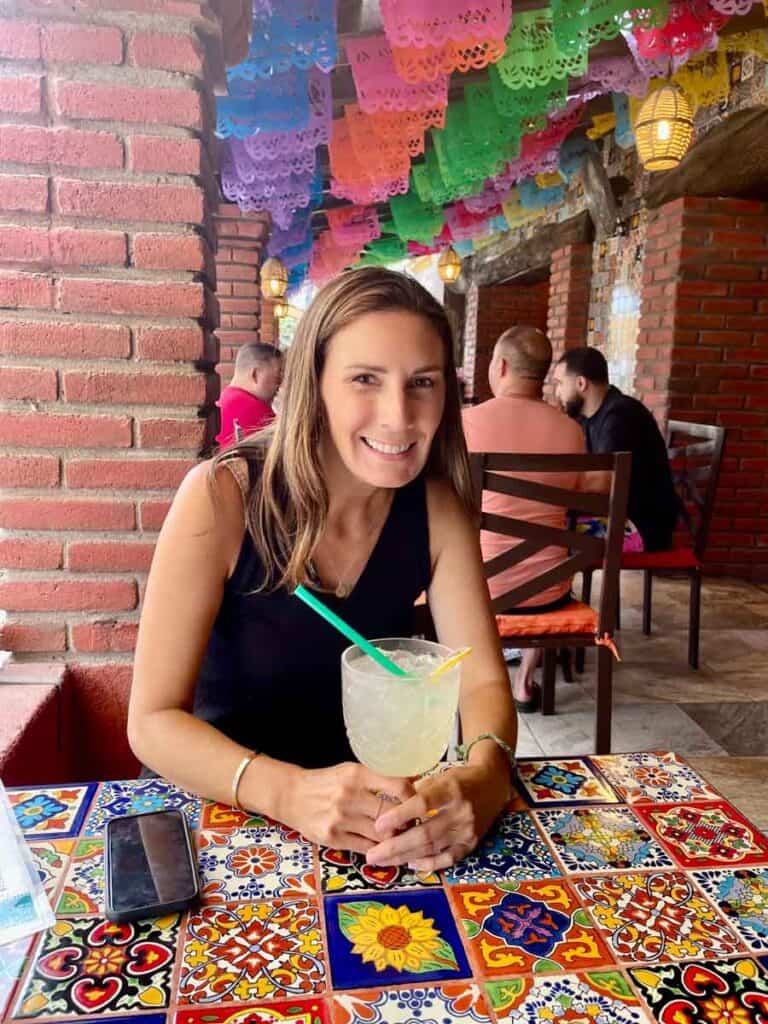 There are also lots of shops and boutiques to explore including my favorite Shima Shima. I guarantee you will leave with something from this tiny, colorful boutique!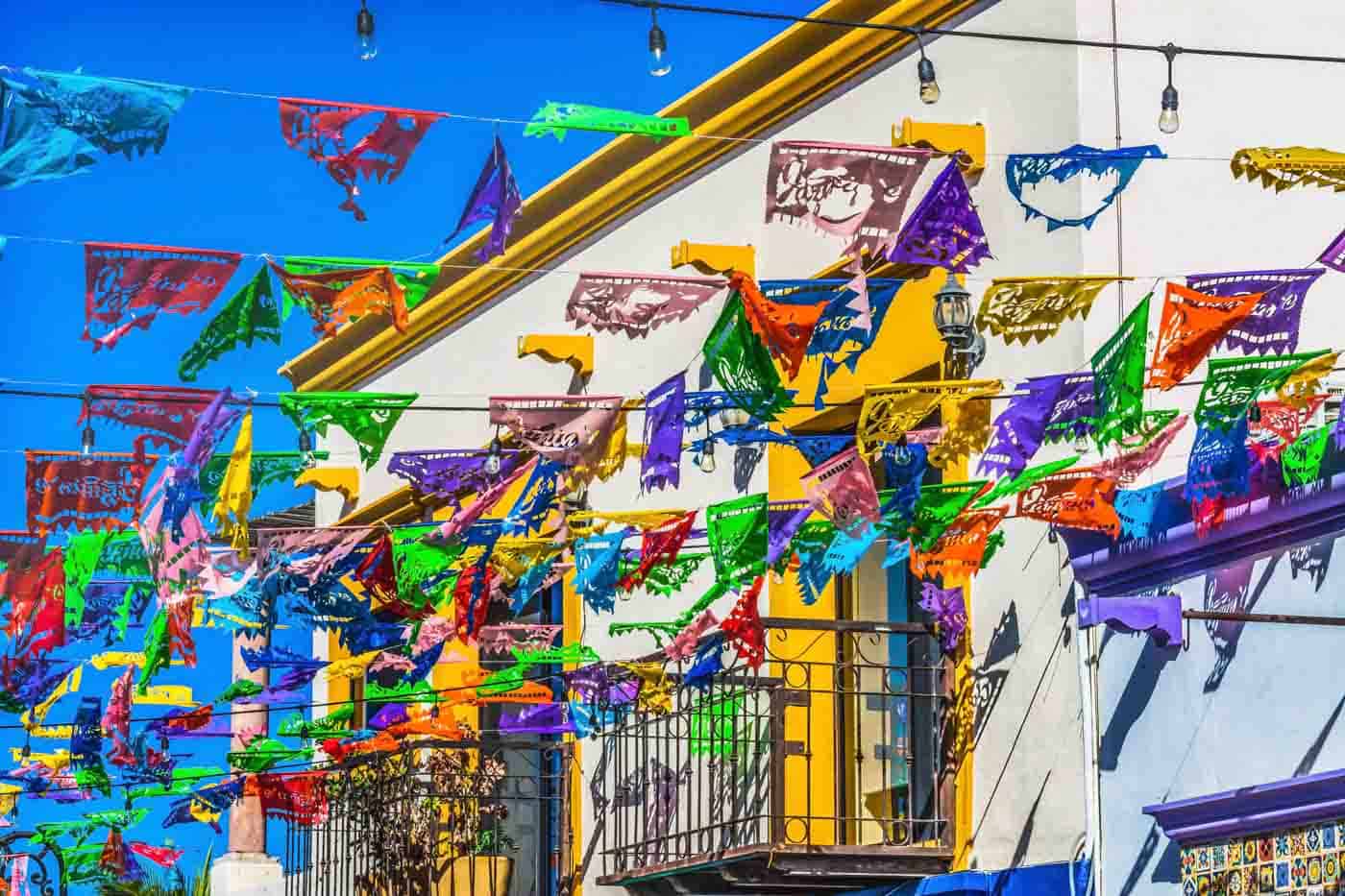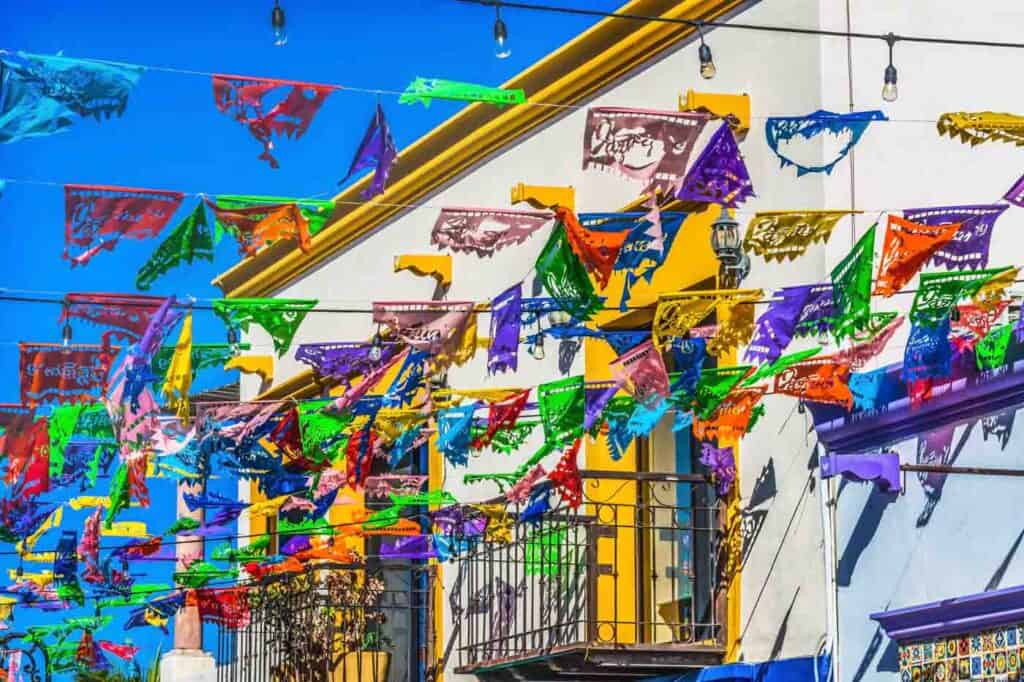 Once you've explored the area, it's time to head to dinner. Take an Uber to Flora Farms, one of the absolute best restaurants in Cabo. Flora Farms is a 25 acre farm-to-table restaurant where you can dine on organic food in a stunning outdoor setting.
Get to your dinner reservation early so that you can explore the entire grounds at Flora Farms. Flora Farms isn't just a restaurant, it's an entire experience! There's boutiques, a coffee shot, gift stores, and even a wine bar. I promise you won't be able to put down your camera.
Flora Farms is incredibly popular so be sure to book a reservation in advance. If you aren't able to eat at Flora Farms, Acre is another similar restaurant and is located close by.
Day 4: Outdoor Adventure
On day four of your Cabo vacation, plan to have some adventure! There are so many activities in Cabo that are perfect for thrill-seekers and outdoor enthusiasts. Here's a few suggestions:
Activities to Do in Cabo
Whale watching: If you visit Cabo between December and April, you can go on a whale watching tour to see the magnificent whales that visit the waters of Los Cabos. Los Cabos is one of the best places in the world to see humpback and gray whales.
Zip Line tour: If you're seeking an adrenaline rush, zip line tours offer a thrilling way to explore the rugged terrain of the Baja desert, with breathtaking views and exciting zip lines.
Fishing charters: Cabo San Lucas is known as one of the best destinations for deep sea fishing, with an abundance of fish such as marlin, tuna, and dorado attracting anglers from around the world.
ATV tours: For those seeking a thrill and adventure, ATV tours offer an exciting way to explore the Baja desert, with routes ranging from scenic beach rides to rugged mountain terrain.
Surfing or stand up paddleboarding: Whether you're a beginner or an experienced surfer, there are plenty of options for all skill levels. Some popular surf spots in Los Cabos include Zippers, The Rock, and Monuments. If surfing isn't your thing, you can still enjoy the beaches and the water by kayaking or stand-up paddleboarding.
Sunset cruises: A romantic and scenic way to experience the beauty of Cabo San Lucas, sunset cruises offer stunning views of the coastline, Land's End, and the famous Arch.
Golfing: Cabo San Lucas is home to several world-class golf courses, including the famous Cabo del Sol, offering stunning ocean views and challenging courses for golf enthusiasts.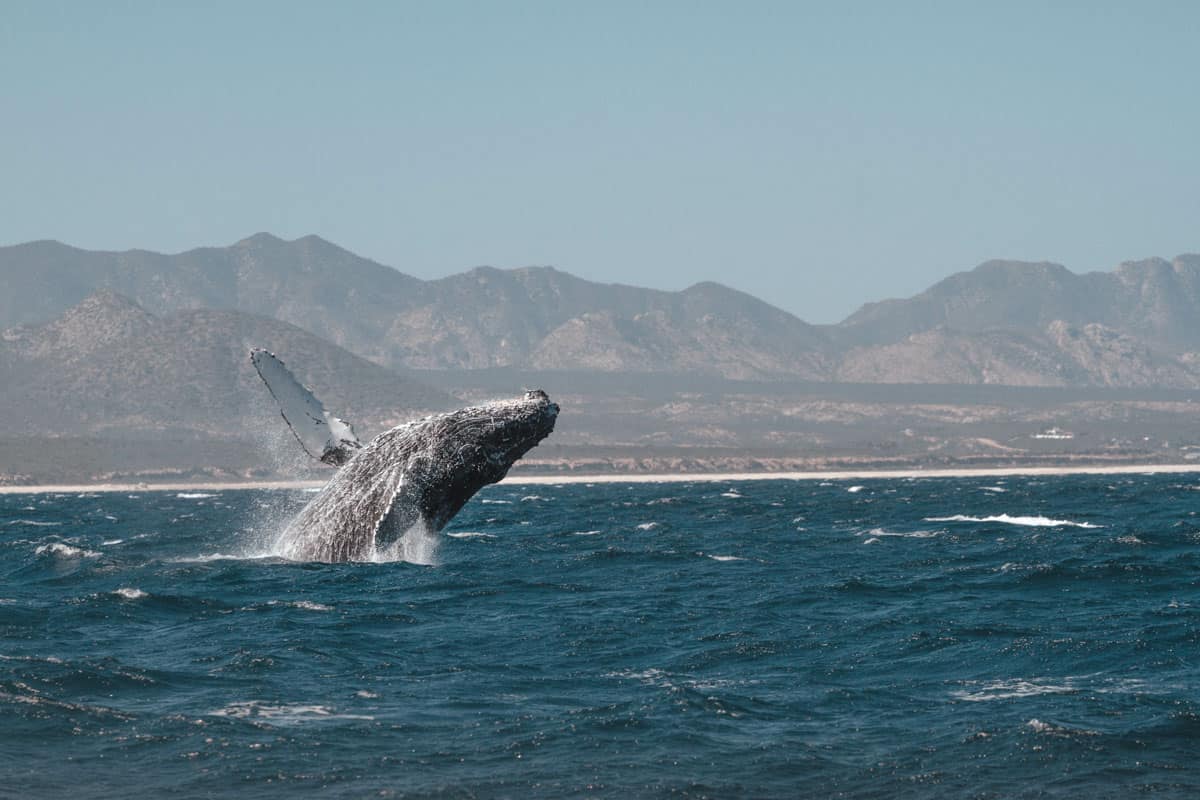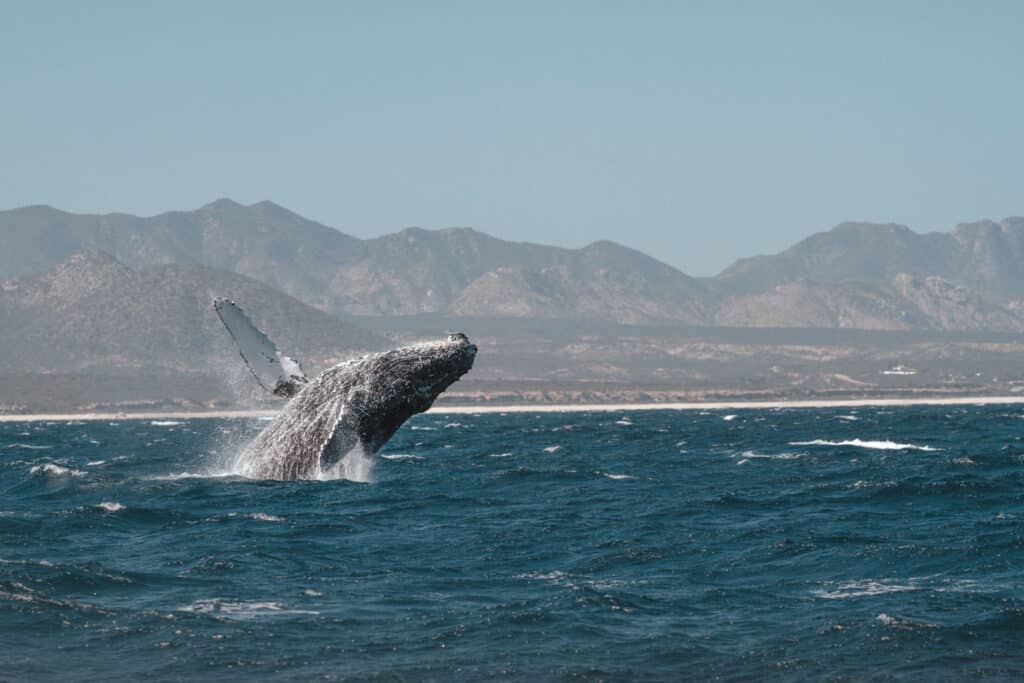 If you prefer an activity that is more relaxed for your last day in Cabo, check out the spa at the Waldorf Astoria or the Thompson Cape, which are two of my favorite places to get a massage!
I highly recommend getting a massage in one of the oceanview outdoor cabanas at The Cape. I'm still dreaming about it!
Top Restaurants in Los Cabos
For dinner on your last night in Cabo, check out one of these two favorite spots:
Edith's: Edith's serves traditional Mexican dishes with a modern twist. The garden setting at Edith's is gorgeous, and it's the perfect spot for a lively family meal.
El Farallon: If you want a romantic, upscale experience for your last night in Cabo, you can't miss El Farallon at the Waldorf Astoria hotel. Start with a glass of bubbly at their champagne bar, and then pick out one of their fresh catches for an incredible seafood meal. The scenery is absolutely breathtaking.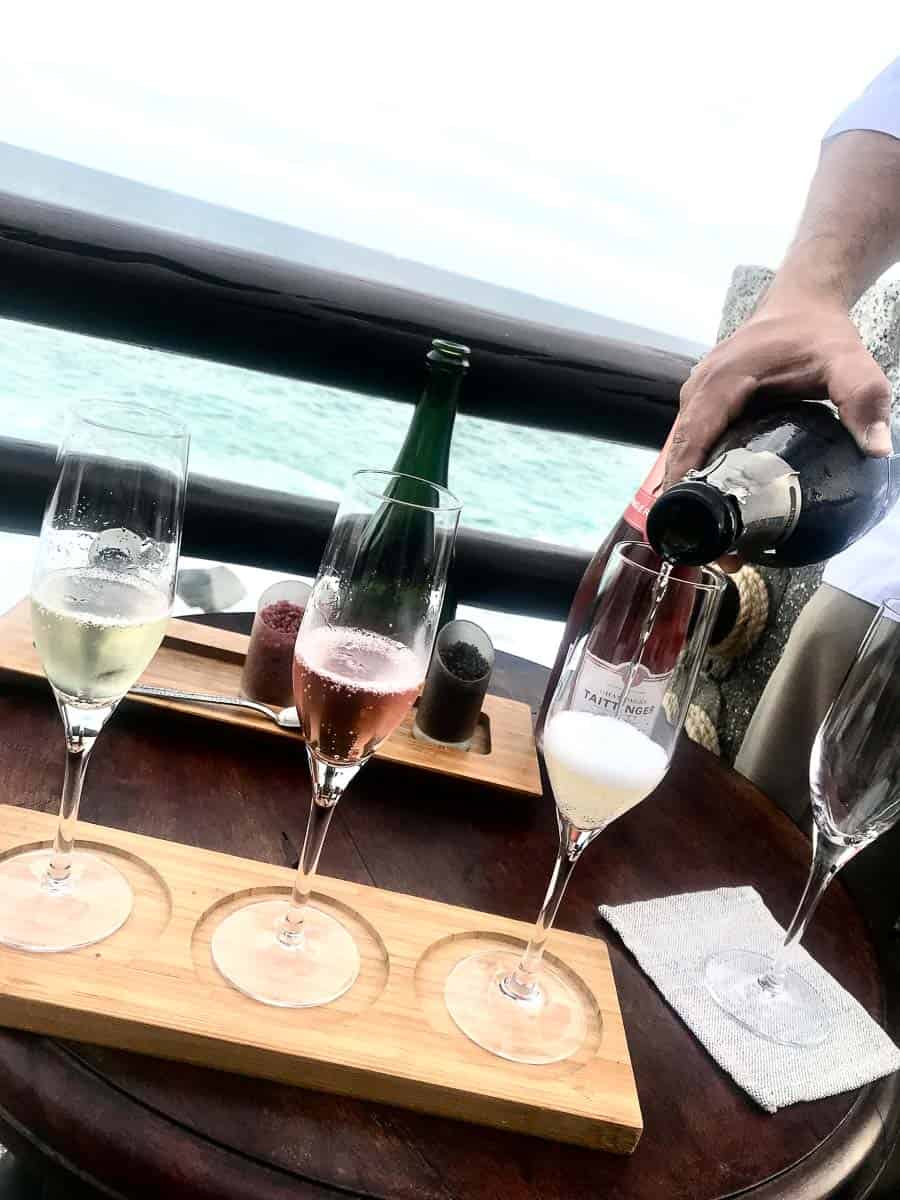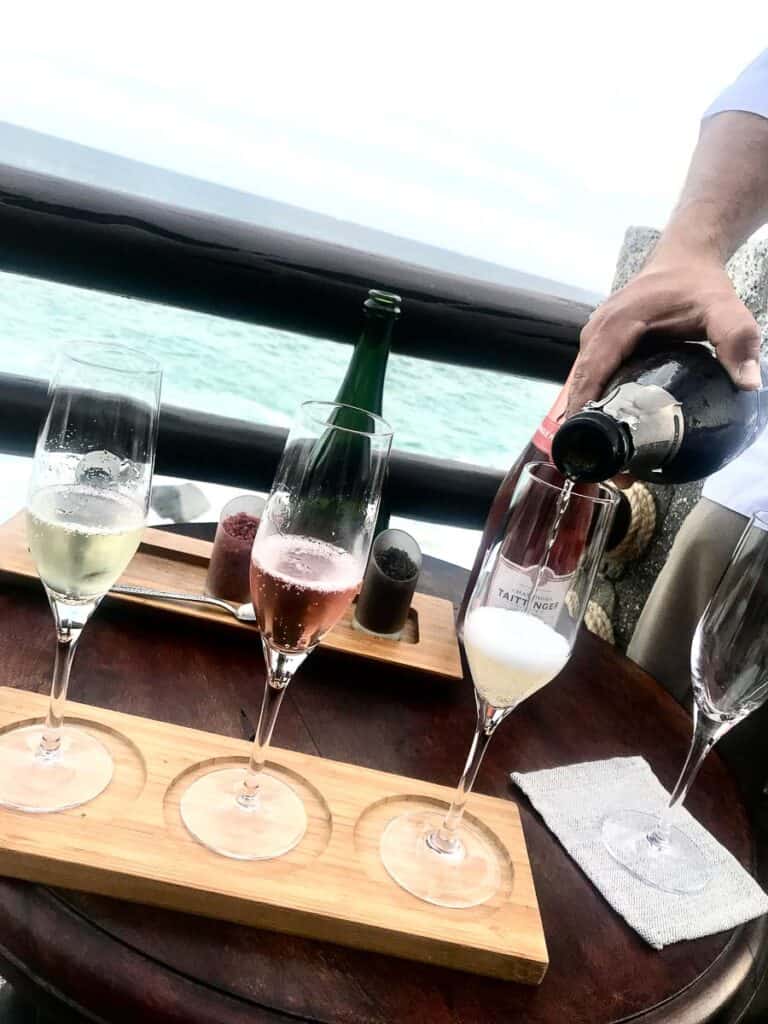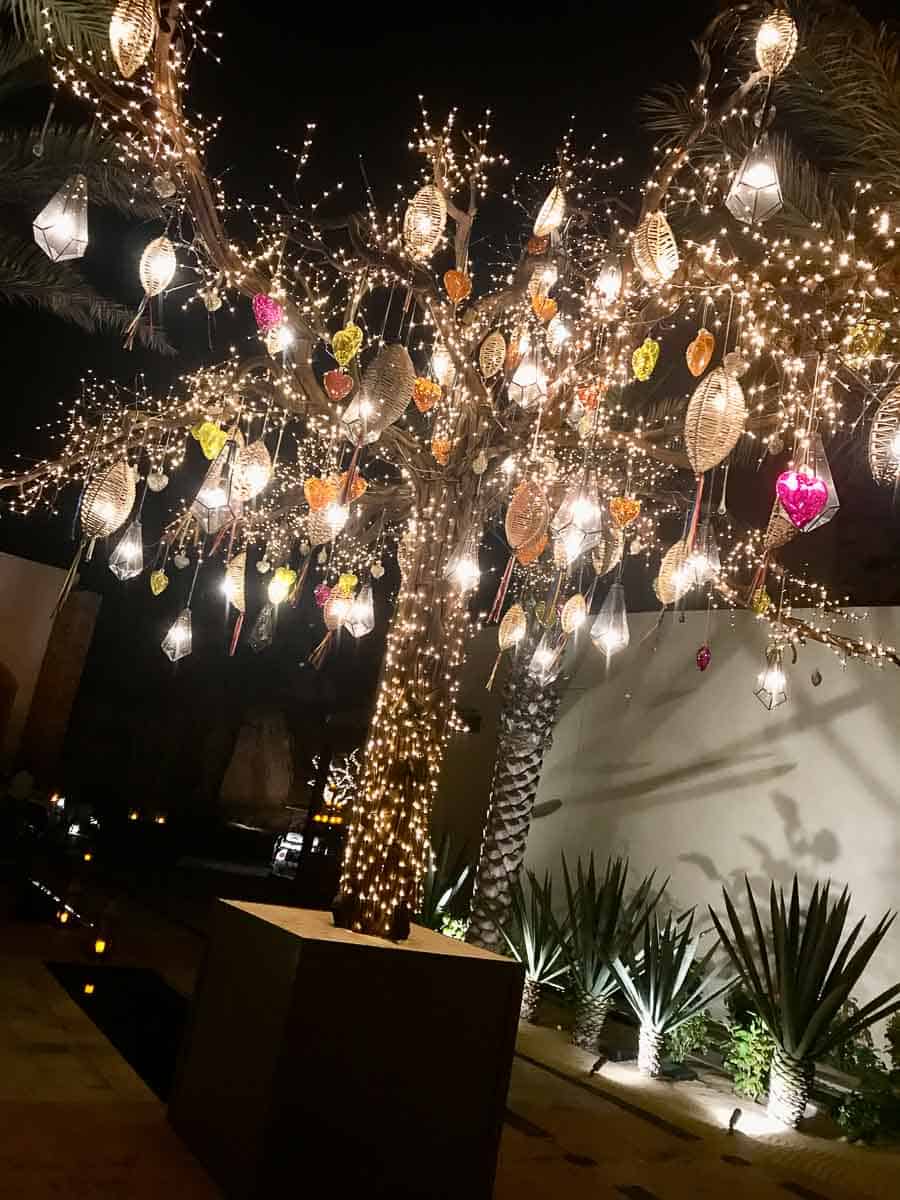 Edith's and El Farallon are very popular places to eat in Cabo, so make sure to book your table in advance.
Day 5: Enjoy the Beach or Pool
On your last day in Cabo, spend your remaining time relaxing by the pool or on the beach! If you have an afternoon flight home, you can still plan on spending time at the pool or beach, as many resorts will let you use their gym or spa facilities to shower after you check out of your room.
Make sure to give yourself plenty of time to get to the airport on your way home. The lines to check in at the Cabo airport are often quite long, and the airport can be chaotic. On your way home, toast to a return trip to Cabo again soon!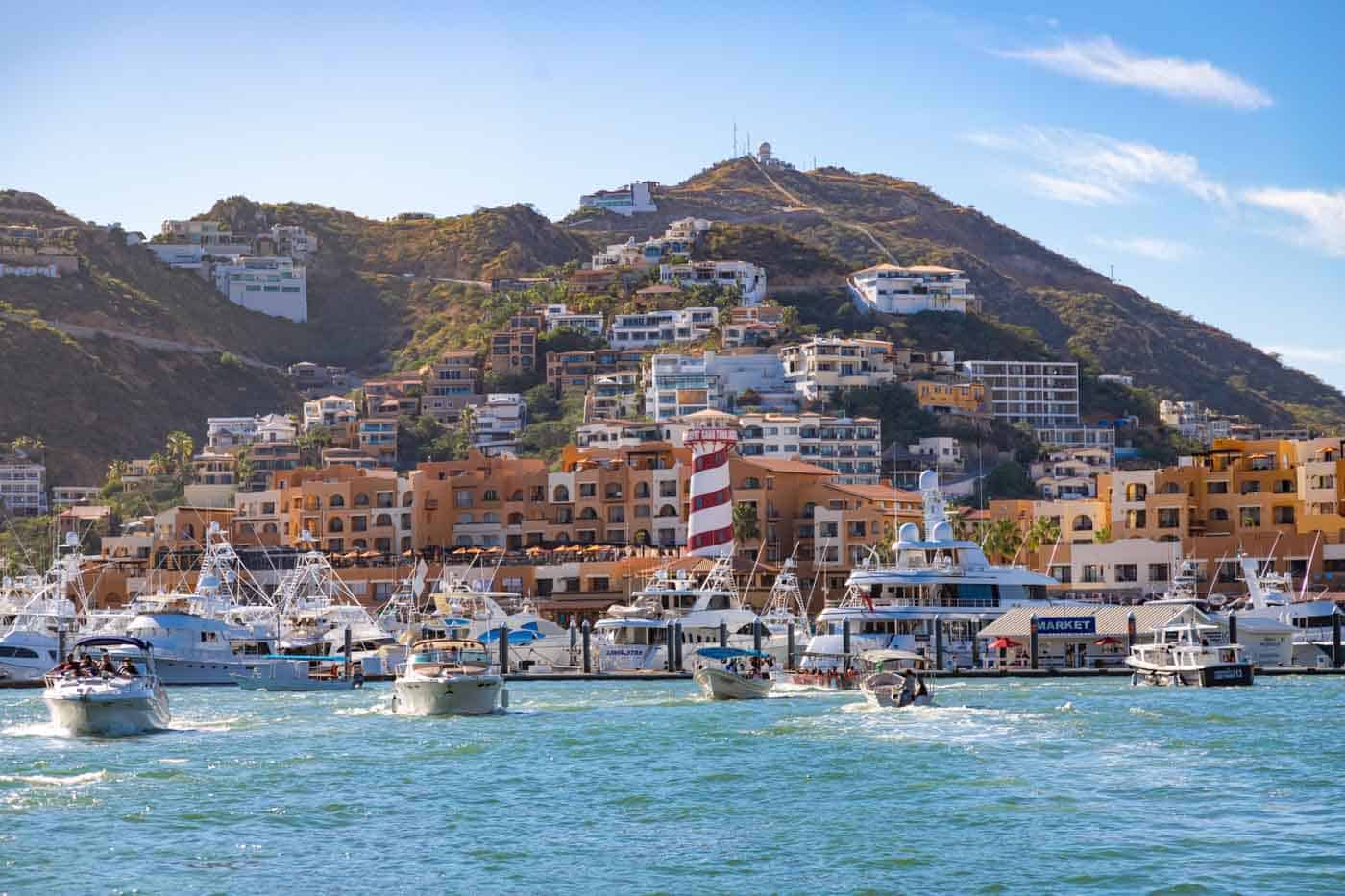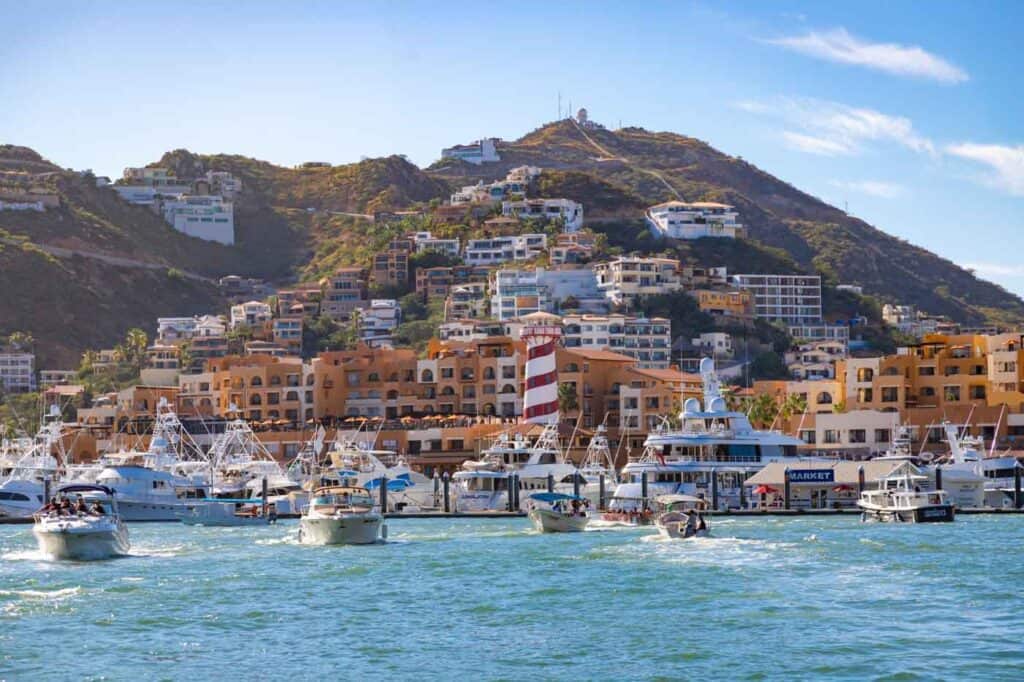 What to Do in Cabo With More Than 5 Days
If you have more than 5 days in Cabo, you will have enough time to take a day trip to one of several beautiful destinations surrounding Cabo, each special and unique in its own right. The most popular day trip destinations from Cabo are:
Todos Santos: 1.5 hours from Cabo San Lucas. Located on the Pacific coast, this quaint town is famous for its art galleries, surf culture, and vibrant nightlife, making it a popular day trip destination for travelers seeking a laid-back vibe.
La Paz: 2 hours from Cabo San Lucas. La Paz is the capital of Baja California Sur, and has a unique blend of modern city amenities and traditional Mexican culture, including historic landmarks and cultural attractions as well as trendy restaurants and bars.
Cabo Pulmo National Park: 2-2.5 hours from Cabo San Lucas. This marine reserve is a must-visit for nature lovers, with stunning coral reefs, crystal-clear waters, and diverse marine life, making it a perfect spot for snorkeling, diving, or simply relaxing on the beach.
East Cape: 1.5 hours from Cabo San Lucas. The rugged coastline of the East Cape offers a unique contrast to the resort town of Cabo San Lucas, with its secluded beaches, scenic desert landscape, and opportunities for outdoor activities such as fishing, surfing, and hiking.
Planning Your Cabo Itinerary
Best Time to Visit Cabo
What's the best time of year to visit Cabo? Anytime!
Cabo enjoys a warm climate all year-round, so there's really not a bad time to visit. The high tourist season for Cabo is November – April, when the weather is drier and cooler (highs in the high 70's). Prices peak around the Thanksgiving and year-end holidays, as well as during the weeks of spring break around Easter.
The low season in Cabo is during the summer months, where the temperatures are quite hot (high 80's) and brief rainstorms are not uncommon. Prices are typically lower over the summer months, so you can save some money by traveling to Cabo in June, July, or August.
How Long to Stay in Cabo
Cabo can be enjoyed as a 3, 5 or 7+ day trip. Personally, I think the ideal trip to Cabo is 5 days long. In a 5 day trip to Cabo, you can see many of the area's best attractions and experience some of Cabo's unique activities, but do so at a relaxed pace.
There is so much to do in Los Cabos, though, that you could easily spend a week or more exploring both towns as well as the surrounding areas.
Cabo Vacation Budget
How much does a trip to Cabo cost? The cost of a Cabo vacation varies widely depending on your accommodation preferences, the time of year, and the days of the week that you travel to Cabo.
When budgeting for your trip, be sure to include costs of flights, accommodations, meals, activities, and transportation. Approximate costs for each of these budget categories are below.
Flights: $300 – $500 per person. Flights to Cabo vary in price, depending on your origin city and whether you're flying on a weekday, weekend, or peak time of year (spring break and year end holidays). If you're coming from Southern California, consider flying to Cabo from Tijuana to save on the price of airfare.
Accommodations: $100/night for a budget hotel or simple vacation rental, $300-$500/night for a mid-range all-inclusive hotel, and $700+/night for luxury accommodations or villa rentals.
Meals: $5 – $10 for street tacos to $60+ for a high end meal.
Activities: Activity costs in Cabo will vary depending on your interests. Research your activity of interest in advance to include it in your budget, and book well ahead of time for the best prices.
Transportation: Transport costs vary depending on your plans. See below for more info on getting around Cabo.
Getting to Los Cabos
Most visitors to Los Cabos arrive by air into San Jose del Cabo International Airport (SJD). There are direct flights to Cabo from many U.S. cities via international airlines. The airport is also served by several domestic airlines that operate flights to Cabo from elsewhere in Mexico.
The SJD airport is located 15 minutes' drive from San Jose, 20-30 minutes to the tourist corridor, and about 40 minutes to Cabo San Lucas.
Top tip: don't take a taxi from the Cabo airport! Tourists constantly get scammed by taxi drivers that overcharge them. Since Uber CANNOT pick up passengers at the airport, you should pre-book your ground transportation. These are my top picks:
Ubers are allowed to drop off passengers at the airport, so you can take an Uber to the airport for your return flight (just not upon arrival).
Getting Around Cabo
There are several ways for tourists to get around Los Cabos. You can rent a car, or take a taxi, shuttle, Uber, or the public bus.
I recommend using Uber to get around Cabo because it is the most economical and most convenient option. Wait times can vary, so give yourself plenty of time to get places, especially if you have time constraints such as a dinner reservation or activity.
If you are leaving the center of town, don't rely on Uber to pick you up and take you back. Pre-book private transportation instead, or go with a tour group.
Where to Stay in Cabo
The tourist accommodations in Cabo are divided into three areas: Cabo San Lucas, San Jose del Cabo, and the "Tourist Corridor" that connects the two towns. The three areas are quite different in terms of what they offer to travelers, so check out my comparison of Cabo San Lucas vs. San Jose del Cabo to help you decide where to stay.
I am working on a post that's specific to Cabo accommodations, but in the meantime, here are my to recommendations in terms of the best places to stay in each area:
Cabo San Lucas
Best for: Spring break enthusiasts, nightlife lovers, travelers who want to be in walking distance to lots of restaurants and activities. Best places to stay:
Luxury: The Waldorf-Astoria is perfect for a couples' getaway. I love their gorgeous rooms and incredible service!
Best All-Inclusive: Pueblo Bonito Rosé is an amazing all-inclusive because you can dine at any of the resort's 5 restaurants, as well as the restaurants at sister properties in Cabo.
Best for Families: Grand Solmar Land's End is the perfect location for families because it's close to downtown, while still removed from the spring break scene. There's a kids club, too.
Tourist Corridor
Best for: All-inclusive resorts, travelers who plan to spend most of their time at their resort. Best places to stay:
For views: The Cape (my favorite!). Even if you don't stay at the Cape, stop by for a sunset drink on their rooftop bar.
For couples: Las Ventanas Rosewood is nothing short of amazing, and is easily the best resort in Cabo.
For families: Hacienda Encantada has an amazing kids' pool, is close to some of Cabo's only swimmable beaches, and has rooms that range from studios to 4-bedroom villas with kitchens.
San Jose del Cabo
Best for: Foodies, travelers who enjoy art and culture, and a slower (but not sleepy!) pace. Best places to stay:
Boutique: The Drift Hotel is such a chic property, and their mezcal bar is a can't miss spot.
High end resort amenities: The JW Marriott is everything you'd want in a beach vacation
Families: The Hyatt Ziva Los Cabos is close to amenities with an amazing kids' pool area.
What to Pack for Cabo
I'm working on a Cabo packing list post, but in the meantime, you'll find everything you need to pack for Cabo in this packing list for Mexico resorts. Pair it with my top picks for 2023 resort wear (all under $50 and available on Amazon, yessssss) and you've got everything you need for a stylish trip!
And to help you pack light, this 15-piece beach vacation capsule wardrobe is easy and oh-so chic.
Frequently Asked Questions About Planning a Cabo Itinerary
What is the best time of year to visit Cabo?
Cabo's warm climate make it an ideal year-round vacation destination. The high season for tourists in Cabo is November – April when the weather is drier and cooler. Peak times include spring break and the year end holiday season. The summer months in Cabo are off-peak, primarily due to the weather which is hotter, more humid, and includes occasional rain showers.
What are the top attractions in Cabo?
The top attractions in Cabo include El Arco (the Arch), Land's End, Lover's Beach, Divorce Beach and Medano Beach.
How long should I stay in Cabo?
I recommend staying at least 5 days in Cabo. The area is easy to get around so you can also see many of the highlights on a 3 day trip, but there are enough activities and things to do that you could easily spend 7 days or more exploring the area.
What are the best restaurants in Cabo?
The best restaurants in Cabo are El Farallon, Flora Farms and Acre.
What are the transportation options in Cabo?
Get around Cabo by renting a car, or taking a taxi, shuttle, Uber, or the public bus.
Conclusion
Los Cabos, Mexico, is an excellent vacation destination for travelers looking for adventure, relaxation, and beautiful scenery. With this day-by-day vacation plan, you can craft the perfect 5 day Cabo itinerary and make the most of your time in Los Cabos by experiencing everything this stunning city has to offer. Whether you're interested in exploring the beaches, going on an adventure tour, or simply relaxing at your hotel or resort, Los Cabos has something for everyone. So pack your bags and get ready for an unforgettable vacation in Los Cabos, Mexico. Do you have questions about Cabo? Let me know in the comments section below!