20 Fun Things to do At Night in San Diego
This site uses affiliate links and I may earn a small commission when you use my links and make a purchase, at no extra cost to you. 
San Diego is best known for its natural beauty and beaches, but when the sun goes down, there is still plenty to do in America's finest city! In this guide, I'm sharing my favorite evening activities and things to do at night in San Diego. These activities are great if you need ideas for a family outing, an evening with friends, a date night, or if you're solo in San Diego and just want to meet some new friends. Keep reading for all of the details on San Diego's nighttime experiences! And if you need ideas for more things to do in San Diego, check out my guide to the perfect 3 day San Diego itinerary.
Local's tip: Whatever you decide to do for the night in San Diego, make sure to bring a jacket or warm layer with you! Even during the summer months, it gets chilly at night, especially if you're by the coast.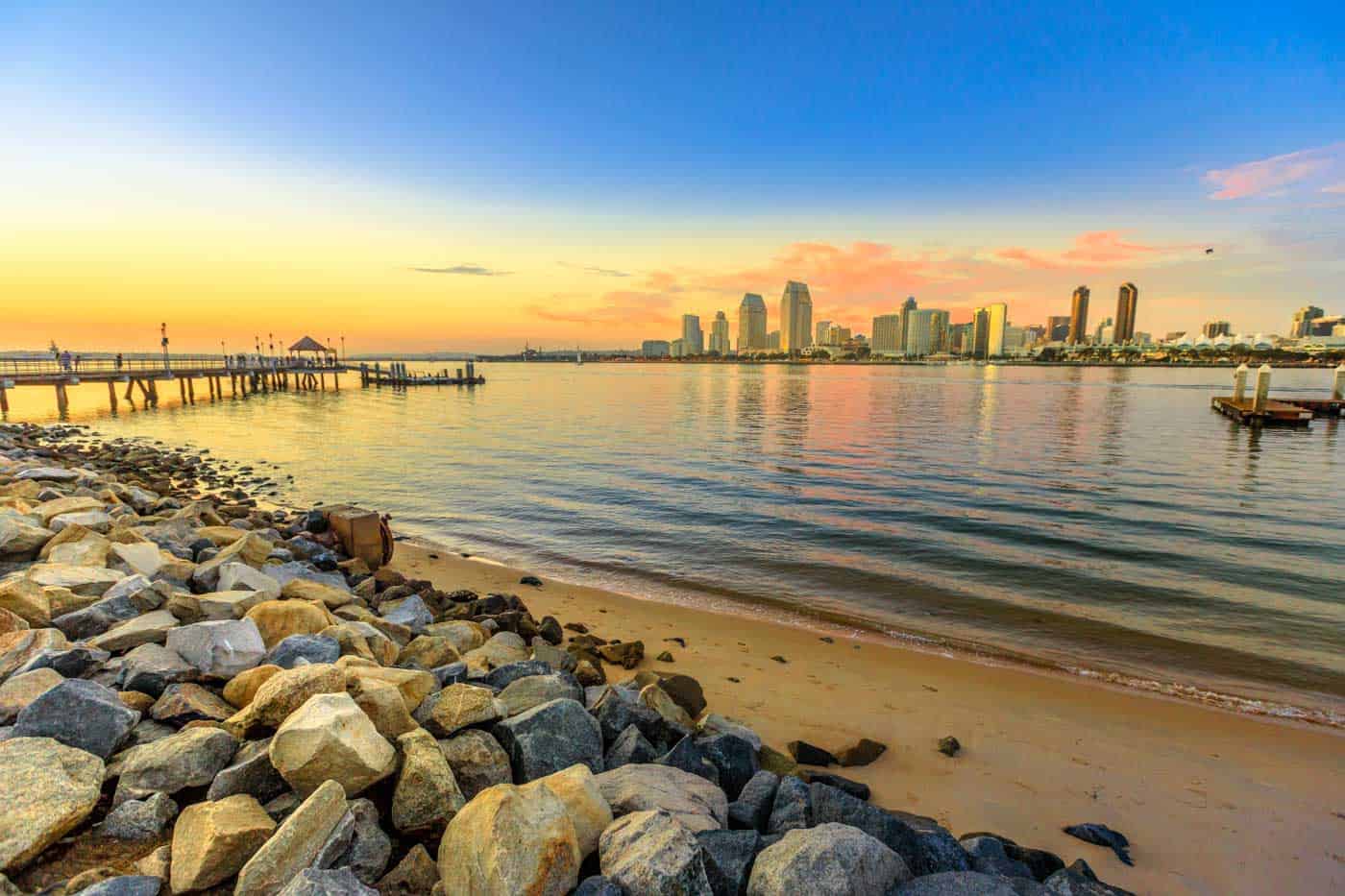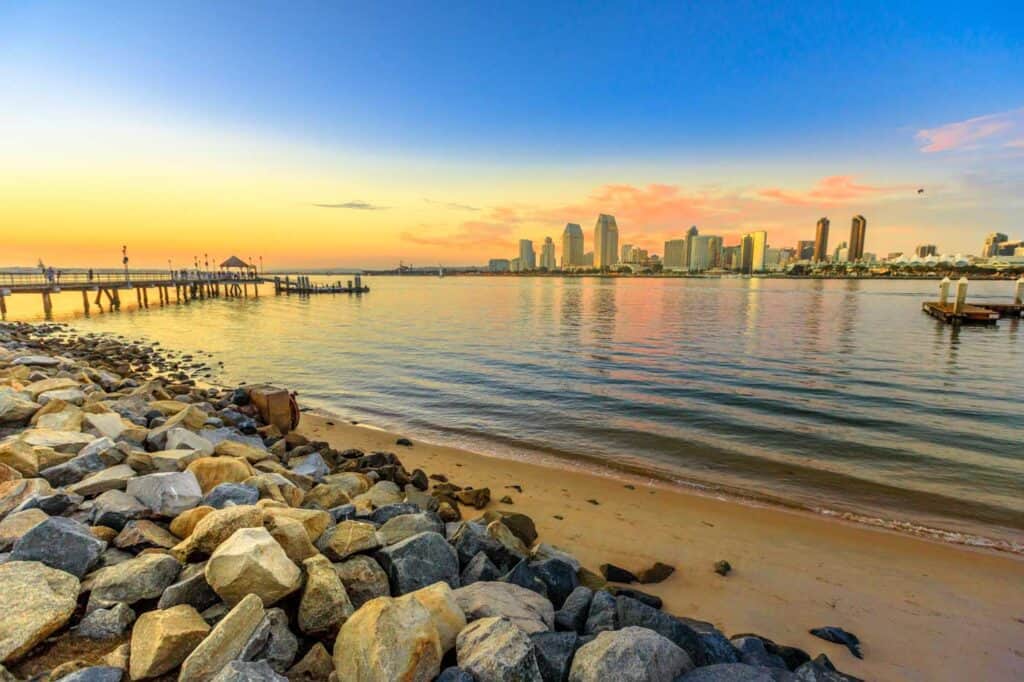 1. See a Theater Performance
Seeing a play or performance is the perfect way to spend an evening in San Diego, and whether you're looking to see a classic or a novel performance, the area has several great venues to choose from.
La Jolla Playhouse (La Jolla): Located on the UCSD campus, the La Jolla Playhouse showcases classic and up-and-coming musicals and plays in an intimate venue.
Old Globe Theater (Balboa Park): Experience Shakespeare and other classics at the outdoor theater, or see a modern American theater performance at the indoor venue.
San Diego Civic Center (Downtown): Hosts Broadway musicals and plays, along with opera and other live entertainment.
It's important to know ahead of time that many of the theaters in San Diego are intimate and small, so it's best to get your tickets as far in advance as possible.
2. Visit the Historic Gaslamp Quarter in Downtown San Diego
The Gaslamp Quarter is one of the liveliest parts of San Diego to visit at night. So if you're looking for a night of drinks, dinner and dancing, the Gaslamp is where you'll want to be.
A great night out in the Gaslamp starts with checking out one of the area's rooftop bars, where you'll get a great view of the city, the bay, and the Coronado Bridge.
Try the rooftop at the Andaz Hotel, or the Altitude Sky Lounge at the top of the Marriott (there are several Marriott hotels in downtown San Diego, but Altitude is at the Marriott that's on K Street).
Next, walk to dinner in the East Village. For a casual bite, check out Neighborhood, home to the best burger in San Diego (and I've tried them all!). For a more upscale meal, you will love Cowboy Star.
After dinner, the Gaslamp Quarter is a great place to dance the rest of the night away. For upscale dance clubs, head to Nova or Fluxx, and for a more casual vibe, Barleymash is always lively.
Summer Nighttime Activities in Downtown San Diego
During the summer months in San Diego, there are a few additional fun things to do at night in the Gaslamp. Petco Stadium, home of the San Diego Padres, is located right between the Gaslamp and the East Village, so check the home schedule for the Padres to see if they'll be playing a game in town.
Even if you're not a huge baseball fan, seeing a Padres game at Petco Park is a real fun evening experience.
Not only is Petco a beautiful stadium, but it also showcases some of the best local restaurants in town, including Board & Brew (gourmet sandwiches), Puesto (tacos) and Seaside Market (don't miss the tri tip nachos).
Summer nights in the Gaslamp Quarter are also the perfect time to see an outdoor movie. The Rooftop Cinema Club is an open-air theater with nightly screenings of popular movies with the San Diego skyline as a backdrop.
You can choose from lounge seats for one or love seats for two, and all screenings offer headphones so that you can hear the film without background noise.
3. Go to a Comedy Club
When most people think of comedy clubs in Southern California, they think of LA. But if you're in the mood for a laugh, San Diego is home to several great comedy clubs. You just might see a famous comedian drop by!
Here's a few of the best places to see live comedy in San Diego:
Pro tip: never sit in the front row at a comedy club unless you enjoy getting heckled by a comedian!
4. Challenge Your Brain at an Escape Room
If you love puzzles and games, visiting an escape room is a great nighttime activity in San Diego, especially for groups.
At an escape room, you'll be "locked" inside a room for a certain period of time (usually an hour). Typically, the room is staged according to the theme of the game.
Once inside, you'll be given a mystery to solve through puzzles and clues hidden throughout the room. If you can solve the mystery before time runs out, you've won.
I love this voodoo-themed escape room, and you can book your tickets here.
5. Cheer For the Home Team at a Sports Game
San Diego is home to several professional, semi-professional, and college sports teams, and enjoying a home game is a great thing to do at night!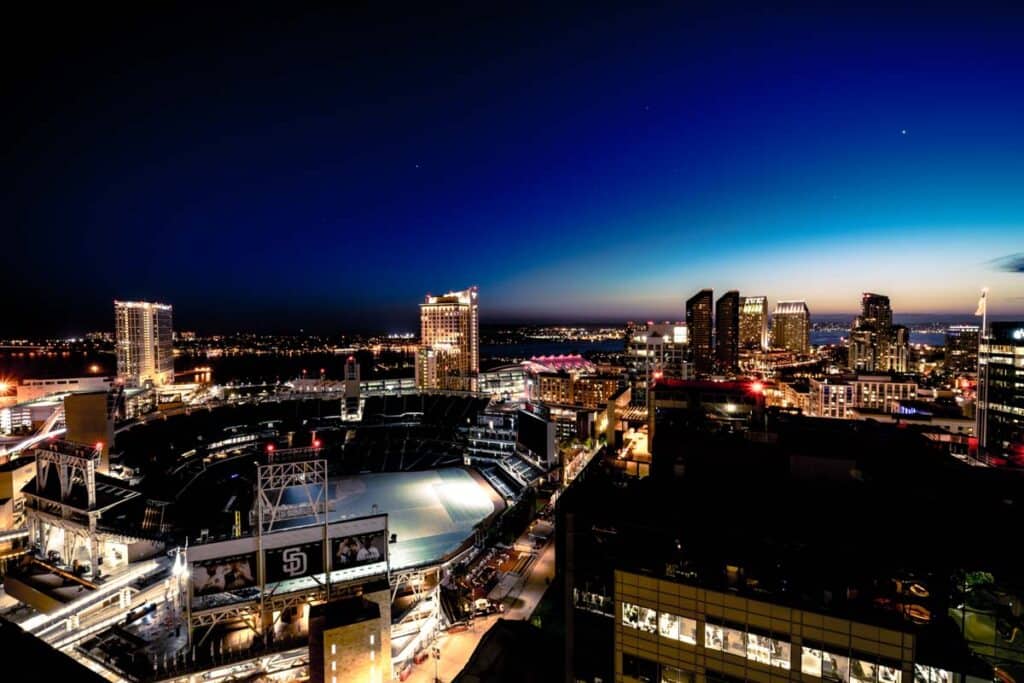 No matter what sport you enjoy watching, or what time of year you're looking for something to do, check out the home schedules for one of these San Diego sports teams, and enjoy a night cheering for the home team.
Winter: San Diego Gulls (ice hockey), San Diego State Aztecs (basketball)
Spring and Summer: San Diego Padres (baseball), San Diego Loyal Soccer Club (soccer)
Fall: San Diego State Aztecs (football)
6. Do a Pub Crawl of North Park's Breweries
If San Diego is home to the craft beer culture, then the North Park neighborhood of San Diego is the epicenter. Located just a few miles from downtown, North Park is home to many of San Diego's favorite local breweries.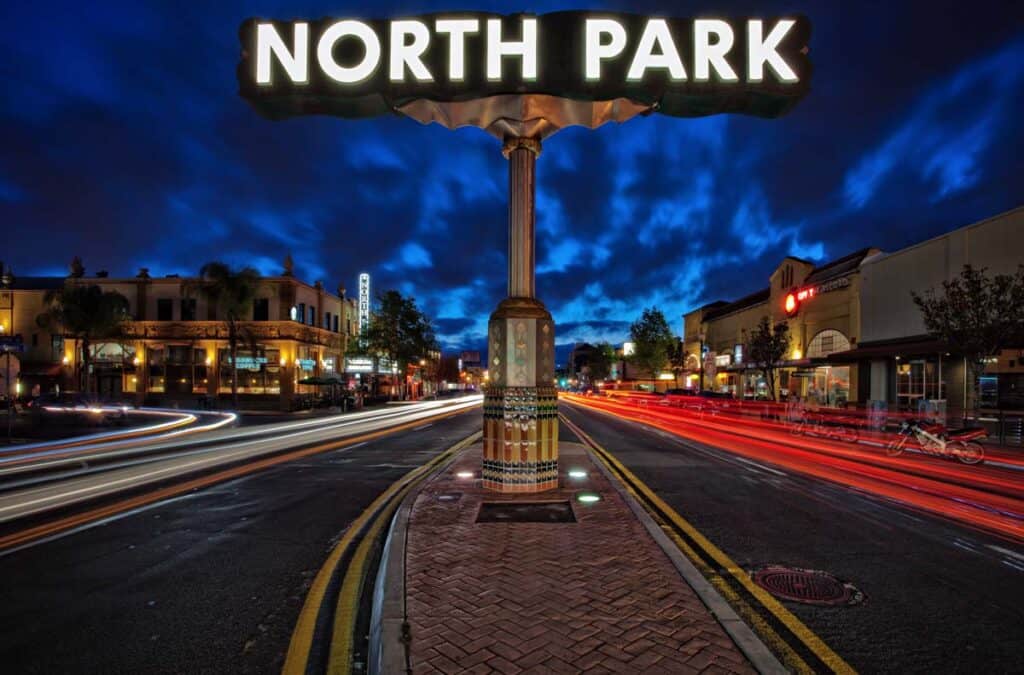 Since there are so many breweries concentrated in North Park, it's easy to do a nighttime brewery crawl on foot along 30th street to hit a few of the best ones. Try Mike Hess Brewing Company, Fall Brewing Company and Belching Beaver to start, and I'm willing to bet that you'll find a few more to stop in while you're on your way.
7. Visit Belmont Park in Mission Beach
Visiting Belmont Park in Mission Beach is like taking a trip back in time to a night at your favorite summertime county fair. At this beachside amusement park, you'll find arcade games, mini golf, and even bumper cars.
In addition to those activities, the most famous ride of all at Belmont Park is the Giant Dipper roller coaster, best known for its long legacy. The Giant Dipper was built in 1925, and is one of the only two remaining wooden roller coasters on the west coast.
If you don't want fair food for dinner, there are a ton of restaurants within walking distance to Belmont Park. Try my favorite Cannonball for great rooftop views.
There is a large, free parking lot south of Belmont Park, and a second one across the street. This area can get quite busy, especially in the summer, so try to arrive as early as possible.
8. Take a Spooky Ghost Tour
Did you know that according to the Travel Channel, San Diego is home to the number one haunted house in the U.S.? Indeed, the Whaley House in Old Town has been the site of countless reported paranormal activities over the years.
In addition to the Whaley House, there are several places in San Diego that are also reportedly haunted. So if you're in the mood for a thrill, try taking a nighttime ghost tour!
You'll learn about exactly what has been seen and heard at various haunted places around the city, and will also get to learn the history behind the spirits that call these places home.
Here are a few of the popular options:
San Diego Ghosts and Gravestones Tour: Delve into San Diego's haunted history on this trolley and walking tour through Old Town. Hear tales of gamblers, gunslingers, and other shady characters whose spirits are said to live beyond the grave, and be on the lookout for paranormal activity as you visit graveyards, historic buildings, the Maritime Museum, and the grounds of the Whaley House.
Haunted San Diego Ghost Tour: Visit five locations with supernatural tales behind their facades, and learn why San Diego is known as one of the most haunted cities in the west. You'll join a small group that is limited to 14 people, traveling by bus and on foot.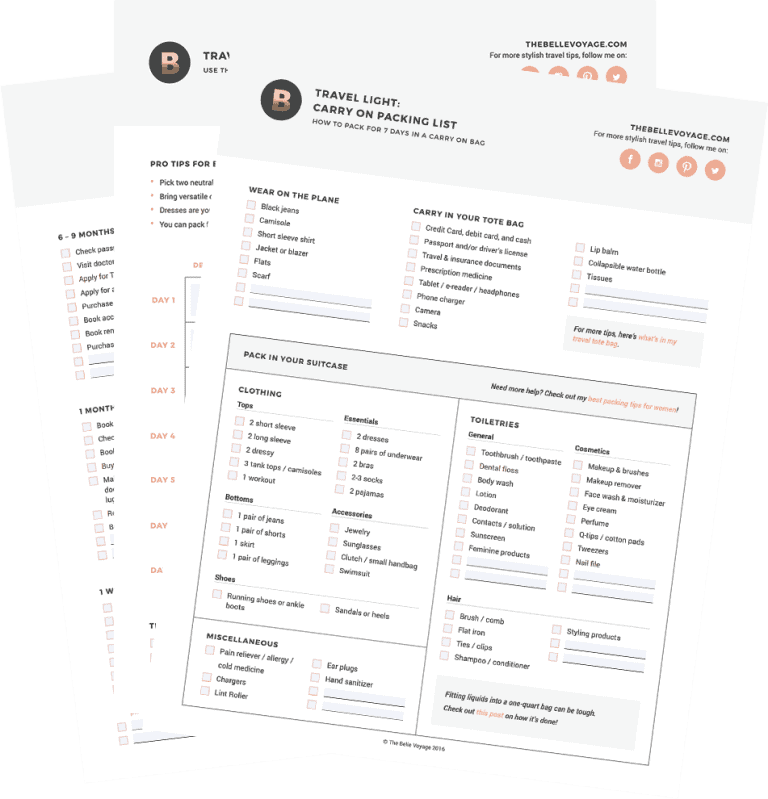 free printable travel resources
PACKING LISTS + PLANNERS
Get ready for your next adventure with my free printable travel planners and packing lists – the perfect companions to make packing a cinch and keep you stress-free!
9. Take a Harbor Cruise on the San Diego Bay
If you're looking for something to do at night on the San Diego Bay, check out a sunset cruise around the harbor! Seeing San Diego from the water as the sun sets is one of the best ways to take in the beauty of the city.
Most of the sunset cruises also include dinner, so you'll get to enjoy a meal while you're taking in the views of the skyline, Coronado Island, the Coronado Bridge, and of course the Pacific Ocean.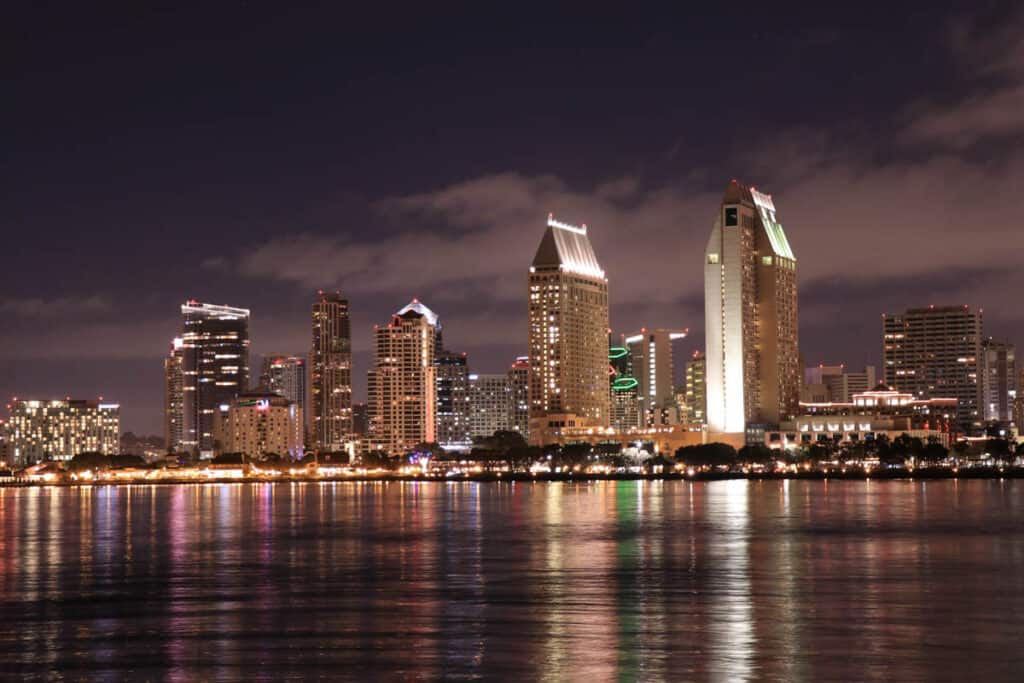 The water in the San Diego Bay is very calm, and the cruises never venture outside of the harbor into the rougher ocean water. So even if someone in your party is prone to motion sickness, they should still be able to join a sunset dinner cruise without any trouble.
I highly recommend getting your tickets in advance, as these excursions can quickly reach capacity, especially on the weekends.
For recommended tours, check out these options.
San Diego Premier Dinner Cruise: Relax in style aboard a luxury dinner cruise. Enjoy panoramic views from the boat's deck and take your time over a gourmet, 3-course meal, as you cruise past twinkling city lights that ring San Diego Bay.
San Diego Sights and Sips Sunset Cruise: Spend happy hour on the water during this San Diego evening cruise. Enjoy views of the water and city skyline as you glide through San Diego Bay.
10. Get Cocktails at a San Diego Speakeasy
San Diego is home to several unique speakeasy bars, each with its own character. If you enjoy a well-made cocktail, you will get a kick out of finding these hidden bars in San Diego.
A few of the best speakeasies in San Diego are False Idol, Youngblood, and Noble Experiment.
You won't need a special password to access any of these three speakeasies, but I do highly recommend making a reservation in advance, because all of these speakeasies are popular but also relatively small.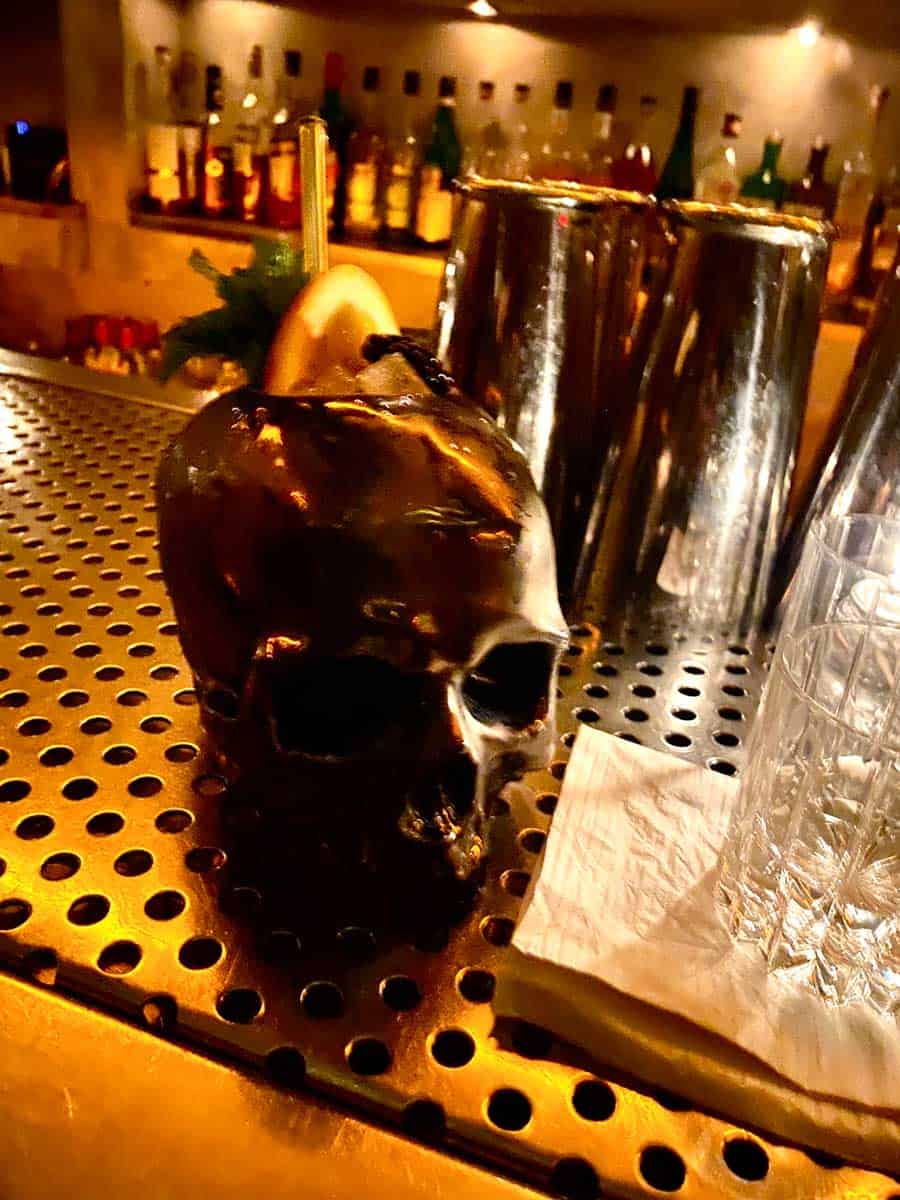 You should also know ahead of time that False Idol, Youngblood and Noble Experiment only serve drinks, and not food.
False Idol: located inside Craft & Commerce in the Little Italy neighborhood. False Idol is a tiki-themed speakeasy, and the menu is filled with creative craft cocktails with a tropical twist. The entrance to False Idol is just behind the host stand at the entrance to Craft & Commerce.
Youngblood and Noble Experiment: both of these speakeasies are located inside the Neighborhood restaurant in the Gaslamp Quarter. Head towards the restrooms, and you'll see a "wall" of barrels. It's not actually a wall, it's a door! Head inside the door for the entrance to both Noble Experiment and Youngblood.
11. See San Diego's City Lights at Night
San Diego is undoubtedly a gorgeous city by day, but don't miss the beauty of the city at night, when the city skyline comes alive.
For the best views of San Diego at night, head to Mister A's restaurant, or the Top of the Hyatt bar near the Convention Center.
Another great spot to see San Diego's skyline at night is from across the bay on Coronado Island over a glass of wine at Il Fornaio.
12. Watch the Sunset Over the Pacific Ocean
San Diego's oceanfront location means that the sunsets in the city are absolutely gorgeous. And even better: watching the sunset is one of the best things to do at night in San Diego because it's completely free!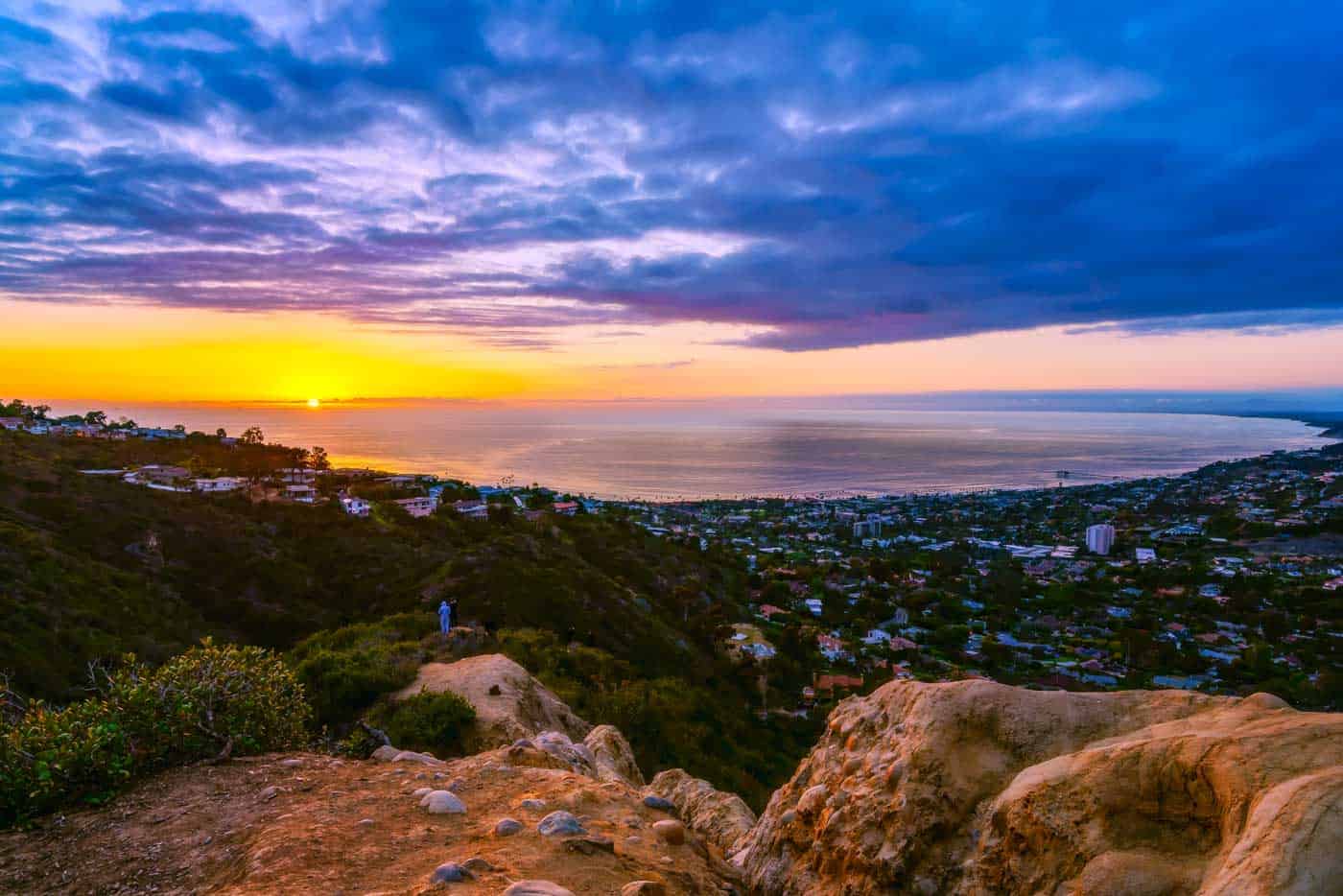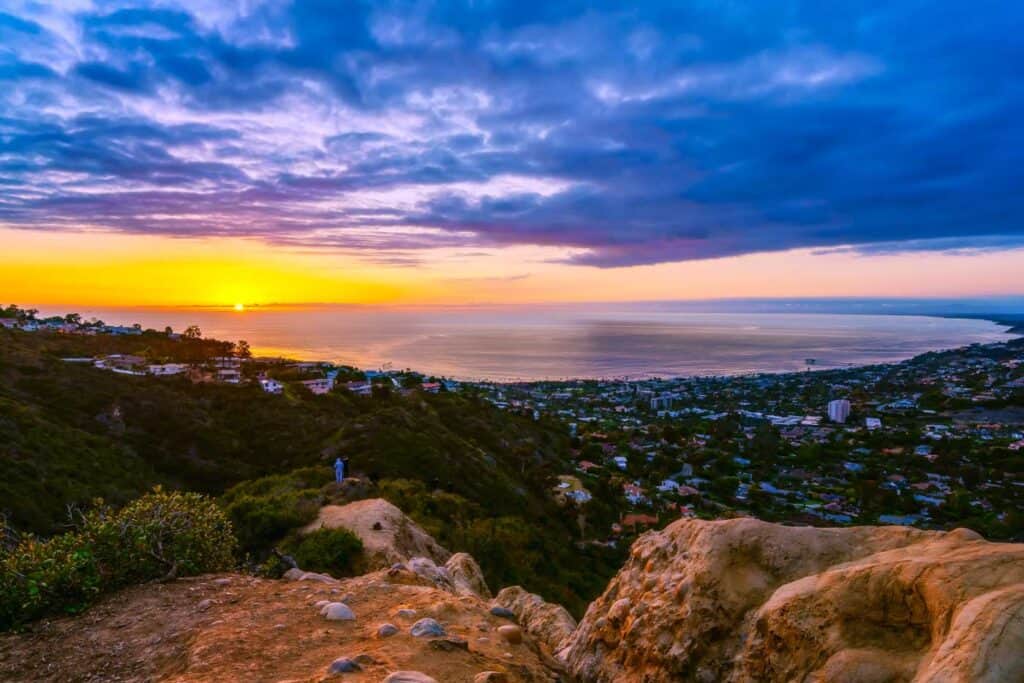 A few great sunset spots I recommend are La Jolla Cove, Mount Soledad, or Crystal Pier in Pacific Beach.
For more ideas, you can also check out my local's guide to the best sunset spots in San Diego.
Sunset Hikes in San Diego
If you're in the mood for something active while you watch the sunset, there are several hiking trails in San Diego that have amazing sunset views.
Try Torrey Pines State Reserve, Sunset Cliffs, or the Cowles Mountain Trail at Mission Trails Regional Park.
Just be sure to bring a flashlight or headlamp with you for your hike back!
13. Watch Live Music
Watching a live music performance is such a fun way to spend a night in San Diego. While you can often find larger acts at huge venues like Petco Park or Pechanga Arena, I think the best venues in San Diego for live music are actually its smaller stages.
You'll find a wide range of performers: everything from cover bands, to jazz, to folk and indie music. So whether you're looking for a chill evening or you want to rock out and dance the night away, there's something for everyone.
Check out one of these three popular venues:
The Belly Up (Solana Beach)
House of Blues (Downtown)
The Music Box (Little Italy)
Since many of the performances at these small venues often sell out, I recommend that you check the venue's event calendar and get your tickets as far in advance as possible.
14. Have a Bonfire on the Beach
You haven't experienced a local's version of San Diego until you've had a bonfire on the beach! They require a bit of advance preparation, but are such a fun evening activity, especially for groups.
There are several beaches in San Diego that have bonfire pits and allow bonfires at night. Some of the most popular beaches in San Diego with bonfire pits that can be used year-round are:
Mission Beach: best for oceanfront views and surrounding nightlife in Mission Beach and Pacific Beach.
La Jolla Shores Beach: a mellow beach that's best for families with kids.
Fiesta Island: best for views of Mission Bay, as well as the fireworks that take place at nearby Seaworld.
The number of bonfire pits on each of these beaches is limited, and bonfires are a popular activity, especially during the summer. Be sure to arrive early and stake out a spot, especially during the summertime.
You will need to bring wood, kindling, matches, as well as anything else you might want to drink or eat (count me in for s'mores).
15. Have Dinner in Little Italy
San Diego's Little Italy neighborhood is home to some of the best Italian food in the city. In addition, it has a lively, buzzy atmosphere at night, so it's a fun area to walk around and grab a pre-dinner drink.
For drinks, I love Coco Maya, and for dinner, you can't go wrong with Herb & Wood. For a casual meal that is great for families, The Crack Shack is what you want!
Check out the Piazza della Famiglia, located in the heart of the neighborhood.
Here you'll find an upscale food hall, as well as events like Salsa Under the Stars, and live music every Friday and Saturday nights.
Check out their event calendar for more info.
Little Italy is an extremely popular area at night. For that reason, parking can be tough to come by, and also expensive.
If you visit Little Italy at night, I recommend taking an Uber or Lyft instead of driving.
Sometimes, it's nice to sit back and let a guide set up all of the details for your night out, especially in a crowded, popular neighborhood like Little Italy. Check out this option to experience some of the best of Little Italy with a local guide:
Little Italy Wine Tour: Discover the area's history in a fun way, with stops at three locations to sample unique wines from California and Italy. Enjoy Italian food samples, such as pizza, calamari and meatballs, at two of the three locations.
16. Visit Old Town San Diego
Old Town is home to the first European settlement in California, and today is one of the most popular destinations in San Diego at night.
Old Town State Historic Park is on the National Register of Historic Places, and it's a fun spot to walk around during the evening and enjoy the historic buildings and festive atmosphere. No matter what kind of night you're in the mood for, you can find it in Old Town!
For shopping in Old Town, there are plenty of boutiques along San Diego Avenue, but I recommend checking out Bazaar del Mundo, where you'll find a ton of different independent shops filled with souvenirs, jewelry, art and home decor.
For restaurants, I love Casa de Reyes because they have delicious Mexican food and margaritas, and unlike many other restaurants, most of the tables at Casa de Reyes are located outdoors on their giant, beautiful patio.
Parking in Old Town can be a challenge, especially on Friday and Saturday nights. If you can, try to take the Trolley to Old Town. The Trolley station is located just a few minutes' walk from Old Town's restaurants and shops.
17. Go Stargazing at a Star Party
The movie stars might be in LA, but the best star parties are in San Diego! Every month, the San Diego Astronomy Association holds a star party at Mission Trails Regional Park. Star parties are open to the public, and are a unique nighttime activity in San Diego.
Once the sun goes down, you can view the stars and planets through the telescopes that the association provides, and learn all about astronomy from the groups' members.
18. Visit the World Famous San Diego Zoo at Night
If you're planning a visit to San Diego, you probably already have a trip to the San Diego Zoo as part of your plans. Most people think of the zoo as a daytime activity, but during certain times of the year, there are also fun events at night at the zoo!
Summer Nights at the Zoo
During the summer months, the San Diego Zoo hosts "Nighttime Zoo", where the park is open until 9:00pm.
Visiting the zoo at night is such a special experience, because many of the zoo's animals prefer to snooze during the day, but become much more active during the evening and nighttime hours, so wildlife viewing is at its prime.
In addition, there are tons of special features at the Nighttime Zoo that you won't see during the daytime, including "Rock 'n Roar" (live music), "Zoolamoves" (a dance party that kids and adults will love), and many other performances and entertainment.
Holiday Nights at the Zoo
During the winter holiday season, the zoo also hosts "Wild Holiday" nights on select evenings throughout late November and December (check their event calendar for specifics).
During the Wild Holiday nights at the zoo, you can experience holiday decor, a light show choreographed to music, visit Santa at the Market Village, and see special holiday performances.
19. Explore the Waterfront at Seaport Village
Seaport Village in downtown San Diego is a picturesque waterfront spot on the bay that is home to a collection of shops and restaurants. It's a great part of San Diego to stroll through during the day, but it's also a fun spot to spend an evening.
Explore the boutiques within the area, or just take a walk down the flat, paved path that runs alongside the water, where you'll see market stalls selling various souvenirs, as well as a variety of street performers.
If you're looking for a San Diego nighttime activity with kids, they'll love getting an ice cream cone at Ben & Jerry's, or riding the carousel.
Most of the shops in Seaport Village are open until 9:00pm, and there's a large public parking lot just next to the complex on Kettner Blvd.
20. Go Wine Tasting at an Urban Winery
You've probably heard of people going wine tasting in San Diego by doing a Temecula day trip. But in addition to Temecula, San Diego is also home to a number of urban wineries, and doing a tasting at one of the urban wineries in San Diego is a great way to spend an evening.
If you're unfamiliar with the term, urban winery refers to a winery that doesn't grow grapes on its premises, and instead, transports the grapes to an urban location where wine is produced on-site.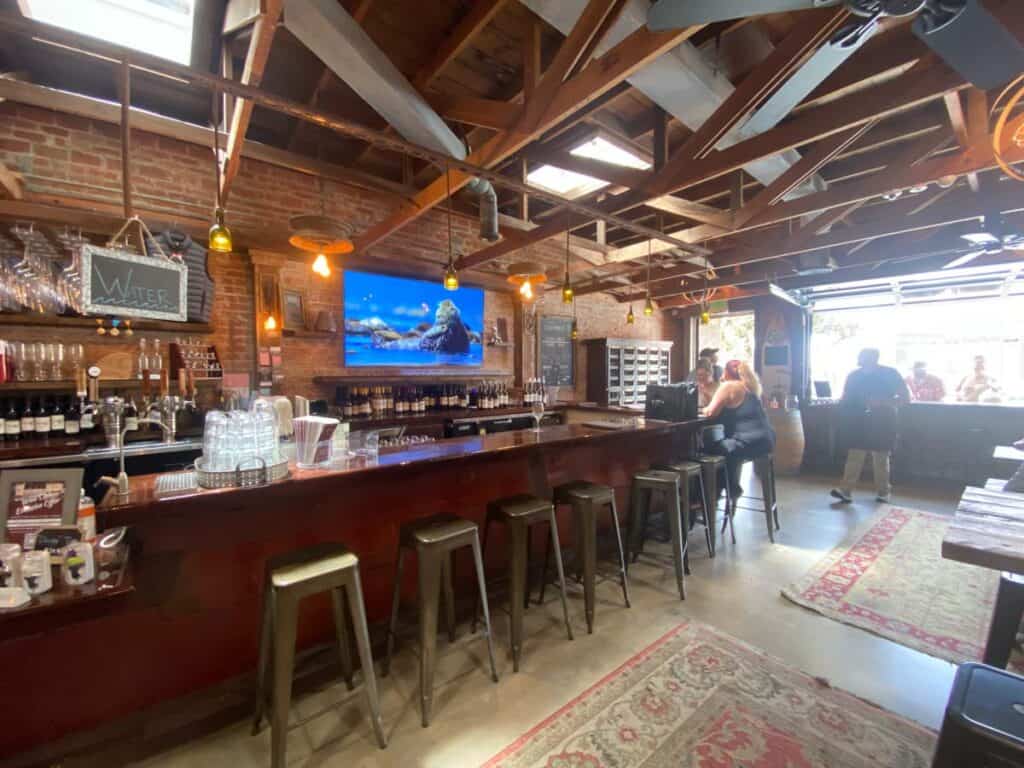 Urban wineries in San Diego are spread out throughout the city, so no matter what part of San Diego you're in, there is bound to be one close by. Here are a few of my favorite spots:
North County: Carruth Cellars (Solana Beach) or Coomber Wines (Oceanside)
Downtown: Negociant Winery (Hillcrest)
Central: LJ Crafted Wines (La Jolla)
East: Koi Zen (Rancho Bernardo)
Need a place to stay after exploring San Diego at night? Check out one of these unique hotels in San Diego, or maybe even a beachfront hotel in San Diego! And if you're up for more adventure the next day, you'll love this list of the best road trips from San Diego.
Frequently Asked Questions about San Diego Nightlife
What is there to do in San Diego after midnight?
After midnight in San Diego, you can go to some bars until closing time, which is 2:00am at the latest, with last call at 1:30am. Otherwise, there are a handful of restaurants in San Diego that are open 24 hours a day.
Does San Diego have nightlife?
San Diego has a diverse and lively nightlife scene, especially in the Little Italy, Gaslamp, East Village, and North Park neighborhoods. The nightlife in San Diego includes many restaurants, live music shows, craft breweries, urban wineries, sports events, and theater performances.