The BEst Travel Beauty Items
This site uses affiliate links and I may earn a small commission when you use my links and make a purchase, at no extra cost to you. Many thanks for supporting this website!
Guilty as charged.
It is not Thanksgiving yet so I know that I am jumping the gun on holiday shopping. But I figure you can never have enough lead time to shop, right?
Luxury Travel Gifts for Her
To help plan for the gift-giving season, I am sharing a series of posts with my ideas for travel gifts for her. In other words: gift ideas for all of the jet-settin' lady / fly girl / globe-trotters out there. You can read part one here.
This week's theme is BEAUTY. As much as I wish I could fit my entire beauty routine into a one-quart bag, it's just not realistic. So I'm always on the lookout for miniature beauty products that I can bring with me when I travel. For more ideas, check out my post on makeup palettes that are perfect for travel.
Many of these products are available at Sephora.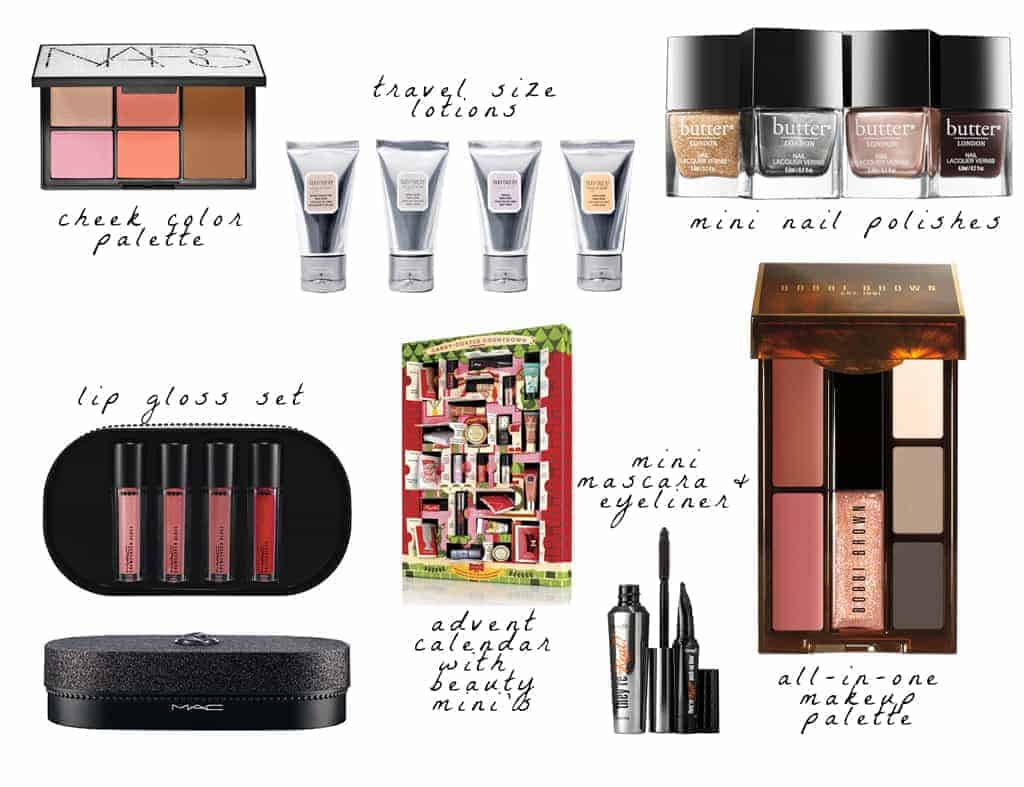 cheek color palette / travel-size lotions / mini nail polishes / lip gloss set / advent calendar filled with beauty minis / mini mascara & eyeliner / all-in-one makeup palette
fragrance set / travel hair dryer / birchbox subscription / makeup bag / mini makeup brush set / dry bar hair travel kit
Another post with even more gift ideas is coming next week, so stay tuned!
And if you're doing some of your own travel over the holidays, check out my packing tips for holiday travel.
Wanna Learn to Pack a Suitcase Like a Boss?
Subscribe to download my three BEST travel planning resources:
Travel outfit planner
Pre-travel checklist
Carry on packing list