The Best Travel Gifts for Men
This site uses affiliate links and I may earn a small commission when you use my links and make a purchase, at no extra cost to you. 
Is it just me, or are most men impossible to shop for? If you agree, you'll be glad to shop this very specific travel gift guide…entirely dedicated to travel gifts for men! What do you get a guy who loves to travel? Whether you're shopping for your dad, your brother, your husband or just a guy friend, I'm sharing my favorite travel gift ideas for him in the hopes that it'll help make your shopping just a little bit easier in 2022. If he has a trip coming up soon, or just loves to travel, these foolproof travel gift ideas are exactly what he needs!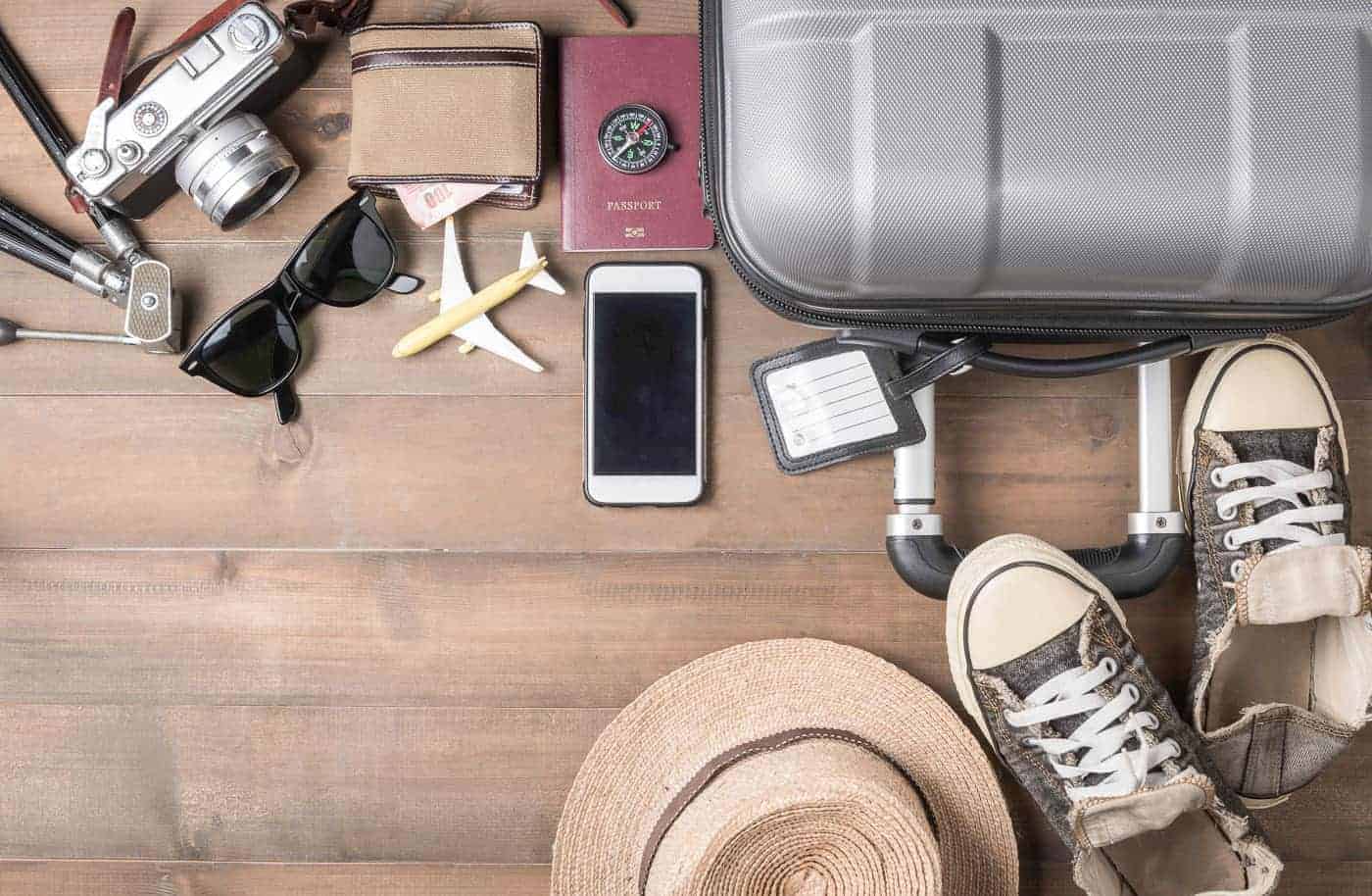 Whether it's your guy, your dad, your brothers or a male friend….men can be really hard to shop for! Whenever it's time to give a gift, it's always difficult to decide what to buy. I've got you covered!
An easy way to cross things off your list is by thinking about what trips he has coming up next year, and the kinds of travel items he might need. And by sticking to a travel theme for gift giving, you can't go wrong!
With travel back in full swing, it's a safe bet that the man you're shopping for is planning to travel sometime soon. In fact, earlier in 2022, more than half of adults in the U.S. indicated that they plan to travel in the next six months. And the odds are good that his travel essentials could use a refresh after they might have gathered dust during the pandemic. Now's the best time to shop for travel gifts for him!
To shop these gifts, simply click on the item you wish to view, and you'll be directed straight to the retailer's website to shop or get more information.
Bonus tip: Pair one of the gifts in this travel gift guide for him with tickets or reservations to an activity that he'll love during his next trip. I recommend Viator for unique activities and tours, no matter where in the world you're going. This combination will make for an amazing and memorable gift!
The Best 2022 Travel Gifts for Men
This gift guide is divided into three sections: essential travel items for him, travel electronics and gadgets, and small travel gifts and travel stocking stuffers. Let's shop!
1. essential travel items for him
I'm starting this gift guide with travel essentials for him. Most guys I know NEVER buy personal travel essentials for themselves. All of the travel essentials in my gift guide have a little bit of luxe, too, so they are perfect for gift-giving!
These are the things that are hard for him to travel without! In some cases, a guy might already have something similar, but an upgrade is something he'd never do for himself.

My Top Picks: Travel Essentials for Him
Allbirds Wool Runners – These are the perfect travel shoes, hands-down. I know so many guys that have these and wonder how they ever lived without them.
Backpack – I'm willing to bet that he's already got one laying around…but I'm also willing to bet that it's time for an upgrade from the old college days. This backpack is high-quality, good value, and the perfect accessory for any trip! Plus it's got a dedicated compartment for a laptop.
Weekender Bag – Ever so slightly more grown-up than his gym bag….and 100% perfect for all of those weekend trips that you're looking forward to next year!
Custom framed art with photos from your last trip – you can't go wrong with this gift! It's the perfect memento to display at work or at home.
2. Travel Electronics and Gadgets Gifts for Him
These days, everybody's suitcases are stuffed with electronics and travel gadgets, which are the modern day version of travel essentials, seemingly.
Keep up with the trend and get him a gift that he'll rely on every time he travels. These travel electronics and gadgets for him will make the perfect gift for the man who loves to travel (and loves his gadgets, too).

MY TOP PICKS: TRAVEL ELECTRONICS and gadgets GIFT IDEAS
Kindle Scribe – Amazon's newest e-reader is perfect for reading AND taking notes while traveling! And at a far more attractive price point than an iPad. Just sayin.
Travel Gadget + Cord Organizer – Keep it all organized and together with a travel-size gadget and cord organizer. I have one, too, and if it ever looks a little sparse while I'm packing, it has the extra benefit of helping to remind me if I've forgotten something.
Wireless Headphones – I splurged on the Pro version of AirPods and I love them SO MUCH. They're great for traveling because the noise cancellation makes a huge difference when you're on a plane. And they make a really, really nice gift.
Travel speaker – I love this one because, honestly, I don't think they can pack any better sound quality into anything smaller! It'll take up hardly any space in a bag…meaning that it can come anywhere with you!
Travel iPhone tripod – There's nothing more attractive than a man with a selfie stick….said no one, EVER. So ensure he'll never be THAT GUY, and hook him up with a tripod, instead.
3. SMALL TRAVEL GIFTS FOR HIM and Stocking stuffers
No good travel gift list would be complete without a few stocking stuffers, right? If you need a few little things to round out your holiday shopping, check out these favorite small travel gifts and stocking stuffers for guys!

TOP PICKS: Small Travel Gifts for Him and Stocking Stuffers
Compression travel socks – Yes, I'm suggesting that you put stockings in a stocking. Why? Welp, these are comfy, won't bunch up, and they help to prevent DVT while flying. Say no more!
Eye mask with built-in headphones – Yep, you read that correctly. This is the perfect travel eye mask for guys who like to fall asleep listening to music. And who wouldn't?
Looking for MORE TRAVEL GIFT IDEAS?
Check out my favorite travel gifts under $50! And if you need more ideas for travel gifts for him, check out my other travel gift guides, including the best gifts for travel couples. If you've got ladies on your list this year, here's exactly what to get a woman who travels.