The Ultimate Travel Skincare Routine
This site uses affiliate links and I may earn a small commission when you use my links and make a purchase, at no extra cost to you. 
Whenever I'm traveling, I try to look my best. Unfortunately, travel doesn't always agree with me, or with my skin! Dehydration is inevitable when you're traveling, and it can leave you with a dull, dry complexion. That's why I've learned a thing or two about travel skincare over the years and I've finally perfected my travel skincare routine! Today I'm sharing some travel skincare tips along with my favorite airplane skincare routine. I'm also sharing some of my favorite travel skincare sets to help you stay glowing while you're traveling! Read on for all the details, along with how to pack skincare products for travel.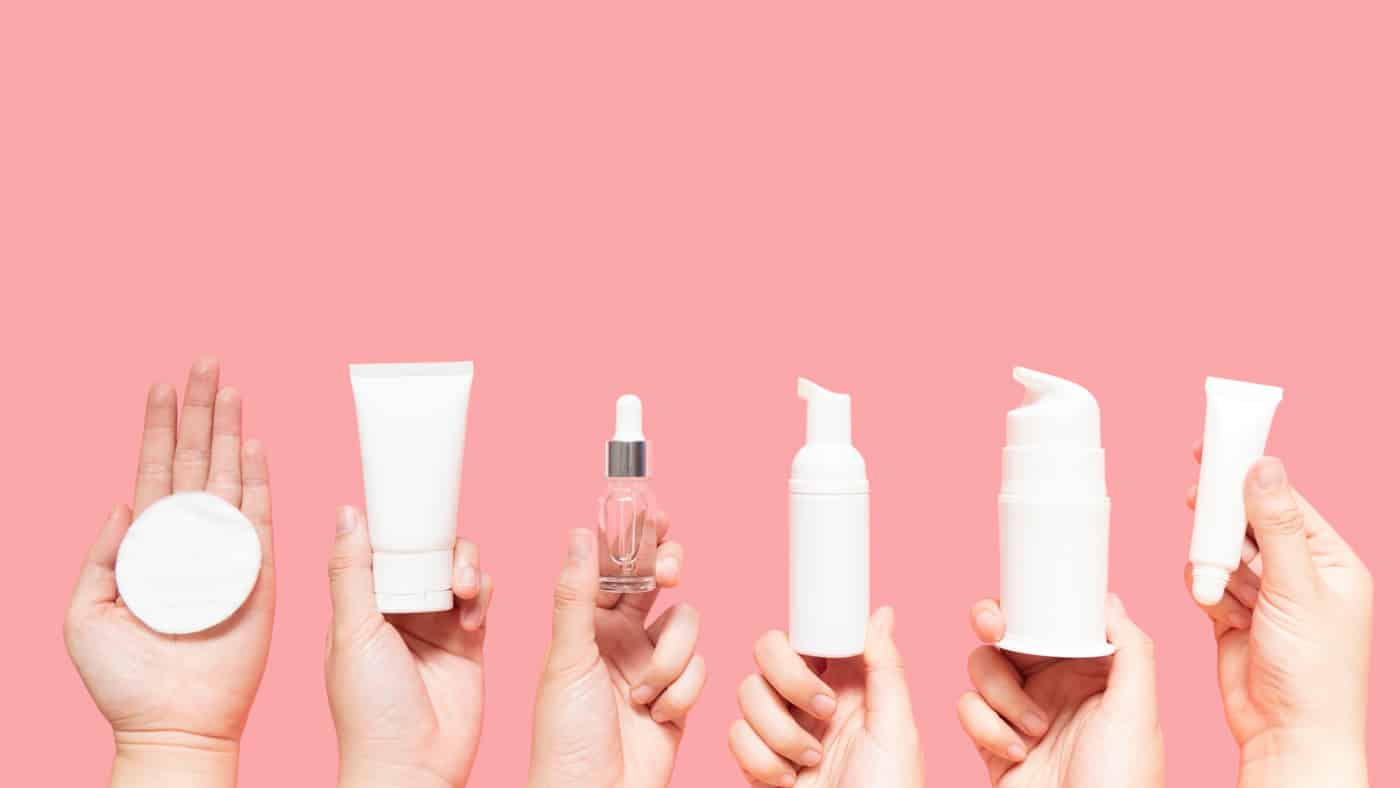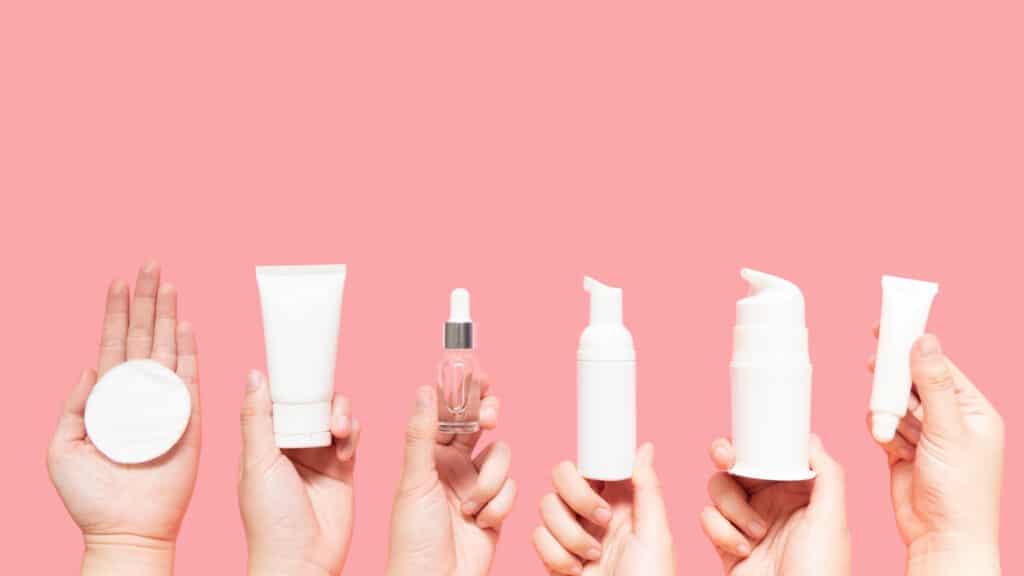 What Happens to Your Skin When You Fly?
Have you ever looked in the mirror at an airport bathroom and wondered what on earth happened to your skin during your flight? It's not just you. It's me, too. And pretty much all of us. The culprit is dehydration caused by lack of moisture in the air. When you (and therefore your skin) are dehydrated, it SHOWS.
How Dehydration Impacts Your Skin While Traveling
Why does your skin get dehydrated while you're traveling?
Humidity levels are much lower on an airplane, which is a recipe for dehydration all over your body. The recirculated dry air in an airplane will take moisture wherever it can find it – and one of the places is the water that's in your skin cells. In other words, when you're dehydrated, your skin really shows it.
Dehydration and Dry Complexions
Of course, dehydration causes skin that's already dry to get drier. So if you've got a dry complexion, expect things to get worse when you're traveling.
Dehydration and Oily Complexions
But not even those of us with oily skin aren't in the clear while traveling. Dehydration also causes oily skin to get even oiler, because your oil glands try to overcompensate for the dry environment, so they shift into overproduction mode, and produce even MORE oil. Making your oily skin even shinier.
Why a Travel Skincare Routine is Important
All of these changes to your skin from dehydration is a recipe for a dull, dry complexion!  When you're traveling, you typically want to put your best face forward, so it's important to prioritize a travel skincare routine no matter where you're going. Taking care of your skin is also a great way to practice self care while traveling.
By having the right travel skincare routine in place before your trip, you can combat dehydration, and look and feel your best while you're vacationing. Read on for all of my best tips!
The Best Travel Skincare Routine for Before, During, and After Your Trip
A good travel skincare routine starts with the right products and begins before you even leave home! In the steps below, I'll walk through exactly how to care for your skin before, during, and after your trip.
The Best Travel Skincare Products
In this post, I'm also sharing my recommendations for my favorite travel skincare products. Read on for all of the details, and a step-by-step guide for caring for your skin while on vacation.
How to Care For Your Skin Before Traveling
Your travel skincare routine should begin the night before you get on a plane. By taking special care of your skin in the 24 hours before traveling, you'll help to prevent some of the effects that dehydration has on your skin.
How to Prepare Your Skin for a Long Flight
Sometimes the best offense is a good defense. Dehydration while traveling is hard to avoid, so the best way to prepare your skin for a long flight is to moisturize your skin on the outside, and hydrate your skin from the inside.
Cleanse and Exfoliate Your Skin
The night before a flight, cleanse your skin with your normal cleanser. Now's not the best time to try new products, so stick with the skincare products that work for you.
Remove Your Makeup
Also be sure to remove all of your makeup before going to bed. I am often guilty of leaving my makeup on if I get lazy before bedtime. But if there's one instance where you should make sure to take off your makeup, it's the night before flying.
After you clean your skin and remove all your makeup, apply a gentle exfoliator. This will remove any built up dry skin cells and impurities, and prime your skin for a moisturizer.
Apply a Moisturizer
Next, apply a moisturizer all over your face and neck. Personally, I use a different moisturizer at night versus in the morning. My daytime moisturizer is lighter and has SPF. At night, I use a moisturizer with glycolic acid.
Glycolid acid will plump and polish your skin, so it's great to have in a face product. But since it can make your skin sensitive to the sun, products with glycolic acid are not good for daytime use.
For daytime, I love this moisturizer with SPF. It's much better suited to wear under makeup, and keeps my face protected from the sun.
The Best Travel Size Face Wash and Travel Size Face Moisturizers
Here are my top picks for the best travel size face wash and travel size face moisturizers. I love that they're lightweight, gentle, and also come in travel size versions.

How to Pack Skincare for Travel
Now that your face is ready to go, it's time to pack your travel skincare products. If you're traveling with a carry-on suitcase, you will need to fit all your liquids, gels, and creams into a one quart clear plastic bag.
If you're a beauty product fiend like me, it can be tough to cram all of your beauty products into just a one quart bag! But over the years, I've learned a few tips, which I've shared in my guide to how to pack beauty products for travel.
One of the most important things to know when it comes to packing your skincare products for travel is that the basic products in your travel skincare routine should be as similar as possible to what you use at home.
That might mean trying to squeeze a bunch of miniature beauty products into a small space! Try using one of these cases – they're perfect for things like eye cream that you only need a small amount of. And they take up practically ZERO space in your liquids bag!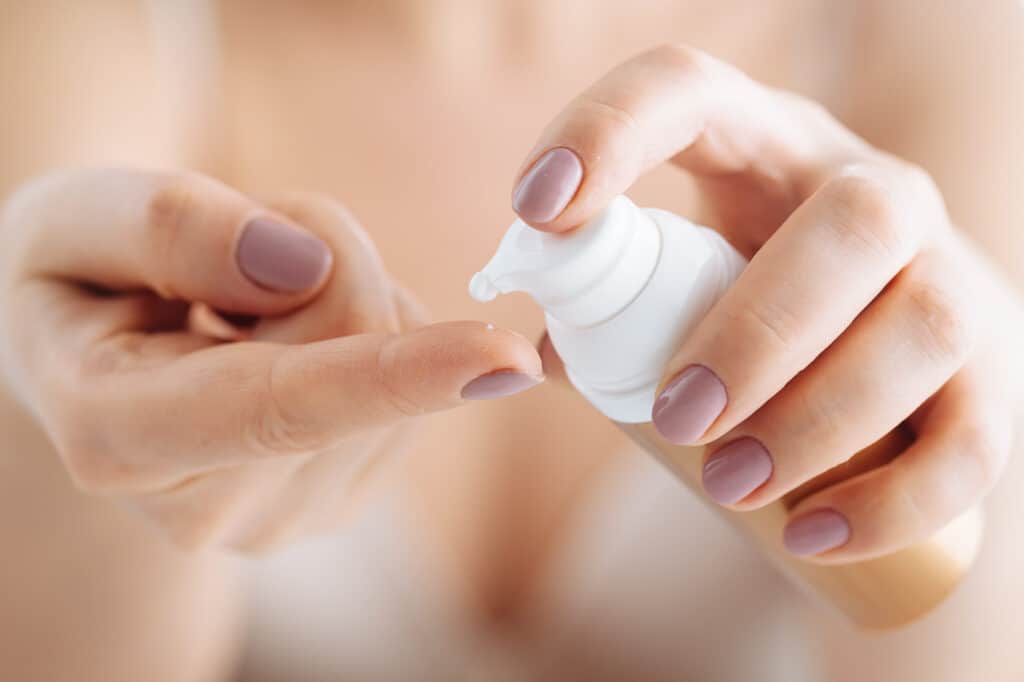 Airplane Skincare Routine: What to Do On the Plane
What can you do as part of your travel skincare routine while you're flying? There's a few specific things that I always make sure to do as part of my airplane skincare routine – read on for all the details.
Oh, and when I get lazy and ignore these tips, it shows. So I've learned the hard way that it's always worth following my own advice. Follow these airplane skincare tips to help you look good after a long flight!
Apply a Serum and Sunscreen Before You Board
In the morning before you board your flight, make sure to apply a deep-moisturizing serum. Then, make sure to apply sunscreen to your face and neck.
Why sunscreen? When you're flying, you're exposed to UV radiation. In fact, a study found that pilots flying short flights at 30,000 feet were exposed to the same amount of UV-A rays as what you would get from 20 minutes in a tanning bed. Yikes!
Even though sunscreen might not be the first thing that comes to mind when you're flying, make sure to protect your skin by using a moisturizer with SPF when you fly.
Recommended Travel Face Serum and Travel Sunscreen

Should You Wear Makeup on a Long Flight?
Most experts will tell you that if you want to really do right by your skin when you're flying, you should skip makeup altogether. I don't disagree – but I also think it's just not realistic for everyone!
If you choose to go makeup-free on your flight, I think that is awesome! At the same time, we all want to look our best when we travel, and for many women that means wearing makeup.
The best thing for your skin is to just keep your airplane makeup as simple as possible, especially if you're taking a long haul flight.
Drink Plenty of Water (Here's What I Use to Stay Extra Hydrated)
One of the best ways to maintain a good travel skincare routine is to make sure you stay hydrated by drinking plenty of water during your flight. It's simple, but so many people don't do it.
Make sure to bring a reusable water bottle with you in your carry on bag. Arrive at the airport with an empty bottle, go through airport security, and then find a filling station to fill it up before you board.
This way, you'll always have water handy and won't have to wait for beverage service on your flight.
Lately, I have also been bringing a few hydration packets with me on my trips. You add the packet to water and since they're full of electrolytes, they'll hydrate you much faster than water alone. I can honestly feel the difference.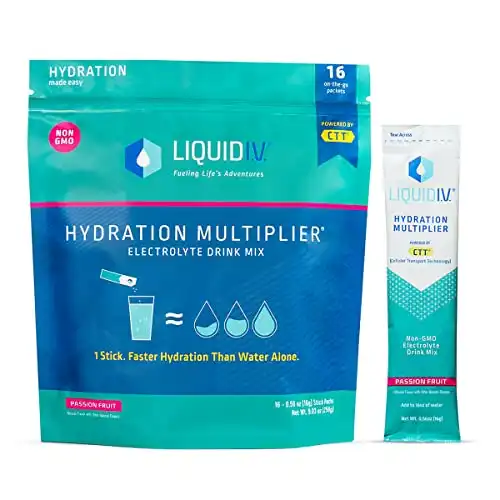 Liquid I.V. Hydration Packets
These electrolyte packets are perfect for keeping you hydrated while you're traveling!
All you do is mix one packet in a bottle of water - it will hydrate you so much faster than water alone.
Shop Now
Pro tip: if you've had a few glasses of wine, drink a hydration packet before going to bed. It makes all the difference in the world!
Avoid alcohol and caffeine
If at all possible, try to avoid alcohol and caffeine when you're taking a long flight. I know, I know. Not only are alcohol and caffeine dehydrating to begin with, but if you're drinking them, you're probably not drinking water!
So if you're guzzling wine or coffee on the flight, you're missing out on water and you are dehydrating yourself further. It's a double whammy! It's going to be that much more difficult to rehydrate once you land.
Use a Sheet Face Mask (Not a Face Misting Spray!)
One of the best ways that you can take care of your skin on an airplane is by using a sheet face mask.
These individually-packaged masks are perfect to slip on your tote bag. On a long flight, use the mask before you take a nap or go to sleep, and then moisturize afterwards if possible. Bring two masks so you have one for the way home!
Why You Shouldn't Use a Face Misting Spray When You Fly
I see a lot of travel skincare tips that recommend using a face misting spray on an airplane. I used to give the same advice until I dug a bit deeper.
I know it sounds counterintuitive, but if you want to moisturize your skin while you're flying, use a sheet mask instead of a face misting spray!
Why? When the air is dry (as it is on a plane), it will look for any source of moisture to take from. If there's water on the surface of your face, the dry air will quickly evaporate it, and in doing so, zap even more moisture away from your skin.
That's why you're far better off moisturizing your skin deep down below the surface with a sheet mask on an airplane than with a misting spray! I love these face masks because they are packed with ingredients that will permeate your skin's surface, and hydrate it from the inside out.
Bring a Good Lip Balm
One of the best travel skincare products you can bring with you on an airplane is a good lip balm. Did you know that your lips are one of the first places to show signs of dehydration? Yep!
Not only does lip balm treat dry, chapped lips, but it can prevent dryness and chapping, too! So make sure to keep your lips hydrated by using a lip balm during your flight, even before they start to chap.
You can't go wrong with Burt's Bees lip balm. There's a reason it's so popular, and personally I love the pomegranate flavor. A 4-pack is quite inexpensive, so you don't have to worry if you lose one while you're traveling.
The Best Skincare Routine While Traveling
You survived the flight and made it to your destination! Once you arrive, chances are good that you're going to be busy exploring and having a great time.
So what's the best way to take care of your skin while you're away from home? The last thing you might want to think about is your skincare routine while you're traveling, but it is worth taking a few minutes each day to take care of your skin.
You might not have the time or desire for a ton of self-care while traveling, so the best skincare routine while traveling is one that is simple but comprehensive.
Step By Step Travel Skincare Routine
Here's a few steps you can use for an easy, but effective, travel skincare routine. If all else fails, just remember one rule of thumb: apply your skincare products in order of their thickness.
Thinner skincare products should go on first, and then the thickest skincare product should go last. That's because thinner products can't penetrate thicker products.
Here's your step by step guide for an effective morning and evening travel skincare routine.
Morning Travel Skincare Routine
Follow these skincare steps in the morning while you're traveling for a face that's fresh and ready to go.
Cleanse your face with a gentle cleanser.
After cleansing, follow with a toner. Personally, I think toner is the most "skippable" step if you need to slim down your travel skincare routine to just the bare minimum. But if you have room, pack a toner!
Apply a serum with hyaluronic acid to plump your skin
Apply eye cream under your eyes. If this sounds too high-maintenance, hear me out. Take a tiny dab of eye cream and put it in an empty contact lens case. Now you're packed!
Apply a lightweight moisturizer with SPF
recommended am skincare products

Evening Travel Skincare Routine
Follow these skincare steps at night while you're traveling to make sure your skin is clean and can rejuvenate overnight.
Remove makeup with makeup remover or a wipe
Cleanse your face with a gentle cleanser
Use toner
Apply a nighttime moisturizer. Look for one with glycolic acid to keep your skin polished. If you don't have room in your liquids bag for two different moisturizers, just use your daytime moisturizer at night. Never do the reverse, as many of the ingredients in nighttime moisturizers can make your skin sensitive to the sun.
Apply eye cream
Recommended pm skincare Products

A Minimalist's Travel Skincare Routine
Are you really cramped for space in your liquids bag, or just want to keep things as simple as possible? If so, you can pare down your travel skincare routine to just three bare essentials:
Cleanser
Moisturizer
Sunscreen
These three steps are perfect for beauty minimalists looking for a very simple skincare routine while traveling. Sometimes keeping it simple is easiest!
Post Travel Skin Care Tips
Everyone needs some time to recover from travel, and that includes your skin! Once you are back home from your trip, follow these skincare tips to help your skin recuperate from a change in routine.
Use a mild scrub to exfoliate your skin
When you're back at home, use a mild scrub to exfoliate your skin. This will remove any dry skin cells that have accumulated on the surface of your face. It will also help your skin feel deeply clean and refreshed.
I love this refreshing scrub, which also comes in travel size in case you want to bring it with you!
Use a moisturizing mask
Once you have exfoliated your skin, use a moisturizing mask to provide deep hydration for your complexion.
This moisturizing mask will supercharge your skin with hydrating ingredients and is gentle enough to use every day.
After you've followed these steps post-travel, you should go back to your normal AM and PM skincare routine. Your skin will thank you!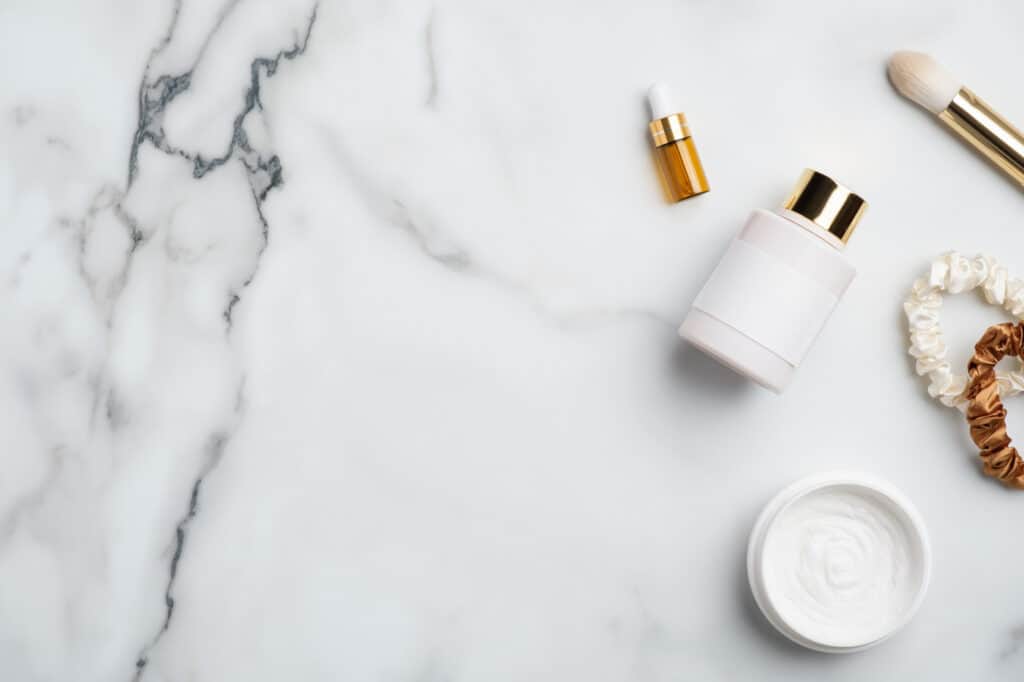 What Skincare Should I Bring on Vacation?
What's the best skincare to bring on vacation? The products you usually use at home! Since travel can wreak havoc on your skin, the last thing you want to do is risk irritation or reaction from a new product when you're far away from home.
If your normal skincare routine doesn't include a good moisturizer, this is the right time to add one! For travel, I recommend finding a moisturizer that has SPF in it. It'll save you one additional thing to pack.
The Best Travel Size Skincare Sets
If you're just looking for a great all-in-one skincare kit to take with you when you travel, check out these travel skincare sets.
Travel Size Skincare Sets
Each of these travel size skincare sets includes a cleanser and moisturizer, along with a few other goodies, and they're all from brands that I love and have personally used.
They're also all gentle enough that they are not likely to irritate your skin.

More Recommended Travel Skincare Products
In addition to my regular skincare items like cleanser and moisturizer, there are a few additional travel skincare products that I always make sure to have with me when I travel.
I hope this post has helped you prepare your skin for your next trip!
As a lover of both travel AND beauty products, I write a TON about travel beauty tips. Check out my other travel beauty guides for more recommendations, as well as the only travel toiletry list you'll ever need.