The Best Travel Makeup Brushes
This site uses affiliate links and I may earn a small commission when you use my links and make a purchase, at no extra cost to you. Many thanks for supporting this website!
I've spent the last two weeks researching the best travel makeup brushes out there.  Why?
If you're anything like me, when you're packing for a trip, you try and use EVERY SINGLE SQUARE INCH that exists in your makeup bag, stuffing it to the gills and pushing the limits of its seams.  Aaaaaand your makeup bag always ends up weighing a TON.
One way I've learned to save space is by paring down my makeup and my makeup brushes to the bare essentials.  On my last trip to Africa, I had really strict weight and size limitations for my luggage, so I tried to find ways to pare down my essentials even further.  One idea?  Bringing travel makeup brushes and leaving my "non-travel" ones at home.
If you're wondering how to travel with makeup brushes, here's a roundup of the best travel makeup brushes and brush kits!
Short on Time?  Here's My Favorite Set
If you're short on time, check out this brush set.  It's the favorite of all the ones I found!
The Best Travel Makeup Brushes
One thing that all the best travel makeup brushes have in common?  They all save you plenty of space to pack your other toiletry items!
But there are definitely certain things to look for in a travel makeup brush set depending on your own personal needs.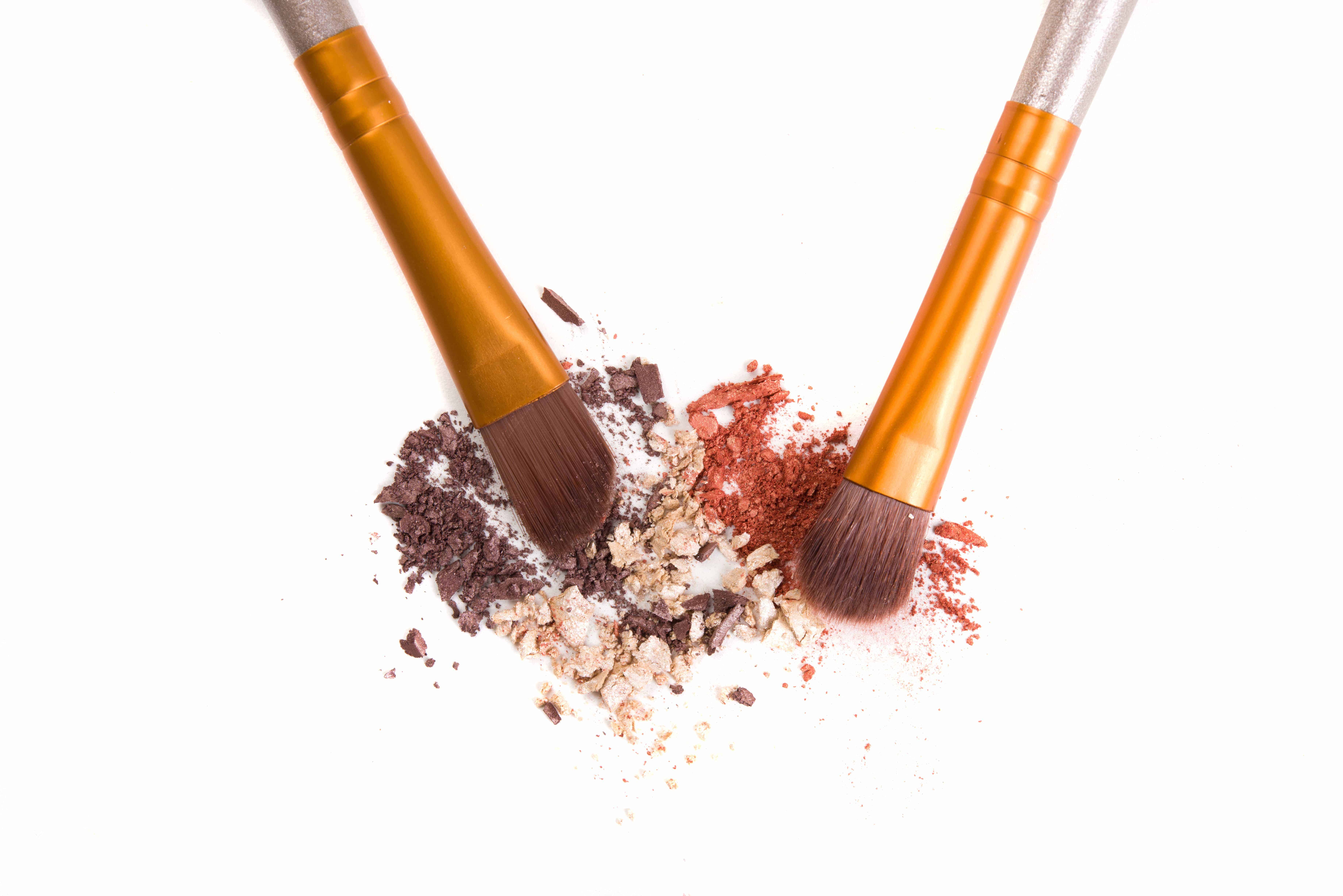 What To look For in A Travel Makeup Brush Set
Make sure it covers the basics…for you.  What I mean by this is that every gal out there will have a different set of brushes that represents her basic makeup use.  Some of us can get away with a single eyeshadow brush.  Some ladies need five on a daily basis.  Think about your specific needs to find a travel makeup brush set that will work for you.
As far as how much you can spend on a brush set, there's a wild range!  Less than $20 to over hundreds of dollars.  Generally speaking, something in the $50 – $100 range will buy you a good quality set.
The investment is worth never having to pay to check a bag ever again!
Finally, a case for your brushes is an added plus and will keep your brushes clean and damage-free.  Actually, a case will even keep your other beauty and toiletry products clean, since they'll be protected by the case from dirty brushes!  Some brush sets come with cases and others don't – so check out that feature depending on what you like.
Dual-Ended Travel Makeup Brushes
Dual-ended travel makeup brushes are a great option to save space in your makeup bag.  Since there's a brush on each end of the handle, each brush is actually two brushes – so you can get away with bringing fewer of them.  In fact, half…if you follow my math.
It also means that you pay less per brush, which is an added benefit!   Eight brushes for the price of four?  Don't mind if I do!
Even though they'e not always "travel-sized", because of their versatility, dual-ended brushes can still save you space.  Here's a few options:

Travel Makeup Brush Sets Under $50
If you travel infrequently, it may not make sense to invest a lot in a travel makeup brush set.  Fortunately, there are plenty of affordable options out there, including plenty under $50.  Wahoo!
Check out these bad boys (girls?):

Luxury Travel Makeup Brush Sets
Maybe money is no object, or maybe you're a makeup professional…or maybe you're just looking for a super-special gift for your favorite jetsetter.  But whatever the reason, if there's no set budget for the travel makeup brush set you want to buy, you wouldn't believe how much it's possible to spend on them!
Let's window-shop, shall we?  Here's a few high-roller luxury travel makeup brush sets:


For more on what I keep in my travel makeup bag, check out this post.  And to read up on the best way to pack beauty products for travel, this post will have everything you need!
Finally, this post has all of my favorite places to shop for travel-sized beauty products.
Happy, beautiful, travels!
Liked this post?  PIN IT!
Wanna Learn to Pack a Suitcase Like a Boss?
Subscribe to download my three BEST travel planning resources:
Travel outfit planner
Pre-travel checklist
Carry on packing list