The Perfect Summer Travel Capsule Wardrobe: 15 Must-Have Pieces
This site uses affiliate links and I may earn a small commission when you use my links and make a purchase, at no extra cost to you. 
It's here! Today I'm sharing the ultimate 2023 summer travel capsule wardrobe, filled with all of the pieces you need for the next few months of travel. Whether you're adventuring overseas or staying closer to home, use this capsule as your packing guide. My travel capsule wardrobe posts are the most popular posts on my blog, and since summer is peak travel season, this post will show you how to pack light, stay stylish, and breeze through your summer vacation in fashion-forward ease.
Did I mention you can do this with only 15 pieces of clothing? It's true. If you pick the right pieces you can mix and match tops, bottoms, dresses, shoes and accessories to create endless travel outfits for whatever adventures you have in store this summer. In this post, I'll show you exactly how. Let's do it!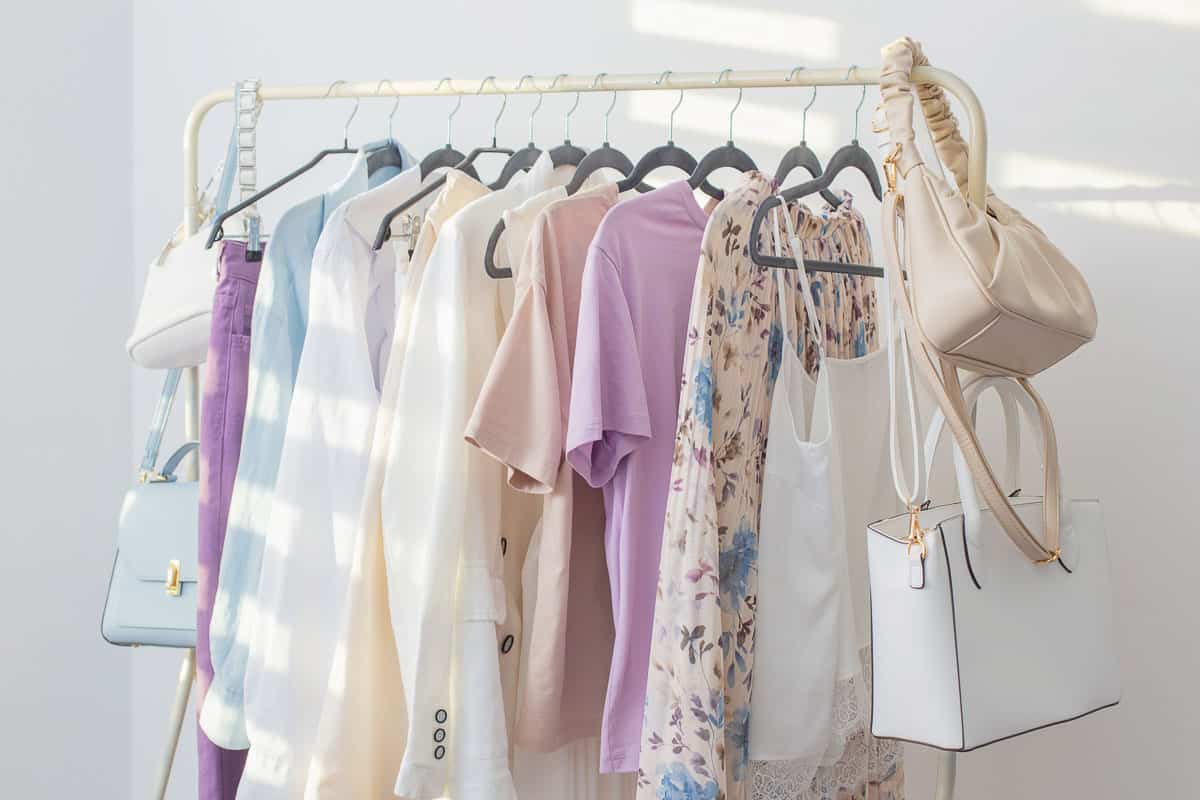 Pack Light for Summer Travel With a Capsule Wardrobe
Summer is peak travel season for many people, which means that preparing for weekend trips and longer vacations can quickly consume all of your extra daylight hours. But I promise that it doesn't have to be that way.
Here's the secret: put together a travel capsule wardrobe to use for your summer trips. Do it now, at the beginning of the season, and you can cross "pack for trip" off of your to do list for the entire season, no matter what kind of travel you have planned during June, July and August.
Here's the exciting news: I already made the capsule wardrobe for you (and made it cute). Yep, you're already packed.
In this post, I'm sharing the perfect 15 piece summer travel capsule wardrobe. Mix and match these pieces for endless outfit combinations, and look effortlessly chic in any destination. Let's dive into the world of summer travel fashion perfection!
In a hurry? Jump directly to the capsule here.
What is a Travel Capsule Wardrobe?
I'm glad you asked.
In case you're new around here, hi, I'm Jessica, and I have a thing for capsule wardrobes. I create a travel capsule wardrobe for every season. They're some of my most popular posts on the blog, and have helped tens of thousands of women simplify their packing lists.
What is a capsule wardrobe, anyways? A capsule wardrobe is a small collection of clothing pieces that all complement one another, so they can be mixed and matched to create tons of different outfits and styles.
A travel capsule wardrobe is a capsule that is intended to fit in a carry on suitcase. The pieces in a travel capsule should be versatile enough that they can be used to create outfits for many different kinds of activities that might be planned during any given trip.
Why Capsule Wardrobes are Perfect for Travel
Using a capsule wardrobe is a great strategy if you want to pack efficiently. With just a few key pieces in your suitcase, you will be prepared (with an outfit anyways) for anything that comes your way during your trip.
In a capsule wardrobe, everything goes with everything, so you really can't go wrong when you use the individual piece to put together different looks.
How Many Pieces Should I Include in My Travel Capsule Wardrobe?
In terms of how many pieces to include in your travel capsule wardrobe, the short answer is: as many as you want!
The ideal size for a capsule wardrobe depends on how often you travel, and the length and nature of your trips. So rather than using a hard-and-fast rule of how many items to include, create a travel wardrobe that will work for you.
That said, the main objective behind travel capsule wardrobes is to create lots of outfits with just a few key pieces, so I generally try to limit my capsules to about 20 pieces.
The 5-4-3-2-1 Method
If you're looking for a bit more guidance, try using the 5-4-3-2-1 rule to help create a 15-piece capsule. The 5-4-3-2-1 method is a rule of thumb for how many of each piece of clothing to pack for a trip. It goes a little something like:
5 tops
4 bottoms
3 layers
2 pairs of shoes
1 dress
5 + 4 + 3 +2 +1 = 15. Easy!
I like to play with the numbers depending on the season and the needs for my travels, as you will see in this post. For example, if you're packing for cold weather, you might skip the dress in exchange for another pair of bottoms. It's entirely up to you.
How to Create a Summer Travel Capsule Wardrobe
Now that we've got the basics down, here's a step by step guide on how to create a summer travel capsule wardrobe. Let's get into it!
Step 1: Plan Ahead
Trying to figure out what to pack for a trip can be completely overwhelming, but it's so much worse if you try to do it at the last minute.
It turns out that your mom was right: it's easier if you plan ahead.
The best way to plan outfits for your vacation is to think about your trip just one day at a time. What will your days be like, and what activities do you have planned? What outfits do you need for each activity?
Even if you don't have a day-by-day schedule, you probably have a good idea for the kinds of activities you plan to do.
For example, maybe you'll be sightseeing for three days and doing a lot of walking. Maybe you're planning to lounge by the pool, or maybe just enjoy meals with friends and family.
Step 2: Download My Free Travel Outfit Planner!
To make the outfit planning process easier, I created a custom travel outfit planner. You can download it and print it out, or just edit it electronically.
This day-by-day planner will help organize the outfits you will need for your trip, and make it super simple to find the key pieces that can work for multiple occasions. Just enter your email below, and I'll send it your way!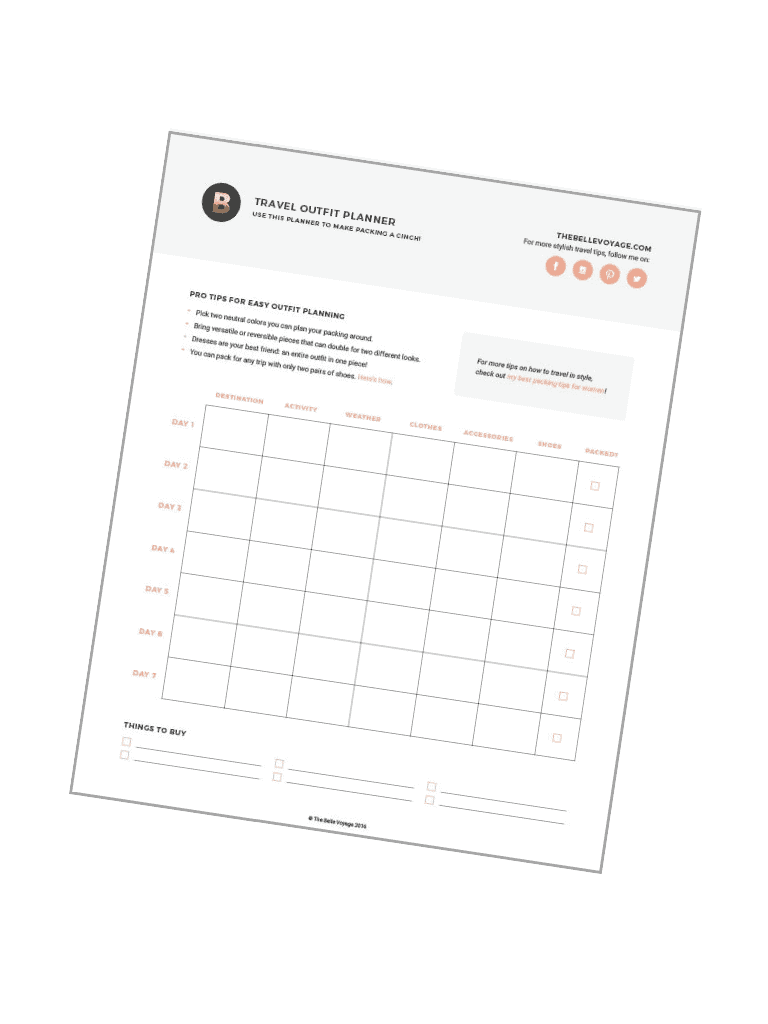 Love the outfit planner? You'll love my other printable travel checklists, too!
Step 3: Pull Everything Together
Once you've thought through your outfit plan, it's time to pull everything together.
15 Piece Summer Travel Capsule Wardrobe for 2023
Let's do it! Here's the summer capsule I created as an example, using my favorite finds from this season's trends.
This capsule wardrobe is perfect for summer trips that include lots of walking, sightseeing, or exploring. There are pieces for casual daytime activities, and pieces that you can style for dressier occasions.
Here's how the 15 pieces look all together. Read on to see why I've included each piece, and how to style them for different looks.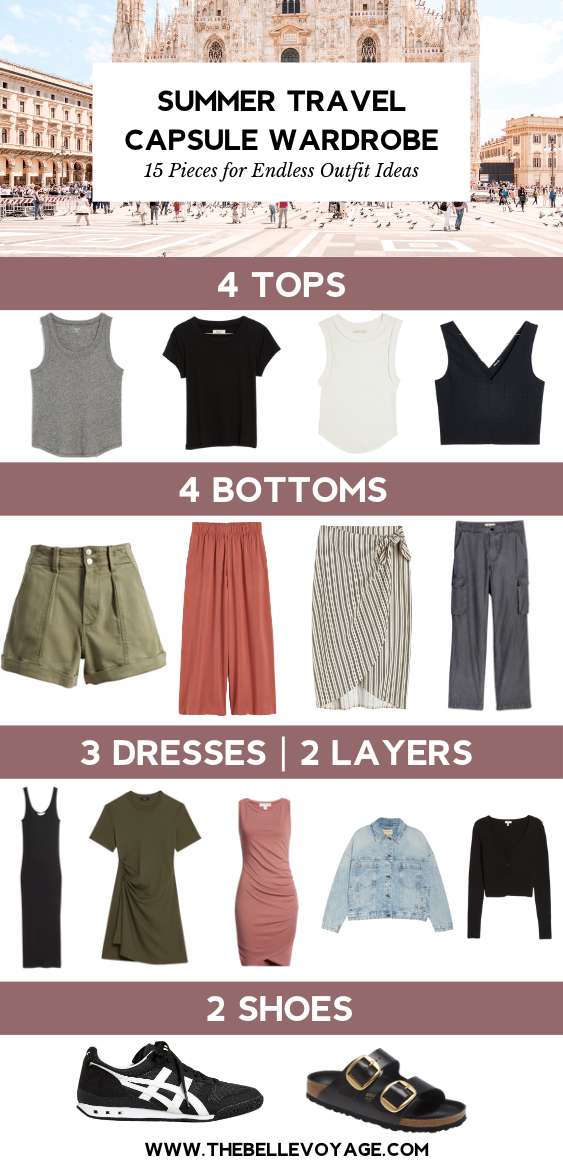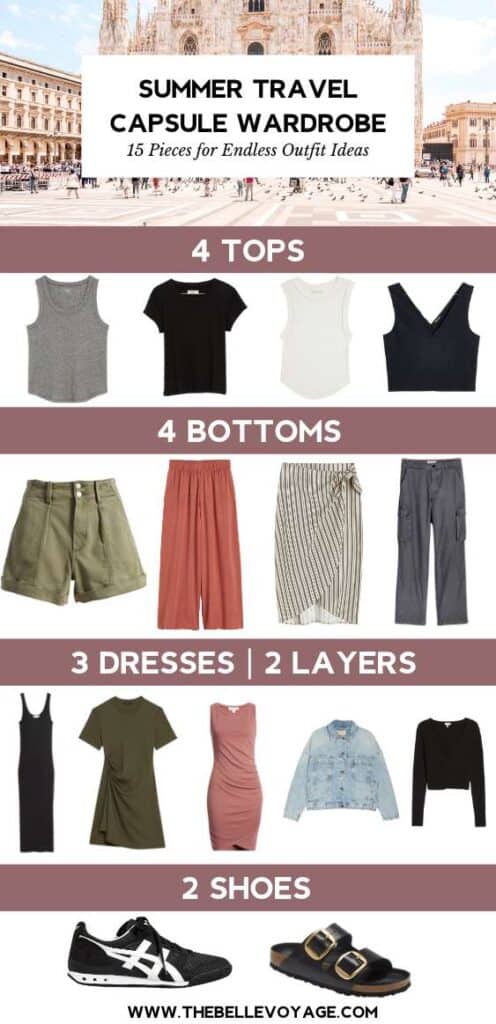 Shop the Capsule
Shop the individual pieces below, and read on for how to style them for your summer adventures.

Summer Travel Capsule Outfit Ideas
Now for the fun part: let's create some summer travel outfits using the summer capsule wardrobe. This is where you can see how truly versatile these pieces are.
Here's the secret: as long as you pick the right pieces for your capsule, you can't go wrong when you mix and match them to create different outfits.
I've styled these outfits with two different bags, which you can find here (black bag) and here (camel tote bag), as well as different jewelry, hats and sunglasses to give you more ideas of how to finish each outfit. It's amazing how different the same piece can look when you add different accessories.
The 15 Must-Have Pieces for Summer Travel
Let's take a deeper dive into each individual piece in the capsule wardrobe. I'll explain why each piece works within the capsule, and tell you how to style it.
Most importantly, I'll show you how easy it is to create outfits with each piece.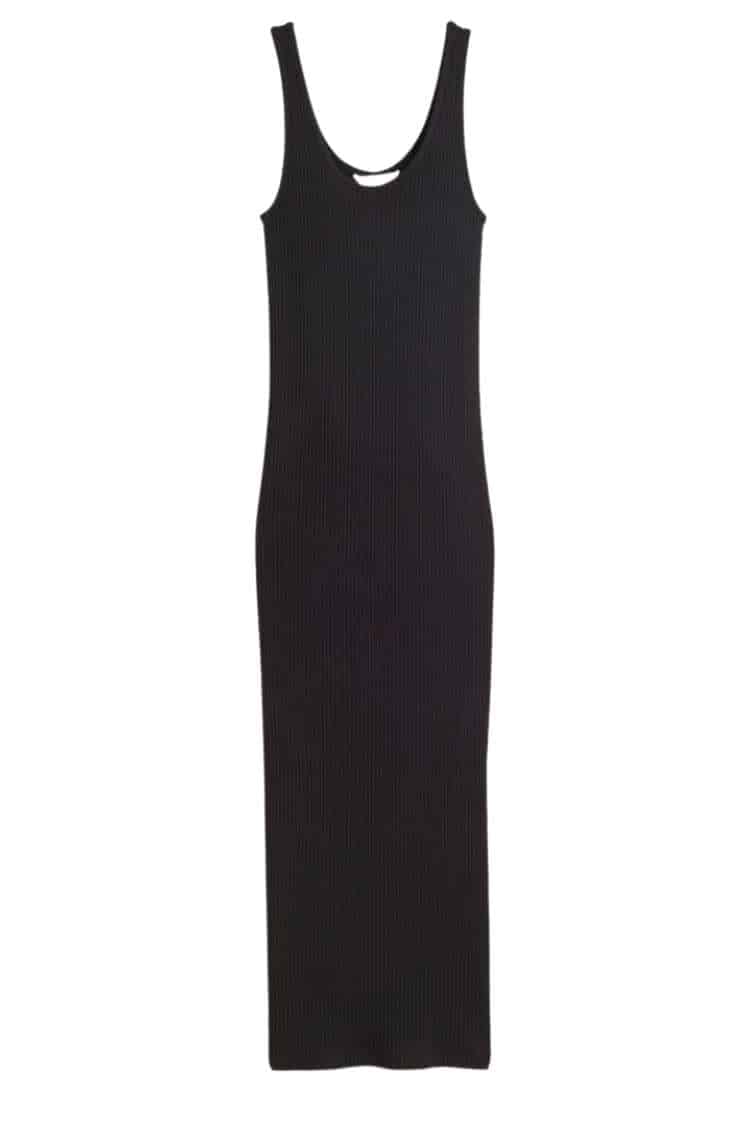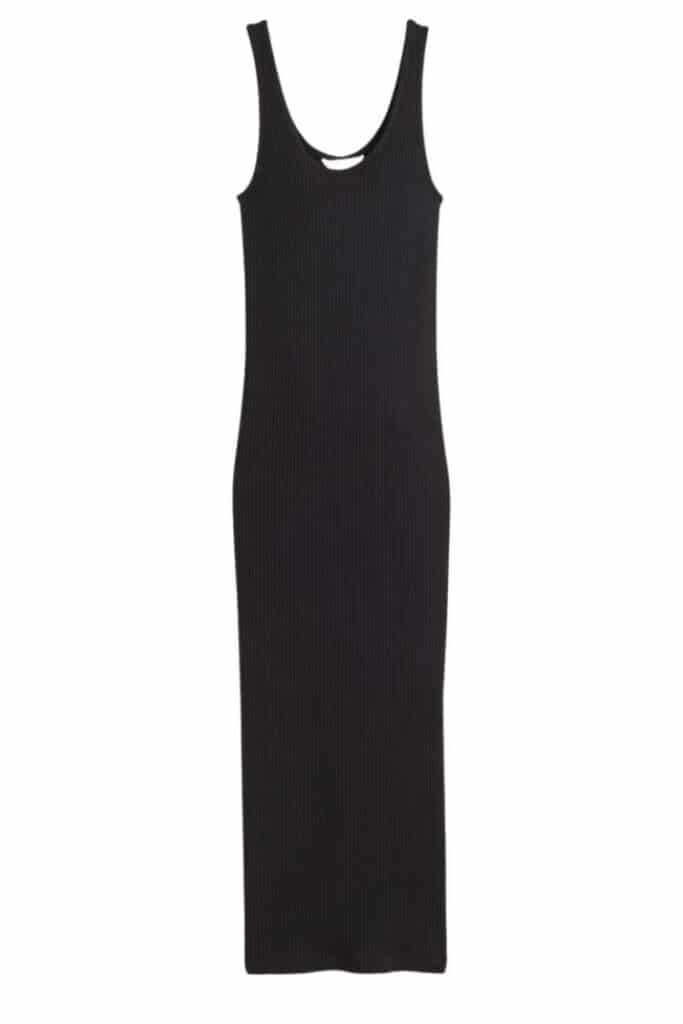 one
Black Tank Dress
The ultimate versatile piece to wear with sneakers or sandals, with or without another layer, and best of all…..with a regular bra. No more packing a strapless bra for all of those strappy summer dresses! I also love the ribbed fabric in this dress – it elevates the whole look of the dress while keeping it simple enough to pair with anything.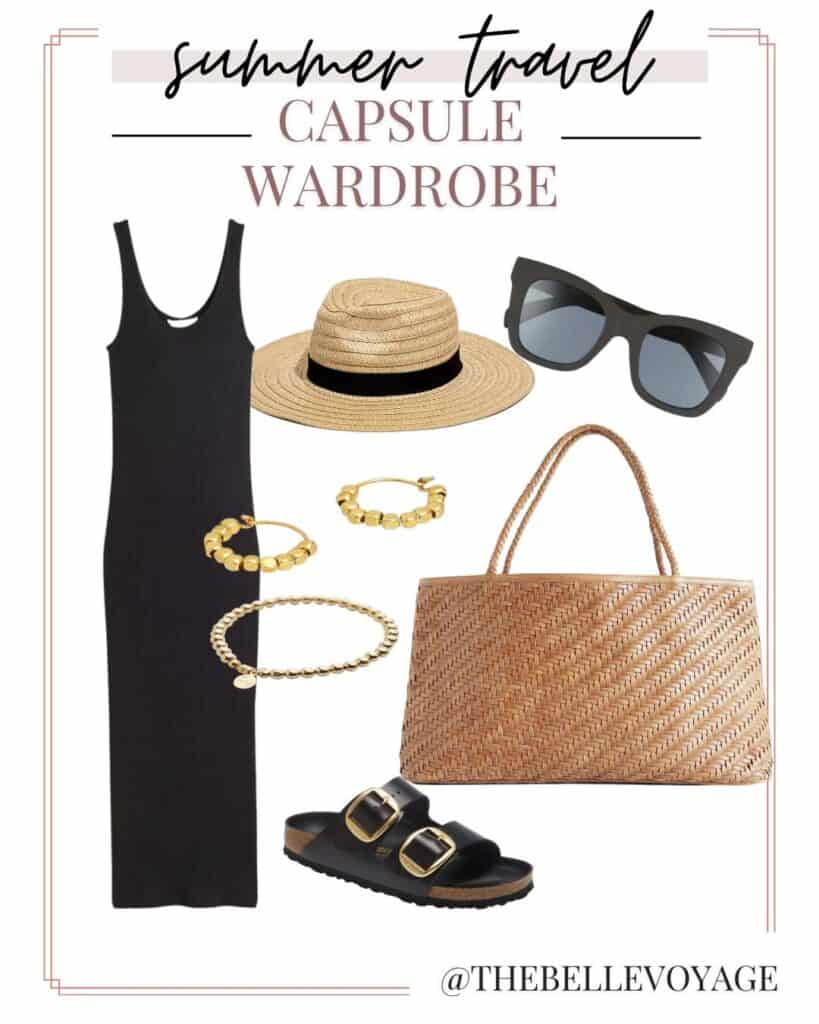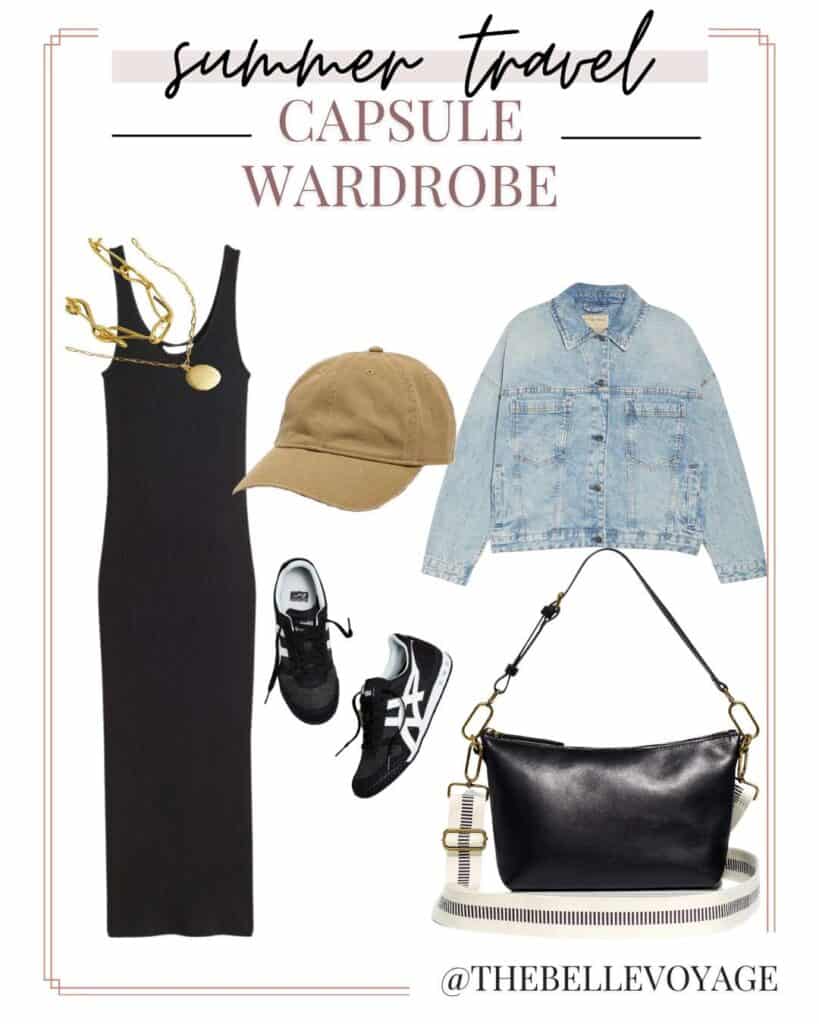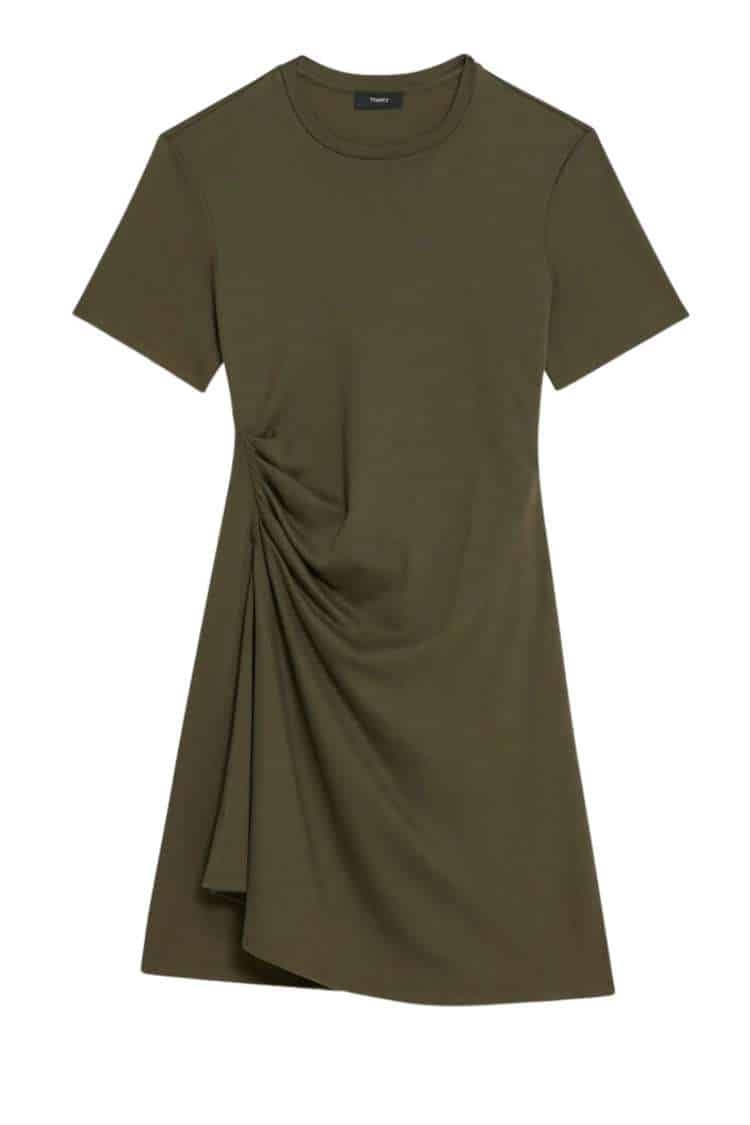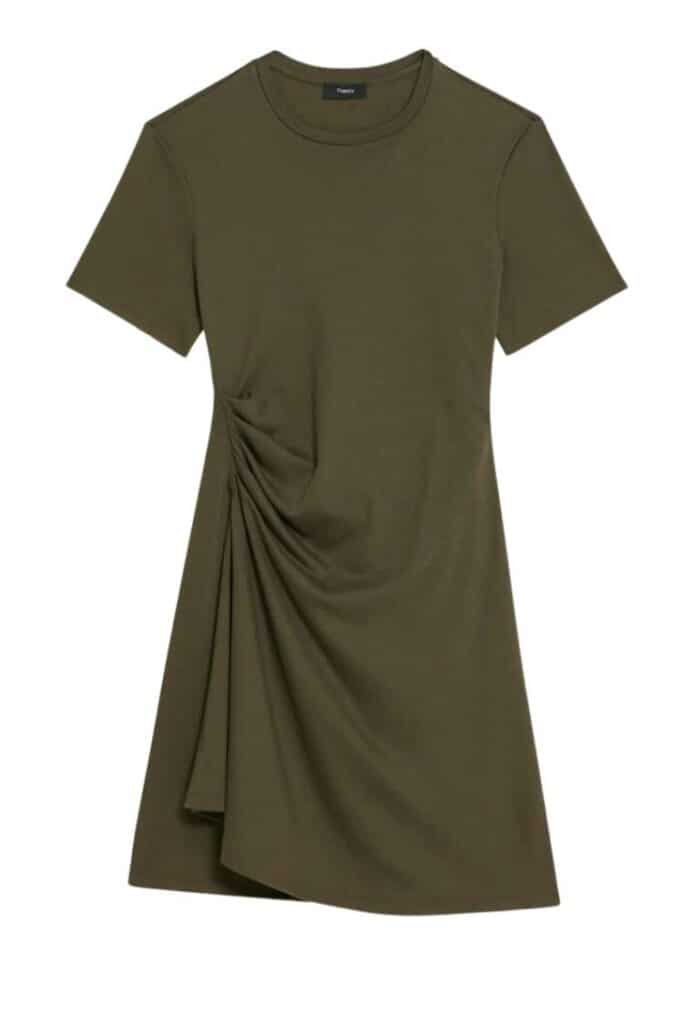 two
T-Shirt Dress
I love this t-shirt dress because it's got a defined waist which is super flattering! T-shirt dresses are the perfect summer packing piece, too. They're cool and airy, and take up very little space in your suitcase. You can wear this dress with either of the shoes in this capsule – perfect! Wear it again through the fall with boots, tights and a warmer jacket, too.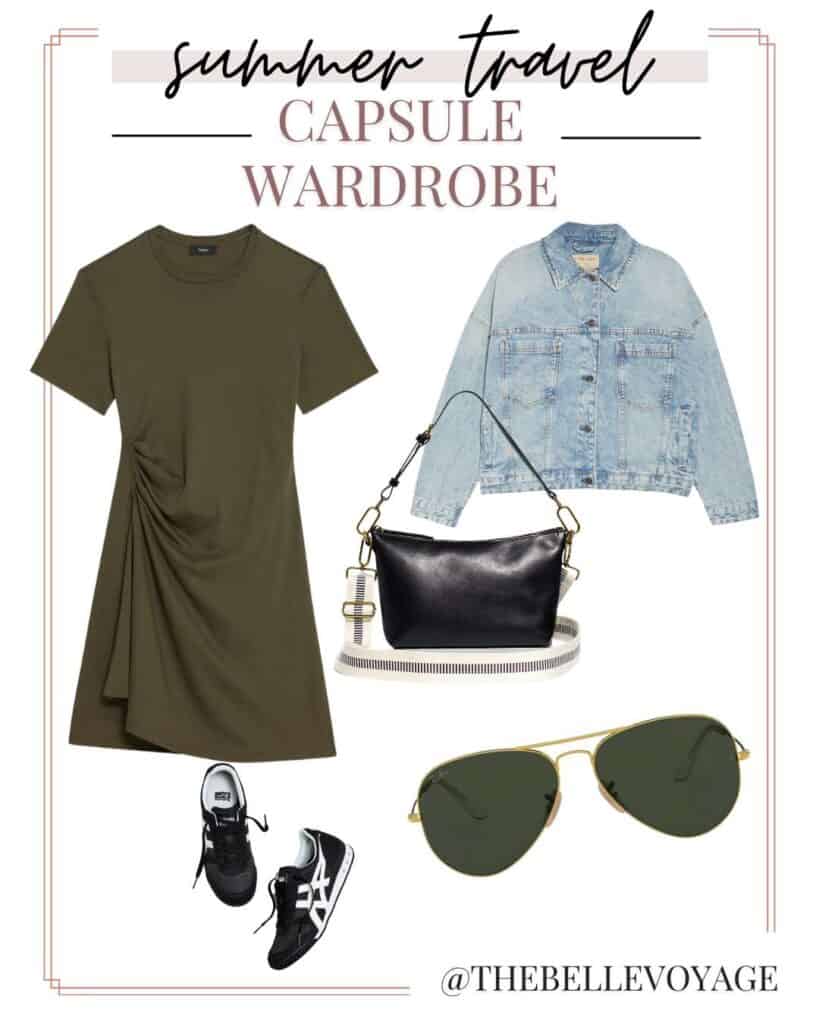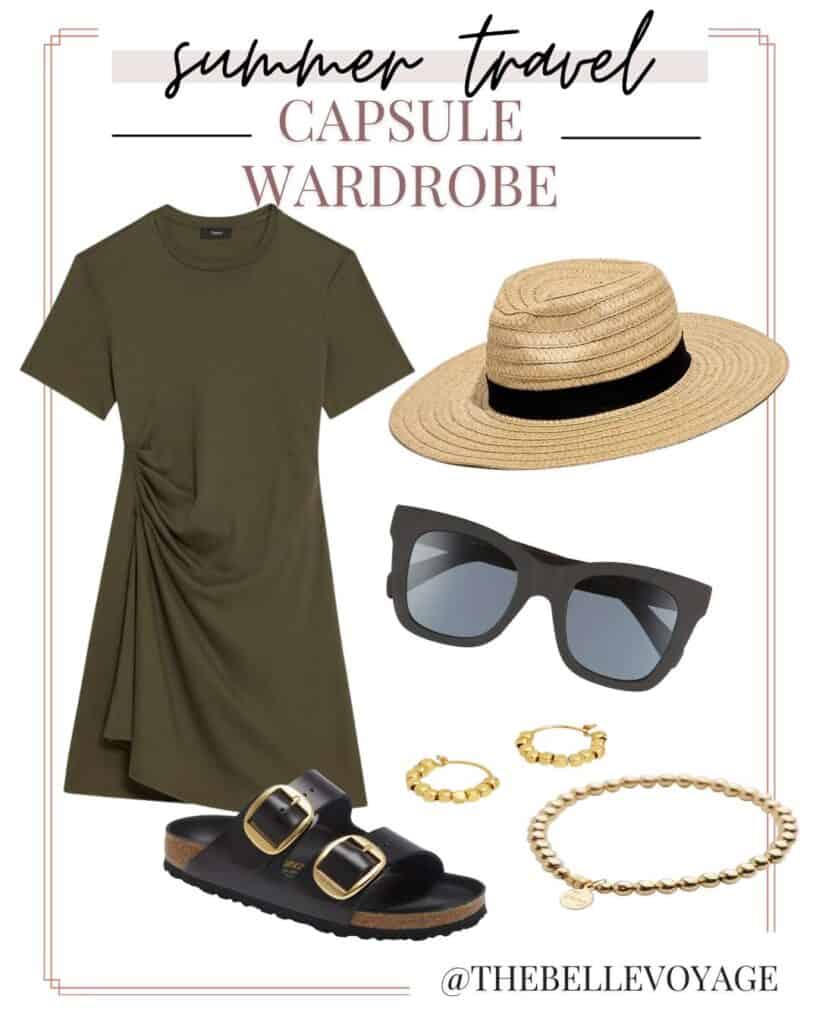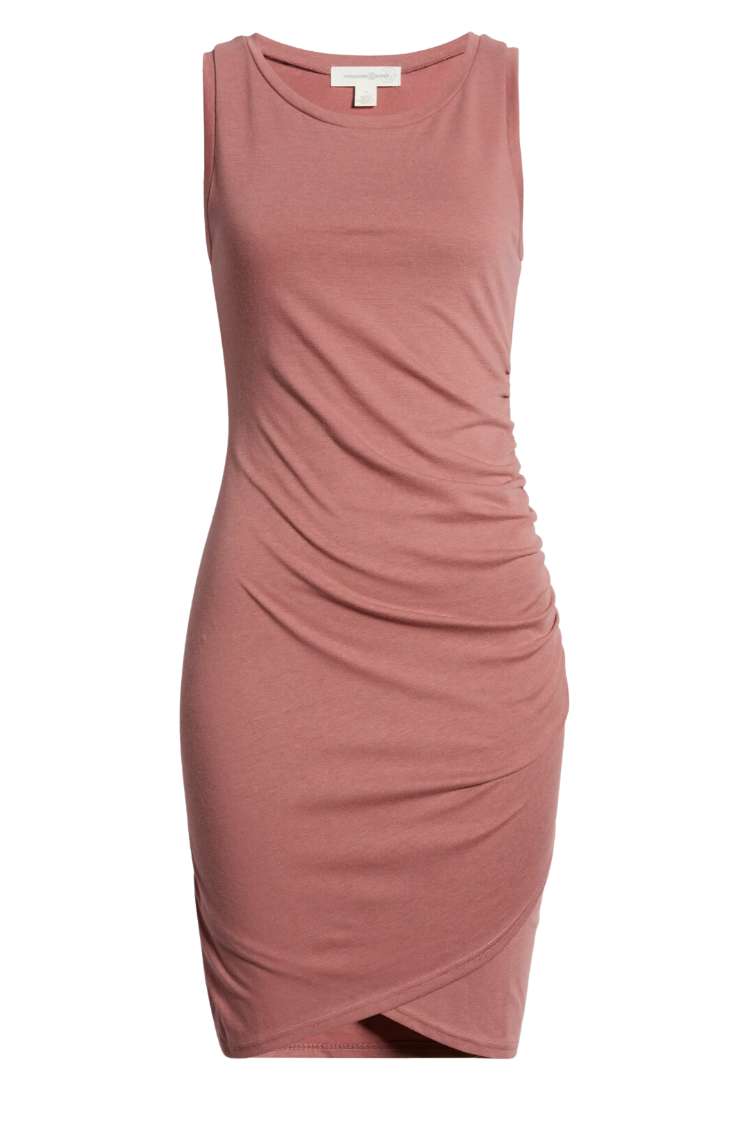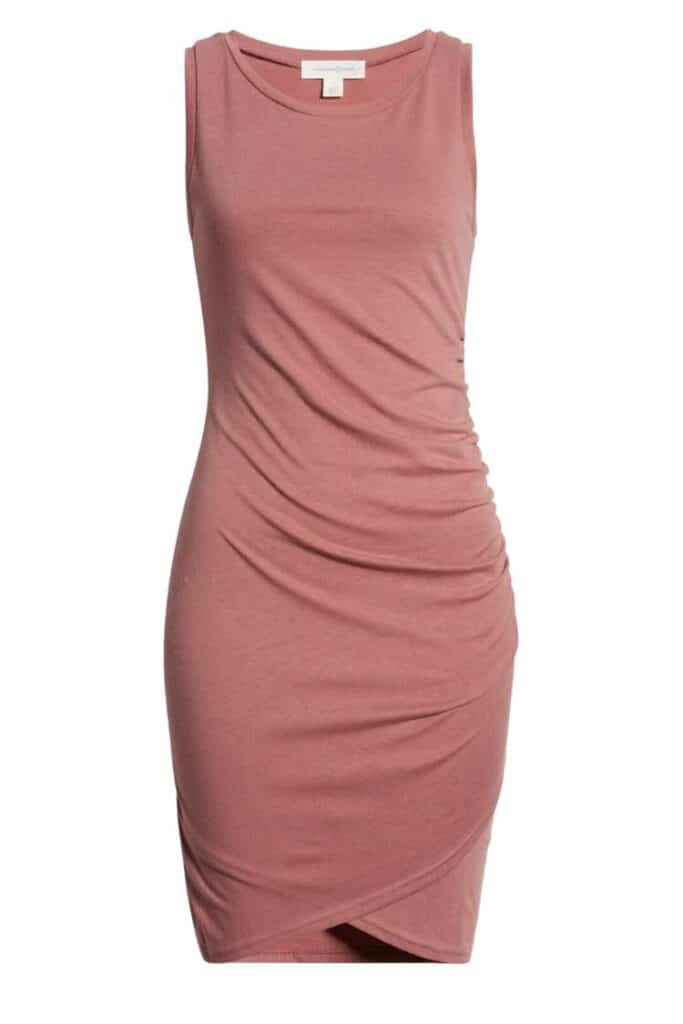 three
Sleeveless Bodycon Dress
If you want easy polish for your outfit with just a single piece, try this bodycon dress. The silhouette makes it easy to dress up or down. I love the ruching for extra interest in the dress, and the pink color goes with just about anything! Plus, you can't beat the price for this dress.
UPDATE: If the dress is not available in your size, try this lookalike version!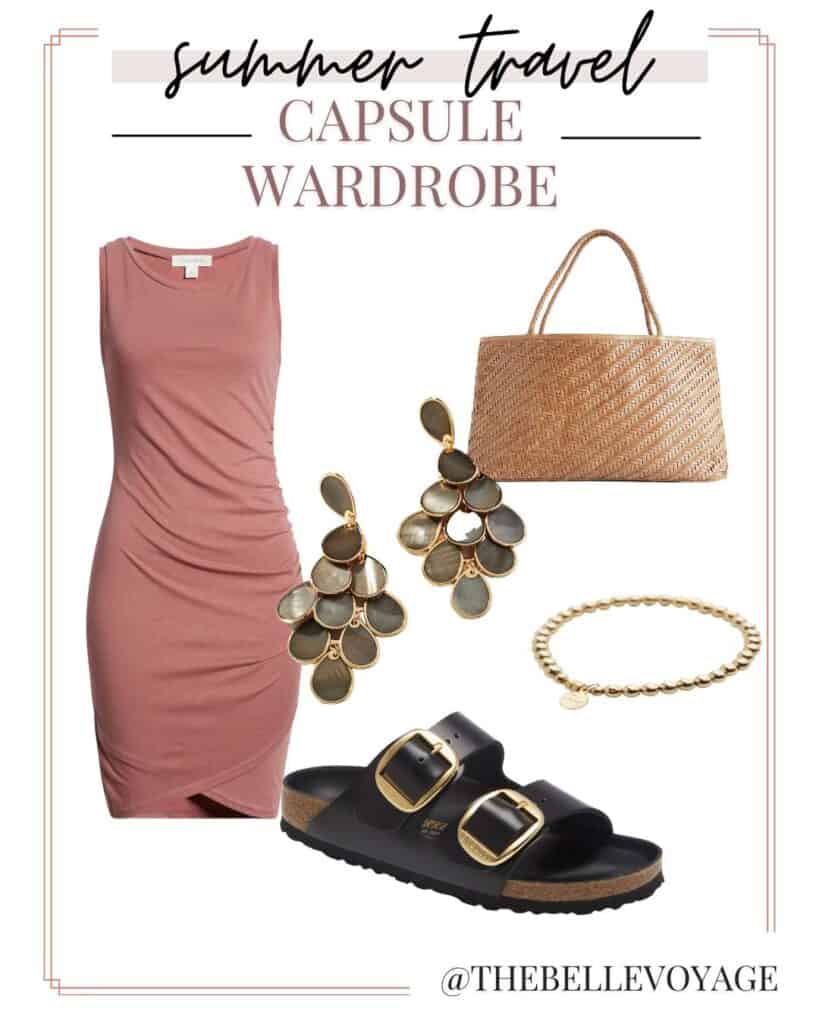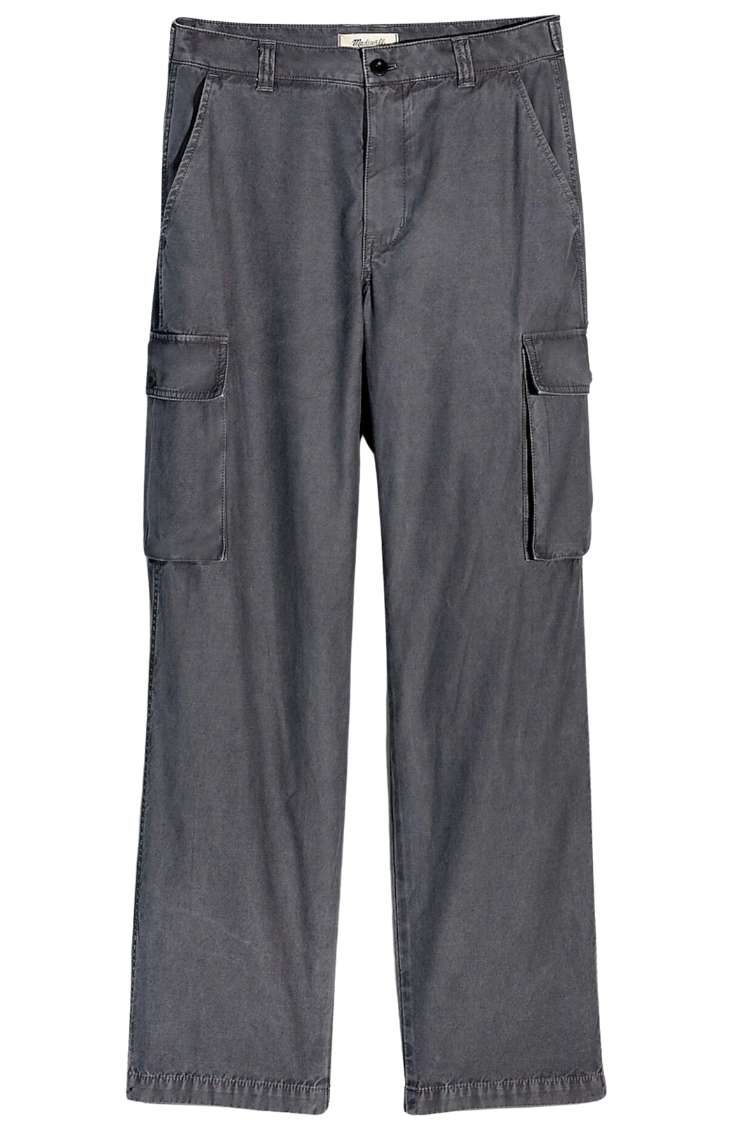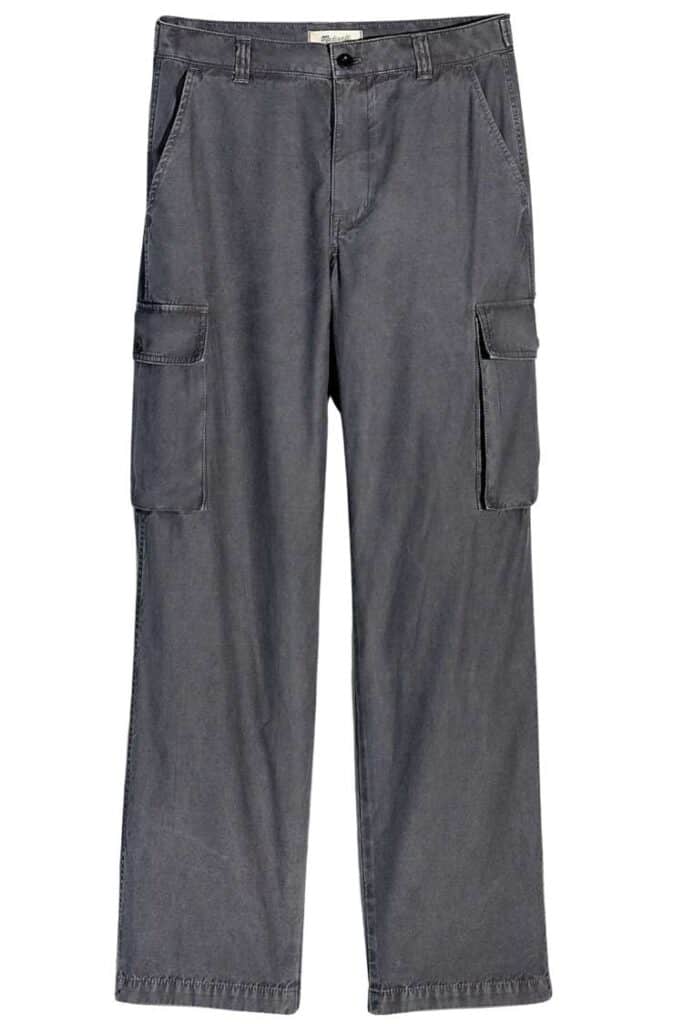 four
Lightweight Cargo Pants
Yep, cargo pants are back, and I especially love these linen blend cargos. Having a pair of versatile pants in your summer travel capsule will really expand your outfit options. These cargos look best with a cropped or fitted top, and you can also add a layer for cooler evenings. Style them with sandals or sneakers, or even wear them with neutral heels for a dressier dinner. They're also super comfy, so they'd be perfect to wear with a warm layer as part of an airplane outfit.
UPDATE: These were so popular that there's only a few sizes left in navy, but you can get them in olive green, denim or here's a very similar pair!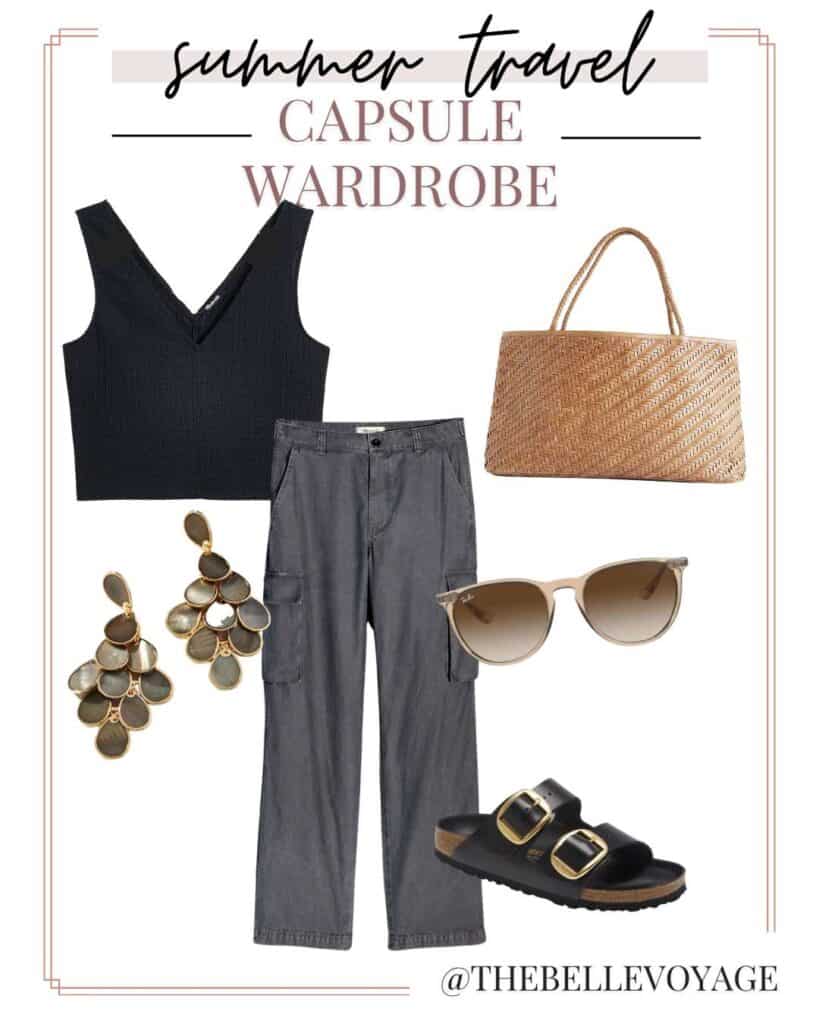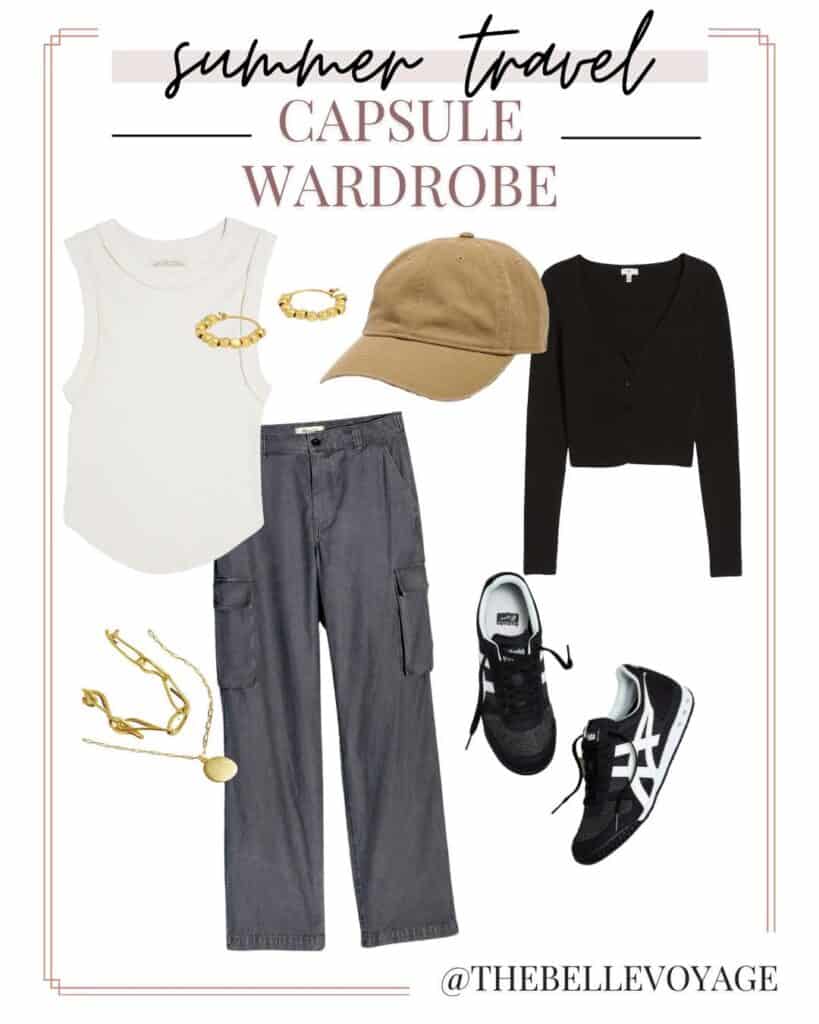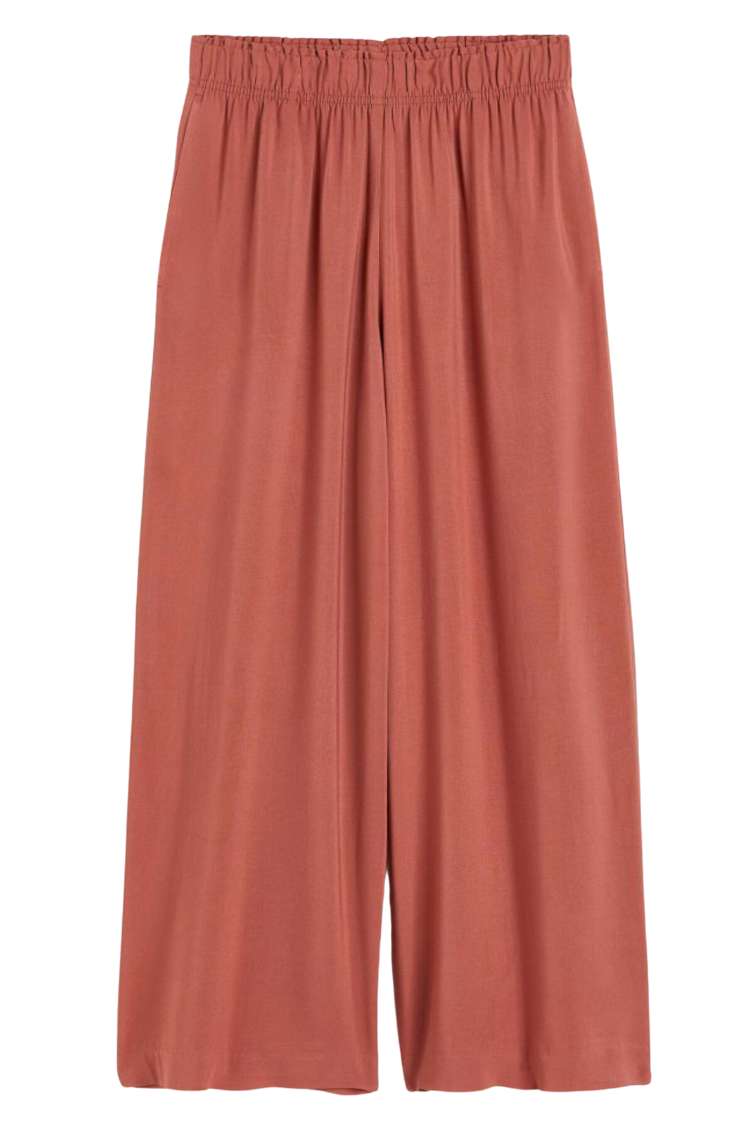 five
Wide Leg CroppeD Pants
These lightweight and breathable wide leg cropped pants are perfect to bring on your next summer trip. Pair this warm terracotta color with any neutral and you've got yourself an easy but chic warm weather outfit that works for day or night. The pants will also double perfectly as a swim cover up, or you could pair them with a neutral heel for a more elevated look.
UPDATE: These pants were so popular that they're only available in limited sizes but you can also grab this near-exact pair!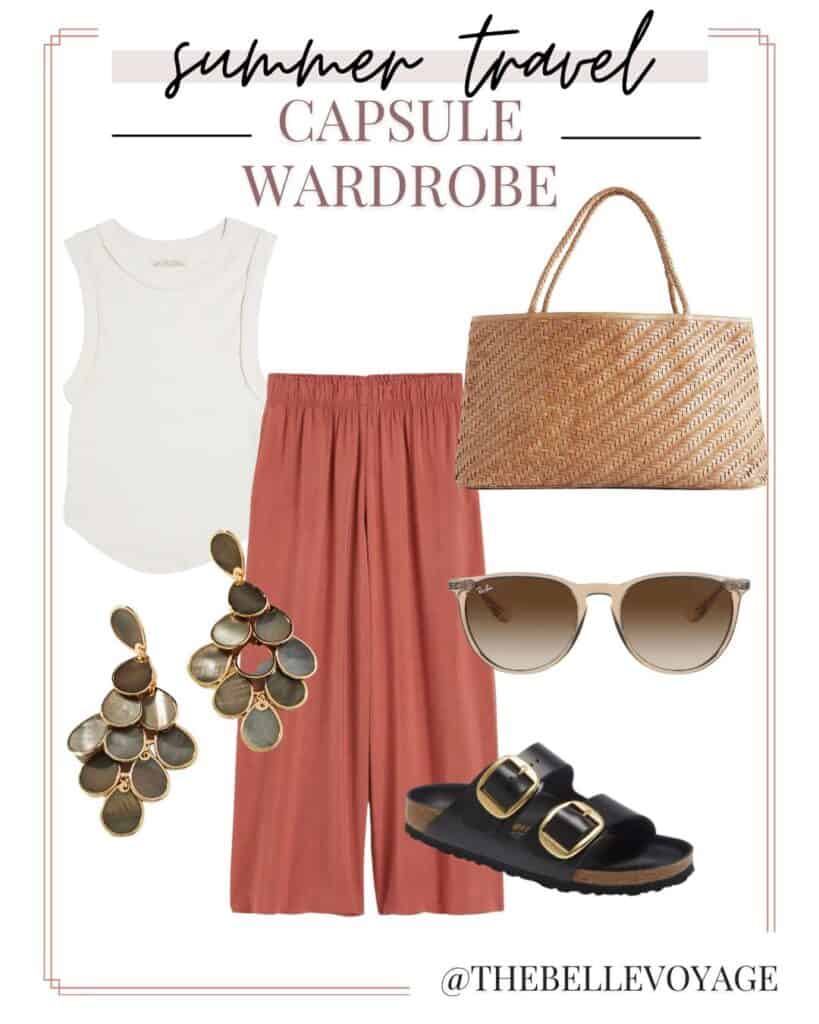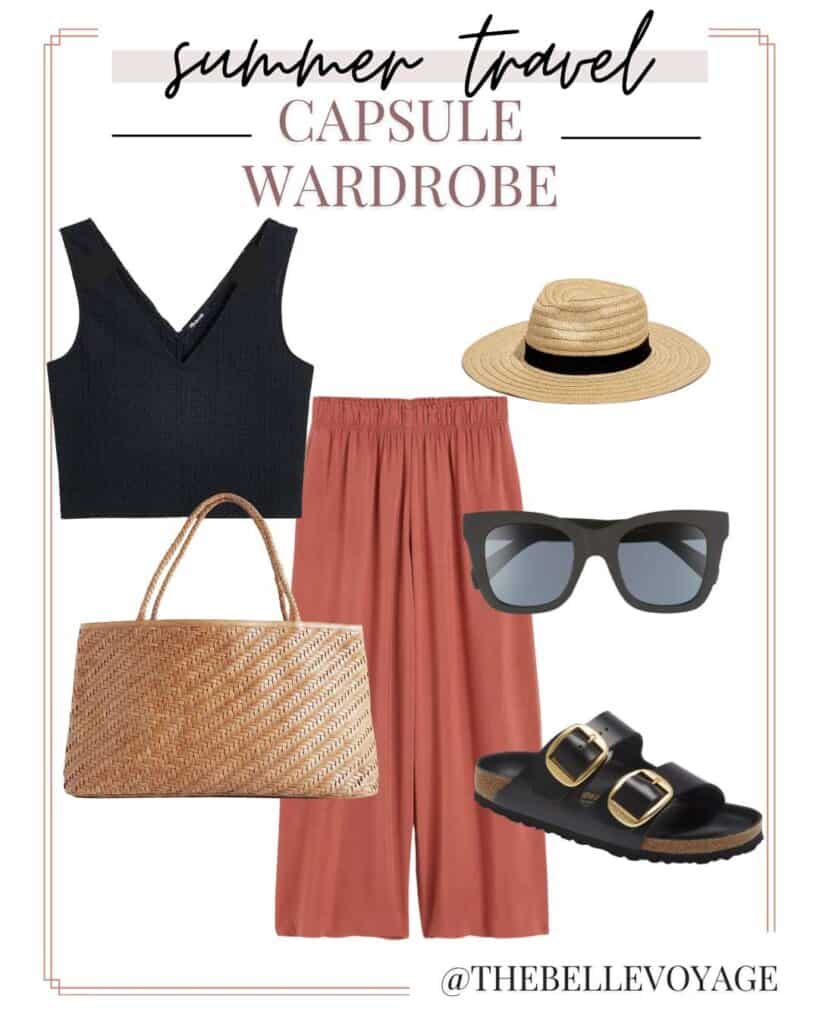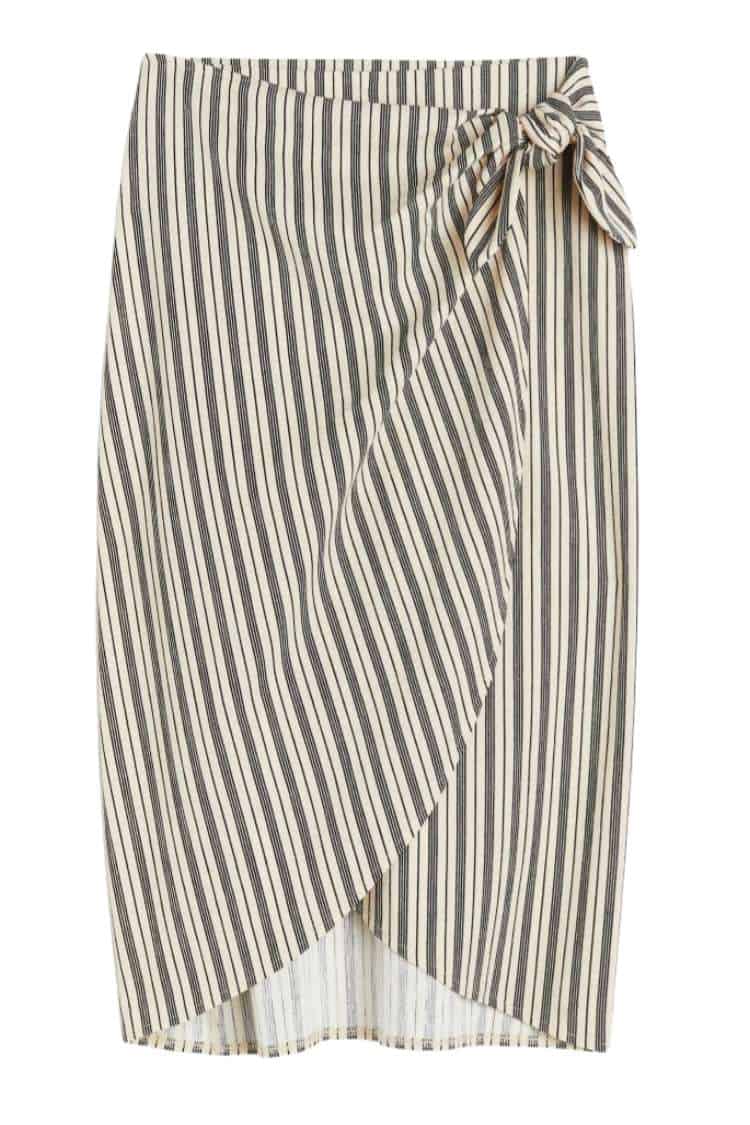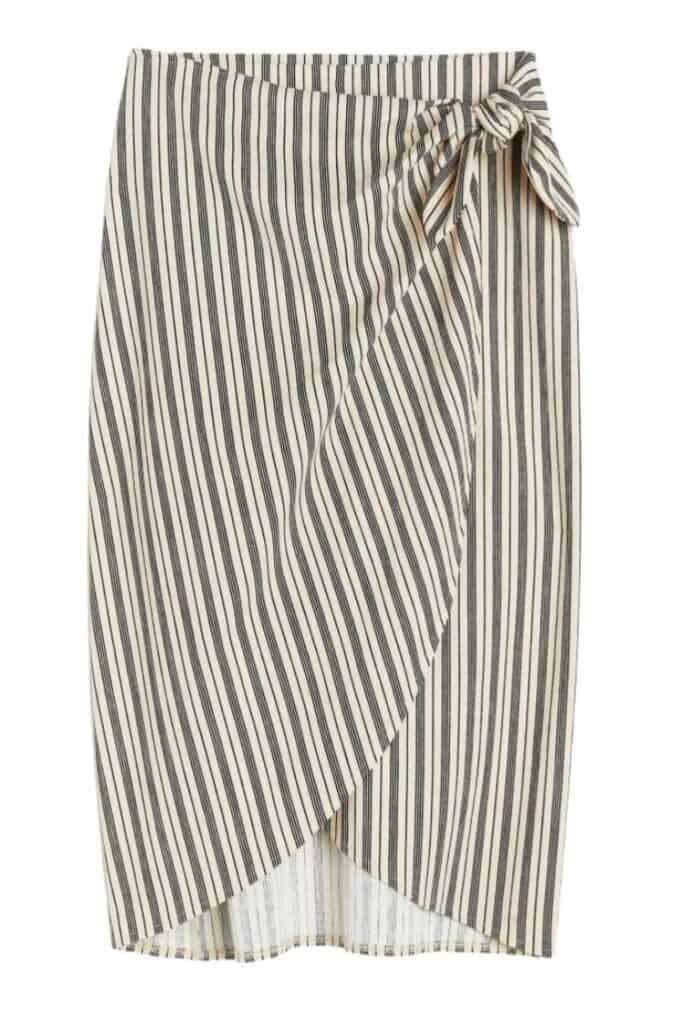 six
Striped Skirt
When I saw this skirt, I knew I had to include it in my summer capsule. I'm a sucker for pieces that you can wear with any color (check!), and that also have interesting details (check!) or patterns (check!). This skirt is casual enough to wear for a day of exploring, and it's a great alternative to shorts if you're looking to dress up a bit. The fabric is cool and lightweight, and the silhouette is super flattering. Wear it with a t-shirt, tank top, or even a button-up blouse, and with either sneakers or sandals.
UPDATE: This skirt was so popular that it's now only available in limited sizes! I'm linking to a few close dupes here and here.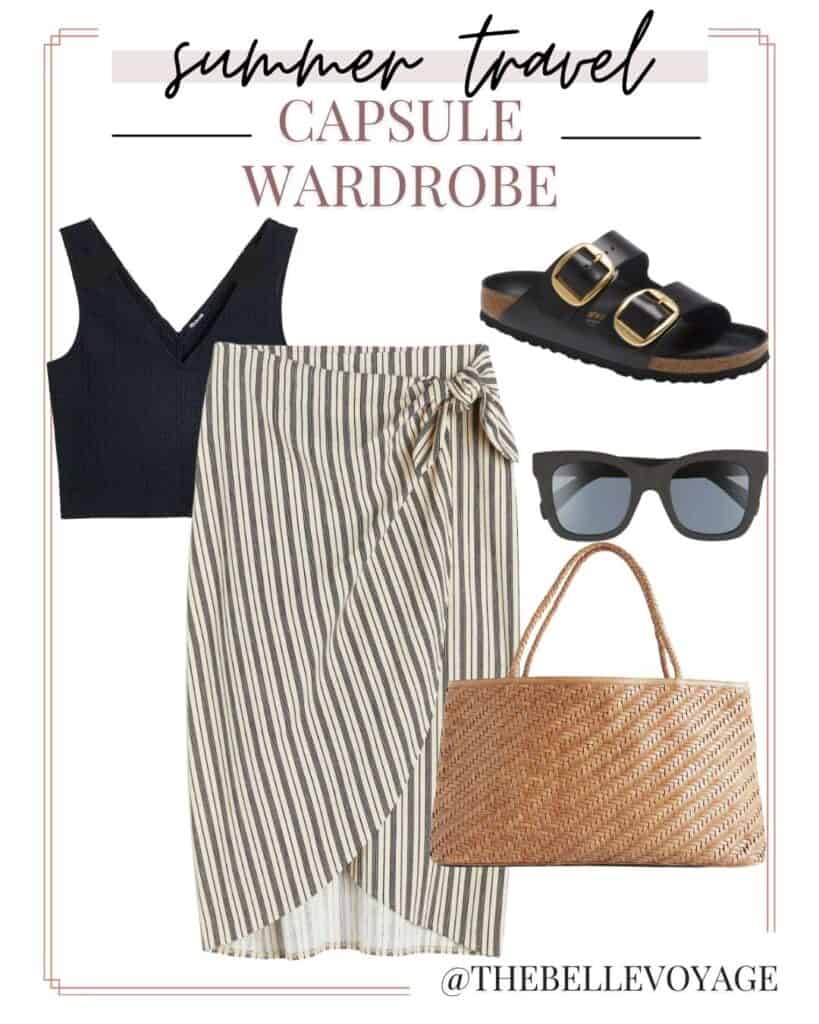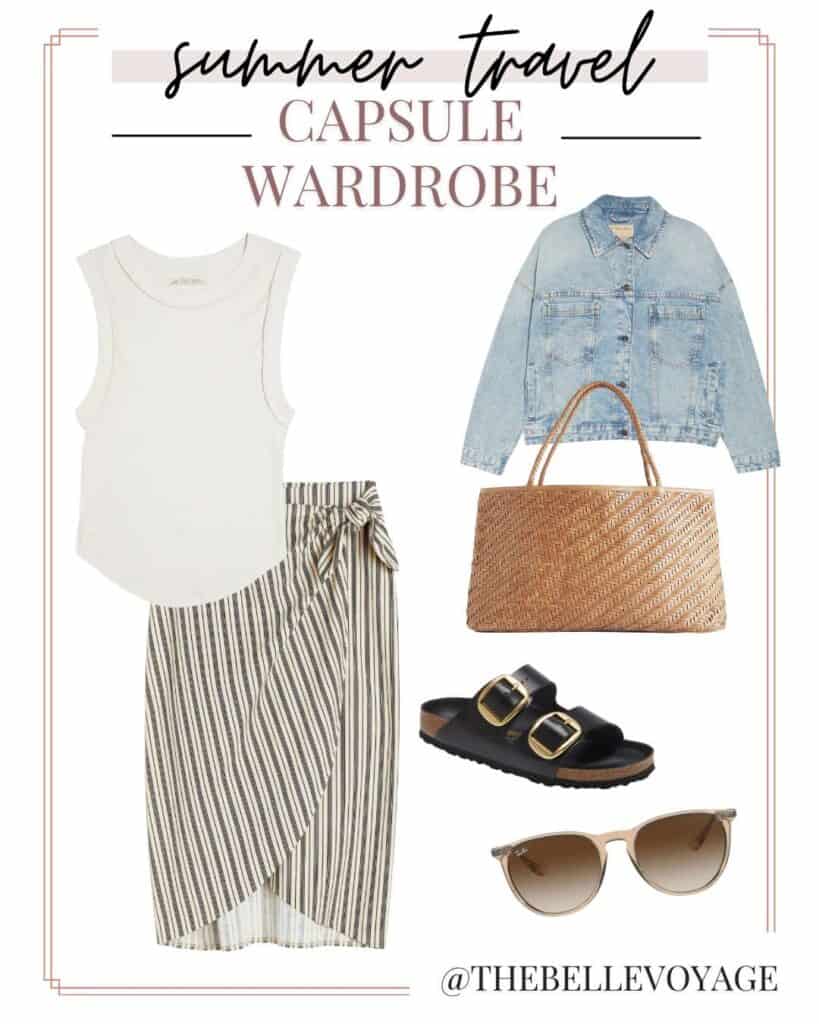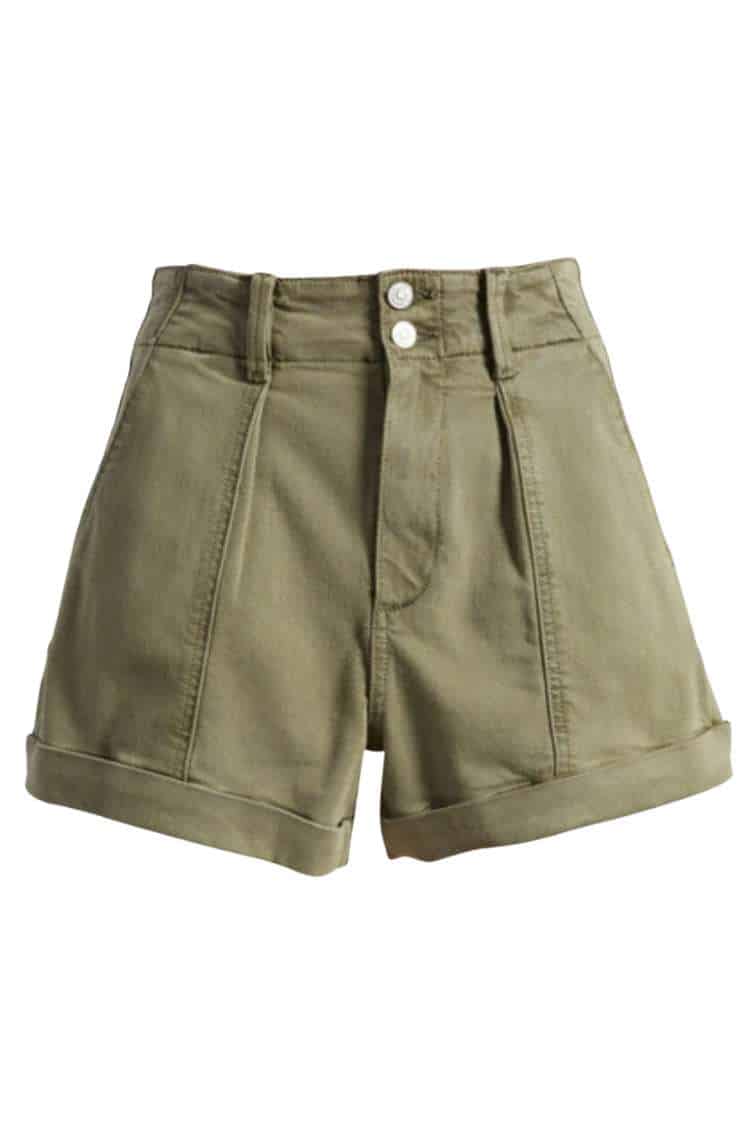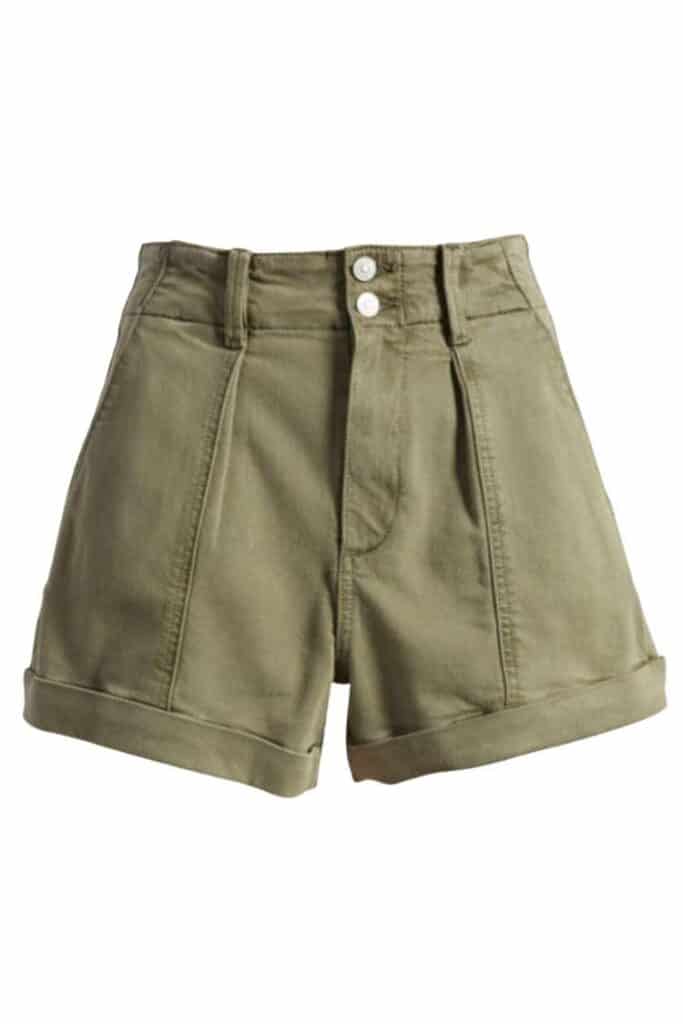 seven
Utility Shorts
For those super hot days when nothing but shorts will do, I love these olive green utility shorts. The color goes with any neutral or pattern, and the seams and double buttons make them unique. It's hard to find shorts that wear just as well with sneakers as statement earrings, but these do. The high waist is super flattering, and they're short, but not, like short-short. You know what I mean.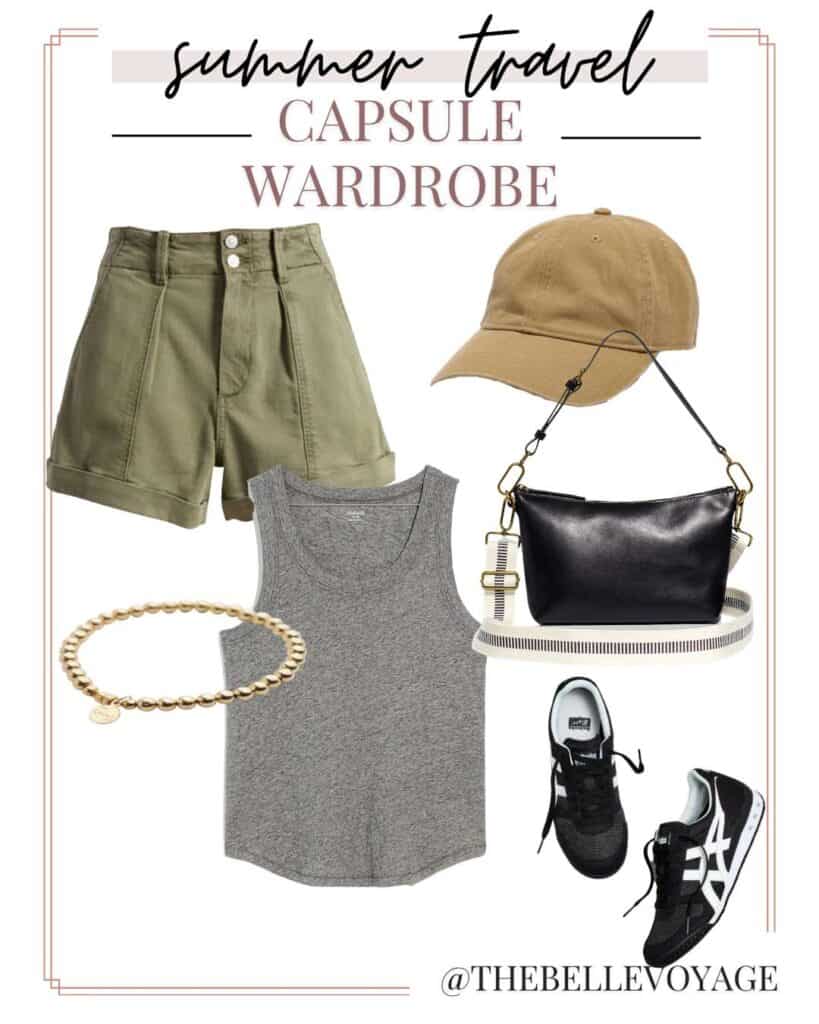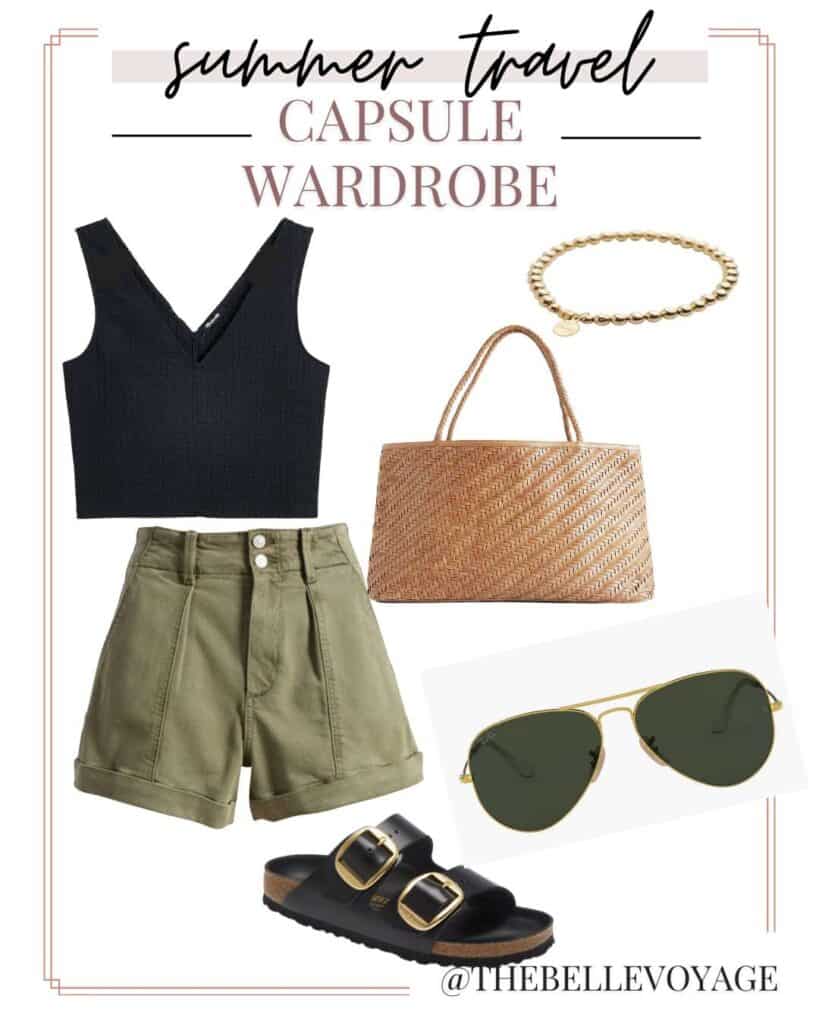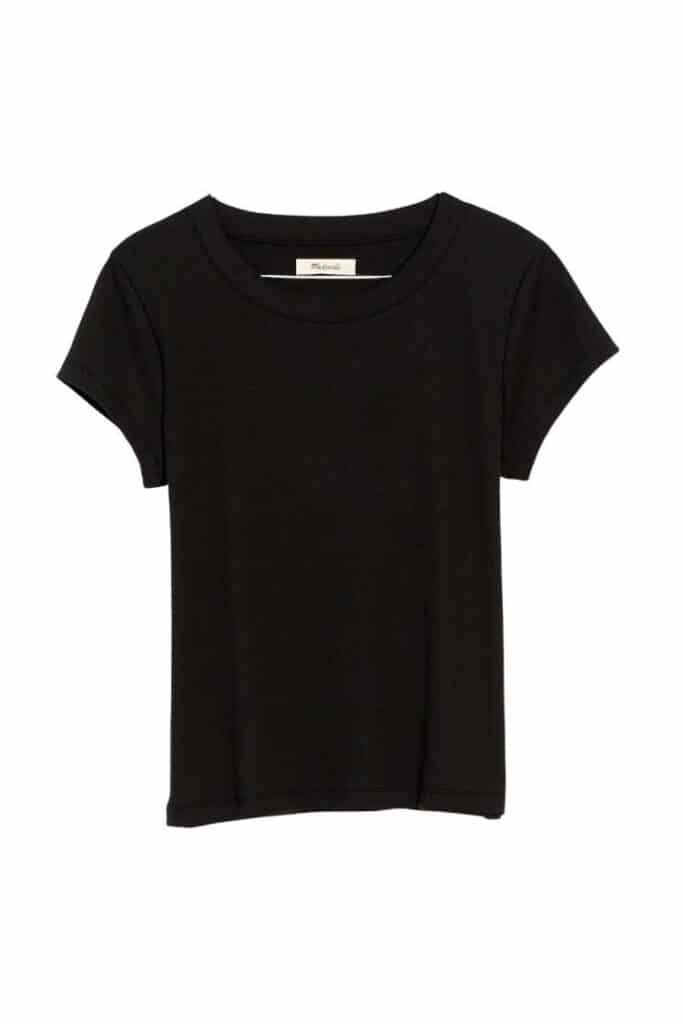 eight
Black T-Shirt
Basics like a good black t-shirt are essential pieces in any travel capsule wardrobe, and this one is no exception. I love to pack a classic, fitted black t-shirt everywhere I go, even if it's just a "backup" option. I usually end up wearing it! You can wear the black t-shirt with any of the bottoms in this capsule, and use accessories to change your look.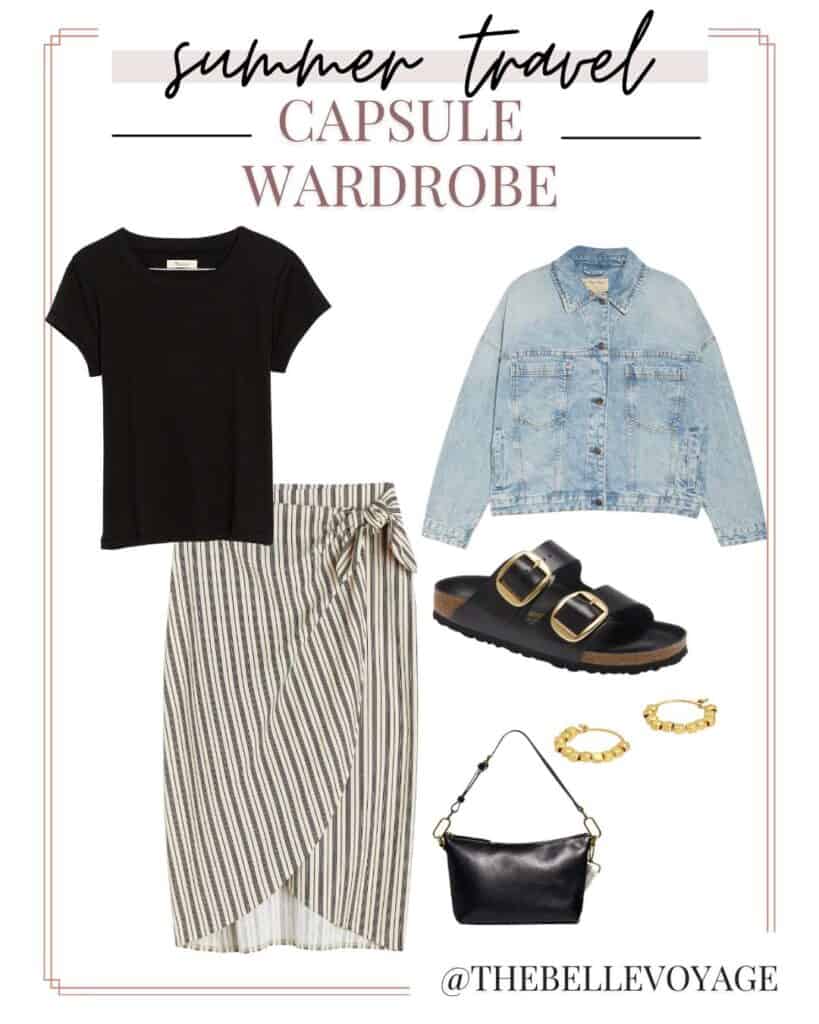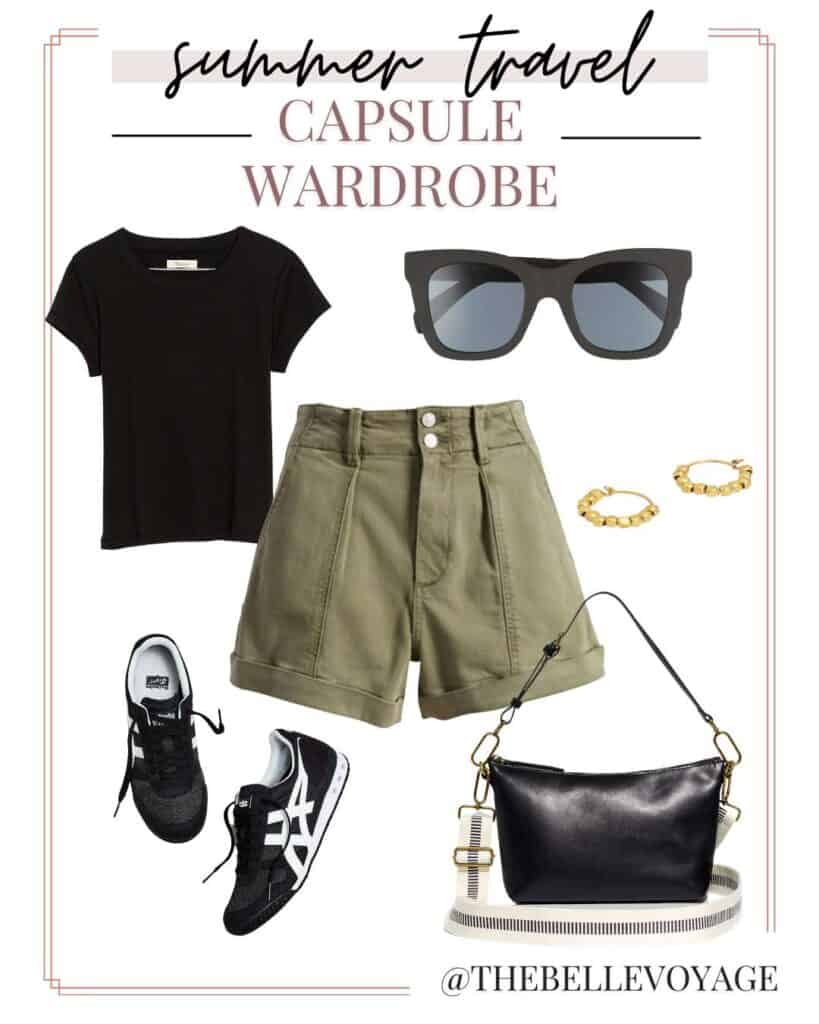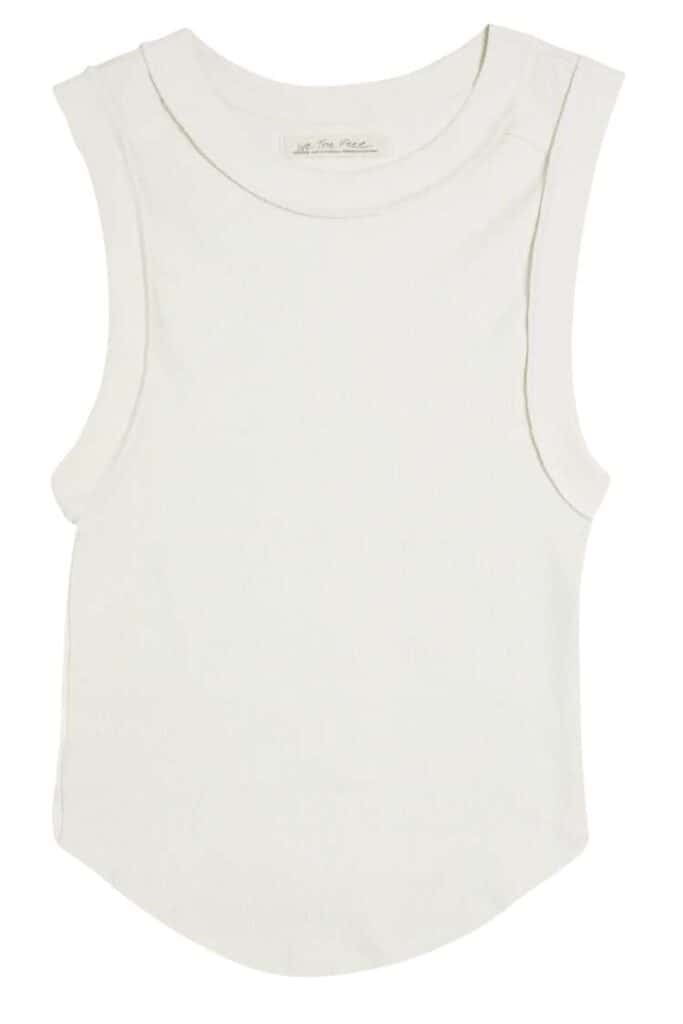 nine
White Fitted Tank Top
I featured this white tank top in my spring capsule and you guys loved it! It was one of the most popular pieces in the entire capsule (maybe even this year)? It's because a white tank top that's well-cut and not see through is a warm weather staple! Wear the tank with any of the bottoms in the capsule and you'll look effortlessly stylish when the temperatures climb.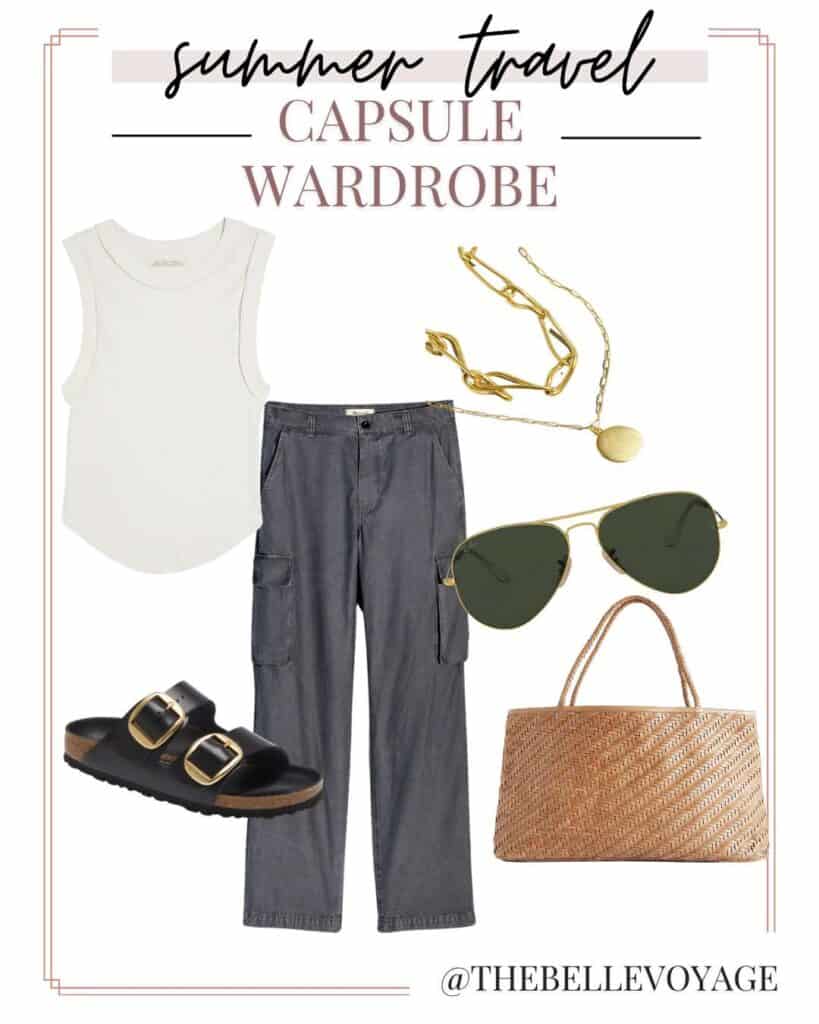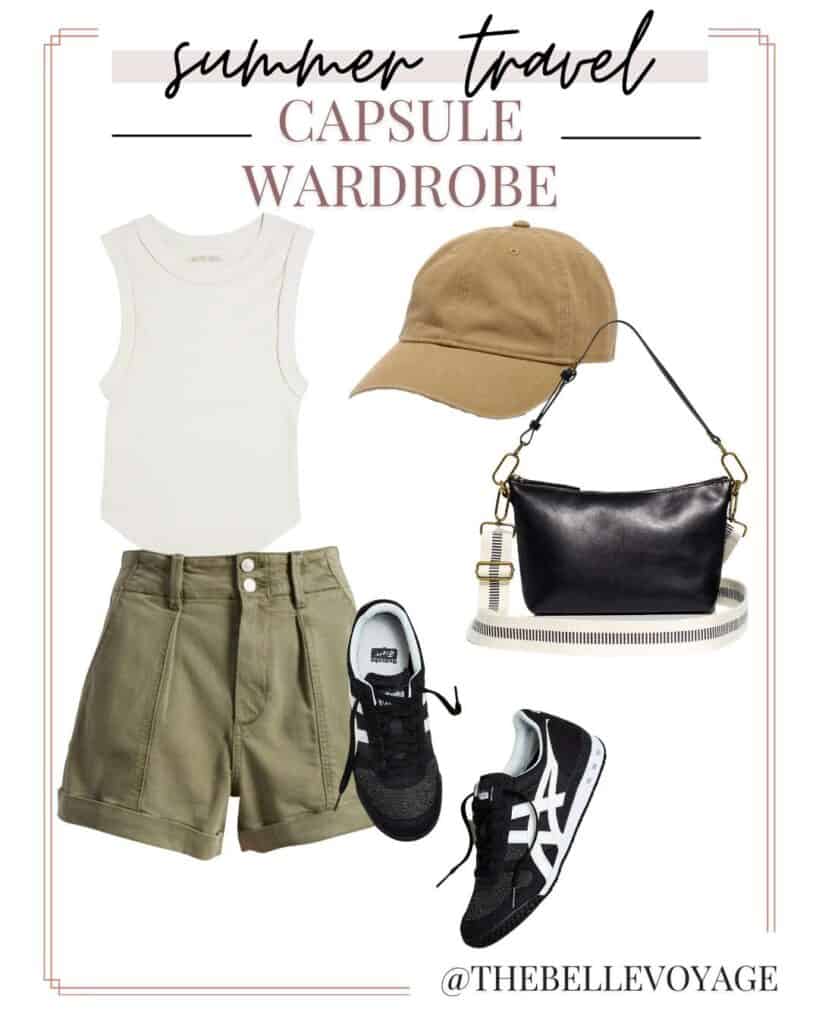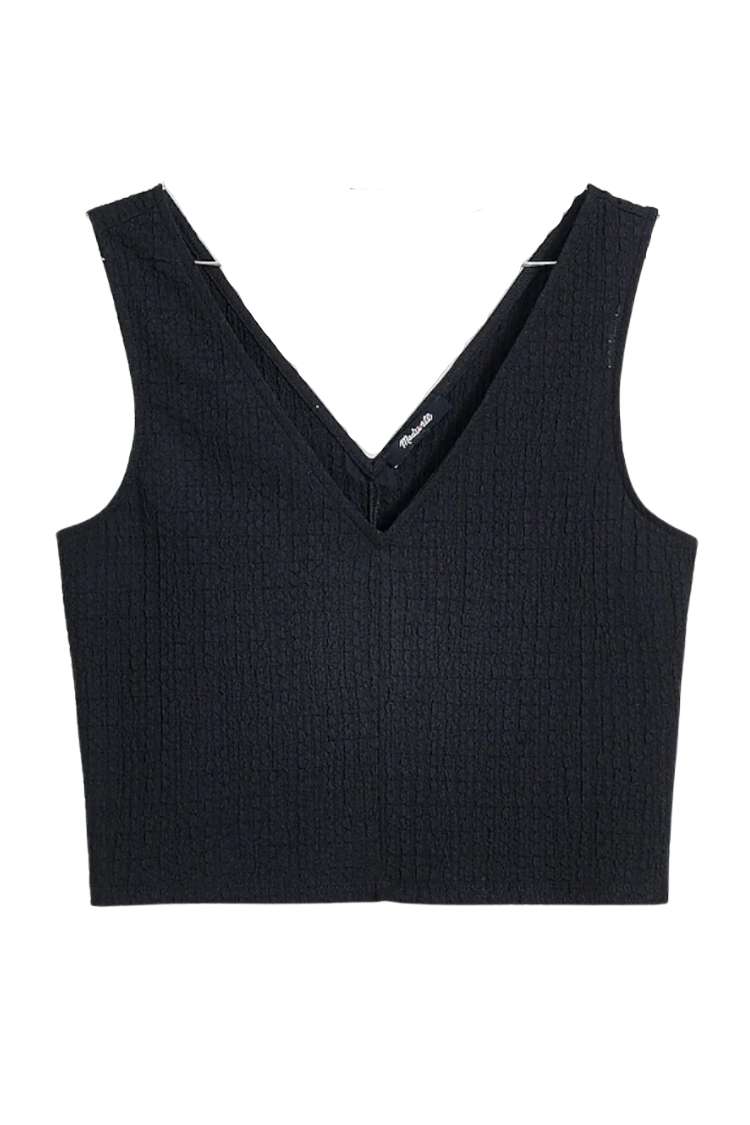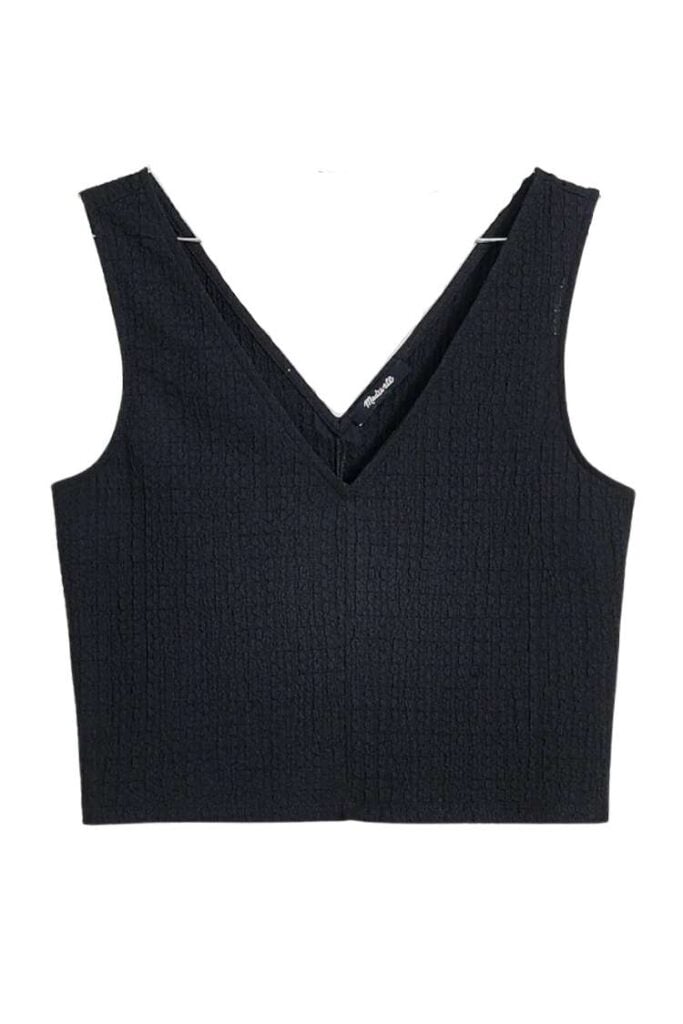 ten
Black V-Neck Top
This cropped black top is one of those pieces that might look basic, but that you will wear over and over again once it's in your closet. It's a simple but chic piece that you can pair with the pants, skirt, or shorts, and it can look either casual or elegant depending on how you accessorize it.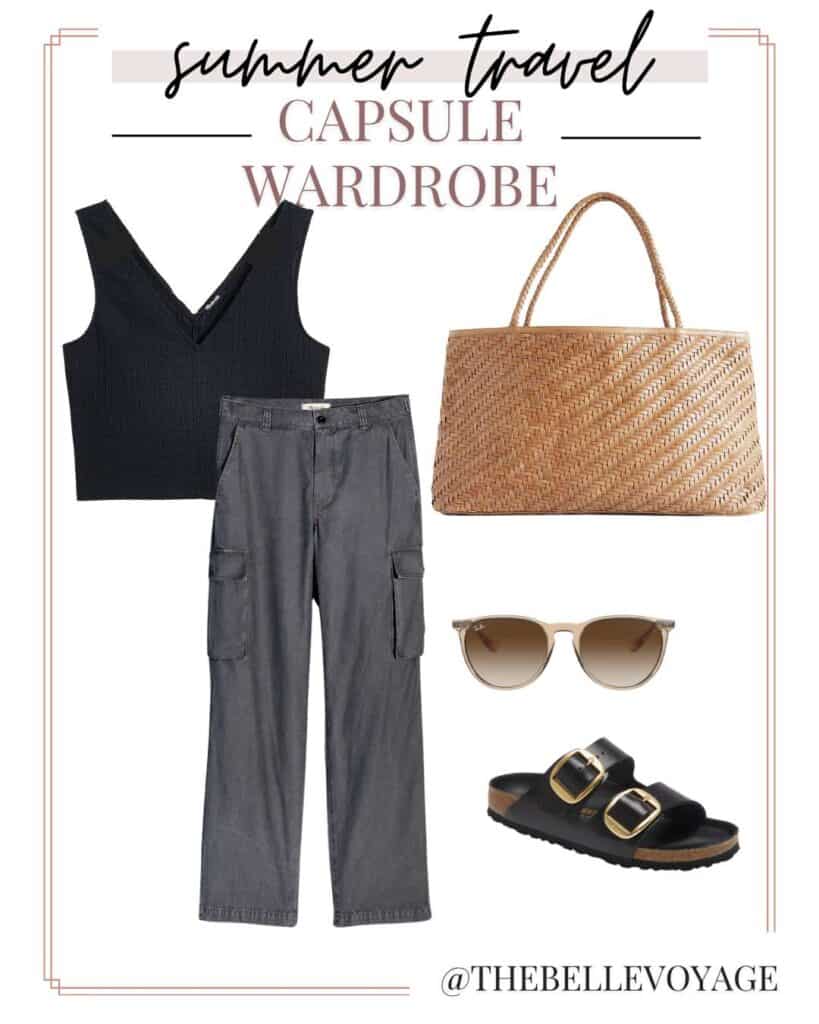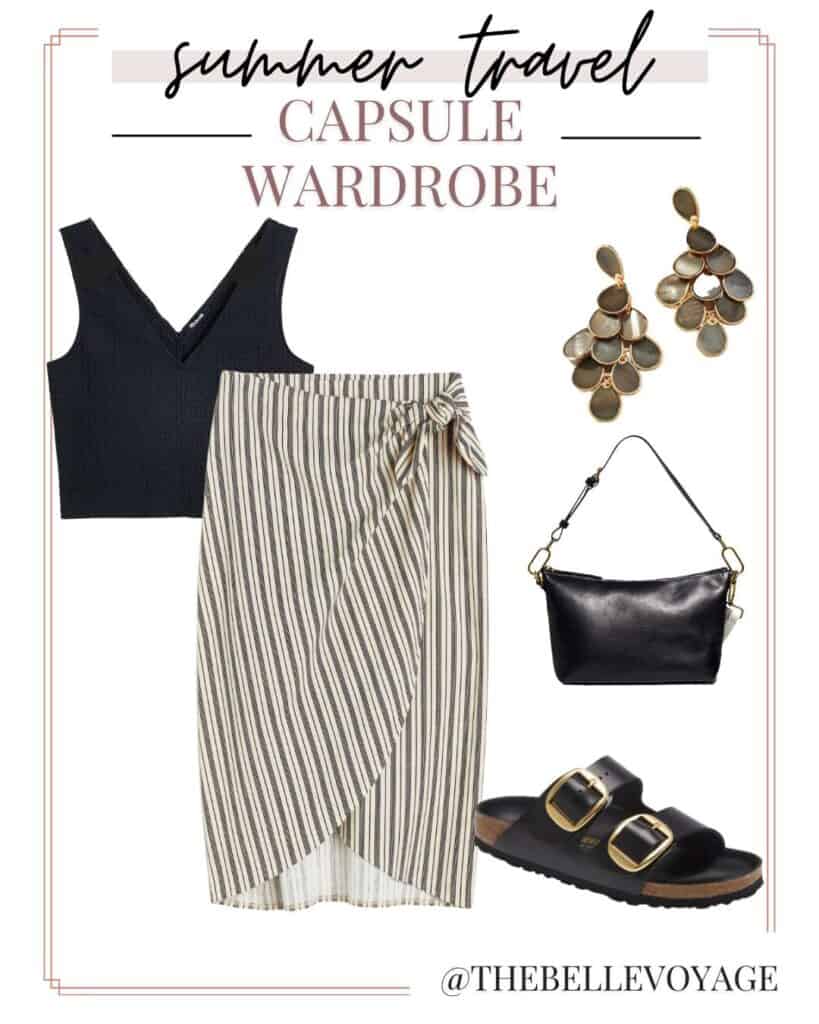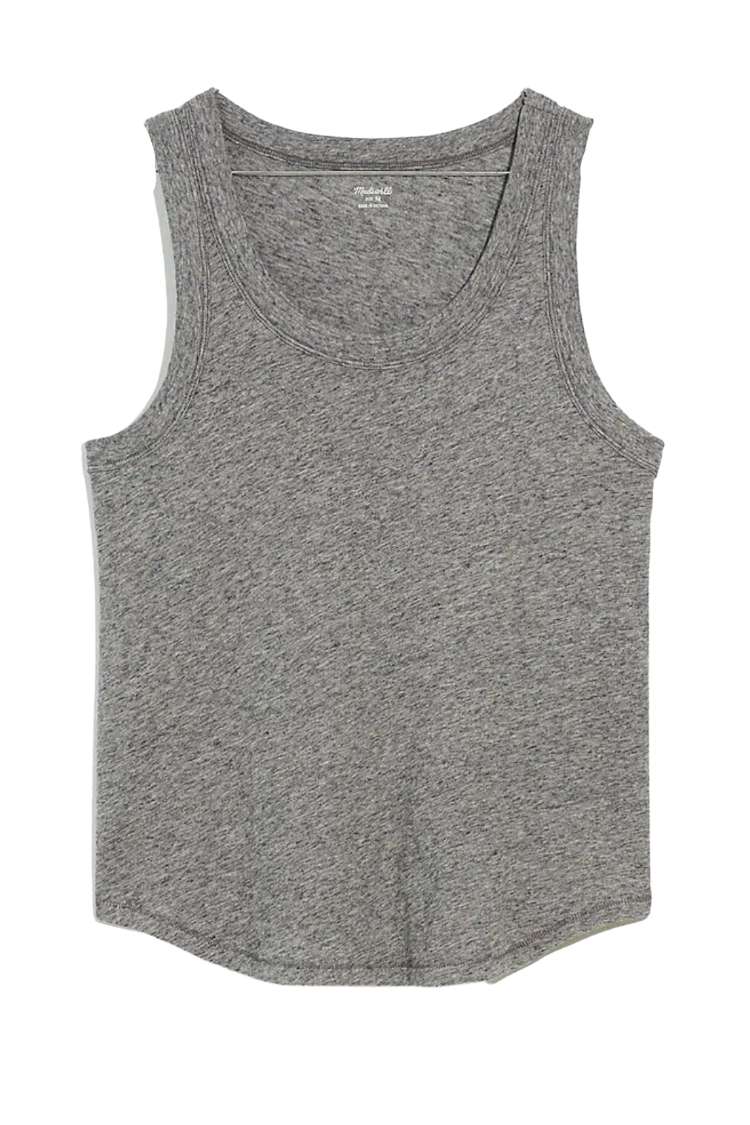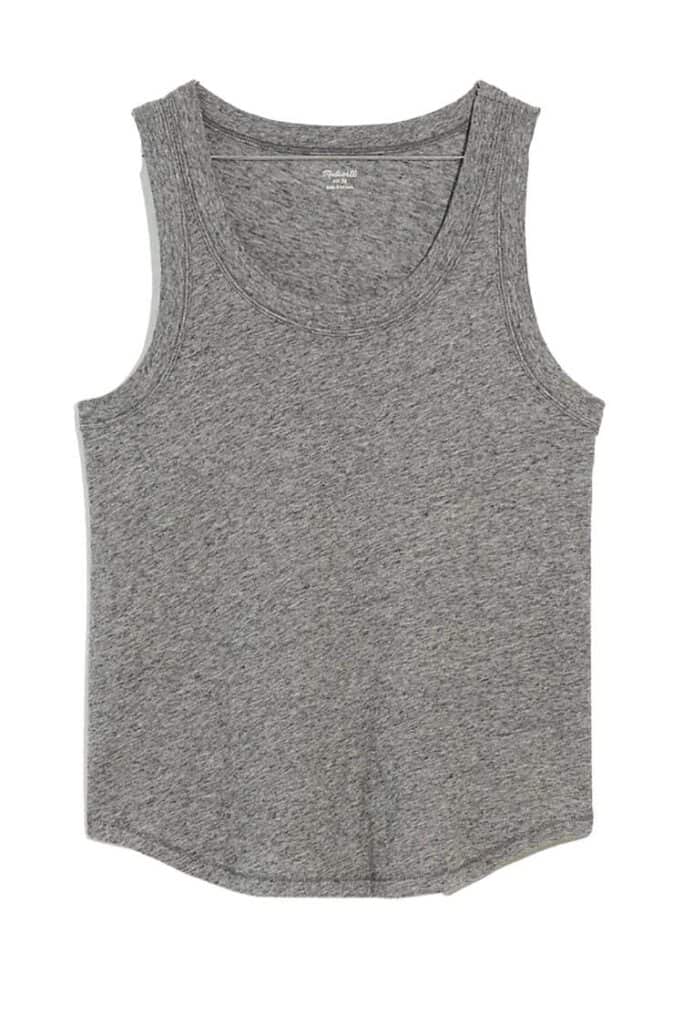 eleven
Gray Tank Top
Yes, it's a basic tank top, and also yes, you will wear it all the time! If you don't have a gray tank yet, I recommend "investing" in this one. I say investing because it's pricier than other gray tanks you can buy, but it will last for years and years (which is exactly how long you will wear it for).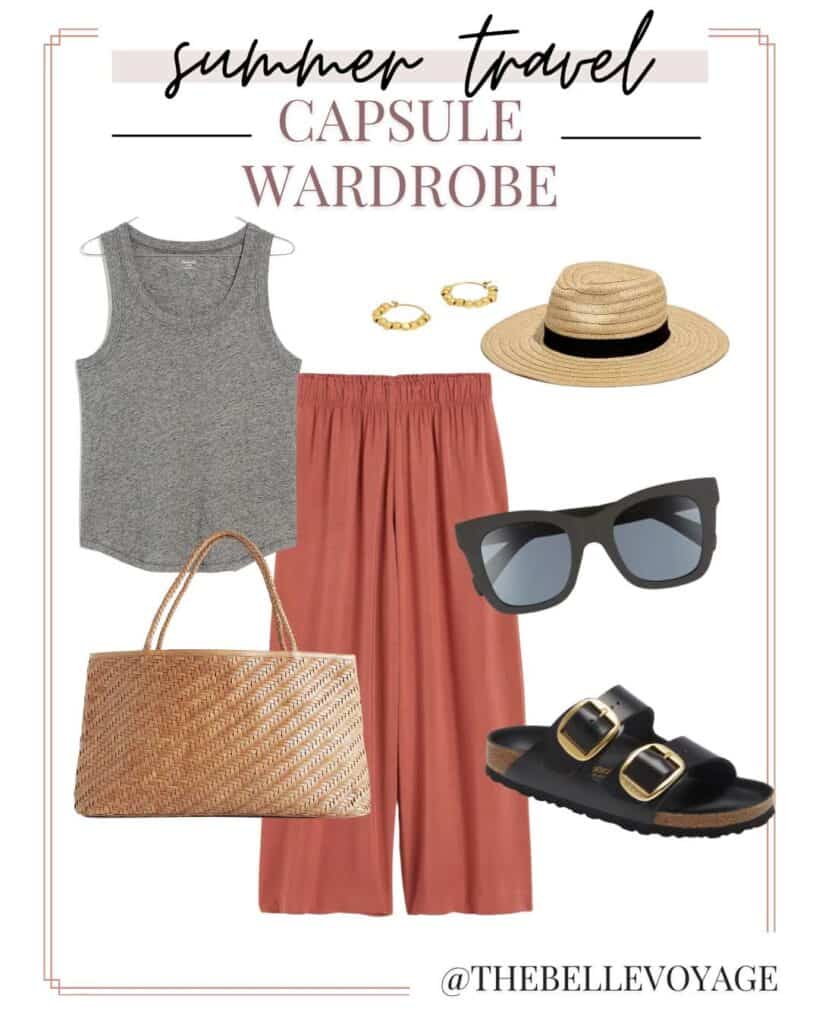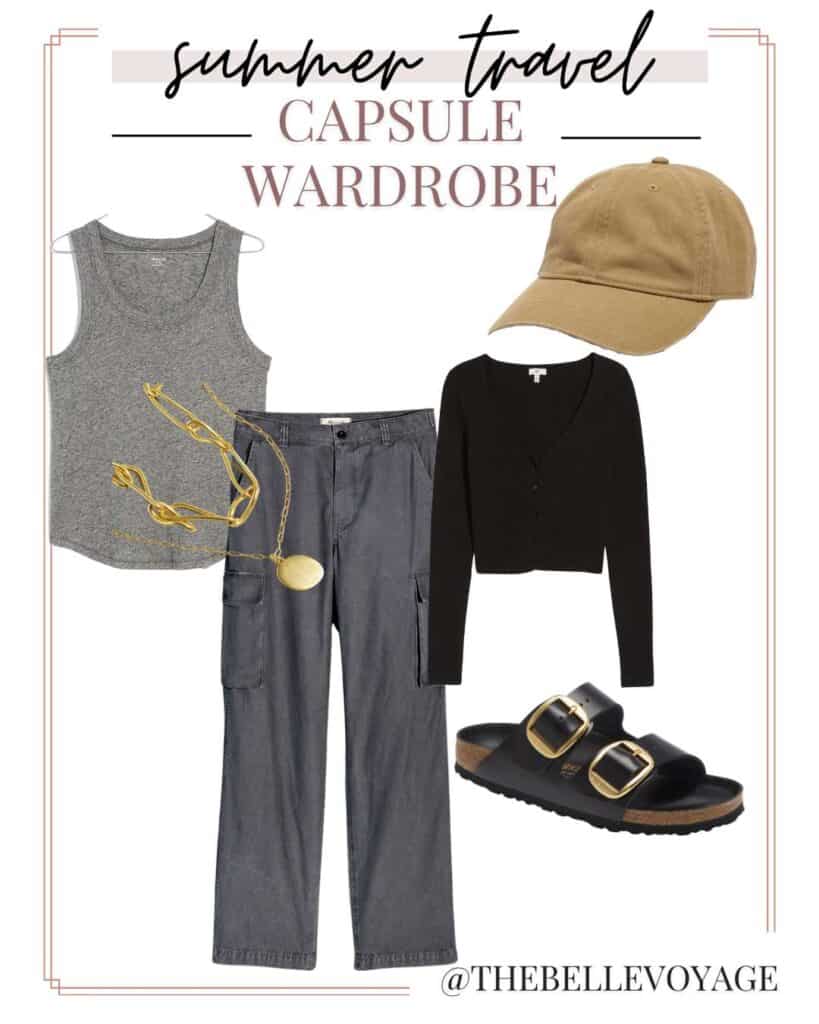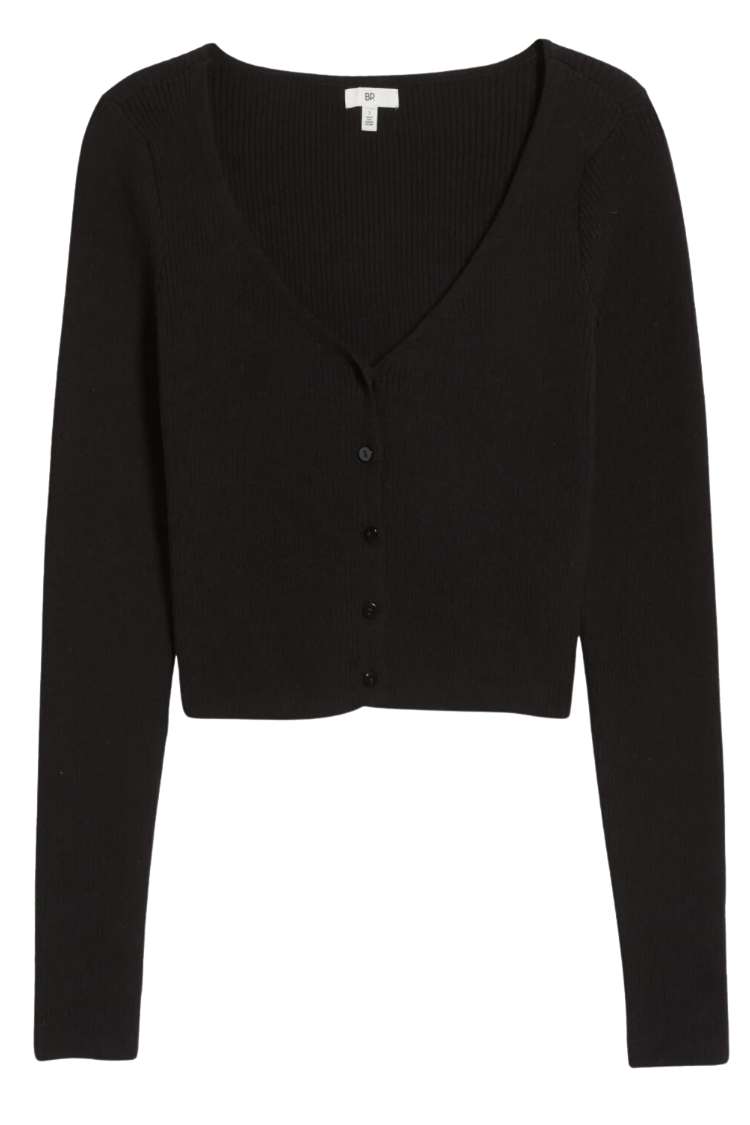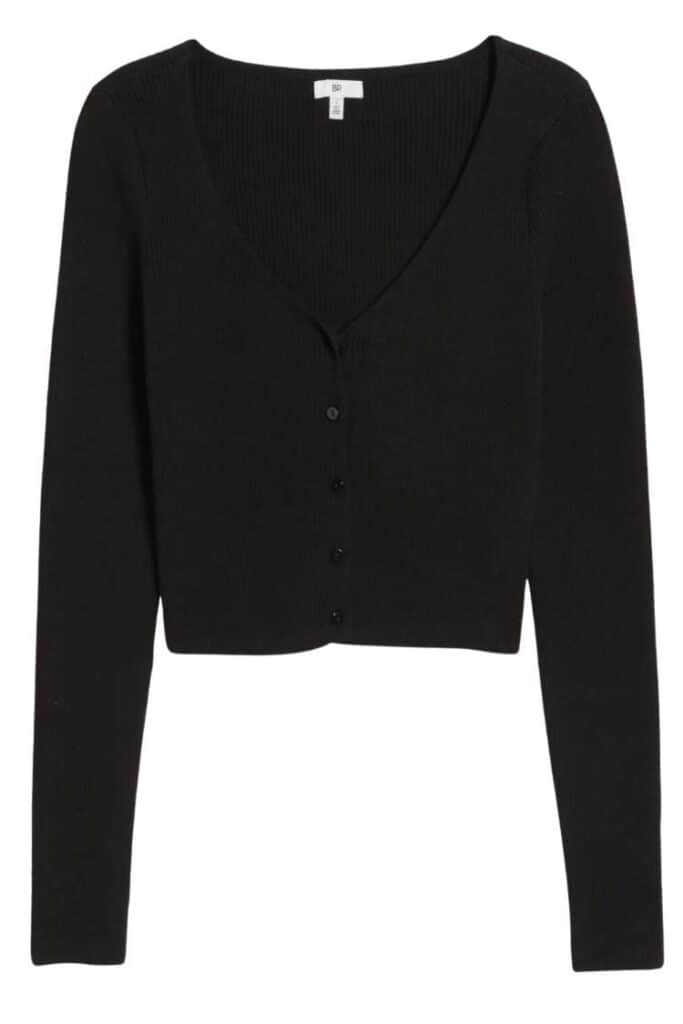 twelve
Black Cropped Cardigan
Even during summer, it's important to bring a couple of lightweight layers. I love this cropped cardigan because the fitted shape pairs perfectly with the loose-fitting bottoms in this capsule. It's warm enough to keep you comfortable on a flight or in heavy air conditioning, but it's also lightweight and not bulky, which makes for easy packing. And best of all? It goes with absolutely everything. Wear it unbuttoned as an outer later, or buttoned up on its own.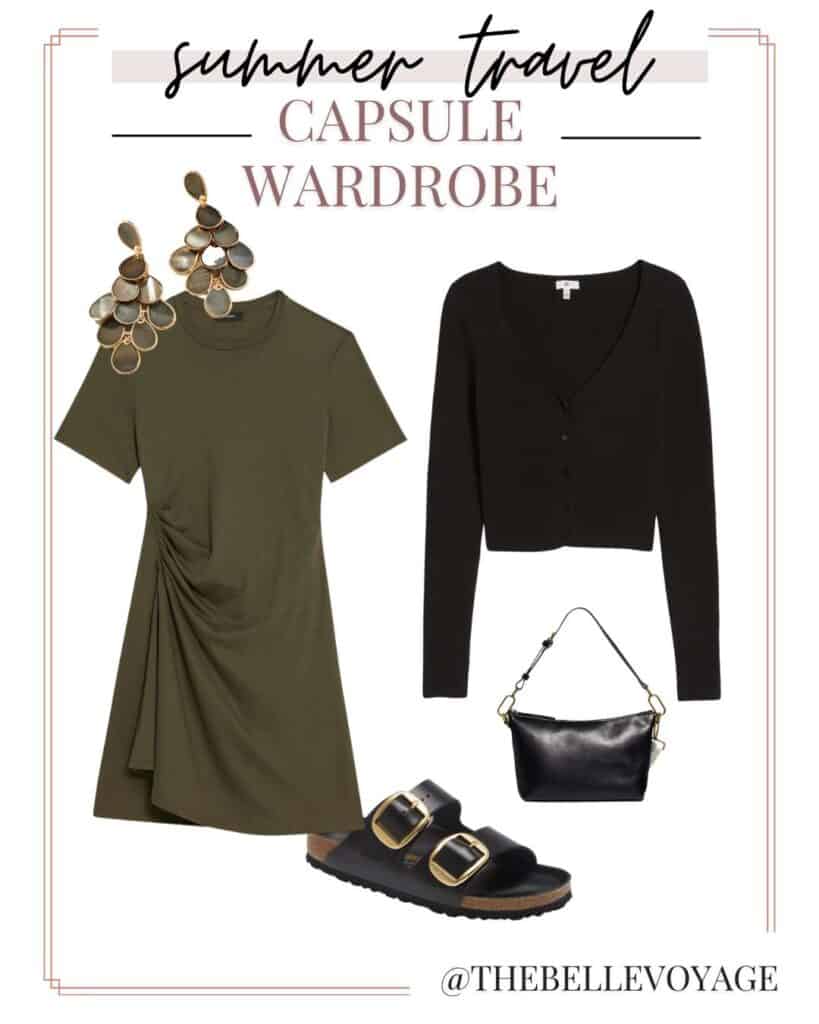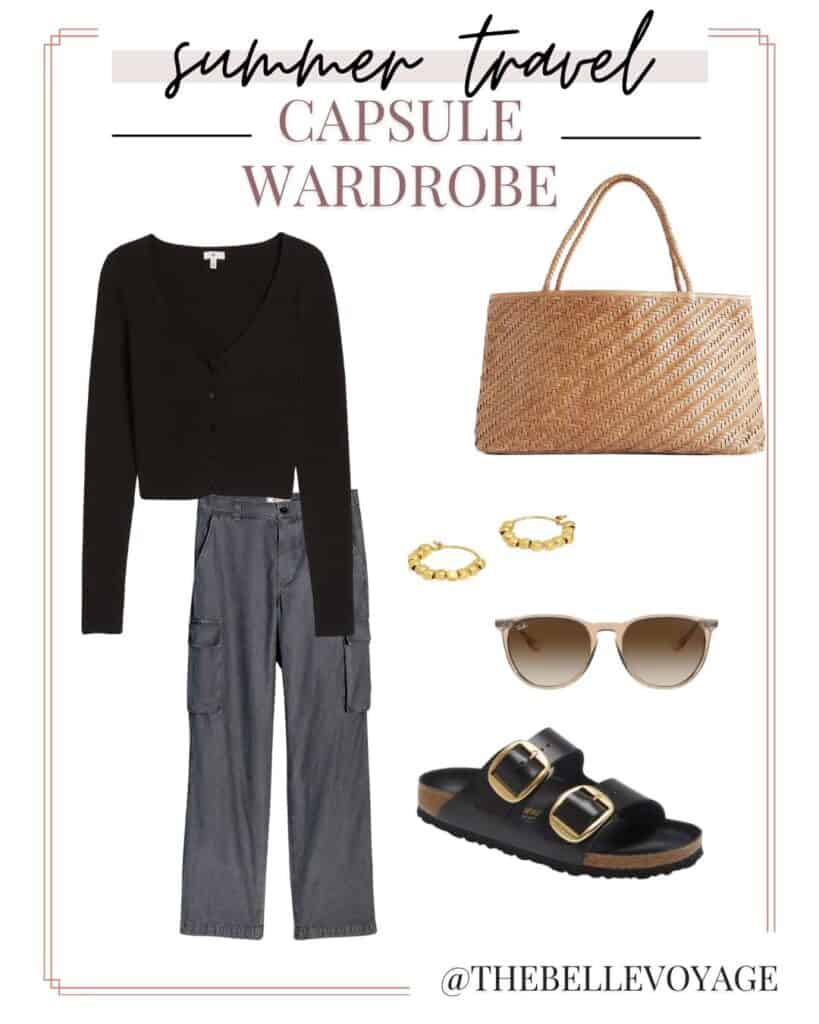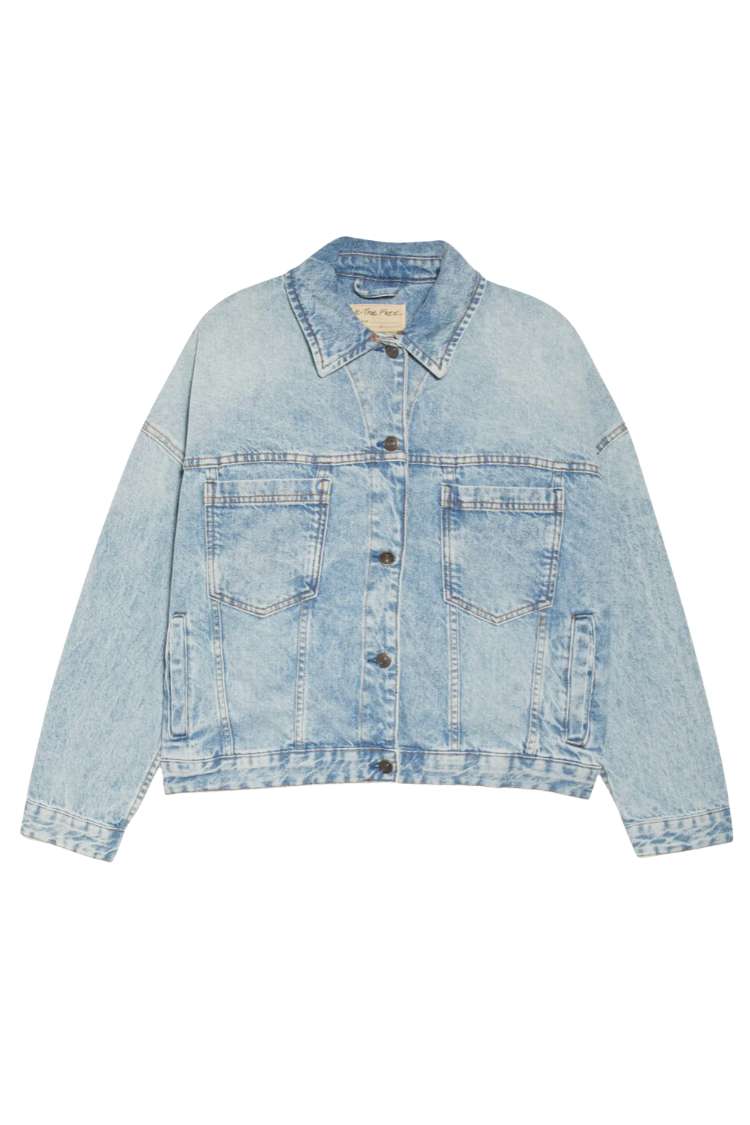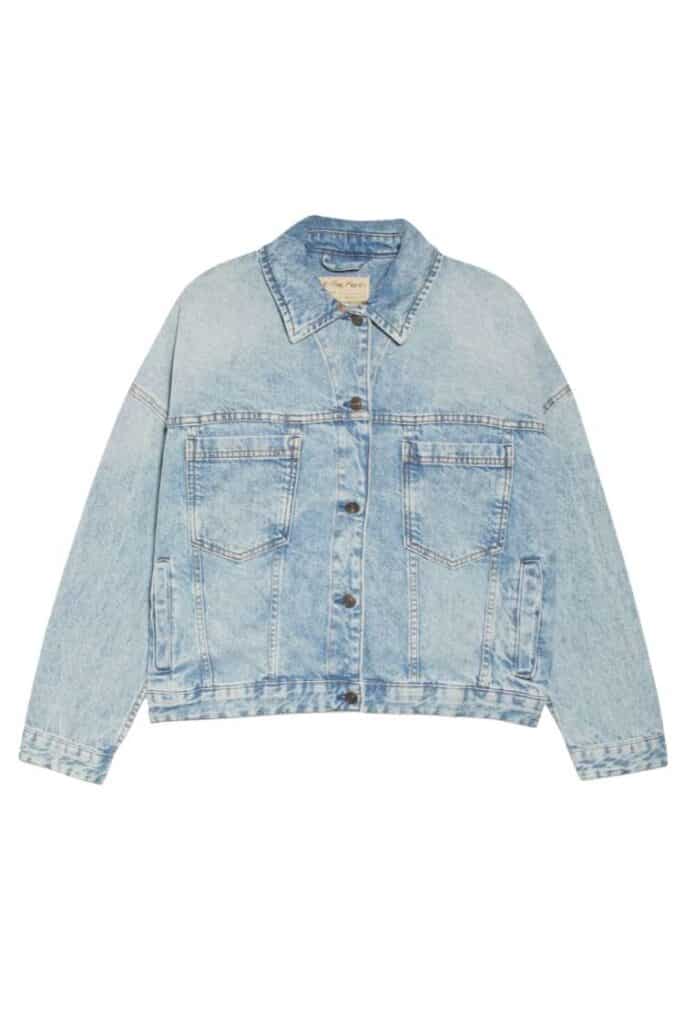 thirteen
Denim Jacket
In this capsule, I'm including a second warm layer, because you never know when you might need it. A denim jacket goes with just about everything, and will keep you warm on chilly evenings or on a freezing cold airplane. This one has a wash that pairs well with the darker tones of the other pieces in this capsule, so it makes for the perfect finishing piece to any outfit. I also love the fit of this particular jacket which is slouchier than most others, and totally on-trend this year.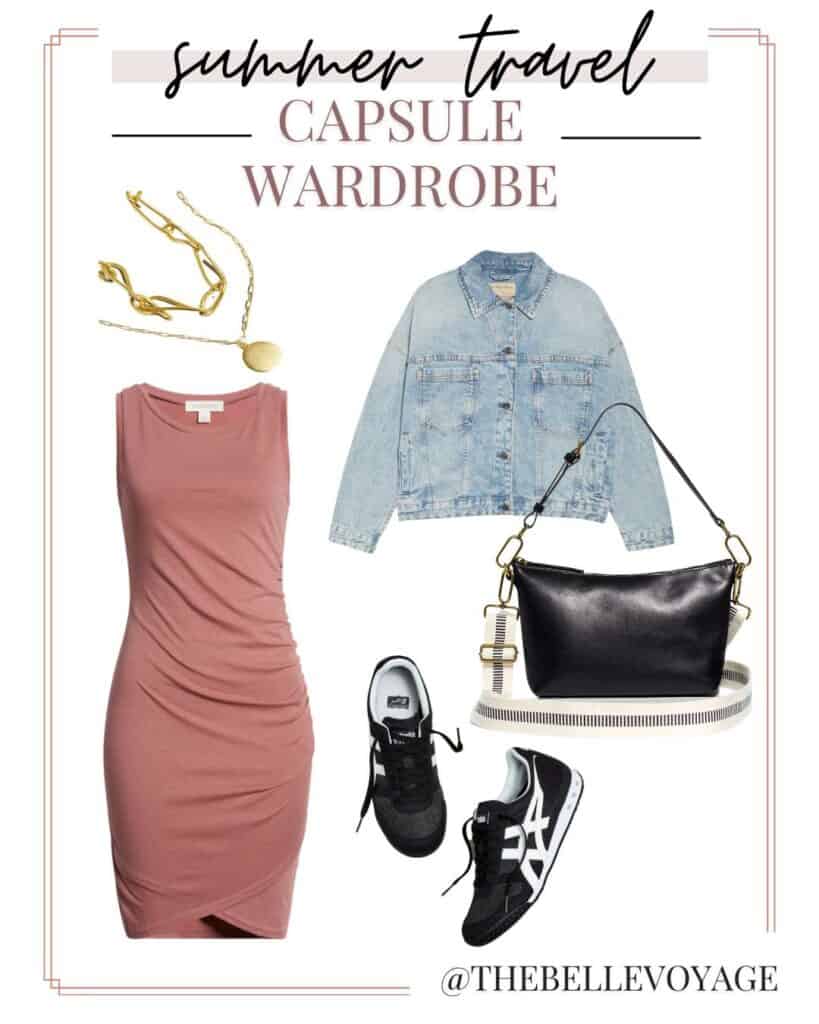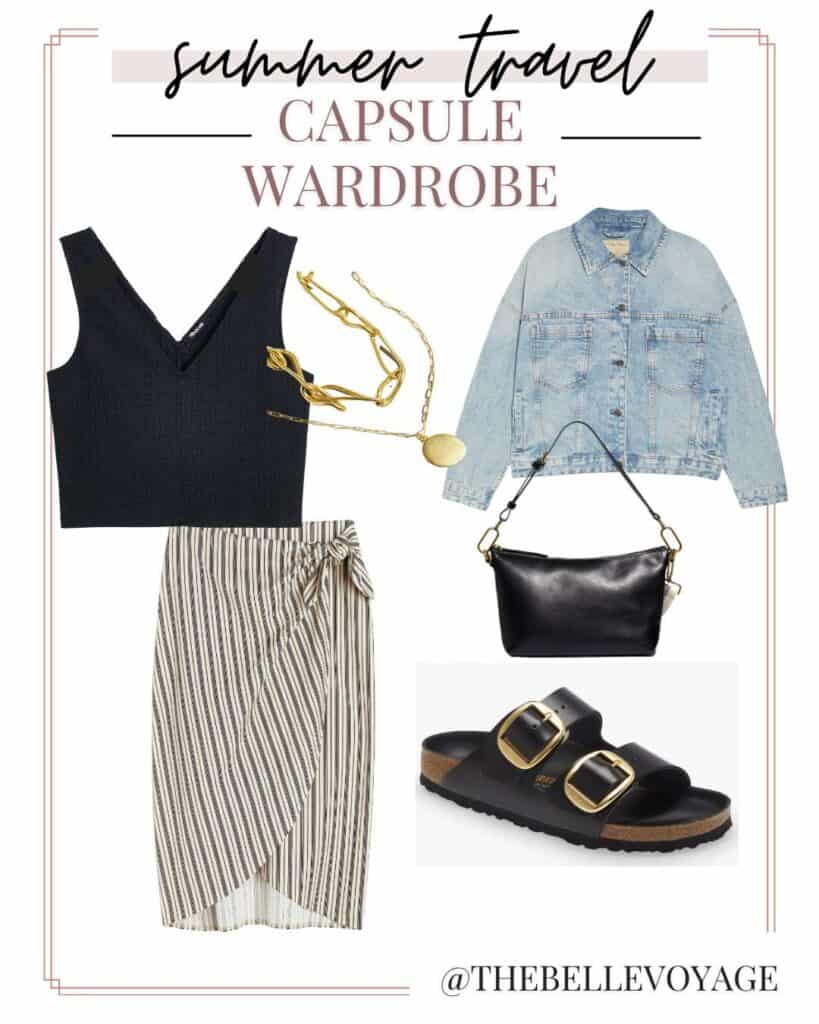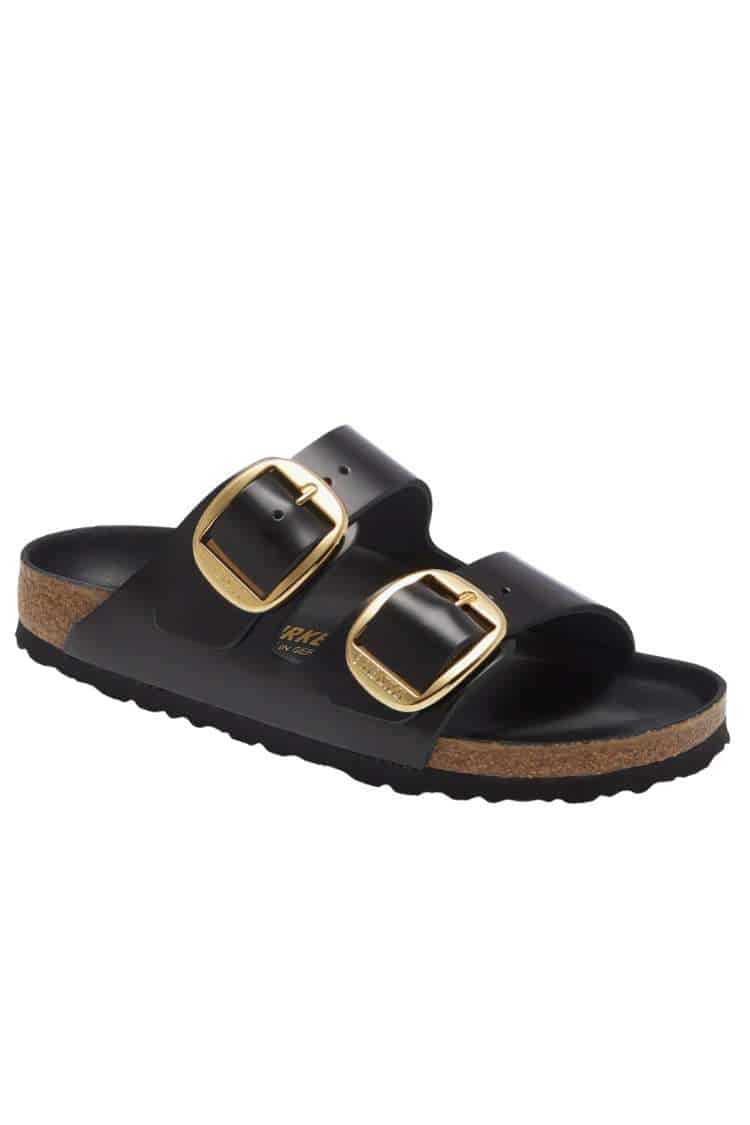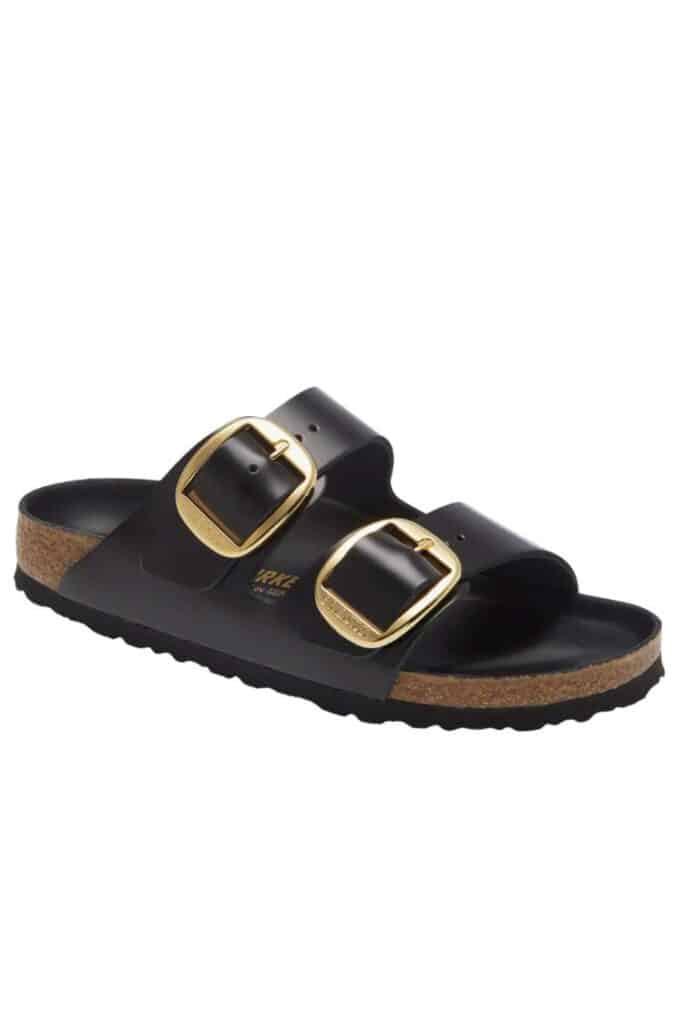 fourteen
Black Sandals
For summer travel, it's important to have comfortable walking shoes. But sometimes it's just way too hot for sneakers. And Birkenstocks are having a moment right now! I picked these black ones for the capsule because they go with the capsule's color palette, and the big gold buckles act as an accessory and give them more polish. And if you've never tried Birks before, you might be surprised at just how comfortable they are.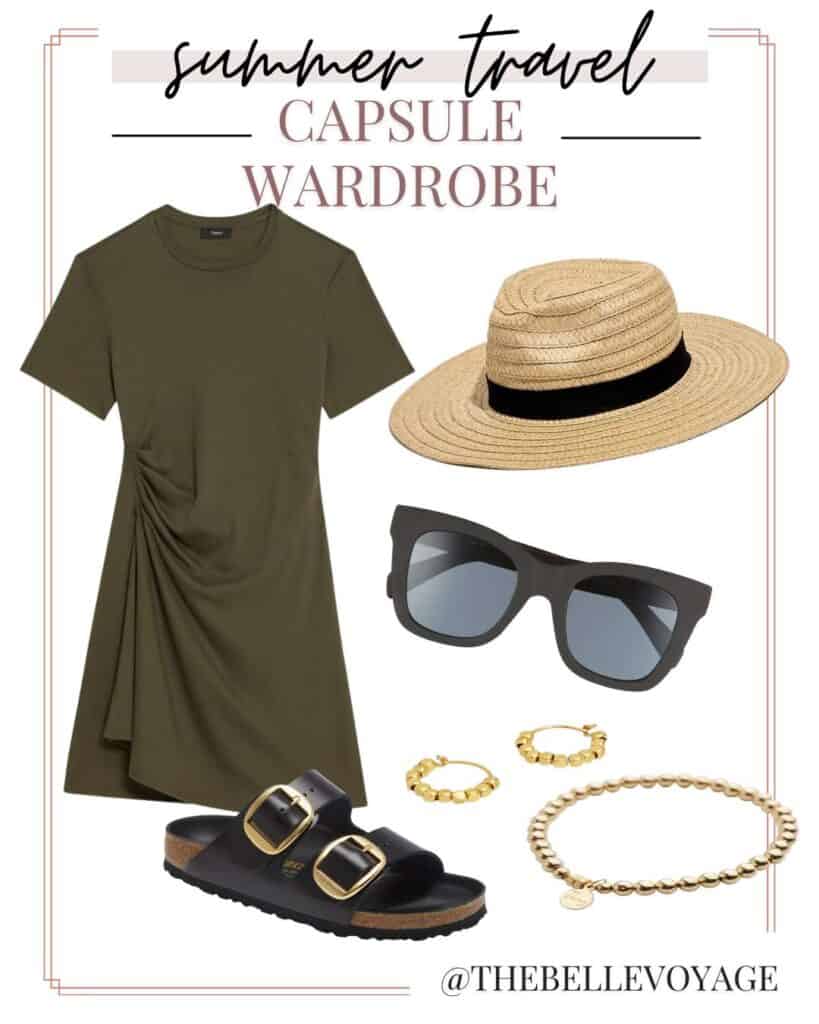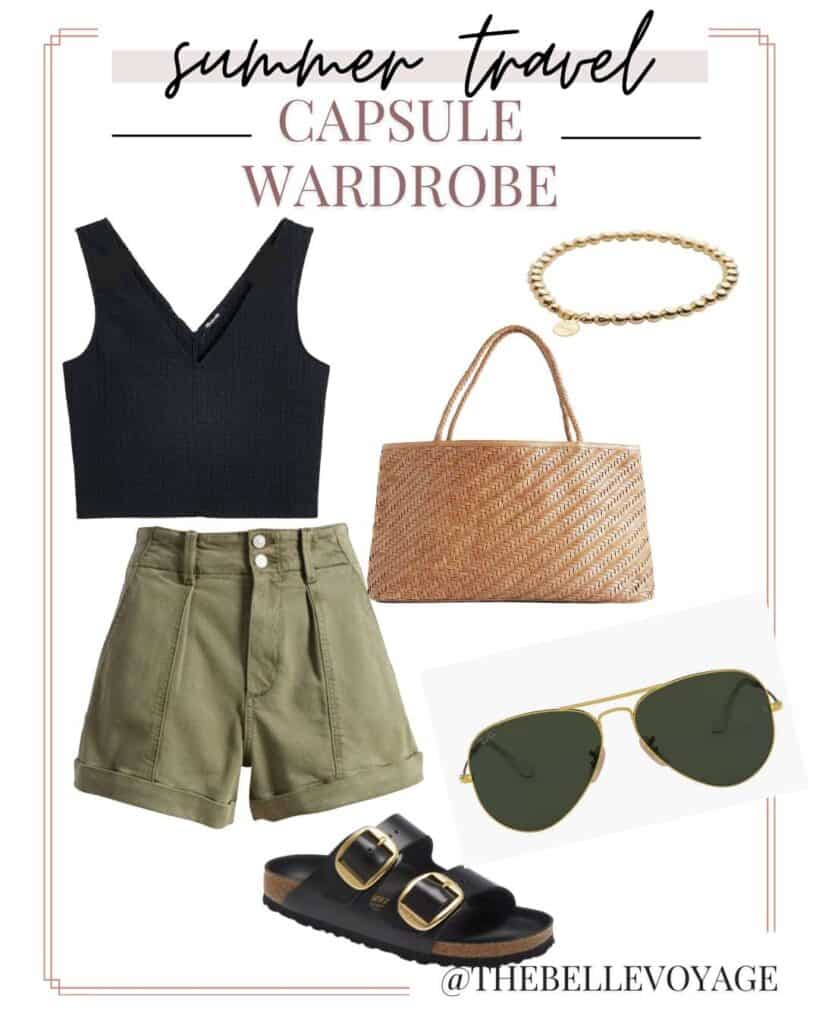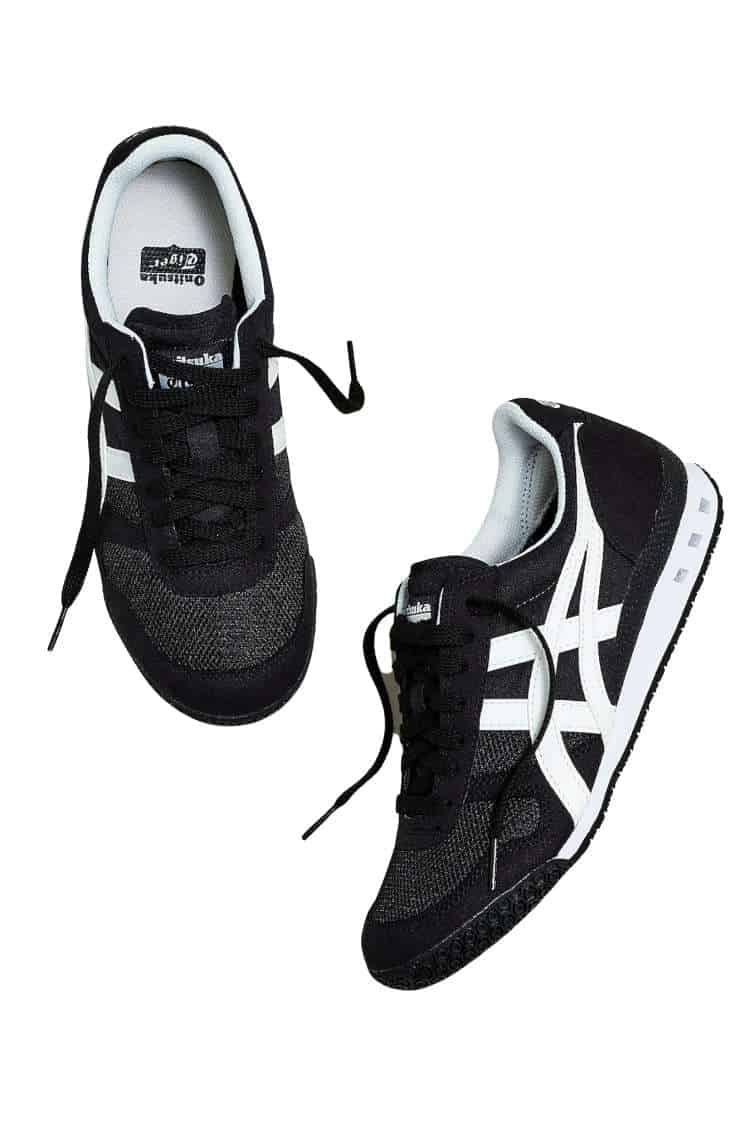 fifteen
Retro Sneakers
If there's one shoe that's everywhere right now, it's the Onitsuka Tiger shoe. They are literally sold out almost everywhere. HOWEVER. As of the time of publishing this article, there are plenty left at Madewell. So don't sleep on getting some if you want a pair. They just might be sold out (again) tomorrow. Not only are these comfy and walkable, they are versatile enough to wear with just about anything.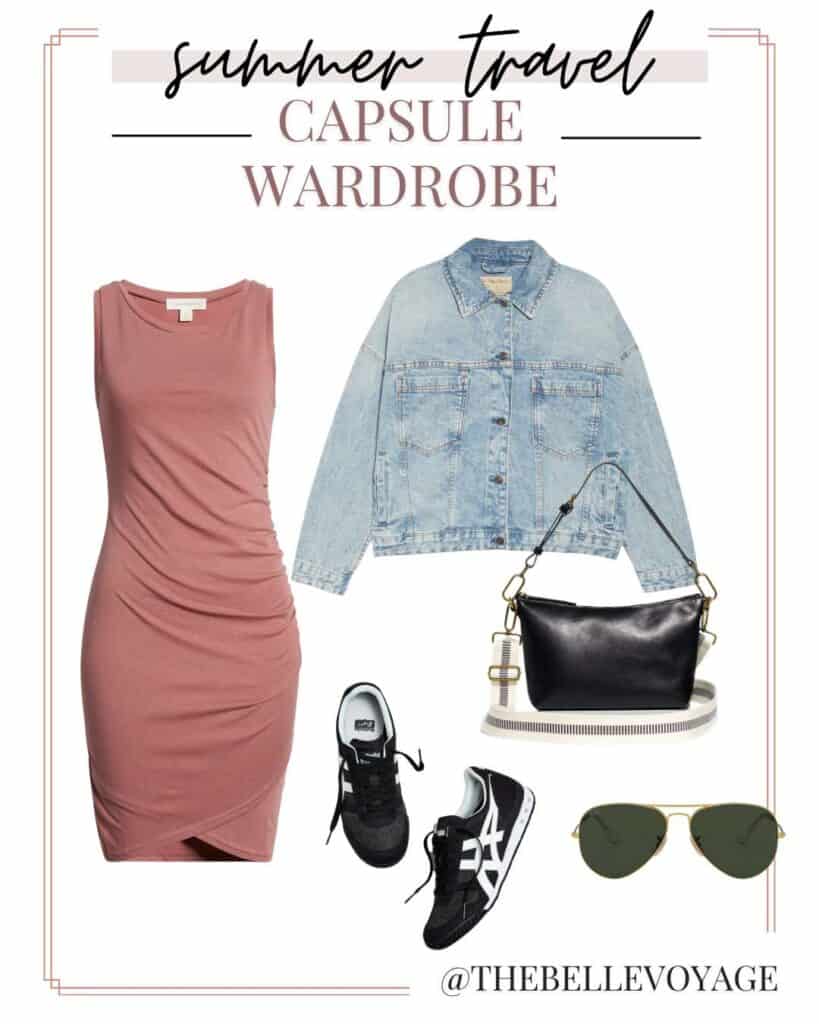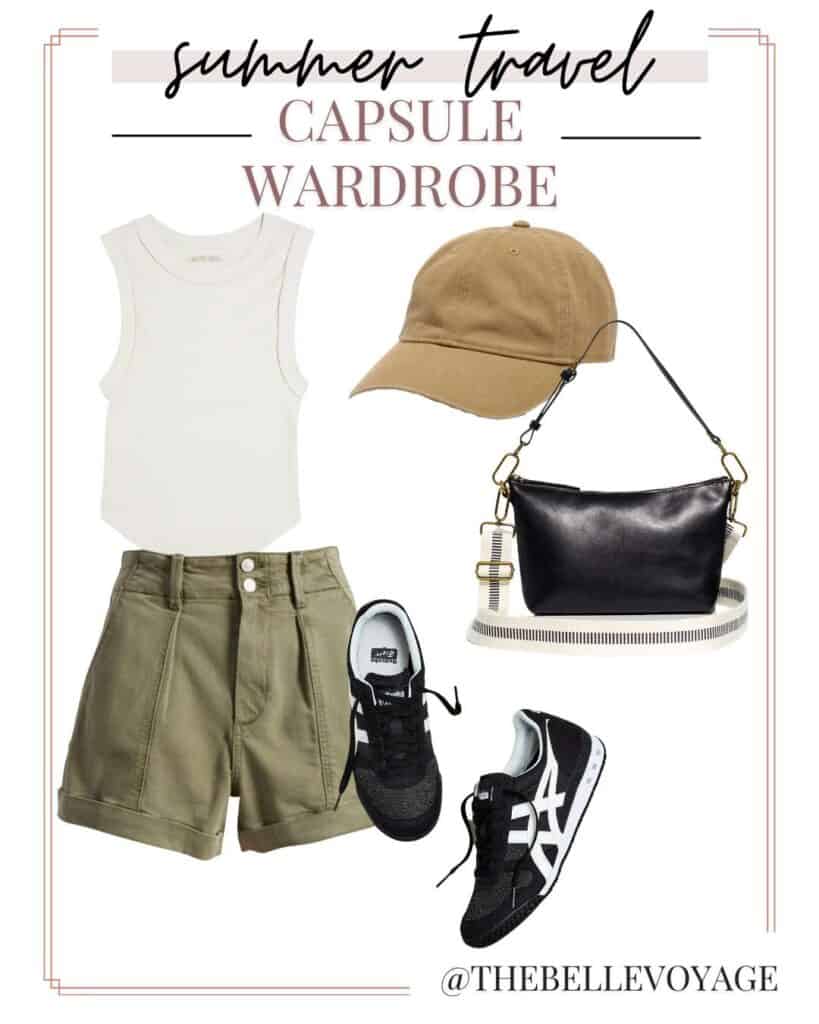 Taking a Beach Vacation?
I made this summer travel wardrobe for warm weather trips. It's perfect for travel plans that include sightseeing, urban adventures, exploring a new area, or just relaxing with friends and family.
If you're taking a beach vacation this summer, make sure to check out my beach vacation capsule wardrobe. It's got all of the swimwear, beach cover ups, and accessories you will need to pack efficiently for trips that are filled with sun, sand and surf.
And don't miss my top picks for affordable resort wear! They're all under $50 and available on Amazon – yes!
Tips for Building a Summer Capsule Wardrobe
Now you're ready to build your own capsule wardrobe. When it comes to building your own summer travel capsule, here's a few tips to keep in mind.
Start with a Single Color Palette
The best way to put together a travel capsule wardrobe is to start with a consistent color palette. When you use a consistent palette, it's much easier to mix and match the pieces in your capsule to create different outfits.
For clothes, pick one or two neutrals (black, gray, white, tan, or navy for example) and then add an accent color (pink, yellow, blue, green, etc.). Finally, add shoes and accessories that match your palette.
In this capsule, I've used black, white, and gray as the neutral colors for the palette. Then, I added pops of pink and olive green as accent colors. Black shoes and complementary accessories finish everything off.
Choose Your Fabrics Wisely
When it comes to packing for hot weather, make sure to choose clothes made from lightweight fabrics. But choose your fabrics wisely!
Linen feels great to wear on a hot day, but isn't always good for travel because it can wrinkle easily. And who wants to spend valuable vacation time ironing their dress? Not me.
To curb wrinkles, look for clothes that are made from a linen blend, instead of 100% linen. These pieces are still lightweight, but will be far less likely to wrinkle while they're in your suitcase. Other fabrics that are good to bring on warm weather trips include natural fibers such as cotton, hemp and bamboo.
Pack Versatile Pieces With Interesting Details
When building a travel capsule wardrobe, it's important to include only versatile pieces. You should be able to wear each of your tops with each bottom, and pair all of your outfits with any of the shoes in your wardrobe.
But versatile doesn't have to mean boring! To keep your outfits interesting, look for basic pieces that have thoughtful details to them.
For example, the tank dress in this capsule is made with ribbed fabric, so although it's simple, the texture adds interest. The green shorts are versatile enough to go with everything, but the seams, cuffs, and buttons make them unique.
More Capsule Wardrobes
Now you're all set for your 2023 summer travels! If you loved this post, check out my other travel capsule wardrobes: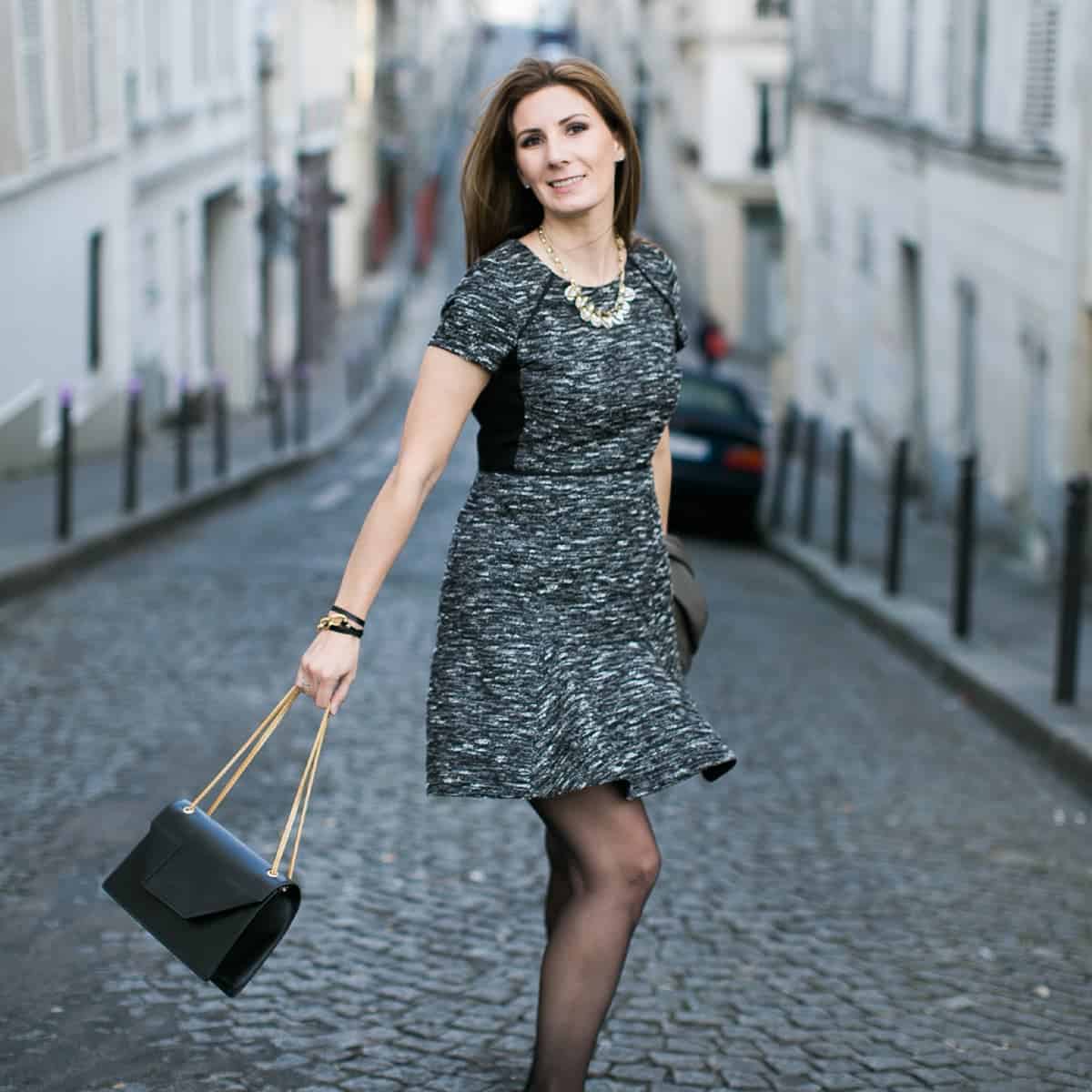 shop my favorite
TRAVEL ESSENTIALS
Ready to jet-set with ease? Discover my favorite travel products for your ultimate passport to stress-free adventures!
Conclusion
I hope this post has helped inspire your very own summer travel capsule wardrobe! Remember to plan your outfits ahead of time, pack versatile pieces, and use a consistent color palette, and you'll be able to put your capsule together in no time. By using a capsule wardrobe to pack for travel this summer, getting ready for your trip will be a breeze. Happy travels!