Getting a Blowout in Paris: Where to Go + What to Expect
This site uses affiliate links and I may earn a small commission when you use my links and make a purchase, at no extra cost to you. 
If you're planning on getting a blowout in Paris, this guide has all of the information you need on what to expect!  Blow dry bars in Paris DO exist, and I highly recommend taking advantage of them for hairstyling while you're visiting Paris.  Read on for a description of my entire experience getting my hair blown out in Paris!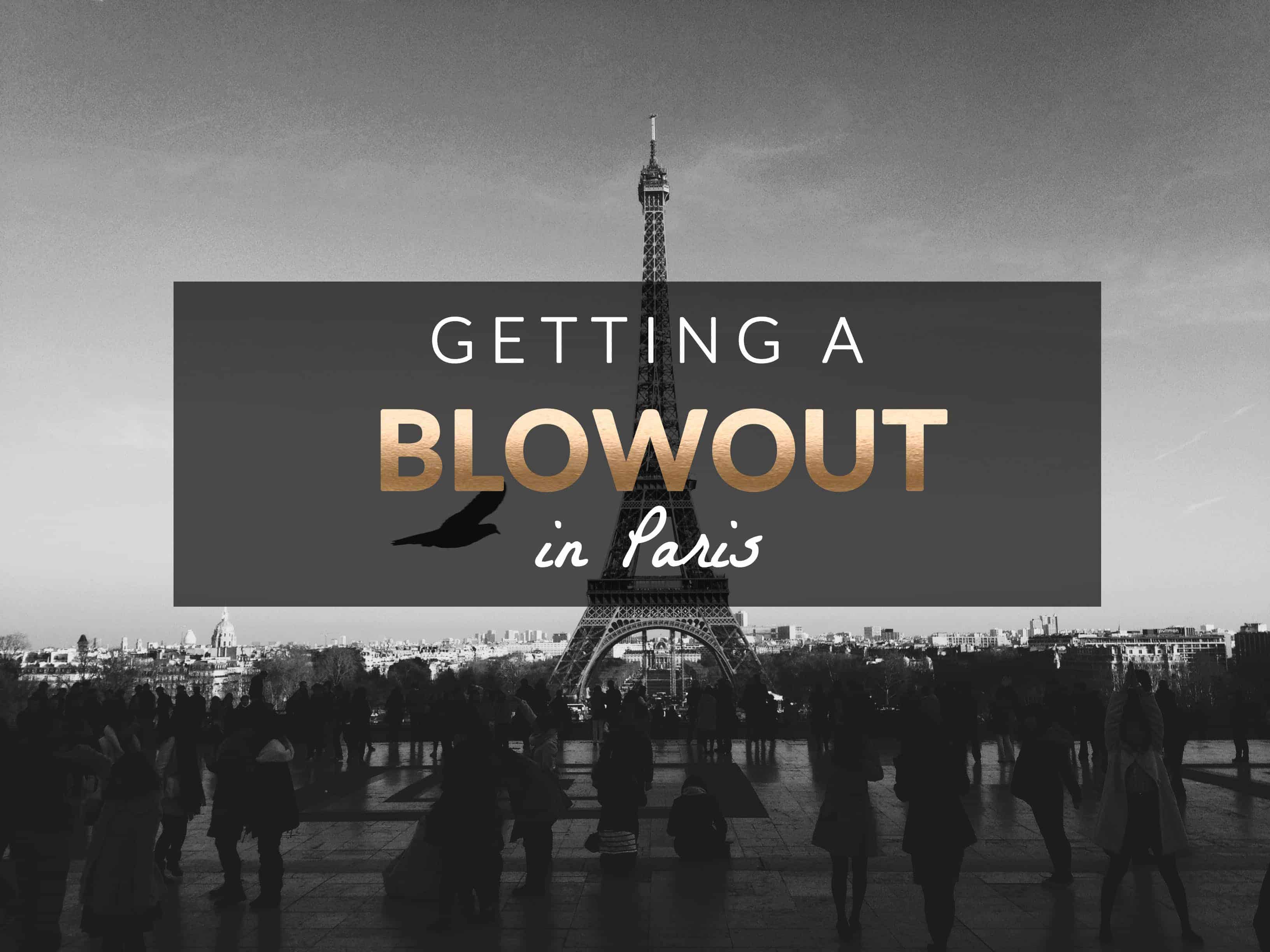 Are you looking for a blow dry bar in Paris?
Read on – and I'll tell you exactly where to go and what to expect! Bottom line – three things. First – don't panic. Blow dry bars in Paris DO EXIST.
Second, you'll fall in love with your hair afterwards. And third….you might just want to pack one of these with you. Just in case you need a touch up.
Tip: Check out the hair products that I ALWAYS pack for travel! I also can't leave home without this amazing travel size dry shampoo which is only $10 – because I'd rather spend time exploring, not washing my hair!
And if you're looking for more travel beauty tips, don't miss the guide I wrote on my favorite beauty products for travel!
My Paris Blow Dry Bar Experience
One of my favorite things to do before I travel is to get a blowout.
Three hours before a flight, most people are focusing on last-minute packing and getting out the door.
But me? I'm at Drybar being proactive about avoiding hotel hair dryers.
With a little bit of dry shampoo, a good blowout lasts me AT LEAST three days, so usually I'm home by the time I need to suds up again. Most of my regular travel is to large cities, so on longer trips, I can usually find a Drybar in the vicinity.
And voila – I can manage to avoid hotel hair dryers entirely.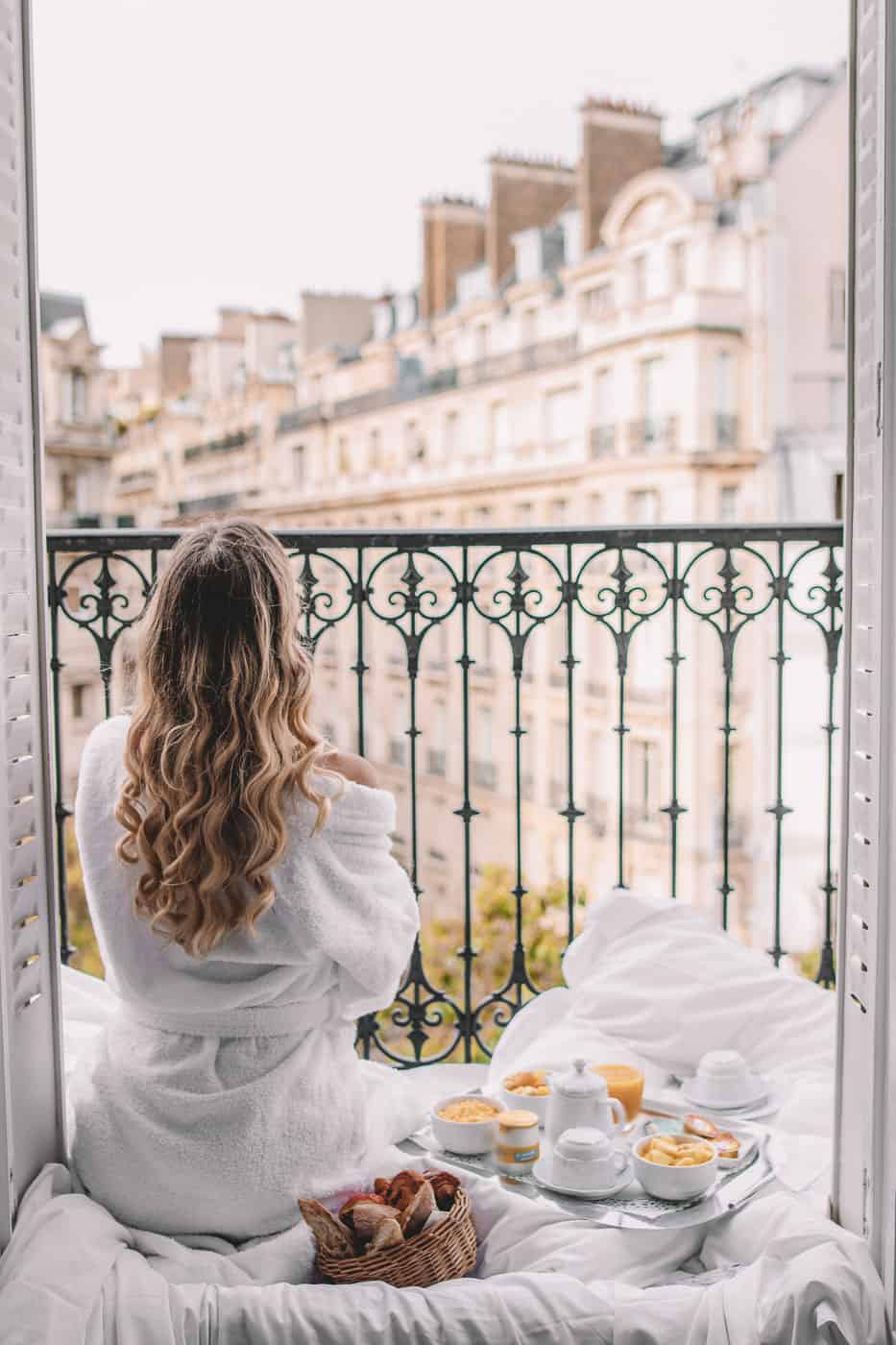 The Need for a Blowout in Paris
When I went to Paris back in March, I had a little photo session with Flytographer on the books. I knew I wanted my hair to look halfway decent, so I went about trying to set up my usual blowout appointment away from home.
Imagine my distress when I searched the googles for "Drybar in Paris" and found that there was nothing. Nothing. NOTHING. Apparently there is no Dry Bar Paris?
The internet doesn't fail me often. Drybar doesn't fail me often. PARIS doesn't fail me EVER. Armageddon, clearly.
I did a little more searching and wasn't able to dig up any other blowout bars in Paris.
Like, nada. Er – what gives? I know French women seem to have eating
and child rearing
down to an enviable science, but are they also ALL so skilled in the art of hair that there is no need for blow dry bars to exist in Paris?
So lemmetellya. Turns out that the situation is, in fact, the opposite.

Are there Blow Dry Bars in Paris?
This story has a happy ending – I got the best blow dry in Paris…EVER.
Pro Travel Tip: These days, travel can be more uncertain than ever. Check for any COVID-related restrictions at your destination, and never travel without travel insurance! I recommend SafetyWing, because they have flexible + affordable insurance plans, and also cover COVID-related impacts on your trip (not all companies do)!
There are Blow Dry Bars Everywhere in Paris!
There are salons de coiffure (hair salons) in Paris like there are Starbucks in San Francisco – so basically you will trip over them. The coiffures are so ubiquitous that the concept of a blowout bar is just completely nonsensical, so French women have never really embraced it.
Who knew?
Anyway, the situation gave me a little bit of hair anxiety, as I'm known to have when I'm out of my hair comfort zone. When I'm navigating unknown territory hair-wise, I always have this irrational fear that my hair is going to end up looking laughable. But I managed to tell myself to get over it and that no matter what happened, it would make for an awesome travel memory.
I mean – how often do you get to have your hair did in Paris?
My Experience at a Blow Dry Bar in Paris
I found a coiffure that looked reputable – and to be clear: my selection was based only on how cute the outside of the building was.
Only later did I find out that my inner compass had led me to one of Paris' ten best hair salons.
Yep – Salon Christophe-Nicolas Biot. If you're looking for a hair salon in Paris in St. Germaine, I highly recommend this one. Check out how cute it is. If you're looking for a Paris blow dry bar, look no further.
So I rolled in, playing the part of confused American. (The icing on the cake was the Starbucks latte I had in hand).
Turns out that getting a blowout in Paris is an EXPERIENCE. OK first off, everyone was dressed UP. All of the men working there had on black pants, dress shirts, and ties. There is no messing around with a smock in Paris.
As it happens, my French language skills are pretty much nonexistent – so my hairstylist and I had an interesting pantomime as we tried to land on exactly why I was there.
Coulour? He said. No, no. I'm good.
Cut? <makes scissor pantomime> Er, definitely not. (My hair dude in San Diego would fire me).
My hair anxiety was getting heightened.
Brushing? <pantomimes brushing hair> Um, sure, yes it would be good to brush it.
And away we went to begin my blowout in Paris.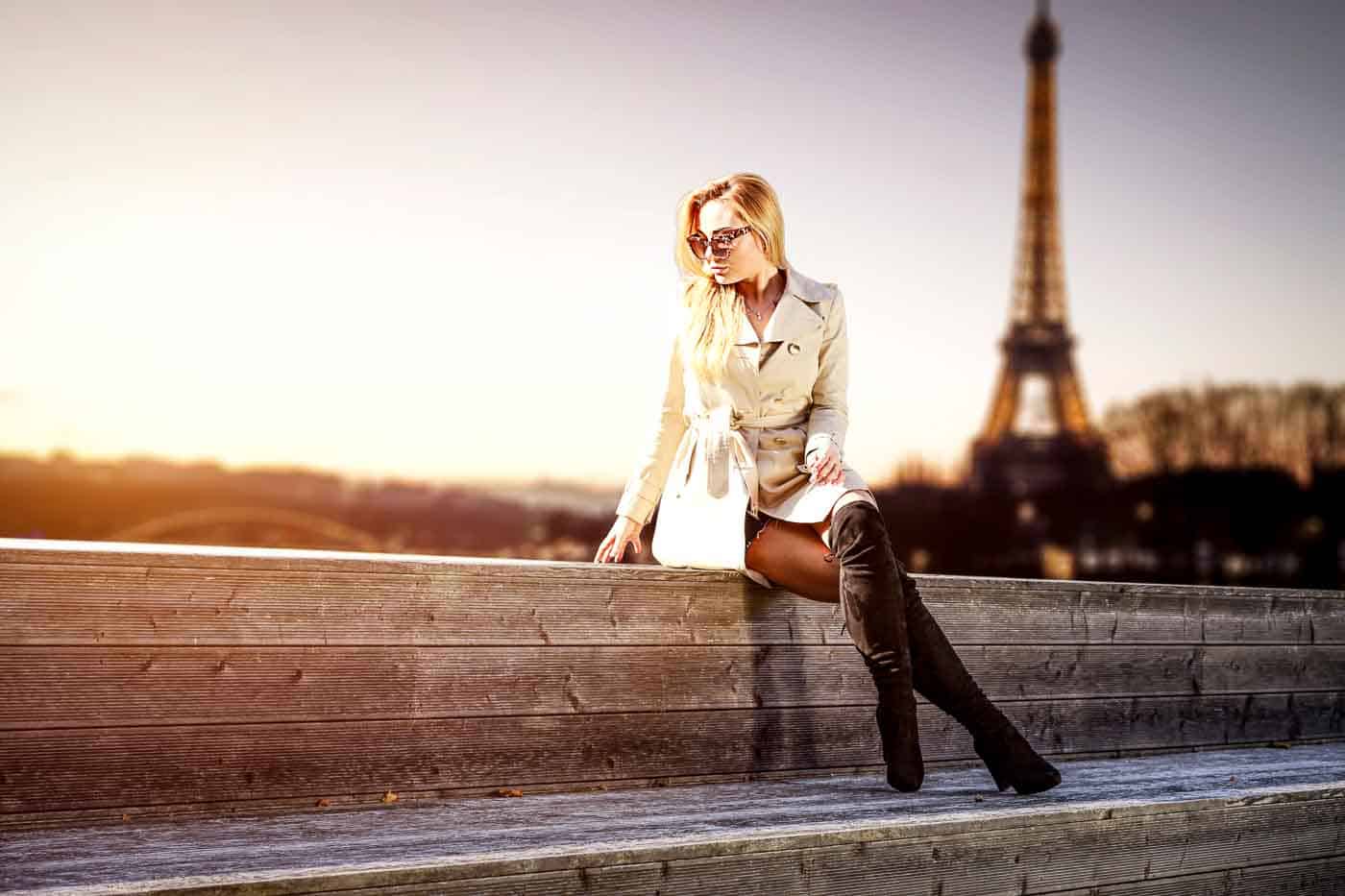 I only found out later that brushing means styling – or blowout. But as he took me back, all I knew was that my hair was going to get brushed. For like $70.
So we head over to the sinks, and my hair gets washed with something that smells luxurious, and conditioned with something that smelled even more luxurious. Then came the moment of truth – the actual blowout.
He led me back to a separate room where other stylists were doing amazing things with round brushes.
We sat there for a second and then both sort of froze when the stylist and I realized that he had no idea what I wanted him to do with my hair.
So I did what any girl would do whilst in the midst of a French blowout panic – I busted out a Kate Middleton photo on my phone. Sure enough, one peek at Le Duchess, and he broke out in a huge smile – we were off.
Thirty minutes later, I walked out with one sleek, pretty blowout. Success!
Oh and the entire time I was there, I was referred to as Madame Jessssssica.
Yessssss! Let's just say, the blowout experience is high on my list of Paris memories – and I can't wait to go back.
More Stylish Travel?
For more info on keeping your hair lookin' good while traveling, check out this post on My Favorite Travel Hair Products! And if you're heading to Europe, I've also rounded up the Perfect Europe Capsule Wardrobe for your trip.
Happy travels!
Liked this post? PIN IT!