Rye, Sussex: The Ultimate Travel Guide For First Time Visitors
This site uses affiliate links and I may earn a small commission when you use my links and make a purchase, at no extra cost to you. 
Take a step back in time and explore the charming, historical town of Rye, Sussex. Rye is one of the most quaint, picturesque places I've ever visited, so if you're traveling to Rye, England, you're in for a treat.
Located on the southeastern coast of England, Rye makes for an easy day trip from London, but there is enough to do in the town and surrounding areas that you could easily stay in Rye for a weekend or long weekend. The town is brimming with layers of history from centuries past (Smuggling! Invasions! Scandals!), but also has loads of modern appeal in its culinary and cultural scene.
If you're planning a trip or weekend getaway to Rye, this guide will give you the scoop on everything to see and do, plus where to stay and where to eat!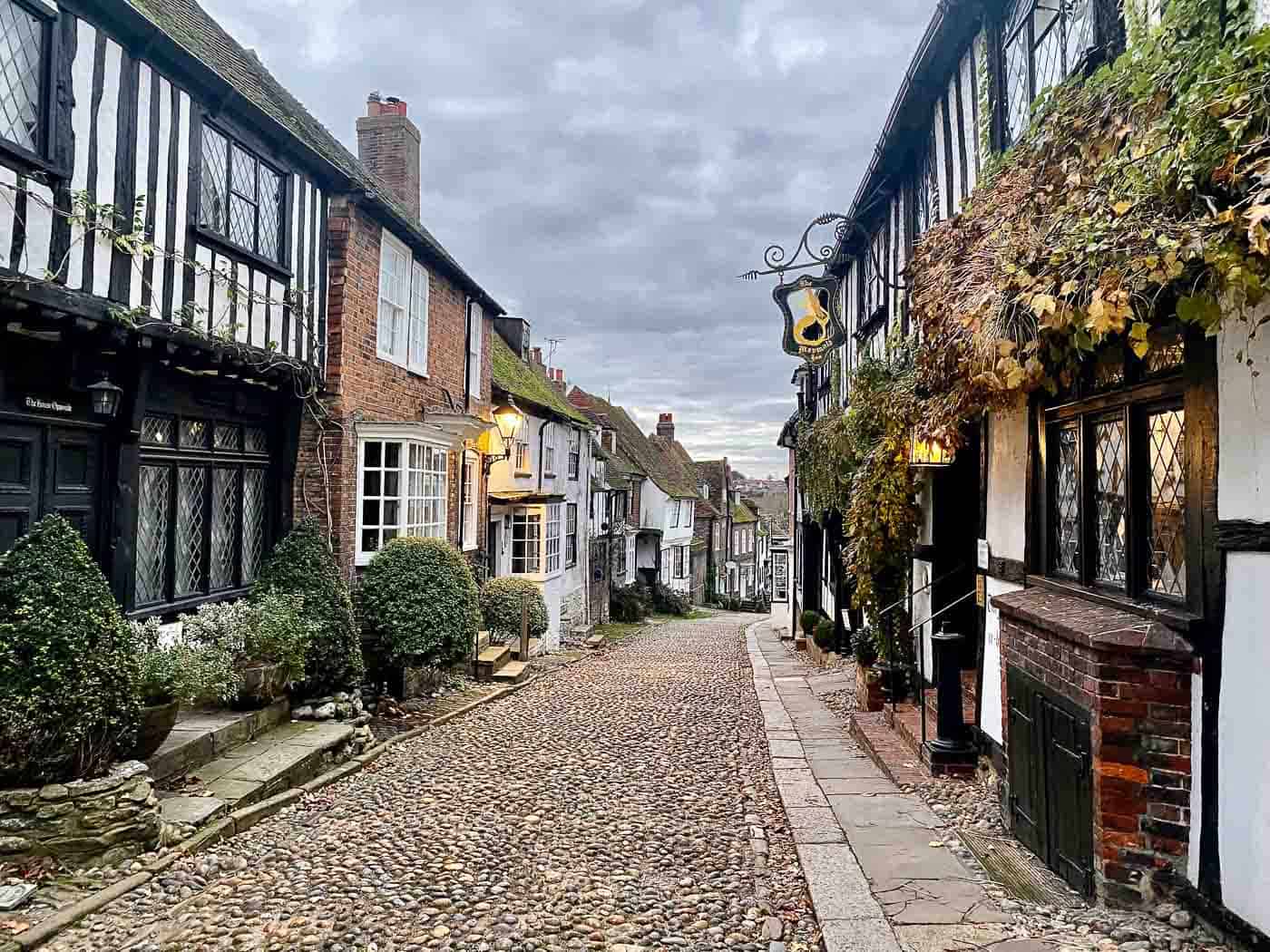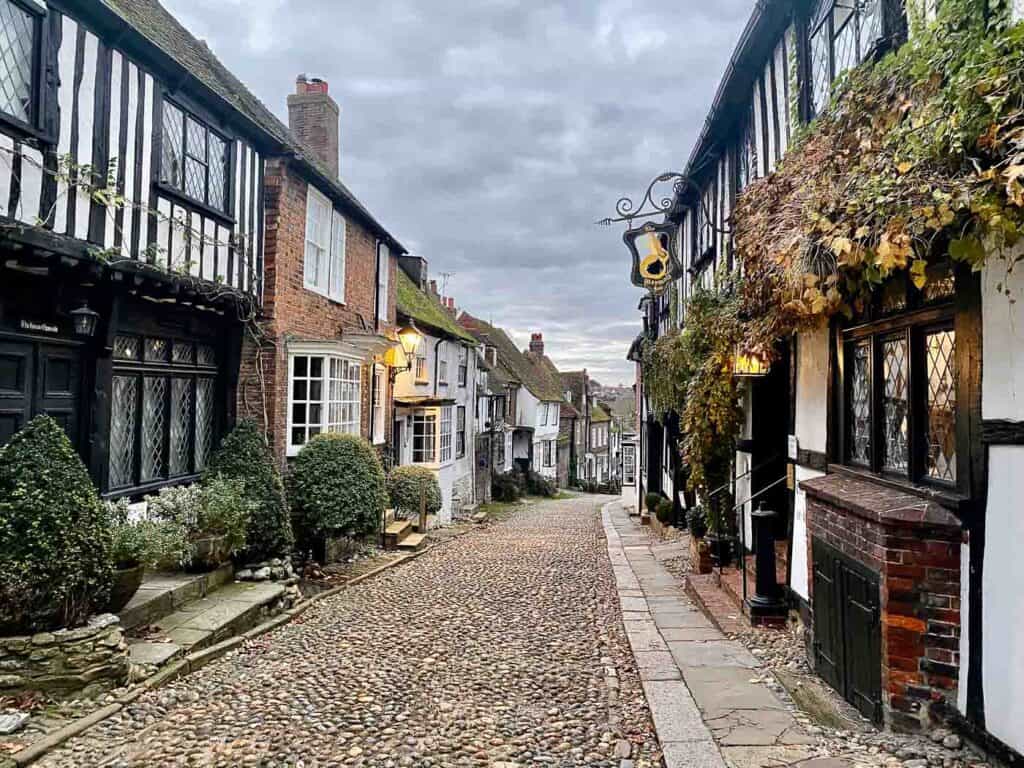 Introduction to Rye, Sussex
Rye is a small town located in the county of East Sussex, England. It has a rich history dating back to the Roman era, when it was known as Ripe.
The town was a key port and trading center for many centuries, and its history can still be seen in the many ancient buildings and landmarks that remain today.
I recently visited Rye on a complete whim. Even though I lived in London for a while, I'd never heard of Rye until late last year, when my mom sent me a photo of the town. Yep, mom knows I am a sucker for a good travel photo.
With just one look at the photo, I knew I just HAD to visit what looked like the most adorable, picture-perfect small town in England. As luck would have it, I was heading back to London for a few weeks last fall, so I added Rye to my London itinerary.
Long story short: I immediately fell in love with the quaint village of Rye, and I can't wait to go back.
The History of Rye, England
It's hard to find a town that is more mired in so many years of interesting history than Rye. Smuggling, invasions, scandals, tax evasion, a murder gone wrong….and it's only Tuesday.
Really though, I found the history of Rye fascinating – and the fact that there are still so many remainders from hundreds of years ago, really makes the local history come alive when you see the town in person.
One of the most notable features of Rye is its medieval fortifications, including the Rye Castle Museum, also known as the Ypres Tower. The Castle was built in the 13th century to defend the town against invaders.
The town also has a number of ancient churches and other religious buildings, including St. Mary's Church, which dates back to the 12th century.
Historically, Rye was one of the most important ports in England. In the 16th and 17th centuries, Rye also became known as a center for smuggling, with many of its residents turning to illegal trade to make a living.
This period of history is depicted in the Rye Heritage Centre. The museum tells the story of the town's past through exhibits and interactive displays.
Today, Rye is a popular tourist destination, known for its picturesque streets, historic landmarks, and charming atmosphere. Despite its small size, the town has a rich history and a unique character that draws visitors from all over the world.
The Best Things To Do in Rye
Why Rye? In addition to the town's charm, there are endless things to see and do in Rye. Here's are my top recommendations for what to do in Rye as a tourist:
Visit Mermaid Street
The town of Rye is filled with picturesque charming streets. The prize for best-looking goes to Mermaid Street, which has earned fame in its own right.
Mermaid Street in Rye is so charming that it is one of England's most-photographed places, and is also known as the most picturesque street in England!
Now that I've been there, I completely agree.
In fact, the photograph of Rye that beckoned me to visit was actually a photo of Mermaid Street. I can't remember where I originally saw it (mom?), but it was quite similar to this one below that I took during my visit: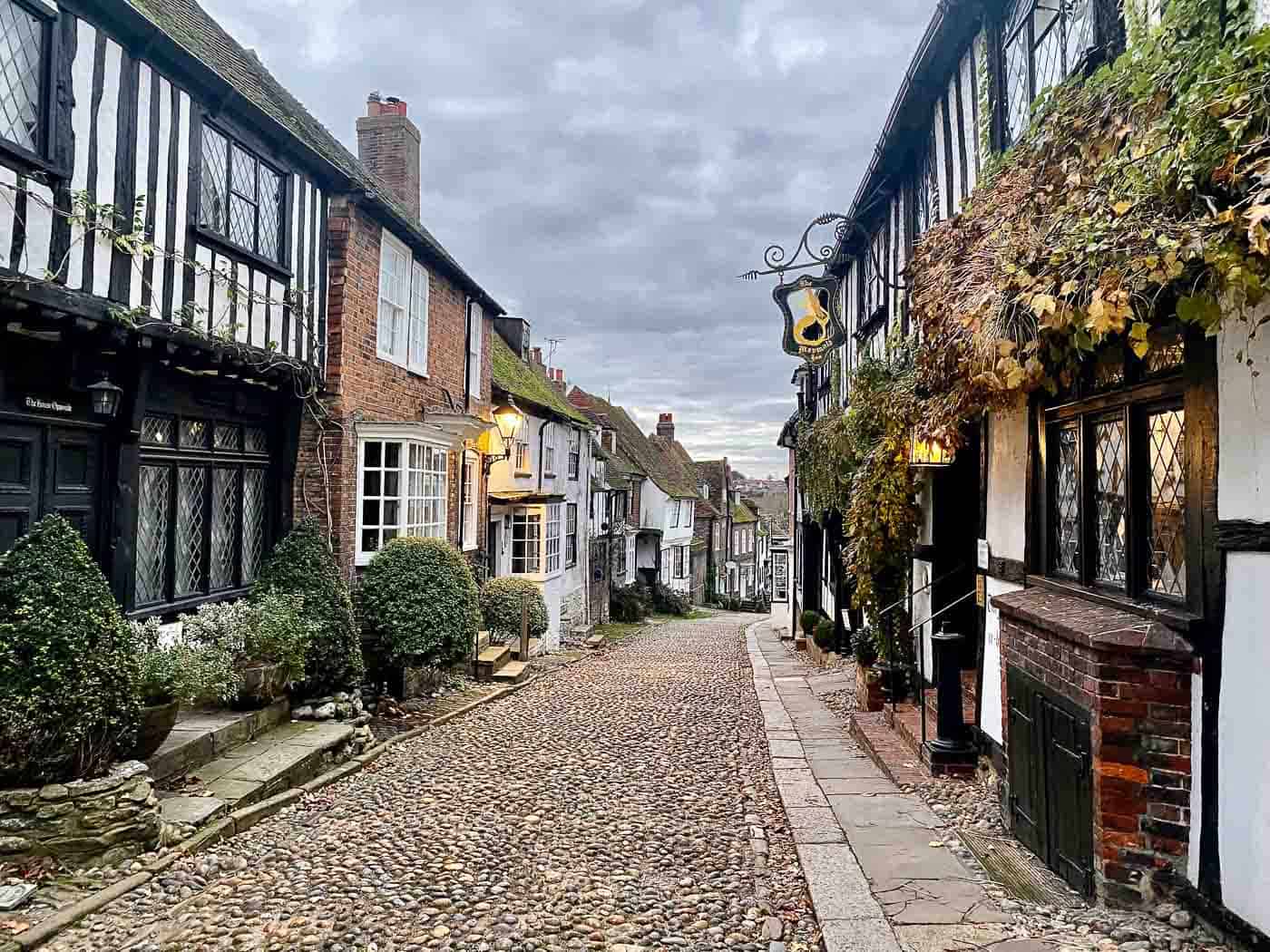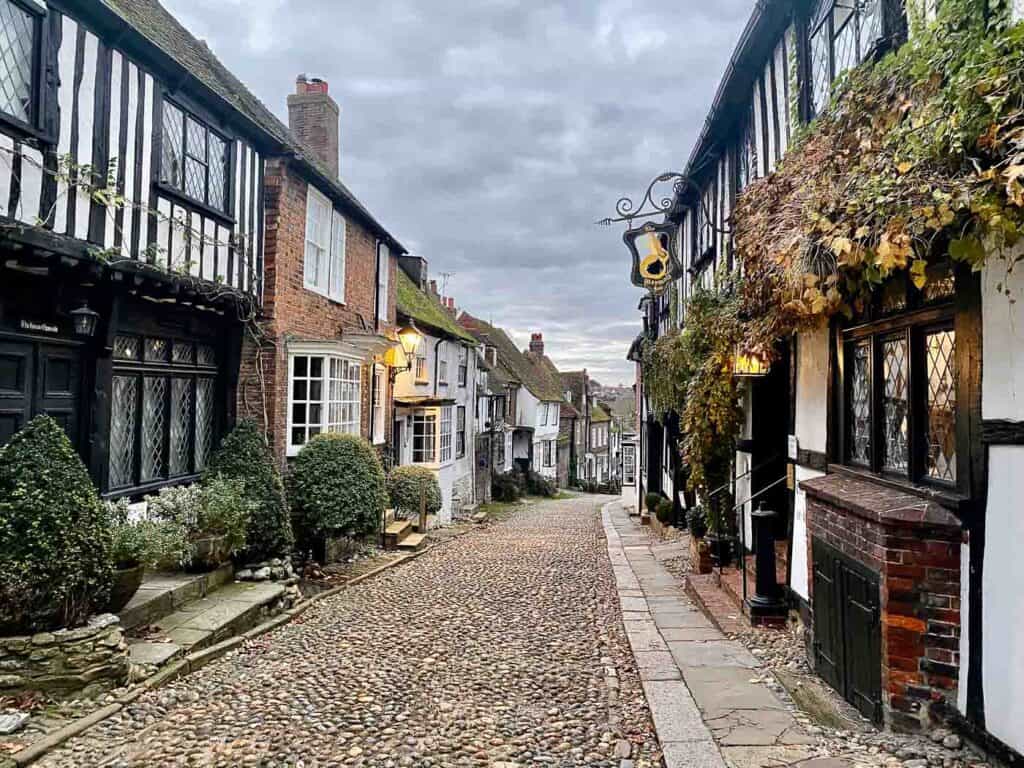 As you walk along Mermaid Street, you'll see a mix of Georgian architecture and half-timber framed houses, with the buildings leaning higgledy-piggledy against one another, and tipping backwards, forwards, and sideways.
The houses on Mermaid Street all have storied histories, and have names such as "The House With Two Front Doors" (now a charming B&B) and "The House Opposite".
Even though Mermaid Street might be best-known for its curb appeal, the street also played an important role in the town's history, since it used to be the town's main road, and runs straight from the Strand, the main port area of Rye.
Mermaid Street is also home to the Mermaid Inn – but more on that in a bit.
Pro tip: The best spot to take a photo of Mermaid Street is looking down from the top of the hill, just outside of the Mermaid Inn.
In addition, if you want to take photos of Mermaid Street, I recommend going at twilight, when the lights highlight the architecture of the buildings with a soft yellow glow and stand out against the darkening sky.
While you're taking photos, mind the cobblestones! And if you love finding that perfect photo spot, you'll love my roundup of the best instagram spots in London!
Climb the St. Mary's Church Tower
Location: Church Square
Hours: Daily June – August 9:00-6:00; September – May 9:00-4:00
Admission: admission to the Church is free; 2 pounds to climb the tower
Visiting St. Mary's Church in Rye and climbing to the top of the church's bell tower was one of the most unexpectedly cool parts of my visit to the town.
One of the oldest remaining buildings in Rye, St. Mary's Church was originally built in the early 12th century.
In 1377, French invaders looted and set the church on fire. The invaders also stole the original eight bells that hung in the church tower. Several local men later recovered the bells from Normandy, however the bells that hang in the church today are not the original ones.
The church itself is quite interesting to walk around, and is free to enter. For a small fee, you can climb to the top of the church bell tower.
From the outdoor viewing deck at the top of the tower, you'll be treated to an incredible 360 degree view of the entire town of Rye, as well as the surrounding hills. On a clear day, you can see all the way across Romney Marsh to Camber Sands and the English Channel.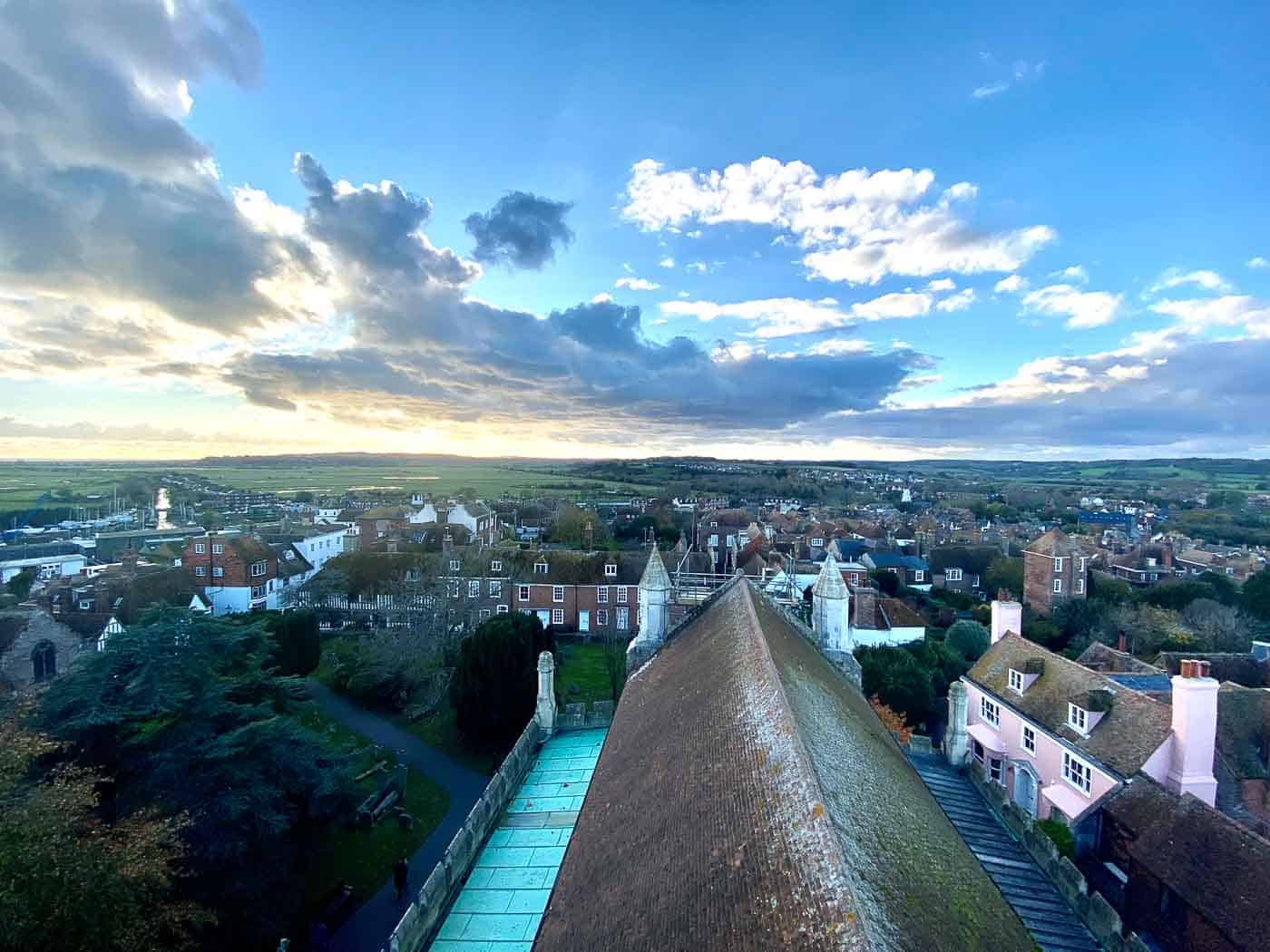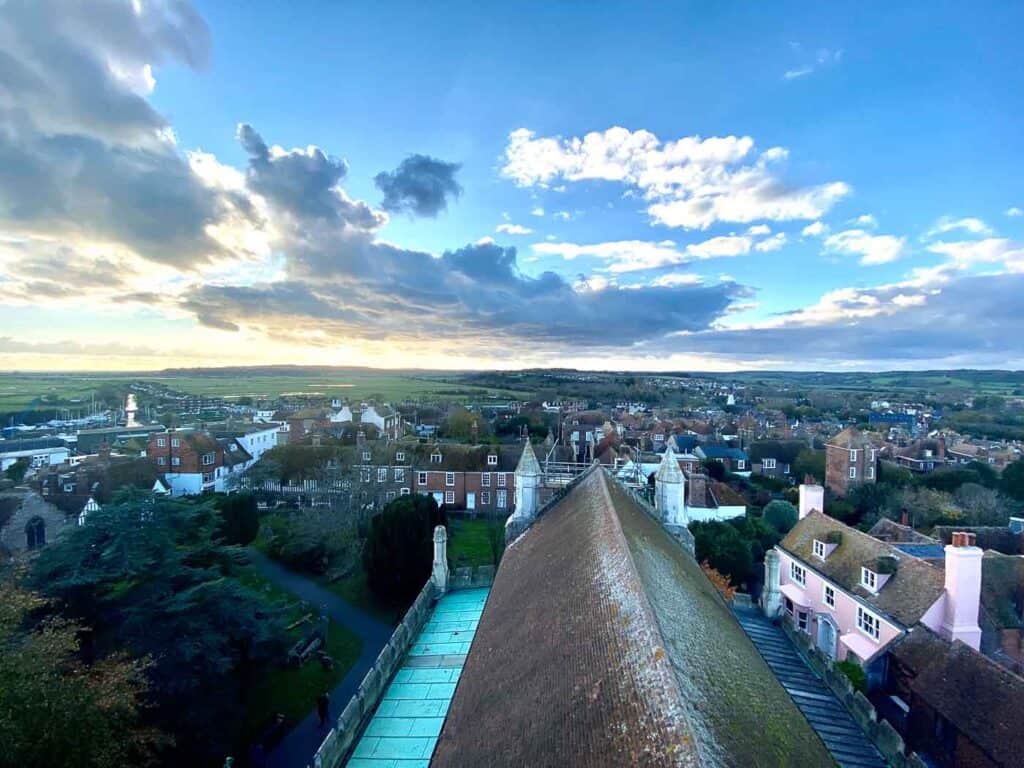 I recommend going just before sunset if you can, to take in the sunset views from this vantage point.
Visitors should note that the staircase up the tower is steep, so I don't recommend this activity for travelers with difficulties getting around, or those who have a fear of heights.
Wander the City Center
You can best experience Rye by wandering the cobblestone streets in the center of town. I spent hours doing just that!
Part of experiencing this town is to just stroll through it, and soak up the picturesque streets, buildings, shops, and scenery.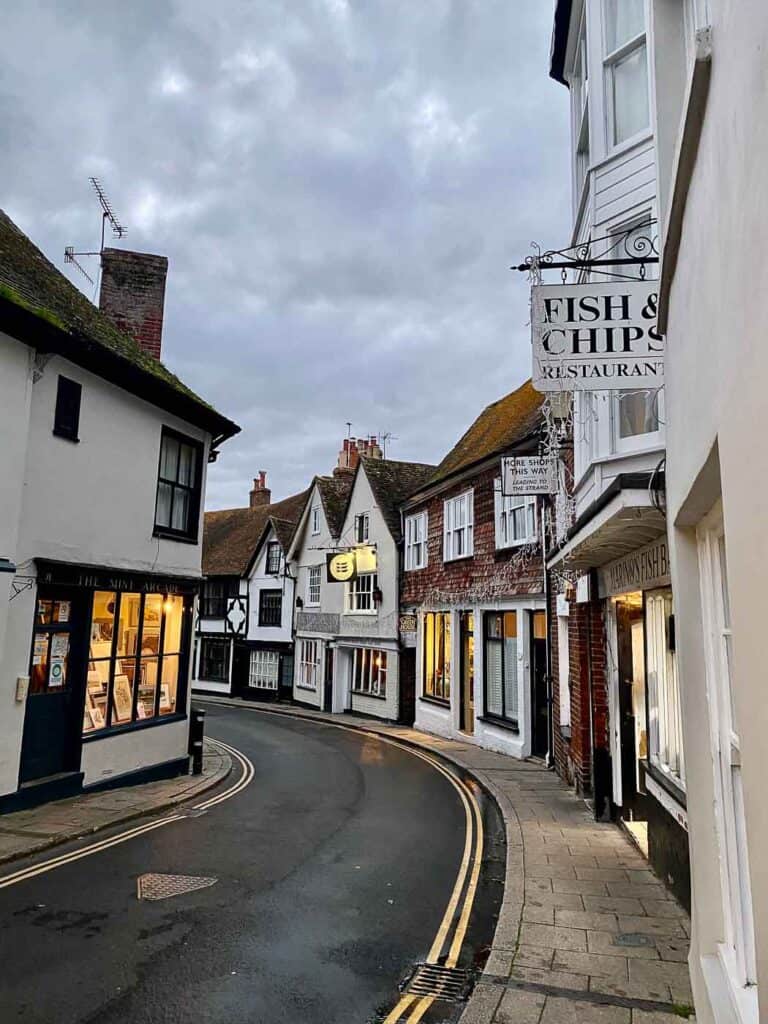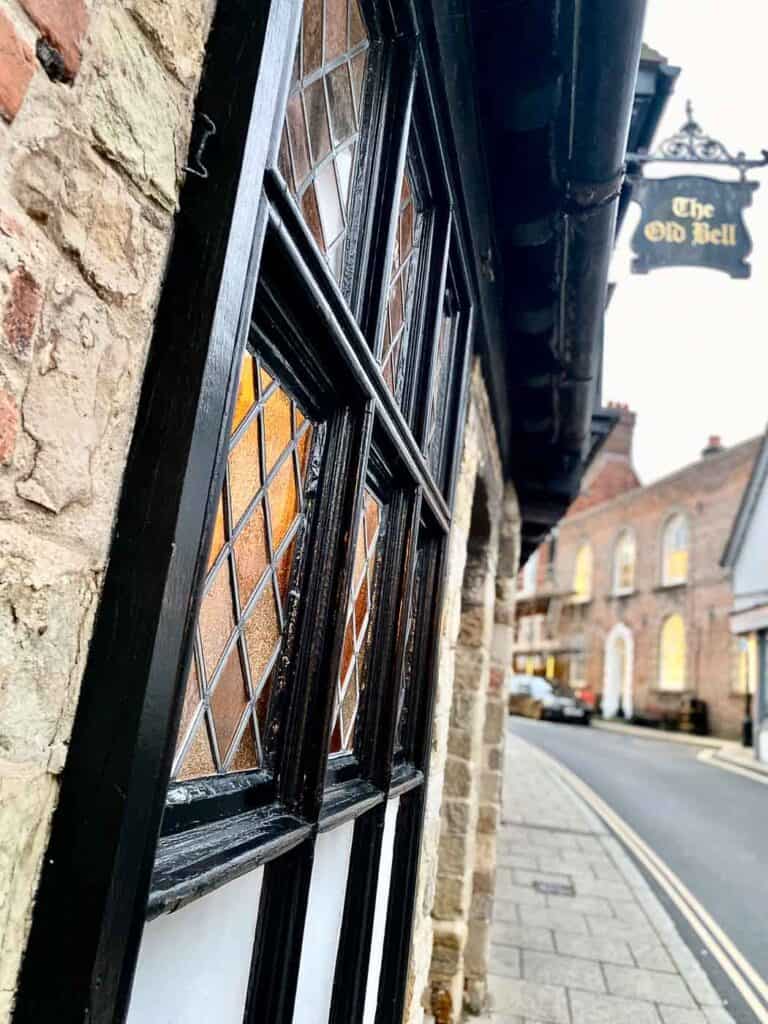 Make sure to carve out some "white space" in your Rye travel plans so that you can spend some time just exploring the town.
Visit Rye Castle (Ypres Tower)
Location: 3 East Street
Hours: Open daily April – October 10:30-5:00 and November – March 10:30 – 3:30
Admission: 5 pounds
If you're traveling to Rye, visiting Rye Castle (or Ypres Tower) is an absolute must!
Rye Castle, also known as Ypres Tower, is a historic landmark located in Rye. It is a medieval fortification that was first recorded as existing in 1216. It was built to defend the town against invaders and has played a key role in the town's history ever since.
A merchant named Jean d'Ypres owned the castle from 1430 to 1452, and his name is still associated with the building.
Today, Rye Castle is a popular tourist attraction, offering visitors a chance to learn about the history of the town and the castle itself.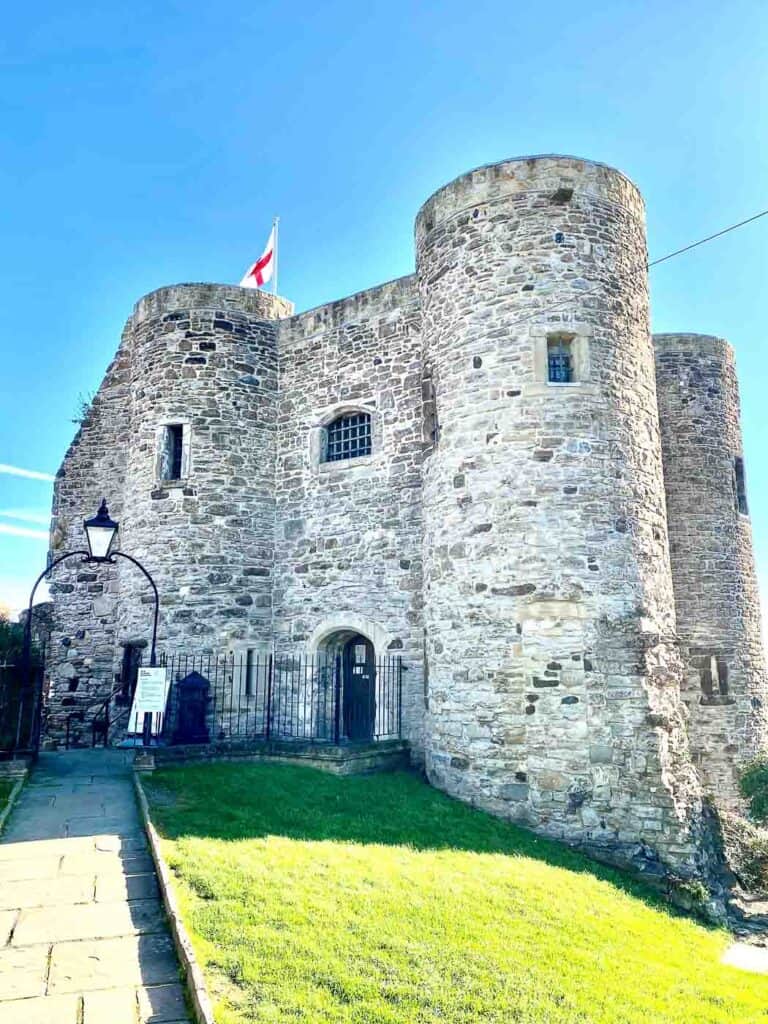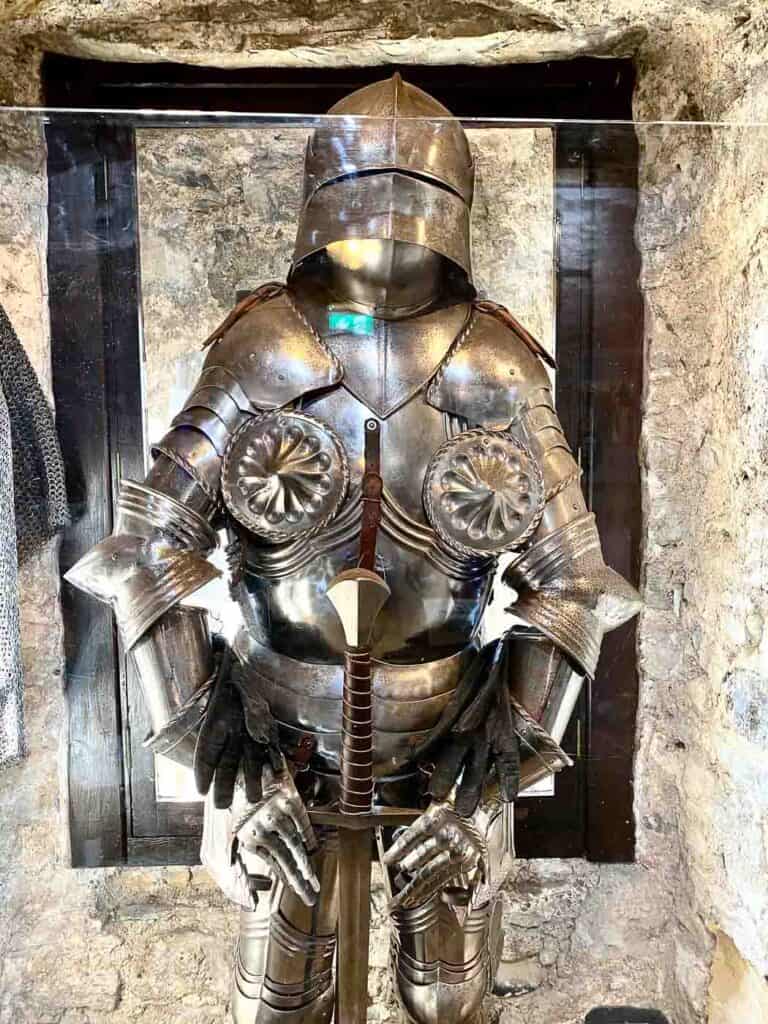 Visitors to Ypres Tower can explore the castle's ancient walls and towers, and see the many artifacts and exhibits on display, including armor, weapons, and other historical objects.
Rye Castle is also home to the Women's Tower, thought to be one of the earliest specialty-built women's prisons in the country, and opened to the public for the first time in 2015.
Down the street from Rye Castle (Ypres Tower) is the Rye Castle Museum, which is open on weekends during the summer.
The museum features exhibits on the history of the castle and the town, as well as interactive displays that provide a glimpse into life in medieval times.
Shop on the High Street
You might thing that a town so filled with history might be sparse on shopping…but you'd be wrong.
The High Street in Rye is lined with boutique after boutique, filled with everything from home decor, to gifts and souvenirs, to art, and clothes.
Taking time to wander through the shops on Rye's High Street is a great way to spend an afternoon in the town. Make sure to check out:
Ethel Loves Me: A vibrant and colorful concept store that features work by local artists, creatives, and craftspeople from Rye. I promise you'll find something you want here, even if you're not looking! 105 High Street
Puckhaber: A Mother and Son team specializing in antiques sourced from France and the UK. Their brick-and-mortar location in Rye carries a broad selection of chic and modern home and beauty products. The perfect place to find a unique gift! 1 High Street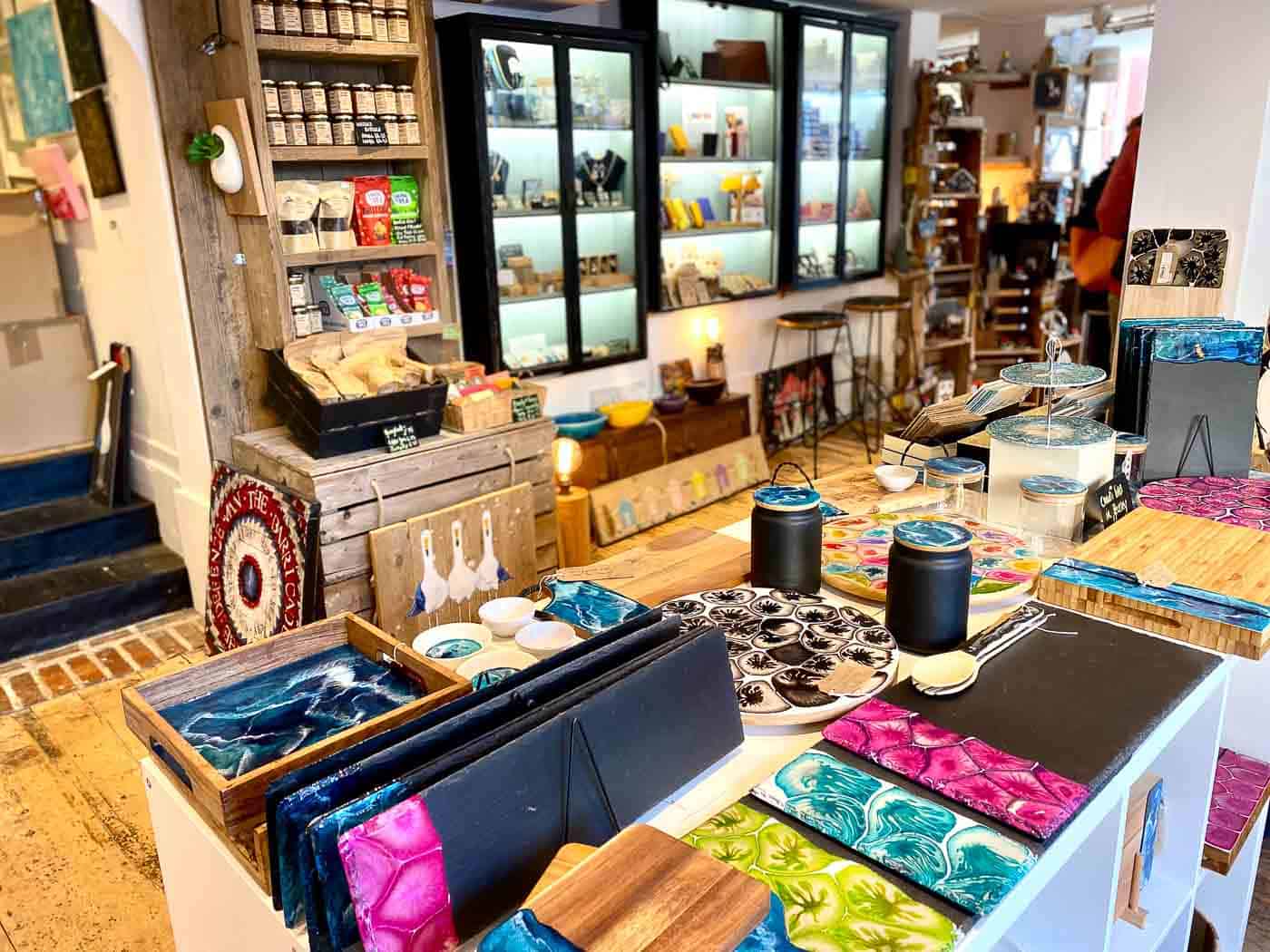 Visit Landgate
Location: Corner of Landgate & Tower Street
As you're exploring Rye on foot, make sure to stop by Landgate, the only remaining entrance gate of the four gates that originally surrounded Rye and were built in the 14th century.
Why were these defensive gates necessary? Welp, it's a result of Rye's location on the coast of England. Rye is located on the English Channel, in the part of the channel where it is the narrowest.
Rye's proximity to the continent of Europe meant that it was often the first place a foreign invader would land. Sure enough, this happened frequently.
Rye was invaded multiple times by the French and Spanish, including a French invasion in 1377 that burned Rye to the ground.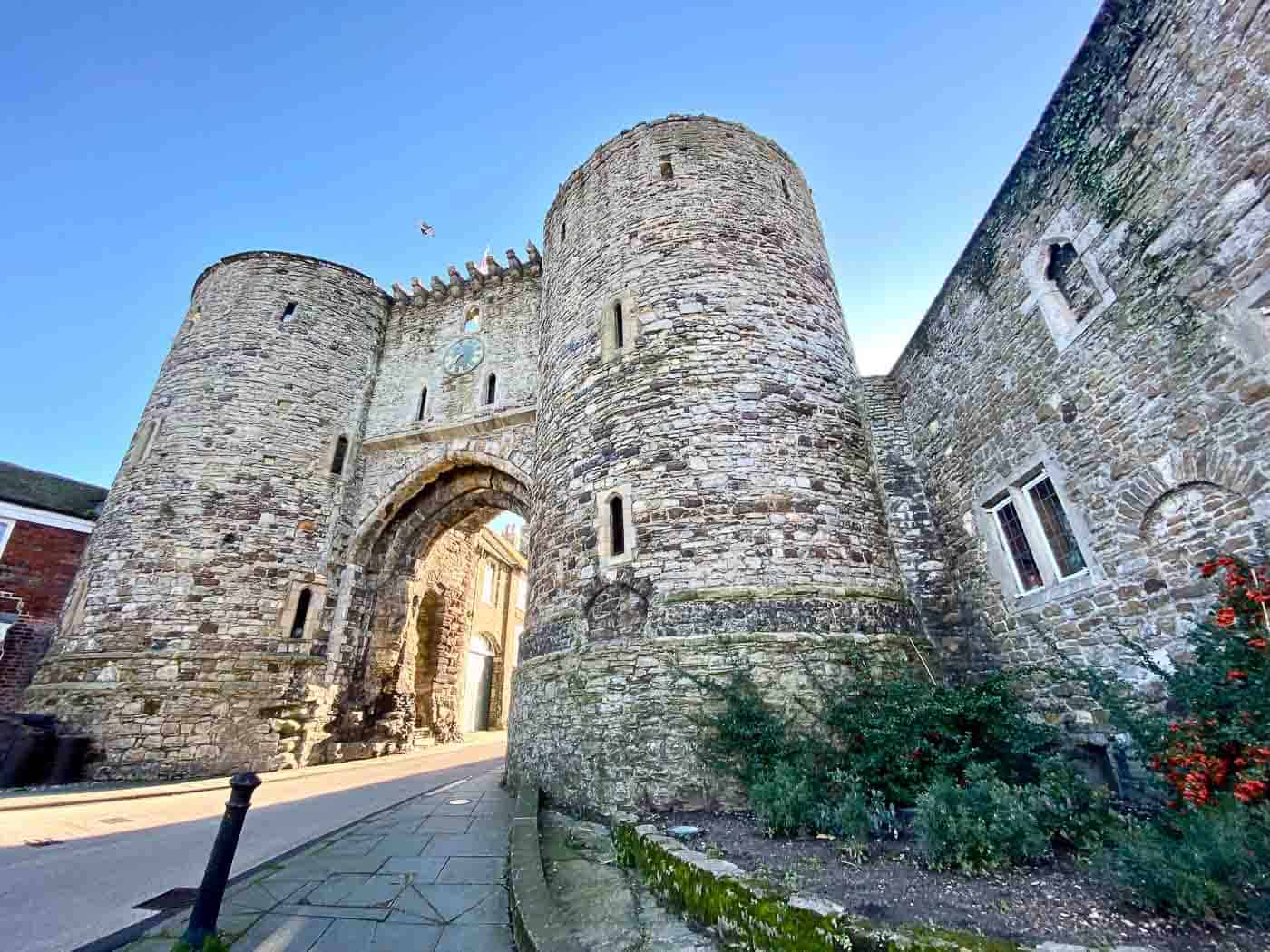 Landgate is impossible to miss, and gives you a very realistic picture of what the town would have looked like hundreds of years ago in an effort to keep foreign invaders out.
Have a Drink at a Haunted Bar
Do you believe in ghosts? If you do, you've probably read enough about Rye's colorful history by now to guess that there are more than just a few spirits still lurking within its labyrinth of medieval streets.
Whether or not you're a believer in the supernatural, you'll get a kick out of having a drink at The Mermaid Inn. The Mermaid Inn is a storied hotel with a rich history and a reputation for being haunted.
The cellars at the Mermaid Inn date back to 1156. The current building is from 1420 (it was rebuilt after the French invasion in 1377).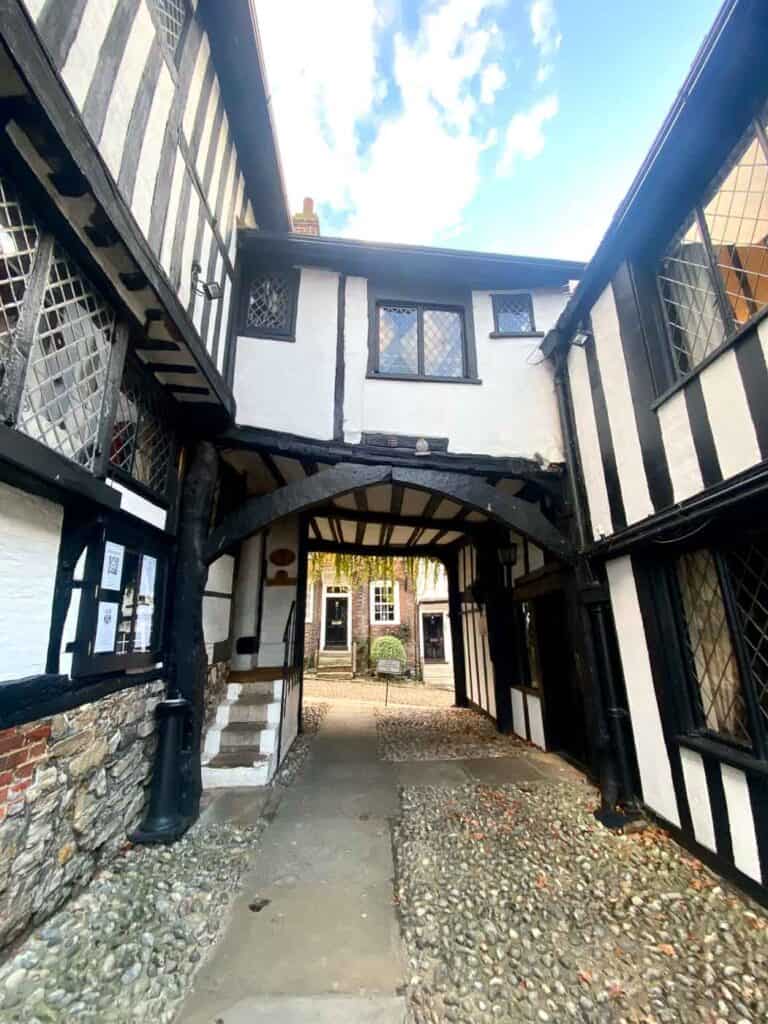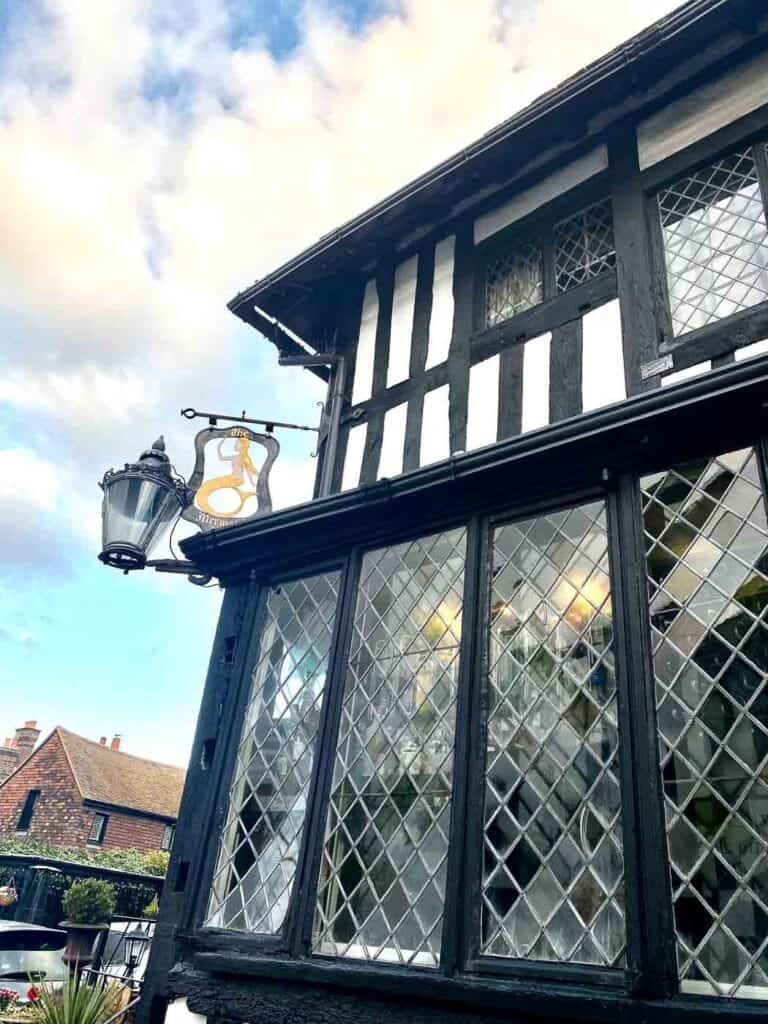 Stopping for a drink at one of the Inn's two bars is a must! I happily did this in broad daylight.
Even if you don't believe in ghosts, the Inn is still part of the fabric of Rye's long history.
The Hawkhurst Gang, a group of smugglers in the 1730's and 40's, controlled the territory from Kent to Dorset, and used the Mermaid Inn as a secondary location. They were often seen in the Giant's Fireplace Bar, loaded weapons out on the tables in front of them.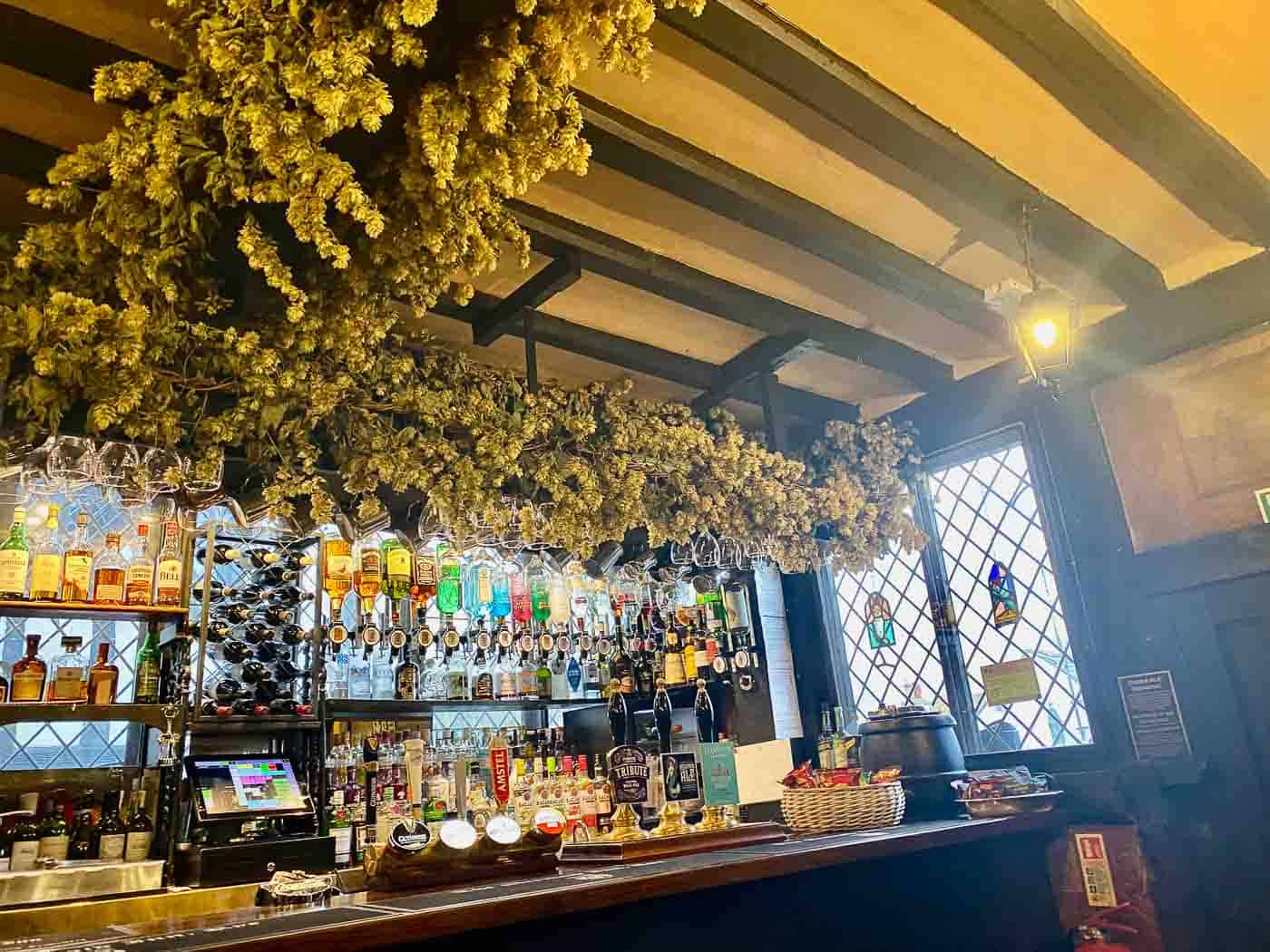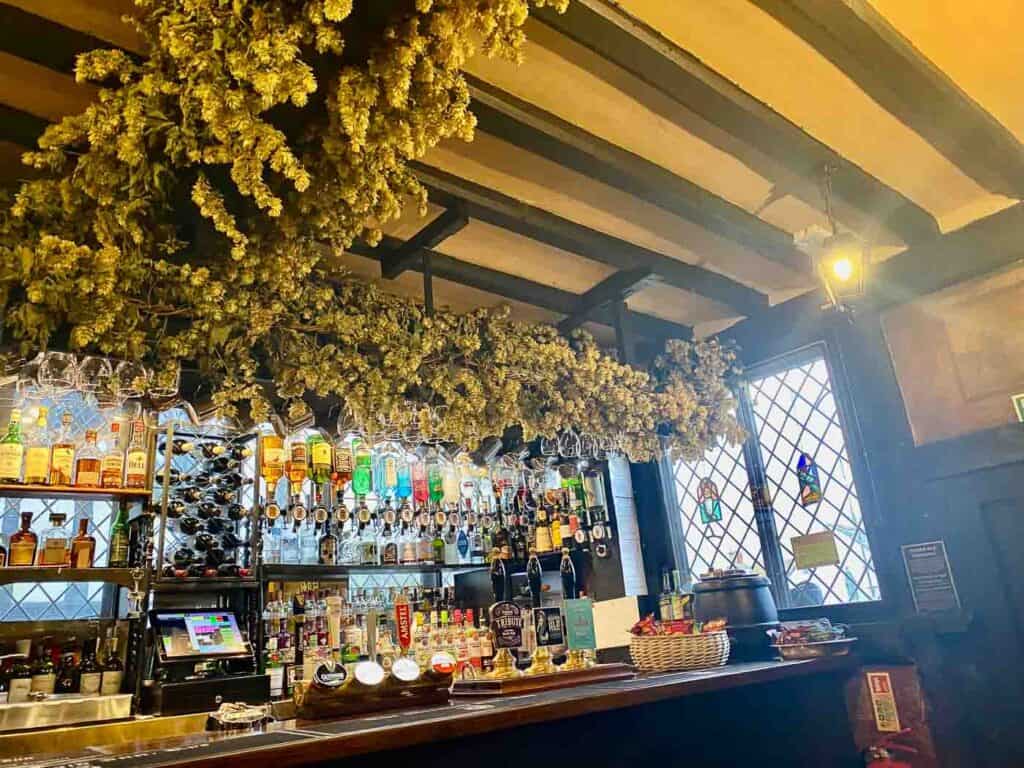 It's absolutely worth stopping in the bar to take in the sloping ceilings, creaky floors and even secret passageways!
Visit Camber Sands
If you want to head outdoors, take advantage of Rye's coastal location.
The closest beach to Rye is Camber Sands, located on the English Channel, and just a few miles down the road from the town center. It's a wide, sandy beach with large sand dunes that are perfect for a picnic.
If the weather is warm, Camber Sands is a great place to swim, sunbathe, or just relax.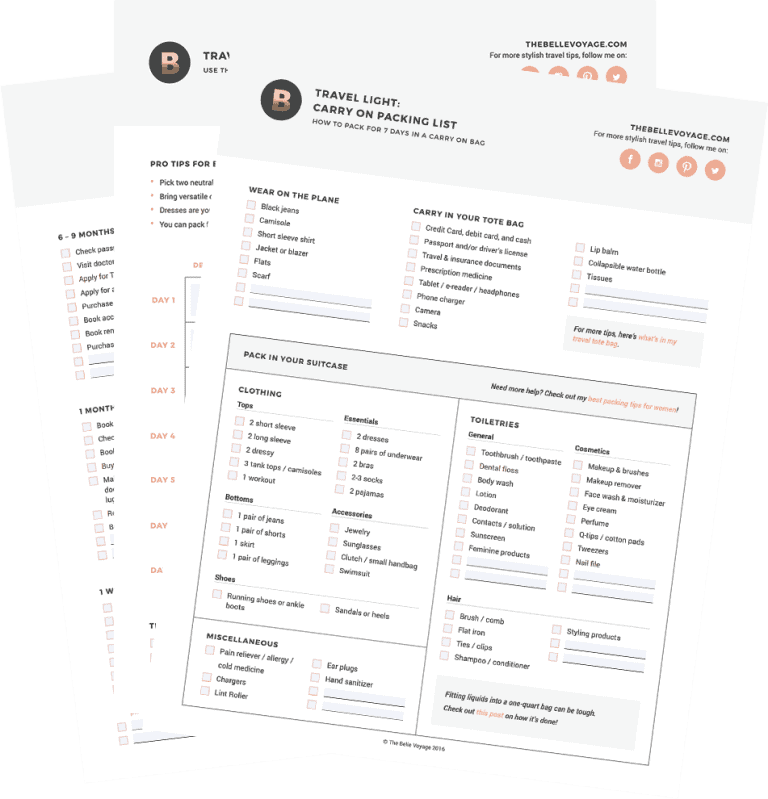 free printable travel resources
PACKING LISTS + PLANNERS
Get ready for your next adventure with my free printable travel planners and packing lists – the perfect companions to make packing a cinch and keep you stress-free!
Visit a Local Winery
If you enjoy wine, you'll be happy to hear that there are a number of wineries close to Rye. Adding a day of wine tasting to your Rye travel itinerary is the perfect way to spend a day!
Here are a few of the local favorite wineries that offer tours and tastings where you can sample the best of the local terroir:
Tillingham is a natural and biodynamic winery that is just 10 minutes outside of Rye. Wine tours and tastings run daily and require a reservation. Alternatively, you can enjoy a glass of their wine at their restaurant or wine bar.
Chapel Down Winery is a large producer of wine in England, and the Chapel Down vineyard is located 15 minutes from Rye. The estate is open daily for tours and tastings. There are a number of different options to choose from that include guided experiences, meals, and even stays on the estate.
Rent Bikes
If you're feeling active (and if the English weather is cooperating), rent a bike! Renting a bicycle is the perfect way to explore Rye and the surrounding areas.
In fact, a bike ride to Camber Sands is a fabulous way to spend a warm day in Rye. On the way to Camber Sands, explore the flora and fauna in Romney Marsh. I also recommend stopping by upscale boutique hotel The Gallivant for a drink on your way back to town!
For bike rentals, visit Rye Cycle Hire, located in the center of town at Cyprus Place TN31 7DR, or contact them at info@ryehire.com.
Food and Drink in Rye
Even though Rye is a small town, it has a rich culinary scene, with a variety of dining options ranging from traditional pub fare to fine dining.
I did my own version of a restaurant crawl while I visited Rye. Here are a few of the standout restaurants that I recommend visiting:
The Standard Inn: The Standard Inn has a quaint, modern gastropub that serves amazing food. I absolutely loved my meal here, and highly recommend going here for lunch or dinner. The Mint.
Simon the Pieman: For afternoon tea in Rye, check out Simon the Pieman, the oldest tea room in Rye. 3 Lion Street.
Ypres Castle Inn: After you visit the Ypres Tower, wander down the stairs in front of the castle. Here you'll find the Ypres Castle Inn. It's a local favorite spot, and perfect for a cozy fireside drink.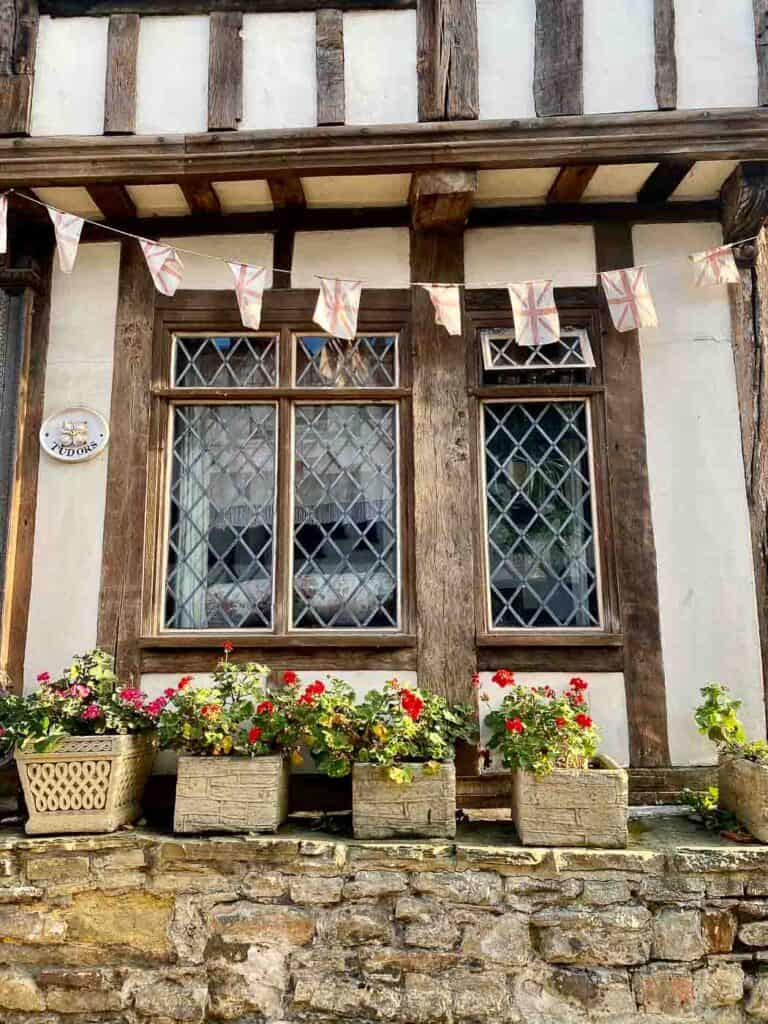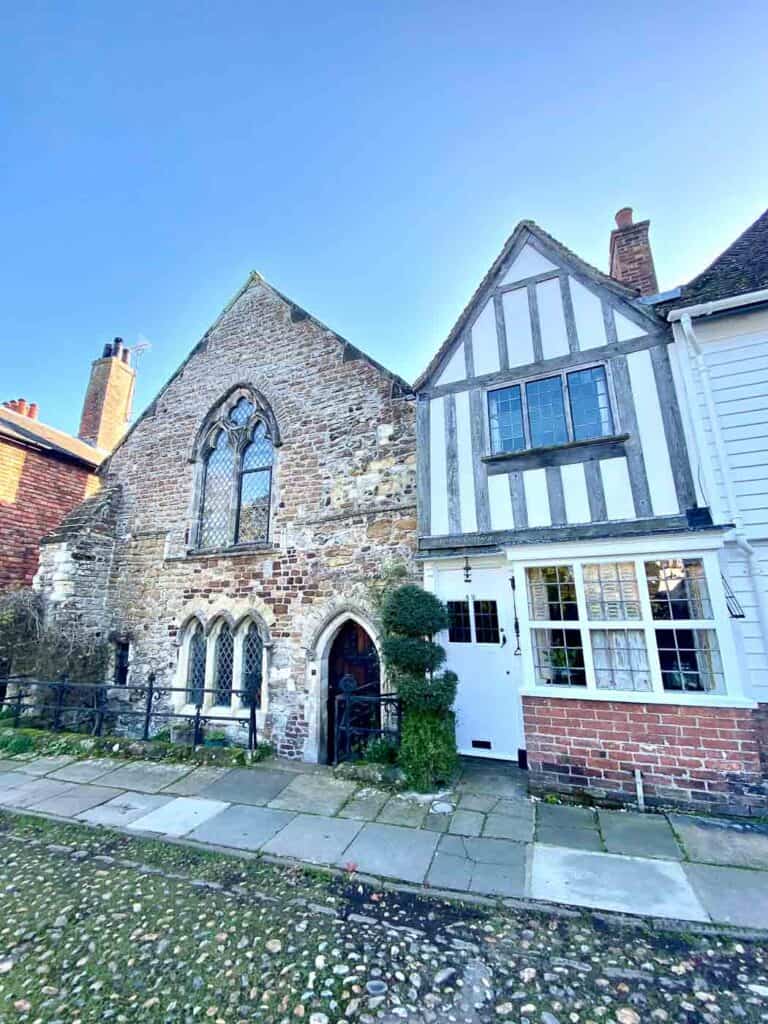 Accommodation in Rye
If you choose to spend the night in Rye, there are many different options across a range of price points. You will definitely be able to find accommodations that suit your preferences.
I recommend booking your Rye accommodations as early as possible. The inventory of hotel rooms is limited in Rye because the town is so small.
If you're looking for accommodations in Rye, the following top picks are all centrally-located:
If you're pairing your trip to Rye with a visit to London, here's exactly where to stay in London.
Festivals in Rye
Plan your trip to Rye during one of the town's special festivals to get a true sense for the local culture. The prominent festivals in Rye include:
Rye International Jazz & Blues Festival (August)
Rey Festival of the Sea (September)
Rye Arts Festival (September)
Rye Bonfire (November)
Rye Christmas Festival (December)
If you are traveling to Rye during any of these months, it's best to book your trip as far ahead of time as possible, since there is a limited inventory of accommodations in this small town.
Planning Your Trip to Rye
How Much Time Do You Need in Rye?
Even if you can only spend one day in Rye, it is absolutely worth visiting. You can easily see most of Rye's main attractions in one day. If you're visiting London and want to get out of the city to experience the charm of small towns in England, Rye is the perfect day trip. You could add it on to my London bucket list!
And if you have more than a day, a weekend or long weekend is the perfect amount of time to spend in Rye.
How to Get to Rye
Rye is located on the southern coast of England, in Sussex. You can get to Rye by car, train, or bus.
By car, take the M25 to the A21, then follow the A21 south until you arrive in Rye. Make sure to check ahead of time if your accommodations include parking, as parking is limited in the town center.
By train, take the Southern Rail line from London to Ashford, then change to the Southeastern line to Rye.
By bus, take the National Express bus from London to Hastings, then change to the Stagecoach bus to Rye.
The bus and train stations are located within a few minutes' walk of the town center.
Transportation and Getting Around
The easiest way to get around Rye is by foot. The center of town only spans a few streets, so it's easy to get from one place to the next by foot. If you don't plan on exploring outside of the center of the town, you won't need a car.
If you want to venture further, you can rent a bicycle, which is a great choice in warm weather. The ride from the center of town to Camber Sands is an easy, flat ride with beautiful scenery.
You don't need a car to get around Rye, but it is helpful to have one if you want to visit the surrounding area.
Now You're Ready for A Rye Weekend Getaway!
Visiting Rye from London? Don't forget to read about these common London tourist mistakes (and what to do instead)!