Looking for the Perfect Berlin Itinerary?
If you're in search of the perfect Berlin itinerary for your upcoming trip, this guide has you covered!  I've pulled together an easy, day-by-day guide to show you exactly how to plan your time in Berlin.  Make the most of your trip by covering the city's highlights in 2 days.
Posts on this blog may contain affiliate links. At no additional cost to you, if you click through an affiliate link and make a purchase, I may earn a small commission.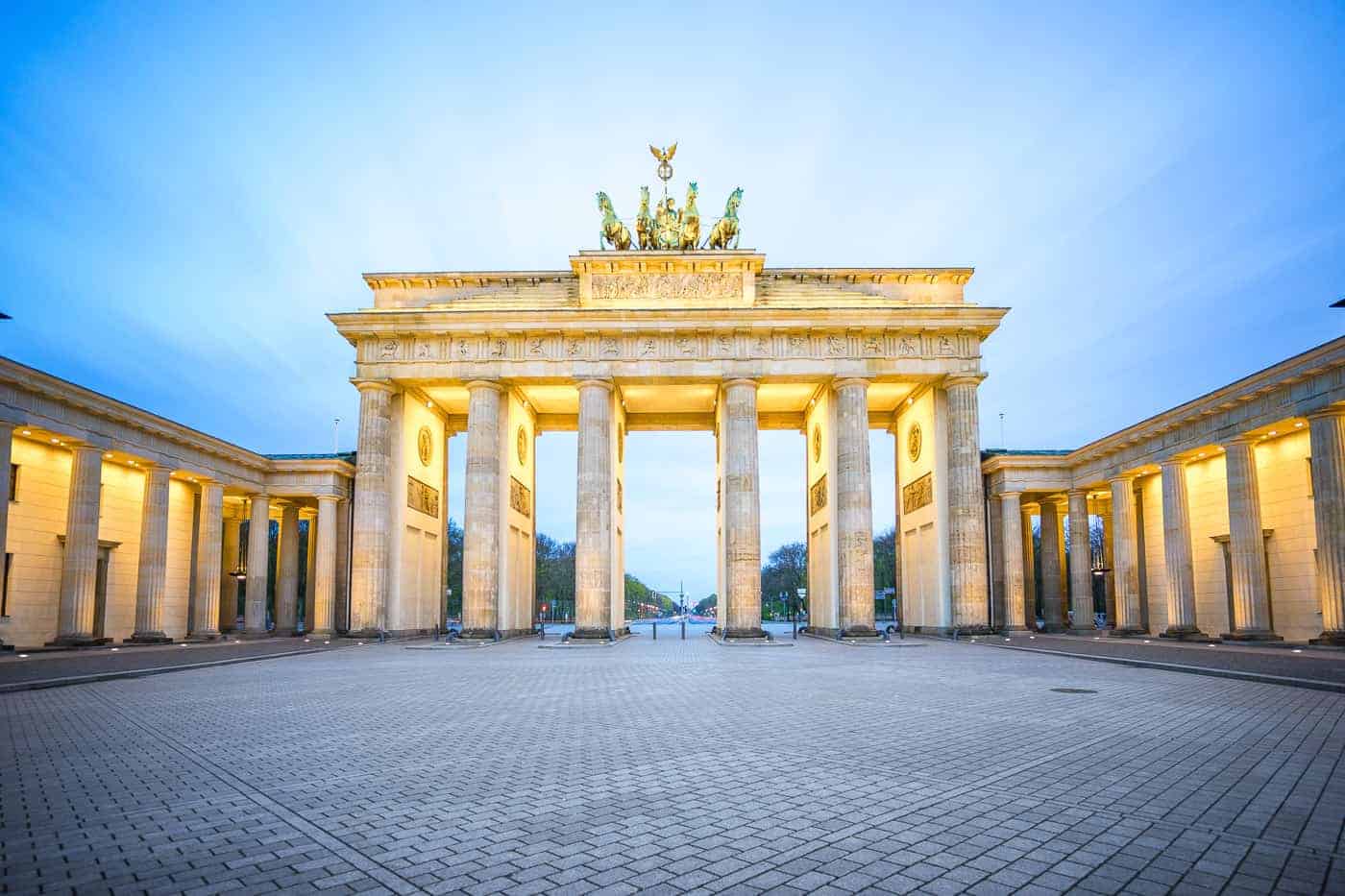 Before you Go to Berlin
Make sure to pack one of these!  You'll need to it stay connected during your trip. You'll also want to check out my shop for all of my favorite travel accessories and products for female travelers.
Where to Stay in Berlin
One of the things I found most interesting about Berlin is that there's no actual city center.  Unlike many European cities that have a central plaza or zone, Berlin consists of multiple neighborhoods.  Each neighborhood, or borough, has its own personality and flavor.  Fortunately the Berlin U-Bahn and S-Bahn systems are incredibly efficient, so getting around the city is no problem at all.
Boutique Hotels in Berlin
There are a number of super duper chic boutique hotels in Berlin that are reasonably priced compared to other major European cities.  My top pick is Das Stue for its location, modern vibe, and cool decor.  Another less expensive option is Sir Savigny, where the rooms are the perfect mix of hip and elegant.
If you prefer to rack up hotel points, the Berlin Marriott is well-located near Potsdamer Platz, and is only a 15 minute walk from the Brandenburg Gate.
The Perfect 2 Day Berlin Itinerary
With 2 days in Berlin, you'll be able to see most of the city's highlights, especially if it's your first time visiting.  At the same time, 2 days in Berlin is barely enough time to scratch the surface of the city's cultural and historical depth.  So plan on making a return trip sometime soon.
Berlin Itinerary Day 1: Welcome to Berlin!
On your first day in Berlin, you'll get to see Berlin from way up above, get a flavor for the city's creative fashion and art culture, and check out some gorgeous architectural landmarks.
East side gallery
Kick off your Berlin itinerary by grabbing a coffee and heading to the East Side Gallery, a nearly mile-long stretch of the Berlin Wall that is covered in colorful murals.  Stroll along the wall and take in the artwork, and get a sense for what a formidable barrier the wall was in dividing the city.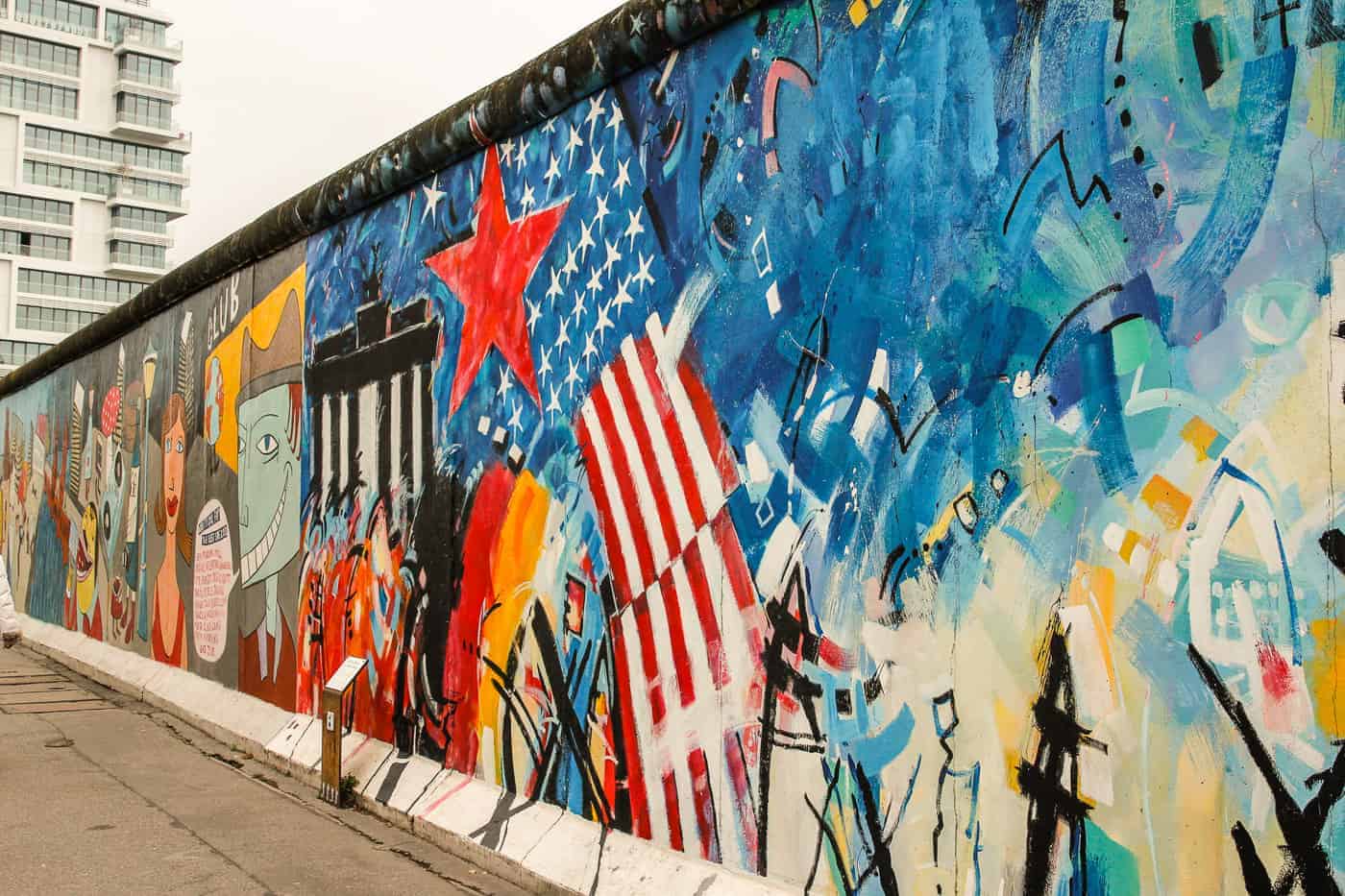 Television Tower
Dominating Berlin's skyline is the Television Tower in Alexanderplatz.  Built in the 1960's, it's still the tallest building in the city, and visiting the observation deck is a great way to see Berlin from a bird's eye view and get the lay of the land.  Plan to head over to the TV tower once you've taken in the East Side Gallery.
Avoid lengthy lines by booking your tickets ahead of time.  Yes, it's touristy, but it's also a really fun and memorable thing to do in Berlin.
Another way to visit the Television Tower is to dine at Sphere, the restaurant on top of the tower.  Tickets to Sphere also include a visit to the observation deck, and you can select whether you'd like a window or an inner table. Go for the window table!  Tickets must be booked ahead of time for a certain date and time, so this will require a bit of planning.
Stroll Through Schuenenviertel
After the TV tower, head over to Schuenenviertel, one of the best places in Berlin to boutique and gallery-hop.  Revitalized in the 1990's, it's now home to many of Berlin's best cafes, shops, and charming streets.  If you're in the mood to shop, you can't go wrong by wandering down Mulackstrasse.
Check out a few of my favorite shops including Schwarzhogerzeil, Das Neue Schwarz, and adorable stationary store R.S.V.P.  Rosenthaler Strasse is another great shopping street.
Visit Berlin's Museum Island
With a few new souvenirs in hand, head over to Berlin's Museum Island, a designated UNESCO Heritage site and the home of five of Berlin's largest museums.  Museum lovers can take their pick based on their interests, but the good news is that a single ticket gets you entrance to all five – so you can hit them all if you prefer.
Iconic Berlin Architecture
After your museum visit, you'll be perfectly positioned to check out the Berlin Cathedral, or Berliner Dom.   Take a guided tour of the cathedral, if you wish, or climb the 270 stairs to the top of the dome itself for another amazing view of Berlin from up above.
Next, head over to Gendarmenmarkt, possibly Berlin's most charming and iconic city squares, where you can check out another architectural landmark, Berlin's French Cathedral, along with the Concert Hall and German Cathedral.
Experience Traditional German Cuisine
Wrap up your first day in Berlin with some traditional German fare.  A good choice is Treffpunkt Berlin, a casual gastropub featuring German classics on its menu.  It's a casual spot, and within easy walking distance of Gendarmenmarkt.
Berlin Itinerary Day 2: Berlin's Rich History
On the second day of your Berlin itinerary, you'll visit multiple places that hold significance in Berlin's rich history.  If you're tired of walking from yesterday's sights, an alternative today is to book a tour with Trabi Safari.  These tours of Berlin take place in a Trabant, a car produced in the 1960's and 70's and a symbol of East Germany's Communist rule.
Revisit Berlin's Past
A short morning walk will take you through several sights that are symbolic of Berlin's history.  Start your walk at Checkpoint Charlie.  Named by the Western Allies, Checkpoint Charlie was the best-known point of crossing the Berlin Wall separating East Germany and West Germany during the Cold War.
Topography of Terror
Just west of Checkpoint Charlie is the Topography of Terror historical museum.  The museum documents the time from the start of Nazi rule in Germany until the end of World War II.  Exhibits focus on the Nazi institutions of the Gestapo, SS and Third Reich, and the crimes and terror organized by these groups.
It's difficult to even write about the museum without recalling the emotion that it evoked in me.  While somber, the museum documents a time in history that must not be forgotten.
Memorial to Murdered Jews of Europe
Continue north until you reach the Memorial to Murdered Jews of Europe, or the Holocaust Memorial.  Symbolic in many ways, the memorial consists of 2,711 concrete slabs of varying height.  The slabs are arranged on a sloping and uneven walkway.  It is a powerful tribute to a time in history that I hope we will never see repeated.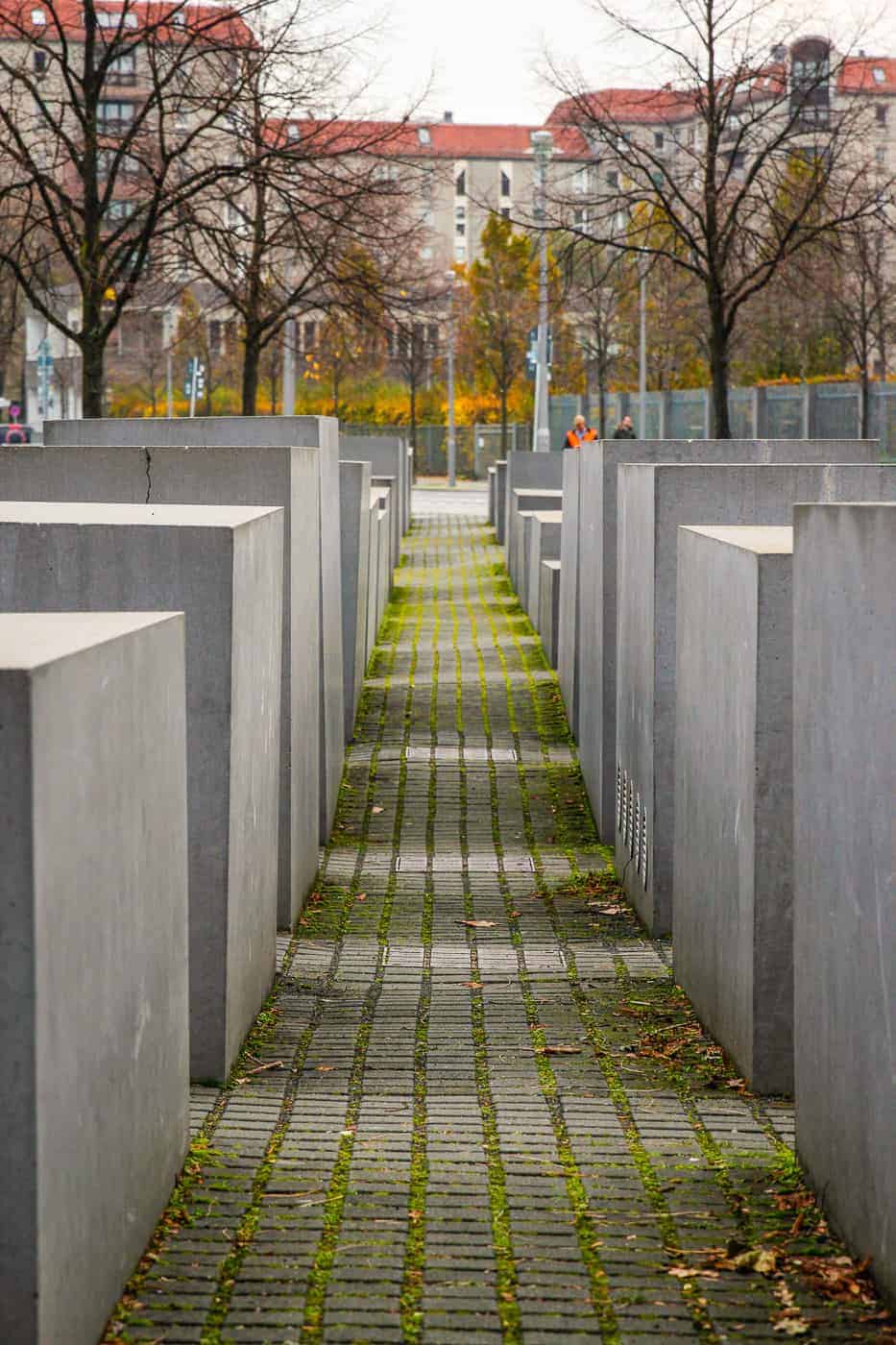 Brandenburg Gate
Continue on up Ebertstrasse until you reach Brandenburg Tor, or Gate.  Brandenburg Gate is Berlin's most famous landmark.  Once symbolizing the division of East and West Germany, the gate is now a symbol of unity.
Visit The Reichstag
Just across from the Brandenburg Gate is the Reichstag, the house of Germany's Parliament.  Guided tours of the building are available when Parliament is not in session.
Walking around the glass dome on the top of the building is a must for any Berlin itinerary.  It's free to visit, but you must register in advance.  Another alternative is to book a reservation at Dachgartenrestaurant, the roof garden restaurant.  After your meal, you can walk around the sky-high dome.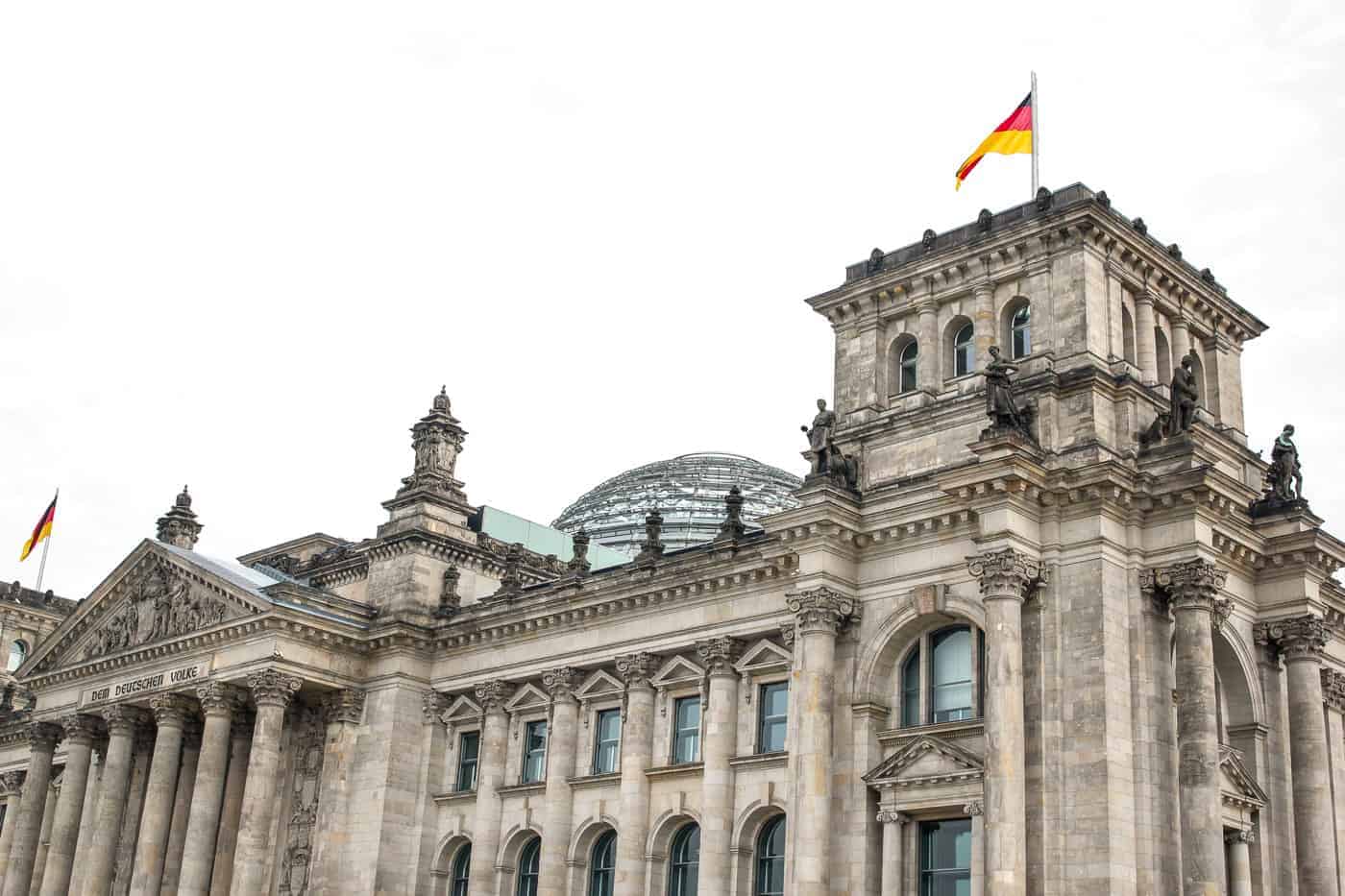 Tiergarten and Charlottenburg
After your visit to the Reichstag, stroll through Tiergarten, Berlin's version of Central Park.  Head west, towards the borough of Charlottenburg, considered one of Berlin's most affluent neighborhoods.
In Charlottenburg, take your pick of how to spend the afternoon.  Choice number one is to visit Charlottenburg Palace, Berlin's largest palace.  If you'd rather do some shopping, I highly recommend visiting KaDeWe, or Kaufhaus des Westens.  KaDeWe is Berlin's largest department store.  I can almost guarantee that you'll find something in the 60,000 square meters that will catch your eye.
Toast to a Return Trip to Berlin
To wrap up your last day in Berlin, head over to the 25 Hours Hotel Bikini, where you can perch yourself at the Monkey Bar for a sunset cocktail overlooking Berlin's Zoo.  Afterwards, head next door to trendy Neni for dinner.
In two days, you've managed to cover a lot of ground in Berlin, but there's still plenty left to see.  Raise a glass to a return trip to Berlin!
There you have it – the perfect Berlin Itinerary!
Where else are you traveling in Europe?  Check out my perfect Stockholm itinerary, an amazing London itinerary, and a fabulous Barcelona itinerary!  And if you need help packing, I've got you covered with my best tips for packing for Europe.
Wanna Learn to Pack a Suitcase Like a Boss?
Subscribe to download my three BEST travel planning resources:
Travel outfit planner
Pre-travel checklist
Carry on packing list