One of the best ways to mix up and dress up the outfits in your suitcase is with jewelry.  I know, I'm stating the obvious, but stick with me.
For many years, I would stuff my suitcase with multiple drawstring pouches filled with chunky, heavy jewelry, and then wonder why I wasn't able to lift my bag.  Looking back, I had a clear case of what I will call accessory anxiety.
It's true: I feared that I wouldn't know what jewelry to wear with each outfit, so instead I just brought EVERYTHING.  Sound familiar?
Bringing everything is definitely one way to combat accessory anxiety.  Over the years I have developed an alternative approach that seems to work much better: instead of bringing everything, I bring a few things that go with everything.  Simple, no?  Behold my favorite jewelry for travelers – these are often all that I pack!
Tips for the Best Way to Travel with Jewelry:
The best way to travel with jewelry is to stick with one color palette: gold or silver.  Most of my jewelry happens to be gold, so that works for me.
I bring two necklaces: one long statement necklace in a neutral color, and a simple tiny charm necklace.  These both go with just about everything and can transition from casual (think a maxi dress, shorts and a tank, or a sundress) to my most polished business suit.
Next, I bring a pair of gold studs that have some character, and a chunky bracelet that can make any simple outfit look a little more glam, but is still preppy enough to pair with a blazer.
I throw on the earrings, the bracelet, and one of the necklaces with what I'm wearing on the plane, and the second necklace goes in my suitcase.  Done!
Long Necklace: J Crew (similar)
Charm Necklace: Sydney Evan
Earrings: Anthropologie (similar)
Bracelet: J Crew
There You Have it – The Best Way to Travel with Jewelry!
Liked this post?  PIN IT!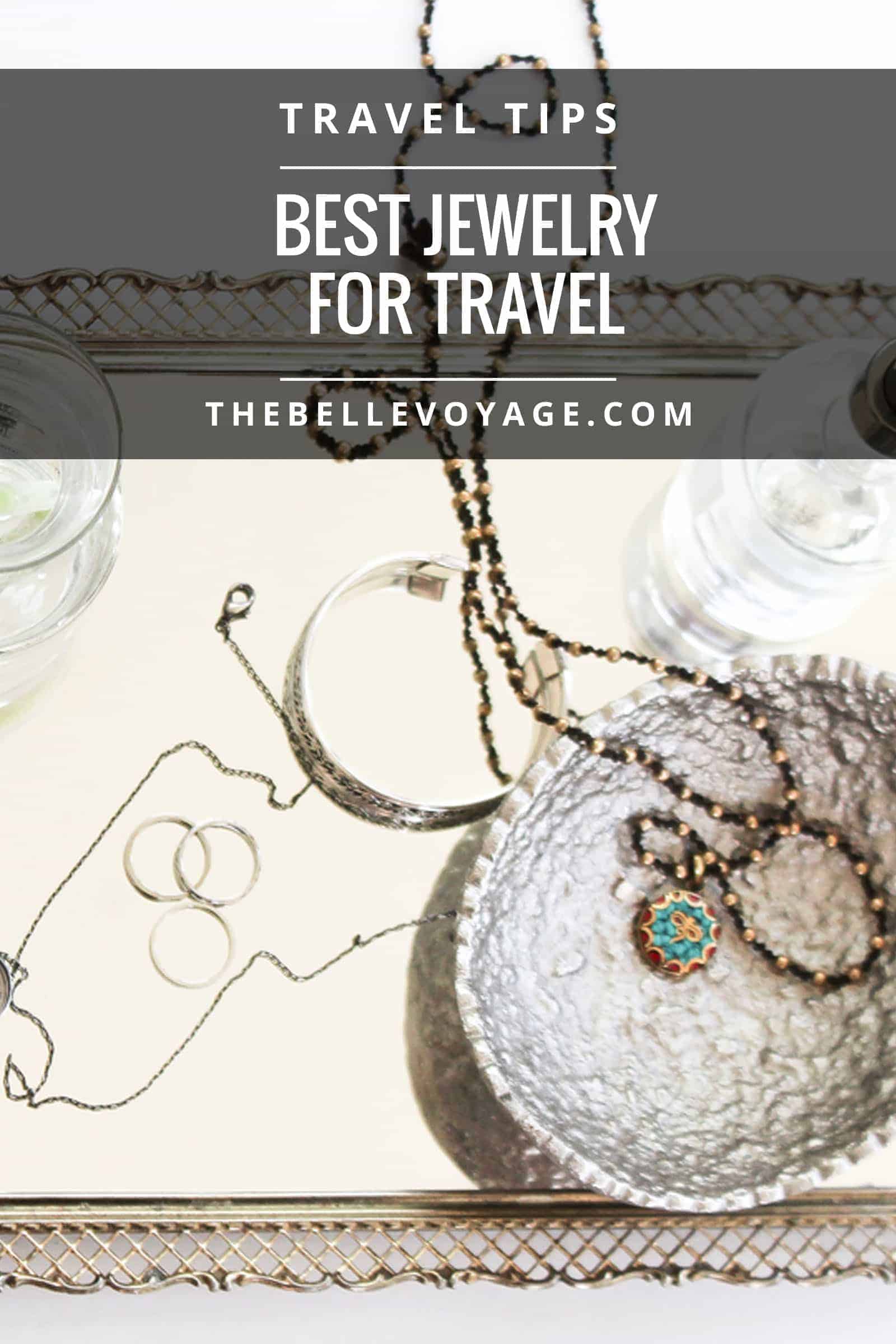 Wanna Learn to Pack a Suitcase Like a Boss?
Subscribe to download my three BEST travel planning resources:
Travel outfit planner
Pre-travel checklist
Carry on packing list