The Perfect Multiway Top You Can Wear 5 Ways
This site uses affiliate links and I may earn a small commission when you use my links and make a purchase, at no extra cost to you. 
If you're looking for a multiway top, encircled's new Everyday Twist Top is the perfect piece for travel and adventures closer to home.  This convertible wrap top is made from oh-so-soft fabric, and can be worn five different ways.  Read on to see all of the ways that I styled it, and why this multiway wrap top should head straight to the top of your shopping list!
This post was sponsored by encircled. As always, all opinions are my own.
Encircled's New Multiway top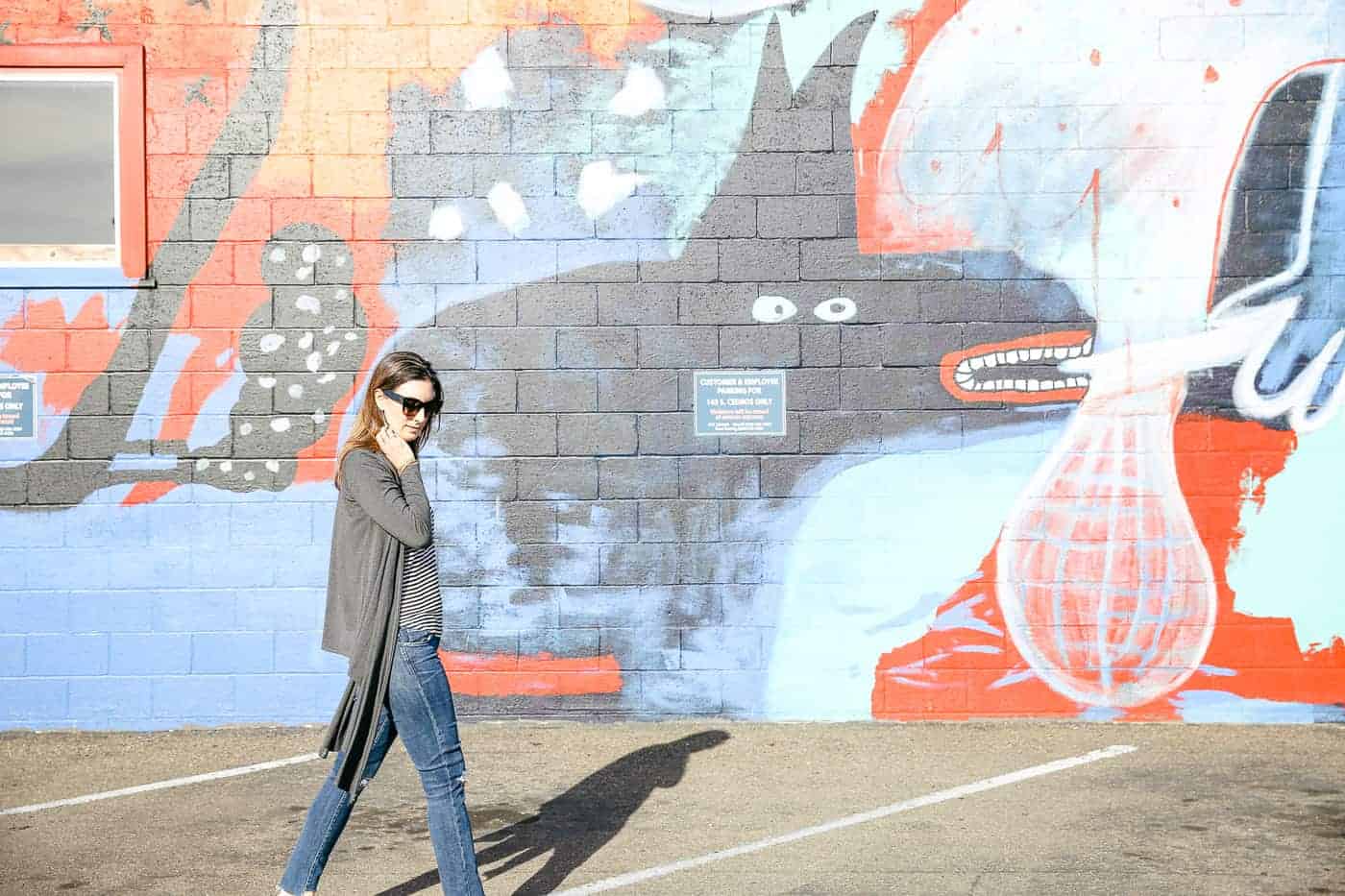 Travel is all about keeping things simple.  Uncomplicated plans, easy outfits, and laid-back style.  For me, that means packing versatile pieces, so finding multiway clothes that I can style in more than one way is key.
When encircled offered to send me their Everyday Twist Top, a brand new multiway top, I couldn't wait to take it for a spin.  This convertible wrap top can be worn five different ways, including two different cardigan styles.  In other words, it's perfect for pretty much anywhere you might want to go!  SOLD.
What to Wear With a Multiway Wrap Top
Turns out that styling a convertible wrap top is so much fun!  I paired it with tons of stuff in my closet to create a few different looks. With just a single piece, I went from daytime shopping and strolling, to beach yoga, to evening cocktails.  
Layer It As A Long Cardigan
You know how it is when you go from sunny streets to blasting air conditioning. I still haven't figured out how to dress for these *extreme* temperature swings, but this wrap top made things a little easier.
During the daytime, the top makes for the perfect lightweight layer. I went from hitting the sun-drenched sidewalks in the Cedros Design district to checking out some of the cute boutiques, so it was easy to layer up or down depending on whether or not I was indoors.  Easy-peasy.
Tie It In the Front or Back For Working Out
This multiway wrap top also makes for a really cute layer going to and from a workout. Personally, I'm always on the hunt for a layer to keep me warm when I'm going to and from the gym or yoga.
Here's how I styled the top for yoga:
I love that the top can be tied in the back or in the front, so it looks good coming or going.  It's also a chic and refreshing change from my usual workout hoodie.  
And another bonus?  It's unique and stands out from the same cover-up that everyone else is probably wearing.  Wear this top and expect lots of compliments from your workout buddies!
As a Short Cardigan for Evening
Is there anything more glorious than heading out on the town on a warm summer evening? Knowing that you're about to sip on some summery cocktails? On a Saturday night? Nope. To me, it's an ideal warm-weather night.
To style the top for evening, I shortened it up (more below on exactly how that works), and paired it with jeans, heels and a dressy top. Easy summer evening perfection.
How to Style a Multiway Top
So what's the magic ingredient that gives this top its versatility?  Like all of encircled's styles, the Everyday Twist Top has elegantly simple (yet genius!) design details that allow you to wear the top in multiple ways.  Five, to be exact!
There's two ways to wear the top as a cardigan, and three way to wear it as a twist or tied top. Here's the details on exactly how, and more info on how I styled it.
How to Wear the Everyday Twist Top as a Multiway Cardigan
The secret to this multiway top's versatility is in the tiny snaps hidden at the bottom of the cardigan's sides. You can't see the snaps when you're wearing the top, but they're easy to access when you're ready to change things up.
Styling The Top for Daytime
Unsnapped, the cardigan can be worn the long way, with the gorgeous fabric draped in the front. For me, this made the top a lovely layer for daytime summer fun. Strolling around a beachside town and doing some boutique hopping with a friend was on my agenda for a summer Saturday, so the twist top was a cute outer layer.
I love all of the movement that comes with wearing the wrap top the "long" way, too. Wearing the wrap top the long way on top of my jeans and linen t-shirt made for easy daytime style. I couldn't help but have some extra spring in my step with the pretty draping in the front, thanks to the top's Modal blend fabric.
Styling the Top for Evening
The second way to wear the wrap top as a cardigan is a shorter, cropped version. Snap the buttons together, and loop the ends behind your neck, and you've got another style of cardigan that looks great layered on top of a dressier outfit.
I styled the wrap top for evening with some of my favorite summer accessories: sunglasses, white heels and a metallic clutch. I added some destroyed jeans and a lacy camisole, and I was all set for summer sundowners with the girls!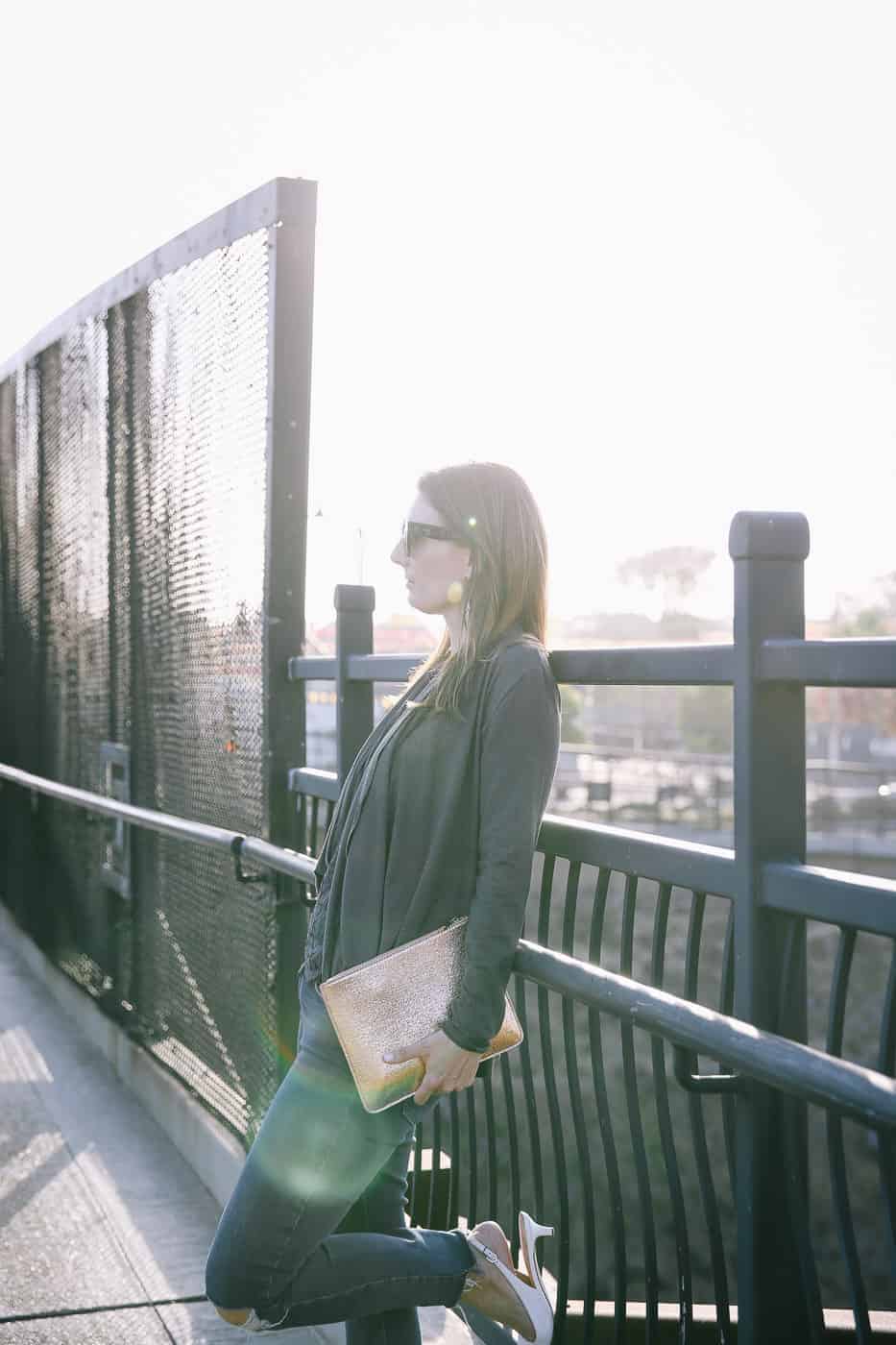 Finally, you can wear this multiway wrap top as a long sleeve blouse with an eye-catching detail.  Just twist the ends when you loop them over your neck, and you've got a gorgeous, long-sleeve top with a beautiful fabric twist in the front.  I didn't take any photos of the top styled this way, but you can check out examples on encircled's site.
How to Wear as a Tied Top
Since this piece is a convertible wrap top, you can wear it as a tied top with the tie in the front or in the back. I thought that both ways looked gorgeous, and it was really easy to switch the top back and forth between these two styles.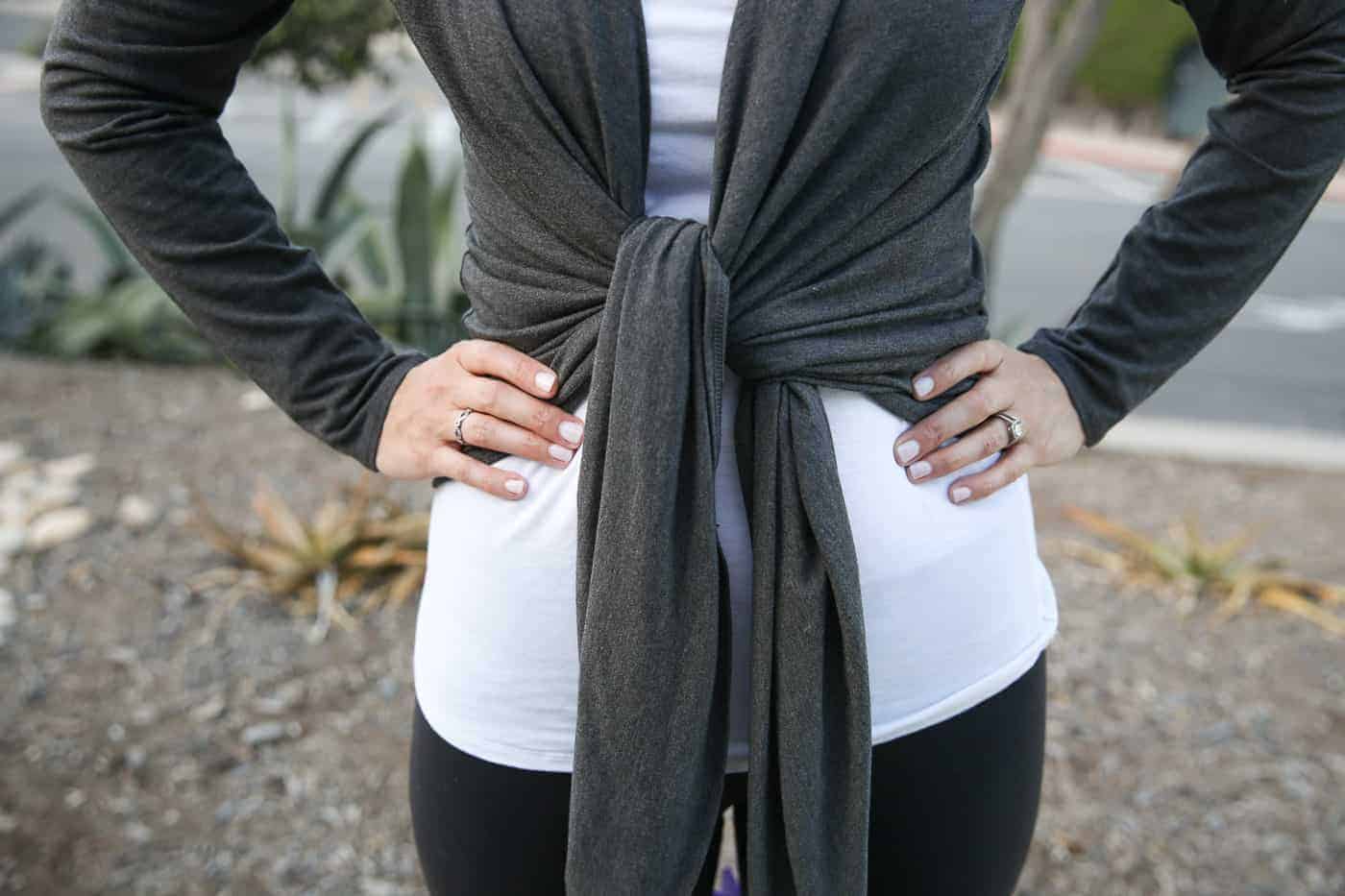 Wearing the convertible top as a tied top was a perfect pre and post yoga cover up. I wore it was a fitted yoga tank and some 3/4 length cropped leggings, but you could wear it with pretty much any sort of workout gear.
There you have it – the perfect multiway top!
One of the things I love the most about encircled is that they don't cut any corners, as is common in today's world of fast fashion.  By this, I mean that all of their designs (the Everyday Twist Top included) are incredibly high-quality.
I know this convertible wrap top will stand the test of time, which is a good thing, since it'll be making frequent appearances for the next few months.
More Multiway Clothing for Travel
Have you checked out encircled's other styles yet?  I think I could pack for my next trip using only their pieces, since they seem to nail exactly what we want as women on the go…..every single time.
I've previously featured some of encircled's other multiway clothes here on the blog, including the perfect maxi dress for travel, as well as another convertible dress, some seriously comfy dressy sweatpants, that I wore for an entire epic 24 hours.
As for some icing on the cake – did you know that all of encircled's pieces are eco-friendly and made in Canada?  Check out all of their stylish goodies here.
Liked it? Pin it!