Bubbles & Bliss: Discover The Best Sparkling Wineries in Napa Valley
This site uses affiliate links and I may earn a small commission when you use my links and make a purchase, at no extra cost to you. 
Napa Valley is one of the premier wine regions in the world, and is best known for producing incredible Cabernet Sauvignon wines. But there's more to Napa than just red wines! If you're planning to visit Napa Valley and you enjoy a delicious glass of bubbles (who doesn't?), make sure to add one of these Napa Valley sparkling wineries to your Napa Valley itinerary! If you're heading to wine country, here are some of the best sparkling wineries in the region.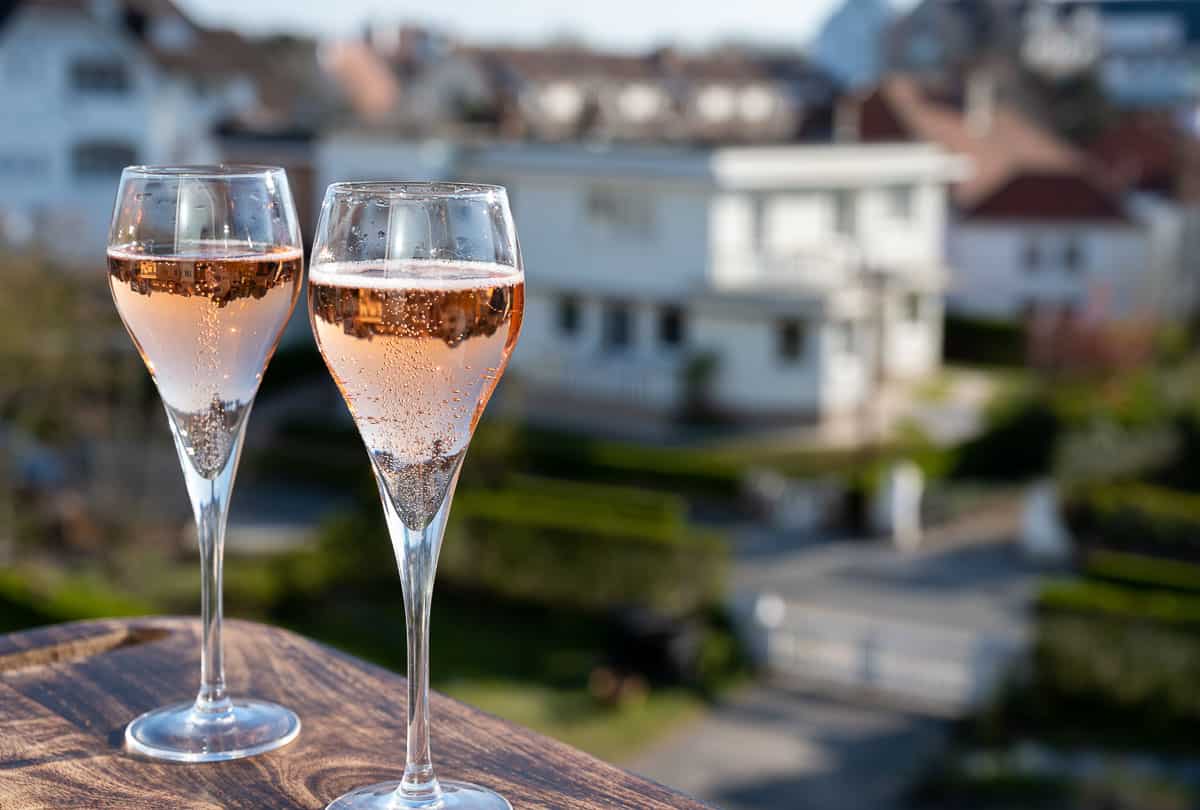 If there's one place I love to visit in California, it's Napa Valley wine country! There's nothing more indulgent than spending a relaxing day outdoors, and taking in beautiful scenery while sipping on delicious wine.
Although Napa is best known for its Cabernet Sauvignon wines, there are also some amazing sparkling wineries in Napa Valley. If you plan to visit Napa, tasting some bubbles is a great way to kick off a day of wine tasting and add some variety to your experience.
Or, you could structure your entire day around hopping from one flight of bubbly to the next. Either way – why save sparkling wine for a special occasion when you can sample it on your next trip to Napa? These are my favorite sparkling wineries to visit in Napa!
What is Sparkling Wine?
Before I dive in to my list of the best sparkling wineries in Napa, let's talk types of bubbles. People often use the terms "champagne" and "sparkling wine" interchangeably, but they actually have different meanings.
Champagne vs. Sparkling Wine
So what's the difference between Champagne and sparkling wine? In short: all Champagnes are sparkling wine, but not all sparkling wines are Champagne.
Champagne is a specific type of sparkling wine that comes from the Champagne region in France and is made using certain traditional production methods.
In order to be called Champagne, the wine must be made using a specific blend of grape varieties (Chardonnay, Pinot Noir, and Pinot Meunier grapes), and it must be produced using a traditional method known as "Methode Champenoise" which involves a secondary fermentation in the bottle.
Sparkling wine is a more general term for multiple types of wines that can be produced anywhere in the world, using a variety of grape varietals and production methods. Think Prosecco, Champagne, and Cava.
While some sparkling wines are produced using the traditional method like Champagne, others may be produced using less expensive methods like the Charmat method, where the secondary fermentation happens in a tank rather than in the bottle.
Champagne tends to be more expensive than sparkling wine due to the high production standards and limited geographic region.
Another difference between Champagne and sparkling wine is the taste. Champagne tends to have a more complex and nuanced flavor profile, with a combination of fruit, yeast, and mineral notes, while sparkling wines can vary in taste depending on the grape varietals used and the production methods employed.
What is sparkling wine from Napa called?
Sparkling wine from Napa is called just that: "sparkling wine" or "Napa Valley sparkling wine". Even though some wineries in Napa Valley do their sparkling wine production using the traditional Methode Champenoise, these wines are still considered "sparkling wine" (not Champagne) since they are produced in California rather than the Champagne region of France.
The Best Wineries for Sparkling Wines in Napa Valley
1. Domaine Carneros
Address: 1240 Duhig Rd, Napa, CA 94559
Opening Hours: Daily, 10am-5:30pm
Tastings: $40 – $60
Domaine Carneros is one of the most well-known sparkling wineries in Napa Valley. Located in the Carneros region, their wines are made using traditional methods. It's the perfect first stop on a day of wine tasting, especially if you're visiting Napa for the day from San Francisco.
The winery's estate is French chateau style, and in my opinion, it's one of the most beautiful places to taste wine in Napa. I highly recommend booking a sparkling wine tasting on the estate's outdoor terrace, where you can spend a few hours sipping on their brut and brut rosé varietals.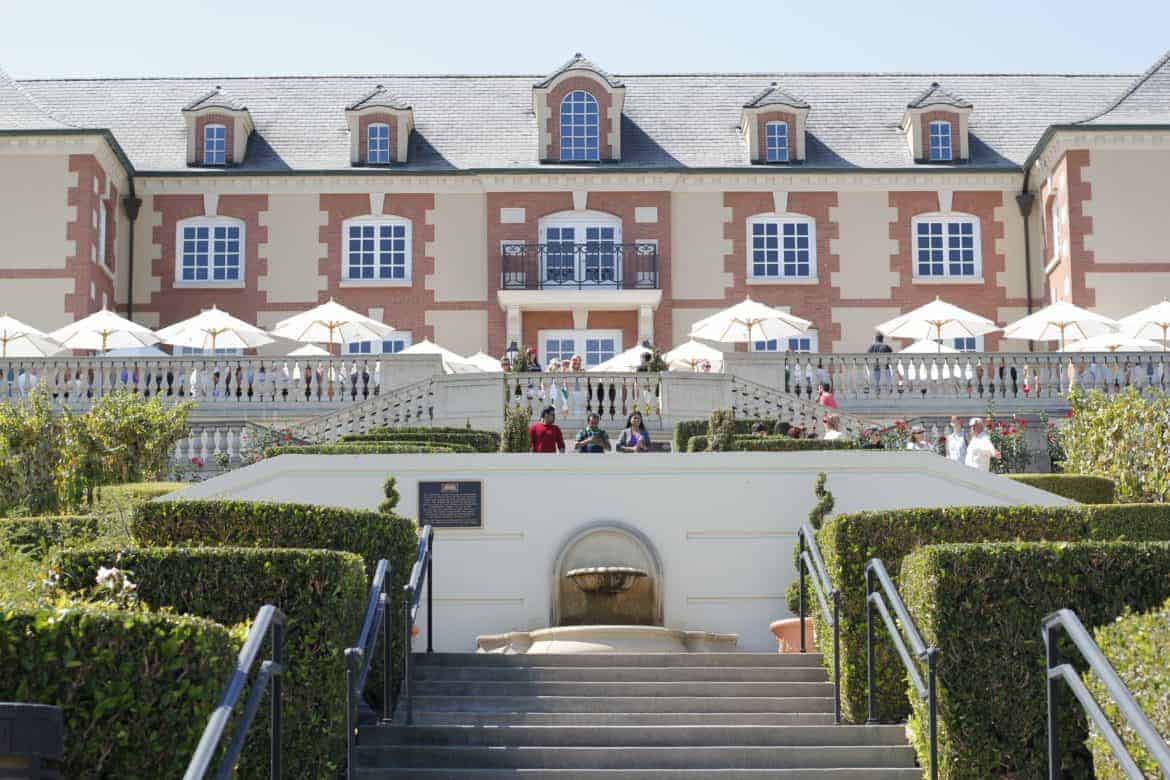 Visitors to Domaine Carneros can choose from a variety of tasting experiences, including seated tastings on the terrace, tours, and food pairings. You can also add a food pairing to your tasting flight; pairings include cheese and charcuterie, caviar, or smoked fish plates. Basically everything you'd ever dream of pairing with sparkling wines!
Even if you don't enjoy bubbles, Domaine Carneros also has plenty of other options, including a delicious Pinot Noir. They even offer a tasting that includes just red wines, so there's something for everyone.
2. Mumm Napa
Address: 8445 Silverado Trail, Rutherford, CA 94573
Opening Hours: Daily, 10am-6pm
Tastings: $40 – $75
Mumm Napa is another top sparkling winery in Napa Valley. Their tasting room offers stunning views of the surrounding vineyards, and their wines are made using a blend of traditional and modern techniques.
Mumm produces high volumes of its wines, so you've undoubtedly seen their bottles on the shelf at your local grocery store. Even so, there's nothing like going right to the source, so don't miss the chance to visit Mumm if you're in Napa.
Visitors can choose from several tasting options, including a sparkling wine flight and a tour of the winery's art collection. Private tours and tastings are also available.
Tastings take place on either the outdoor patio, or on the Oak Terrace for limited-production reserve wines served with a selection of cheeses and small snacks.
If you're up for it, I recommend doing the Oak Terrace tasting at Mumm. The portfolio on offer makes this one of the best sparkling wine tastings in Napa Valley. You'll get to taste Mumm's blanc de blancs, blanc de noirs, brut reserve rosé, as well as their DVX and DVX rosé wines (named after founding winemaker Guy Devaux).
3. Schramsberg Vineyards
Address: 1400 Schramsberg Rd, Calistoga, CA 94515
Opening Hours: Daily, 10am-4pm
Tastings: $65 – $135
If you want to taste some of the best sparkling wine in Napa Valley, head to Schramsberg. Schramsberg Vineyards is a historic winery that has been producing sparkling wines since the 1960s. Their cave tours are a popular attraction, and their wines are known for their complexity and depth of flavor.
Visitors can choose from several tasting options, including a cave tour and a tasting of their reserve wines. Flights include sparkling wines, or a mix of sparkling and red wines. Certain tastings also include a cheese pairing.
If you'd like to customize your tasting experience, you can do that, too. Schramsberg allows guests to select a total of six wines from either the Schramsberg or Davies Vineyards as part of a tailored tasting appointment ($85 per person).
4. Chandon
Address: 1 California Dr, Yountville, CA 94599
Opening Hours: Tuesday – Sunday, 10am-4pm; 11-4 on Mondays
Tastings: $55+
Chandon is part of the Moet & Chandon family of wineries, and their Napa Valley location produces some of the best sparkling wines in the region. Their tasting room features a terrace with views of the surrounding vineyards.
Chandon is the perfect sparkling wine house to visit if you're staying in Yountville, because you can easily walk to the tasting room from downtown Yountville. Currently, Chandon is undergoing renovations, however their grounds are still open on a limited basis during construction.
Visitors can choose from several different tasting flights of bubbly. You can also enjoy a flight of still wines, or sip on any of their wines by the glass or by the bottle. Better yet? Grab a few bottles to take home with you!
If you're visiting Napa with a group, Chandon also offers tasting experiences for groups from 7-12 people that include wines or a combination of wines with food.
The Best Sparkling Wineries in Sonoma
In addition to the Napa Valley wineries on this list, there are also several Sonoma wineries that specialize in sparkling wine. So if you'll be doing some wine tasting in Sonoma County, check out these top picks:
5. J Vineyards & Winery
Address: 11447 Old Redwood Hwy, Healdsburg, CA 95448
Opening Hours: Daily, 11am-5pm
Tastings: $35 – $50+
Although it's not located in Napa Valley, J Vineyards & Winery is worth a visit for their excellent sparkling wines. Most people know J Vineyards for their pinot noirs, but they winery also produces multiple sparkling wines which are delicious. I especially love their brut rosé.
Visitors can choose from several tasting options, including a Signature Tasting standing at the bar, or a Legacy tasting.
I did the Signature Tasting and recommend this for most guests, as long as you don't mind standing at the bar while you taste.
If you prefer to sit during your tasting, try the Legacy Tasting which is a more in-depth tasting where you'll be seated in the lounge and can enjoy cheese pairings with your wine.
If you're in the mood for something special, you can also book a reservation in the J Bubble Room. Here, you'll experience a five-course tasting menu paired with J wines.
Not in the mood for bubbles, or just want to try one of the winery's well-known pinot wines? You can opt for a tasting flight of their still wines, instead.
6. Gloria Ferrer
Address: 23555 Arnold Drive, Sonoma, CA 95476
Opening Hours: Daily, 10am-5pm (until 3pm on Wednesdays)
Tastings: $60+
For one more bonus addition to the list, check out Gloria Ferrer. I'm calling it a "bonus" addition since Gloria Ferrer is located in the Carneros region, which is part of Sonoma (not Napa Valley).
The bodies of water surrounding the Carneros region (the Pacific Ocean and the SF bay), along with the cool summer temps and moderate winters means that this area is the perfect environment to grow and produce sparkling wine.
Even though Gloria Ferrer is located in Carneros, I had to include it in this list since it is the first winery in the Napa/Sonoma region to produce sparkling wine!
There are tons of different ways to experiences the wines produced at Gloria Ferrer. From brunch on the outdoor terrace, to a caviar pairing, to the "Rosé Exploration" tasting (YES!!), you can select from the option that works best for your plans and tastes.
For most guests, the "Carneros Experience" is the perfect introduction to four of Gloria Ferrer's wines, and you can add on additional food or snacks to this tasting if you prefer.
Map of Napa's Best Sparkling Wine Houses
If you're planning your wine tasting trip to Napa Valley, here's my list of the best sparkling wine houses in Napa in map format. The image below is a preview; view the detailed map here.
Tips for Tasting Sparkling Wine in Napa
If you're planning to taste some bubbly while you're in Napa, here's a few things to keep in mind.
Make reservations in advance
Almost all wineries in Napa require advanced reservations. Be sure to make your bookings well in advance so that you can sip wine at all of the places on your wish list.
Tours vs. Tastings
Many wineries offer different guest experiences, including both tastings and tours. If you've never done a tour of a winery, it's a great way to learn about wine production.
One tour is usually enough, though, so don't feel as though you need to book a tour at EVERY winery you visit. One and done!
Guests Must be Over Age 21
Most wineries can only host guests over age 21. And yes, that means that kids (even infants) won't be able to join you.
If you're planning to bring children with you to Napa, be sure to check each vineyard's policy on guests' age. The same goes for pets, too. Some wineries allow dogs, but many do not, so be sure to plan ahead.
Use a Designated Driver
If you're planning on doing wine tasting in Napa, make sure to use a designated driver! If you visit several sparkling wine houses, it's easy for the tastings to add up. So please, please, please be safe and use a designated driver, book a private tour, or get around via a ride share service.
Take a Tour
To make planning and transportation super-simple, take a tour! My top recommended tours below all include include drivers, so you can relax and enjoy your visit to Napa.
Once you've had your fill of sparkling wine, why not try one of these fun things to do in Napa besides wine tasting?
Heading to Southern California? If you like sparkling wine, you'll also enjoy these awesome wineries close to Los Angeles, as well as my ultimate guide to wine tasting in Temecula!
Frequently Asked Questions
Is sparkling wine from Napa Valley California called champagne?
Sparkling wine from Napa Valley is called "Napa Valley sparkling wine". The term "Champagne" refers to wines that are produced in the Champagne region of France, using the traditional "Methode Champenoise" which involves a secondary fermentation in the bottle.
Can you taste Champagne in Napa Valley?
Champagne is a type of sparkling wine, but it is not produced at wineries in Napa. For a wine to be considered cChampagne, it must be produced in the French region of Champagne, and made using the traditional "Methode Champenoise".
There are many wineries in Napa that produce sparkling wine, which you can taste if you visit the area.
What is the best sparkling wine tasting in Napa?
If you can only choose one sparkling winery in Napa to visit, I recommend doing a tasting at Domaine Carneros.