Looking for the best reversible clothing for travel?  I've got you covered with this guide, including 7 versatile pieces that are perfect to pack for your next trip.  Read on for all of my stylish finds that will keep your suitcase light!
Posts on this blog may contain affiliate links. At no additional cost to you, if you click through an affiliate link and make a purchase, I may earn a small commission.
I always used to think that reversible clothing for travel belonged in the same category as zip-off pants.  That category being: Clothes Marketed for Travel that I Would Never Wear.
Recently though, I've seen some reversible pieces that are actually really stylish.  So I've changed my mindset when it comes to reversible clothing for travel.  Turns out that there are plenty of options for reversible women's clothing!
So much so that finding reversible clothes is now one of my favorite tips for packing light.  It's a great way to mix things up make the most of what you're bringing on a trip.
For more tips on how to pack like a rockstar, check out my post on My Best Packing Tips for Women and check out my shop for all of my favorite travel accessories and products for female travelers.
Cute Reversible Clothing for Travel
There are reversible clothing options in pretty much every category you could imagine!  A few favorites:
Reversible Jackets for Travel
My top pick in the world of reversible jackets has got to be this one.  I absolutely adore it because it's black, which obviously goes with almost anything.  It also comes in beige if that's your preference.
The jacket reverses from a leather finish to a suede finish – gorgeous!  And the draping is so chic, too.  This is the kind of jacket that you could wear with work attire, or jeans and a cute top.  Oh…and it's under $100.  If you think about it, you're really getting two jackets for the price of one.
In my opinion, the best reversible clothing for travel can transform the other pieces in your luggage into two totally different outfits.
I found this reversible jacket and it would be perfect for a work trip.  It reverses from black or white, to a black and white pattern.  Did I mention it's less than $30?  Done.  Another option is this cute bomber jacket from Intermix that reverses from shimmery pink to white.  And it's on sale, woohoo!
Looking to splurge on a reversible jacket?  This one from Akris Punto reverses between two different polka dot patterns.  So cute!
For more options on my favorite jackets for travel (and why I love them), check out this post.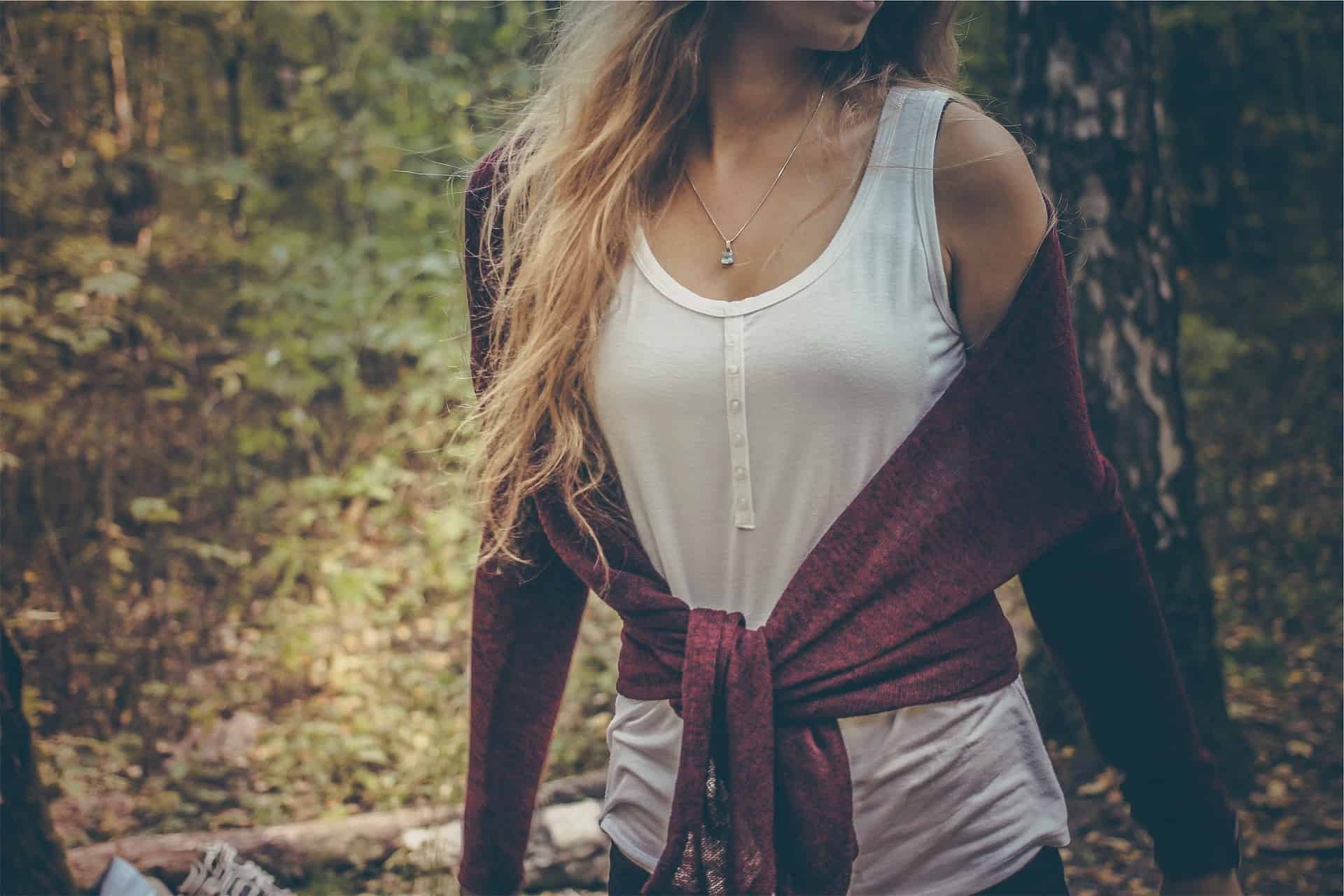 Reversible shirts
I love the plaid of this button down shirt, and it reverses to be a solid, go-with-anything neutral.
Reversible Tops for Travel
Ella Moss makes a really cute reversible blouse that switches between two different neutral steps patterns.  Perfection.  I especially love the bow at the back neckline.
For a sporty reversible top, this one is lightweight but warm, so it'd be perfect for a fall trip, or cooler weather.
Reversible Sweater: I love this draped sweater, and being someone who is always drawn to neutrals, I really like that it reverses between two different textures of gray.  This would be perfect with leggings or skinny jeans on a red eye flight!
Reversible Tank Tops and Camisoles
A great reversible sleeveless top option is this one.  Anything that reverses from black to a black and white pattern will truly go with anything you plan to pack.  Bonus that it's less than $15.
For camisoles, here's a cute option that reverses between two colors of blue and is less than $10.  Another cool reversible feature in camisoles is the ability to reverse necklines.  This camisole can be worn frontwards or backwards, which gives you the ability to choose the neckline that's best for your outfit.
Reversible Vests
A reversible vest is a great way to mix up your travel outfits.  Here's one cute option under $20 that reverses from a neutral charcoal gray to a pretty magenta, giving you endless options for what do wear while you're traveling.
This vest is another great option, because it reverses from faux fur to a sporty style.  The reversible aspect in this piece creates two totally different looks, which is exactly what you need when creating a capsule wardrobe for travel.
Reversible Dresses for Travel 
There are so many cute options for reversible dresses out there that I had a hard time narrowing down my picks!
This dress is less than $35 and can actually be worn four different ways!  Back-to-front and inside-out.  Four different outfits in one piece is an amazing find to streamline any packing list.
Here's another super simple reversible tank dress that looks like it would be really flattering and go with pretty much anything!  It's on sale for about $30 which is awesome.
Reversible Skirts for Travel
There's a ton of great options out there for reversible skirts!  Check out this one that reverses from a black and white pattern to plain black. The silhouette is super flattering, too.
Here's another option that's a reversible midi skirt.  Super cute and totally on-trend.  This skirt also converts to a dress for a great two-in-one option for travel.
Encircled – My Top Pick for Versatile Travel Clothes
Encircled makes beautiful clothes that are incredibly versatile.  A top you can wear seven different ways?  Yes please!   A cardigan that turns into a dress?  That would be their Chrysalis Cardi.  Perfect if you're looking to pack less.
Encircled's Reversible Pencil Skirt is an awesome choice for reversible skirts.  It's not only 2-color reversible, but can also be worn in two different lengths, so it's perfect if you're packing for a work trip that has a side of fun.
Reversible workout gear
Reversible workout gear seems to be pretty easy to find.  My favorite yoga leggings are from Lululemon and reverse from navy on one side to light blue on the other.  They don't sell that color combination any longer but here's another option that reverses from solid color to pattern.
UPDATE: For more reversible options, check out my latest post here, and additional posts on reversible swimwear, and reversible tote bags!
There You have it – My top Picks for Clothes that are Reversible for travel!
Liked this post? PIN IT!
Wanna Learn to Pack a Suitcase Like a Boss?
Subscribe to download my three BEST travel planning resources:
Travel outfit planner
Pre-travel checklist
Carry on packing list