Business Casual Capsule Wardrobe for Work: The Ultimate Guide
This site uses affiliate links and I may earn a small commission when you use my links and make a purchase, at no extra cost to you. 
Whether you travel constantly for work, or just work from home, having a business casual capsule wardrobe that's ready to go will help you get ready efficiently. Saving time and money always makes business sense, and it's even better if you can do so without sacrificing personal style! In this guide, I've put together a professional travel capsule wardrobe that consists of just 15 pieces. (And yes, that even includes the 2 pairs of shoes!)
What is a Business Casual Capsule Wardrobe?
Let's start with the concept of a "capsule wardrobe". A capsule wardrobe is a small collection of clothing pieces that all go together, but can be styled in many different combinations to create different looks.
A business casual capsule wardrobe is a capsule collection that consists of smart casual pieces that you can wear to the office, or on a video call if you work from home. With the pieces in a business casual capsule collection, you can create tons of different work outfits that can function for any kind of professional setting.
Update: For more examples of a capsule wardrobe, check out my summer travel capsule wardrobe, my fall travel capsule wardrobe as well as a 2023 spring capsule wardrobe. I walk you through how to put together a capsule wardrobe, piece-by-piece. For colder weather, you can check out my cold weather travel capsule collection.
Why Capsule Wardrobes Work for Travel
Capsule wardrobes are perfect for travel because they help you to pack efficiently, saving you both time and money!
I first heard about the concept of a capsule wardrobe from Caroline at Unfancy, and it struck me that this was the perfect solution for women who travel for work all of the time.
If you've read about my story, you might already know that I used to have a job in biotech, where I traveled all the time.
To make packing easier, I kept a bunch of go-to business casual pieces that I relied on trip after trip. They worked well for travel because I could create lots of smart casual options for business meetings, conferences, or presentations.
I started thinking about my own collection as a professional capsule wardrobe, so I wanted to share an example of how you can create one, too.
How Many Pieces are in a Capsule Wardrobe?
How many pieces are in a work capsule wardrobe?
As many as you want! I n general, though, try to limit your capsule wardrobe to be less than 20 items, otherwise it can get unwieldy. The purpose of the capsule is to do more with less!
I recommend using the 5-4-3-2-1 packing method to create a 15 piece capsule. This means that you capsule should include 5 tops, 4 bottoms, 3 outer layers, 2 pairs of shoes and 1 dress. Use this as a rough guide depending on your own personal style!
How to Make A Work Capsule Wardrobe
Let's start with a few tips for creating your work capsule wardrobe.
Start With Neutral Colors
When creating a business casual capsule wardrobe, start by choosing a neutral color palette. Colors like black, white, gray, navy, or camel are easy to build from because they go with almost every other color.
In my example work capsule wardrobe, I've used black, white and gray as the color palette.
Add an Accent Color
Next, add to your color palette with an accent color. The best accent colors for capsule wardrobes are ones with versatility.
Pick whatever color you like, but as an example, colors like olive green, pink, navy, and rust are perfect accent colors because they will go with any neutral palette that you've chosen, but will still add interest to your capsule.
Build Your Capsule With Versatile Pieces
When it comes to selecting the pieces in your capsule, look for clothes that have versatility. What does that mean exactly?
A piece is versatile if it can be:
Styled in either a casual or dressy way
Paired with any other item in the capsule
One of the most versatile pieces in this capsule is the black blazer I've picked out. You can wear it with jeans, a skirt, dress pants, or over a dress. And each outfit will have its own look!
15 Piece Professional Capsule Wardrobe for 2023
Let's dive in to the capsule!
I put together this professional capsule wardrobe to show you that it's possible to create a TON of different outfits with just 15 pieces.
This business capsule wardrobe has two kinds of outfits: dressier outfits for meetings, and casual but polished outfits for travel days, or dinners out with co-workers.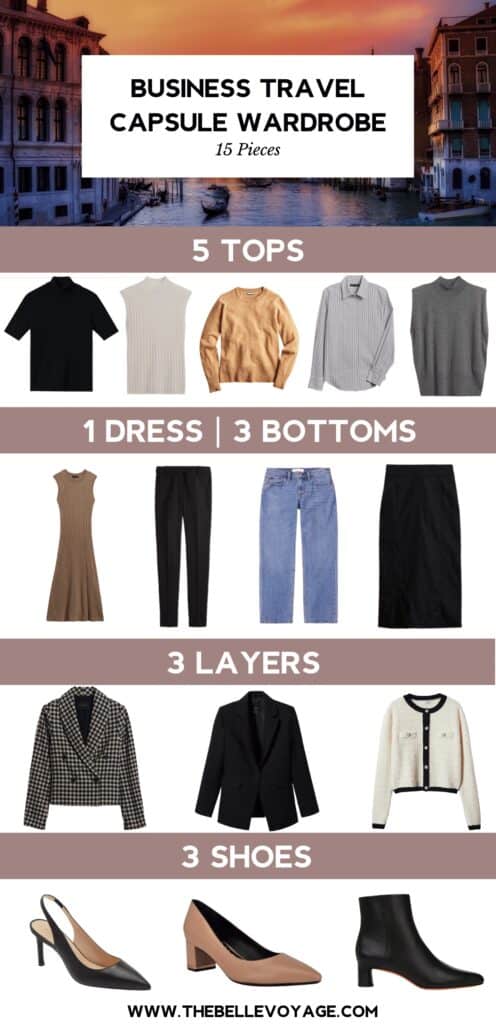 Tops: black turtleneck | cream sleeveless | camel sweater | button-down | gray sleeveless
Dress: Camel midi dress
Bottoms: black ankle pants | jeans | midi pencil skirt
Blazers: plaid | black | white with black trim
Shoes: black slingback | nude heels | ankle boots
Depending on where you're traveling and what the weather will be like, you can add pieces or make adjustments to customize the capsule so that it works for you.
I've included a few investment pieces, but have intentionally tried to make this capsule wardrobe as budget-friendly as possible, including the accessories I used to style each of the different looks below.
Creating Business Casual Looks with Your Capsule
With the capsule pieces in place, let's use the collection to create just a few of the outfit combinations that are possible with this collection.
These first two outfits are perfect for work travel days. Wear the jeans in your capsule wardrobe on the airplane, along with a few layers to keep you warm.
You should also wear your bulkiest shoes on the plane so that you don't have to pack them. In this capsule wardrobe, those are the boots.
Business Casual Travel Outfits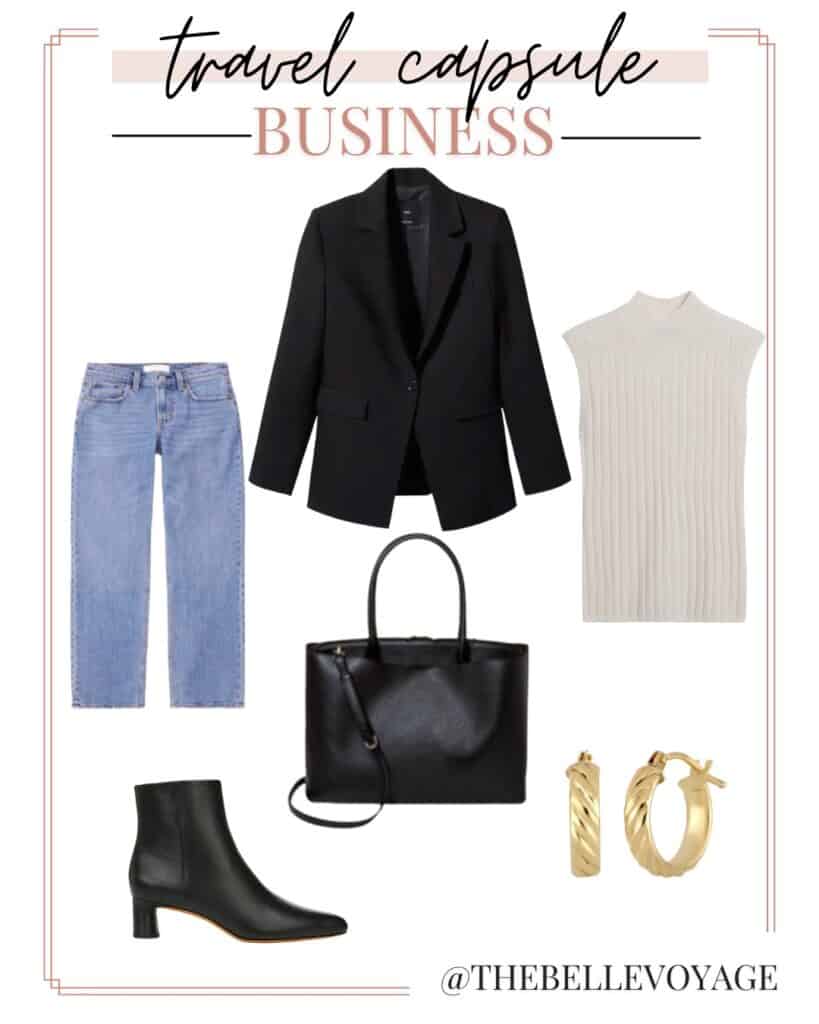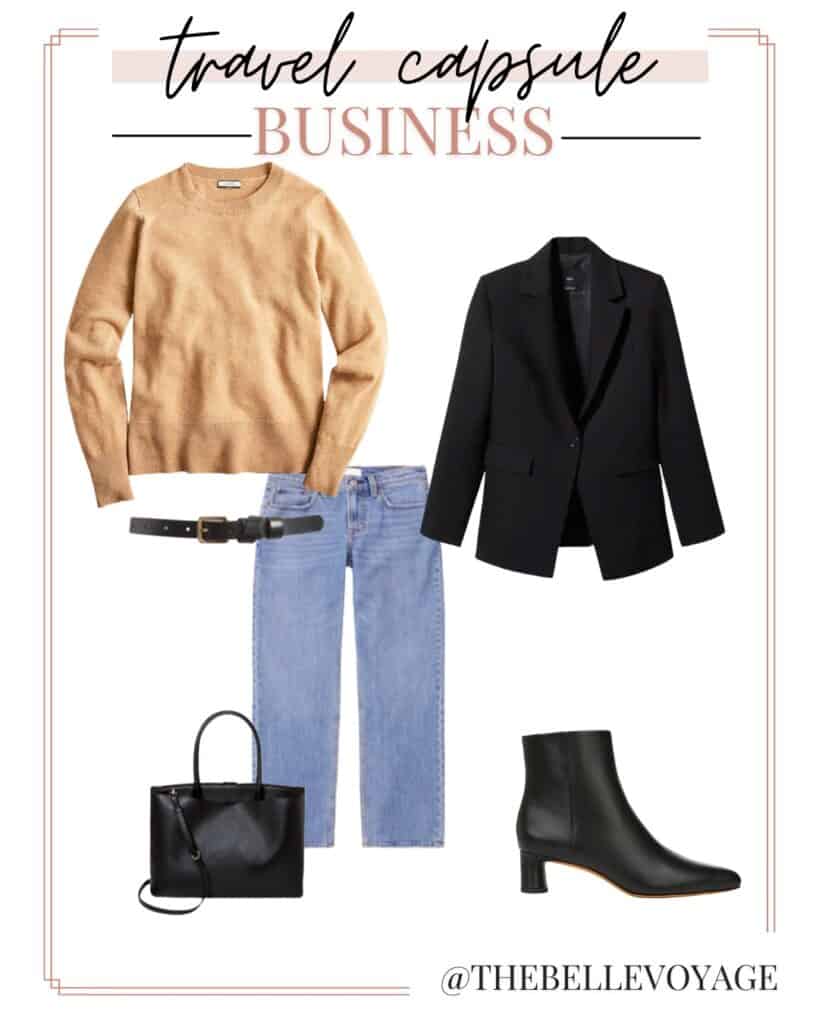 The next six outfit combinations will work for any sort of business setting, whether you're attending a conference, meeting with clients, giving a presentation, or collaborating with colleagues.
Since all of the pieces can go with almost all of the other pieces, you can use your business capsule wardrobe to create endless different options, even though you're traveling with just a carry on bag!
Professional Business Casual Outfits
These outfit ideas are just a starting point! Let your creativity flow, and you can really create endless combinations with just a few key pieces.
Tips for Packing Work Clothes
Taking your work capsule on the road? Packing clothes from your capsule wardrobe can be a challenge!
When you're trying to look professional, the last thing you want is wrinkled clothing! Here's a few tips for packing when it comes to work travel:
Make sure to pack your heaviest items at the bottom of your suitcase. That means shoes and toiletries should go on the bottom of your bag. Knit items and delicates should be rolled and packed on the very top of your bag.
Try to stick with darker pieces of clothing, or pieces with patterns. If you happen to get a stain on your clothes while you're traveling, it will be less obvious on a dark or patterned item.
Finally, stick to clothes in fabrics that are less prone to wrinkling, such as wool or other knits. Try to avoid cotton and linen if possible!
There you have it – the perfect business casual capsule wardrobe for travel!
Liked this post? PIN IT!