The Best San Diego Beachfront Hotels for Every Budget
This site uses affiliate links and I may earn a small commission when you use my links and make a purchase, at no extra cost to you. 
As a San Diego local, I get a lot of questions about where to stay in town. And pretty much every visitor wants to know – what is the best San Diego beachfront hotel? Fortunately for visitors to San Diego, there are plenty of beachfront hotel options! And there's something for just about every budget – from high-end luxury, to beachfront camping – here are the best beachfront hotels in San Diego! And if none of these fit the bill, you'll love these unique hotels in San Diego.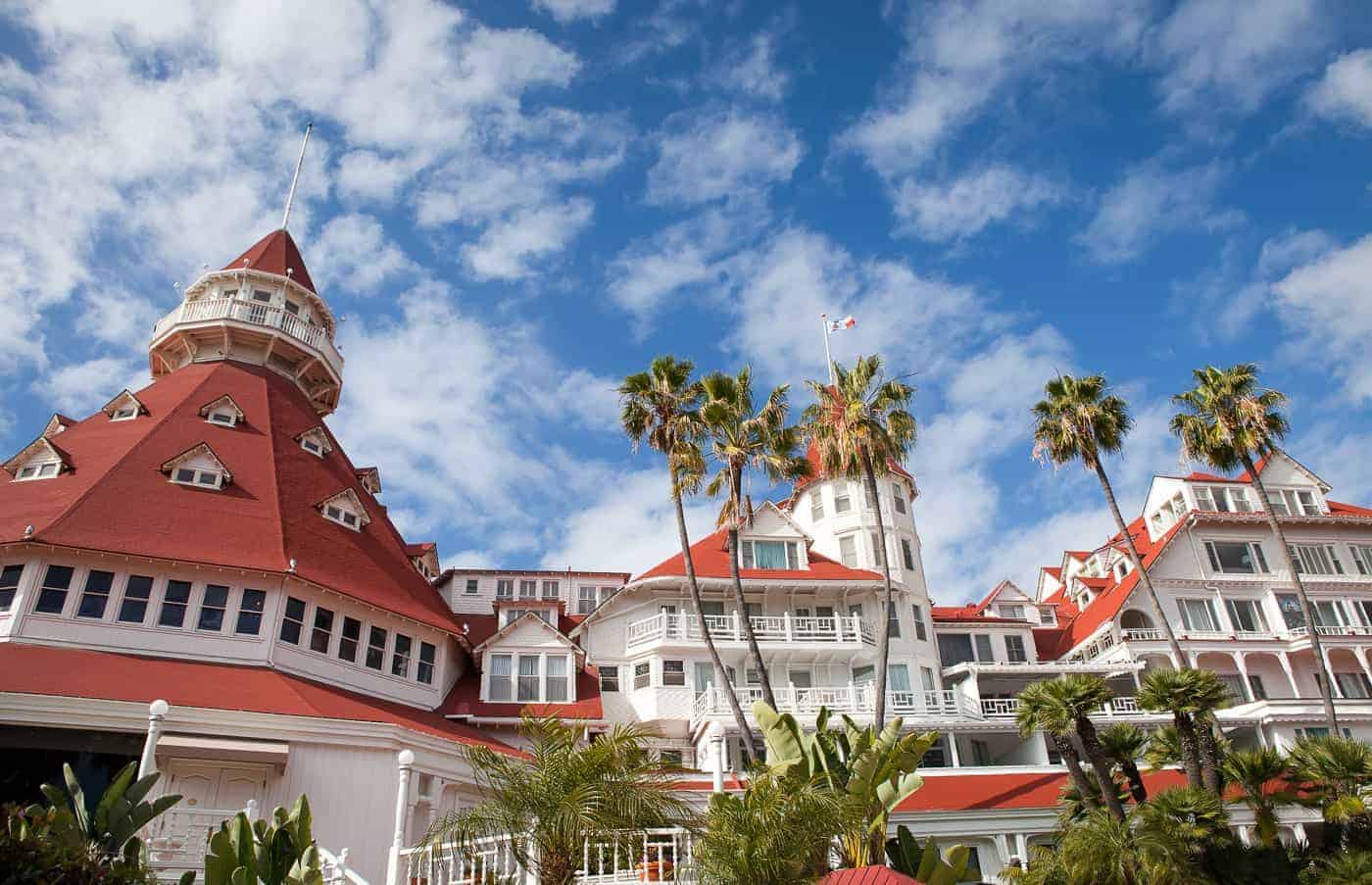 Luxury Beachfront Hotels in San Diego
Whether you're coming to San Diego for a honeymoon, or just prefer high-end accommodations, there is no shortage of beachfront resorts in San Diego!
Hotel Del Coronado – My Favorite San Diego Beachfront Hotel!
For the very best in San Diego beachfront hotels, you can't go wrong with the Hotel Del Coronado. Its red roofs are iconic to this picture-perfect island in the San Diego Bay, and the Del (as the locals call it) sits right on one of the most gorgeous beaches in San Diego.
You'll be able to walk right from your hotel room to the sand! It's also one of the best sunset spots in San Diego.
The hotel also provides beach chairs and umbrellas, so there's no need to cart heavy beach equipment around all by yourself. Win! I recommend the Hotel Del Coronado for a couples' trip or romantic getaway, but it would be great for families with kids, too.
L'Auberge
Oh L'Auberge, you classy thing. On the weekends, the lobby at L'Auberge turns into a place to see and be seen, especially during the horseracing season, given the hotel's proximity to the Del Mar Race track.
L'Auberge has a gigantic outdoor patio, complete with fire pits, and a jaw-dropping view of the ocean. The beautiful beaches of Del Mar are just steps away!
READ MORE: The Perfect 3 day San Diego Itinerary for First-Timers
Pro Travel Tip: These days, travel can be more uncertain than ever. Check for any COVID-related restrictions at your destination, and never travel without travel insurance! I recommend SafetyWing, because they have flexible + affordable insurance plans, and also cover COVID-related impacts on your trip (not all companies do)!
Midrange San Diego Beachfront Hotels
There are plenty of midrange options for beachfront lodging in San Diego. Here are my recommendations for beachfront hotels, including choices in Pacific Beach, La Jolla and Del Mar.
La Jolla Shores Hotel
There are quite a few hotels in La Jolla with gorgeous ocean views, but the only one that is truly beachfront is the La Jolla Shores Hotel. It's located smack in front of La Jolla Shores beach, and there's not a better beach in San Diego f
or families. The waves are gentle, there are BBQ and playground facilities, and there's plenty of room to spread out!
Best of all, the La Jolla Shores Hotel makes enjoying the beach hassle-free. They'll set up chairs and umbrellas for you, and even do all the shopping and setup for a beachfront BBQ in the sand!
Hotel Indigo Del Mar
With a warm and modern vibe, I love the Hotel Indigo Del Mar for its boutique, beachy feel at a reasonable price. It's located within walking distance to the village of Del Mar, a beach town that's about as cute as they come.
The views of the ocean from the hotel are just STUNNING. The worst part? You'll struggle deciding between the beach, the pool and the hotel's gorgeous spa!
Tower 23
Tower 23 is one of my favorite choices for beachfront accommodation in San Diego. The hotel is perched atop a bluff overlooking the always-happenin' Pacific Beach.
Borrow one of the hotels bikes (free for guests) and pedal along the Pacific Beach boardwalk, where the people-watching is incredible. Tower 23's restaurant, JRDN, is a great spot for happy hour and brunch, even if you're not staying there!
Crystal Pier Hotel
It truly doesn't get any more beachfront in San Diego than the Crystal Pier Hotel. Crystal Pier is one of the most unique hotels in San Diego because it is built entirely ON TOP of the ocean pier in Pacific Beach.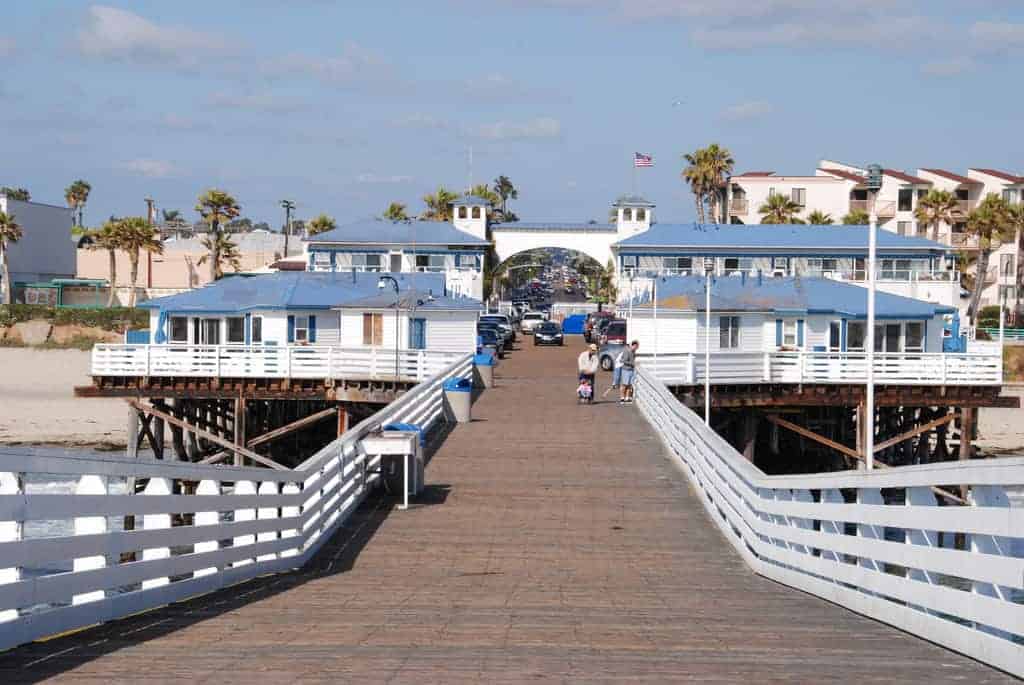 The cottages at the Crystal Pier hotel are straight-up adorable, and you truly can't get any closer to the water than staying here! An added bonus is that you'll be perfectly located within TONS of restaurants, bars, and beach rentals in Pacific Beach.
Budget Beachfront HotelS in San Diego
Budget beachfront hotels in San Diego can be a little harder to come by, since oceanfront accommodation typically comes at a premium. But that doesn't mean it doesn't exist! There are several beachfront motels in San Diego, as well a a camping option that will suit any budget.
San Diego Beachfront Motels
The Blue Sea Beach Hotel is a solid choice for budget beachfront accommodations in San Diego. Located right in the middle of this active beach, you'll be a stone's throw from the sand!
I love the hotel's pool and hot tub – both have ocean views. You can't beat that!
Oceanfront Camping in San Diego
Finally, if you're into camping, there's a fantastic beachfront campground in San Diego at San Elijo State Beach.
Book early because it fills up fast, especially during summer weekends. Not only will you be camping right on the beach, but you'll also be right across the street from VG's Donuts and the Cardiff Seaside Market, both local favorite spots for eats.
There you have it – The Best San Diego Beachfront Hotels!
Pin it for later!