Sonoma Luxury Hotels: The Fairmont Sonoma Mission Inn & Spa
This site uses affiliate links and I may earn a small commission when you use my links and make a purchase, at no extra cost to you. 
If you're looking for the finest in Sonoma luxury hotels, look no further than the Fairmont Sonoma Mission Inn & Spa. I just returned from a recent stay in Sonoma county, and I absolutely fell in love with the Fairmont! I can't wait to tell you more about the resort and the time I spent there.
From its stunning Spanish-style architecture to its phenomenal guest experience, the Fairmont Sonoma is unparalleled in terms of Sonoma valley luxury hotels, and already has me wanting to come back for more! So if you're planning on doing some Sonoma wine tasting, or need a place to stay for your Napa Valley itinerary, it doesn't get any more luxurious than the Mission Inn.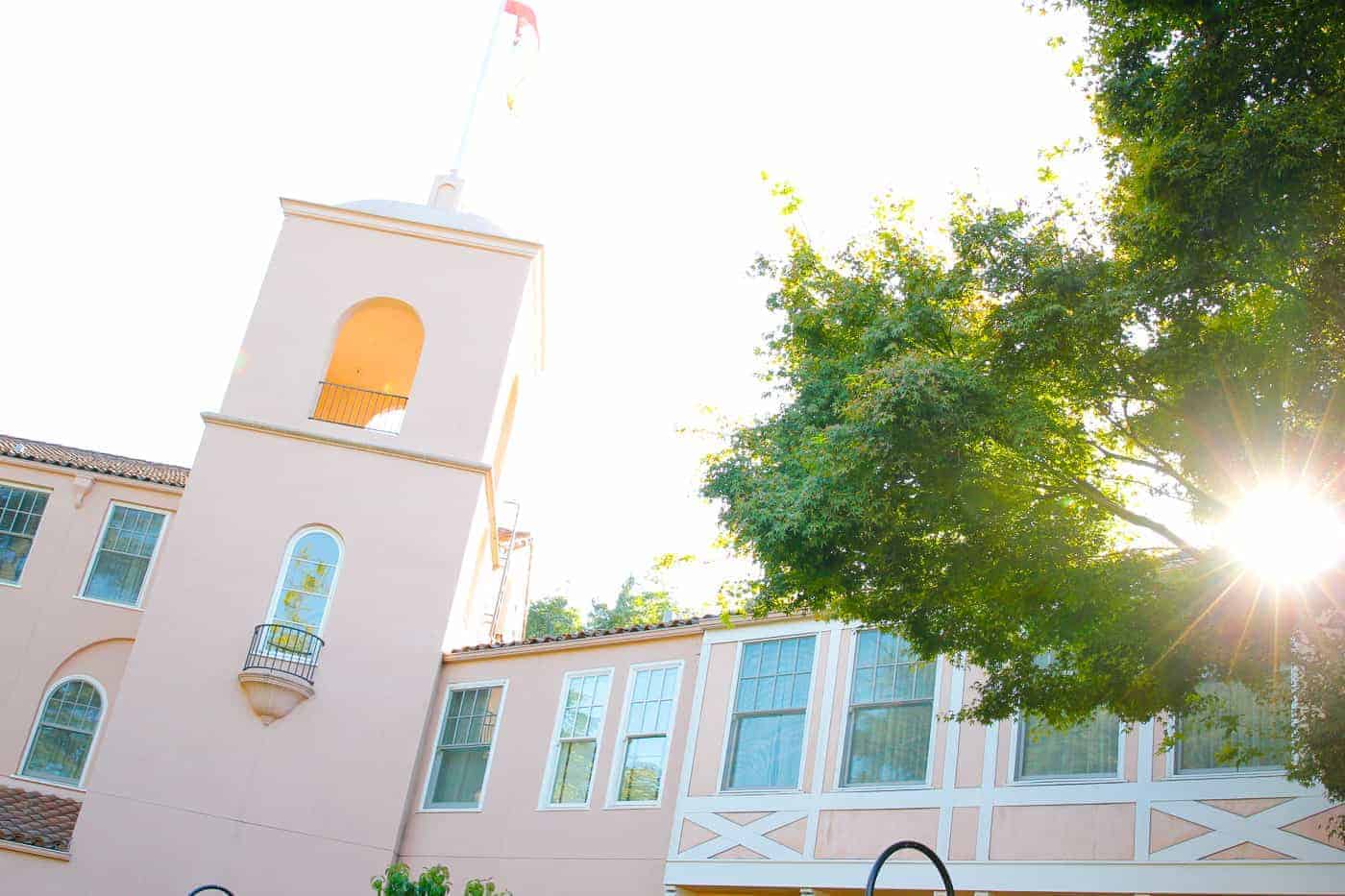 First Impressions of the Fairmont Sonoma Mission Inn & Spa
The best introductions are made over sparkling rosé, and that's exactly how the Fairmont Sonoma Mission Inn & Spa and I got acquainted. That's because a complimentary glass of bubbly is served to all guests upon arrival, a thoughtful touch that makes you feel as though your arrival on the property is celebration-worthy.
Honestly, I don't think I've ever had a more delightful start to a stay. Keep in mind that this is coming from a girl who spent over 70 nights away from home last year alone.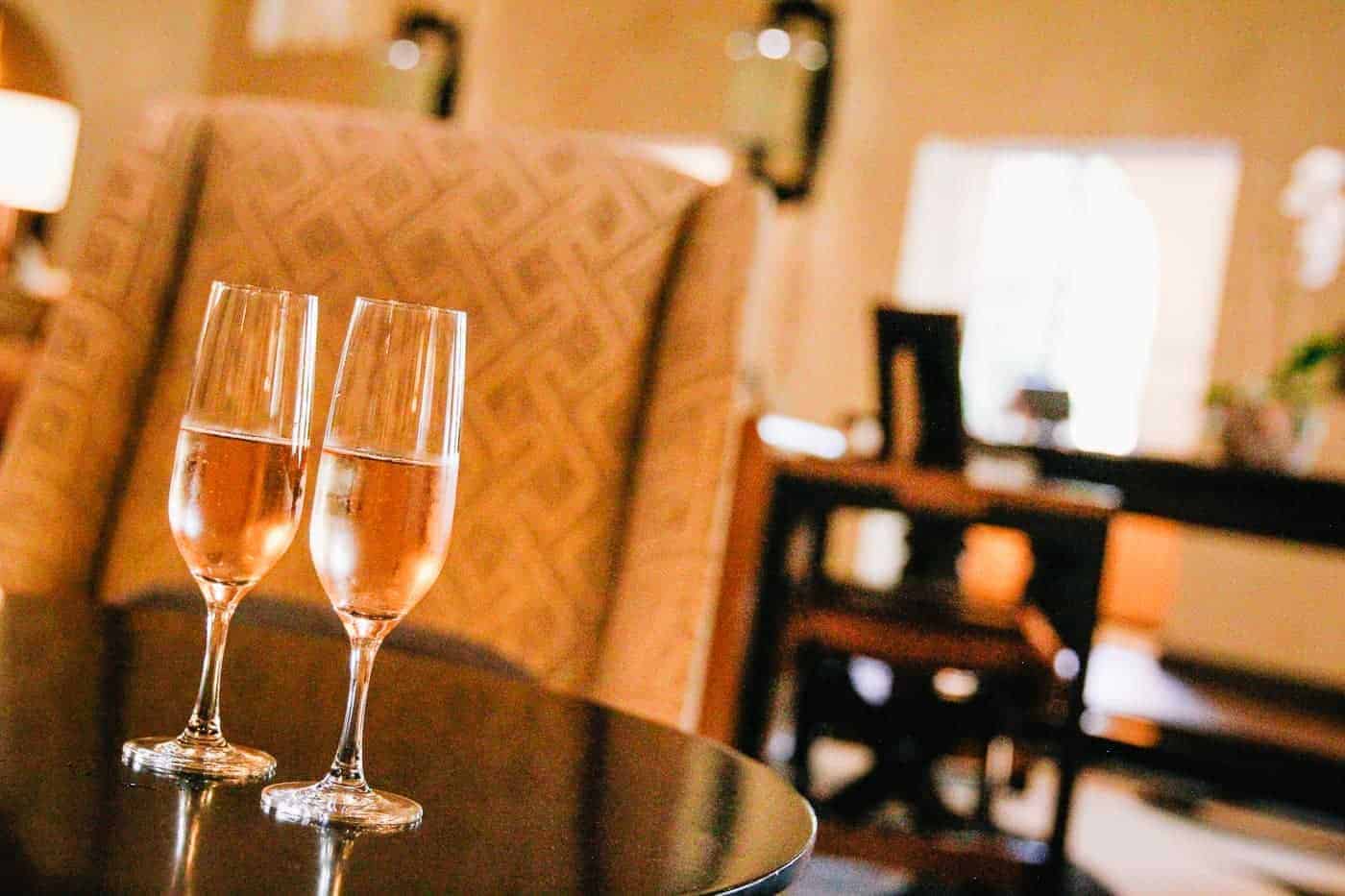 As if the bubbly wasn't enough, the front desk let us know upon checkin that we'd arrived just in time for happy hour. There aren't words more welcome when in wine country! More on the happy hour in a second.
One of the things I have come to appreciate about luxury hotels is the degree of thoughtfulness that goes into conveying a sense of hospitality to guests. This can take shape in something so subtle as the layout of a resort property.
At the Fairmont Sonoma, the resort has rustic, welcoming sitting areas scattered throughout the property – and they're made from recycled wine barrels! Every time I wandered through the sprawling, mission-style property, this setup just gave me a sense that I was invited to sit down, relax, and enjoy the company of friends and family.
This is exactly the sentiment that makes you fall in love with a hotel!
The Guest Experience at the Fairmont Sonoma
I was completely blown away by all of the activities and offerings that the Fairmont has for their guests. It made it difficult to even want to leave the resort!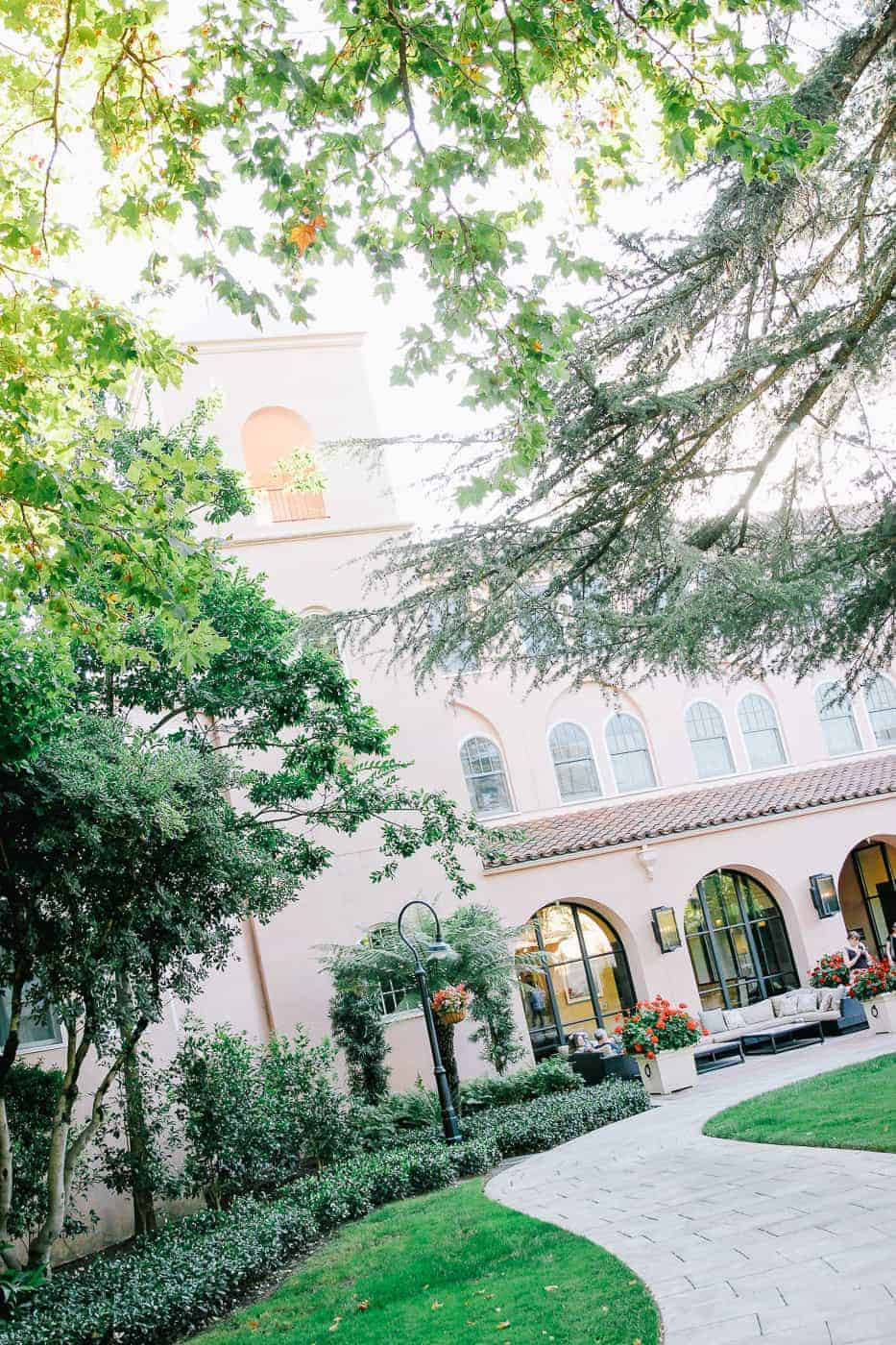 The resort hosts daily fitness and yoga classes, along with daily hikes, too. They also provide bikes for guests' use – and the Sonoma square is just a few minutes' peddle away.
Happy Hour at the Fairmont Sonoma
Every afternoon, from 4:30-5:30pm, the Fairmont Sonoma hosts a happy hour in the lobby for guests' enjoyment. During happy hour, you can sample a complimentary selection of wines from around Napa and Sonoma.
To me, no wine tasting is complete without a cheese board, and the cheese cart that is rolled out during happy hour at the Fairmont is like nothing I have ever seen before outside of France. I mean, check this out:
The selection is incredible….and ohmygosh THE CHEESE. You can pick the cheeses you want and they'll put together a custom cheese board for you to have along with you happy hour wine.
I highly recommend the Humboldt Fog! I also loved the communal setting of the happy hour, which allowed us to meet and mingle with other guests, and compare notes and suggestions on nearby wineries to visit.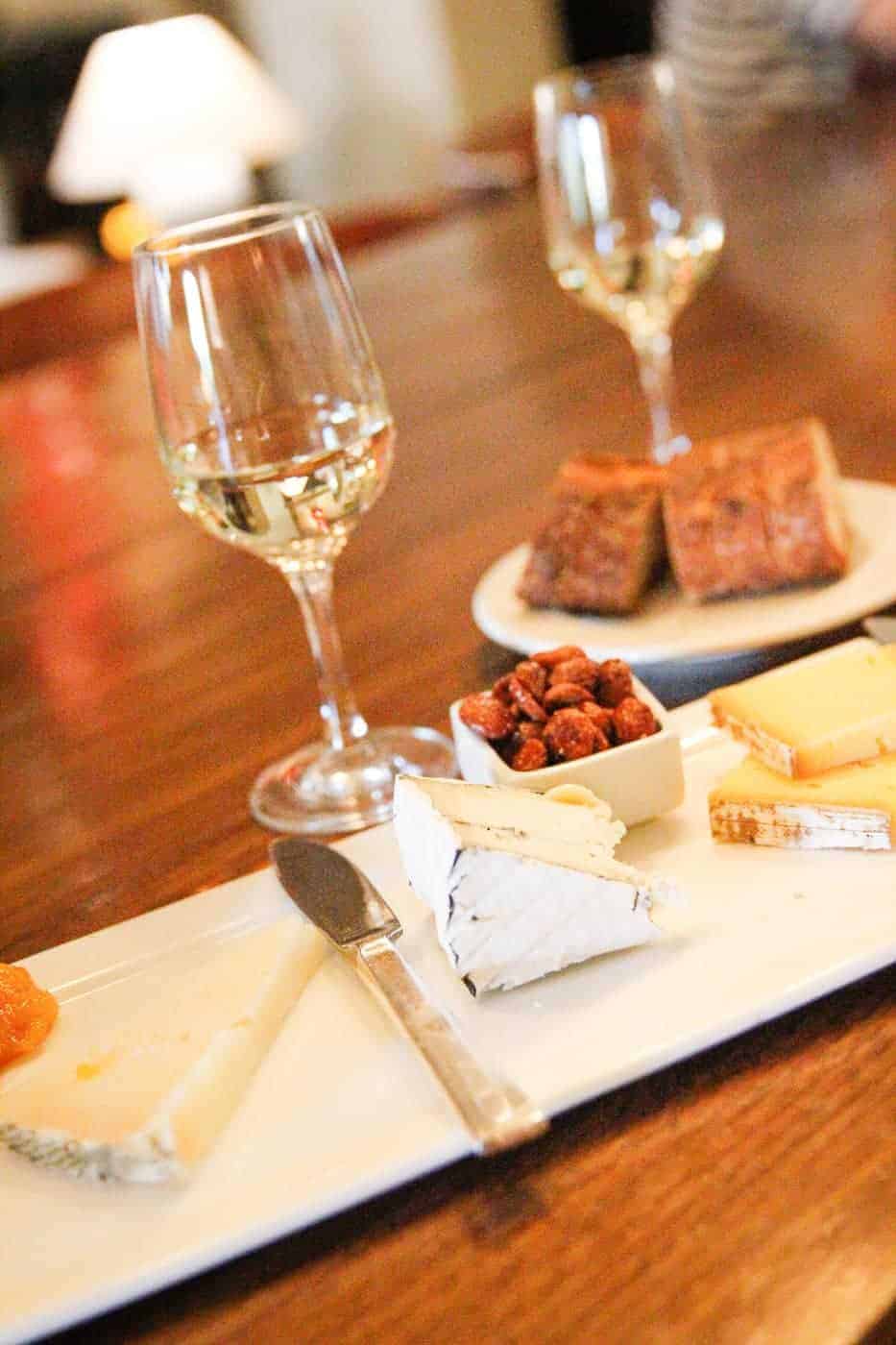 Amenities fit for the finest Sonoma Luxury Hotel
A huge reason why I never wanted to leave the Fairmont Sonoma (and can't wait to come back!) is because of the amenities that the resort offers. When it comes to Sonoma accommodations, no other property compares to the Fairmont. The spa, the on-site restaurants, the pools, and, yes…the ROOMS – were all incredible.
Willow Stream Spa: The Best Sonoma County Spa
Wine country is the perfect place to relax and rejuvenate, and the Fairmont Sonoma is home to the Willow Stream Spa, one of the very best spas in Sonoma county. As a guest, you can partake in the spa's bathing ritual, or make an appointment for one of the spa's services. Chardonnay body polish, anyone?
In addition to the spa, if you love your Sonoma hotels with a pool, the Fairmont is hands-down the place to be. I spent an entire afternoon camped out by one of the resort's four geo-thermal pools, and I've never felt so relaxed. There is poolside food and drinks service, and if cabanas are your thing, those are available to rent, too.
Oh – and what's not to like when your wine matches the view?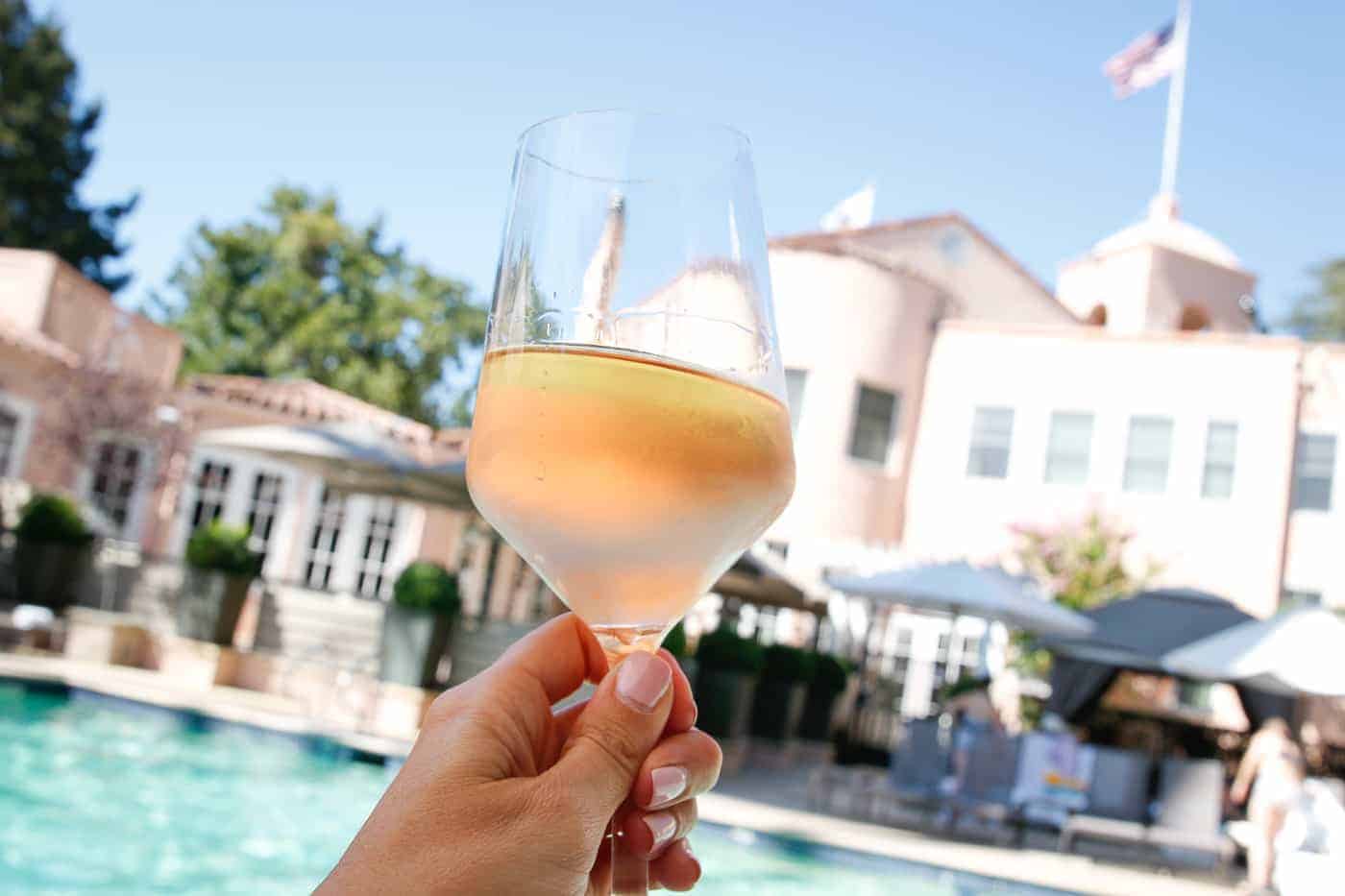 Dining at the Fairmont Sonoma
Sonoma is well-known for its food culture, and especially farm-to-table cuisine. After a day of driving around to explore wine country, staying "in" for dinner can be a welcome retreat. There aren't any Sonoma valley luxury hotels with better dining options than the Fairmont.
Santé is the Fairmont's elegant Michelin-rated restaurant, and home to wine-country style fine dining. I really wanted to get my hands on their wine list of over 500 different wines!
I was also dying to try Santé's Bloody Mary at breakfast which is so well-decorated that it's hard to believe that the glass can stay upright! Yep – the Bloody Mary at Sante comes adorned with two sliders, a lobster claw, and even more. Talk about epic!
The casual dining option at the Fairmont is the Water Tower Bar, located just off of the main pool, and perfect for a light outdoor lunch. The water tower is beautiful from underneath, no?
Complimentary Shuttle to Sonoma Square
If you're up for venturing outside of the resort for dinner, the Fairmont Sonoma is located just a few minutes' drive from the Sonoma town square, and the hotel runs a complimentary shuttle for guests to the downtown square in Sonoma.
This is a great option if you are planning on dinner around the square (I highly recommend The Girl & The Fig) or any of the tasting rooms in town.
Another plus for location is that the Fairmont is also located just off the main road that goes toward Santa Rosa, so you're perfectly-positioned to head out for a day of wine tasting.
Rooms at the Fairmont Sonoma
I am STILL DREAMING about our room at the Fairmont, where I immediately felt right at home. In terms of Sonoma luxury hotels, the rooms at the Fairmont really take the cake.
When we walked in to the room after checking in, a cold bottle of bubbly was awaiting our arrival, which was such a thoughtful welcome!
Our suite's centerpiece was a gigantic four-poster bed. What better way to wind down from a day exploring Sonoma than curling up there?
In addition to the cozy sleeping setup, I really loved the spacious bathroom in our room, which featured Le Labo products – yessssssss. I don't typically get excited about hotel bath products – but Le Labo will do it every time!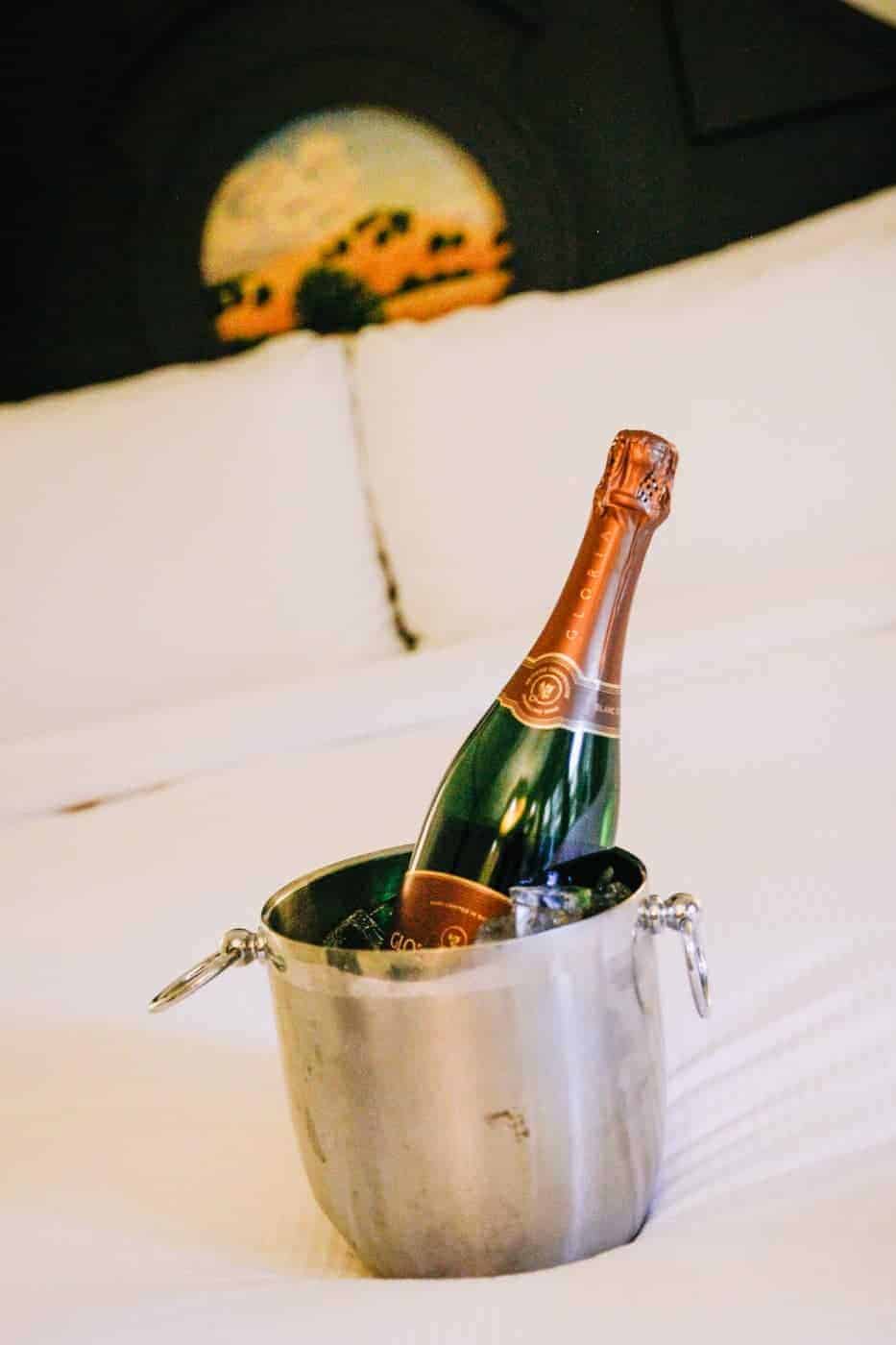 Our room also had a wood-burning fireplace, complete with a cozy seating area in front of it. We happened to be visiting during a heat wave, so didn't have the opportunity to indulge in an in-room fire, but I would love to come back and enjoy one of the Fairmont's fireplaces during a crisp fall wine country evening!
A Pet Friendly Hotel in Sonoma
Finally, an added bonus if you're looking for dog friendly hotels in Sonoma – the Fairmont is pet friendly! If only we'd had ours with us!
Nevertheless, as a dog lover, I loved seeing everyone else's four-legged friends enjoy the resort, too.
There are plenty of luxury hotels in Sonoma county to choose from, but if you're looking for a relaxing, opulent resort experience, you will absolutely love the Fairmont!
I received a complimentary stay at the Fairmont Mission Inn & Spa in exchange for a review of the property. As always, all opinions are my own.
Pin it for Later!