A Perfect Napa Valley Itinerary
This site uses affiliate links and I may earn a small commission when you use my links and make a purchase, at no extra cost to you. Many thanks for supporting this website!
Planning your Napa Valley Itinerary?
I've got you covered with this post! Napa Valley is rich with fabulous food, scenery, and of course, wine! It can be tough to figure out how to fit everything in to your Napa itinerary, so here's the lowdown on everything you need for an amazing first time in Napa Valley. I'll show you how to plan a Napa Valley wine trip that you'll remember forever.
My long weekend in Napa Valley a few weeks ago was a dream. Sweet sunny days, lazy poolside afternoons, and so much food and wine I barely fit into my jeans on the way home. In other words: a perfect trip.
It definitely didn't start out that way. Planning the perfect Napa Valley itinerary took some work, so I'm here to help you plan your trip based on everything I learned!
ANd if you love wine tasting in California, you'll also love my travel guide to Paso Robles, California.
Planning The Perfect Napa Valley Itinerary
When I started planning our trip, I was completely OVERWHELMED. So many wineries, so many restaurants, so many towns, and everyone I talked to either told me to go/stay/eat/drink somewhere different than the person before, or advised me to just "drink what I like".
Well….I just like drinking wine.
Truthfully, I'm not super picky. I mean…I can taste the difference between boxed wine and "good" wine, but that's about it. What can I say, I have a Midwestern palette.
But there were So. Many. Options. Where to stay, what to eat, what to drink, what to do.
Just….WHAT.
So finally, I sat down with someone I know who has been to Napa a zillion times and who is usually spot-on in terms of recommendations. He pretty much planned most of the trip, and put together an amazing Napa itinerary. True to form, everywhere he recommended was fantastic.
So I wanted to pay it forward in this post in case anyone else out there experiences Napa planning anxiety! Here's a little peek into our long weekend Napa Valley itinerary to keep in your back pocket for inspiration the next time you're headed to wine country.
Pro Travel Tip: These days, travel can be more uncertain than ever. Check for any COVID-related restrictions at your destination, and never travel without travel insurance! I recommend SafetyWing, because they have flexible + affordable insurance plans, and also cover COVID-related impacts on your trip (not all companies do)!
Before you do anything else:
Get yourself one of these. Less than ten bucks and I promise you'll need it on your weekend in Napa!
All set? Here we go…
Napa Itinerary Day 1: Hotel Yountville, Bouchon, Bubbly & Bottega
Check into the Hotel Yountville with the understanding that you will probably never want to check out.
A few of the things that made me want to stay forever: a gorgeous pool with cabanas to relax in, cozy fireplaces everywhere you turn, and a stunning hotel lobby where they have a complimentary wine happy hour every night (Thursday – Saturday) from a different vineyard.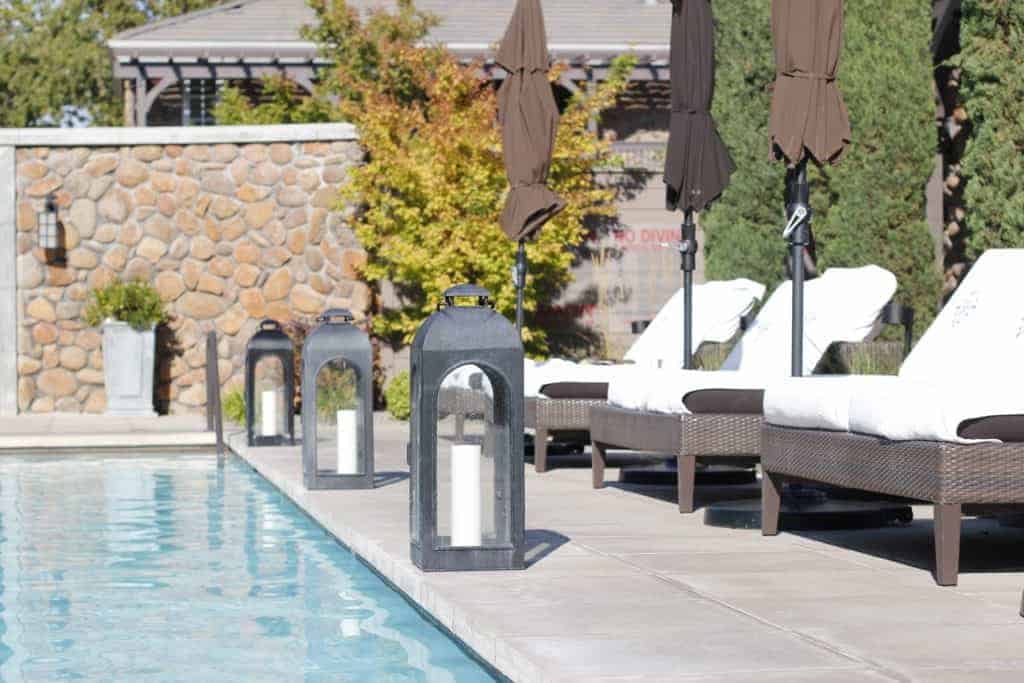 I felt so relaxed and peaceful at this hotel and I'm so grateful we were able to spend three nights there. If you're a guest at the Hotel Yountville, they have a looooong list of vineyards where tastings are complimentary – which can be a real bonus because the tasting fees can definitely start to add up.
Here's the lay of the land: Yountville is located right in the middle of Napa Valley so it's well-located for anything you might want to visit while you're there, and it's also home to many of the area's best restaurants. The best part of staying in Yountville is that you can walk to dinner every night (in other words: no driving involved).
Start off the day with brunch at Bouchon Bistro and come hungry. The fried chicken and waffles are OMG amazing, and if you have room for the cheese plate – do it.
Walk off brunch by strolling through the shops in adorable downtown Yountville and then walk over to Domaine Chandon for some sparking wine tasting to toast the beginning of an awesome weekend. For the afternoon, head back to the hotel to grab their free bikes and take an afternoon ride along the bike path that's right by the hotel.
Hit up the Hotel Yountville's happy hour and then head to Bottega for some delicious Italian food. If you're not tired after dinner, the bar at Bottega is a lot of fun late-night. This entire day doesn't require ANY driving so enjoy all the wine you like!
How to Pack Wine in Your Checked Luggage
Looking for the best way to get your wine home? It is often cheaper to check your luggage on a flight than it is to ship home from a winery!
You can safely pack wine bottles in your checked bags using these WineSkin bags. I love them because they're lightweight and will protect your wine (and your clothes!) while saving you money.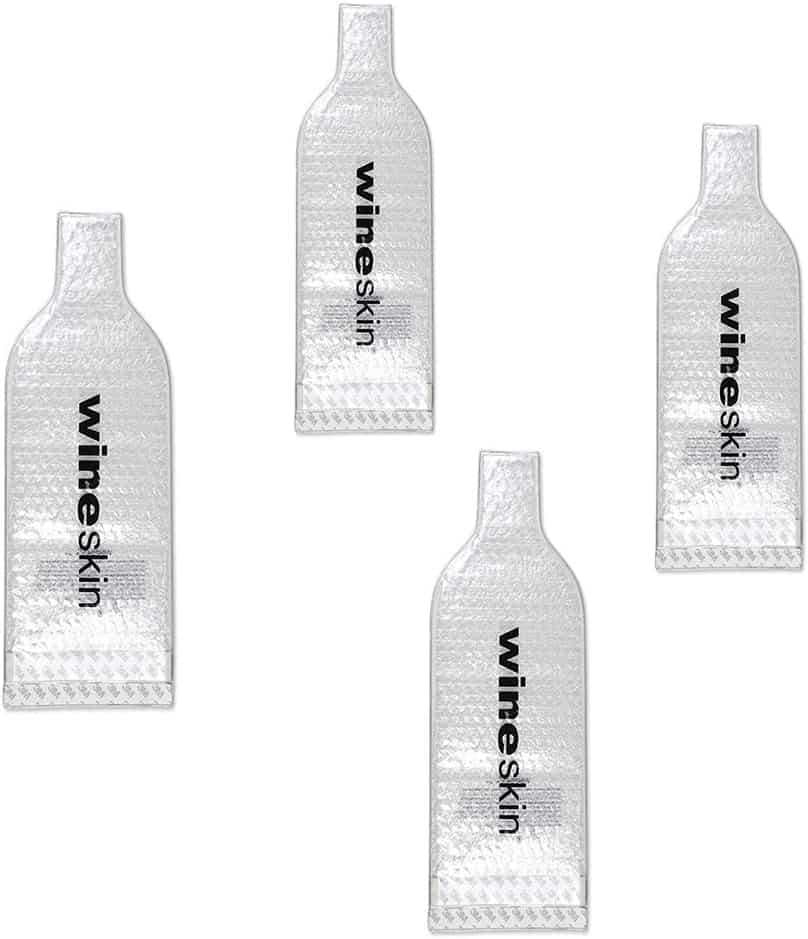 Napa Valley Itinerary Day 2: Bring on The Food & Wine
Begins at Bouchon Bakery – located right next to the restaurant itself and home to delicious pastries and also caffeine (the breakfast of champions).
After breakfast, drive north to Frog's Leap and enjoy tasting their wines on their back porch overlooking their garden, stroll through the barns that house their barrels and say hi to John, the owner, who's probably keepin' in real by grilling lunch for everyone and hanging out with his dog Abbie. Check out his story and get a glimpse of his personality here – it'll make you love their wine even more.
Rustic setting at Frog's Leap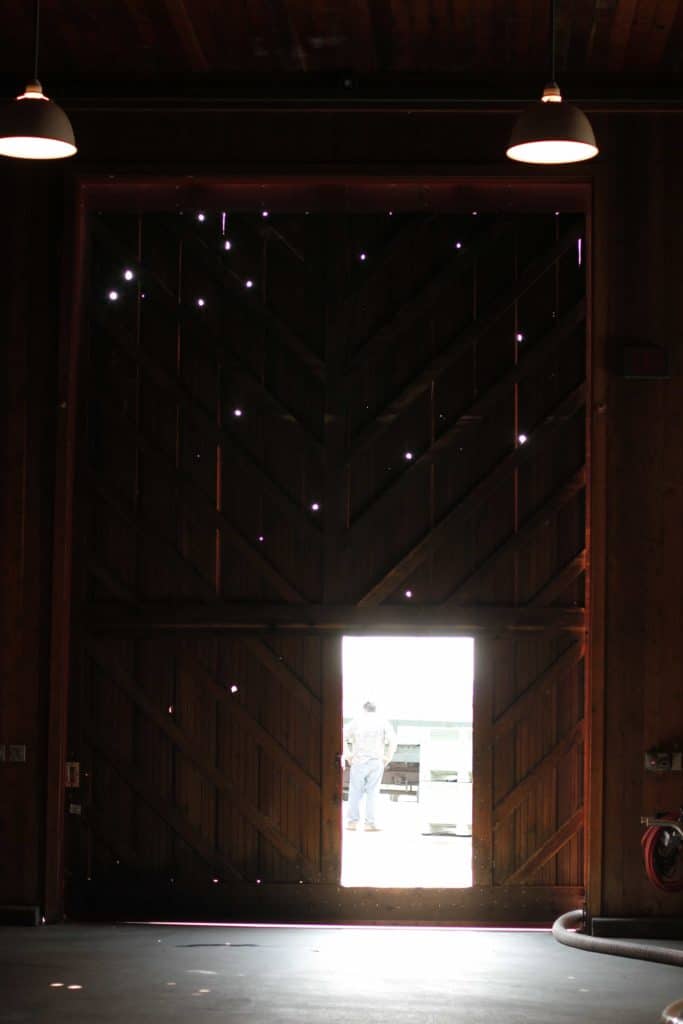 Sky full of stars: a pretty peek into one of the barns
Roll out the barrels!
John, the owner of Frog's Leap, grillin' up a storm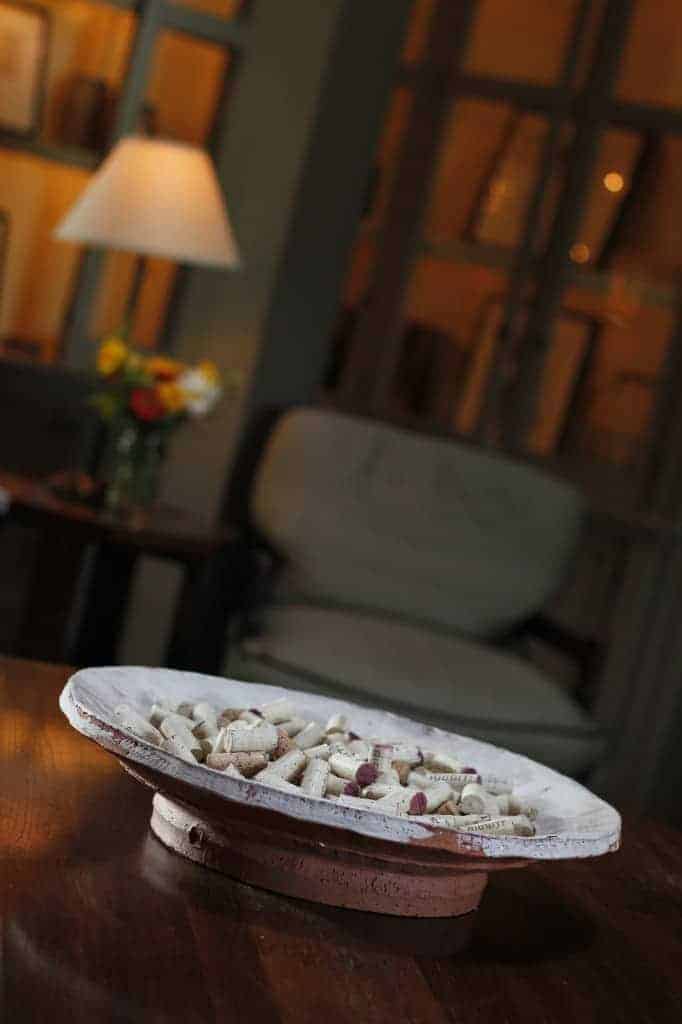 Inside the Frog's Leap farmhouse
Keep driving north into downtown St. Helena for lunch at Farmstead, Tra Vigne or Archetype. Walk off lunch with a wander through town and stop at Woodhouse Chocolate for a chocolate or two. YUM. For the afternoon, head back south to Nickel & Nickel for a tour and tasting. This is one of the best tours in Napa and they'll take you down into their wine caves that run below the property. The wine is spendy but all the more reason why it's fun to taste.
Beautiful buildings at Nickel & Nickel
So pretty and peaceful on the back patio
Head back to the hotel to freshen up before walking to dinner at Bistro Jeanty for tasty French food (the creme brulee is soooo good) followed by a nightcap at Lucy at Bardessono.

Napa Itinerary Day 3: Darioush & More Bubbly
If you can manage to eat more in the morning (then I know we'll be friends), grab more pastries and coffee from Bouchon Bakery (once you start, you can't stop).
READ MORE: San Francisco, California – The Perfect Itinerary for First-Timers
Today you're headed south. Drive to Darioush, a winery with the most striking and dramatic architecture you will see anywhere in Napa. Yes, you will probably think you're arriving at a theme park when you show up. Taste the wines at the bar and then wander around the main area – where you can buy the wine (obvs) as well as other cute little gifts.
Entrance to Darioush. Whoa.
Afterwards, head further south over to the Carneros region and to Domaine Carneros to taste a flight of sparking wines. Domaine Carneros is another impressive sight to see and it's easy to spend a few hours hanging out on the patio with a cheese plate and lotsa bubbly.
Flight of sparkling wines + cheese is about all it takes to make me happy
View from the patio at Domaine Carneros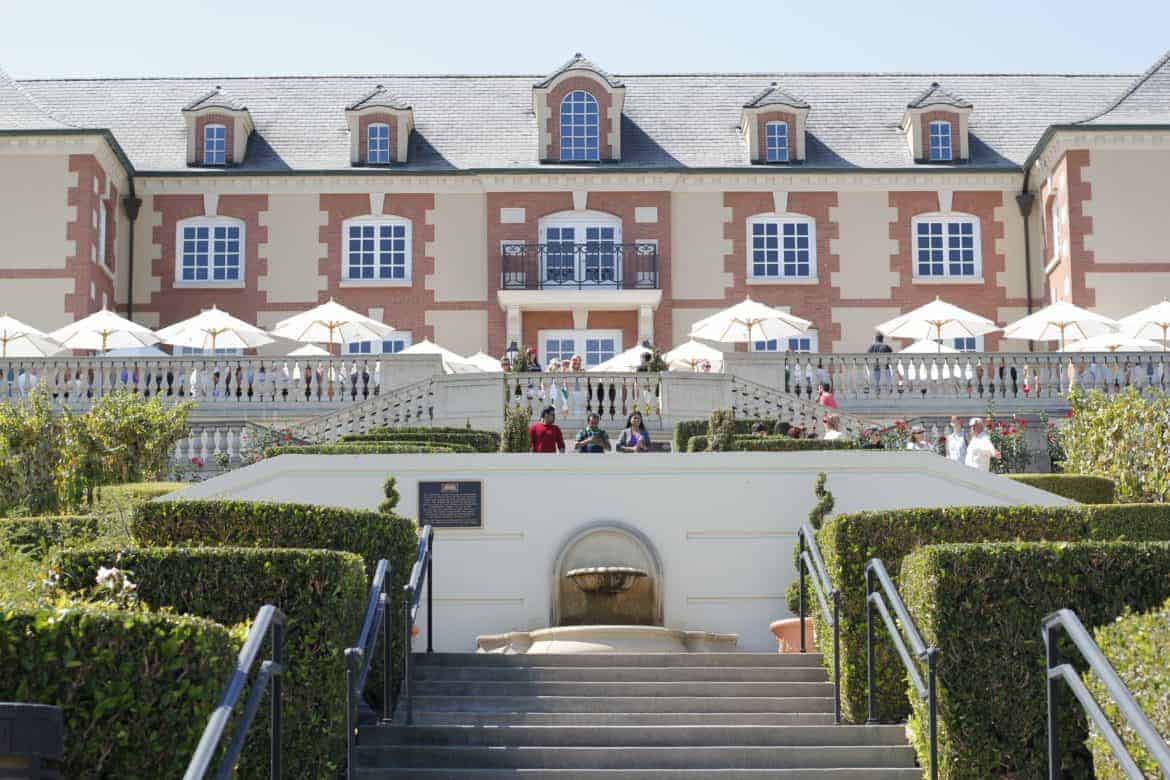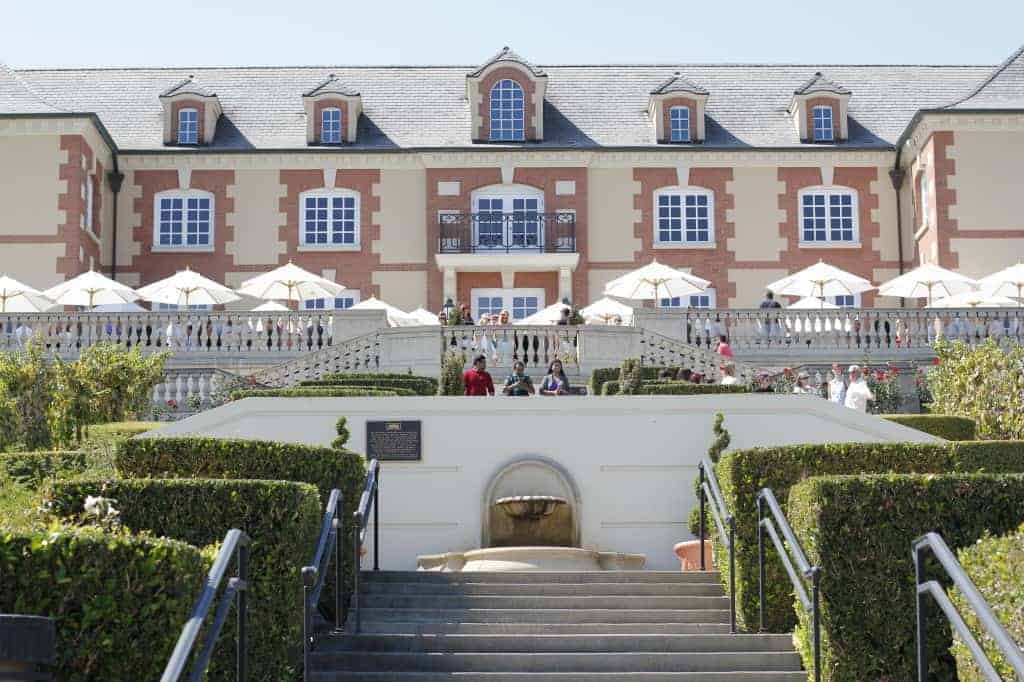 Beautiful Domaine Carneros
Next, head back to the hotel to spend the afternoon laying poolside in a cabana. Heaven. Get cleaned up in time to walk to dinner at Redd. This was my favorite restaurant so I definitely recommend it!
End the evening fireside at the hotel lobby with a glass of wine in hand, while planning your next trip to Napa.

Napa Valley Travel Tips
Share tastings…and entrees! All of the wine and food adds up FAST and if you're like me, you'll want to sample everything and not miss out because you're full. We made the mistake of not doing this the first day and we were ridiculously full and also over served. Anywhere you taste they will have a container to pour out the wine after you taste it, so never hesitate to do that – many people do.
Many of the wineries have multiple options for visiting: wine tastings, tours, tastings with cheese, tastings with lunch, etc. You'll decide what's right for your trip but I would say that one tour is probably enough. Otherwise it gets pretty repetitive.
If you're flying there, check out flying into Sacramento. It's equidistant from flying into Oakland but you won't have to deal with city traffic. The Santa Rosa airport is also a good option.
Build some downtime into your schedule. Two or three wineries per day is PLENTY. One of my favorite afternoons in Napa was the day I spent lazing by the pool for a few hours. It's a great place to just relax and take a slow pace instead of racing from one place to the next.
Definitely make tasting appointments ahead of time, especially if you're with a large group. At many places, appointments are required.
What To Pack for Napa
For more info, check out my post: My Napa Packing List
Napa is pretty casual, with a few exceptions of restaurants where you wouldn't look out of place dressed up. I wore sundresses and maxidresses during the day, and jeans and a nicer top to dinners. No matter the season, it cools off at night so definitely bring a sweater or jacket if you'll be out and about at night (which you should be)!
There You Have it – The Perfect Napa Valley Itinerary!
Need More Packing Tips?
For more packing tips, I've rounded up My Best Packing Tips for Women.
Liked this post? PIN IT!
Wanna Plan Your Napa Trip in Under Five Minutes?
Sign up to download my list of all the BEST wineries and restaurants in Napa!