More Than Just Wine: Exploring the Top Things to Do in Napa Besides Wine Tasting
This site uses affiliate links and I may earn a small commission when you use my links and make a purchase, at no extra cost to you. 
Napa Valley is famous for its wineries, but there's more to this beautiful region than just wine tasting. If you're looking for things to do in Napa Valley besides wine tasting, you've come to the right place! Here are some of the top unique activities and attractions to enjoy in Napa Valley (that don't include wine)!
What Is There to do in Napa Other Than Wine Tasting?
When people think about going to Napa Valley, it's often associated with wine tasting. But maybe you're looking for some variety in your activities, or maybe you're visiting Napa with kids. Maybe you had too much wine YESTERDAY. Or maybe wine is just not your thing!
The good news is that there are plenty of things to do in Napa besides wine tasting. Even if you never set foot in a winery while you're in wine country, you will still have an amazing trip. Here are a few of my top recommendations for unique things to do in Napa!
1. Hot Air Balloon Ride
Wineries aren't the only places in Napa with amazing views. Napa Valley is stunning from the ground, but it's even more breathtaking from the air.
Hot air balloon rides are a popular activity in Napa Valley, providing visitors with incredible views of the vineyards and rolling hills.
There are several companies that offer hot air balloon rides in Napa Valley, and I've included a few recommendations below for specifics. Most hot air balloon rides in Napa last for about an hour, so plan the rest of your day accordingly.
Balloon rides can be booked as part of a group ride which is more economical, or you can pay a premium to take a private ride.
Top tip: I recommend doing either a sunrise or a sunset balloon ride for the best views. Sunrise and sunset are also the best times of day to take photos.
2. Visit a Spa
There's nothing more indulgent than spending a day at the spa! This might be my favorite activity in Napa besides wine tasting. I will happily sign up for a massage, thanksverymuch.
Napa Valley is known for its luxurious spas, offering a range of treatments. Honestly, it can be hard to choose what to do!
From mineral baths to massages, there's truly something for everyone at the spas in Napa Valley.
Some of the top spas in the Napa region are:
Top tip: There's more to a spa day than just your treatment. Plan on spending your entire day enjoying all of the spa's amenities, too!
Most of the spas in Napa are quite upscale, and they offer lots of different amenities for guests to enjoy before or after their spa treatments. Soak in a hot tub, lounge in a sauna, or just lay by the pool.
3. Take a Hike
Napa Valley's gorgeous scenery and mild climate make the area a great spot for hiking. Napa is home to several beautiful hiking trails, with a range of length and difficulty. Check out these recommended hikes if you're looking to explore the trails while you're in wine country:
Skyline Wilderness Park: Located a quick 10 minute drive from downtown Napa, Skyline Wilderness Park has over 25 miles of trails to suit all skill levels. For amazing views, take the main trail to Lake Marie, and loop back (approximately 6.5 miles).
Alston Park: For an easier hike, or if you're traveling with kids, check out the Alston Park Loop trail in Alston Park. Located a 10 minute drive from downtown Napa, this 3 mile trail will take about an hour to complete.
Top tip: Make sure to pack comfortable shoes if you're planning to hike while you're in Napa, and don't forget a hat and sunscreen! Many of the trails in Napa are exposed (i.e. unshaded), and the sun can be quite strong, especially during the summer months.
4. Visit the Petrified Forest
4100 Petrified Forest Road, Calistoga CA 94515
Open daily 9:00am – 5:00pm
Admission: Adults $12; Kids over 6 $6-8
If you want a unique activity in Napa, head north towards Calistoga and check out The Petrified Forest. The Petrified Forest is the only one of its kind in California, and has the largest petrified trees in the world.
This ancient forest contains petrified trees that are millions of years old, preserved in volcanic ash. Visitors can take a self-guided tour of the forest which will take about an hour to complete.
Top Tip: arrive before 4:00pm so that you can complete the walking trail before the forest closes for the day.
5. Visit a Farmers Market
1100 West Street, Napa CA 94559
Open Tuesdays (April – December) and Saturdays (year-round) 8:00am – 12:00pm
Napa Valley is known for its delicious food, and there's no better way to experience it than by visiting a farmers market. The Napa Farmers Market is open every Tuesday and Saturday, offering visitors the chance to sample fresh produce, artisanal cheeses, and other local specialties.
In addition to sampling some delicious treats, you'll also be supporting the local farmers in the area, many of whom have had a difficult year due to the extreme weather in California. The Saturday market is open year-round, while the Tuesday market is open April – December.
Top tip: Pets are not allowed at certified farmers' markets in California, with the exception of trained service animals.
6. Take a Cooking Class
If you're a foodie, why not learn to cook while you're in wine country? Napa Valley is home to several cooking schools that offer classes in everything from basic techniques to advanced cuisine.
The Culinary Institute of America and the Silverado Cooking School are two top options for cooking classes in Napa Valley.
Classes typically last around 3 hours and are built around a theme, or seasonal produce. They are only offered several times per week and can book up quickly, so make sure to book well ahead of time.
Top tip: If you have any dietary restrictions or allergies, make sure to note this when you book, so that the school can plan any necessary adjustments to your menu.
7. Explore Downtown Napa
Downtown Napa is a charming and vibrant area, filled with shops, restaurants, and galleries. Visitors can stroll along the riverfront, explore the local art scene, and sample some of the region's best cuisine.
Be sure to check out the Napa Art Walk, a free outdoor art exhibition featuring sculptures and installations by local artists.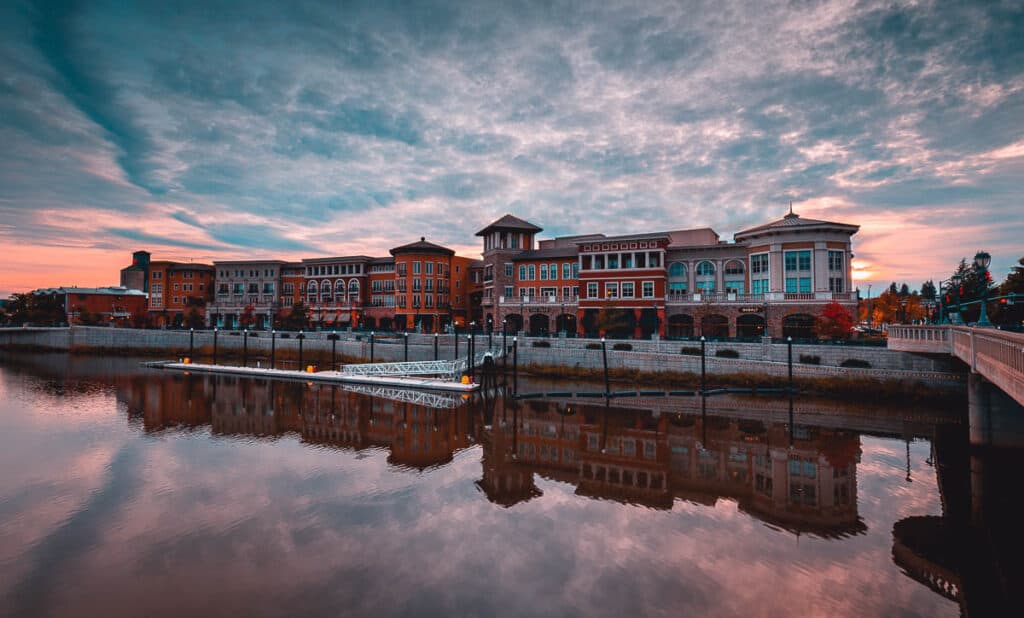 You can also stroll over to First Street Napa: Artist Alley, where you can check out eight large-scale murals and art installations from across the Bay Area, as well as live performances throughout the day.
Top tip: Parking in downtown Napa is plentiful, with ample street parking, as well as multiple lots and garages. Wherever you park, be sure to note the time limit. Some lots are 3-hour parking while others offer all day parking.
8. Visit Castello di Amorosa
4045 St Helena Hwy, Calistoga, CA 94515
Open by reservation 10:00am – 5:00pm
Admission: $50+
Yes, there's a castle in Napa! OK, kind of.
Castello di Amorosa (castle of love) is a castle-style winery located in the heart of Napa Valley. But even if you're not interested in wine tasting, it is a unique attraction that is still worth a visit.
Located in between Calistoga and St. Helena, the castle is modeled after a 14th-century Tuscan castle and features 107 rooms, a drawbridge, and even a torture chamber! Visitors can take a guided tour of the castle and learn about its history and architecture.
Non Alcoholic Wine Tasting in Napa
Tours of Castello di Amorosa include a wine tasting however the winery offers a non-alcoholic wine tasting, too! Guests can do a Muscat grape juice tasting instead of a traditional wine tasting. Love it!
Top tip: Castello di Amorosa is open by reservation only, so make sure to book ahead of time.
9. Take a Bike Tour
Biking is a popular activity in Napa Valley, with several companies offering guided bike tours through the vineyards and countryside.
Biking through Napa is a great way to see the beautiful scenery up close and get some exercise at the same time. You can either take a guided tour by bicycle, or just rent bikes and create your own route.
Guided tours vary in terms of distance, difficulty, and stops included, and there are plenty of options available depending on what you're looking for.
Top tip: If you're not keen on biking, try renting an e-bike instead!
10. Visit the Napa Valley Museum
55 Presidents Circle, Yountville, CA 94599
Open Wednesday – Sunday, 10:00am – 4:00pm
Admission: Adults $15, Kids 6-17 $5
Located in Yountville, the Napa Valley Museum is a small but informative museum dedicated to the history and culture of the region. Exhibits cover topics such as the Native American tribes who lived in the area, the early settlers, and the growth of the wine industry.
The museum also hosts special events and exhibitions throughout the year, so be sure to check the calendar before you go.
Top tip: many hotels in Yountville offer discounted admission to the Napa Valley Museum. Check with your concierge or email info at napavalleymuseum.org to see if your accommodation participates.
11. Visit the Old Faithful Geyser
1299 Tubbs Lane, Calistoga, CA 94515
Open daily 9:00am – 5:00pm (6:00pm March – August)
Admission: Adults $12; kids 4-12 $9
When you think of geysers, you probably don't think of Napa. But believe it or not, there's a geyser in Napa Valley!
Located in Calistoga, the Old Faithful Geyser erupts every 30 minutes, shooting water 60-80 feet into the air. If there has been a lot of rainfall, the geyser can erupt every 5 minutes!
Visitors can watch the geyser from a safe distance and also see the resident llamas and goats that call the park home while they wait for the next eruption.
Top tip: Allow enough time during your visit to enjoy the Animal Farm, Geology Museum, have a picnic, or play a game of bocce ball on one of the bocce courts, all located within the grounds of Old Faithful.
12. Visit the Robert Louis Stevenson State Park
4824 Lake County Highway #4774, Calistoga, CA 94515
Open daily sunrise – sunset
Admission: Free
Feeling outdoorsy? Head to Robert Louis Stevenson State Park. This state park is named after the famous author Robert Louis, author of Treasure Island and Kidnapped, who spent his honeymoon in Napa Valley.
Located about seven miles north of Calistoga, Robert Louis Stevenson State Park offers stunning views of the valley and the surrounding mountains. Visitors can hike through the park and see the site where Stevenson wrote some of his most famous works.
For amazing views, take the 5 mile hike to the top of Mt. St. Helena for incredible views of the San Francisco Bay Area.
Top tip: The park is open from sunrise to sunset, so plan your day accordingly. Dogs are not allowed.
13. Attend a Concert at the Uptown Theatre
1350 Third Street, Napa, CA 94559
Check schedule for opening dates
Tickets: varies depending on performance
The Uptown Theatre in downtown Napa is a beautifully restored Art Deco movie palace that now hosts concerts and other live events including comedy shows. The theater was built in 1937 and is a historic landmark.
Check the schedule ahead of time to see who's playing – past performers have included Willie Nelson, Cyndi Lauper, and B.B. King.
Top tip: Uptown Theatre is an intimate venue, meaning that tickets to performances sell out quickly. Book as far in advance as possible.
14. Take a Drive on the Silverado Trail
An added benefit of skipping wine in Napa? You can do as much driving as you want! So for a wine-free fun activity in Napa, take a scenic drive on the Silverado Trail.
The Silverado Trail is a two-lane, scenic drive that runs parallel to Highway 29 and offers stunning views of the valley and the vineyards. This road is less crowded than Highway 29 and is a great way to see the quieter side of Napa Valley.
Top tip: Even if you're not planning to do any wine tasting, it's worth a stop at Darioush Winery while driving the Silverado Trail. Darioush is one of my favorite wineries in Napa because the architecture and experience is quite unique! Just trust me on this one.
15. Visit the Bale Grist Mill State Historic Park
3369 St Helena Hwy N, St. Helena CA 94574
Open Saturday & Sunday 10:00am – 4:00pm
Admission: Adults $8, Kids 6-17 $3
The Bale Grist Mill State Historic Park is a restored 19th-century water-powered mill that produced flour and meal for the early settlers of Napa Valley.
The park is now a State Historic Landmark and listed on the National Register of Historic Places. Originally built in 1846, the mill is one of the only handful left of its kind that still functions. When you visit, you can take a guided tour of the mill and learn about the history of milling in the region.
Top tip: If you want to stay longer and enjoy the outdoor scenery, there are also hiking trails and picnic areas in the park.
16. Enjoy an Outdoor Picnic
One of my favorite things to do in Napa is to enjoy an outdoor picnic. Swap wine for some lemonade or sparkling water, and you've got yourself the perfect wine-free afternoon.
The weather is almost always beautiful in wine country, and there are lots of places where you can pick up ready-to-eat gourmet picnic supplies or sandwiches. A few of my favorites are:
Oxbow Market (Downtown Napa): a market with lots of different food vendors and local produce
Gott's Roadside (St. Helena): famous for its burgers, but lots of salads, sandwiches and tacos are available too.
Can't decide which one to visit? There's a Gott's Roadside stall located inside of Oxbow Market. Boom.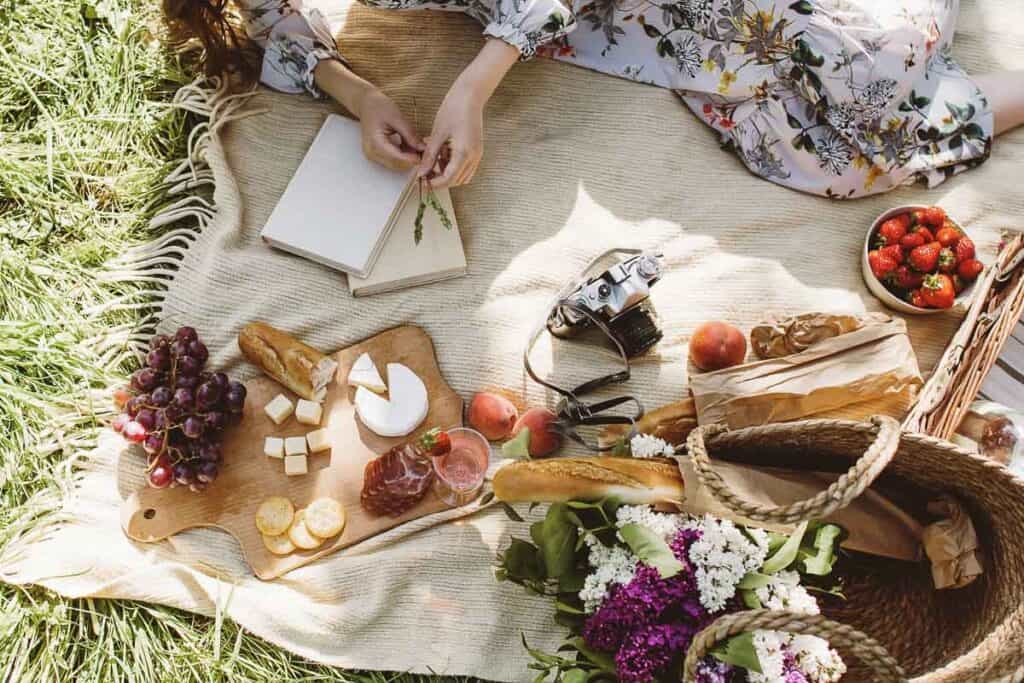 Top tip: If you plan to have a picnic in Napa, don't forget to pack a picnic blanket! This ultra-compact one is perfect for travel! It measures 55 x 60 inches but folds up to be about the size of your hand, so it's super easy to pack.
Map of the Best Things to do in Napa Besides Wine Tasting
For more help with deciding what to do in Napa, I've put together a map version of this wine-free activity list. The image below is a preview and you can access the full map here.
More Napa Valley Activities
Just taking a break from wine tasting? Once you're ready to go back for more, you'll love my guide to wine tasting in Sonoma, as well as these awesome sparkling wineries in Napa.
Conclusion
Napa Valley is more than just a wine destination – it's a beautiful and diverse region with something for everyone. Whether you're interested in outdoor activities, food and drink, or cultural attractions, Napa Valley has it all. Use this guide to plan your next trip and discover all the amazing things to do in Napa Valley besides wine tasting!