The Perfect Paso Robles Itinerary + Weekend Getaway Travel Guide
This site uses affiliate links and I may earn a small commission when you use my links and make a purchase, at no extra cost to you. 
Looking for the perfect Paso Robles itinerary? Planning a weekend trip to Paso Robles California wine country can be overwhelming, especially if it's your first visit to the area. This travel guide to Paso Robles has you covered: I've got a rundown of exactly how to spend two days in Paso Robles, including where to go wine tasting, where to eat, and where to stay! Read on for the full guide – it's got everything you need for the perfect Paso Robles weekend getaway.
If you love wine tasting, check out what to do for the perfect Napa Valley itinerary as well as the best wine tasting in Sonoma, California.
If you're looking for more wine country in Southern California, you will love the Temecula wine tasting, as well as these awesome wineries close to Los Angeles.
And if you'll be spending more time in California, make sure to check out the best road trips from San Diego as well as my California bucket list – it's got all of the top things to see and do in the Golden state for first-time visitors!
Pro Travel Tip: These days, travel can be more uncertain than ever. Check for any COVID-related restrictions at your destination, and never travel without travel insurance! I recommend SafetyWing, because they have flexible + affordable insurance plans, and also cover COVID-related impacts on your trip (not all companies do)!
Where to Stay in Paso Robles, California
If you're trying to decide where to stay in Paso Robles, the first decision to make is whether to stay in a hotel or a rental.
Each have their advantages, of course, so you'll just need to consider what will work best for you and your group.
Hotels in Paso Robles: My Picks
In terms of hotels, I've stayed at the Courtyard Marriott Paso Robles a few times and have found it to be a great home base for exploring Paso.
It's not quite walking distance into downtown Paso, but it's a $4 Uber ride, and it's also got a pool. The weather in this part of California can heat up quite a bit in the summer months, so you just might be grateful to have a dip in the water!
Rentals in Paso Robles: My Picks
If you'd prefer to stay in a rental, Paso Robles Vacation Rentals has a terrific variety of rentals and homes in the area, for any size group.
I LOVE this 1 bedroom place that has a phenomenal location right on the downtown square of Paso.
The Perfect Paso Robles Itinerary
This Paso Robles itinerary covers my favorite parts of this area: the wine and the food! I've set up this day-by-day plan so that you only visit one winery before driving somewhere.
If you decide to visit any more than one winery, I recommend making an alternative plan for transportation, so you can enjoy yourself.
Paso Robles Itinerary: Day 1
On your way into town, stop by Tobin James Cellars to kickstart your weekend with Paso Robles' most festive wine tasting ambiance. As of May 2022, a reservation is required to do a tasting here, so make sure to call in advance to reserve your spot – it's a popular place!
Wine Tasting at Tobin James Cellars
Expect your wine tasting at Tobin James Cellars to feel like you just arrived at the most happening place in town.
It's true – Tobin James wins the award for the most fun tasting ambiance of any winery in Paso Robles. So it's absolutely worth a stop!
And the best news of all? The $20 fee for wine tasting at Tobin James Cellars is waived if you spend that much purchasing a bottle!
I can't guarantee that you won't decide to buy a few (or more) bottles once you've tasted their wines, but I love that if you do so, there's no charge just to sample.
Start Your Paso Robles Weekend Getaway with Dinner at Fish Gaucho
A perfect spot for the first dinner of your Paso Robles weekend getaway is Fish Gaucho. The modern Mexican cuisine here is absolutely delicious, so make sure to come hungry.
Fish Gaucho doesn't take reservations, so chances are good that you'll have to wait for a table. Not to worry – the restaurant has a fun bar where you can sample one of many delicious margaritas and cocktails while you wait.
If you decide to visit Fish Gaucho during your weekend getaway to Paso Robles, I highly, highly recommend the short rib enchiladas. I'm STILL dreaming about them!
Paso Robles Itinerary: Day 2
For your first full day of your weekend in Paso Robles, plan to explore a few of the area's wineries as well as the charming downtown area.
Any Paso Robles Weekend Trip Should Include Wine Tasting at Hearst Ranch
Start off your wine tasting experience with a visit to Hearst Ranch Winery. The winery offers tours throughout its grounds, allowing you to get up close and personal with the vineyards.
I highly recommend adding the vineyard tour to your visit!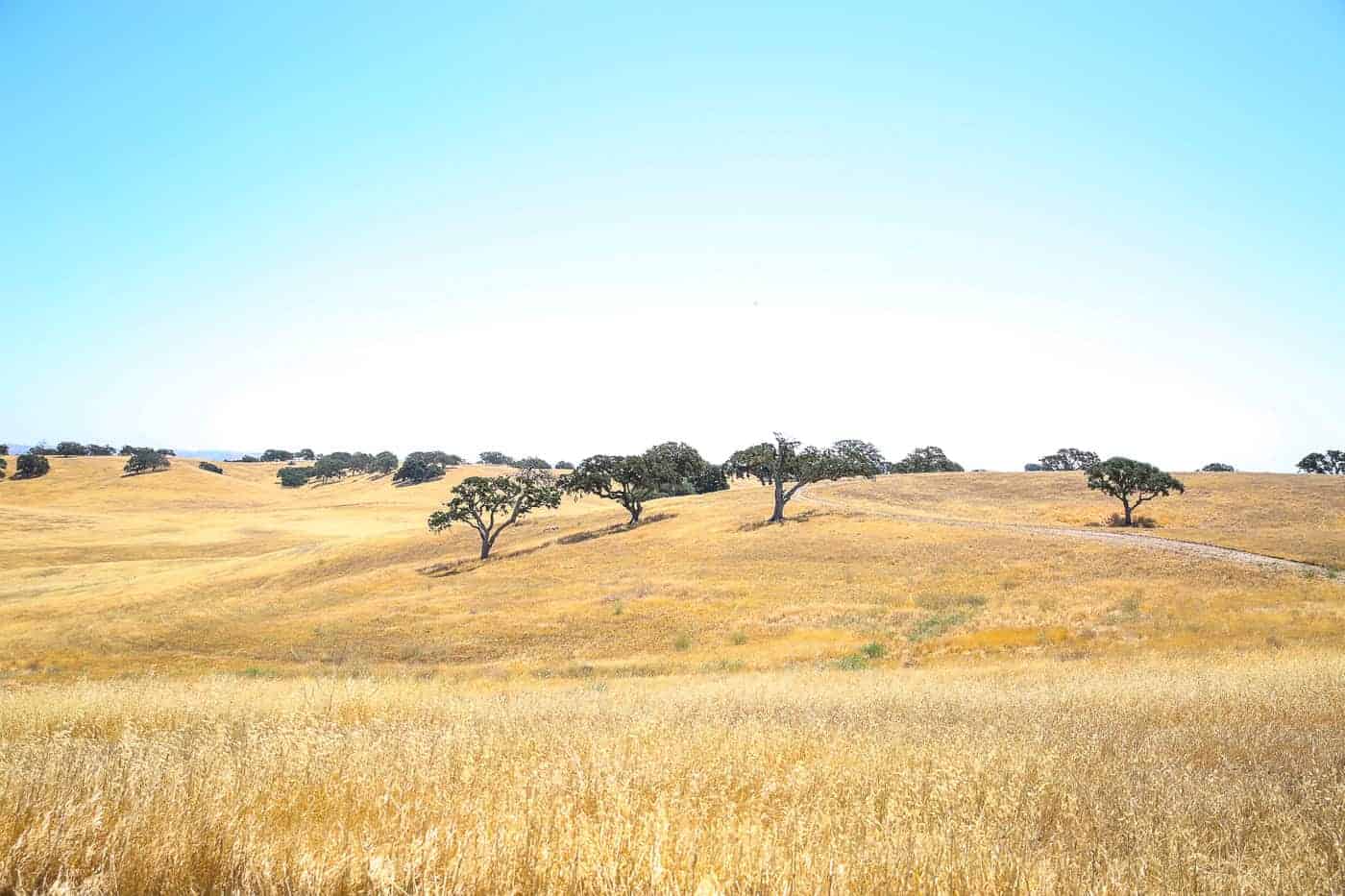 The rosé at Hearst Ranch was one of my favorites, so if you love a good, dry rosé, I know that you'll enjoy tasting at Hearst Ranch!
The scenery is equally stunning, so make sure to allow for plenty of time while you're here to enjoy the vineyard views.
Explore Downtown Paso Robles
Next up on your Paso Robles weekend trip is spending the afternoon exploring the charming downtown area. Most of the action is within a couple of blocks of the adorably old-fashioned town square park.
There's plenty of boutiques to check out in downtown Paso, and chances are good that you'll be tempted by something at the General Store Paso Robles.
If you're looking for something to bring home as a gift (that's not wine), this is your spot!
Sample Wine from an Urban Tasting Room in Downtown Paso Robles
Downtown Paso Robles is home to over 20 different wine tasting rooms. Visiting a tasting room in downtown Paso Robles is a perfect way to mix up your tasting experience, and check out local grapes in a more urban setting.
Plan to spend about an hour in one of the tasting rooms, or hop your way from one to the other. They're all really close together, so you'll be able to walk.
One good tasting room option is Tudor Wines, but personally I loved Grizzly Republic, where the reds are reasonably priced and not to be missed.
For a list of wine tasting rooms in downtown Paso Robles, check out this site.
Savor a Tasty Dinner and Old-Fashioned Desserts
Once you've shopped and wine tasted to your heart's content, head to dinner at La Cosecha. This downtown restaurant is located right on the square, and features tasty tapas-style dining.
After dinner, make a special stop for dessert at SLO Sweets. I absolutely loved this store and I think you will, too! It's the sweet shop from your vintage dreams.
Pretty much every dessert imaginable is on offer here. And even if you're not hungry, it's a really fun spot to walk around and candy-spot the old school classics.
I had a hard time limiting myself to just one treat here!
Day 3: Brunch And Wine Tasting
Make the most of your last morning in Paso Robles by enjoying a delicious brunch at a gorgeous winery! You can't go wrong with brunch at Niner Wine Estates. I especially love all of the different mimosa flavors that the restaurant features. Blood orange, anyone?
More Wine Tasting, Please
If you're up for another wine tasting to wrap up your Paso Robles weekend trip, you can check out the tasting room at Niner after brunch.
Otherwise, a nearby fun place to stop is Peachy Canyon. Peachy Canyon is a cute cottage-style winery with a loooooong list of wines that you can sample. It'll be hard to choose! You can taste outdoors or at the tasting room inside if the weather isn't cooperating.
A Great Winery For Live Music
If you're up for live music, another alternative is Tooth + Nail Winery, which frequently hosts bands on the weekends.
The atmosphere at Tooth + Nail is made for lingering, and the labels on the wine are some of the coolest I've ever seen. Oh, and the building is a castle with its own moat. Does it get any more intriguing? You'll leave with some unique photos!
At either winery, you can toast to a perfect Paso Robles itinerary, and the chance to come back again soon!
There you Have it – The Perfect Paso Robles Itinerary!
I hope you enjoy your Paso Robles weekend getaway! Have you visited before? If so, leave your favorite spots in the comments below!
If you have more time to spend in California, check out my ultimate San Francisco itinerary, as well as how to spend 2 days in Los Angeles.
Pin it for later!