The Ultimate Weekend Trip Packing List: What to Pack for a Weekend Away
This site uses affiliate links and I may earn a small commission when you use my links and make a purchase, at no extra cost to you. 
If you're planning a weekend trip, packing efficiently and effectively is key. The last thing you want is to lug around a heavy suitcase all weekend or forget any essential items at home. To simplify your packing, today I'm sharing the perfect weekend trip packing list. This comprehensive weekend packing list has all of the clothes, toiletries, accessories and other travel items you need to pack for a 2 or 3 day trip. Consider your packing halfway done! And if you're looking for a printable weekend packing list? I've got that too – read on to get the list!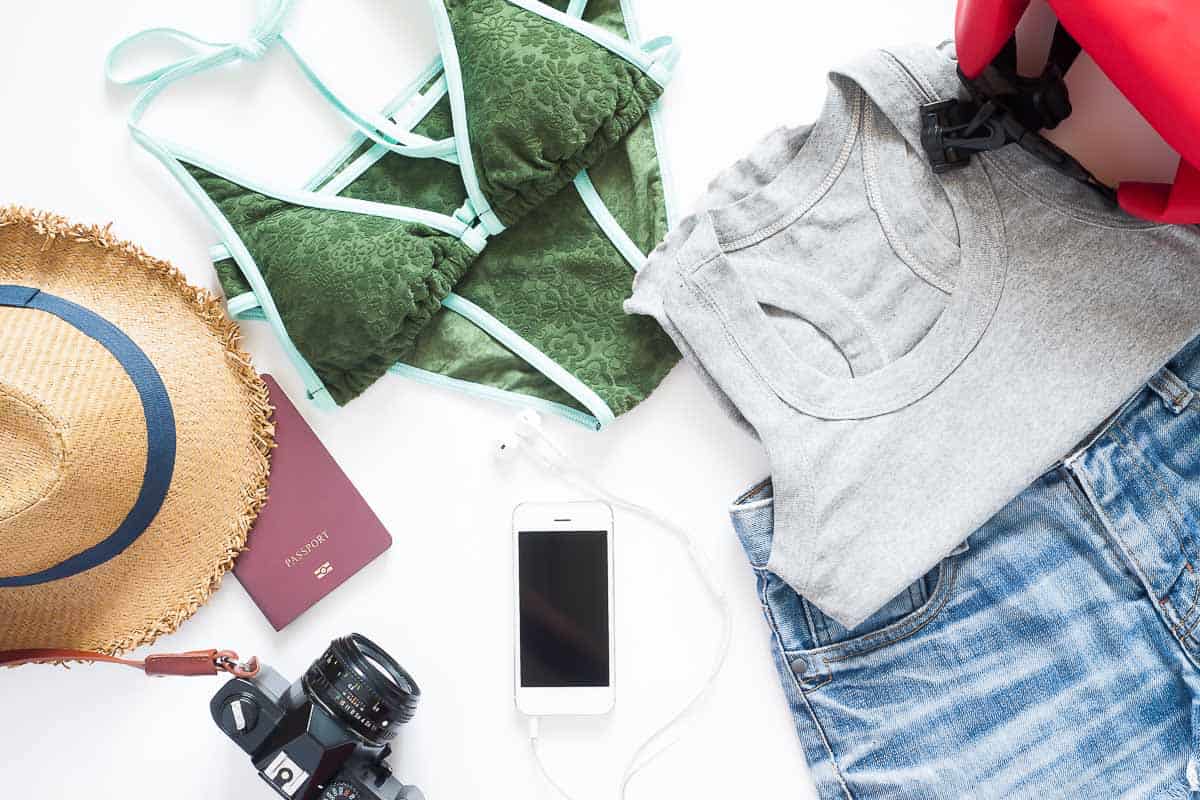 How to Pack for a Weekend Away
I took a 3 day trip earlier this spring, which is the first of several long weekend trips I have planned for this year. Even though the trip was planned in advance, I ended up having less than an hour to pack. Whoops.
Fortunately I've got packing down to a science, so I didn't leave anything behind. During my packing craze, though, I realized that weekend getaways are one of the most common types of travel, but I've never shared a post on exactly what to pack for a weekend trip. How can this be?
With summer just around the corner, there's no doubt you have a weekend trip in your future. Whether you're heading to the beach, planning a sightseeing trip, spending time with friends and family, or embarking on an outdoor adventure, weekend getaways are the perfect opportunity to decompress and mix up your routine.
So today I'm sharing a super simple weekend packing list that you can use for any last minute trips or your next weekend getaway! It's perfect for a plain ol' Friday – Sunday getaway.
And if you're staying longer, just make a few additions and use it as a packing list for a long weekend trip
What to Pack for a Weekend Trip
I am a recovering over-packer, so I remember what it's like to stuff my suitcase to the gills in a last minute packing frenzy.  Now that I travel constantly, I've got packing down to a science.  And packing for a weekend trip can be really straightforward, as long as you don't overdo it. And by overdoing it, I mean overpacking.
So what do you actually need to pack for a weekend trip? It's probably a lot less than you think! The reality of weekend travel is that you will probably only wear three or four outfits during your entire trip.
If you pack versatile pieces and do some planning ahead of time, you can pack efficiently and even have some extra space in your bag for souvenirs.
The Ultimate Weekend Trip Packing List
Let's start with the basics of what to include on your weekend trip packing list.
In general, when you're packing for a weekend trip, you will need to pack clothes, toiletries, electronics and other essentials. Here are the basic items you will need for any short trip, and keep reading for a printable version of the list!
Clothes
1 pair of jeans
1 pair of other bottoms such as shorts, a skirt, pants, or colored jeans
2 casual tops
1 dressy top
1 dress
1 outer layer (sweater, jacket, or coat)
2 pairs of shoes
3 pairs of socks
3 pairs of underwear and 2 bras
Pajamas
Workout gear (optional)
Swimsuit (optional)
Accessories: belts, scarves, jewelry, watch
Toiletries
Toothbrush and toothpaste
Travel-size shampoo, conditioner, and body wash
Face wash
Deodorant
Hairbrush or comb
Hair ties
Hair tools
Hand sanitizer
Makeup, makeup remover, and skincare products
Q-tips or cotton pads
Razor and shaving cream
Glasses and/or contact lenses and solution
Prescription medications
Feminine hygiene products
Sunscreen and insect repellent
First-aid kit (band-aids, pain relievers, etc.)
Electronics
Phone and charger
Camera and charger
Laptop computer
Portable charger
Headphones
E-reader or books (or other in flight entertainment)
Other Essentials and Miscellaneous Items
Passport or ID
Wallet with cash and credit cards
Essential documents (passport, visa, etc.)
House keys / car keys
Sunglasses
Hat or visor
Reusable water bottle (empty this before you go through airport security)
Snacks for the trip or to have on hand during the weekend
Additional personal items: lip balm, ear plugs, travel pillow, pen or pencil
Travel umbrella or rain jacket
Pro tip: This weekend packing list is a perfect foundation for almost any kind of 2 or 3 day trip. However, depending on the kind of trip you're taking, there are a few additional items you should pack.
See my suggested additions below for weekend trips by season, as well as trips that include the beach, outdoor adventures, and international travel.
Free Printable Weekend Packing List PDF
Now that we've covered everything that should be on a weekend or long weekend packing list, let's make life easier, shall we?
I've created a PDF printable weekend packing list that you download and use as a checklist for your next 2 or 3 day trip.
Just enter your email address below and I'll send the packing list straight to your inbox!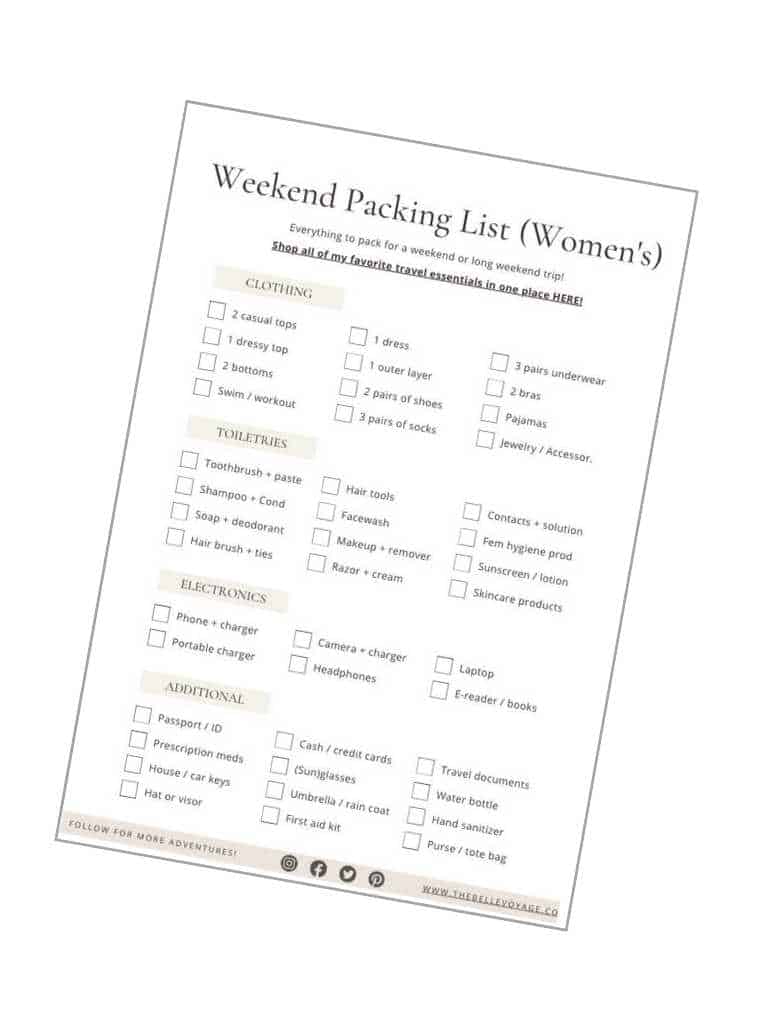 And if you love the packing list, you'll also love my other free printable travel planners, too.
Weekend Trip Packing Lists by Season
Spring
For a weekend trip in spring, pack versatile clothing items like lightweight layers, comfortable walking shoes, and a rain jacket. For a turnkey packing list of what to pack for a spring weekend trip, you'll love my spring travel capsule wardrobe.
Don't forget essentials such as sunscreen, a hat, and sunglasses. Include items for both warm and cool weather to adapt to changing temperatures.
Summer
When packing for a weekend trip during the summer, prioritize lightweight and breathable clothing such as shorts, T-shirts, sundresses, and swimsuits. Check out my top 15 pieces to pack for warm weather travel in this 15 piece summer travel capsule wardrobe!
Remember to pack sunscreen, a wide-brimmed hat, sunglasses, and sandals for beach trips. Don't forget a reusable water bottle and insect repellent for outdoor adventures.
Fall
For a weekend trip in the fall, pack layers to accommodate varying temperatures. Include long-sleeve shirts, sweaters, jeans, and a light jacket. This fall travel capsule wardrobe showcases some versatile, packable pieces.
Don't forget comfortable walking shoes or boots for exploring foliage-filled landscapes. Consider adding a scarf, gloves, and a hat for cooler mornings or evenings.
Winter
When packing for a weekend trip in winter, prioritize warm and cozy essentials such as sweaters, thermal layers, thick socks, and a heavy coat.
Don't forget to pack gloves, a scarf, and a beanie to protect yourself from the cold. Add sturdy boots to navigate snowy or icy terrain and include any specific winter gear like snowshoes or ski equipment if needed.
For help packing efficiently, check out my winter travel capsule wardrobe.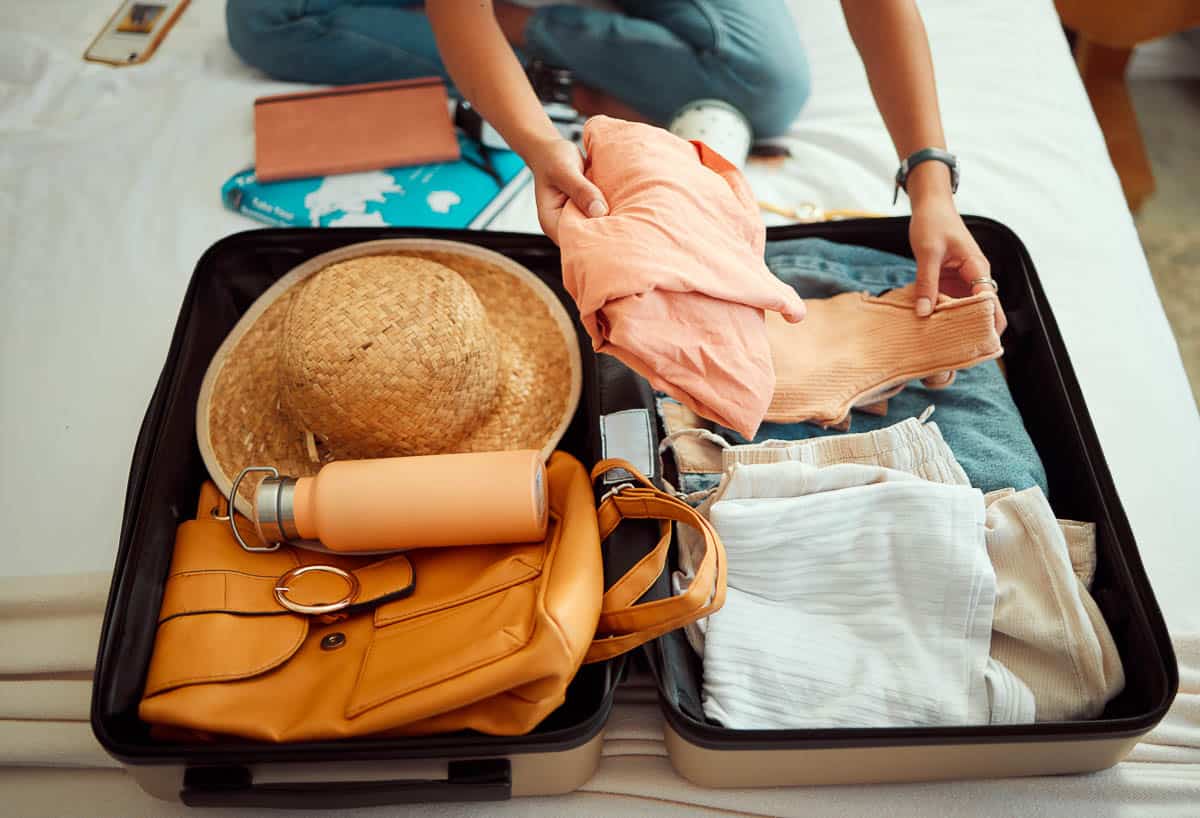 More Weekend Getaway Essentials
Some short trips require special gear. If you're heading on a beach trip, planning an outdoor adventure, or jetting off to another country, make sure to add a few additional items to your packing list.
Weekend at the Beach
Are you headed to the beach this summer? If so, there are a few other essentials to add to your packing checklist:
Flip flops or sandals
Towels
Beach bag
Swim cover ups
Water shoes or a dry bag for any water activities
Beach chairs and/or umbrella
Beach toys
Need more help packing for the beach? This beach vacation capsule wardrobe has chic and stylish swimsuits, cover ups, and accessories that are perfect for trips where you plan to spend time lounging at the beach or by the pool.
And these cute but inexpensive resort wear pieces will be the perfect travel companions!
Outdoor Adventure Weekend
If you're planning to do some hiking, camping, or other outdoor adventures, make sure to add these items to your packing list:
Hiking boots
Quick drying activewear
Wool socks
Binoculars
Flashlight
Note: This isn't intended to be a comprehensive camping packing list, so I haven't included camping gear or any special outdoor equipment.
International Weekend Trip
If your weekend getaway includes international travel, make sure that you've got:
Important documents such as passport, visa and proof of vaccination if required
Power adapters
Even if your trip will only be a few days, there are still a few important things to do before going abroad, so make sure to prepare in advance.
How Many Outfits to Pack for a Weekend Trip
Sometimes, it's easier to think about your packing list in terms of outfits rather than individual items. If that's the case, here's some general guidance on how many outfits to pack for a trip that is two or three days long:
Two to three outfits for daytime or casual activities (depending on the climate and activities planned)
One dressy outfit for evening activities or dinner
Undergarments and socks for each day
Comfortable shoes for walking and any outdoor activities
One pair of dressy shoes for evening activities
Lightweight jacket or sweater (depending on the climate)
Swimsuit (if there will be a pool or beach)
Workout gear (if you plan to hit the gym while you're traveling)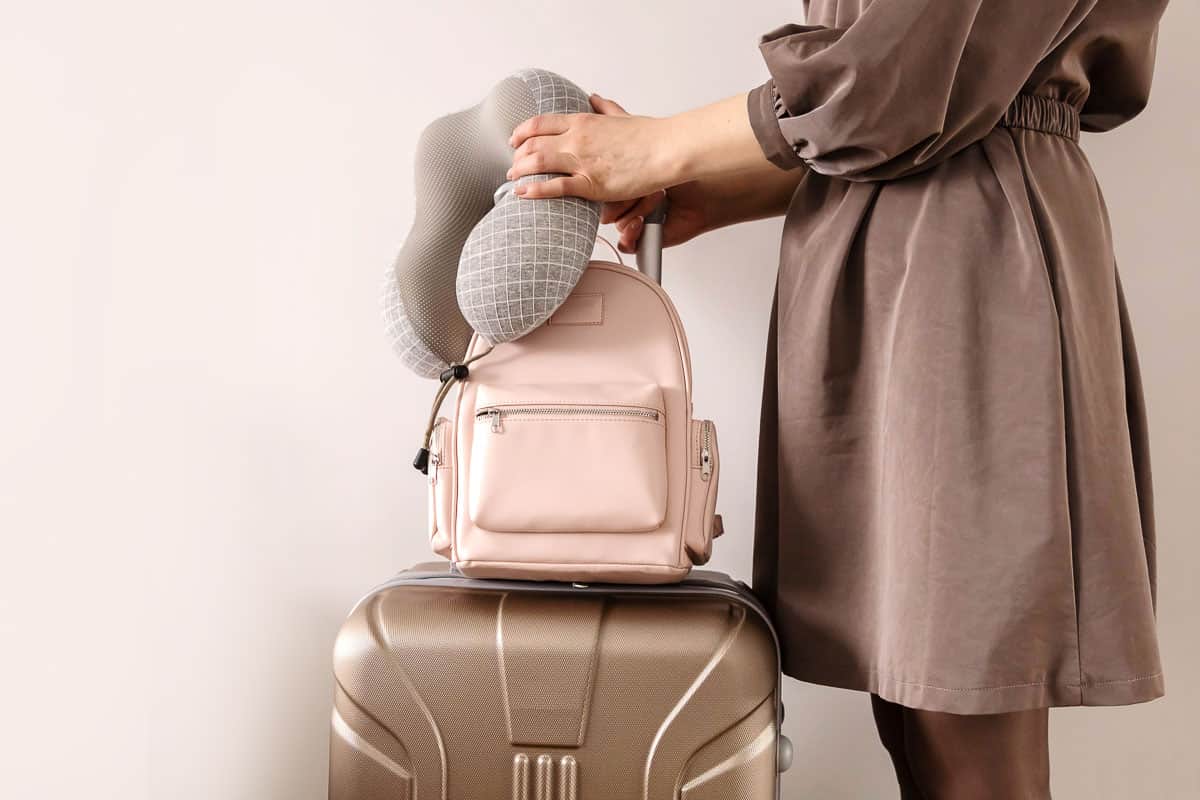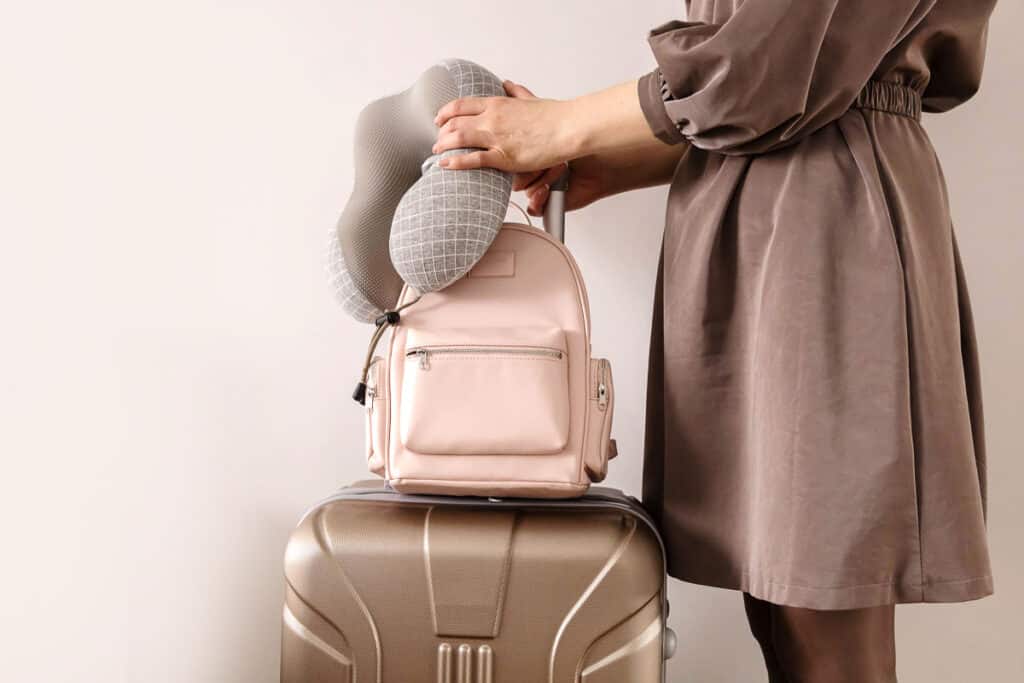 The Best Luggage for Weekend Trips
Now that your weekend packing list is ready to go, it's time to think about your luggage.
Pack Carry on Only
I always recommend traveling carry on only. These days, checking a bag is almost always an additional cost. Wouldn't it be more fun to put that money towards your next trip?
In addition, if you're going on a shorter trip, the last thing you want to do is spend time at baggage claim waiting for a checked bag. No thanks!
If you're only going away for the weekend, you probably don't need as much space for your things as you would find in a traditional suitcase. If you pack a bag with TOO much space, you'll just fill it with unnecessary things.
If you pack smart, you should be able to fit all the essentials into two bags: one personal item and one larger bag, typically a carry-on suitcase or weekender duffel bag. If you need help getting organized, here's what to pack in a carry on vs. checked bag.
Best Carry on Suitcase for a Weekend Trip
My favorite carry on bag lately is the Swissgear soft side expandable carry on bag. I have an older model (this is the current one) for years, and it's been all over the world with me!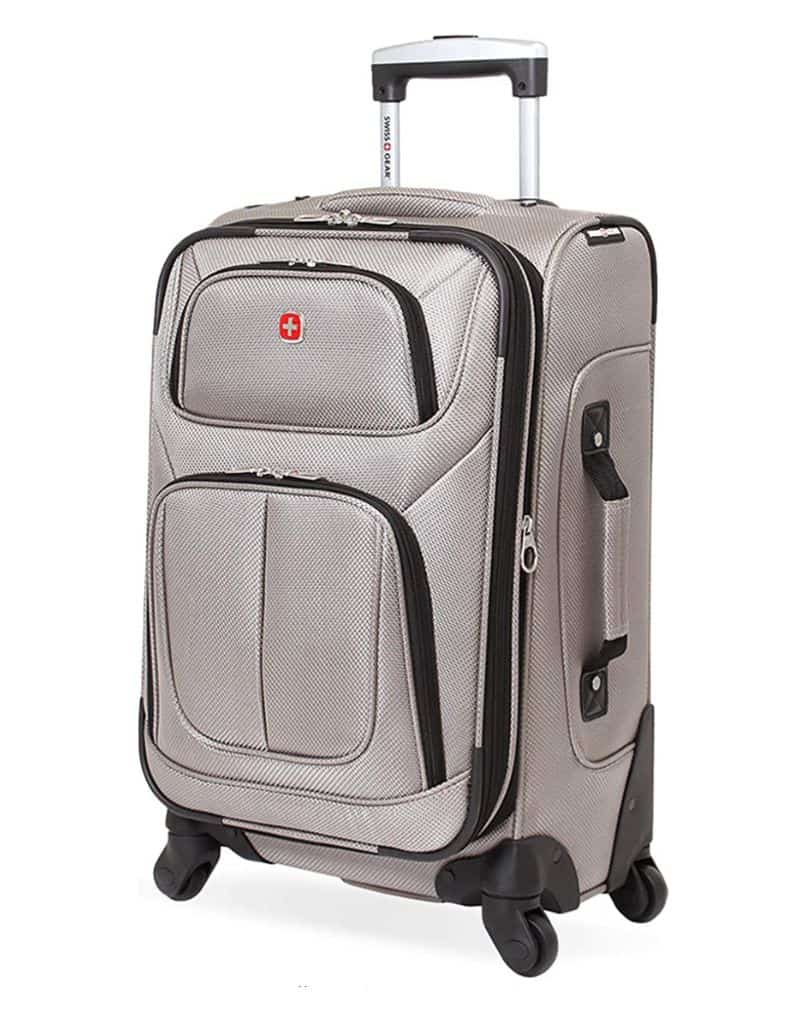 favorite weekend suitcase
SWISSGEAR CARRY-ON
This carry on bag by Swissgear has all the basics you want in a suitcase: it's made from lightweight material, has plenty of interior and exterior pockets, and has 4 spinner wheels, too. I especially love that it's expandable! Juuuuust in case you happen to pick up a few things you love during your travels.
Best Weekender Bags
If you'd rather not pack your weekend gear in a suitcase, try a weekender bag instead. These large totes are perfect for trips where you're packing extra-light.
When it comes to choosing the right weekender bag, inner compartments will be your best friend. Look for a bag that has multiple inside pockets so that it's easier to keep your things organized.
I also recommend getting a weekender bag that has a separate compartment on the bottom of the bag for shoes and toiletries. It makes packing easy, and avoids potential damage to your clothes. I love this one from Calpak for exactly that reason!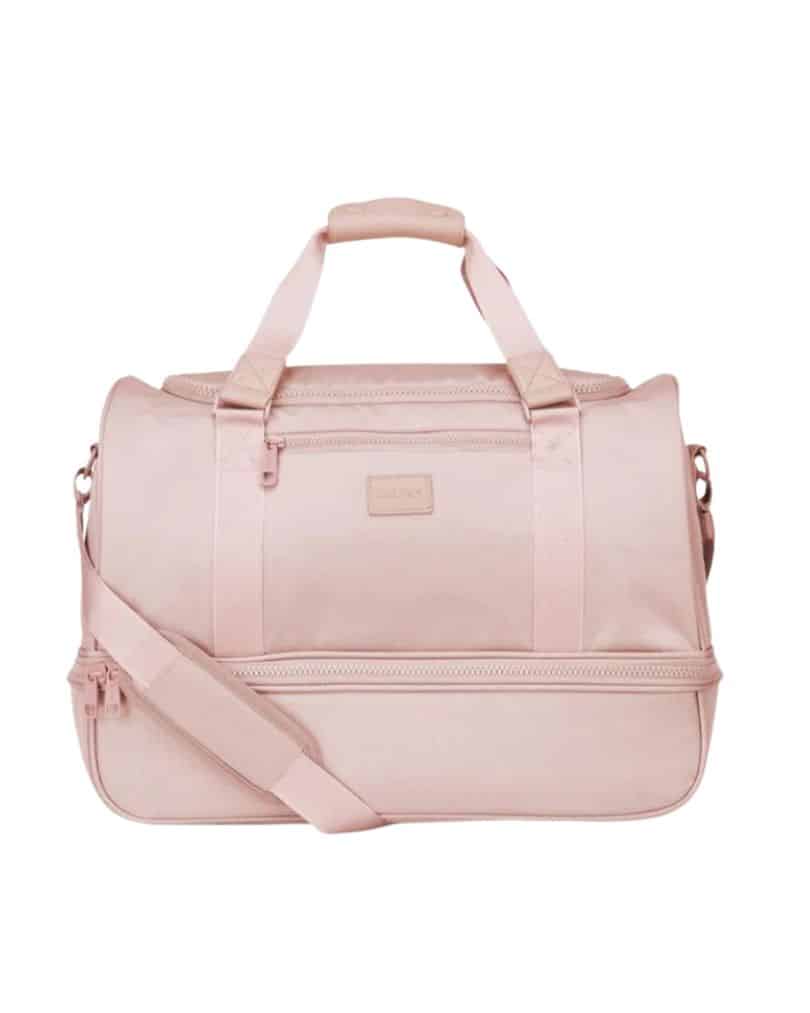 favorite weekender bag
CALPAK STEVYN WEEKEND BAG
This weekender bag by Calpak is perfect for long weekend trips, or any 2-3 day getaway. I love the lower compartment for packing shoes and toiletries. The bag also has a pocket on the back that allows it to slip through the handle of a regular suitcase, making it easy to carry more than one bag. It comes in a ton of different colors and you can't beat the price!
Weekend Getaway Packing Tips
Now that you have everything you need to pack for a weekend trip, here's a few tips on how to pack light, but still everything you need for a stylish getaway. I've written a lot about travel packing for women, but here's some of the most important things to remember:
Check the Weather Forecast
I know this seems obvious, but don't forget to check the weather forecast for your destination! If you're busy getting ready for a weekend trip, it's easy to forget about changes in temperatures or conditions.
This is especially important during the transition seasons of spring and fall, when the weather can vary dramatically from day to day. Check out the seasonal capsule wardrobes I've linked about for more ideas to what to pack!
Pack versatile pieces
The best way to pack efficiently is to pack versatile pieces that can be mixed and matched to create different outfits. Ideally, you should be able to wear all of your tops with all of your bottoms.
If you pack the right pieces, it's possible to create endless different outfits while keeping your suitcase nice and light. I'll show you how with this 15 piece travel capsule wardrobe!
Roll Your Clothes
Whether you're packing in a weekender bag or a suitcase, the best way to pack a suitcase is to roll your clothes instead of folding them to save space and prevent wrinkles.
If you have any delicate items to pack, such as a top with lace or embroidering, place the item on top of another one, and roll them together. This will help protect your delicate pieces.
Use Packing Cubes
If you decide to pack in a traditional suitcase, using packing cubes can help keep your things organized and maximize space.
This set of packing cubes will work perfectly for both weekend trips and longer trips, too!
Pack Heavy Items on the Bottom
Once you start packing, make sure to place your shoes and other heavy items at the bottom of your suitcase to distribute weight evenly.
Keeping the heavier items at the bottom of your bag will prevent your bag from tipping over, and will also protect your lighter pieces.
Leave Room for Souvenirs
Another benefit of packing light for a weekend trip is that you can leave room in your suitcase for any souvenirs or items you might buy during the trip.
By following these tips and packing efficiently, you can enjoy a stress-free weekend getaway with everything you need at your fingertips.
FAQs: How to Pack for Weekend Trips
What should I pack for a 3 day trip?
For a three day trip, pack three casual daytime outfits and 1-2 dressier outfits for evenings. Include two pairs of shoes, and one pair of socks and underwear for each day. Don't forget pajamas, a swimsuit, and workout gear, along with toiletries and any other travel essentials.
How many outfits do I need for a weekend trip?
For a weekend trip, pack a total of 4-5 outfits. 2-3 outfits for daytime and 1-2 outfits for evenings that require dressier attire. Use clothing pieces that you can mix and match to create different outfits for each day.
Conclusion
In conclusion, having a weekend packing list can make all the difference when it comes to enjoying a stress-free and seamless weekend getaway. With the right items on hand, you can be prepared for anything that comes your way, from unexpected weather changes to impromptu activities. Remember to consider the length of your trip, the destination, and any specific activities you have planned when putting together your packing list. And don't forget to leave some room in your bag for souvenirs or any treasures you may find along the way. By following these tips and packing essentials, you'll be able to relax, unwind and make the most out of your weekend adventure. Happy packing!