Travel Toiletries Packing List for Ladies
This site uses affiliate links and I may earn a small commission when you use my links and make a purchase, at no extra cost to you. 
Packing toiletries for travel is my LEAST FAVORITE thing when it comes to getting ready for a trip. (Although these containers make things just a little easier). Wouldn't it be easier if there were a comprehensive toiletries packing list for ladies? They can be hard to find, so I made an essential travel toiletries packing list for female travelers. This toiletry bag checklist has got everything you need for your next trip! For everything else you need to pack, check out my list of travel essentials for women.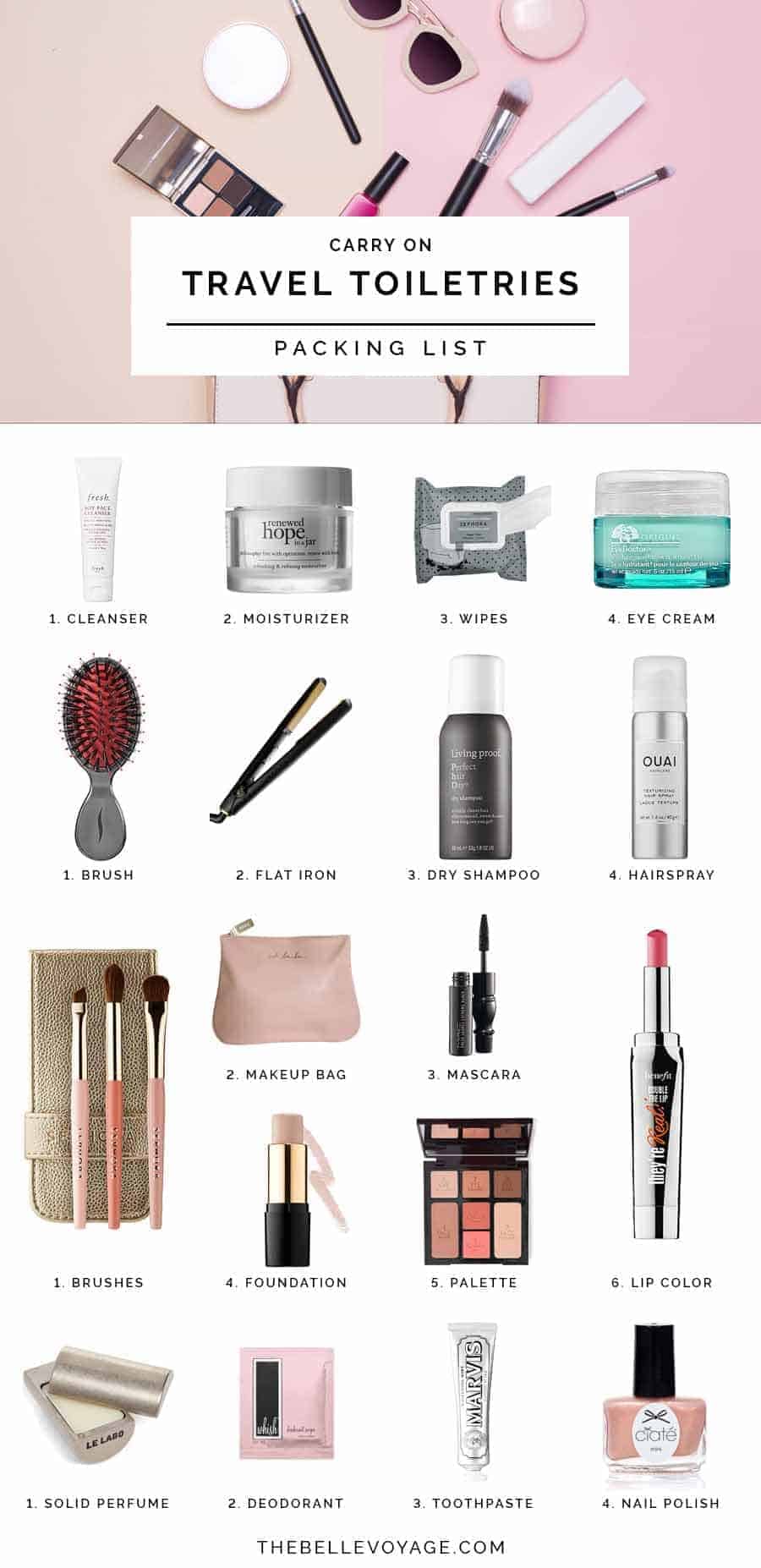 Women's Toiletry Packing List
Below, I've included links to my favorite essential women's travel toiletry products, as well as a few of my very best secrets when it comes to packing travel toiletries. I hope this travel toiletries packing list makes packing for your next trip just a little bit easier!
For more packing help, check out my best packing tips for women. And for more details, this post will help you figure out what to pack in a carry on bag vs checked bag!
Essential Travel Toiletries: Hair
When it comes to hair essentials for travel, I try to keep it simple. One way I do this (confession time) is by not washing my hair a whole lot while I'm traveling. Judge if you must…but I just can't stand hotel hair dryers.
Instead, I pack a trusty can of dry shampoo, as well as a flat iron. Between these two superheroes, they can pretty much save any bad hair day.
My picks for hair travel toiletries:
Brush (yes, it's rose gold!) | Flat iron | Dry Shampoo | Hairspray
READ MORE: My Favorite Travel Hair Product
Pro Travel Tip: These days, travel can be more uncertain than ever. Check for any COVID-related restrictions at your destination, and never travel without travel insurance! I recommend SafetyWing, because they have flexible + affordable insurance plans, and also cover COVID-related impacts on your trip (not all companies do)!
Travel Toiletries: Makeup
As far as travel makeup essentials, I have a few key pieces of advice when it comes to packing. First – get yourself an all-in-one makeup palette. Ideally something that includes eyeshadow and cheek color. Bonus points for foundation. This way, you'll have almost everything you need all in one spot!
Second, look for solid alternatives to liquid makeup, so that you don't have to stuff liquid makeup in your one-quart toiletry bag. In this list, I've included a solid foundation as an example.
Third, look for multi-taskers that will take up less space in your bag! This lip color doubles as a lip liner, and the foundation includes SPF.
Here's even more detail on how to pack makeup for a flight.
My picks for travel makeup essentials:
Brushes | Makeup Bag | Palette | Mascara | Lipstick | Foundation
READ MORE: The Best Travel Makeup Brushes
Travel Toiletries: Skincare
As for travel skincare products, again, I try to look for non-liquid alternatives. Check out face wipes to replace both cleanser and eye makeup remover, for example. You can also read more about my travel skincare tips!
My picks for travel skincare essentials:
Cleanser | Moisturizer | Wipes | Eye Cream
READ MORE: Where to Buy Travel Size Beauty Products
Travel Toiletries: Extras
These extra pieces have a few non-liquid products, too. Solid perfume won't count against your liquids allowance, leaving more space for this cute mini nail polish!
Deodorant wipes are another space-saver, too.
My picks for other travel toiletry essentials:
Solid Perfume | Deodorant Wipes | Toothpaste | Nail Polish
READ MORE: Travel Size Beauty Products You Didn't Know Existed
Everything you need for your travel toiletries packing list!
Pair this with my weekend trip packing list and you've got everything you need for a long weekend getaway!