Packing for Fall Travel with Encircled
This site uses affiliate links and I may earn a small commission when you use my links and make a purchase, at no extra cost to you. 
Now that it's FINALLY starting to feel like fall in southern California, I'm beginning to think about getting ready for all of the upcoming travel I have over the next few months. Did we talk about this yet? No?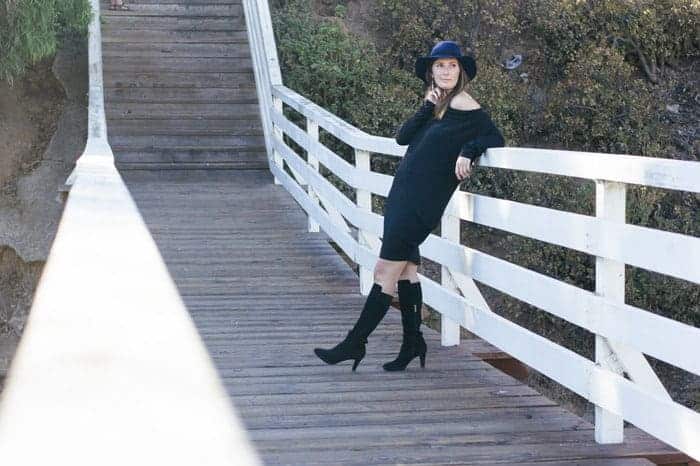 Ummmm….soooo…..within the next four weeks, I have THREE trips coming up. I'll be heading to Sonoma, Las Vegas , AND Vienna . I'm incredibly excited, but just a little bit overwhelmed.
Cue the packing anxiety.
Packing for Fall Travel: The Challenge
Packing for fall travel can be tough. Unlike summer travel, you can't just throw some sundresses and swimsuits in a bag and be good to go. Chillier temps mean layers – lots of layers – and warm fabrics that can be bulky. Meaning that there's even less room in my suitcase! And if there's rainy weather in store, that's a whole other packing challenge. It was time to come up with some fall travel outfit ideas, pronto.
One key element of my packing strategy is to bring pieces that are versatile. So with my fall travel plans coming up quickly, it was perfect timing when Encircled reached out to me to ask if I'd like to check out their new Revolve dress.
Yes, yes I would.
The Revolve Dress by Encircled
As you might remember from my last post on Encircled's Adiona maxi dress, I love Encircled for their thoughtful product design and rare ability to marry up the stylish with the practical. Not to mention their SUPER cozy fabrics, and the fact that all of their pieces are eco-friendly and ethically made.
If you haven't heard of the brand before, check out their site for pieces like a cardigan that you can wear eight ways. Pure genius. And a wrap top that can be worn five ways? Amazing.
So get this: the Revolve dress converts from a top to a dress. In the first photo above, I'm wearing it styled as a dress, and in this photo below, as a top. How is that even possible?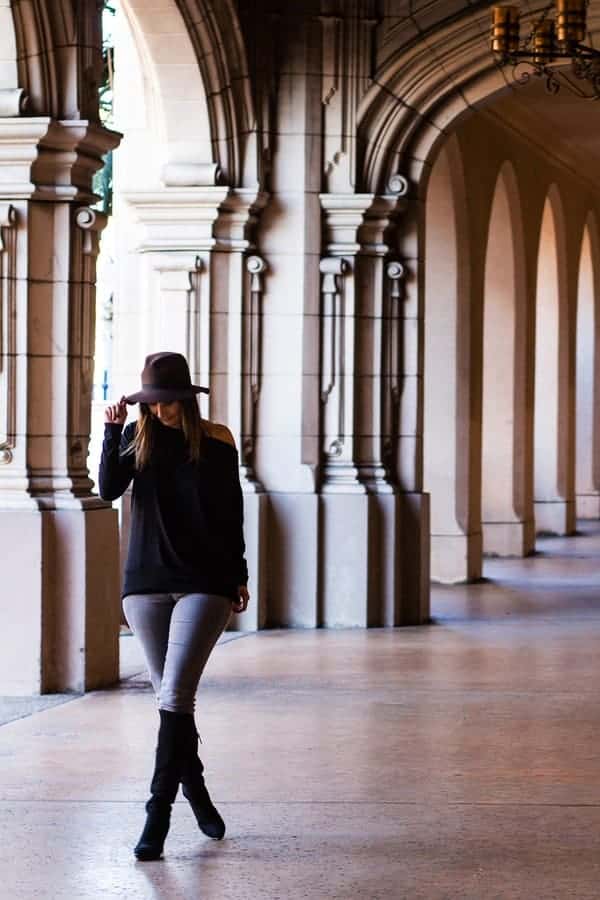 Here's the deal. The Revolve dress can be worn at three different lengths: waist length, tunic length, or knee length. It can also be worn front-to-back in any of these three lengths.
So by my math, that means AT LEAST six different ways to wear one piece, which is pretty amazing in itself. Even better is that the draping at the neckline also gives you the ability to adjust it to be a cowl neck, boatneck, or off the shoulder. So there's even more ways to play around with the styling.
As you can see above, I was pretty into the off-the-shoulder option.
Because of their versatility, dresses are always a packing staple for me, so to have one that is even MORE versatile is a huge win in my book.  With just two pieces (this dress and a pair of jeans), I had two outfits with very different looks!  If that's not carry-on suitcase-worthy, I'm not sure what is.  I can't wait to include it as part of my fall travel wardrobe.
I loved styling the dress as its shown in these photos, but there are so many more ways that it can be worn! Check out the site for all the details on how the dress can be styled – including as a gala outfit!
As far as my upcoming trips, I'm picturing myself wearing the Revolve dress as a tunic on the plane to Vienna, and then again as a dress with tights and boots as I walk around the city. What do you think – chic enough for Europe?
I can also throw a sweater on over it for a layered look – since I know Vienna will be plenty chilly in December!
Ordering Info
I'm usually a size 6 in dresses at stores like J.Crew, and in these photos, I'm wearing the Revolve dress in black in a size medium. For reference, I'm 5'6".
Special Discount for The Belle Voyage Readers
WAHOO!!!! I'm so excited to offer YOU a discount on your Encircled order. Use code "BELLEVOYAGE" for 15% off your purchase! Tag me on Twitter or Instagram and let me know what you buy – I'd love to see what you get!
The fine print: the code is valid until November 18th, 2016, and only one coupon code can be used per transaction. No rain checks or cash value.
This post was sponsored by Encircled. Photos are courtesy of the lovely Candy Waltrip from The Travel Pockets. As always, all opinions are my own.