What to Pack for Hawaii: The Ultimate Hawaii Packing List for Females
This site uses affiliate links and I may earn a small commission when you use my links and make a purchase, at no extra cost to you. 
If you're preparing for a trip to the Hawaiian islands, you're probably wondering what to pack! Hawaii has 10 of the world's 14 ecosystems – so it's understandable that you might be overwhelmed thinking about what to pack for Hawaii and trying to find affordable resort wear. Whether you're going to Kauai, Maui, O'ahu, Lanai or The Big Island of Hawaii, this female Hawaii packing list has everything women should pack for one week in Hawaii, and my Hawaii vacation tips will give you all the other information you need before your trip! And finally, here's how to pack a suitcase.
This Hawaii packing list for women will suit a 1 week trip to Hawaii, so it's perfect for a 7 day Big Island itinerary, or my Kauai itinerary. If you're going to spend a lot of time in Hawaii, or if your Hawaiian vacation is longer than one week, you can still use this list. Just plan on doing laundry once while you're there.
And if you're looking for a printable women's Hawaii packing list, I've got you covered! Just scroll to the bottom of this list and subscribe. A PDF version of this list will be in your inbox, pronto. Aloha!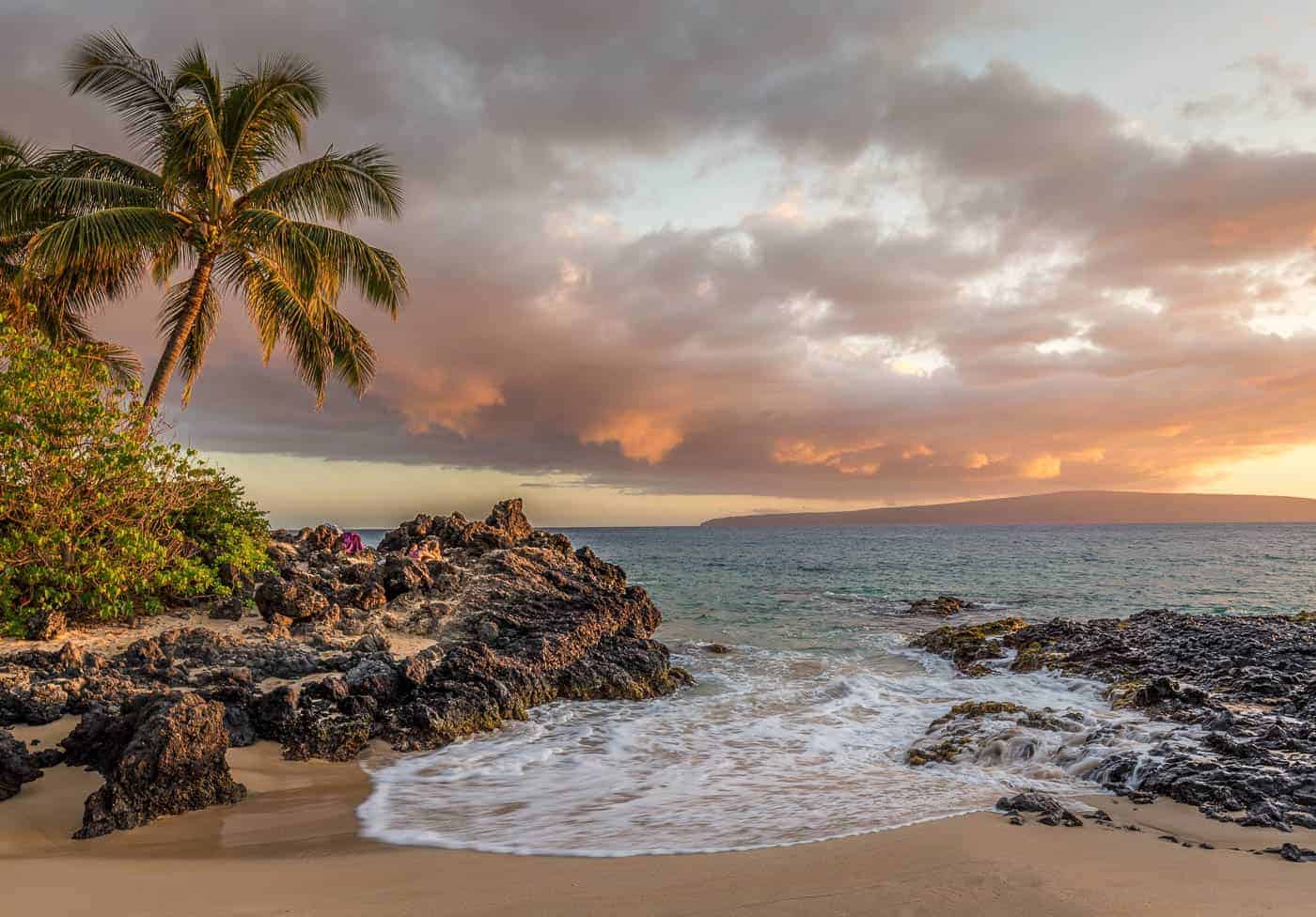 Hawaii Essentials for Females
Let's start with the essentials of what to pack for Hawaii. These include your clothes, shoes, accessories, toiletries, and electronics.
Many of the things on this list are similar to the travel essentials for women I would advise you to bring on any beach vacation, but there are a few Hawaii-specific items!
I've also included which things you should plan to wear on the plane, rather than pack.
Before finalizing your Hawaii packing list, make sure to check the weather forecast in Hawaii. While the weather is usually predictable, you just never know!
And if you need help putting it all together, here's exactly what to wear in Hawaii!
Shop the Hawaii Packing List
I'm sure you're in a hurry trying to figure out what to pack for Hawaii.
Sooooo…..I've included all of the essentials you need to bring for Hawaii in my Amazon shop. It includes the 6 things you're probably forgetting to pack for Hawaii! They're all in one place, so it's super easy. Check it out here!
What To Pack for Hawaii for a Week: Women's Packing List
OK let's get started with what women should pack for Hawaii! This female Hawaii packing list is an expanded version of a beach vacation capsule wardrobe, and includes all of the clothes, accessories, toiletries, and travel gear you will need for 1 week in Hawaii.
Tops
3 tank tops
Tank tops or sleeveless shirts will be your go-to staple in Hawaii.
Pro tip: I also usually layer a tank top under my travel outfit for Hawaii because as soon as I land in the islands, I get really, really warm!
As soon as my flight lands, I peel off my outer layers and I'm ready to go with clothing for warmer weather.
2 t-shirts
Bring a few t-shirts to mix up your tops a bit, or if it's just your preference.
1-2 workout tops
Great for working out, and also a great option for hiking!
1 long-sleeved shirt
It's unlikely you'll need a long-sleeved shirt during your trip to the Aloha state, but bring one to wear on the plane.
It's also a good idea to have a long-sleeve shirt if you find yourself surrounded by mosquitoes!
1 light cardigan
It's a good idea to bring a lightweight cardigan to Hawaii. Plan to wear this on the plane. One light cardigan is all you need in terms of warm layers for Hawaii.
The exception to this is if you're visiting one of Hawaii's volcanoes like Mauna Kea (Big Island) or Haleakala (Maui). If you'll be at higher elevations, you'll need warmer layers! Read below for my suggestions.
3 Bras
Wear one, pack two. Don't forget a strapless one if needed!
1 Sports bra
For workouts or hiking
1 light rain jacket (optional)
If you're visiting Hawaii during the rainy season, you may want to bring a light jacket. This will keep you dry if you're out hiking or exploring.
It's also a good idea to pack a light rain jacket if you'll be staying on one of Hawaii's wetter regions, such as Princeville in Kauai.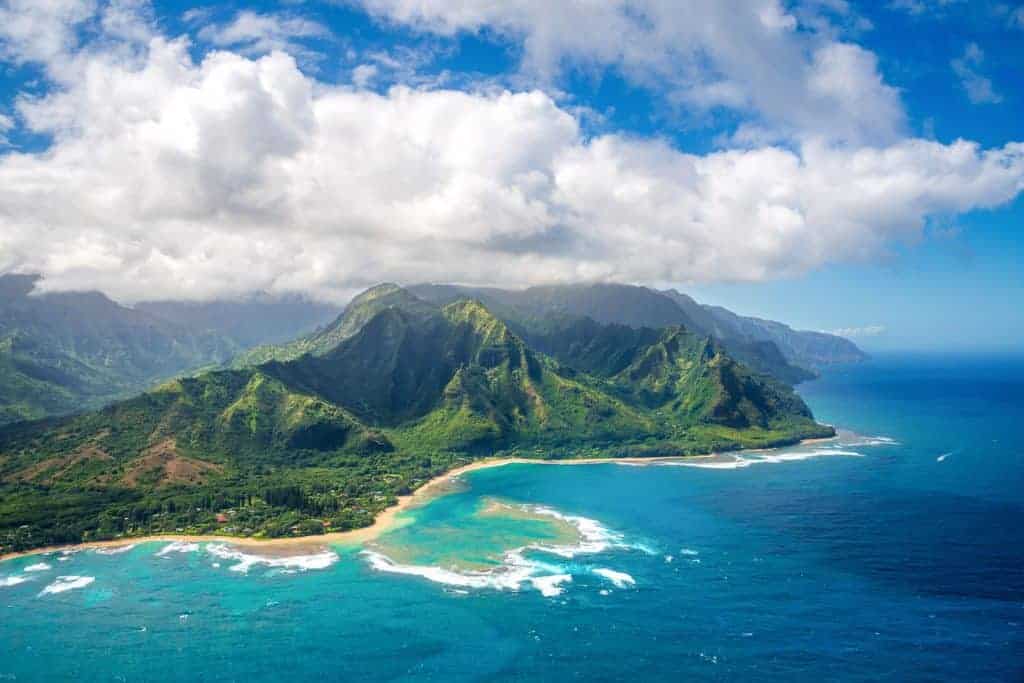 Bottoms
2 pairs of shorts
Start with 2 pairs of shorts as your staples. If you're not comfortable in shorts, try capri pants or lightweight palazzo pants. Just plan on leaving your jeans at home! More on that below.
1 skirt
I like to mix up my bottoms a bit by packing a skirt in addition to shorts.
1 pair hiking or workout shorts
I recommend finding a quick-dry pair.
1 pair of leggings
Wear these on the plane and also for lounging around your hotel room.
7 pairs of underwear
One for each day.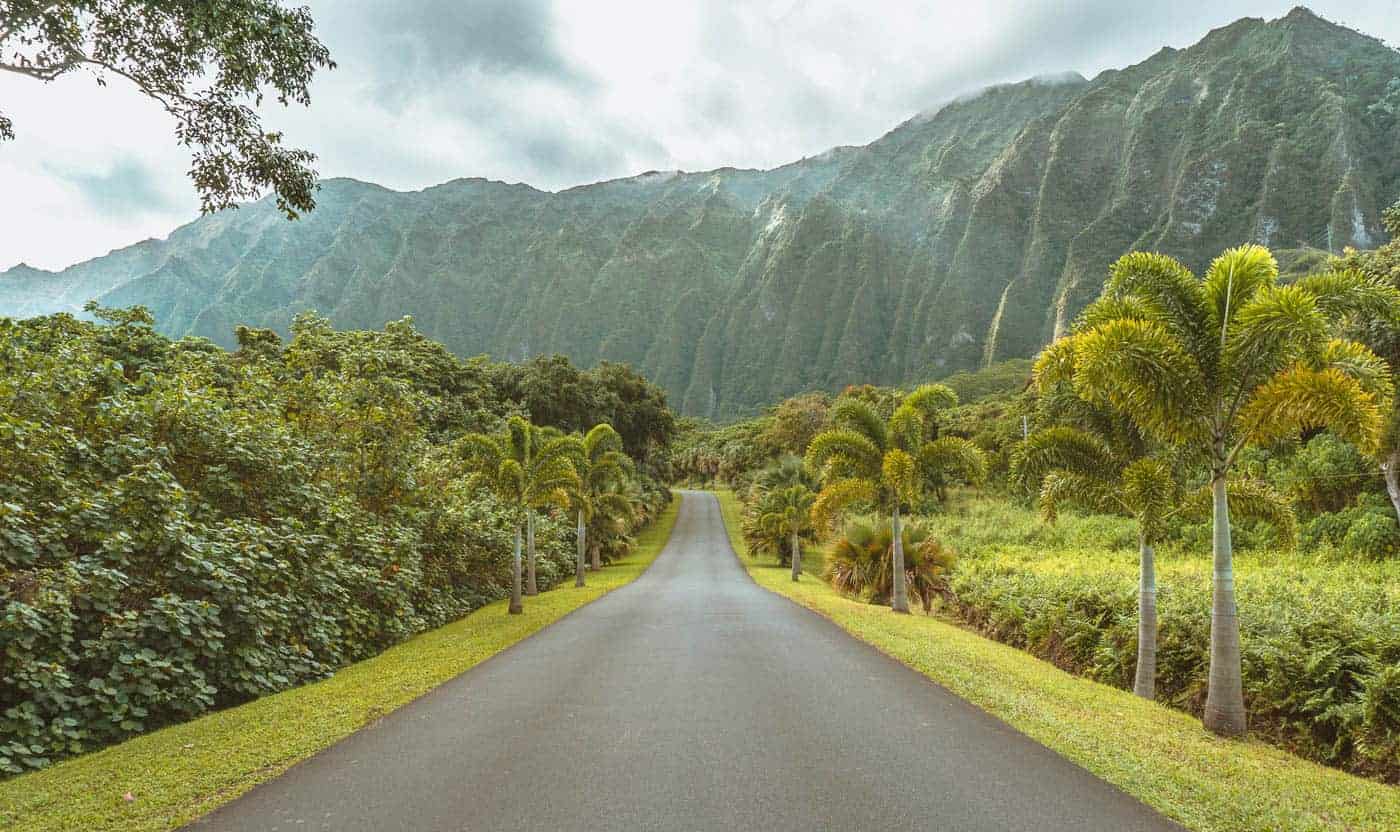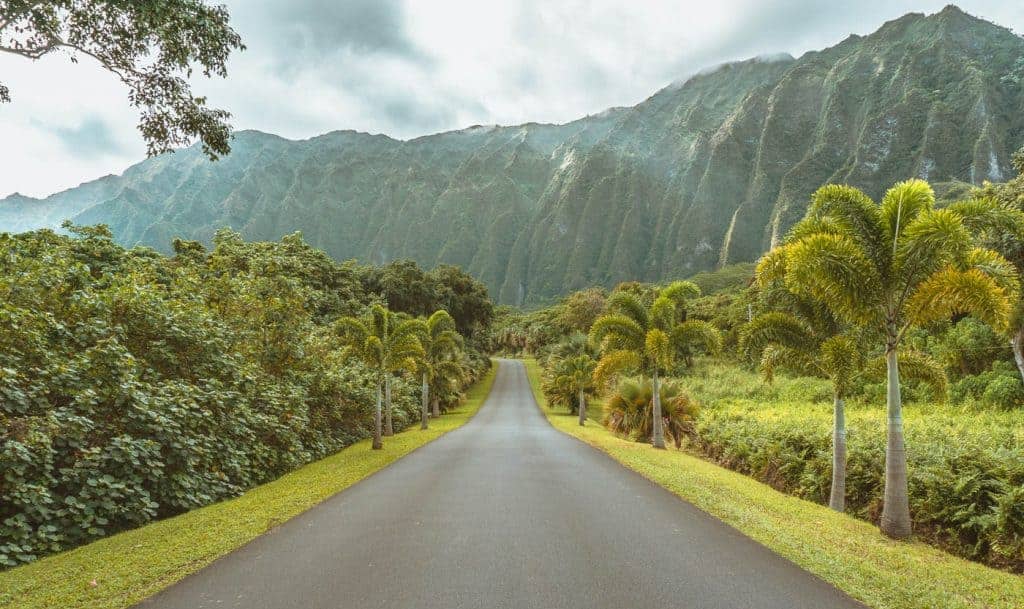 Dresses
An essential to pack: Hawaii vacation dresses! One piece = one outfit, they're great for warm weather, and you can style them to be casual or dressy.   
2 daytime casual dresses
I love tank dresses for daytime exploring or casual dinners. They're comfortable and easy to wear with flip flops or sneakers!
2 evening "nicer" dresses
Bring 2 dresses to wear to either a luau or dressier dinners out.
Swim cover-up
Try to find a lightweight one that won't take up much space in your suitcase.
Shoes
1 pair sneakers
Wear these on the plane. You'll wear them again if you visit one of the volcanoes or if you do some hiking.
1 pair flip flops
Wear these at the beach, pool, and for casual exploring.
1 pair dressy sandals
Pair these with a sundress for nicer dinners out.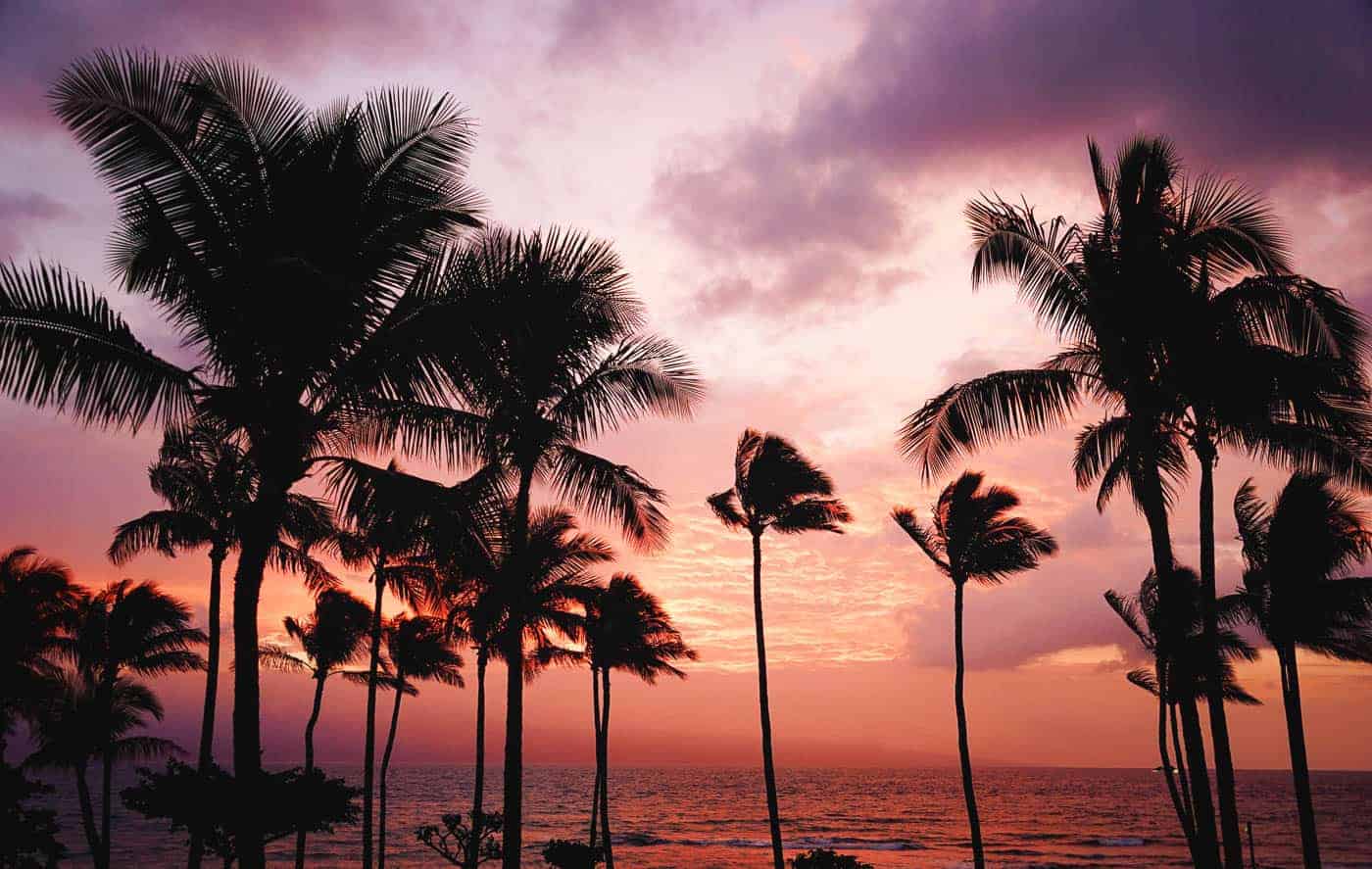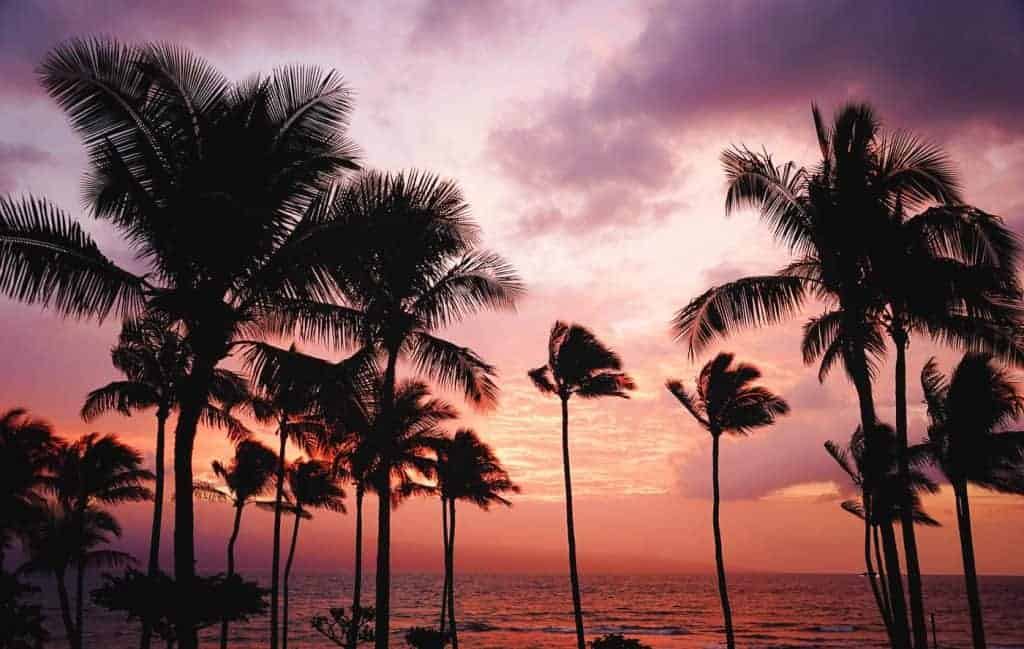 Additional
Sunglasses
A must-have in Hawaii!
2-3 bathing suits
You'll want at least one you can wear while the other one is drying out.
2 pajamas
How many pairs of pajamas you bring to Hawaii is totally personal preference – but I recommend 2.
Toiletries + Personal Care
Of course you can get many of these items in a grocery store or drugstore once you arrive, but they will be EXPENSIVE. So try to use this Hawaii packing list to make sure you're covered!
Most of these are self-explanatory, so I haven't included my comments or recommendations, but there are a few exceptions (hint: read up on sunscreen!)
Shampoo and conditioner
Toothbrush and toothpaste
Dental floss
Soap or body wash
Deodorant
Makeup and makeup remover
Body lotion / face moisturizer
Hair brush, hair ties and flat iron
Razor
Face wash
Reef-safe sunscreen
Pro tip: The marine ecosystem in Hawaii is fragile. Many commercial sunscreens include chemicals that can cause harm to the coral reefs in Hawaii.
Make sure to check that your sunscreen is labeled "reef-safe". This means that it doesn't contain chemicals such as oxybenzone or octinoxate, which have been shown to have detrimental effects on marine life, including coral reefs.
Here's a travel-size, reef-safe sunscreen that's a great option!
Contacts and solution
Feminine hygiene products
Prescription and over-the-counter medicines
Bug spray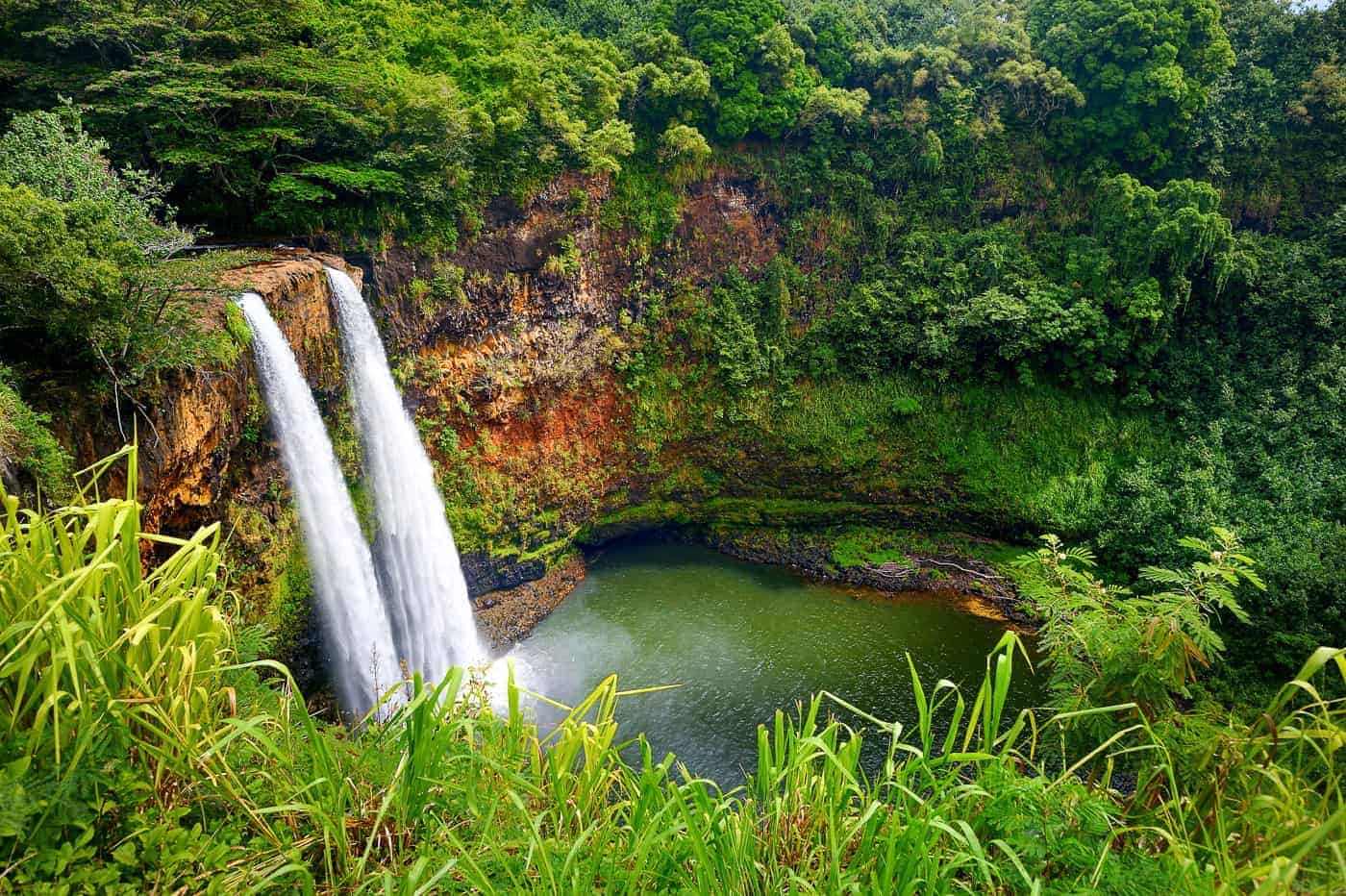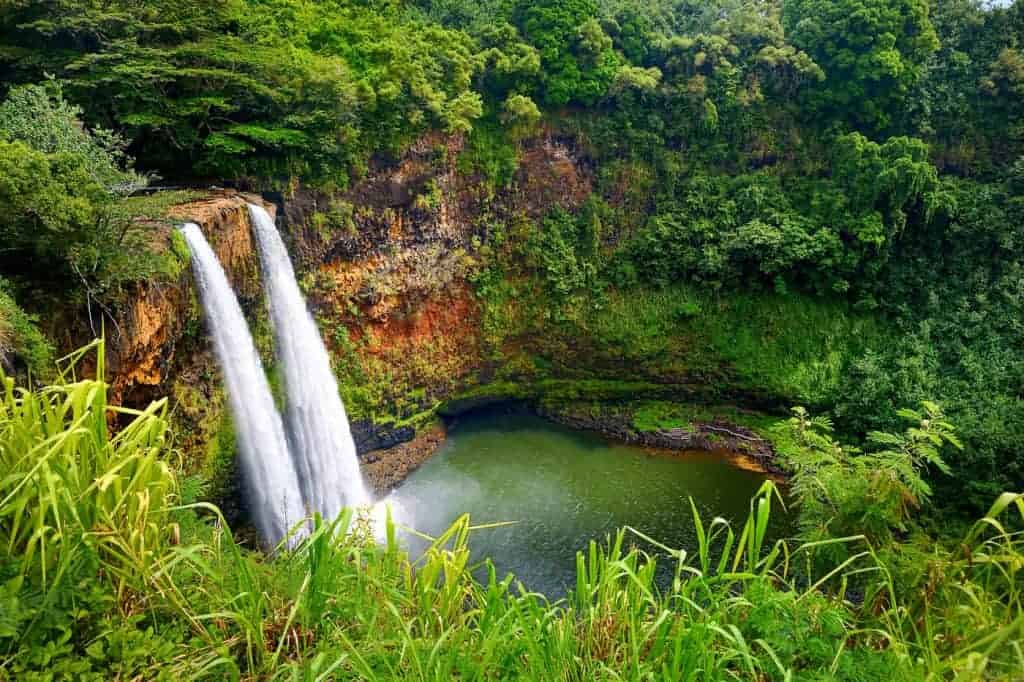 Additional Items to Pack for Your Hawaii Vacation
All of the items below should go in your carry on bag or personal item. If you need more help, check out my guide on packing in your carry on vs checked baggage.
It'll walk you through what to put in your personal item vs. your carry on bag vs. a checked bag.
ID or passport
You're not going to get very far without these, so don't forget to pack them.
Cash and credit cards
Unless someone else is bankrolling your trip, don't forget to bring cash and credit cards!
If you want a credit card that will help you earn travel points incredibly quickly, this is the one I recommend. You'll be heading back to the Hawaiian islands for a second trip before you know it!
Hand sanitizer, lip balm, and tissues
Just some personal basics to put in your carry on.
Books / e-books / magazines
It's a long flight – bring something to do.
Travel blanket
If you get cold on flights like I do, consider bringing a lightweight blanket with you. Even if you're coming from the U.S. west coast, the flight to Hawaii is LONG. Meaning you want to be comfortable.
Reusable water bottle
Stay hydrated on the plane and reduce the number of plastic bottles with a reusable water bottle.
Also – you'll want this if you're planning to do any hiking! Finally, it will save you a few bucks when you don't have to buy bottled water at the grocery store.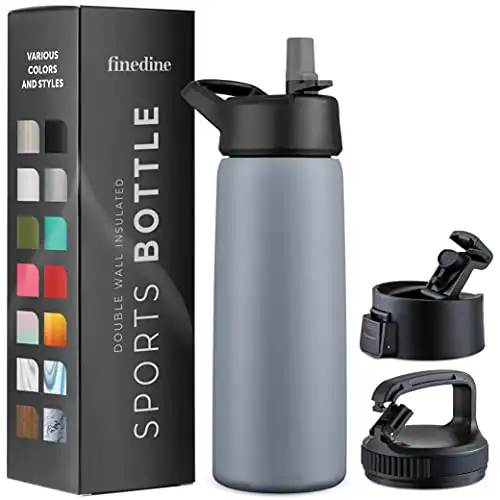 Electronics
Cell phone, laptop, headphones and camera
Start with the basics: don't forget these.
Waterproof phone case
Keep your phone safe from surf and sand with a waterproof phone case! Perfect if you're going out on a snorkeling or kayaking trip.
Chargers and cables
Don't forget all of the cables and chargers you need for your devices!
Portable charger
I've recently added a portable charger to my list of travel essentials, and I love it! I use my phone constantly, and having a portable charger means I'll never run out of juice.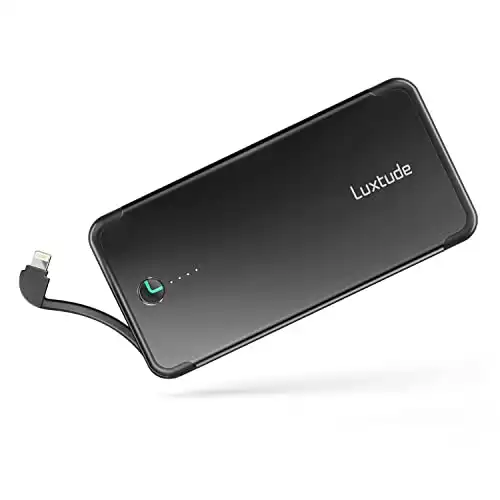 Travel adapters (if you're coming from outside of the U.S.)
Outlets in Hawaii are the same as they are in the mainland U.S. So if you're coming from the mainland, there's no need to bring an adapter. For international travelers, this one is a great option.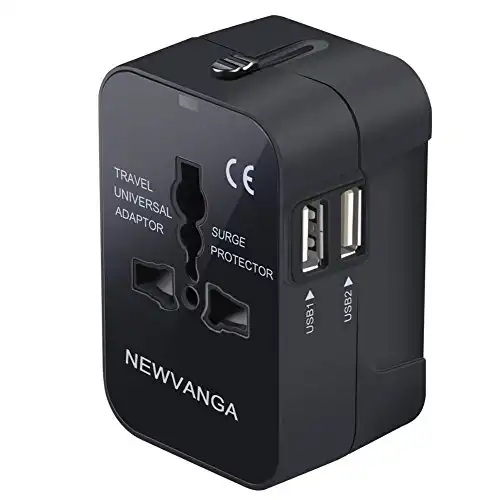 Additional Gear to Add to Your Hawaii Packing List
If you're planning to do certain activities in Hawaii, there are a few additional items to add to your Hawaii packing list.
If you're planning to visit Hawaii's higher elevations, pack warm layers
Visiting Hawaii's volcanoes is a highlight for many travelers to Hawaii. If you have the opportunity to visit Maui's Haleakala or the Hawaii Volcanoes National Park or Mauna Kea on the Big Island, you should absolutely do it!
But what most people don't consider when packing for Hawaii is that the volcanoes are at much higher elevations – meaning that the temperatures are much (much!) lower than they are at the beach (sea level)!
So if you're planning to visit Haleakala, Mauna Kea, or the Volcanoes National Park, make sure to bring some extra-warm layers. You will absolutely need them!
What to Pack for Water Sports and Water Activities in Hawaii
If you're visiting the Hawaiian islands, odds are good that you're planning on doing some water sports or activities while you're there.
Activities like surfing, bodyboarding, kayaking, snorkeling, and swimming are all must-dos when you're visiting the Aloha State! It's an amazing experience to get up close and personal with Hawaii's marine life and coral reefs.
If you'll be doing a lot of water activities, or just spending a lot of time at the beach (I hope you do!), there are a few additional items you should pack:
Rash Guard
If you're planning on surfing or bodyboarding in Hawaii, bring a rash guard. This will protect your skin from chafing on the board. I love this one because it also includes sun protection.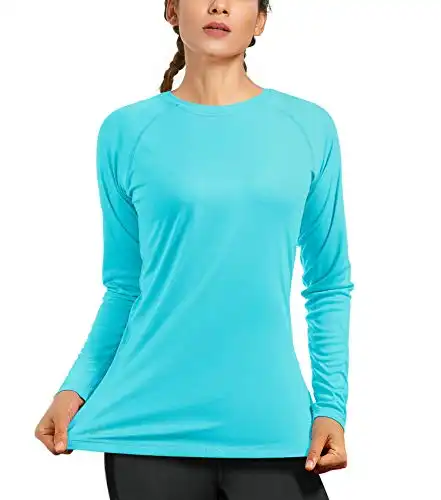 Water Shoes
I also recommend bringing water shoes to Hawaii if you're planning to do lots of beachside exploring.
Many of the beaches in Hawaii are scattered with lava rocks. Water shoes will keep you from slipping or stepping on a sharp piece of lava as you explore.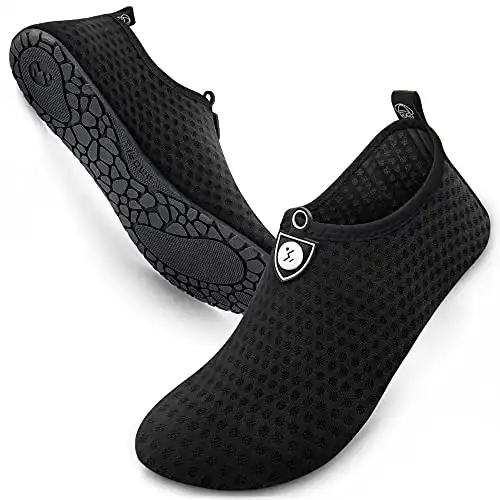 Water Shoes
These come in multiple sizes and colors, and will keep your feet safe while you explore the sea!
Shop Now
Waterproof phone case
If you're planning to be on a boat during your Hawaiian vacation, I recommend bringing a waterproof phone case with you.
You can wear the case around your neck as a lanyard. It will protect your phone but also keep your hands free! These are also great for hiking.
Protect Hawaii's Coral Reefs by Using Only Reef-Safe Sunscreen
As mentioned above, make sure that any sunscreen you bring to Hawaii is labeled "reef-safe". Some sunscreens contain chemicals that have been shown to harm marine ecosystems such as those in Hawaii.
Keep Hawaii's coral reefs safe by making sure that any sunscreen you use in Hawaii is reef-safe.
Beach towels
Check ahead of time if your accommodations will have beach towels. All hotels do, but if you're in a rental home, you should check with the host.
Beach towels are bulky to pack, so only pack them if you need to!
Dry bag
If you're river rafting or kayaking, bring a dry bag to protect your things – just in case! Not only will a dry bag keep your things dry, but they also float. This will prevent your wallet, phone and sunglasses from sinking to the bottom of the ocean!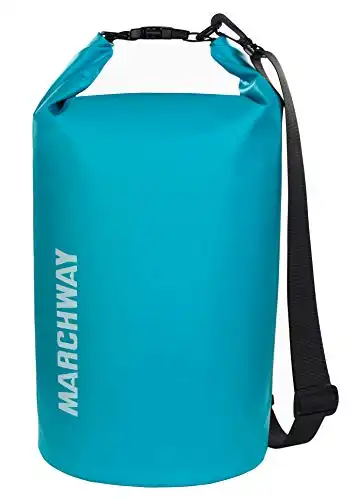 Beach bag
And finally – a beach bag to pack everything in!
What to pack for Hawaii if you'll be horseback riding
If you're planning on doing horseback riding while you're in Hawaii, make sure to pack long pants. Despite how cool it looks on Bridgerton, riding a horse in a dress is not a great idea – and it is also incredibly uncomfortable!
Horseback riding is also not comfortable in shorts or a skirt. So make sure to pack long pants! Pair them with a loose, comfortable top.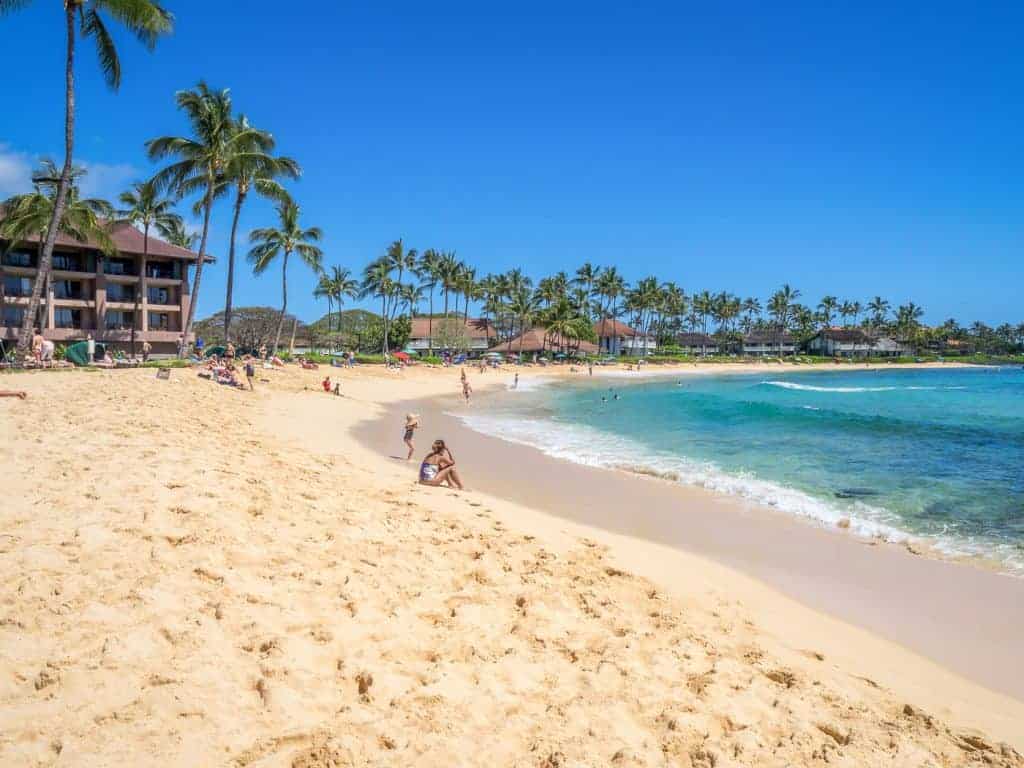 What NOT to Pack for Hawaii
As you're packing for Hawaii, there's a few things that I recommend you NOT bring on your trip. You might be tempted to bring these things, but plan to leave them at home instead!
Jeans
Honestly, you won't need any jeans in Hawaii. Every time I visit Hawaii, I wonder if I should bring or pack jeans – even just to wear on the flight.
And the answer is always no. I've never regretted leaving my jeans at home, in 10+ trips to the Hawaiian islands! In Hawaii, it's just so warm that if you wear pants, you'll want to wear pants that are lightweight, rather than denim.
As far as wearing jeans as part of your travel outfit, I recommend wearing leggings instead. The flight to get to Hawaii is at least 5 hours, and that's only if you're coming from the west coast of the US mainland.
With a long flight, you'll want to be comfortable on the plane. Leggings are your best bet!
Formal Clothing
Unless you're visiting Hawaii to attend a wedding or formal occasion, you can plan on leaving your fancy clothes at home! All of the Hawaiian islands are incredibly casual.
For women, a nice sundress is about as dressy as it gets! And for guys, shorts are acceptable pretty much everywhere. Dress them up with a short-sleeve button-down shirt, and you're good to go. And yes, flip flops are also accepted pretty much everywhere!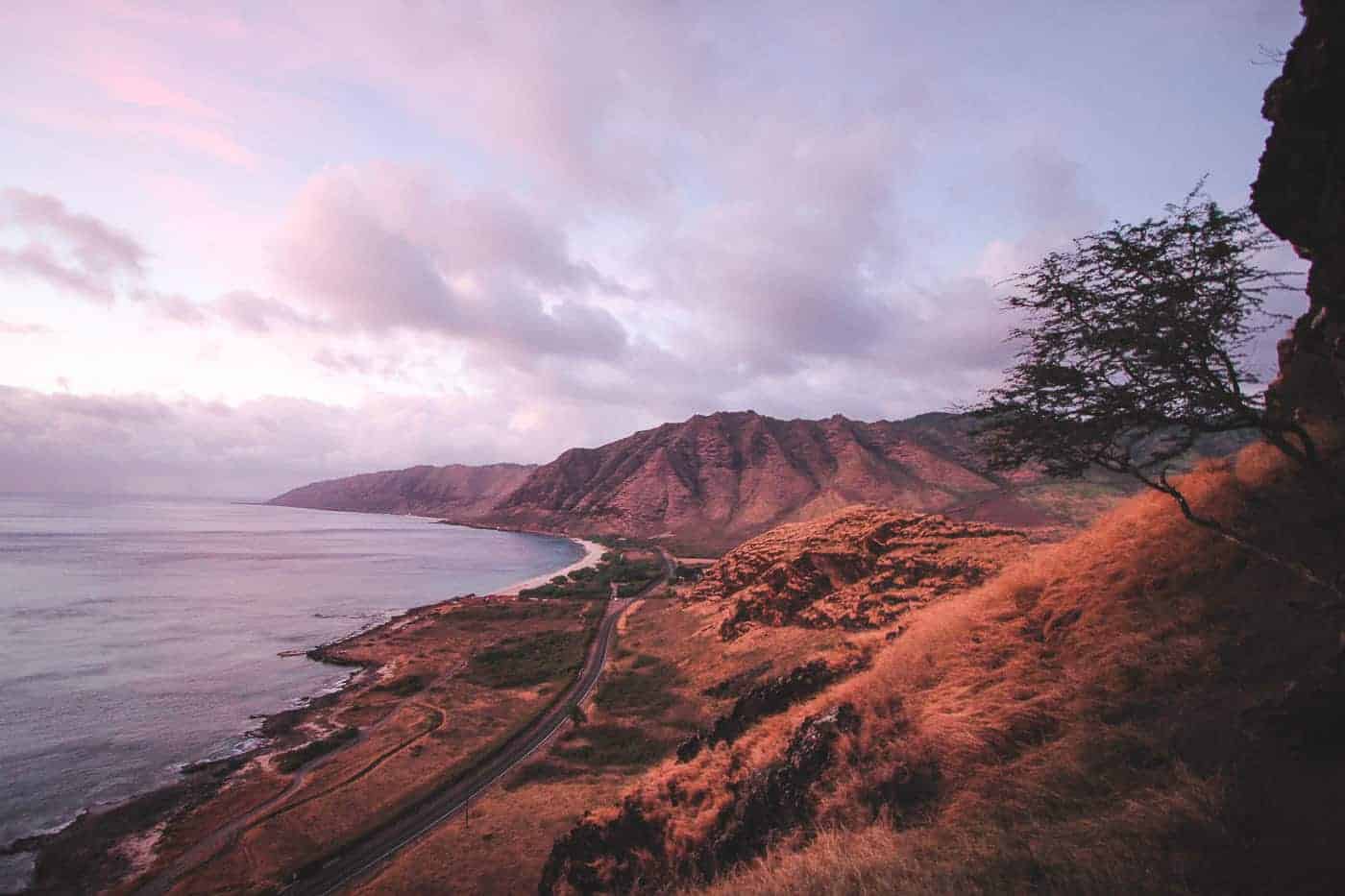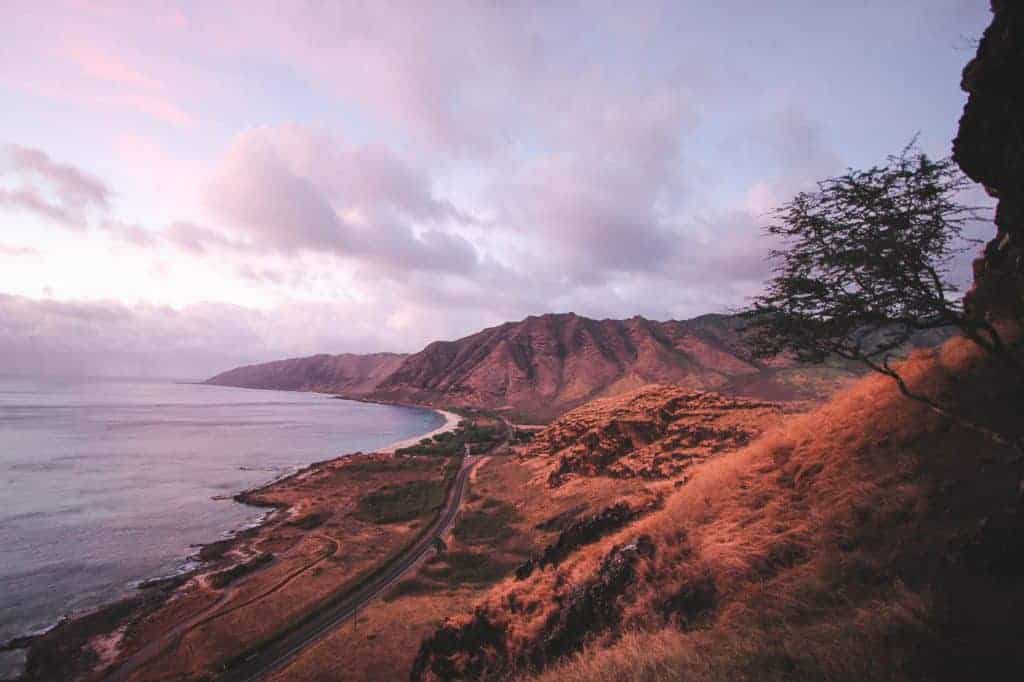 What to Wear in Hawaii
If you haven't been to Hawaii before, you're probably wondering what do people wear in Hawaii?
If you stick to the Hawaii packing list above, you should be all set in terms of your outfits for Hawaii. But here's a few suggestions on what to wear during your Hawaiian vacation:
What to Wear to the Beach or Pool in Hawaii
When you're deciding what to wear to the beach or pool in Hawaii, keep it simple! And casual.
I generally wear my bathing suit, with either a swim cover-up over it, or just shorts and a tank top.
In general, when you're going to the beaches or pool in Hawaii, wear clothes that you don't mind getting wet, or smelling of sunscreen. If it's an outfit you're planning to wear later that day, don't wear it to the beach or pool! Whatever you wear to the beach or pool is likely going to get wet, and need to be rinsed out.
What to Wear Hiking in Hawaii
If you're planning to do some hiking in Hawaii, plan on wearing lightweight, quick-dry clothing. When you're away from the beach, it will be incredibly hot and humid!
The majority of visitors to Hawaii can do day hikes in regular sneakers. It's unlikely you will need heavy hiking boots and socks, unless you're doing a multi-day hiking trip.
What to Wear to Dinner in Hawaii
Trying to decide what to wear to dinner in Hawaii? It really depends on your plans, but here's my suggestions.
Wearing shorts, a tank top, and flip flops to dinner is acceptable pretty much everywhere in Hawaii. It's just that casual! That said, there are some fine dining restaurants where you will probably want to upgrade your outfit a bit.
For women, try a flat metallic sandal with a summery sundress. Guys can wear flip flops anywhere – along with shorts or khakis and a short-sleeved button-down shirt. Unless you're attending a wedding or formal occasion, leave the sportcoats at home!
Luaus in Hawaii can be as casual or formal as you want them to be, although most people tend to dress up *a bit* when they're going to a luau.
Of course, "dressing up" in Hawaii is a relative term! By dressing up, I mean you might want to leave your shorts and t-shirt at the hotel, and wear a sundress
Printable Hawaii Packing List for Females
If you need a printable Hawaii packing list, I've got that for you!
Subscribe below and you'll have a PDF version of this list in your inbox, pronto. Taking a short trip to the islands? This weekend trip packing list has you covered!
Need some help deciding where to go? Here's my guide to the best island to visit in Hawaii.