The Perfect 7 Day Kauai Itinerary for First Timers
This site uses affiliate links and I may earn a small commission when you use my links and make a purchase, at no extra cost to you. 
If you're planning a trip to Kauai and looking for the perfect 7 day Kauai itinerary, this guide has a day-by-day plan for how to spend your time on the island. One week in Kauai will feel like paradise! If you're planning a trip to Kauai, read on for everything you need to know about what to do in Kauai for a week. I've included all of the best things to do with one week in Kauai, including the top sights on Kauai's north shore and south shore. From the Na Pali Coast, to Hanalei, Princeville, Kapa'a and Poipu, here's exactly how to spend your vacation in Kauai to make the most of your trip, including where to eat and where to stay in Kauai!
Before You Spend One Week in Kauai…
Before you spend one week in Kauai, make sure to get yourself some of these. They'll fit in your suitcase for sure, and you'll fit right in with the locals! And for some help packing, check out my printable packing checklists.
Make Sure to Pack this for Kauai!
Important Packing tip for Kauai: Hawaii's coral reefs and marine life are fragile and can be damaged by chemicals in regular sunscreen. So please, please bring REEF-SAFE sunscreen to Hawaii! Here's a pack of 2 travel-sized SPF 30 reef-sunscreens that are less than $10!
Hawaii packing lists and more!
For more help with packing, here's exactly what to pack for Hawaii. You'll also love this post on the best places to eat in Kauai along with my top ten Hawaii vacation tips to craft the perfect trip to any island!
How Many Days in Kauai Do You Need to Spend?
A lot of travelers ask me: how many days do you need in Kauai? The answer is that it really depends on what you want to do while you're in Kauai.
I think that one week in Kauai is the perfect amount of time to spend on the island. With 7 days in Kauai, you will be able see all of Kauai's top sights, but still have plenty of time to relax and enjoy Kauai's beautiful beaches.
Is 7 Days Too Long to Spend in Kauai?
Personally, I don't think that 7 days is too long to spend in Kauai, especially if you would like to do a mix of active sightseeing and relaxing beach time.
This 7 day Kauai itinerary will allow you to hit all of Kauai's best sights, but it is planned at a relaxed pace, with time each day for enjoying the scenery and relaxing.
If you only have 3 or 4 days in Kauai, my advice is to pick and choose based on what I've outlined below. Another option is to adjust the pace of the itinerary so that you can do and see more each day.
Where to stay in Kauai if You have One Week
If you have 7 days in Kauai, and you want to see the highlights of the island, I would recommend splitting your time between Kauai's north and south shores.
You'll be able to take your time, and you won't be stuck driving long distances if you want to spend more than one day in each area.
For a one week itinerary, I'd recommend starting your trip by staying 3-4 days in Princeville on Kauai's north shore. The rest of the trip can be dedicated to the south shore, in Poipu. The distance between the two is about a 1.5 hour drive.
Where to Stay in Poipu
In terms of where to stay in Poipu, I would recommend staying in a hotel that is located right on Poipu beach, or at least walking distance to the beach. The beach is one of Kauai's finest, and staying beachfront will make the logistics of beach time that much easier.
Where to Stay in Poipu for Families
For families, the Sheraton Poipu is a great option. It's beachfront and has a pool where umbrella drinks abound for the adults. Like most other Hawaiian resorts, the pool can get busy, so if you prefer more space to yourself, the hotel also rents pool cabanas for the day.
At the time I visited, the rate to rent cabanas was $150 for the day, however the front desk can give you a current quote.
Where to Stay in Poipu for Couples
On a romantic getaway to Kauai? The Grand Hyatt is your best bet! Located directly on Poipu beach, the grounds of the hotel are drop-dead gorgeous and the vibe is elegant and peaceful.
Where to Stay on Kauai's North Shore
For your time on Kauai's north shore, I would recommend staying in Princeville. Princeville is well-located in terms of beaches and tourist conveniences, and it's also got a front-row seat to some of Kauai's most gorgeous scenery (more on that later).
Where to Stay in Princeville for Families
If you're planning a family trip to Kauai, I'd recommend the Westin Villas for your time in Princeville. You'll have plenty of room to spread out, and the units at the Westin come equipped with kitchens. Plus, the pool is amazing!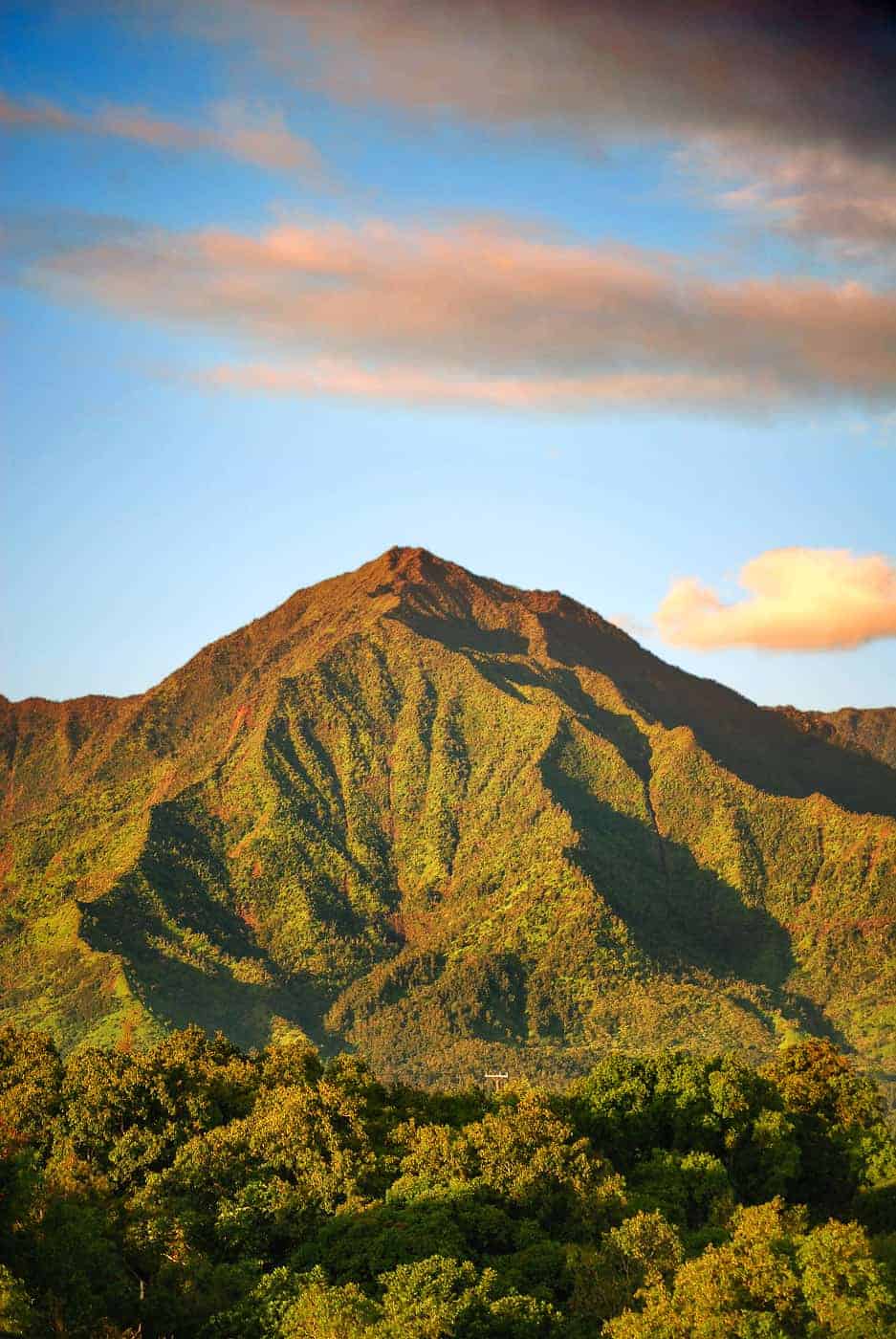 Where to Stay in Princeville for Couples
If it's in your budget, there's no better option in Kauai than the 1 Hotel Hanalei Bay, especially if you're traveling to Kauai for a honeymoon or romantic retreat.
I've stayed at this property every time I've come to Kauai, while it was formerly the St. Regis. It's just now re-opening and – wow! It looks absolutely stunning!
The 1 Hotel's location has a postcard-perfect view of Bali Hai and the beach in front of the hotel is not crowded and perfect for swimming. Sunset cocktails in the lobby bar are a must, even if you're not staying at the hotel. Don't worry – I've included a happy hour stop in this Kauai itinerary!
Pro Travel Tip: These days, travel can be more uncertain than ever. Check for any COVID-related restrictions at your destination, and never travel without travel insurance! I recommend SafetyWing, because they have flexible + affordable insurance plans, and also cover COVID-related impacts on your trip (not all companies do)!
Spend the First Four Days of Your Kauai Itinerary on Kauai's North Shore
If you're visiting Kauai, you're in for a magical trip. Es specially if it's your first visit! I always recommend Kauai because personally, I think it's the best island to visit in Hawaii.
Start your Kauai itinerary on the island's north shore. During your time here, you'll explore the nearby sleepy town of Hanalei, the most picturesque of all small Hawaiian towns, and get an up-close view of the Na Pali coast, Kauai's dramatic, lush northern coastline.
Kauai itinerary Day 1: Welcome to Kauai!
Aloha and welcome to Kauai! Nicknamed the Garden Isle due to its lush green scenery, Kauai is Hawaii's gem. The island is everything you'd expect in a Pacific tropical paradise: green peaks, palms for days, and beaches of the softest sand.
There will be plenty to do during your 7 days in Kauai, so on the first day of your Kauai itinerary, plan to take it easy after your long flight to Hawaii. (To stay comfortable on your way to Hawaii, here's what to wear on a long haul flight!)
Pick up your rental car, and drive the roughly 1.5 hours from Lihue airport up to Kauai's north shore. It's an easy drive, and the natural beauty of Kauai is easy on the eyes.
Once you get to your hotel, grab a mai tai, and spend any remaining time getting settled in your room. Once you're settled in, spend the afternoon poolside and enjoying sunset cocktails!
READ MORE: The best beauty products to pack for beach trips.
Kauai Itinerary Day 2: Explore Hanalei
Spend the second day of your Kauai itinerary exploring Hanalei, the sleepy surf town that is the star of Kauai's north coast. As you drive into the town, you'll cross a one-way wooden bridge, reminiscent of old Hawaii. Local courtesy means letting a few cars pass in the other direction before taking your turn.
The wooden bridge is the only way to reach Hanalei from the rest of the island, and in a sense, is what's kept the town small and charming.
The bridge has been designated a historical landmark, and because of that, won't be torn down. Since large, commercial tour busses can't reach the town, Hanalei remains far less commercial than many other resort areas in Hawaii.
Enjoy Hanalei Bay
The crown jewel of Hanalei is picture-perfect Hanalei Bay, a semi-circle shaped bay where you'll spend most of your second day in Kauai on Black Pot Beach. Play in the sand, venture out on the pier, or rent a stand up paddleboard.
The bay is a great place to try it out since the water is generally nice and calm. When you get hungry for lunch, check out one of the food trucks that visit the beach on a regular basis.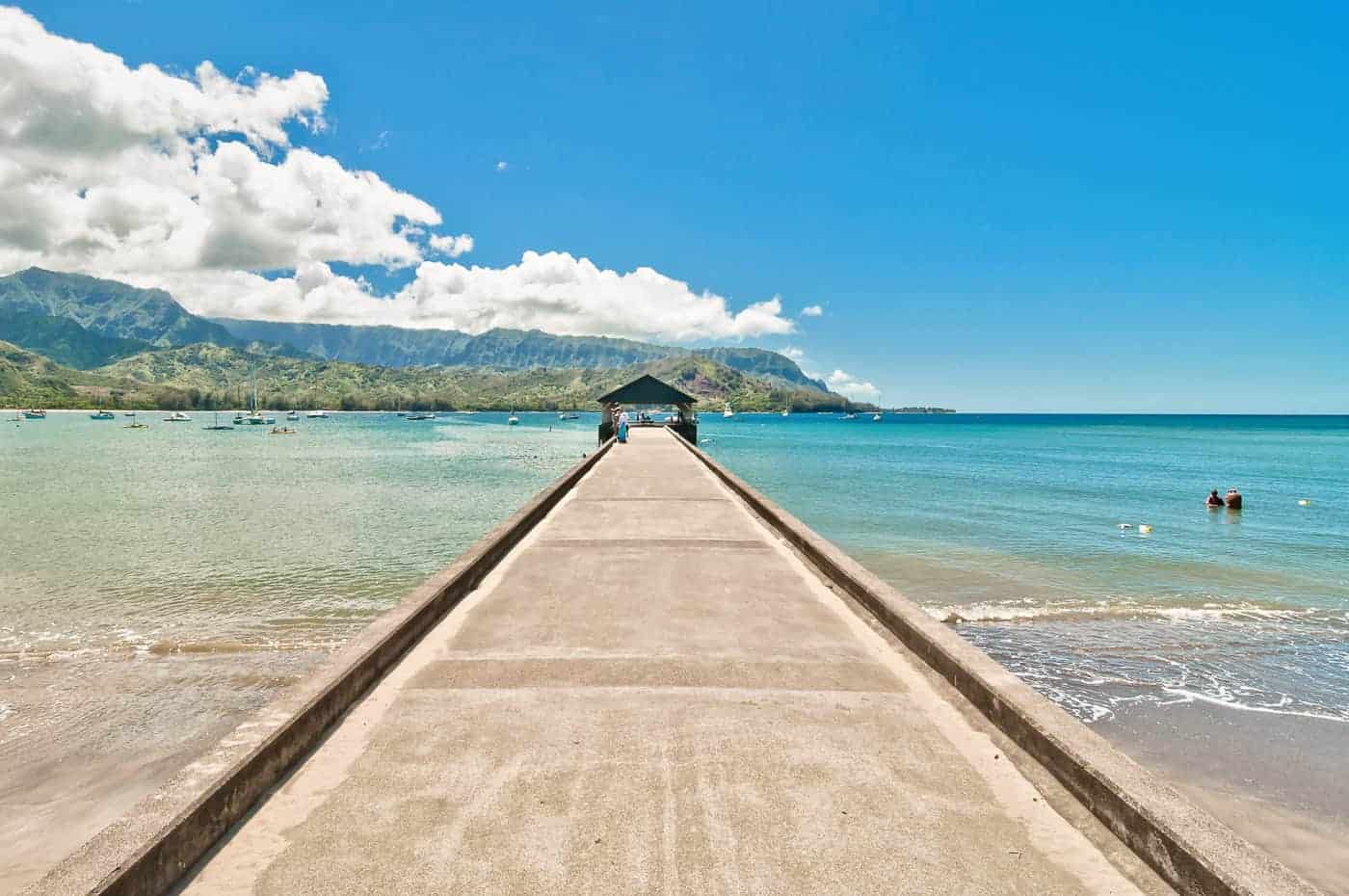 Once you've had your fill of beach time for the day, you can stroll down Hanalei's main drag (it won't take long) and explore the boutiques and local crafts.
I especially love Hanalei Surf Company for beach and surf essentials, as well as must-have souvenirs. It's hard to resist a stop in a real estate shop, too! Now that you've found paradise, it can be tempting to want to make a permanent move.
Princeville's Finest for Drinks and Dinner
Once you've cleaned up from your beach day, head over to the 1 Hotel Hanalei Bay for happy hour drinks at the lobby bar. Try to time your visit so that you can enjoy the magnificent sunset views from the hotel. Just make sure to go on the early side so that you can get a table, because this is a popular spot – and rightfully so.
After happy hour, head back into Hanalei for dinner at my all-time favorite Kauai spot: Bar Acuda. Request an outdoor table and enjoy tapas and wine to round out a great start to your Kauai trip.
Kauai Itinerary Day 3: Na Pali Coast
Start off day three of your Kauai itinerary with a breakfast stop at Hanalei Wake Up Cafe. It's a local favorite for early-morning fill-ups, and it's a perfect pit stop to fuel you up for the day ahead.
Kalalau Trail: Gateway to the Na Pali Coast
After breakfast, continue past Hanalei until you reach Ke'e Beach, where the Kalalau Trail begins. The Kalalau Trail is the only land access to the remote Na Pali coast, and hiking it is a phenomenal way to truly see Kauai's scenery.
For this Kauai itinerary, I would recommend hiking the first 4 miles of the trail to Hanakapi'ai Falls. Even this is a meaningful hike, since you've also got to hike the 4 miles back! Check out this trail information guide for more details.
If you're not up for a hike, spend the day on Ke'e Beach. Just make sure to get there early, since the beach can get crowded and parking can be hard to come by.
Casual Dinner at a Hanalei Favorite
After a day spent adventuring, you'll probably want to keep dinner casual. There's no better spot than Tahiti Nui, right on Hanalei's main drag. Founded in the 1960's, Tahiti Nui has become somewhat of a Kauai institution, and you might recognize it from movies like The Descendants.
I highly recommend one of their pizzas with a side of live music, which is often on offer. If you're interested, the restaurant also hosts a luau on Wednesday evenings – just make sure to book online ahead of time.
Kauai Itinerary Day 4: Kauapea Beach
On the fourth day of your Kauai itinerary, take things a little slower after a busy day yesterday. Head to the Kilauea Lighthouse and take in the views from the cliffs. The area is also a wildlife refuge for Hawaiian seabirds.
After the lighthouse, grab a quick lunch at Kilauea Fish Market and then plan to spend the afternoon at Kauapea Beach, otherwise known as Secret Beach.
It'll take some navigation and a downhill hike to find it (check out this guide for more info) but you'll be rewarded by very few crowds, black lava rocks and crystal-blue waters. It's worth it!
Only in Hawaii
For one of those fun, only-in-Hawaii vacation memories, grab a few pineapples or mangos from a fruit stand on your way back to your hotel. Hand them over to the poolside bartender. In many places, they'll make a tropical drink for you with the fruit you bought – it doesn't get any more fresh than that.
Spend The Rest of Your Time in Kauai Exploring the South Shore
Now that you've spent the first half of your 7 days in Kauai exploring the north shore, it's time to head down to the south coast of the island for a few more days of scenery and adventure.
Kauai Itinerary Day 5: Kauai from Above
On day five of your Kauai itinerary, leave Princeville behind and head down south towards Poipu, making a few stops along the way.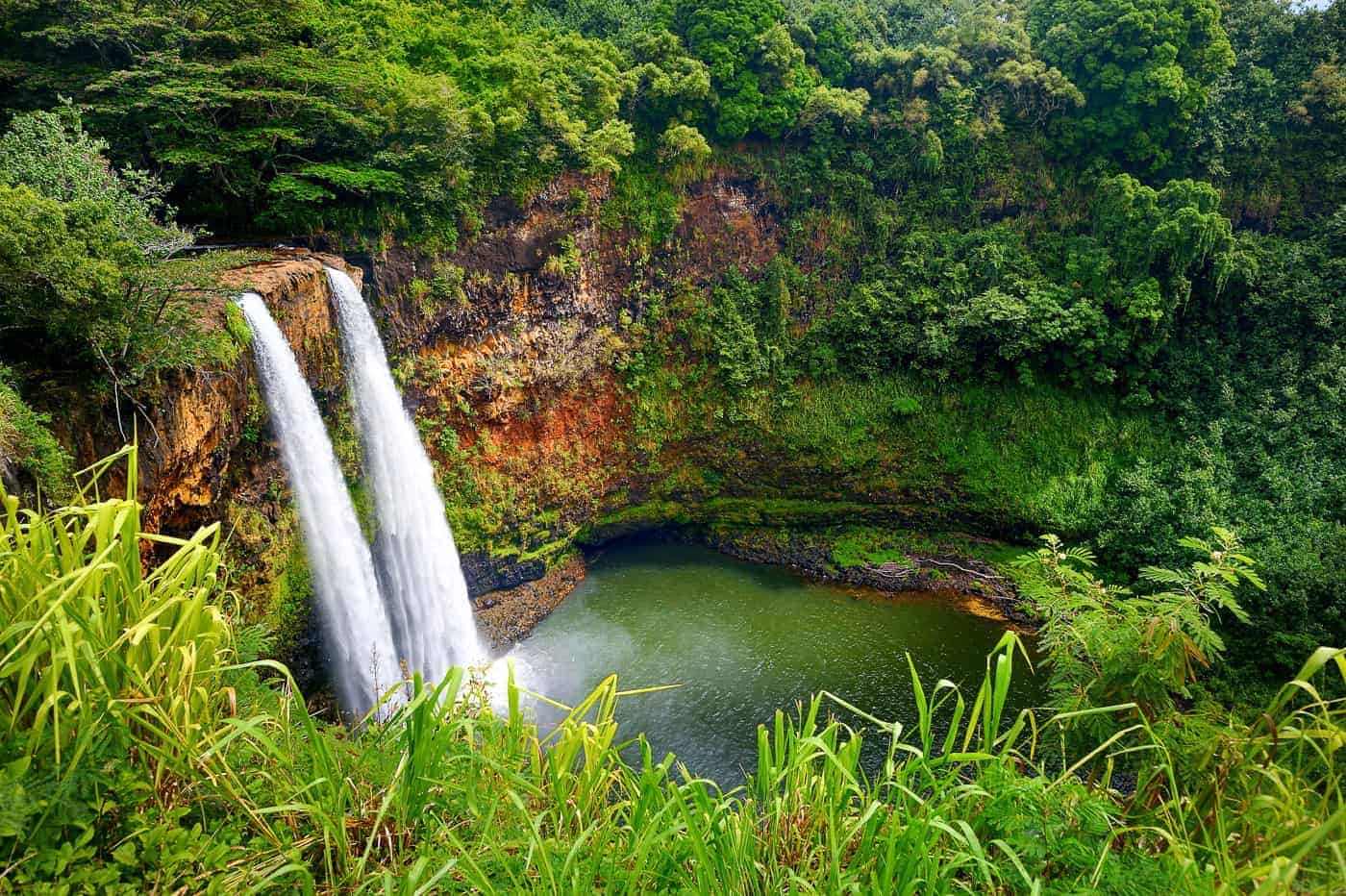 Wailua Falls
The first side trip on your drive down south is Wailua Falls, one of Kauai's most picturesque waterfalls because it's a 2-for-1 special. It's an easy stop because the lookout for the falls requires no hiking to get to – just take care as the nearby paths can be slippery.
The twin falls are about 150 feet high and if you're lucky, you'll spot a rainbow in the waterfall spray as it cascades to the emerald pool below.
See Kauai From Above
Your second stop on the way to Poipu is going to be a memorable one. Since most of Kauai can't be accessed by land, one of the best ways to see the island is from up above. That's right – today you're going to check out Kauai via helicopter tour.
Top Recommendation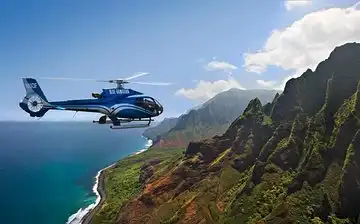 Kauai ECO Adventure Helicopter Tour
You haven't seen Kauai until you've seen it from above! Take in outstanding aerial views of Kauai by helicopter. You'll get a new perspective on the dramatic geography of the Na Pali Coast, Waimea Canyon, 'Jurassic Park Falls,' and more!
Pros:
50 minutes
Free cancellation
Business class-style seats + wide viewing windows
Learn More
You'll fly over the Waimea Canyon, the Na Pali coast, and about a zillion waterfalls. I won't spoil all of the surprises, but just know that this is a Kauai must-do!
After the helicopter tour, check in to your hotel in Poipu (see my recommendations above for the best spots). Once you've gotten settled, head over to the Shops at Kukui'ula for an elegant dinner at Merriman's Fish House, some of the best seafood on the island. Save room for dessert at Lappert's ice cream, too.
Kauai Itinerary Day 6: Explore Poipu
Start off your first full day on Kauai's south shore with an easy seaside hike. The Maha'ulepu Coastal Trail starts just beyond the Grand Hyatt, and hugs Kauai's gorgeous south shoreline for several miles.
The hike is mostly flat, and the cliffside path is a great venue for wildlife-spotting. Be on the lookout for sea turtles, monk seals, and more marine life that dwell in the tide pools alongside the trail.
Relax on Poipu Beach
Once you've gotten your morning workout in, spend a few hours relaxing and enjoying Poipu beach. If you'd prefer to stay out of the sun, a spa treatment at the Anara Spa at the Grand Hyatt is worth the splurge.
Dinner at Red Salt
Before dinner, stop by Spouting Horn, a blowhole just past Poipu Beach. At the lookout, you can watch ocean spray skyrocket up to 50 feet in the air. It's a gorgeous sight at sunset, and definitely photo-worthy.
Afterwards, head back to the Ko'a Kea resort for dinner at Red Salt. The vibe is upscale casual and the food is what I'll call island modern and creative.
If you're celebrating a special occasion, let the restaurant know ahead of time. I won't spoil the surprise, but I bet you'll love it.
Kauai Itinerary Day 7: Waimea Canyon
Spend your last full day in Kauai marveling at one of the island's natural wonders: Waimea Canyon. Nicknamed the Grand Canyon of the Pacific, Waimea Canyon was formed by the Waimea River and is about 10 miles in length. I recommend getting to the Canyon early to beat the crowds.
Whether you prefer to see the canyon via an 8-hour hike, or a quick scenic overlook, there's probably a hike for you at the Waimea Canyon State Park. This guide has all of the info you'll need to select the best choice for you.
Finish Your 7 Days in Kauai with a Beachside Sunset Dinner
7 days in Kauai sure do fly by! Cap off your time in paradise with a final dinner at the Beach House. Another Kauai favorite, the Beach House is perched right in front of one of Kauai's best surf spots, Prince Kuhios.
Arrive early to dinner to grab a spot at the bar and watch the surfers while the sun sets. It's the perfect ending to a week well-spent!
There you Have it – the Perfect 7 day Kauai Itinerary!
I hope this guide has helped you with planning a trip to Kauai! Need help packing for your trip? Check out my best tips on travel packing for women!
And if you're heading elsewhere in Hawaii, this 7 day Big Island itinerary will give you a great plan for your trip!