What to Wear in Hawaii: The Ultimate Guide
This site uses affiliate links and I may earn a small commission when you use my links and make a purchase, at no extra cost to you. 
Trying to decide what to wear in Hawaii? With its tropical climate and laid-back culture, Hawaii has a unique style all its own, and it's important to pack accordingly to ensure you are comfortable (and stylish!) during your vacation. In this post, I'll go through some tips and recommendations for what to wear in Hawaii, whether you're spending your days lounging on the beach, or exploring the island's natural beauty. Pair this guide with my ultimate female Hawaii packing list, and guide to affordable resort wear, and you'll be ready for your trip in no time!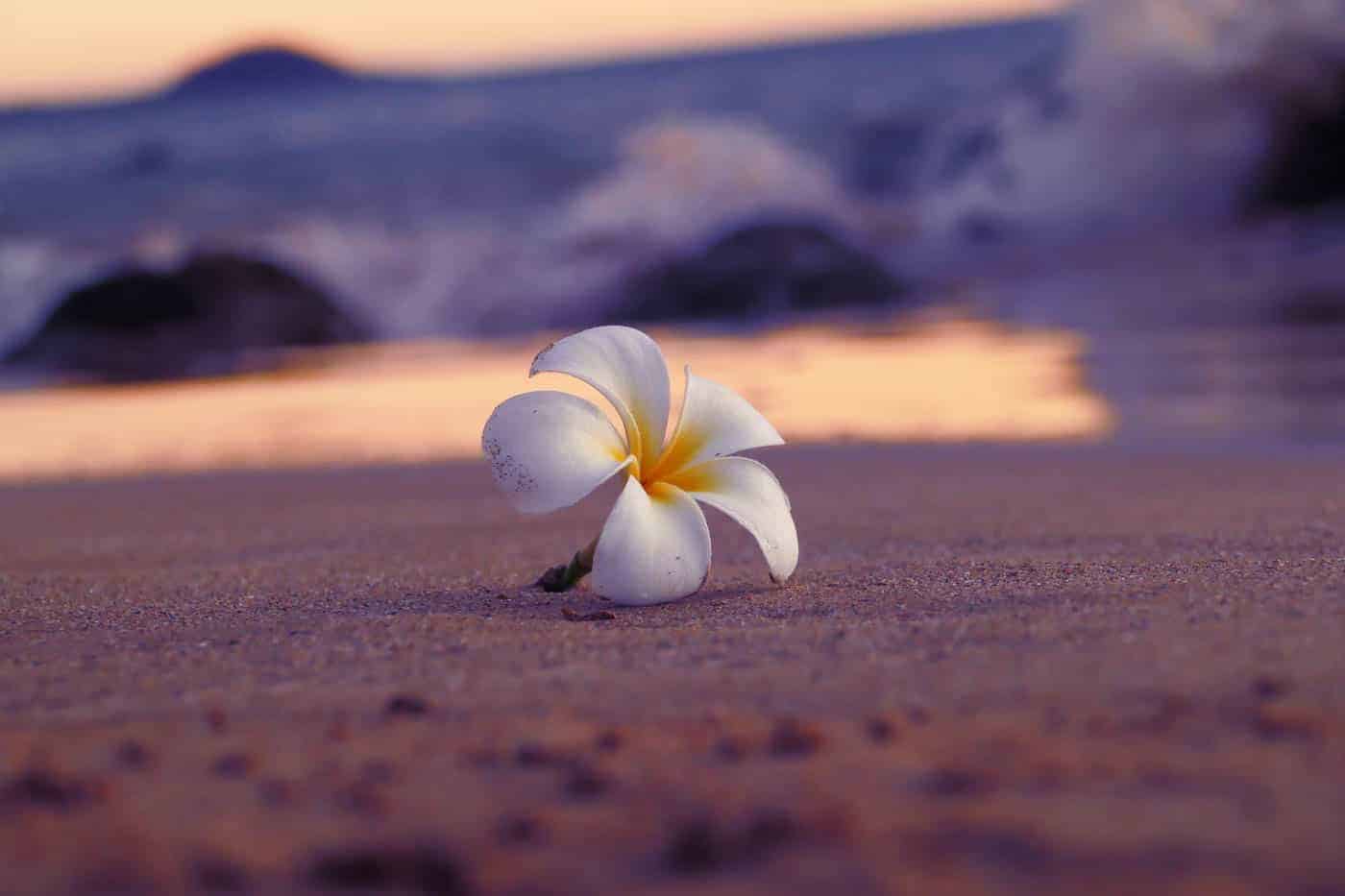 Tips for How to Dress in Hawaii
First let's cover a few helpful tips to know when putting together your Hawaii vacation wardrobe and cute outfits for Hawaii.
Look for clothes in cotton or linen, as these natural fabrics are the most breathable, so they're perfect for Hawaii's heat and humidity.
Pack versatile clothing that you can mix and match, and dress up and down.
Leave your denim at home! Denim feels so hot and bulky in the tropics. You will be much more comfortable in cotton or linen shorts or pants.
Dresses are always a good go-to! The right warm weather dress can be easily styled casually for daytime exploring, or slightly dressier for dinners out.
For shoes, a metallic sandal is perfect for dressier dinners or a luau, and flip flops are perfect for the pool or beach. Make sure they're comfortable because you will walk a lot in Hawaii!
Hawaii Vacation Outfits
With those style tips in mind, here are some cute Hawaii vacation outfit ideas I've put together, depending on what you're planning to do on your vacation.
What to Wear on the Plane to Hawaii
To get to Hawaii, most travelers have to fly at least five hours. So figuring out what to wear on the plane to Hawaii is key!
On the flight to Hawaii, your outfit should be comfortable, and also integrate with the other items you're packing. In other words, if you wear it on the plane, you should be able to wear it again during your trip!
I recommend wearing sneakers, leggings (these are a current favorite), and a t-shirt or tank top layered under a long lightweight cardigan. You'll wear all of these again on your trip, and you'll stay warm and comfortable on the plane to Hawaii.
If you need more ideas, I've written an entire post about what to wear on a long haul flight and look stylish!
What to Wear to a Luau in Hawaii
One of the most common questions I get asked about what to wear in Hawaii is what to wear to a luau in Hawaii?
For a luau in Hawaii, you can absolutely get dressed up!  An outfit for a luau doesn't need to be formal evening attire, but going to a luau or fancy dinner in Hawaii is your best opportunity to wear one of the Hawaii vacation dresses you bought, and style it for evening.
Here's the most important thing to keep in mind when dressing for a luau: many luaus in Hawaii take place in the sand on the beach.
Make sure to wear shoes that will be comfortable in the sand. I recommend flat sandals, but if you want some height with your shoes, try a wedge or espadrille. Whatever you do, leave your high heels at home!
Keep reading for some style options, as well as my top picks!
What to Wear to a Wedding in Hawaii
If you're going to a wedding in Hawaii and wondering what to wear, I've got some outfit ideas for you!
The first step to choosing what to wear to a wedding in Hawaii is to check the wedding invitation or website to see if a dress code is suggested.
For most weddings in Hawaii, the dress is upscale beachy-casual. So if no dress code is specified, it's safe to aim somewhere in between a casual sundress and an evening dress. In other words, dressy cocktail attire isn't necessary.
For a no-fail Hawaiian wedding guest outfit, pair a long maxi dress with flat metallic sandals or wedges, simple jewelry, and a straw clutch. Let me break it down:
Dress: You're likely to be outside, so you need to navigate both direct sunlight as well as cooler nighttime ocean breezes. Look for a long dress that's made from breathable material (bonus points if it's unlined!) so that it won't be too hot, but gives you a bit more coverage when the sun goes down and it cools off.
Shoes: Many Hawaiian weddings take place on the sand or grass. Your high heels aren't cut out for that! So make sure to wear shoes that are flat-soled, such as sandals, wedges, or espadrilles.
Accessories: Keep it simple with a straw clutch that you can pair with the other pieces you're bringing on your trip. If you have long hair, bring a hair tie – the humidity in the air in Hawaii has destroyed my "beach waves" way too many times to count!
Shop My Top Picks!

What to Wear Hiking in Hawaii
With Hawaii's heat and humidity, it's easy to break a sweat on the shortest of hikes. So if you're planning to hike while you're in Hawaii, the best clothes to wear are quick-drying fabrics.
In certain parts of Hawaii, it can also rain frequently, so it's a good idea to bring a packable lightweight rain jacket with you. Here's a great option that comes in a ton of different colors, and comes with its own packing bag!
Most travelers to Hawaii don't need to bring hiking boots. As long as you're planning to do just short day hikes, you can wear sneakers. If you're planning to hike more than 4-5 miles, it's worth packing hiking boots and wool socks.
Sightseeing Outfits
If you're planning to spend some time sightseeing while you're in Hawaii, you're probably wondering what to wear!
Keep in mind that it will likely be hot and humid, and there will be plenty of sun. So the best outfits to wear sightseeing in Hawaii are light, breathable fabrics.
Natural fibers like cotton and linen are good choices for hot weather, as they are lightweight and allow your skin to breathe. And be sure to wear comfortable shoes or sandals, as you will probably do a lot of walking while you're in Hawaii.
I like to pack a mix of shorts and tank tops, along with a few sundresses that can be worn during the daytime and also at night. Try to pick a combination of daytime outfits that can all be styled with the same pairs of shoes.
Here's a few examples of Hawaii vacation outfits that would be perfect for a day of exploring in Hawaii: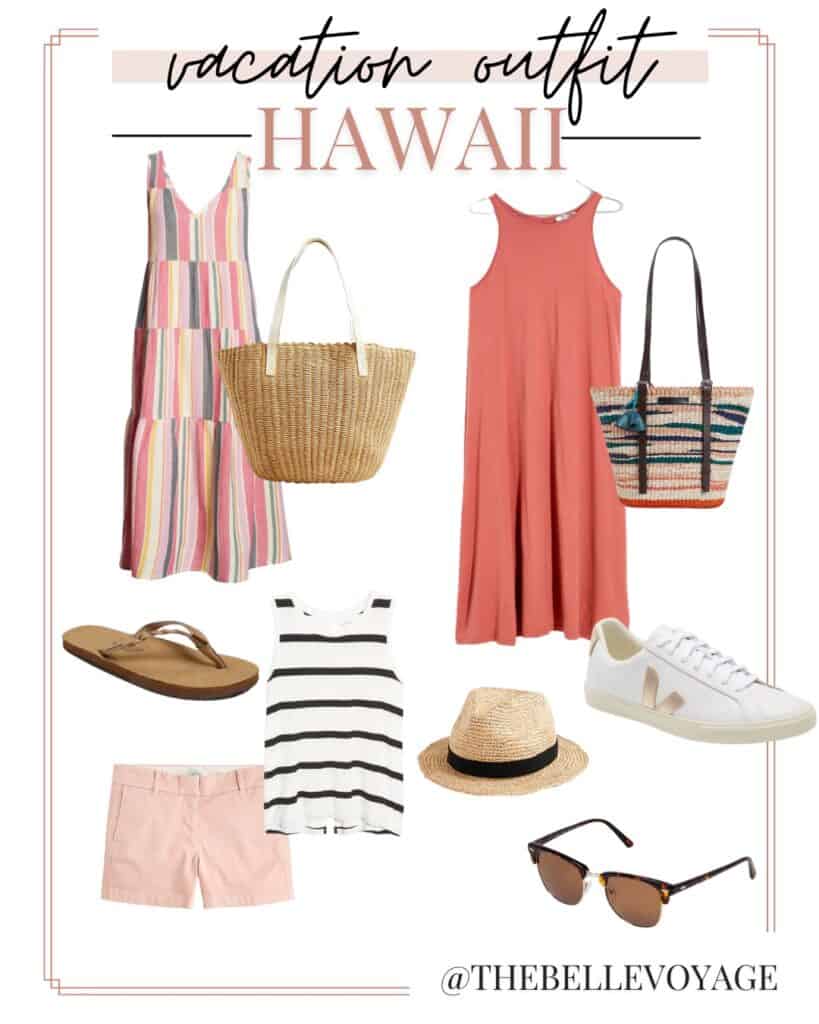 Shop My Top Picks!

How to Dress for the Beach or Pool in Hawaii
Trying to decide what to wear to the pool or beach in Hawaii? Follow these tips:
Consider what activities you're planning to do while you're near the water. Are you doing water sports like snorkeling or diving? Playing with your kids in the pool? If so, bring a swimsuit that will stay put while you're active!
Don't forget a swim cover-up! In Hawaii, I tend to wear my swim cover-ups more than anything else in my suitcase.
You can wear your cover-up to, from, and around the pool or beach, or throw it on to go straight from the pool to lunch or dinner.
It's not uncommon to see people wearing pool or beach attire at casual restaurants in Hawaii, especially at restaurants that are close to the pool or beach.
Finally, be sure to pack more than one swimsuit! I guarantee you'll want to be back in the water before the last suit you wore is dry. And there is nothing worse than putting on a wet swimsuit.
Here are a few ideas for Hawaii beach and pool outfits, and you can shop my top picks below!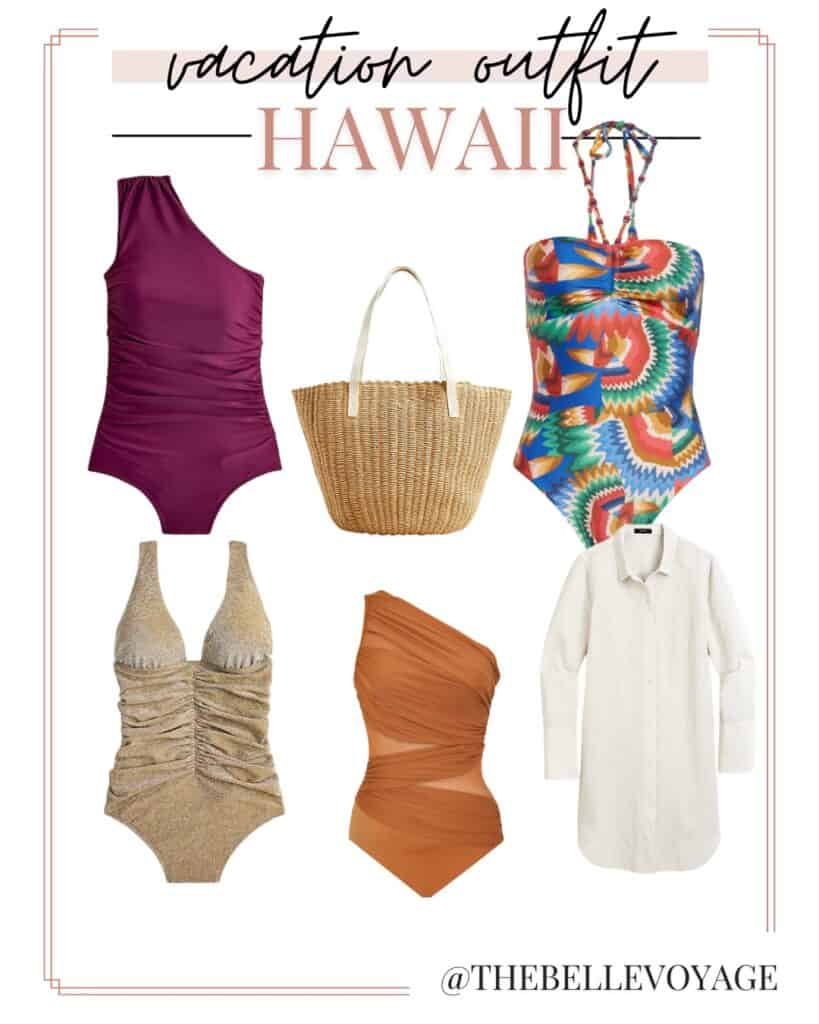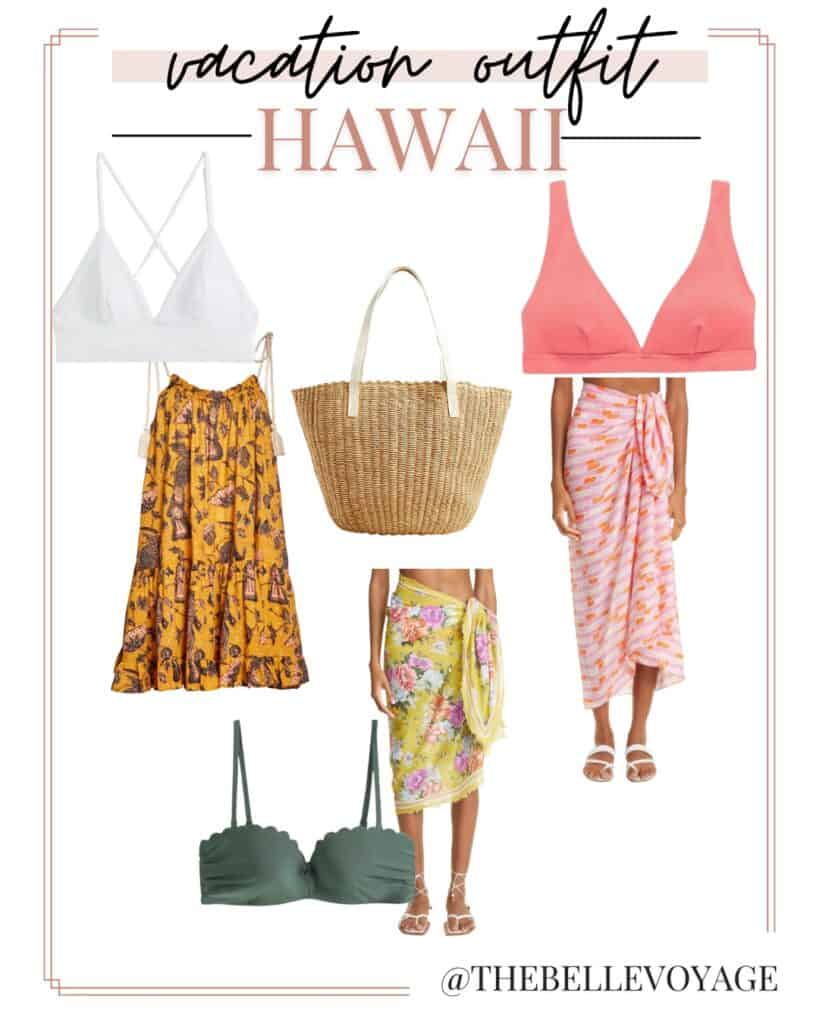 Top Picks: Cover-Ups

Top Picks: Swimwear

Accessorize Appropriately
There are five key accessories you'll need to put the finishing touches on your Hawaii vacation outfits: a tote bag, a clutch or smaller purse, sunglasses, a hat, and jewelry.
Tote Bag
Bring a neutral or straw tote bag as your personal item on the plane to Hawaii. This can double as your beach tote once you're there.
Pro tip: I love a designer or investment bag as much as the next gal. But when it comes to choosing a tote bag to bring to Hawaii, your bag is going to come in contact with sand and water at some point. So this might not be the bag to splurge on.
Clutch
In addition to a larger tote bag, it's also a good idea to pack a smaller clutch bag that you can bring for evenings in the Hawaiian islands, or when you don't want to lug around a larger bag.
Look for a neutral or metallic bag that will go with any of the clothes you pack for Hawaii.
Sunglasses
In Hawaii, sunglasses are a must! You'll wear them every day.
Instead of packing your most expensive shades, bring a budget-friendly designer-inspired style (my current favorites are here). You won't be heartbroken if they're lost or left behind!
Hat
One of the most important factors when dressing for Hawaii is to stay protected from the sun. I like to bring a large packable hat (like this one) for the beach and pool, and also a baseball cap for hikes or sightseeing.
Jewelry
Again, keep it simple, and inexpensive. (You saw White Lotus, didn't you?) It's easy for jewelry to get lost or misplaced while on vacation, especially if you're planning to do water sports and activities.
To accessorize your Hawaii vacation outfits, I recommend bringing one necklace that goes with everything, two pairs of earrings (one small; one for evening), and a simple bracelet.
I love the warm look of gold metal jewelry on a beach vacation, but the metal is, of course, your personal preference.
Shop My Top Picks!

What to Wear in Hawaii by Season
Hawaii has a tropical climate, which means that it is generally warm and humid throughout the year. However, the weather can vary somewhat by season and by island.
When you're deciding what to wear on vacation in Hawaii, consider the season you're traveling in:
Spring
Spring (March, April, May): During the spring, the weather in Hawaii is typically warm and dry, with temperatures ranging from the mid-70s to low 80s Fahrenheit.
Summer
Summer (June, July, August): The summer is the hottest time of year in Hawaii, with temperatures ranging from the mid-70s to mid-80s Fahrenheit. The weather is also generally more humid during the summer months.
Make sure to pack light, breathable fabrics and of course a hat and plenty of sunscreen.
Fall
Autumn (September, October, November): The weather in Hawaii during the autumn is similar to the spring, with warm and dry conditions and temperatures ranging from the mid-70s to low 80s Fahrenheit.
Winter
Winter (December, January, February): The winter is the coolest time of year in Hawaii, with temperatures ranging from the mid-60s to mid-70s Fahrenheit. The weather is also generally drier during the winter months.
If you're traveling to Hawaii in the winter, you should bring a light sweater or jacket with you for cooler evenings by the water.
What to Wear in Hawaii By Island
Each island in Hawaii has its own vibe – and also its own microclimates! The specific Hawaiian you visit will factor into your Hawaii outfit choices (here's how to decide the best island to visit in Hawaii!).
Consider these style tips for what to wear on Maui, Kauai, the Big Island, Oahu and Lanai.
Maui
Maui has some incredible high-end resorts and restaurants, so if you're trying to decide what to wear in Maui, now's the time to get out your fanciest sundress! You'll fit right in with the glitz and glam.
If you are planning to visit Maui's Haleakala volcano at any point during your trip, make sure to bring warm layers with you.
The summit of Haleakala is over 10,000 feet above sea level, which means that the temperatures at the top of the volcano are about 30 degrees colder than they are at the beach. Pack and dress accordingly!
Kauai
The weather in Kauai can vary depending on where you are on the island and the time of day. It can be warm and sunny in the morning, but cooler and cloudy in the afternoon.
To be prepared for changing weather conditions, it is a good idea to dress in layers that you can add or remove as needed.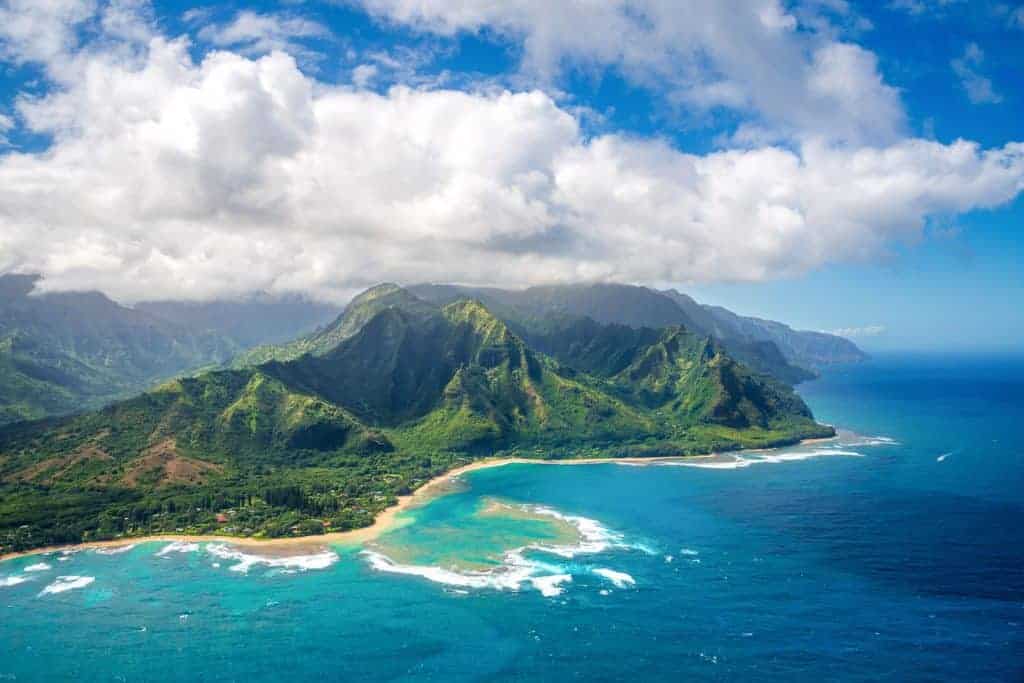 If you're visiting Kauai (follow this 7 day Kauai itinerary for an amazing trip!), chances are good that you will be hiking as part of your trip.
For most hikes, you can wear sneakers, but if you're hiking the NaPali coast, be sure to bring hiking boots.
The north coast of Kauai, in Princeville and Hanalei, is the rainiest part of the island. If you're staying on the north coast, it's likely that you'll experience at least a few short rain showers. Be sure to bring a lightweight packable raincoat to stay dry.
In terms of restaurants, the best restaurants in Kauai include a range of super-casual to high-end, so bring a mix of different options for evenings out.
The Big Island of Hawaii
Hawaii's Big Island has 8 of the world's 13 climate zones, all jam-packed onto a single island. So what (on earth) are you supposed to wear?
The key to dressing for the Big Island is layers! Lots of layers! Prepare for the changing conditions by adding or removing layers of clothing throughout the day.
If you plan to visit Volcano National Park (and you should), it is important to know that the park sits at a much higher elevation than the rest of the island.
In fact, the elevation at the Visitor Center is about 4,000 feet above sea level. That means it is much colder in this part of the island than it is on the beach, so bring a sweatshirt or a warm jacket to layer for your visit.
For more ideas on how to spend your time, check out this awesome 7 day Big Island itinerary!
Oahu
In addition to stunning beaches, the island of Oahu is home to some of the best nightlife and sightseeing in Hawaii.
So when you're thinking about what to wear on Oahu, make sure you pack cute, but comfortable shoes! Whether you're doing a lot of walking while sightseeing, or dancing the night away in Honolulu, the last thing you want is sore feet.
If you're planning to enjoy Oahu's nightlife, I recommend wearing something other than a t-shirt and shorts, or beachwear. The lounges and clubs in Honolulu are quite upscale, so you should wear your favorite warm-weather evening attire.
Lanai
What should you wear on Lanai? Something comfortable! The island of Lanai is quite sleepy and secluded compared to the other Hawaiian islands.
So if you're visiting the island of Lanai, chances are good that you're planning to do more lounging and relaxing than hiking or sightseeing. There are only two large resorts on Lanai, and many people who visit the island never leave the resort!
On the island of Lanai, plan on wearing a mix of casual sundresses, shorts, skirts, tank tops and t-shirts.
Tips for How to Nail Hawaiian Style
I hope the outfit ideas and advice above have helped you decide what to wear in Hawaii! If you need more advice, here's a few more tips on how to nail Hawaiian style.
Keep it Casual
If I could describe Hawaiian style in one word, it would be: Casual. It is quite rare to see any sort of formal attire in Hawaii!
So unless you are traveling for an occasion that requires formal dress, you can leave your evening cocktail attire and blazers at home.
Stick to shorts, tank tops, sundresses, t-shirts, and lightweight pants instead!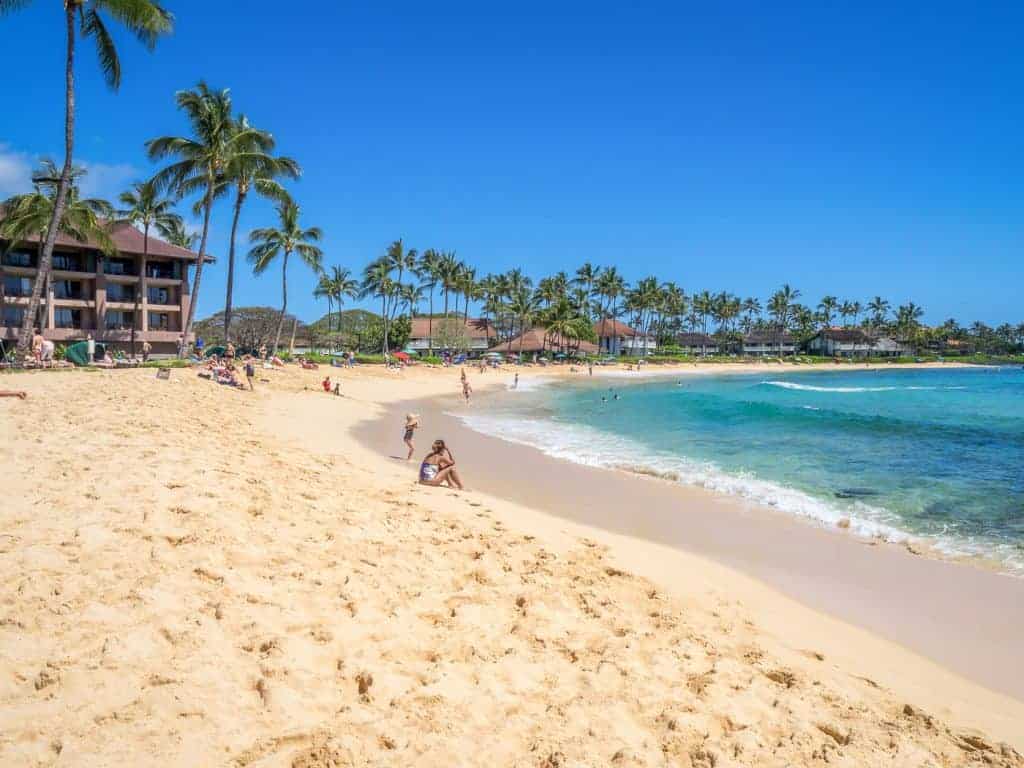 Don't Wear High Heels
More than likely, you'll be walking quite a bit in Hawaii, and often through sand or grass. For that reason, if you bring high heels with you, they're going to end up gathering dust in your suitcase!
If you can't live without bringing some shoes with some height (I get it), try a wedge sandal or espadrille.
Don't Pack Jeans for Hawaii
Seriously, don't pack your jeans. You won't wear jeans in Hawaii, I promise! Once you feel the warm, humid air in the islands, you'll understand why. Denim just feels way too heavy for Hawaii.
Instead of jeans, pack leggings (for hiking or as part of your airplane outfit) or lightweight pants.
I hope this guide has helped you decide on your Hawaii vacation outfits! If you need more help preparing for your trip, these Hawaii vacation tips will give you even more advice, especially if it's your first time traveling to the islands. If you need more packing ideas, you'll love this 15-piece beach vacation capsule wardrobe!