How to Avoid Overpacking for Vacation: 25 Easy Tips from a Pro
This site uses affiliate links and I may earn a small commission when you use my links and make a purchase, at no extra cost to you. 
Packing for vacation can be exciting, but it can also be stressful. One of the biggest challenges is deciding what to pack and what to leave behind. Overpacking can lead to extra baggage fees, backaches, and stress. In this post, I'm sharing 25 packing tips to help women avoid overpacking for their next vacation.
I'm a reformed overpacker which means I have learned the hard way how to pack efficiently for a trip. So how did I go from proudly sporting a "heavy" bag tag to traveling with just a carry on bag? Here are my secrets!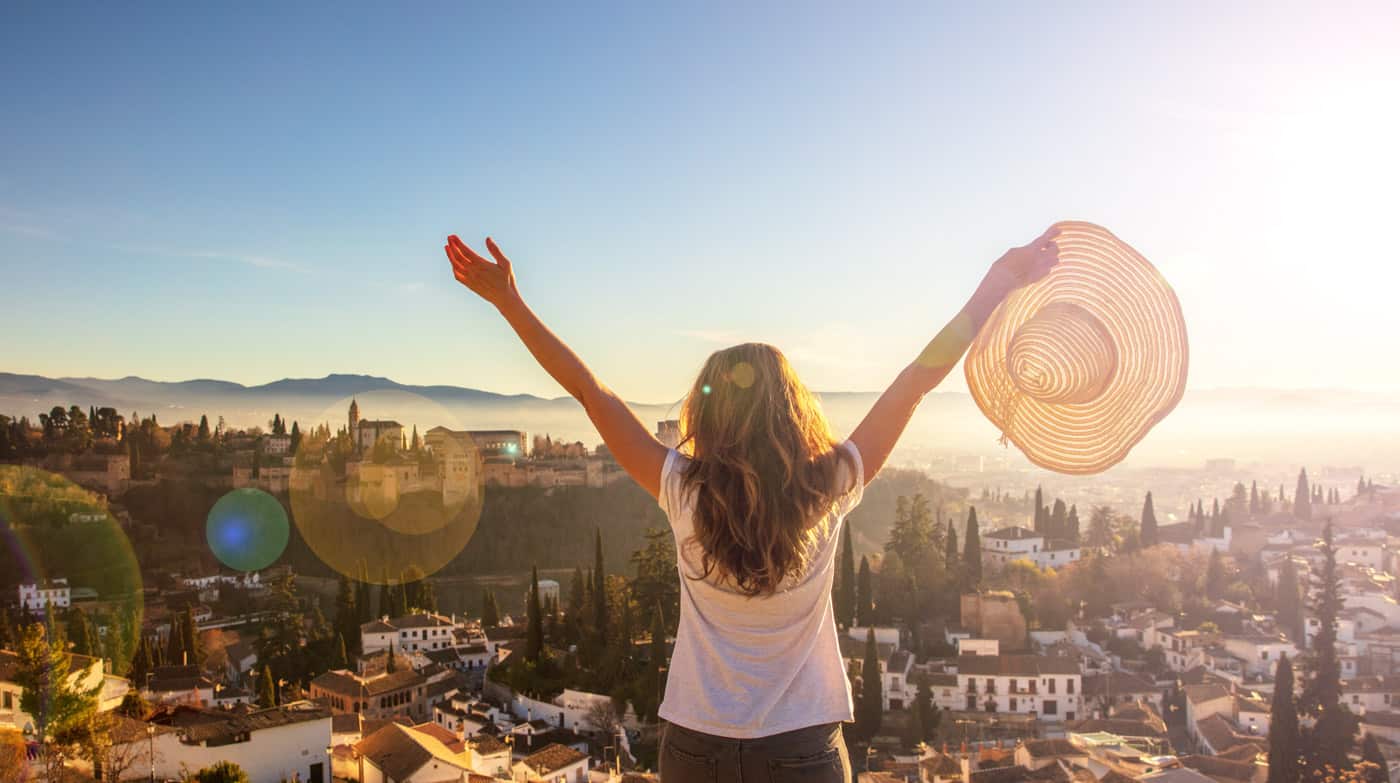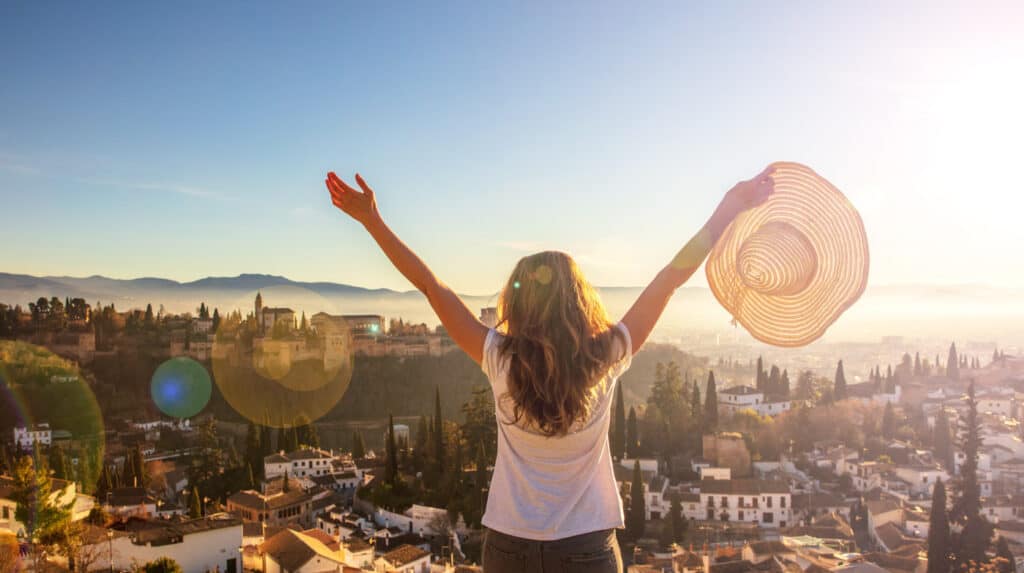 1. Start with the right packing list
The best way to pack efficiently for any trip is to start with the right packing list. If you pack using the right list, you'll be less likely to forget important items, and more likely to pack only what you need.
Download a free carry on packing list
Good news: I've got you covered. To get you started, I created a printable carry on packing list for women that includes everything you need to pack for your next trip. From clothes to toiletries and accessories, this list takes the guesswork out of packing.
Just add your email below and I'll send it straight to your inbox!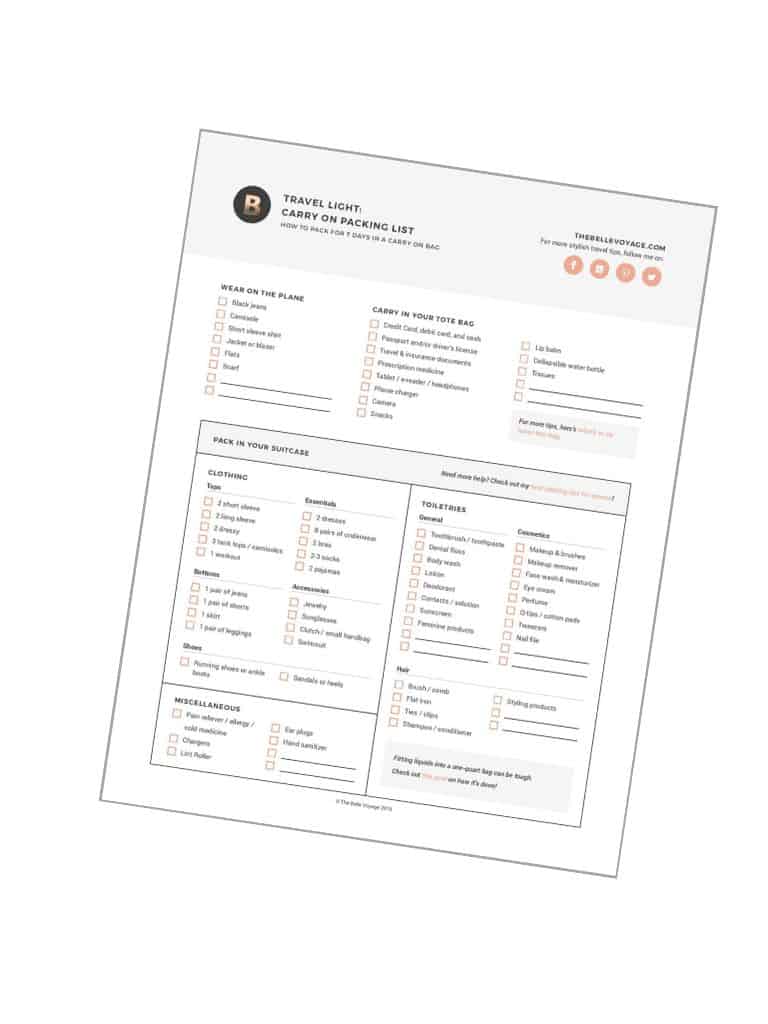 2. Plan Your Outfits Ahead of Time
Packing for travel at the last minute (let's call it "panic packing") is one of the most common reasons that travelers overpack.
It makes sense: when you don't think ahead of time about what you plan to wear on your trip, it's easy to just keep throwing things in your suitcase until it's stuffed.
To avoid overpacking, plan your outfits ahead of time. To do so, think about your trip one day at a time. What activities are planned? Do you have special meals or events?
Even if you don't have specific plans set in stone, you probably have a good sense for what kinds of things you plan to do during your trip, whether that's sightseeing, lounging, or doing something outdoors.
When you break a trip down into individual days and activities, it's so much easier to identify how many outfits to pack and determine exactly what you need.
Download a Free Travel Outfit Planner
To make this even easier, I created a free travel outfit planner that you can download and use to plan what clothes to pack for your trip. It's a day-by-day guide that helps you think through exactly what outfits you need, and what pieces can be repeated.
Simply enter your email address below, and I'll send it your way!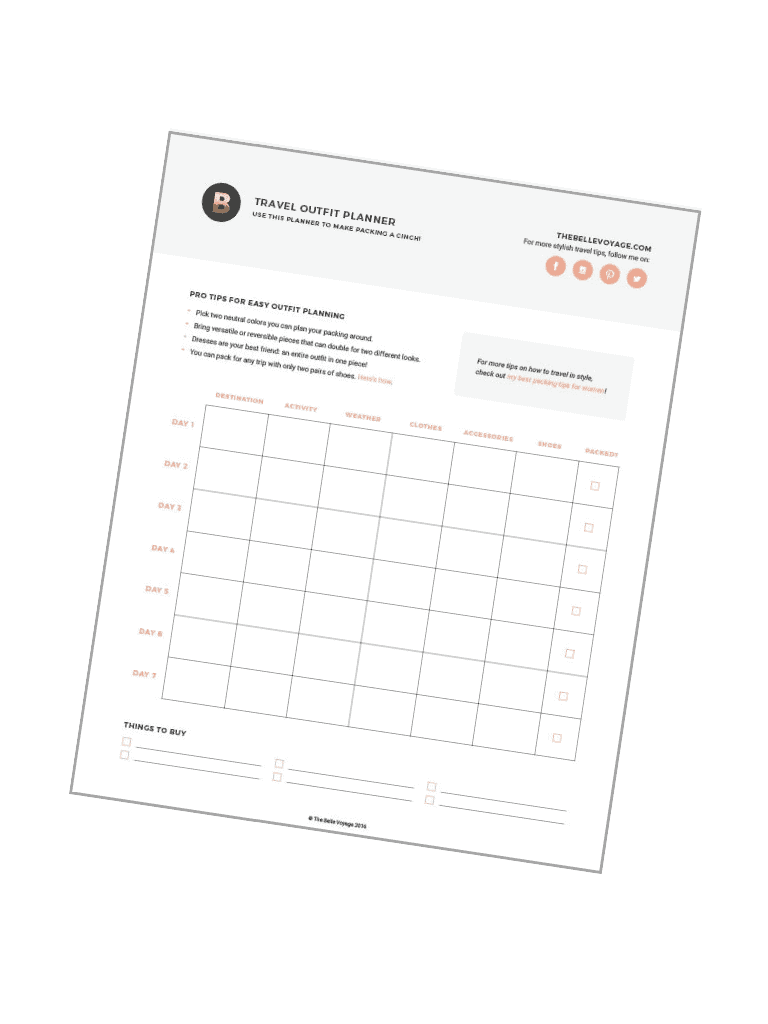 Love the printables? I've got tons more printable travel planners to help you get organized for your trip!
3. Check your airline's baggage policy
Before you start packing, make sure you're familiar with your airline's baggage policy. This will help you avoid extra baggage fees and prevent surprises at the airport.
Some airlines have strict weight limits or charge extra for checked bags, so it's important to know the rules before you go. Check your airline's website for specific guidance.
It's also important to understand any luggage requirements that are tied to your ticket class or fare. Some airlines offer "basic economy" tickets which don't include a luggage allowance for a standard carry on bag. So make sure to check these details before you pack.
4. Choose the right bag
One of the foundations to not overpacking is choosing the right suitcase. If you're planning to pack light, pick a good carry-on sized suitcase that fits within your airline's luggage size requirements.
The best carry-on suitcases have lots of internal compartments for organizing your things, have 4 spinner wheels to make it easy to get around, and are also expandable. Juuuuust in case you pick up a few extra things during your trip.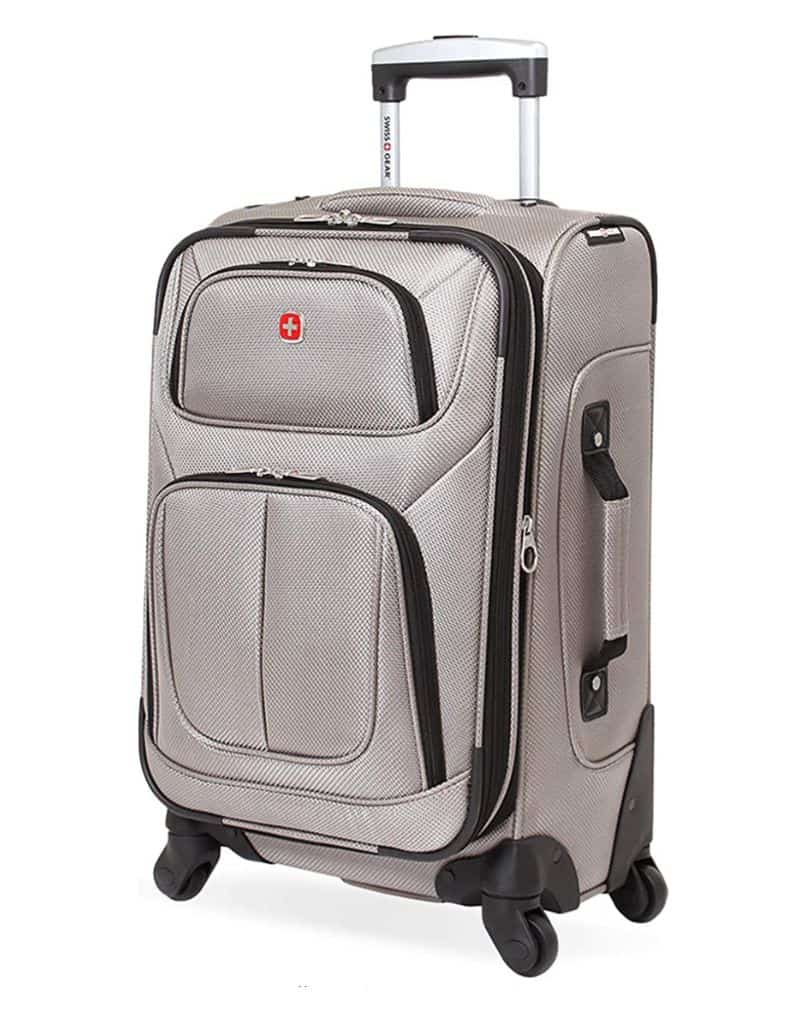 favorite carry-on suitcase
SWISSGEAR CARRY-ON
This carry on bag by Swissgear has all the basics you want in a suitcase: it's made from lightweight material, has plenty of interior and exterior pockets, and has 4 spinner wheels, too. I especially love that it's expandable!
And if you're going on an ultra-long trip and decide to check your suitcase, here's what to pack in carry on vs checked bags.
5. Check the weather
This probably goes without saying, but before you start packing, always check the weather forecast for your destination. This will help you determine what types of clothes you need to bring, and also how much variety you need in terms of the clothing pieces you need to pack.
This is especially true during the transition seasons of spring and fall, when temperatures can vary wildly from one day to the next.
Pro tip: Make sure to look beyond just the high temperature for each day. Instead, take note of what the weather will be like throughout the day.
In certain regions, particularly in the mountains and desert, temperatures can fluctuate dramatically from the chilly early morning to the warmer afternoons.
6. Pack versatile clothing
The best way to keep your suitcase light is to pack versatile clothing. Versatile clothes are pieces that can be worn in multiple ways.
For example, a sundress can be dressed up for a fancy dinner or dressed down for a casual day at the beach. Cute sneakers can be worn with pants or a dress. Packing versatile clothes will help you pack fewer items while still having plenty of outfit options.
A few of my most versatile clothing pieces are my black t-shirts (dress them up or down, wear them as pajamas, etc.) and midi tank dresses (I wear them with sneakers during the day or heels at night).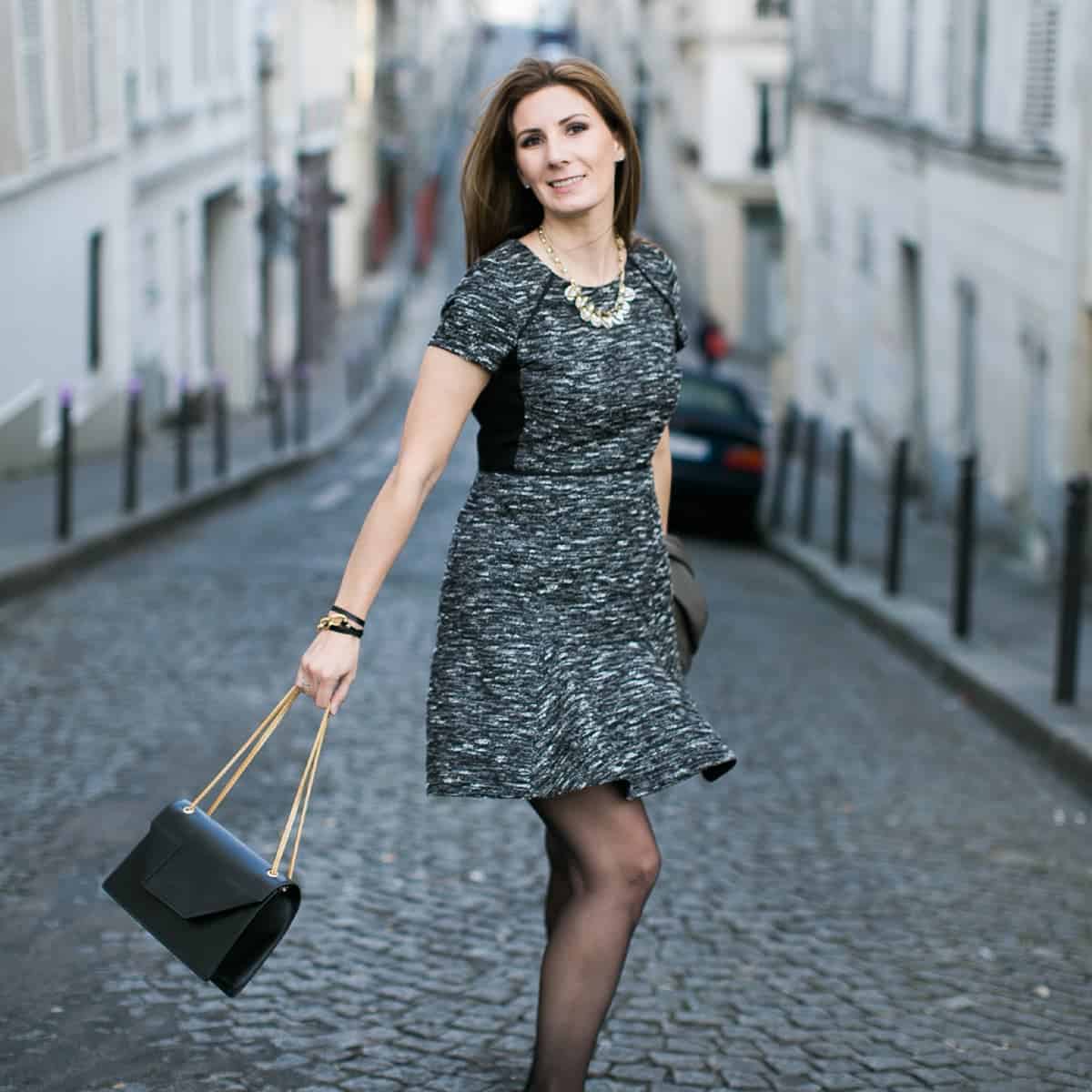 shop my favorite
TRAVEL ESSENTIALS
Ready to jet-set with ease? Discover my favorite travel products for your ultimate passport to stress-free adventures!
7. Create a Travel Capsule Wardrobe
Speaking of packing versatile clothes, the best way to avoid overpacking is to create a travel capsule wardrobe.
A travel capsule wardrobe is a small collection of clothing pieces that can be mixed and matched in countless ways to create many different outfits. The concept behind a capsule is that everything goes with everything, so even with just a few pieces, you will have tons of outfit options.
I love creating capsule wardrobes for travel, and I create one every season for my readers. Check out one of my capsule wardrobe examples for more ideas! I've made them for just about any kind of trip you might be taking:
8. Pack lightweight fabrics
Lightweight fabrics take up less space in your suitcase and are easier to pack. Choose items made of wool, linen, or silk instead of heavy materials like denim.
This is especially important when it comes to packing bulkier items like sweaters. A cotton sweater will take up much more space in your bag than one made from a material like merino wool. And as a bonus, wool will keep you much warmer.
9. Pack Reversible Clothing
Another way to maximize your clothing options without overpacking is to pack reversible clothing on your trip. There's so many stylish options out there for reversible clothes, especially reversible dresses.
You can also consider convertible clothing. I love to recommend the Chrysalis cardigan by Encircled because it can be worn 8 different ways, including as a sweater, a top, a scarf, and even a dress. With one piece, you can expand your travel wardrobe exponentially.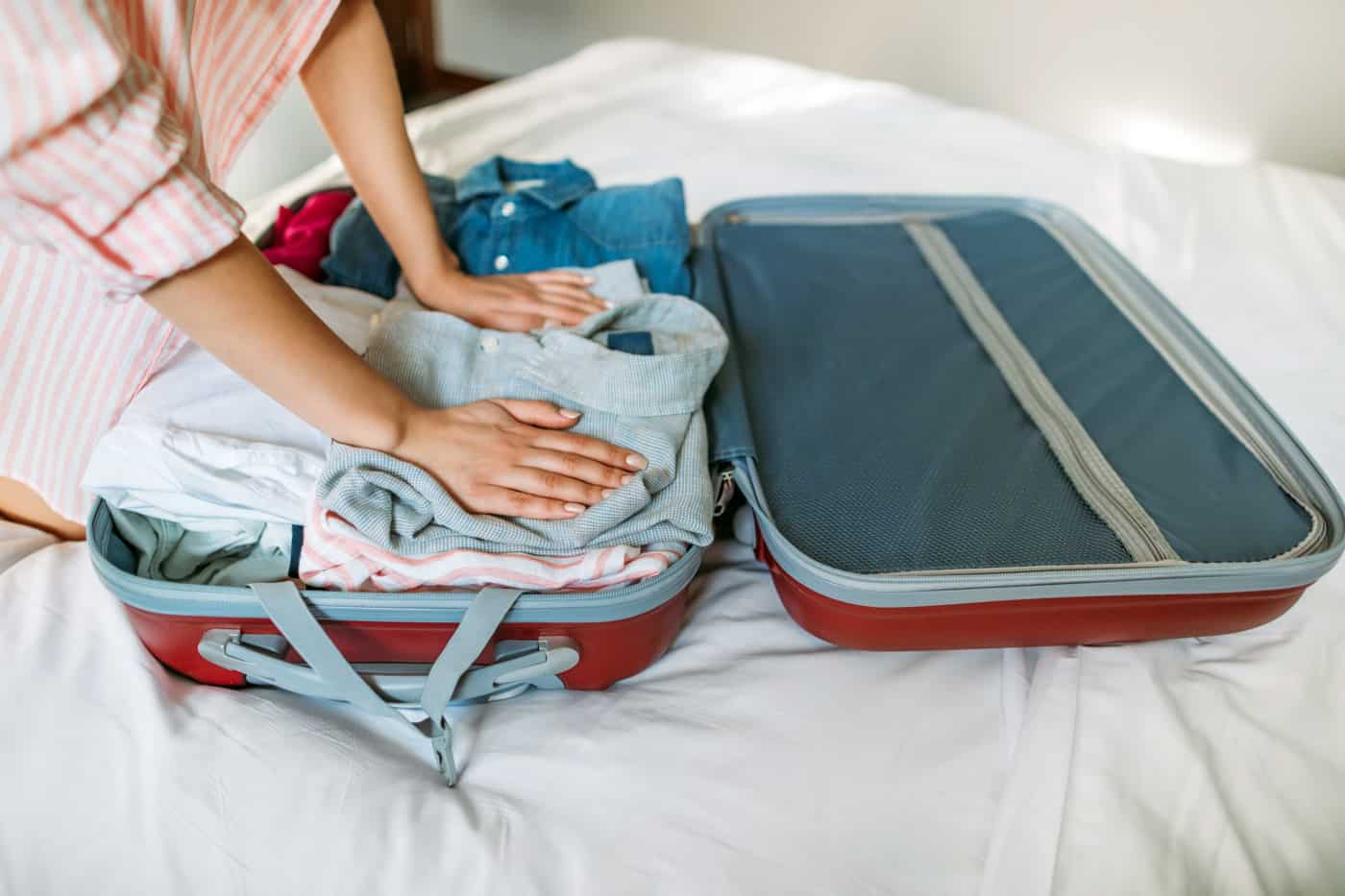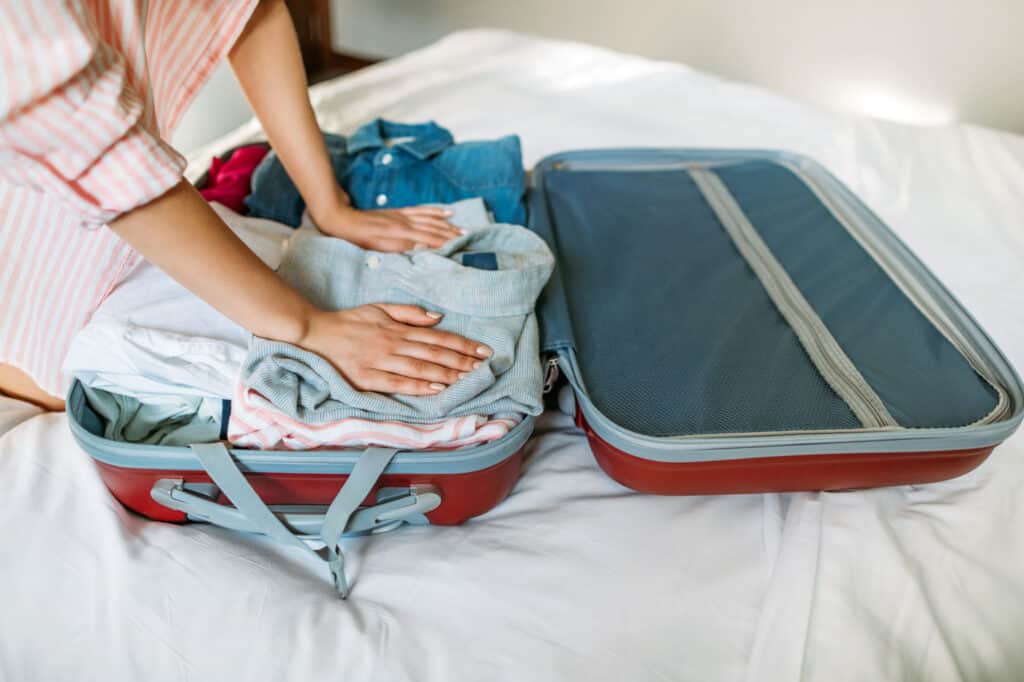 10. Mix and Match Accessories
Accessories can work wonders in transforming an outfit. Instead of packing multiple clothing options, focus on packing a few statement accessories like scarves, belts, or jewelry.
These small items take up minimal space but can significantly enhance different outfits. By mixing and matching accessories with your capsule wardrobe, you can create various looks without the need for additional clothing items.
11. Don't Waste Space
When packing your things for a trip, it's important to use all of the space that's available in your suitcase.
Pack smaller things like socks and accessories inside any shoes, and use them to fill any spall gaps in between your larger pieces.
12. Don't pack "just in case" items
Avoid packing items "just in case" you might need them. Stick to the essentials. This will help you save space and reduce the weight of your luggage.
If you don't use something on a regular basis, it's pretty unlikely that you'll need it during a short trip away from home.
So whether it's that jacket from last year that still has the tags on it or your curling iron that has been gathering dust, leave it at home and save some space in your bag.
13. Pack only Essential Toiletries and Makeup
Toiletries and makeup can take up a ton of space in your luggage, and they're a common culprit when it comes to overpacking.
Before your trip, slim down your necessary toiletries and makeup to just the bare travel makeup essentials. "Essentials" will mean something different to everyone, but it's definitely possible to go without some of the things that you use every day at home.
14. Use travel-sized Items
Once you've slimmed down your toiletries and makeup packing list, create travel-sized versions of all the ones you can.
Travel-sized toiletries take up less space and are more convenient to pack. I like to transfer small amounts of my toiletries to these leak-proof travel-size containers.
They're reusable so they're more eco-friendly than buying a special travel-size version of the same product. Best of all, I store them in my luggage so that they're always ready to go!
15. Pack items that can serve multiple purposes
Another way to avoid overpacking is to pack items that can serve multiple purposes, like a scarf that can double as a blanket, or leggings that can double as loungewear or workout gear.
This will help you save space in your suitcase and give you more versatility in your wardrobe.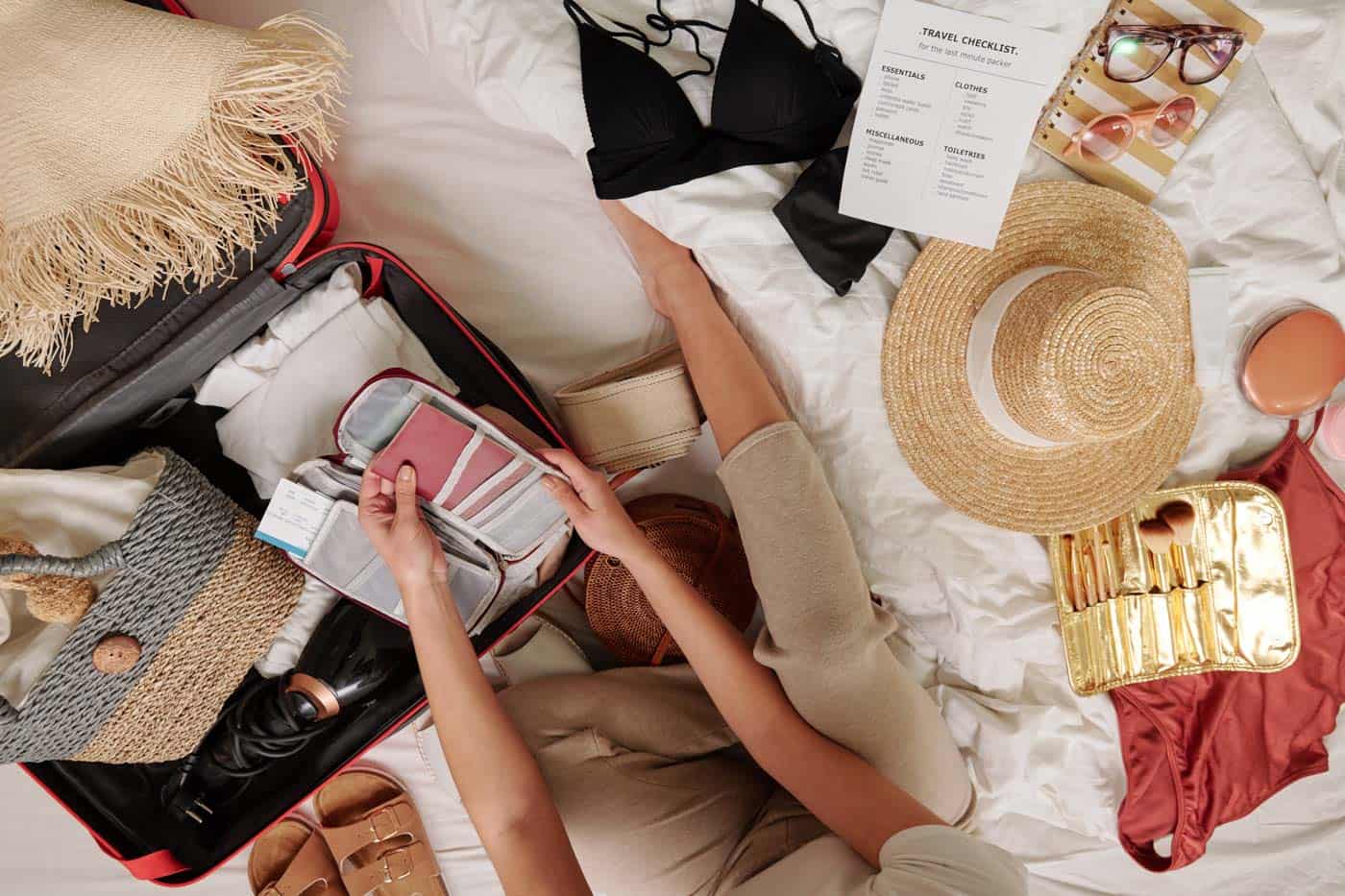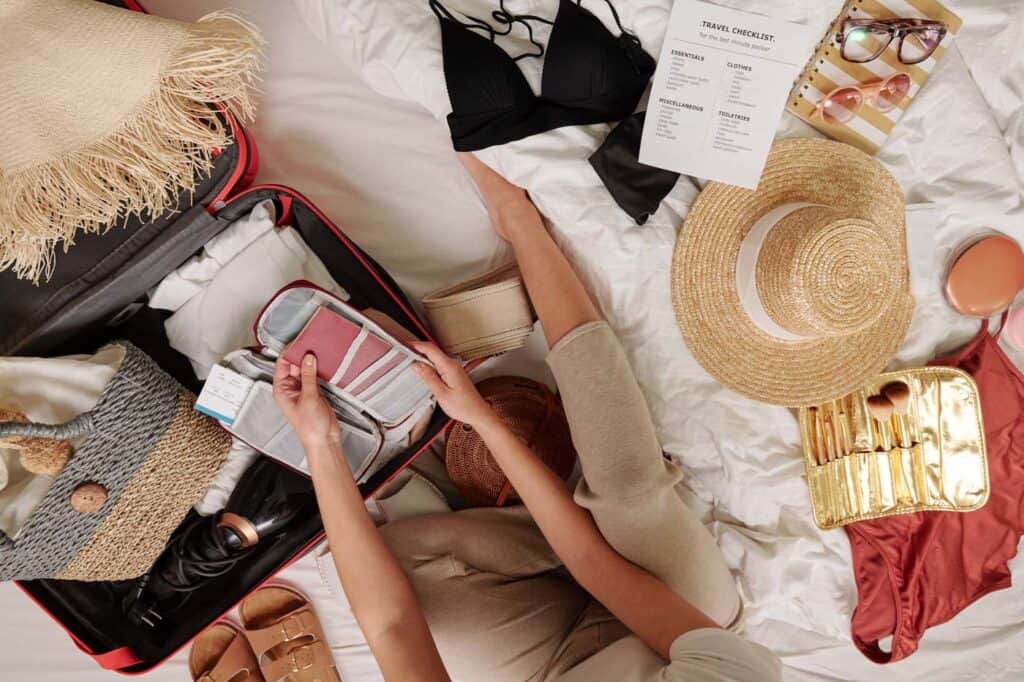 16. Don't pack duplicates
Avoid packing duplicates of items you only need one of, like hairdryers or chargers. This will save you space and reduce the weight of your luggage.
17. Avoid packing bulky shoes
Bulky shoes can take up a lot of space in your suitcase. Instead, pack shoes that are lightweight and versatile. For example, a pair of comfortable sneakers can be worn for sightseeing, hiking, or running.
18. Pack layers
Packing layers is a great way to save space while also being prepared for different weather conditions. Bring a light jacket, cardigan, or sweater that you can layer over your outfits if it gets chilly.
Plan to wear your largest outer layer on the plane to maximize the available space in your suitcase. You'll find lots of cute options for outer layers in these chic airplane outfits!
19. Wear your heaviest items on the plane
If you're bringing heavy items, like boots or a winter coat, wear them on the plane to save space in your suitcase. This will also keep you warm and comfortable during your flight.
Need more tips on what to avoid wearing in flight? Here's what not to wear on a plane.
20. Roll your clothes
With your packing list in order, it's time to actually pack! As you pack, make sure to roll your clothes up before you place them in your suitcase.
If you've ever wondered how to pack a suitcase, this is it! Rolling your clothes instead of folding them can save space and prevent wrinkles. When you roll your clothes, you will fit more items in your suitcase and keep them organized.
21. Use packing cubes
Packing cubes can help you stay organized and make it easier to find what you need. You can separate your clothes by category, such as tops, bottoms, and underwear, which will save you time when trying to find an item, as well as when you're unpacking.
I love this set of packing cubes. They come in sizes that are perfect for a carry on bag, and also include multiple types of cubes, including mesh bags, zippered bags, a laundry bag, and even separate bags for your shoes and socks.
22. Use compression bags
If you're really short on space, consider using compression bags to help you pack.
Compression bags allow you to squeeze out excess air, which compresses your clothes and creates more room for other items.
I recommend this set of compression bags – they've got tens of thousands of positive reviews! As an added bonus, you can use them for storage at home when you're not using them for travel.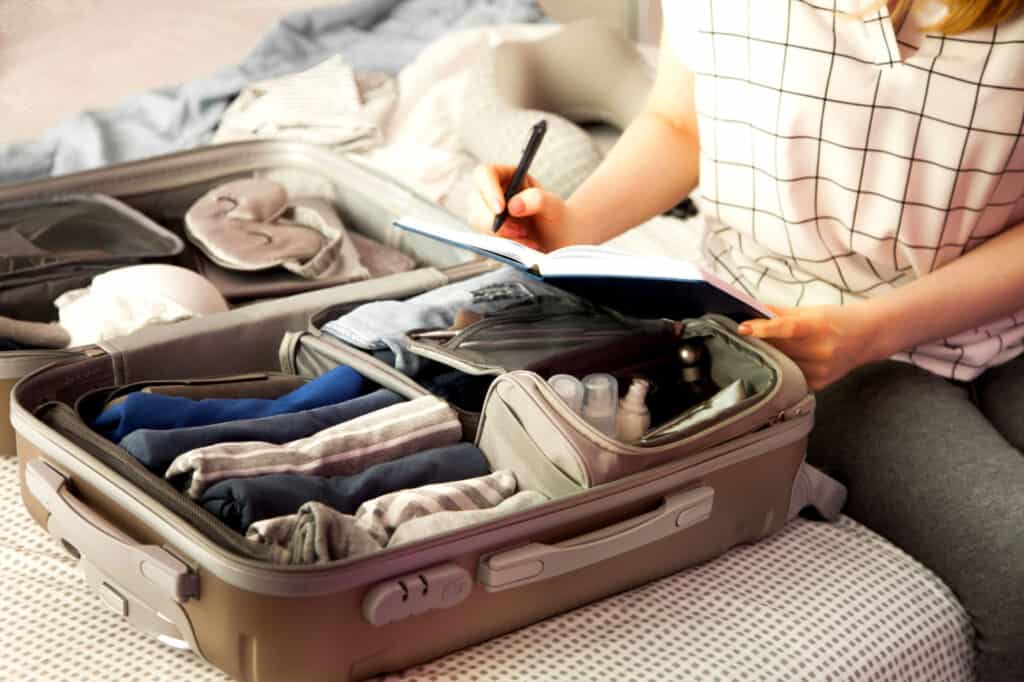 23. Consider doing laundry
If you're going on a longer trip, consider doing laundry during your vacation. This will allow you to pack fewer items and save space in your suitcase.
Many accommodations offer laundry facilities, or you can find local laundromats. To make this process easier, consider packing a small packet of laundry detergent or laundry detergent sheets.
These compact options allow you to wash your clothes when needed, reducing the number of outfits you have to pack. By doing laundry during your trip, you can extend the usability of your clothes and keep your luggage lighter.
24. Be Realistic about Entertainment
It's tempting to pack multiple books, magazines, or physical entertainment items for long flights or downtime during your trip. However, these items can quickly add weight to your luggage.
Instead, be realistic about your entertainment needs and opt for digital alternatives. Load up your e-reader, tablet, or smartphone with e-books, audiobooks, movies, and music to keep you entertained throughout your journey. Digital options take up minimal space and ensure you have a variety of entertainment at your fingertips.
25. Use a luggage scale
Once your bag is packed, use a luggage scale to weigh your suitcase before you leave for the airport. This will help you avoid going over the weight limit and having to pay extra fees.
They're inexpensive and can potentially save you a lot in the future by avoiding bag fees once you're at the airport.
Frequently Asked Questions About Overpacking
How do you know if you're overpacking?
Check your airline's luggage restrictions to understand the maximum size and weight of both carry on and checked luggage. Use a luggage scale to weigh your bag, and a tape measure to measure the dimensions. If your luggage is larger or heavier than your airline's regulations, you are definitely overpacking.
Other signs that you are overpacking include not being able to close or zip your bag and always returning home from a trip with things you didn't wear or use.
Why is it bad to overpack?
If you overpack, you will likely have to pay a fee to check your luggage, which is typically $30 per bag one way on most domestic airlines. In addition, you risk losing your luggage and being without all of your things at the beginning or end of your trip. Finally, traveling with large, bulky luggage or too many bags makes it difficult to get around, on and off transportation, and up staircases in places or buildings without escalators or elevators.
What are the benefits of packing light?
The benefits of packing light include saving money on checked bag fees. If that's not reason enough, traveling carry on only also means that you will never risk losing your luggage. When you pack light for a trip, it's much easier to get around with your suitcase. Finally, you can spend less time packing, and more time focusing on your trip!
Conclusion
By following these 25 tips, you'll be able to avoid overpacking and enjoy a stress-free vacation. Remember to pack only what you need and leave room for souvenirs and purchases during your trip. With a little planning and organization, you can have a great vacation without weighing yourself down with heavy luggage. Need more help? This weekend packing list has everything you need for a short trip!