The Best Sneakers for Travel
This site uses affiliate links and I may earn a small commission when you use my links and make a purchase, at no extra cost to you. Many thanks for supporting this website!
Sneakers are EVERYWHERE right now. I love it when I can integrate a trend into my packing lists!
Sneakers always used to be the travel shoes that I'd bring with me for that one day when I knew I'd be doing a lot of walking. I'd bring leggings with me and would sport the sneakers as part of a workout look.
But that was really all they were good for. I never wanted to wear my sneakers with anything else, so they'd just take up valuable space in my suitcase.
In my mind, for footwear to be considered good travel shoes, they need to go with at least two outfits on a trip.
That's why I'm so excited about sneakers. All of the new styles are so much more versatile than the run-of-the-mill gym shoes that we're used to, so they can be worn with crops, dresses, skirts, shorts – pretty much anything goes.
In fact, I just bought a new pair of Nikes to bring with me to Paris next week – since I know I'll be spending plenty of time wandering around the city.
Here's a few ideas for your packing list!  Looking for more ideas?  Check out my picks for cute and comfortable shoes to take to Europe!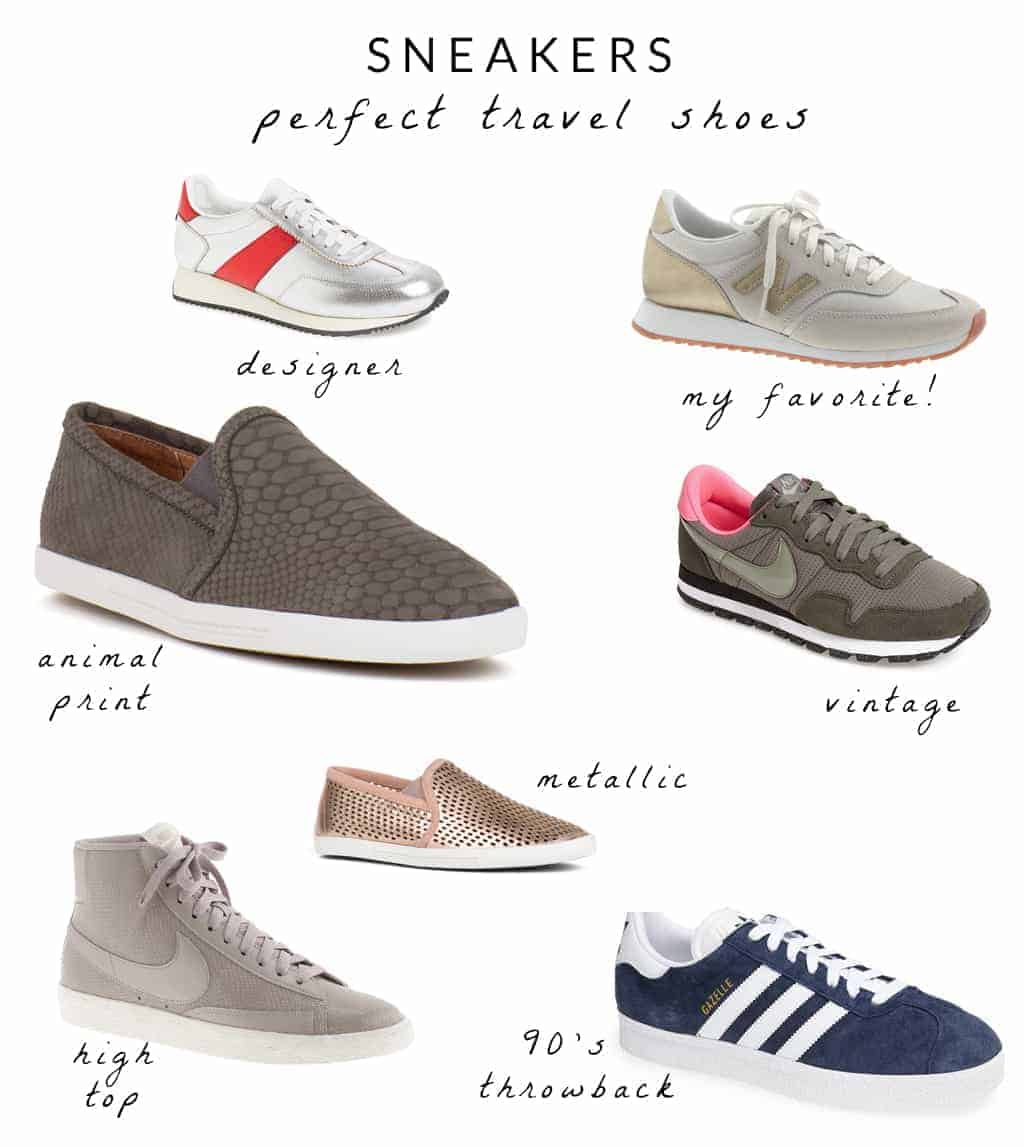 designer / my favorite / animal print / vintage / metallic / high top / 90's throwback
Wanna Learn to Pack a Suitcase Like a Boss?
Subscribe to download my three BEST travel planning resources:
Travel outfit planner
Pre-travel checklist
Carry on packing list