What Not to Wear on a Plane: 10 Outfits To Avoid When Flying!
This site uses affiliate links and I may earn a small commission when you use my links and make a purchase, at no extra cost to you. 
When it comes to travel outfits, knowing what not to wear on a plane is half the battle! If you're trying to decide what to wear on a long flight, it's important to consider that some clothes just weren't meant for traveling. So what should you NOT wear when flying? Read on for all of the things you shouldn't wear on an airplane, along with my recommendations for what to wear instead for the perfect airplane outfit!
What You Shouldn't Wear When Flying
Let's start with just a few general tips on what you shouldn't wear when flying. These are a few of the most common reasons why some outfits or items of clothing just shouldn't be worn on a plane. If your potential airplane outfit falls into any of these categories, it's best to either pack it in your suitcase, or just leave it at home.
Metal Hooks, Buckles and Strappy Shoes
When you're dressing for a flight, make sure to avoid any clothes or shoes that will slow you down when going through airport security. That means that you should steer clear of any clothes with lots of metal hooks or complicated buckles.
Even small pieces of metal on your person can cause you to get stopped by TSA agents and lead to extra security screening.
You should also avoid wearing shoes with lots of straps. Strappy shoes can take a long time to get on and off, which will delay you going through TSA screening. (The person in line behind you says thanks in advance.)
Floor-Length Clothes
In addition, stay away from wearing floor-length clothes when you're flying. By floor length clothes, I mean pants, skirts, or dresses with a hemline that grazes the floor.
Why? Welp, the last thing you want is for your clothes to touch the floor of an airplane bathroom! I probably don't need to explain that one any further.
Tight or Uncomfortable Clothing
You should also avoid wearing clothes that are tight or uncomfortable on a plane. When you're flying, the pressure changes in the air cause the gas inside your body to expand, meaning that you're likely to feel bloated.
For that reason, try to stick to clothes that are loose and easy to move around in. Similarly, avoid any tops or bottoms that you have to constantly adjust to make sure it doesn't move around.
This is the exact reason that I try to avoid wearing button-down shirts on a plane. I like to be able to take a nap on a flight without worrying that my shirt might accidentally gap open.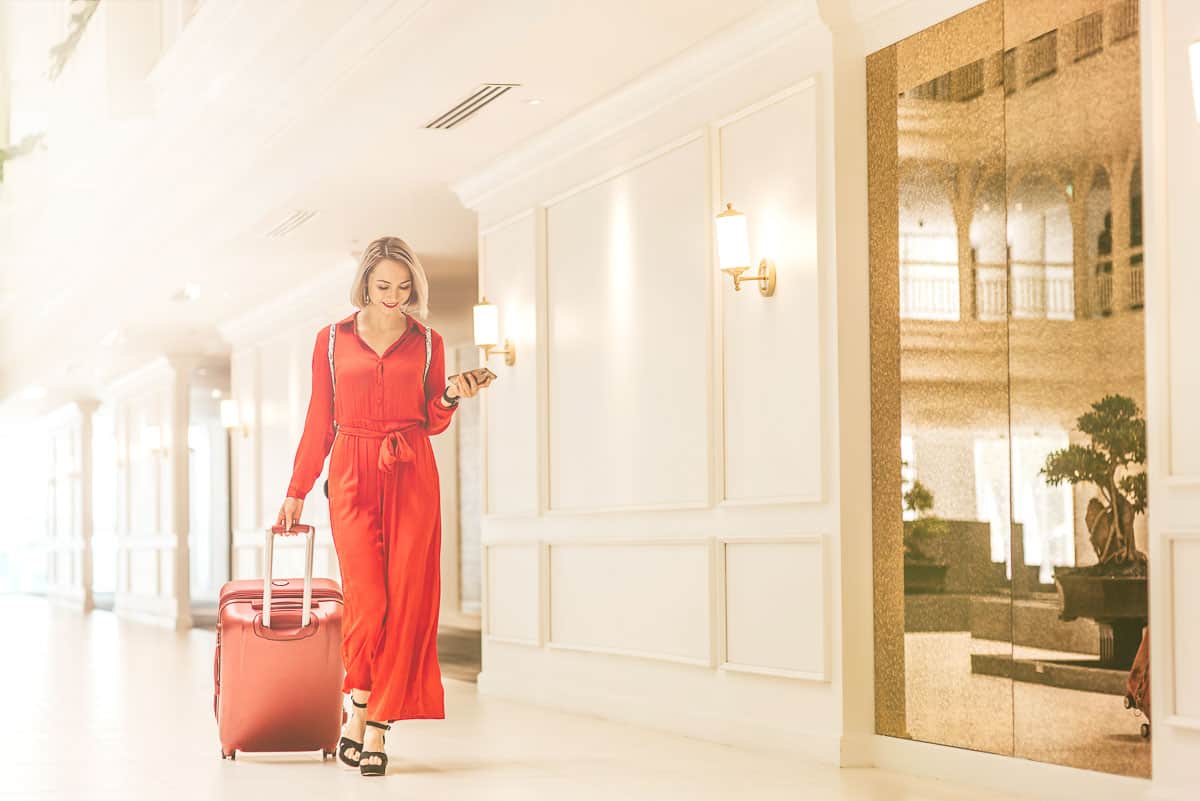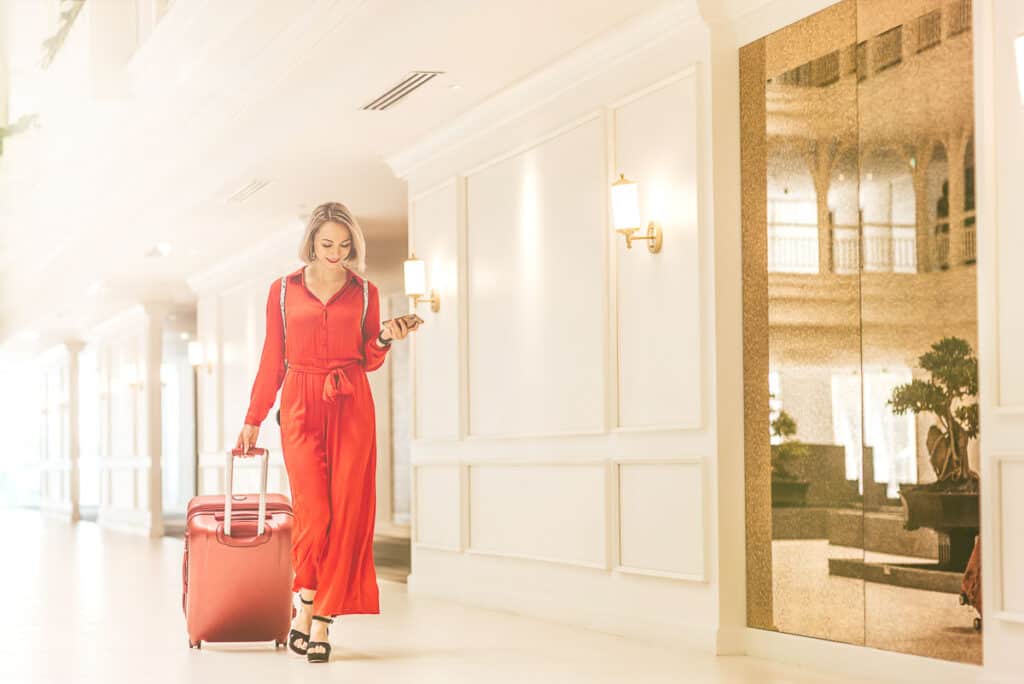 What Not to Wear on a Plane: 10 Pieces to Avoid
1. Romper
Rompers and I have a bit of a love-hate relationship. I love how rompers look on other women, but I hate how they look on me, so I don't actually own a single one. (I know!)
But even as a romper-less gal, I can confidently say that you should avoid wearing rompers and jumpsuits on an airplane. For the simple reason that these one-pieces require total disrobing whenever you need to use the bathroom.
That kind of full-body costume change is so much harder in a cramped airplane bathroom! Did you know that airlines are shrinking the size of bathrooms so that they can fit more seats on each plane? It's true: on some newer planes, the bathrooms are only 24 inches wide, making it nearly impossible to maneuver in such a small space.
What to wear instead: Instead of wearing a romper or a jumpsuit on an airplane, opt for a 2-piece outfit instead.
2. Bodysuit
I will confess that I have been on a bit of a bodysuit kick lately. They seem to go with everything! (I love this plain black turtleneck bodysuit that's a total steal). As much as I love a good bodysuit, though, I do not recommend wearing one when flying – or even at all when you travel.
One of the downsides of a wearing a bodysuit is trying to button it up on the bottom, and doing so in an airplane bathroom is next to impossible. Bodysuits are also just not great for travel, since you can really only wear them once before they need to be washed.
What to wear instead: Instead of a bodysuit, try an extra-long camisole as the base layer for your airplane outfit. Yes, camisoles come in extra-long lengths! The added length of this top will help you avoid any unwanted gaps between your top and pants.
3. Wrap Dress or Wrap Top
Wrap tops and wrap dresses are very cute and incredibly flattering, but you should never wear them on an airplane. Even the best-fitting wrap dresses and tops have a tendency to gap, especially when you're sitting down.
Wearing a garment that you constantly have to tug back into place will be a total pain, and getting in and out of anything that ties or knots is really difficult in a teeny-tiny airplane bathroom.
What to wear instead: Any sort of top or dress that doesn't have to be tied. Check out my current travel capsule wardrobe for some ideas!
4. Overalls
Some trends have a way of sneaking up on you when you least expect it, and I am putting overalls firmly in this category. So even if overalls aren't really around much now, I guarantee that they'll resurface again sometime soon.
So when that day comes, remember to avoid wearing overalls on a flight! Any sort of complicated straps, especially ones that hang low to the floor when they're undone, are just not a good idea for an airplane outfit, because they'll get dangerously close to the floor of the bathroom when you need to use it. No thanks!
In addition, overalls are likely to set off the metal detectors at airport security, meaning that you'll get slowed down on your way to your flight.
What to wear instead: Opt for regular pants or jeans on an airplane rather than overalls.
5. Floor-Length Pants
Make sure that any pants you plan to wear while flying have a hemline that's well-above floor length. I love the slouchy, wide-leg pants that are uber-popular right now, but most of these styles graze the floor, even with heels.
When you're traveling, you should avoid any pants, dresses, or skirts that touch the floor, just so you can keep your clothes clean, and avoid having them come into contact with the bathroom floor.
What to wear instead: Pants that hit just above the ankle or higher, so that you can wear them with flats.
6. High Heels
On days that you're flying, you will also spend a lot of time walking through the airport, lugging your baggage with you. On days when I travel, it's not unusual for me to clock 5,000-6,000 steps just getting from one airport to the next.
When you're flying, you need to have comfortable shoes, so you should avoid wearing high heels at all costs! I promise that your feet will thank you.
What to wear instead: Try white sneakers for a casual look, or ballet flats if you're traveling for work.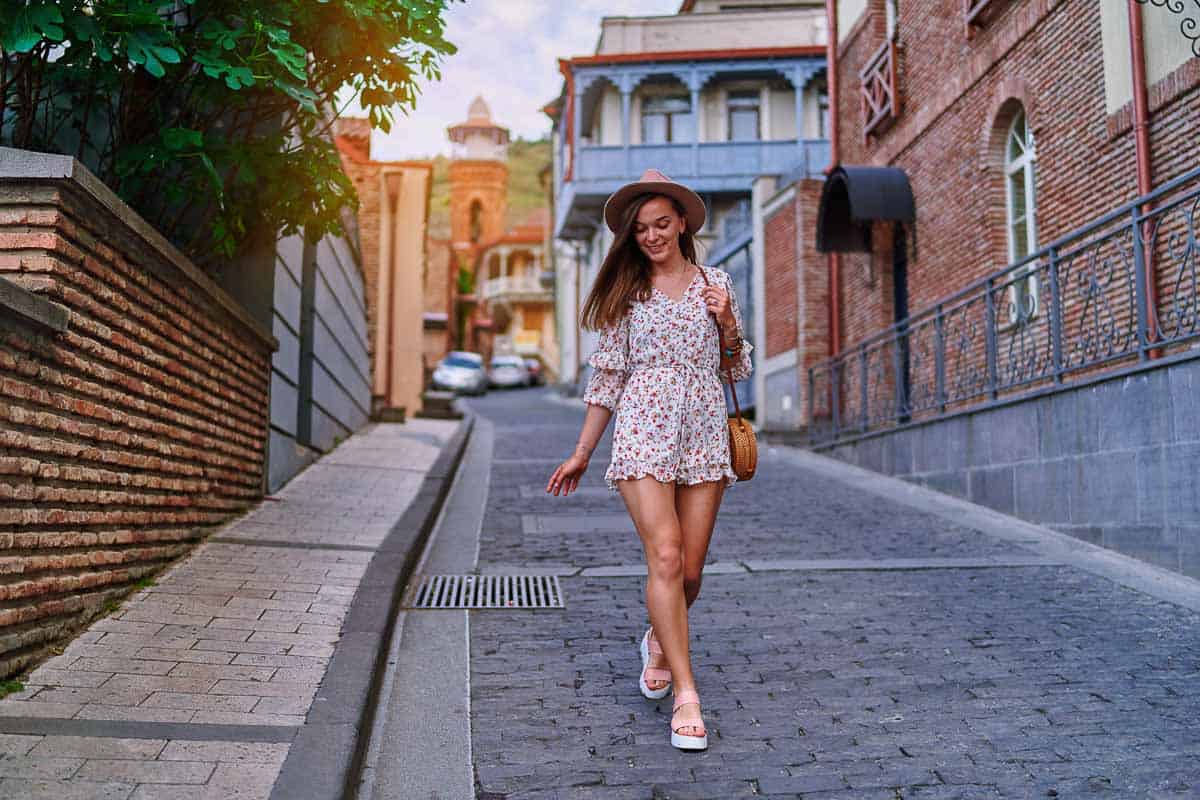 7. Expensive Jewelry
One thing you should never wear on a plane is expensive jewelry. In fact, you should just leave your expensive jewelry at home when you travel. It's way too easy to lose or leave behind your favorite earrings or necklace.
I lost a favorite earring on my way home from Mexico, because of all the tossing and turning I was doing while trying to nap. I'm still upset over it, so don't let this happen to you!
What to wear instead: Look for inexpensive pieces that are versatile enough go with most of your other travel outfits. I recently came across these faux diamond studs and was immediately intrigued!
8. Spanx
Spanx are a genius invention, but they are just not meant to be worn on an airplane. Your body naturally swells when you fly, meaning that the shapewear that was already feeling tight on the ground is going to feel even tighter once you're at 30,000 feet. For that reason, you should avoid wearing any sort of shape wear when flying.
What to wear instead: If you want to feel sleek, look for pants that have a bit of spandex instead. The fabric is much more forgiving and stretchy, so you'll be much more comfortable in the air.
9. Flip Flops
Another type of shoe to avoid wearing on a plane is flip flops. Don't get me wrong, I love bringing flip flops when I travel, but I always pack them rather than wearing them on a plane.
Not only do flip flops have the potential to slide off your feet, but wearing flip flops when you fly also means that you will have to walk through airport security barefoot. Bleh. It's not the end of the world, of course, but personally I would rather avoid it.
In addition, airplanes are always freezing, and having your toes cold for the entire flight means that you'll start your trip feeling uncomfortable. And we can't have that!
What to wear instead: Opt for closed-toed shoes or flats instead of flip flops. These are my favorites, and they're made specifically for traveling.
10. White jeans
I love white jeans, and I own several pairs myself (including this slightly off-white pair that seem to go with just about everything). White jeans are a great, versatile option to pack for travel, but you should absolutely avoid wearing white jeans on an airplane!
I can't tell you how many flights I've been on where either I, or my seat neighbor, spilled something. It's almost always red wine.
And as cramped as seating gets on planes these days, being spilled on at some point during your flight is more likely than not. It doesn't take much to ruin a pair of white jeans!
What to wear instead: Instead of wearing white jeans on the plane, pick pretty much any other color of denim.
The Best Clothes for Flying
Now that you know what NOT to wear on a plane, get inspired with the perfect travel outfit and what you SHOULD wear with my spring travel capsule wardrobe, and check out my shop for more of my favorite travel clothes.