Heading to San Francisco?
The good news is that you're in for an incredible trip.  I've pulled together all of my favorite spots into the perfect San Francisco itinerary, to make it super-duper easy to cover the city's highlights in just a few days. Let's do it!
Posts on this blog may contain affiliate links. At no additional cost to you, if you click through an affiliate link and make a purchase, I may earn a small commission.
Prepare to be amazed!  San Francisco is one of my absolute favorite cities in the WORLD.  There's so much to see and do, but it can be hard to figure out how to fit it all in – especially if you're visiting for the first time.
If you'll be in California for a while, check out my California bucket list with my 20 favorite places in the state to visit.
Before you Go to San Francisco…
Check this out – it'll be some great inspiration for your trip.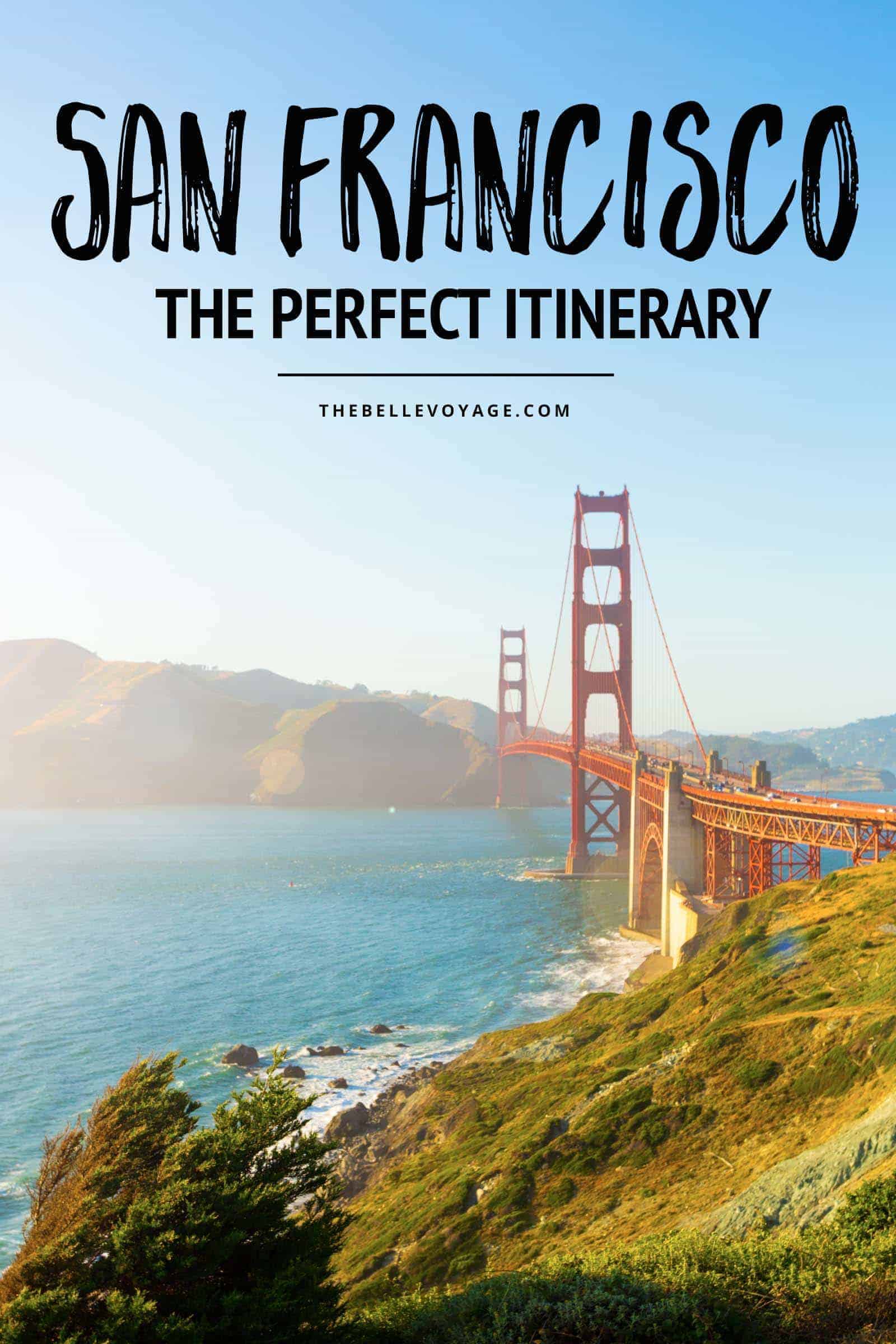 Where to Stay in San Francisco
If it's your first time visiting San Francisco, I would recommend staying in either the Union Square or Fisherman's Wharf area.  They're both walking distance to plenty of shops and restaurants, as well as scenery that's classic San Francisco.
Every major hotel chain has an outpost in either Union Square or near Market street, but when I visit San Francisco, I love staying in smaller, boutique-style hotels, since there's so many great ones in the city, and they just ooze San Franciscan charm.
In Union Square, I highly recommend the Sir Francis Drake Hotel (you'll love the atmosphere), and in the Fisherman's Wharf area, check out The Argonaut – the decor is super cool.
San Francisco Itinerary Day 1: Alcatraz, Lombard Street, Chinatown and North Beach
Start off your San Francisco itinerary by booking a morning tour to Alcatraz.  You can buy your tickets online ahead of time, and tickets include both the ferry ride to the island, as well as an audio tour while you're there.  Tickets can book up a few weeks in advance, so it's a good idea to grab them as soon as you can.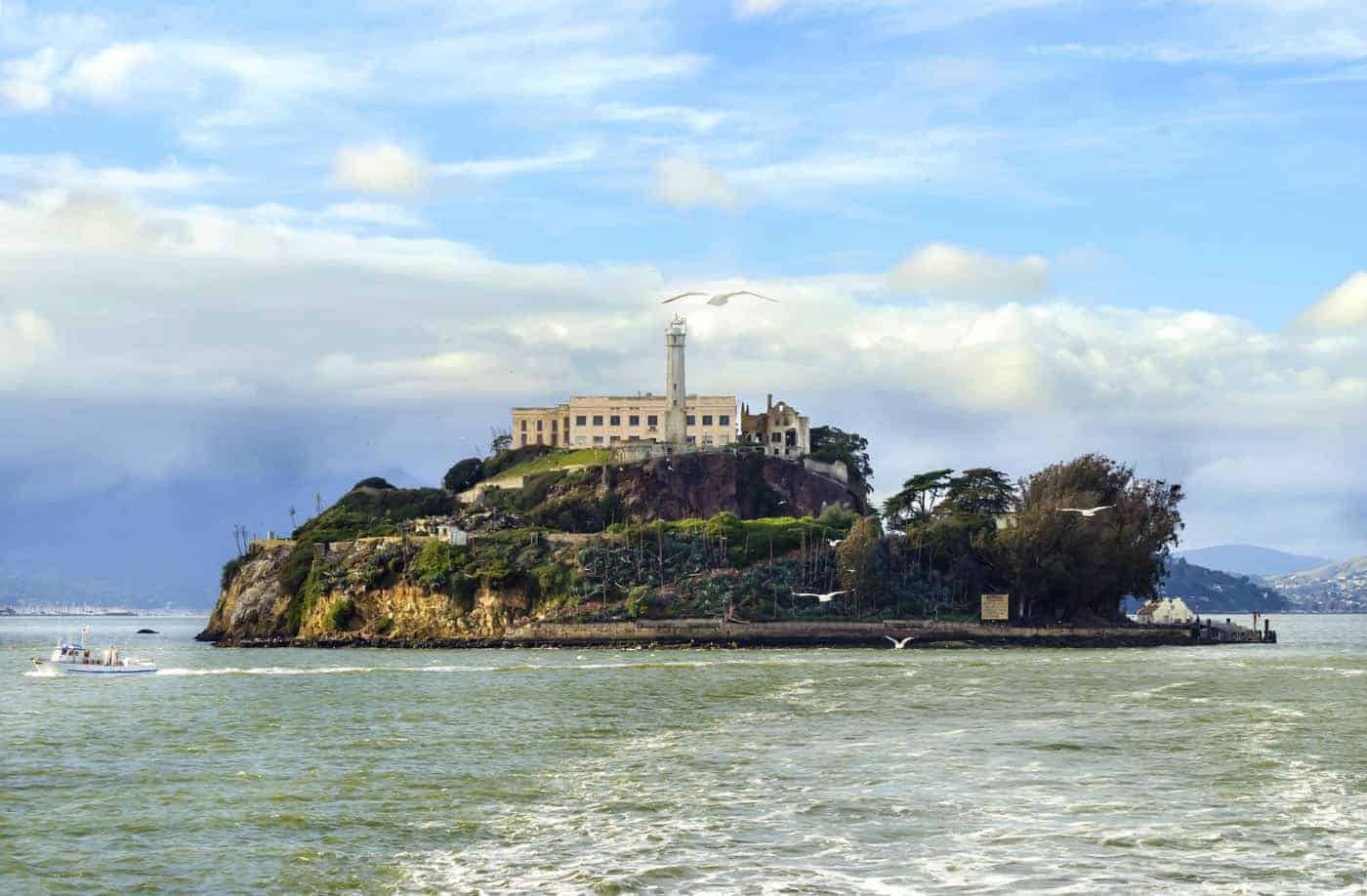 Lunch at Fisherman's Wharf
After spending a few hours touring the island and even doing some time inside a jail cell (really!), take the ferry back to the mainland and explore Fisherman's Wharf, Pier 39, and Ghirardelli Square.  Touristy?  Yes – but it wouldn't be your first trip to San Francisco without exploring this famous part of town.  The Wharf is also a great spot to grab a light lunch – clam chowder in a sourdough bread bowl is a very San Franciscan treat.
The World's Most Crooked Street
Leaving the Wharf area, drive down Lombard Street (the world's most crooked street) and over to Coit Tower, which you can climb up for a spectacular view of the city, the bay, and the surrounding bridges.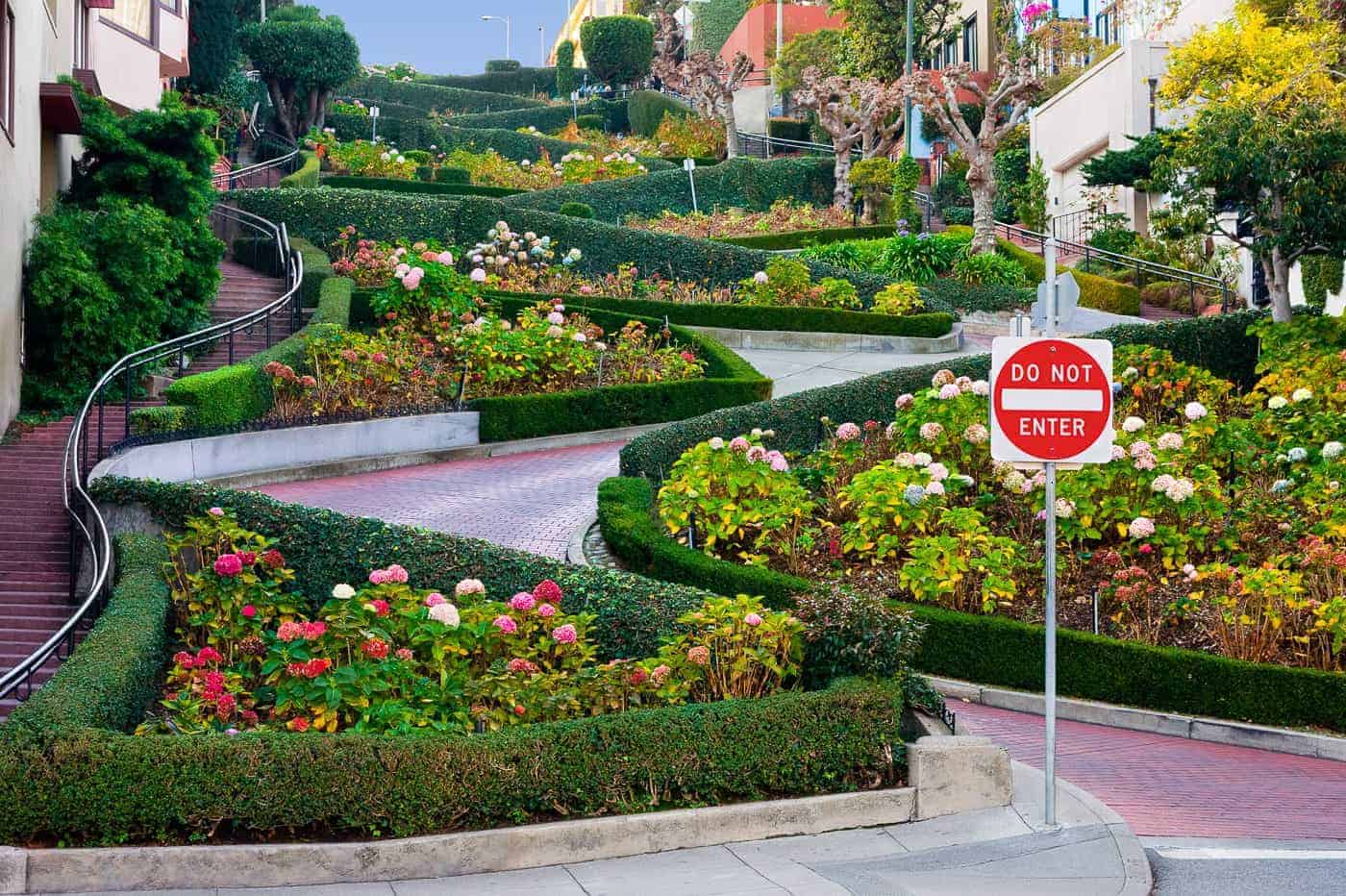 Chinatown and North Beach Neighborhoods
After Coit Towner, you'll be perfectly-positioned to explore the neighborhoods of Chinatown and North Beach for the rest of the afternoon and into the evening.  Depending on what you're in the mood for (Chinese or Italian), they're also great neighborhoods to land in for dinner.  In North Beach, don't miss the City Lights Bookstore, possibly the best-known independent bookstore on the West Coast, and a must for book-lovers.
San Francisco Itinerary Day 2: Hayes Valley, Union Square and The Ferry Building
Day 2 of this San Francisco itinerary begins with a trip to Alamo Square, home of charming Victorian architecture including the "Painted Ladies" – and if you watched TV at any point during the 90's, you'll recognize it as "that one picnic scene in the opening credits of Full House".  By either standard, the Painted Ladies are a classic San Francisco sight!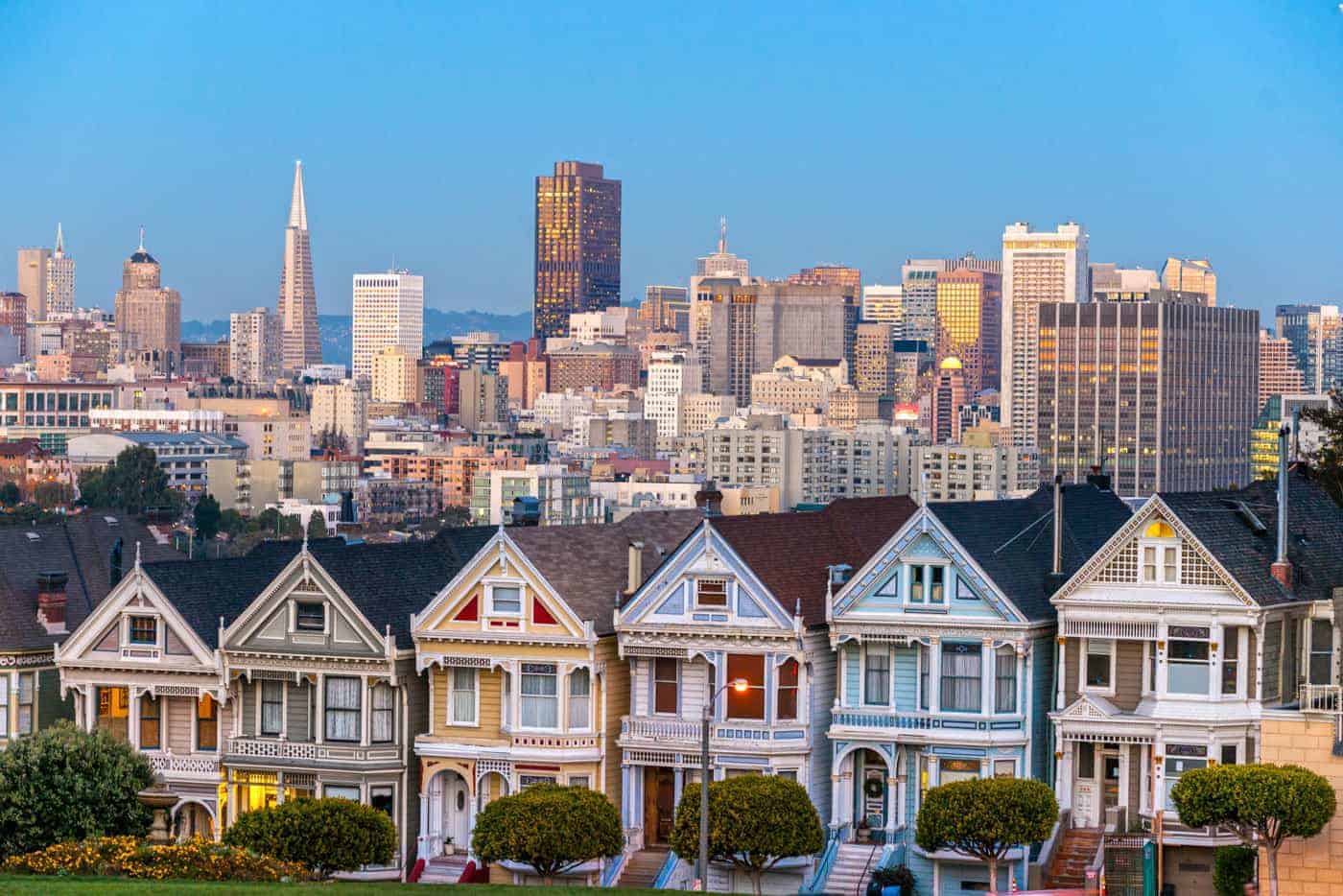 Boutique Shopping in Hayes Valley
Head east down Hayes Street, the heart of Hayes Valley, one of my favorite SF neighborhoods, and enjoy the street's cute boutiques and cafes – personally, I love La Boulangerie for a pastry and a coffee!   From there, it's a lengthy walk or a quick cab ride over to Union Square where you can enjoy the hustle-bustle of the city along with some amazing shopping and dining.
Visit the SF MOMA
Just south of Union Square is the SF MOMA, a modern art museum that just completed a massive overhaul last year, tripling the size of the exhibit space.   The SF MOMA was the first museum on the West Coast dedicated entirely to contemporary art, and it's a must-see!
Taste of The Ferry Building
Once you've gotten your art fix, head over to the Ferry Building and the Embarcadero to scope out the scene and grab some dinner.  My favorite spots are The Slanted Door and Coqueta.  If you have time on your trip, the Ferry Building also hosts a fantastic farmer's market that is especially abuzz on Saturday mornings, so come back and check it out if your schedule permits.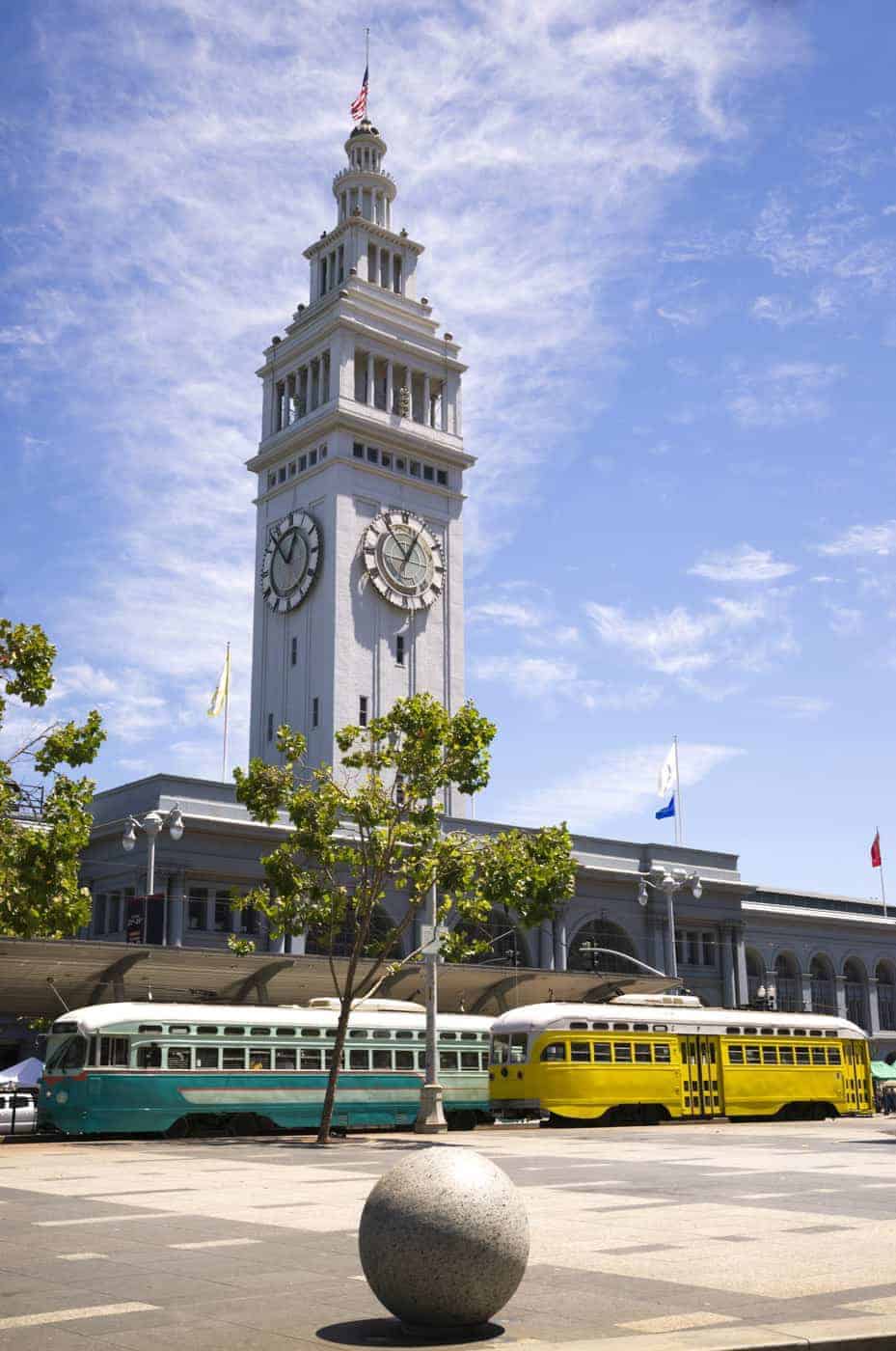 Depending on your interests (and whether or not the Giants are in town), I'd recommend ending your evening with a baseball game at AT&T Park, or with a private champagne tasting at the San Francisco Champagne Society (SFCS).  It's about as cool as it sounds – just make sure to make a reservation in advance.
San Francisco Day 3: Golden Gate Park, Golden Gate Bridge and Sausalito
Begin Day 3 by exploring Golden Gate Park, an urban park that's over 1,000 acres and home to gardens, museums and recreation areas.  Personally, I love the California Academy of Sciences and the Japanese Tea Gardens.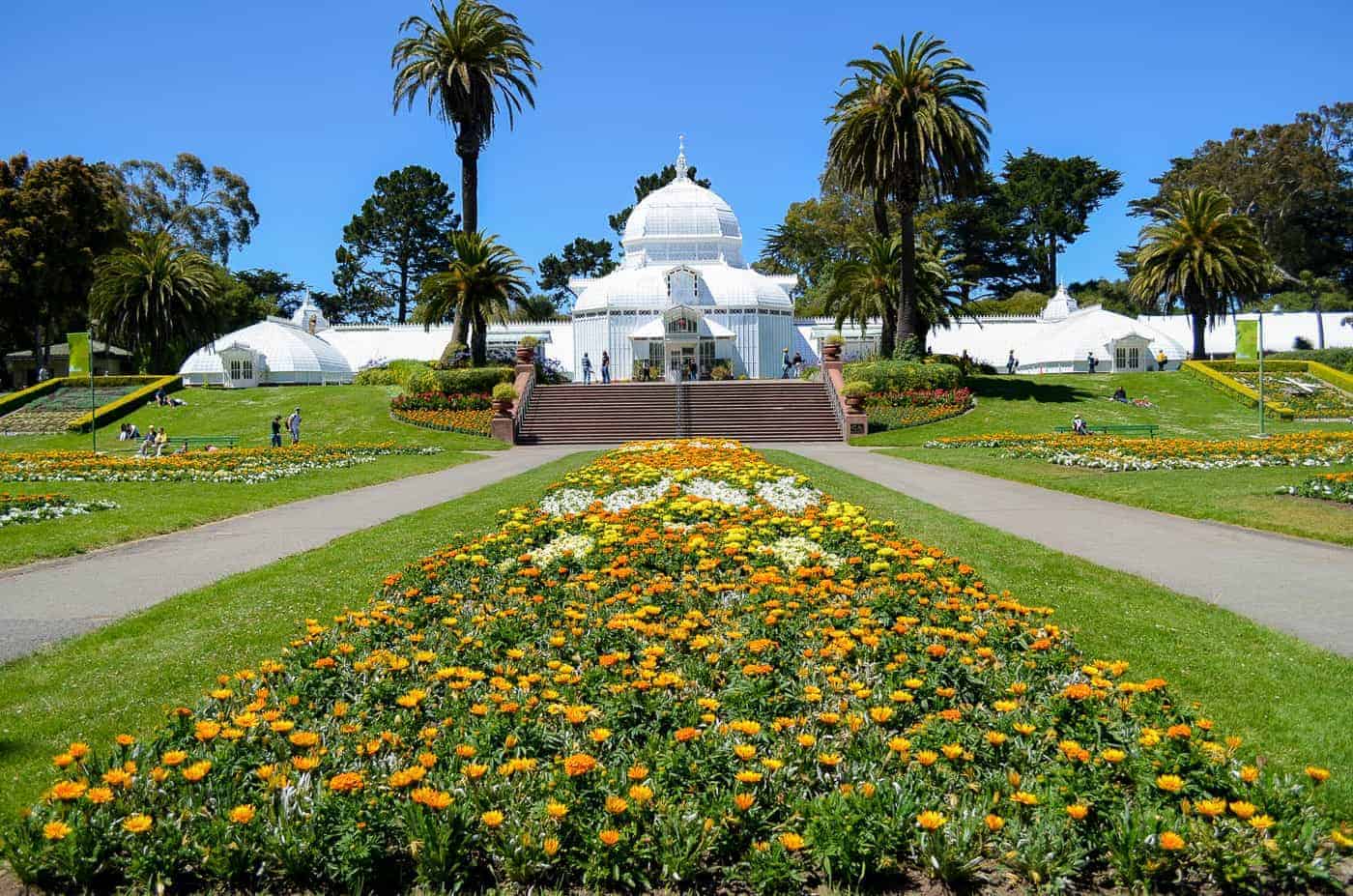 If you have time after visiting the Park, you can do a quick detour down Union Street and Chestnut Street for cute cafes and restaurants, as well as some of San Francisco's best boutique shopping.
Bike Across the Golden Gate Bridge
Otherwise, grab a cab directly to Ghirardelli Square where you can pick up some wheels and head out to bike across the Golden Gate Bridge.  On the way to the bridge, you'll pass by Fort Mason, Crissy Field, and the Presidio – which are all some great spots to stop for a photo!  Once you cross the bridge, it's an easy 10 minute downhill ride into Sausalito, a quaint and charming little seaside town – and the perfect spot for dinner to end your day.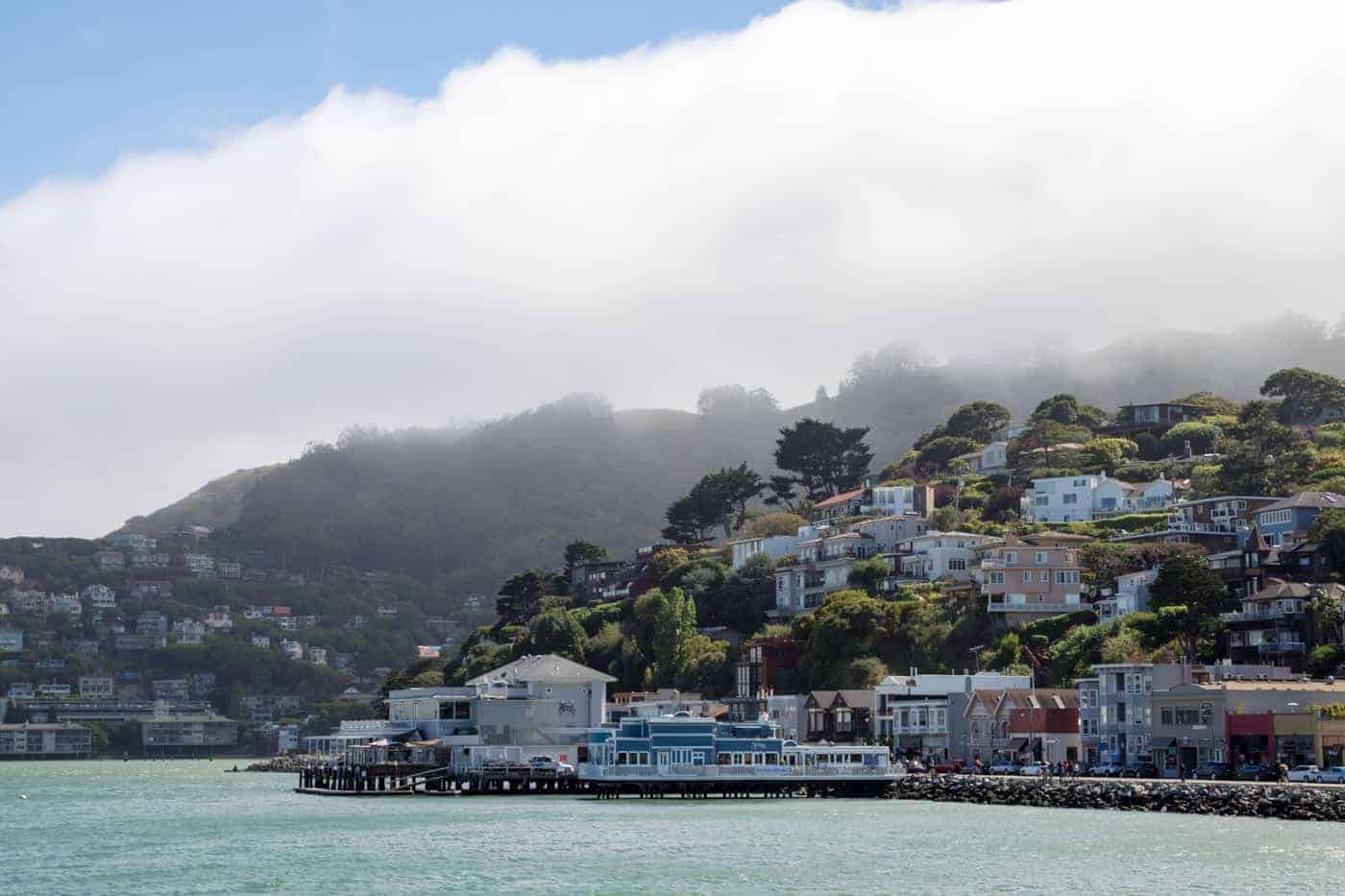 After dinner, catch the ferry from Sausalito back across the bay, enjoying more views of the Golden Gate Bridge and the city skyline as you go!
San Francisco Itinerary Day 4: A Day Trip to Napa
Finally, if you have a fourth day in San Francisco, take some time to drive north of the city and into Napa or Sonoma, two of the finest wine countries in the world!  Planning a trip to Napa can be pretty overwhelming, so check out my post on the perfect  long weekend in Napa for some ideas on where to go for great wine tastings, and where to eat, too!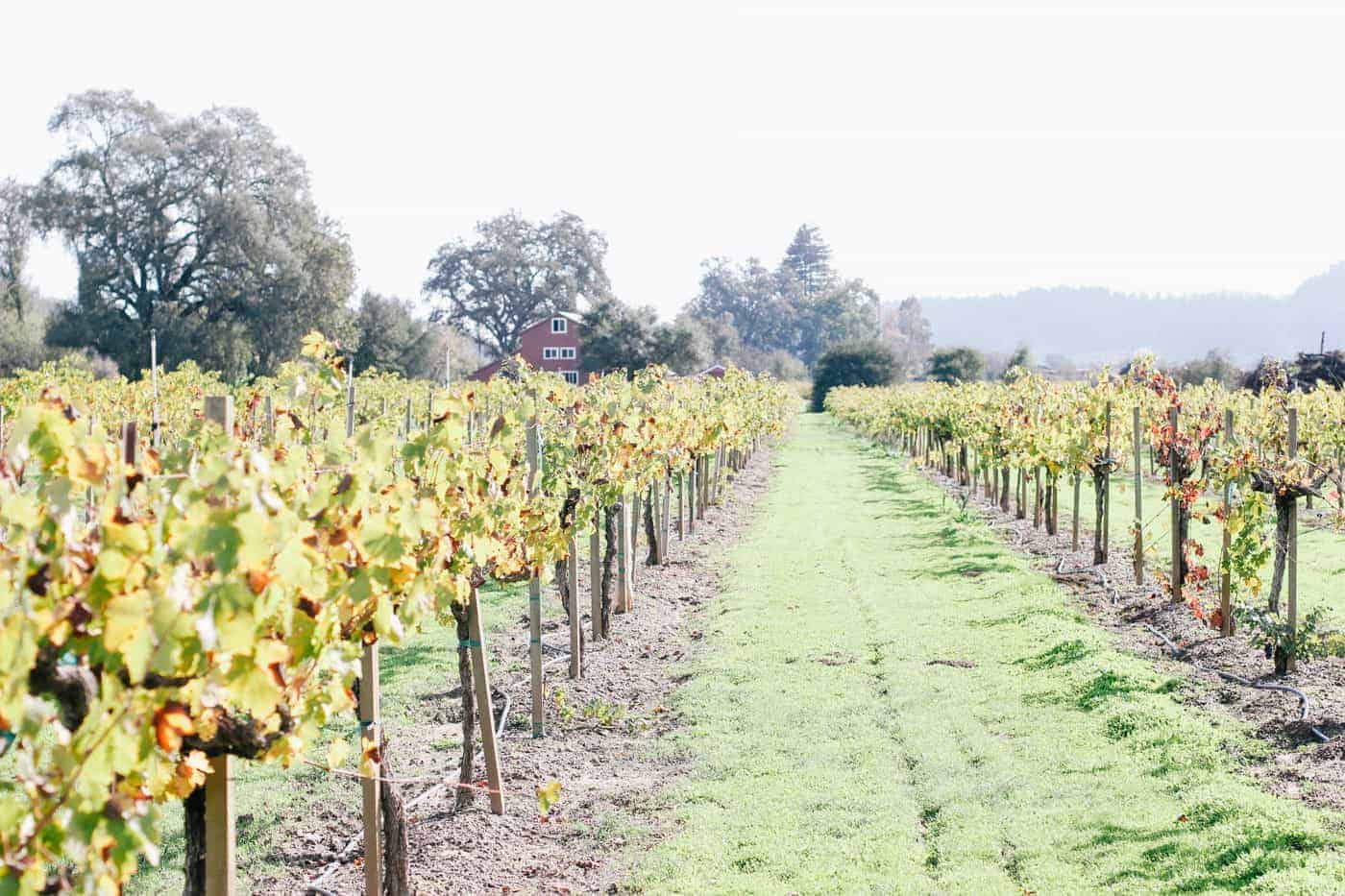 Cable Car to Union Square
Once you get back to the city, hop a cable car back to Union Square.  You didn't think I'd let you visit San Francisco without a cable car ride, did you?
Best Views of San Francisco
From Union Square, head to either Dolores Park or Twin Peaks for a phenomenal sunset view over the city to end your time here.  Better yet – bring a blanket and a picnic and really settle in to the views!
There You Have It – The Perfect San Francisco Itinerary!
Have More time in California?
There are so many amazing places to visit.  Don't miss Yosemite, which is about a three hour drive from San Francisco.  If you're headed down south, you'll love my guides on Los Angeles and San Diego.
For the best off-the-beaten path travel spots, my round up of the best hidden gems in California is a must-read!
Need Help Packing for San Francisco?
Check out my best packing tips for women or check out my shop for all of my favorite travel accessories and products for female travelers.
Pin it for Later!
Wanna Learn to Pack a Suitcase Like a Boss?
Subscribe to download my three BEST travel planning resources:
Travel outfit planner
Pre-travel checklist
Carry on packing list